Best Tactical Flashlights
In a Hurry? Editors choice: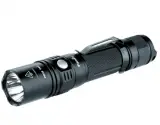 Test Winner: FENIX PD35-TAC

You often hear or see people ask what are tactical flashlights. Well, the best way to describe one is to analyze what the word "tactical" entails. In short, it is a term that gets associated with the military and with weaponry. As you know, a flashlight is a device that emits a beam of light (generally speaking).
What this means is when you see tactical flashlights, it basically means that they can function as normal
light-emitting devices
but also as defense weapons. These devices are typically built to not only deal out significant damage (if needed) but to also withstand inclement weather and abuse.
However, they also need to perform as they are designed to provide light to you. Not all options on the market will be suitable for your needs and you must learn how to weed out the ones that are not.
Standout Picks
Criteria Used for Evaluation
OUR TOP PICKS FOR THE BEST TACTICAL FLASHLIGHTS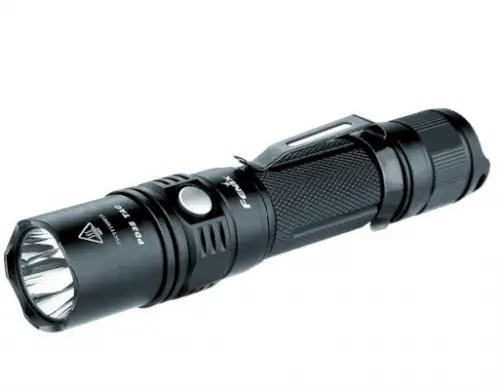 When it comes to tactical flashlights, the PD35-Tac is simply the standard-bearer. Whether you want to point to its unbelievable build quality or fantastic performance, it really does not matter.
Read more
Brightness
At its peak, this beast can emit 1000 lumens of light. This is on turbo mode, though, so be aware that there are other lighting modes. As for the distance, this can reach up to 200 meters away.
Build Quality
Yeah, let's just say this is not cheaply built. With an aircraft-grade aluminum body, hard-anodized anti-abrasive finish, and submersion rating down to two meters, what do you think?
Features
This is equipped with both a tactical mode and an outdoor mode. For the latter, up to six different lighting modes can be used. Additionally, the PD35-Tac is designed with intelligent memory circuits to remember your last output mode.
Battery Life
With the right batteries, this can actually last a decent amount of time. However, it is advised to only use premium batteries (such as those offered by Fenix themselves).
Portability
As durable and rugged as this bad boy is, it still only clocks in at 3.1 ounces. It also easily fits in the palm of your hand and can be carried in your pockets.
Overall
What more could really be said about this device? It is built to withstand intensive use, can deliver impressive beams of light, and is as portable and compact as it gets.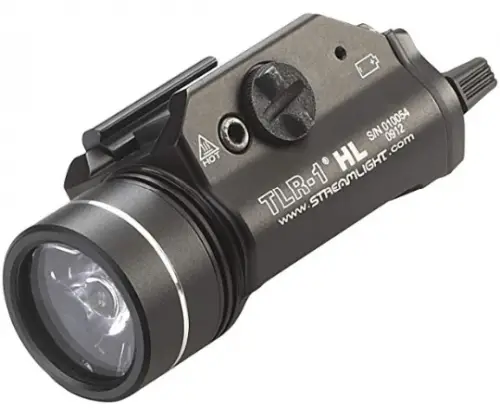 One thing to note right away about the TLR-1 HL is the fact that it is optimized to be mounted on guns. If this is something that disinterests you then you can probably opt for different models.
Read more
Brightness
In addition to the fact that the TLR-1 HL produces wide beams of light, the maximum output it can emit is 800 lumens.
Build Quality
This is another ridiculously impressive build. This device consists of aircraft-grade aluminum that has been protected with an anodized finish. Oh, and it is also waterproof down to one meter.
Features
As alluded to, this is meant to mount on your guns. A few users have left their remarks, though. One noted that they only received an adapter for Glock guns while another claimed this was not suited to handle the recoil action of shotguns.
Battery Life
Included with your purchase are two CR123 lithium batteries (they are rated with a 10-year storage life). But, they are only rated to last 1.75 hours continuously.
Portability
This seems a bit bulkier than other models out there but it is designed to mount onto guns. Still, it only weighs 4.18 ounces which is not bad at all.
Overall
For the right users, this is going to be pretty much flawless. But, it is limited when it is not used for weaponry which could end up being a game changer for you.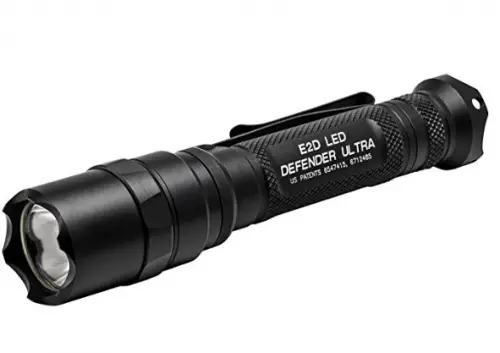 Good luck finding a model that is built better than the E2D LED Defender. Yeah, it is that impressive. However, it is only equipped with two different output levels, so be aware of that.
Read more
Brightness
The maximum 600-lumen lighting mode of the E2D LED Defender is solid. But, the lower five-lumen mode is pretty darn dim (and that is putting it lightly).
Build Quality
Wow, is there another word that needs to be said here? The E2D LED Defender is designed of high-strength aerospace-grade aluminum and has been protected with a hard-anodized finish. It also sports gasket sealing and a weatherproof O-ring to handle inclement weather.
Features
As with other models, this utilizes its tail cap to access different modes. But, for the record, there are only the two lighting modes that were just documented.
Battery Life
Being powered by a single 123A lithium battery, this is not going to last that long with one battery. In fact, it eats through them so you may want some backup batteries with you.
Portability
In addition to the compact size, this is equipped with a clip that allows you to attach it to different surfaces. But, this same clip is fixed and can't be removed.
Overall
Where this is somewhat limited is in its lighting modes. But, for sheer build quality and ruggedness, it is tough to find a better option on the entire market.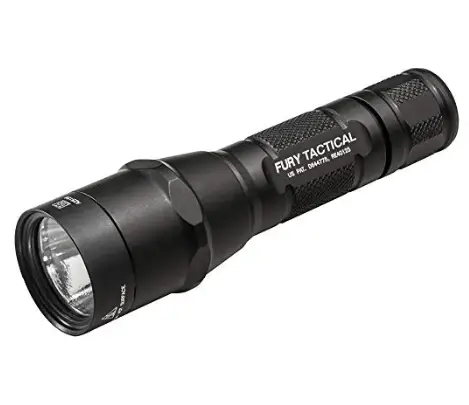 Really, at the end of the day, about the only thing, "wrong" with this model is the fact that it will not accept rechargeable batteries. Other than that, it is all you could ask for and more.
Read more
Brightness
For the record, this is the P2X and sports a maximum lumen rating of 600. But, there is also the P3X that has a brighter rating of 1000 lumens.
Build Quality
No matter which Fury model you go with, they both are built extremely well with hard anodized finishes and aerospace-grade aluminum bodies.
Features
Either model has three operating modes, by the way. Also, both of them feature a tail cap switch lockout and an intelligent sensor (which will base the light output depending on your surroundings).
Battery Life
The P2X Fury, in specific, accepts CR123 batteries and will last for roughly two to three hours on high. Overall, this is actually not that bad when compared to other models out there.
Portability
Arguably the biggest advantage of this device is its overall size. It is as compact as it gets and will easily fit into your coat pocket.
Overall
To say the P2X Fury (and the P3X Fury, for that matter) is well-designed is a vast understatement. It is one of the best tactical flashlights out there, period.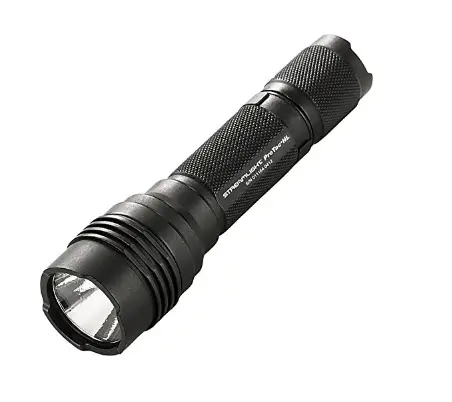 The ProTac HL is another example of why Streamlight is known for making extraordinary flashlights. It can deliver the goods when it comes to lighting and practicality.
Read more
Brightness
At its peak, this can emit beams of light up to 750 lumens in brightness. Oh, and this same light intensity can reach distances up to 270 meters away.
Build Quality
Thanks to the combination of the O-ring sealed glass lens and the anodized aluminum construction, build quality is not an issue with the ProTac HL. The O-ring sealed glass lens, for the record, makes this waterproof down to one meter.
Features
This is equipped with Ten-Tap Programming which is a Streamlight staple technology. Yet, this system is not foolproof and it can actually be a little tricky to toggle between the different settings.
Battery Life
On high, this will only last around 1.25 hours (the device is powered by two CR123A lithium batteries, for the record). But, on low, this rating jumps up to 18 hours.
Portability
What is really neat is this comes with a nylon holster. Think of this as a nice little bonus for you.
Overall
Once again, it is hard not to be enamored with this type of tactical flashlight. And, though it burns through batteries, this can almost be expected from most of them.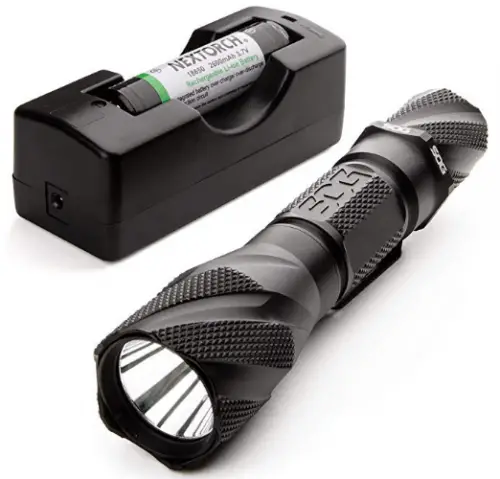 In addition to the five different lighting modes, this device also comes included with a charging dock. Yes, indeed, this means that it is a rechargeable option.
Read more
Brightness
With its LED bulb and polycarbonate lens in play, this device can emit light up to 687 lumens of brightness.
Build Quality
In addition to the anodized aluminum body, this is also rated to handle submersion in depths of water down to one meter for up to 30 minutes. Or, in other words, it is IPX7 rated.
Features
With a single button, you can toggle between five different operating modes. However, a slight annoyance in this design is the fact that you have to unscrew the belt clip to remove it.
Battery Life
On low, it is claimed that this could be run for up to four days (and for 97 hours on max). If these claims are actually somewhat accurate then the battery life here is amazing.
Portability
At six inches in length and 6.6 ounces in weight, this is not exactly enormous but it is also larger and bulkier than other models on this list.
Overall
For certain, there are many reasons to love this design. The girth could have been reduced a bit but hey, that is not too bad all things considered, right?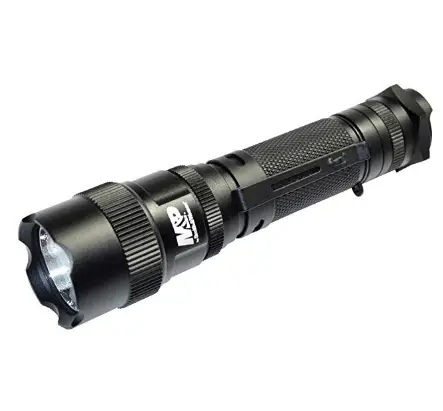 Again, when it comes to straight-up performance and longevity, the MP 12 is yet another model that is beyond impressive. It is also another model that tends to eat through batteries, though.
Read more
Brightness
With a beam distance of up to 242 meters and a maximum lumen rating of 875, let's just say that this does not suffer in the performance department.
Build Quality
Yet again, this model is built like a tank. It sports an anodized aerospace-grade aluminum body and a waterproof core (as it is designed with a double waterproof O-ring). Oh, and it is also built with a tempered glass lens.
Features
In spite of the fact that the tail cap does not offer precise adjustments, it is easy to move and it allows you to toggle between three different lighting modes (low, high and strobe).
Battery Life
Not only does this tend to overheat if used for too long but it also eats through batteries when you need to operate it on its brightest setting.
Portability
First off, this does include a lanyard, holster, and pocket clip so that is really nice. Yet, the physical size is also ideal as it only weighs 6.15 ounces.
Overall
For extensive and continuous use, this is not the best option out there. But, tally another one as it offers brilliant performance in an extremely rugged core.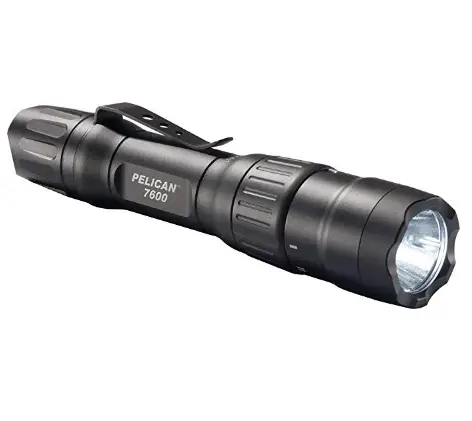 Alright, so the battery life is not that impressive for the Pelican 7600. But, boy oh boy can it ever deliver some impressive beams of light? Oh, and it is IPX8 certified for waterproofness too.
Read more
Brightness
On high, this can emit 944 lumens of light and covers up to 225 meters. Yeah, the specifications are pretty impressive for this little sucker.
Build Quality
This actually sports an IPX8 waterproof rating (which is one of the most impressive ratings there is). Additionally, the body is crafted of aluminum and protected with an anodized finish.
Features
The basic features (such as the four different operating modes and three different LED colors) are nice to have. However, for whatever reason, the battery level indicator has not worked correctly for a number of former buyers.
Battery Life
When on high, this battery is pretty weak but not awful by any stretch of the imagination (it is rated to last 195 minutes). Oh, and, speaking of which, a lithium-ion rechargeable battery is included.
Portability
At just over 10 ounces in weight, this is a bit heavier than some of the other options on this list so keep that in mind.
Overall
Yes, the Pelican 7600 is flawed but it is also very impressive at the same time. It can emit bright beams of light and can withstand a beating or two.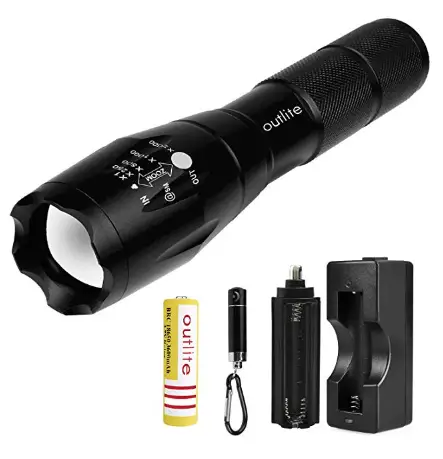 Perhaps you are looking for a high-quality tactical flashlight at a cheaper price. Does such an option exist on the market? Well, let the A100 from Outlite answer that for you.
Read more
Brightness
Because the focus can be adjusted with the A100, you can alter the illumination area which is really nice. At its peak, though, it can reach up to 600 feet away.
Build Quality
The A100 is built well but not quite as well as various other models out there. As such, some previous users have had quality and longevity problems.
Features
The adjustable focus is really nice to have and, additionally, you can select between five different operating modes. But, even though this is designed with intelligent circuitry, it does not really work that well.
Battery Life
Conveniently, this can be powered via the included lithium-ion battery or via AAA batteries. So, if the lithium-ion battery dies, you can only have a backup plan.
Portability
This is compact enough to fit into virtually any carrying bag or pocket you can imagine. So, transporting it will not be too much of a concern.
Overall
In spite of the longevity issues that have persisted with the A100 in the past, it is an affordable, practical, and convenient tool to have.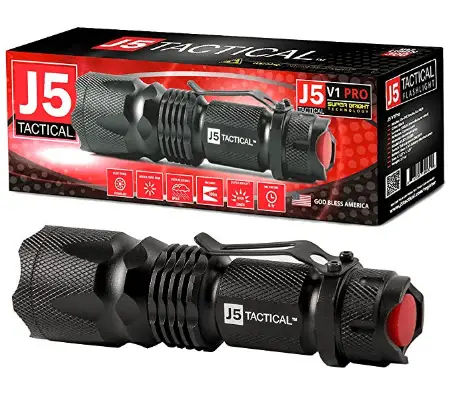 In terms of best sellers on the market, the V1-Pro may be the winner. However, its specs are not quite up-to-par with top-end options that are available. Yet, it is still a great option.
Read more
Brightness
The maximum lumen output of 300 is far from bad as it will light objects up to 600 feet away. Yet, at the same time, this is not the brightest option out there.
Build Quality
In spite of its water resistance, this is not extremely rugged or durable. It will withstand minor drops, however, so that is nice.
Features
High, low and strobe modes are available for you to use (which is pretty standard). Additionally, you can adjust the wideness of the beam.
Battery Life
The battery life is not great but it is not awful either. On high, this can last up to two hours. But, frustratingly, this only jumps to four when used on low continuously.
Portability
Okay, so the integrated clip is unnecessarily tight. However, this clocks in at just over three ounces (making it one of the lightest options available).
Overall
At this price range, you can only expect so much. With that said, this is a best seller for a reason.

Subscribe to our Newsletter