Best Rechargeable Flashlights
In a
Hurry? Editors choice: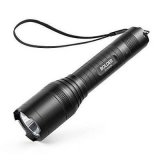 Test Winner: Anker Tactical

How many times in your life have you thought to yourself, "man, I could really use a flashlight?" Whether you enjoy
camping
or hiking, work in tight spaces a lot, or even endure a
power outage
, there are many reasons to why you may eventually need one. But, this guide is not going to look at any old type of flashlight. Nope, instead, this is going to focus solely on
rechargeable
models. Whether they need to be charged via a USB port or require special rechargeable batteries, all types qualify for this list. And, as you will see, there are several highly-impressive options out there that are loaded with features and some that can really endure a beating.
Standout Picks
Criteria Used for Evaluation
Features
Though some models can be simple in their functionality, others can come equipped with several different intensity modes and special modes.
The key to picking the right rechargeable flashlight for your needs comes down to many factors. But, undoubtedly, one of these factors is the design features. You see, some models will come equipped with various intensity modes and also the ability to alter the beam width. Not all of them will but the more features that are integrated, the more versatile the unit can be. Let's start with the beam width, for example.
You have two main beam options and they are spot and flood. A flood beam is ideal for general tasks and is a single beam while the spot beam can be condensed into a spotlight. For some users, being able to switch between the two will be essential. As for the intensity modes, these will typically range from low to high (with some have an eco-mode). But, some models will have strobe and SOS modes built-in. A strobe mode can emit regular flashes of light and an SOS mode can be used as a distress signal when you are in danger. While not all of you will require all these modes, they can come in handy if plan to use your flashlight regularly.
Durability
Flashlights will typically be used outdoors and due to the nature of the outdoor world, it is ideal if the model you choose sports an excellent build.
Let's just say that the best flashlights out there are built to last. This pretty much goes without saying but the top-end models are not made of cheap plastic or low-quality metal. Instead, they are typically made of aluminum that has been anodized. Anodizing itself is an electrochemical process and it basically increases the durability and corrosion-resistance of the aluminum. So, the body of the flashlight will sport a tough coating and will better resist scratches and nicks.
Also, there are two key resistance ratings you need to look for. Firstly is the impact-resistance and this is basically provided to determine if the model can survive accidental drops (and it is measured in meters). Secondly is the water-resistance and this is determined by the device's IP rating. The IP rating (which will look something like this: "IP67") is used to determine a product's protection against dust and water. The second number is the water rating and the higher the number, the more resistant it is. Once a rating hits around IPX7 or IPX8, the device can safely be submerged in water (for a limited time at a limited depth).
Effectiveness
Without question, the light emitted from the device itself needs to be able to meet the needs you have.
At the end of the day, there really is no debate when it comes to the type of bulbs you should look for in any type of lighting device. It is going to be LEDs every time and even though they are not kings in every area, they dominate in runtime and efficiency. Now that that is out of the way, let's take a look at the two main specifications that you need to look for when determining the performance of a rechargeable flashlight (or any type, to be honest).
To begin, you need to assess the lumen rating. Lumens is one of the main measurements of emitted light and without going into the specifics, it is one of the most important ratings when assessing performance. If you really want a model that can deliver ultra-bright lighting, shoot for over 1000 lumens (with some models going above 2000 or 3000 lumens). Those that are under 1000 lumens can still get the job done but anything under 100 lumens is not going to emit that much light. The other specification is the beam distance or the throw. This is how far the light is actually going to travel before it diminishes to darkness. Some of the best units will have a beam distance of over 1000 meters (which is utterly amazing), while others will be around 100 to 200 meters (which is still great).
Battery Life
You can have a direct output on the battery life of any model out there but certain models will naturally be designed with superior batteries.
The power source of a rechargeable flashlight is obvious and no matter how it is achieved, they all utilize some sort of rechargeable battery. So, naturally, this means that the battery life is going to come to the forefront. But, it all depends on how you use the flashlight as this will determine how long it will run. Now, before we explain that further, do note that some models will still possess batteries that offer improved efficiency.
As you might expect, the runtime of a specific unit will be based solely on the intensity level of the beam of light. Clearly, if you were to run one on high or turbo the entire time, you will not get as much life as you would if you ran it on low. And, the difference in time can be astronomical (even as much as 20 hours). So, it is advisable that you limit the amount of time you utilize the highest setting. Unless you really need the light as bright as possible, do not use it and utilize the lower modes.
OUR TOP PICKS FOR THE BEST RECHARGEABLE FLASHLIGHTS
Subscribe to our Newsletter