Best Rechargeable Flashlights
In a Hurry? Editors choice: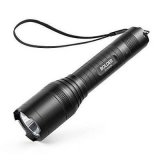 Test Winner: Anker Tactical

How many times in your life have you thought to yourself, "man, I could really use a flashlight?" Whether you enjoy
camping
or hiking, work in tight spaces a lot, or even endure a
power outage
, there are many reasons to why you may eventually need one. But, this guide is not going to look at any old type of flashlight. Nope, instead, this is going to focus solely on
rechargeable
models. Whether they need to be charged via a USB port or require special rechargeable batteries, all types qualify for this list. And, as you will see, there are several highly-impressive options out there that are loaded with features and some that can really endure a beating.
Standout Picks
Criteria Used for Evaluation
Features
Though some models can be simple in their functionality, others can come equipped with several different intensity modes and special modes.
The key to picking the right rechargeable flashlight for your needs comes down to many factors. But, undoubtedly, one of these factors is the design features. You see, some models will come equipped with various intensity modes and also the ability to alter the beam width. Not all of them will but the more features that are integrated, the more versatile the unit can be. Let's start with the beam width, for example.
You have two main beam options and they are spot and flood. A flood beam is ideal for general tasks and is a single beam while the spot beam can be condensed into a spotlight. For some users, being able to switch between the two will be essential. As for the intensity modes, these will typically range from low to high (with some have an eco-mode). But, some models will have strobe and SOS modes built-in. A strobe mode can emit regular flashes of light and an SOS mode can be used as a distress signal when you are in danger. While not all of you will require all these modes, they can come in handy if plan to use your flashlight regularly.
Durability
Flashlights will typically be used outdoors and due to the nature of the outdoor world, it is ideal if the model you choose sports an excellent build.
Let's just say that the best flashlights out there are built to last. This pretty much goes without saying but the top-end models are not made of cheap plastic or low-quality metal. Instead, they are typically made of aluminum that has been anodized. Anodizing itself is an electrochemical process and it basically increases the durability and corrosion-resistance of the aluminum. So, the body of the flashlight will sport a tough coating and will better resist scratches and nicks.
Also, there are two key resistance ratings you need to look for. Firstly is the impact-resistance and this is basically provided to determine if the model can survive accidental drops (and it is measured in meters). Secondly is the water-resistance and this is determined by the device's IP rating. The IP rating (which will look something like this: "IP67") is used to determine a product's protection against dust and water. The second number is the water rating and the higher the number, the more resistant it is. Once a rating hits around IPX7 or IPX8, the device can safely be submerged in water (for a limited time at a limited depth).
Effectiveness
Without question, the light emitted from the device itself needs to be able to meet the needs you have.
At the end of the day, there really is no debate when it comes to the type of bulbs you should look for in any type of lighting device. It is going to be LEDs every time and even though they are not kings in every area, they dominate in runtime and efficiency. Now that that is out of the way, let's take a look at the two main specifications that you need to look for when determining the performance of a rechargeable flashlight (or any type, to be honest).
To begin, you need to assess the lumen rating. Lumens is one of the main measurements of emitted light and without going into the specifics, it is one of the most important ratings when assessing performance. If you really want a model that can deliver ultra-bright lighting, shoot for over 1000 lumens (with some models going above 2000 or 3000 lumens). Those that are under 1000 lumens can still get the job done but anything under 100 lumens is not going to emit that much light. The other specification is the beam distance or the throw. This is how far the light is actually going to travel before it diminishes to darkness. Some of the best units will have a beam distance of over 1000 meters (which is utterly amazing), while others will be around 100 to 200 meters (which is still great).
Battery Life
You can have a direct output on the battery life of any model out there but certain models will naturally be designed with superior batteries.
The power source of a rechargeable flashlight is obvious and no matter how it is achieved, they all utilize some sort of rechargeable battery. So, naturally, this means that the battery life is going to come to the forefront. But, it all depends on how you use the flashlight as this will determine how long it will run. Now, before we explain that further, do note that some models will still possess batteries that offer improved efficiency.
As you might expect, the runtime of a specific unit will be based solely on the intensity level of the beam of light. Clearly, if you were to run one on high or turbo the entire time, you will not get as much life as you would if you ran it on low. And, the difference in time can be astronomical (even as much as 20 hours). So, it is advisable that you limit the amount of time you utilize the highest setting. Unless you really need the light as bright as possible, do not use it and utilize the lower modes.
OUR TOP PICKS FOR THE BEST RECHARGEABLE FLASHLIGHTS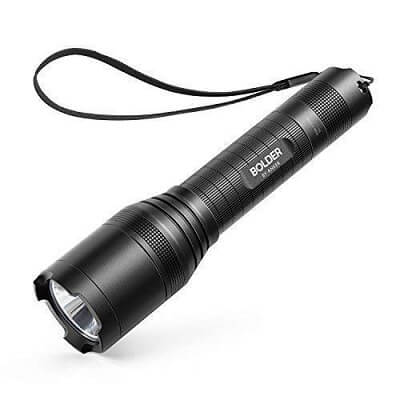 What is amazing is this combines sensational technology at an affordable price. In this modern day and age, that is a combination that is becoming increasingly rarer.
Read more
Features
Not only can you switch between five different intensity levels (from low to high and strobe and SOS) but you can also adjust the beam from wide to narrow. On top of the fact that this is a pocket-friendly compact design, the anti-slip finish fits well into your hands and offer comfortable ergonomics.
Durability
For the price, the craftsmanship is astounding. First off, the body is made of extra-hard anodized aluminum to resist chipping and scratching and secondly, the entire device is waterproof per IP65 standards.
Effectiveness
This is advertised to sweep light over the length of two football fields (which would be roughly 660 feet). And, at its highest setting, this can output 900 lumens of light.
Battery Life
In around six hours, this can be recharged. And, while the battery life will depend on the intensity level, this can run for up to six hours on medium.
Overall
No, this is not on the top of this list due to the price. It is at the top because of its quality. But, it just so happens that it is not expensive. What a value this is.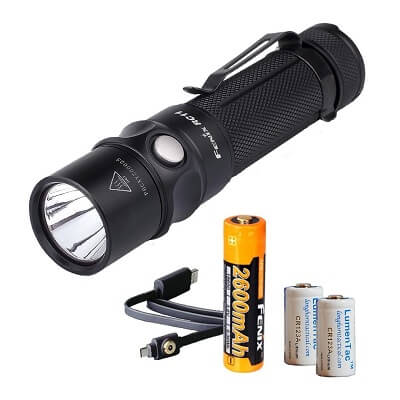 No matter how you want to assess the RC11 from Fenix, it excels in virtually every area possible. One minor (and it really is minor) annoyance prevents this from taking the top spot, though.
Read more
Features
Specific technology has been implemented to prevent the RC11 from overheating, which is nice. In addition to this, there are five different lighting modes (turbo, high, medium, low and eco). Even for slightly smaller hands, this is going to be a great fit for most people. Plus, the texture enhances your grip when handling.
Durability
The RC11 is built like a rock and is as solid as ever. Additionally, the body is waterproof per IPX-8 standards (which means it can actually be submerged in water).
Effectiveness
At its maximum, this can deliver 1000 lumens of light with a 208-yard throw. This is with turbo mode and if you needed it, this can deliver light from a great distance.
Battery Life
In theory, you could run this for up to 135 hours (but that would solely be in eco mode). The battery life is significantly decreased when using this in either high and turbo.
Overall
Wow, is this impressive or what? This is not only referring to its straight-up performance but also because of its features and its impeccable waterproof rating.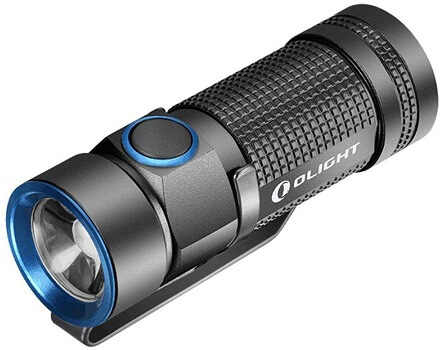 Good luck finding much wrong with this next model. In addition to sporting impressive specifications, the SR52-UT is also built like a beast with hard anodized aluminum.
Read more
Features
Olight designed their SR52-UT model with three different brightness levels (plus a strobe mode). The modes include low, medium and high. As for comfort, not only does the texture allow you to grip this easier but the body is designed to allow for enhanced heat dissipation (for better breathability).
Durability
As with many other top-end flashlights in the world, this utilizes a hard anodized aluminum body that will resist chipping and scratching.
Effectiveness
When you need it, this can produce the goods. At its peak, the SR52-UT can emit 1100 lumens of light with a beam distance of 800 meters.
Battery Life
On the body of this model, there is a USB port and it is used for charging. This is very convenient as it makes it very versatile when you need to provide it more juice.
Overall
Not enough can be said to describe the brilliance of this design. If you are serious about your needs, then you need to think deeply about investing in the SR52-UT.

4

. Streamlight Protac HL5-X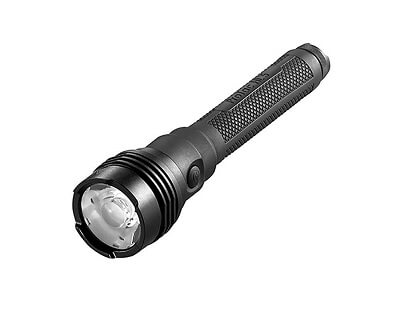 Streamlight has designed some of the best flashlights the world has ever seen and their ProTac series is arguably their best. This model, which is the HL5-X, is perhaps the best example of the company's greatness.
Read more
Features
This design is a bit different. Streamlight designed their ProTac model with a ten-tap programmable switch and it allows you to switch between three different programs. One really nice feature of this model is the rubber sleeve as it not only adds thermal insulation but also an improved grip when you are handling it.
Durability
Let's just say the HL5-X is built to last. It is waterproof down to one-meter, impact-resistant for one-meter and also designed with anodized aluminum.
Effectiveness
As some users have claimed, this is wicked bright. When used at its highest setting, this can deliver 3500 lumens of light.
Battery Life
You can prolong the life of this battery for up to 11.5 hours (at its lowest setting). Or, if used in one of the higher modes, it will last around one to three hours on a single charge.
Overall
The fact that this is not in the top three of this list says a little something. After all, on virtually any other list, this would easily be top three (maybe even top two).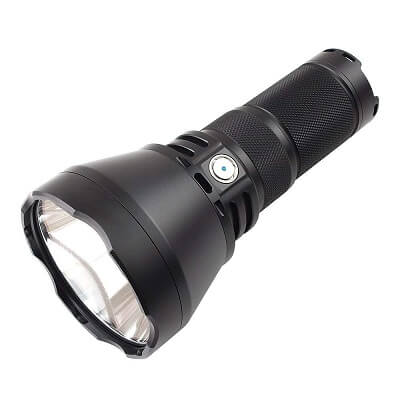 Without question, this is known for its performance. As it is a thrower, the beam of light it achieves is incredible and can reach distances of up to 1550 meters.
Read more
Features
All in all, there are seven different light modes you can switch between (which is really impressive). But, it would have been nice to be able to switch instantly to turbo mode. Though this is not a dealbreaker, as you can see from the photos, it is a bit bulky and large. As such, it can tiresome to hold it for extended periods.
Durability
Most reviewers have agreed that the build quality of this design is great. In fact, it is actually specially designed for self-defense and military situations.
Effectiveness
As mentioned, this lives and dies with its performance. It is able to reach 1550 meters and emit 2000 lumens of light. That combination is utterly fantastic.
Battery Life
Thanks to the built-in fast-charging system, this can be recharged in less than three hours. As for the battery pack, it has a capacity of 6800mAh.
Overall
ThruNite is not fooling around with their design here. It is pretty simple; if you need a rechargeable flashlight that can deliver insane brightness and coverage then you need this.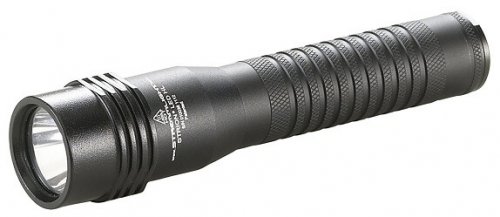 The Strion HL from Streamlight is not nearly as bright as their other offering on this list but it still delivers the goods and should satisfy the needs of most consumers.
Read more
Features
While this is not overflowing with design features, it does offer three intensity modes (in addition to a separate strobe mode). To ensure a more secure grip, this has been outfitted with a knurled body. As with most Streamlight flashlights, this is going to be comfortable to operate.
Durability
The Strion HL has been tested with a two-meter impact-resistance rating and this is thanks to its anodized aluminum body. Also, this sports a waterproof rating of IPX4.
Effectiveness
As opposed to some of the other options on this list, the 500-lumen max rating of this is actually low. Still, it is quite bright and can cover 200 meters of beam distance.
Battery Life
Overall, the battery life is okay. Even on low, this is only going to last around three to four hours on a single charge. It could be improved, let's just say that.
Overall
In regard to technical specifications, this is admittedly a bit limited. Of course, do not act as if this is incapable of delivering bright light as that is simply not the case.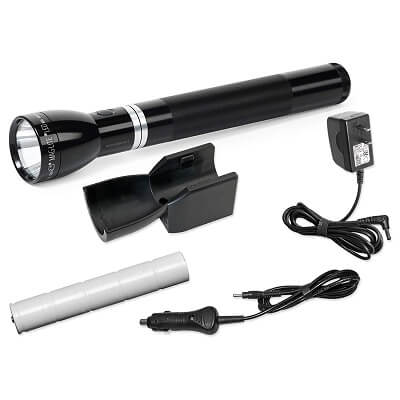 Due to the fact that the RL1019 is National Tactical Officers Association (NTOA) certified, it can be used in the military or law-enforcement fields.
Read more
Features
In addition to the multiple intensity modes you can switch between, this also gives you the ability to adjust the beam from spot to flood with a 1/4-turn of the head. Due to the sleek nature of the handle, this is incredibly comfortable to hold for longer periods of time.
Durability
Though this is NTOA certified, drop-resistant, and water-resistant per IPX4 standards, there have been reviewers who have felt the build quality could still be improved.
Effectiveness
Full power can yield up to 643 lumens and while that is not the highest on this list, it is still a pretty large lumen output.
Battery Life
To charge this system, you can do so at home or in your car (as included is a 120-volt converter and a 12-volt DC cigarette lighter adapter).
Overall
Overall, this is an excellent choice and that really goes without saying. The competition is fierce with this technology so this does not stand out too much, however.

8

. Streamlight Pro Tac HL-X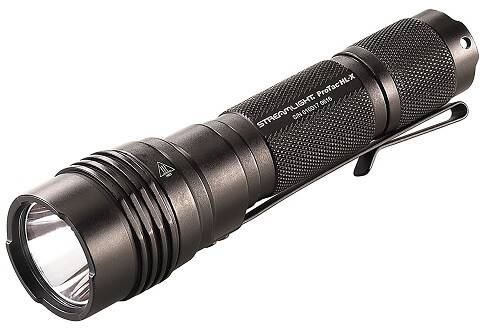 It is almost easy to assume that any model from Streamlight is going to be amazing and when it comes to straight performance that is indeed what the ProTac HL-X is.
Read more
Features
Much like the other ProTac model on this list, the HL-X is designed with the same ten-tap programming. Also, the tactical cap switch allows for continuous or momentary operation. Besides offering a textured grip, the HL-X does a good job at preventing overheating (which will also help to prevent your hand from feeling clammy while holding this).
Durability
The IPX7 waterproof rating is one of the better ones on the market and the HL-X can be submerged in water. Also, the anodized aluminum housing adds impact-resistance and overall durability.
Effectiveness
For sure, the intense beam that this produces can pierce straight through the darkness. At its peak, this bad boy can emit 1000 lumens of light.
Battery Life
There have been quite a few users that have claimed the battery life of this unit is garbage. That said, you can use two different battery types which is nice.
Overall
Out of all the offerings on this list from Streamlight, the HL-X is the worst. Looking at this design at saying it is the worst should tell you something about Streamlight.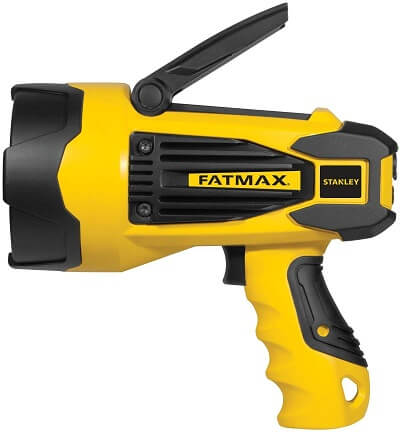 If you are looking specifically for a spotlight then you should really look into this model from Stanley. It is a part of their FatMax line of tools and it delivers the goods.
Read more
Features
Admittedly, the FatMax is a bit limited when it comes to operation modes. The user can choose between high and low and that is just about it. The good news is the pistol-grip handle offers comfortable control. The bad news is this is not well-balanced. Too much weight is in the front and it makes it top-heavy.
Durability
Though this seems to be constructed very well, it is specifically noted that it is not intended to be submerged in water.
Effectiveness
At its core, the FatMax thrives in performance. Not only can it travel incredibly far distances but the beam of light can also reach 920 lumens in intensity.
Battery Life
If you were to run this on low, you could squeeze out roughly seven hours of battery life. This is shortened to just one hour if used on high the entire time.
Overall
Stanley is another seller that you know you can trust due to their history. In spite of its issues, the FatMax is another solid showing from them and a high-quality tool.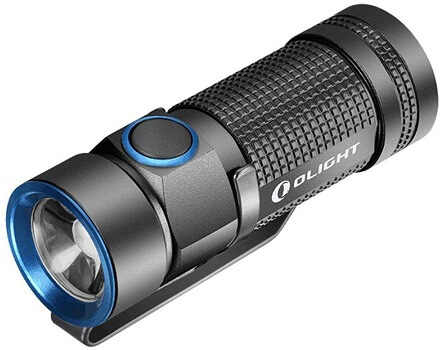 At the surface, this almost appears to be a kid's toy based on its size. But, oh boy, it is much more than a kid's toy as it sports advanced technology in a compact design.
Read more
Features
All in all, there are three standard modes and two special modes integrated into the XM-L2. Additionally, the flat tail cap design and the magnet ensure this can be placed on magnetic surfaces. As for comfort, in reality, this may be too compact for some people. There is no getting around it, this is small and can be odd to control if you have larger hands.
Durability
Due to the aluminum alloy body with an anti-scratch Type-III hard anodized coating, this will be able to hold up to some abuse.
Effectiveness
It is quite shocking that a flashlight of this size can deliver such high outputs of light. But, it can and can produce 500 lumens at its maximum.
Battery Life
You can power this unit with rechargeable CR123 batteries but be prepared to charge them quite frequently.
Overall
In large part to the size, the XM-L2 is probably not going to be many peoples top choice. But, it can pack a punch so do not question its effectiveness.

Subscribe to our Newsletter