Best Grow Tents
last updated:
Mar 13, 2020
Using a grow tent can be very beneficial if you are having some problems with mother nature, the wildlife, or just can't seem to grow any crops in your garden. The crops in your garden will thank you for using a grow tent.
These tents are portable and reusable and are typically built with a reflective interior lining and a heavy-duty canvas and support structure to ensure your plants are protected and receive all the nutrients it needs to grow and be plentiful. They can grow your essential vegetables, such as peppers and cauliflower, and other types of plants. And, yes, for those who are wondering you could even grow cannabis inside of them.
In a Hurry? The test winner after 15 hrs of research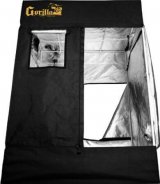 Gorilla
Why is it better?
The height is adjustable
Dubbed as the most durable model in the world
Designed with large EZ windows
In a
Hurry? Editors choice: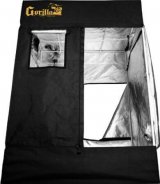 Test Winner: Gorilla

13
Researched Sources
2,098
Reviews Considered
15
Hours Researching
14
Products Evaluated
Materials
Durability
Size
By Default
Criteria Used for Evaluation


Materials
Do you really think it is possible for plants to grow in darkness? They may not die right away but without photosynthesis, plants are hopeless. So, you need light. Typically, this would come from the sun but if you keep it indoors in a grow tent, nothing inside can receive sunlight. Well, the onus is on you to install proper lighting inside but what manufacturers need to do is design their tents to retain as much light as possible. One of the most popular manners in which this is achieved is with Mylar lining.
This is a reflective material that is used for the interior lining and it manages to direct the unused light back into the growing space. Without this, there would be a ton of wasted light and the growing process would be significantly less efficient. But, past the lining, you also want to look for reinforced seals and possibly even double-stitched fabric. Some light leakage may be inevitable but the more of it that is minimized, the more efficient the tent will be.
Proper airflow is an essential part of the growing process when you utilize this type of tent. Both the temperature and the humidity need to be controlled and without proper ventilation, this is all but impossible. Hence, this is why you will see designers integrate all sorts of ventilation options for you. Clearly, it is up to you to decide how you want to ventilate and the accessories to buy but the tent plays a major role in that. For instance, you want to make sure that the fresh air intake vents and the exhaust vents are located in a way that will adapt to your specific area.
This is another reason why Gorilla Grow's models are so amazing because they specifically engineer them with ducting that is configured in the most logical manner possible. With proper ducting, you could hook up an exhaust system to move all the hot and humid air from the growing space to another location.


Durability
One of the primary reasons that Gorilla Grow claims that they produce the best grow tents in the world is the manner in which they construct them. In terms of durability and their overall build, you need to assess the canvas and the frame (as that is essentially all growing tents are). Now, if you are planning on installing the unit indoors, the durability and weather protection will not be as important. But, the stability and support structure (and fabric's strength) certainly will not matter where you install it.
For the canvas, analyze the denier of the fabric. While most will be 600D, being both tear-proof and waterproof, you may see some (such as Gorilla Grow's models) integrate 1680D material. Also, as mentioned earlier, double stitching is ideal as it adds extra strength to the canvas. As for the frame, steel is a popular choice but if you install it outdoors, you may want to ensure it has been powder-coated. This will add enhanced weather protection to the steel but may not be mandatory for indoor usage.


Size
The old adage size is everything that certainly is appropriate here. Everyone is going to have different uses for a growing tent and it is essential that you figure that part out before you buy one. The absolute worst predicament you could find yourself in is if you buy a tent that is too small or too large for your situation. If you need space for a plethora of plants and are going to create a full-fledged garden, you may want a larger area with more space to roam in. Then again, if you only need it for a plant here and there, you may not even need to step inside of it.
In addition to this, you also need to figure out how tall you need the tent to be. To do so, assess the height of the plants that you want to grow inside of it. Because you want a good amount of headroom for your plants, if they are close to touching the roof then you need a taller tent. The light needs to reflect off all surfaces for the most efficient growth possible.
Expert Interviews & Opinions
Most Important Criteria
(According to our experts opinion)
Experts Opinion
Editors Opinion
Users Opinion
By Default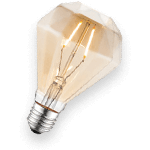 Location Location Location
Your plants won't react well in stressful environments. When you decide on a place, be sure that you can keep the tent there for at least a few months. Also, pay attention to the surface that is under the tent. If the tent is indoors, remember that when watering your plants, spillage can be unavoidable. If you can, try not to put the tent on carpet or wood floors.
Lights
The same lights won't always work with each tent. Depending on the size of the tent, you will need to choose the lights accordingly. You don't want to create too much "sunlight" or heat in a small space. This could result in burning the plants if you aren't cautious.
Other Factors to Consider


Ease of Use
So, how hard are these apparatuses to assemble? Well, the answer to this question is purely subjective but here is the compelling news, most of them will be assembled in the same manner. As such, if you have any experience assembling one then you should be able to pick another one up without any issues. However, when just starting out, it still should not be too big of a deal given the fact that you really only need to assemble the frame and install the cloth.
If it sounds too easy to believe, start believing. Yet, some models, depending on the engineering of the frame, will naturally be easier to assemble. In addition adequate instructions, at least, do help in this endeavor.
Frequently Asked Questions
q:

What is Hydroponics?

a:

Have you ever heard of growing plants without soil? Well, if you have, then you know exactly what hydroponics is. Even though you may have never known that this is the actual word for it, now you do. Basically, plants will thrive and live off of nutrient-water solutions alone. This is probably the manner in which you will allow your plants to grow inside so do some research on science.

In short, though, while the solution is passed through the plant, the growing medium merely acts as a support system. This process is actually the fastest-growing sector of agriculture in the world.
q:

Are grow tents loud?

a:

Here is a news flash; grow tents can not only be loud but they can be so loud that it actually forces you to consider selling your tent altogether. The reason why they can emit so much noise is that of the accessories that are required for them to operate correctly. For instance, the exhaust fans, tube vents, air pumps, and any other electrical components can produce a heck of a lot of noise.

But, what can you do about it? Well, there are some remedies to the noise issue that is the good news. Among the choices to try out, you could suspend the fans in an enclosure to better block out the noise, add a muffler to your exhaust duct, use insulated ducting, or even soundproof the room altogether.
q:

How much will the electricity bill increase?

a:

Ah, now we reach a question that is going to be mightily difficult to answer. Well, it will be difficult in the sense that everyone's situation will be different and some people will utilize different electrical components with different power usages. Yet, it is not a difficult question in the sense of yes, your electricity bill is going to increase no matter what you do. For example, you will have to ensure there is proper lighting inside the tent, as well as ventilation.

Doing so will probably require electricity which will, in turn, jack up your electric bill. So, it is important to research which lighting methods and ventilation methods are the most efficient. The goal is to always save money; so, why should this be any different?
q:

Will they smell?

a:

In the same manner that these tents are going to be loud, they are also probably going to emit some sort of scent. Whether you interpret this as "smelly" is entirely your preference but you need to realize that plants do have an aroma and it is not always going to be pleasant. While your options are a bit limited when it comes to either masking the smell or completely getting rid of it, there are remedies to the solution that you can try out for yourself.

The first would be to physically scrub the tent down with an appropriate solution to attempt to rid the smell. However, you could also just opt for either an odor neutralizer or an air purifier. Both of these options may not get rid of the smell 100 percent, but it may mask it just enough to make your current room tolerable to be in.
q:

How do you cool them?

a:

Controlling both the temperature and the humidity of a growing tent is essential as certain plants can be finicky when you attempt to grow them. Most of the time, they will respond best to an environment that is consistent. Now, this is going to vary depending on the plants that you are growing so become knowledgeable about the right conditions for your specific plants. However, how can you control them? For instance, what if the humidity and temperature are too high even with an adequate amount of ventilation?

Perhaps the easiest and most suitable solution is to invest in a portable air conditioner. But, if you do not want to spend that kind of money, perhaps you could relocate the tent into a room that is not generating as much heat? Also, be sure to monitor and control the humidity levels as this can drastically increase the real feel of the temperature.
q:

When do I change the nutrient solution?

a:

If you decide to go with a nutrient solution, then you need to be aware of when it is time to change it. But, several factors are going to come into play. Variables such as the temperature of the grow room, how heavily they are feeding, and the type of crops being grown will all have direct effects on how long a nutrient solution will last. So, this is why investing in either a pH meter or a TDS meter is essential as these devices can provide detailed information that you will need.

With one of these devices, perform regular checking on the solution to ensure it is still is up to par with what it should be. This really is just a glimpse of how detailed this question can get so if you have any further questions, research hydroponic feeding tips from proper universities and sources.
Subscribe to our Newsletter