Best Grow Tents
In a Hurry? Editors choice: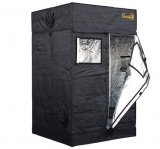 Test Winner: Gorilla 4 by 4

Using a grow tent can be very beneficial if you are having some problems with mother nature, the wildlife, or just can't seem to grow any crops in your garden. The crops in your garden will thank you for using a grow tent.
These tents are portable and reusable and are typically built with a reflective interior lining and a heavy-duty canvas and support structure to ensure your plants are protected and receive all the nutrients it needs to grow and be plentiful. They can grow your essential vegetables, such as peppers and cauliflower, and other types of
plants
. And, yes, for those who are wondering you could even grow cannabis inside of them.
Standout Picks
Criteria Used for Evaluation
Materials
Do you really think it is possible for plants to grow in darkness? They may not die right away but without photosynthesis, plants are hopeless. So, you need light. Typically, this would come from the sun but if you keep it indoors in a grow tent, nothing inside can receive sunlight. Well, the onus is on you to install proper lighting inside but what manufacturers need to do is design their tents to retain as much light as possible. One of the most popular manners in which this is achieved is with Mylar lining.
This is a reflective material that is used for the interior lining and it manages to direct the unused light back into the growing space. Without this, there would be a ton of wasted light and the growing process would be significantly less efficient. But, past the lining, you also want to look for reinforced seals and possibly even double-stitched fabric. Some light leakage may be inevitable but the more of it that is minimized, the more efficient the tent will be.
Proper airflow is an essential part of the growing process when you utilize this type of tent. Both the temperature and the humidity need to be controlled and without proper ventilation, this is all but impossible. Hence, this is why you will see designers integrate all sorts of ventilation options for you. Clearly, it is up to you to decide how you want to ventilate and the accessories to buy but the tent plays a major role in that. For instance, you want to make sure that the fresh air intake vents and the exhaust vents are located in a way that will adapt to your specific area.
This is another reason why Gorilla Grow's models are so amazing because they specifically engineer them with ducting that is configured in the most logical manner possible. With proper ducting, you could hook up an exhaust system to move all the hot and humid air from the growing space to another location.
Durability
One of the primary reasons that Gorilla Grow claims that they produce the best grow tents in the world is the manner in which they construct them. In terms of durability and their overall build, you need to assess the canvas and the frame (as that is essentially all growing tents are). Now, if you are planning on installing the unit indoors, the durability and weather protection will not be as important. But, the stability and support structure (and fabric's strength) certainly will not matter where you install it.
For the canvas, analyze the denier of the fabric. While most will be 600D, being both tear-proof and waterproof, you may see some (such as Gorilla Grow's models) integrate 1680D material. Also, as mentioned earlier, double stitching is ideal as it adds extra strength to the canvas. As for the frame, steel is a popular choice but if you install it outdoors, you may want to ensure it has been powder-coated. This will add enhanced weather protection to the steel but may not be mandatory for indoor usage.
Size
The old adage size is everything that certainly is appropriate here. Everyone is going to have different uses for a growing tent and it is essential that you figure that part out before you buy one. The absolute worst predicament you could find yourself in is if you buy a tent that is too small or too large for your situation. If you need space for a plethora of plants and are going to create a full-fledged garden, you may want a larger area with more space to roam in. Then again, if you only need it for a plant here and there, you may not even need to step inside of it.
In addition to this, you also need to figure out how tall you need the tent to be. To do so, assess the height of the plants that you want to grow inside of it. Because you want a good amount of headroom for your plants, if they are close to touching the roof then you need a taller tent. The light needs to reflect off all surfaces for the most efficient growth possible.
Top 10 Grow Tents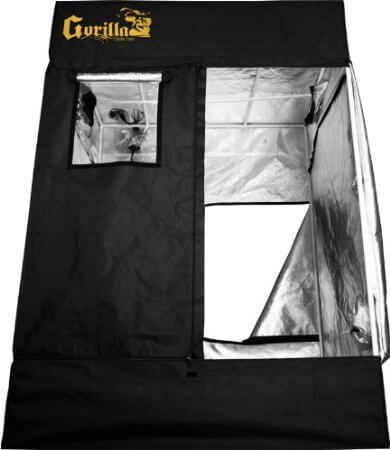 When searching for the best of the best, and the largest, you should look no further than the models from Gorilla Grow. Their 10 by 20 model is their most impressive and largest that is for sure.
Read more
Materials
In conjunction with the powerful Velcro seals, the diamond reflection technology manages to keep as much light sealed inside as possible. Also, the dense threading assists in retaining all odors and light. All the ducting ports are optimally configured in areas that are logical and easily accessible. In addition, the large EZ windows offer easy snapshots and viewing.
As for assembling the tent, let's just say that you should consult some of your friends and family to assist you with this endeavor. Due to its sheer girth, it could be difficult to assemble by yourself.
Durability
With the thick 1680D material, this is easily the most durable model in the entire world. Plus, with the enhanced frame, you could literally do pull-ups on this beast.
Size and Space
At 10 feet tall by 20 feet wide, you would be hard-pressed to find a tent that offers a more growing space than this one. Of course, it is also convenient that the height can be adjusted from seven feet to 10 feet.
Overall
There is no doubt about it; the top model on this list is suitable for growing enthusiasts. Casual gardeners will not want to pay the price for this model and that is fair.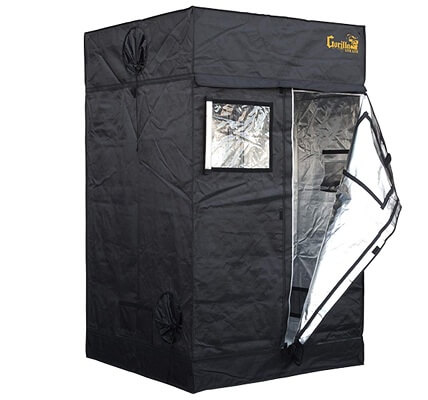 If the prior model is simply just too extensive for you, how about you look into the four by four-foot model from Gorilla Grow? It sports many of the same impressive features, after all.
Read more
Materials
The same 1680D reflective walls that are used for the previous entry are used here. But, some buyers have reported that light can leak through the front set of zippers. Gorilla Grow understands how to configure their growing tents and this model also has its double-cinching ducting ports optimally located for ventilation convenience.
As for assembly, one buyer noted how getting the final side up and zipped gave them moderate issues. For the most part, though, the assembly process should be relatively hassle-free.
Durability
As this is built with an ultra-durable, all-metal frame it can hold an astounding 500 pounds. This provides maximum safety and security that is for sure.
Size and Space
While this is not quite as large as the previous tent, it still stands nearly seven feet tall (with an extension for nearly eight feet) with a width of four feet.
Overall
Even though you still need to spend a pretty penny for this model, its shrunken size will be more feasible for certain owners. But, the quality shows in pretty much every area.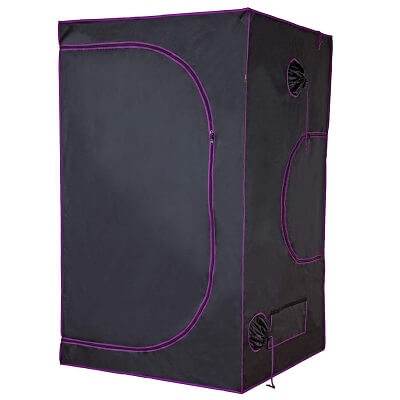 Gorilla Grow could be considered the Jedi of these types of tents, but Apollo Horticulture also sells an excellent model. Trust us, the few extra dollars you will pay for this will be well worth it.
Read more
Materials
The combination of the Mylar lining, which is both 100 percent lightproof and tear-proof, and the Mylar floor tray minimizes as much escaped light as physically possible. Integrated into this unit is a ton of windows (that can be opened for ventilation) and exhaust ports. All in all, proper ventilation is not going to be a concern here.
A few buyers have commented on the assembly process in a negative way. Not only can it be difficult to put together anyway but the instructions have also been criticized.
Durability
Both the double-stitched fabric and the metal framework together to provide the foundation for this tent. Overall, this combination does an admirable job of such.
Size and Space
For your reference, this tent measures 48 inches by 48 inches by 80 inches. Among the entries in this list, that is about normal.
Overall
As a consumer, this will simply be one of the best grow tents that you will stumble upon. The fact that it is the price it is listed at is merely the icing on the proverbial cake.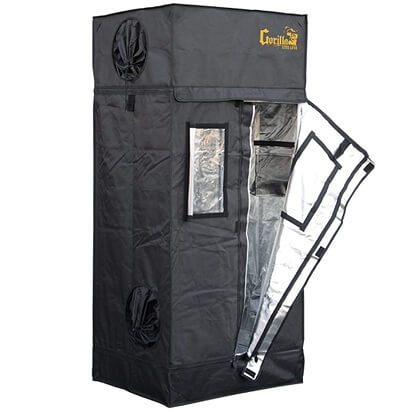 Hey, would you look who has made it back on this list? Well, this could almost be considered the starter model for Gorilla Grow. If you are looking to take things slow, highly consider this bad boy.
Read more
Materials
Thanks to the tightly reinforced seals and the durable fabric, your plants and herbs inside this tent will be allowed to grow with very little light escaping. Again, as this is a growing tent from Gorilla Grow, it has been outfitted with expertly engineered ducting ports that are exactly where they should be.
As for the assembly, You should not run into too much trouble here but take the advice of another buyer and ensure that you install the roof last. With it on, it becomes extremely difficult to install fans and lights.
Durability
While you may find a few loose strings here and there, the structural strength of this unit is very impressive. This is because of its solid interlocking frame and durable canvas.
Size and Space
If you invest in the adjustable extension poles, which are sold separately, then this tent can become adjustable. With the poles, it can be adjusted from 5-foot 7-inches to 6-foot 7-inches.
Overall
With or without the extension poles, this is another example of Gorilla Grow setting the standard with this technology. At the end of the day, your money is safe with them.

5

. iPower Hydroponic Mylar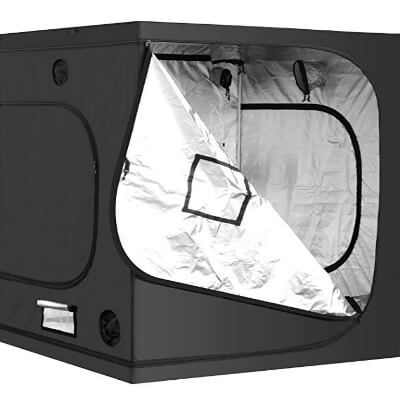 This next tent is one of the more popular models in the world and it is not difficult to see why. After all, it sports double-layer ventilation, a heavy-duty structure system, and plenty of space.
Read more
Materials
The Mylar lining used for the interior is 99 percent reflective. In addition to this, the tear-proof fabric is double stitched to seal in even more light. In addition to the double layer ventilation ducting holes, there are bottom ventilation windows that can also create an optimal environment for your plants.
When assembled, this is not too difficult to raise but the same can't be said when you need to lower it. Because you need to physically release the locking mechanism, that is.
Durability
iPower built their grow tent with sturdy and reliable heavy-duty poles. They are rated to handle at least 110 pounds, which should be suitable for most of your needs.
Size and Space
Even if the base model, which measures 60 inches by 60 inches by 80 inches, is not large enough there is a larger model available. This one measures 120 inches by 120 inches by 78 inches.
Overall
Can you see why so many buyers have raved about this particular model? It is simply going to be a feasible option for nearly all buyers out there.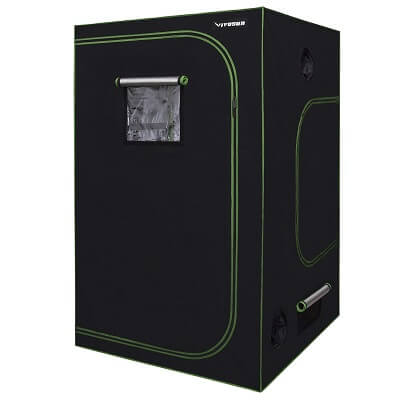 Even though leaking light can be a minor issue here, which is not unusual as you have already been witnessed to, users will appreciate the heavy-duty construction.
Read more
Materials
The general consensus amongst the consumer base is that occasional light will leak through this tent. But, the 98 percent reflective Mylar lining does retain a lot of it. There is a dual-layer ventilation fan opening integrated into this tent. With it, the inner layer seals tightly around a ventilation fan.
Though the included instructions are not the best, according to a few buyers, Vivosun promises that their tent will install very quickly with no real speedbumps to worry about.
Durability
Not only did Vivosun place an emphasis on their heavy-duty metal zipper, but they also engineered their model with top-quality 600D canvas that is double stitched and tear-proof.
Size and Space
There are smaller and larger size options available but this particular tent measures 60 inches by 60 inches by 80 inches.
Overall
It is tough, no matter how amazing the design, for these types of tents to not allow any light to leak. As this proves, this issue is not enough to ruin the product as a whole.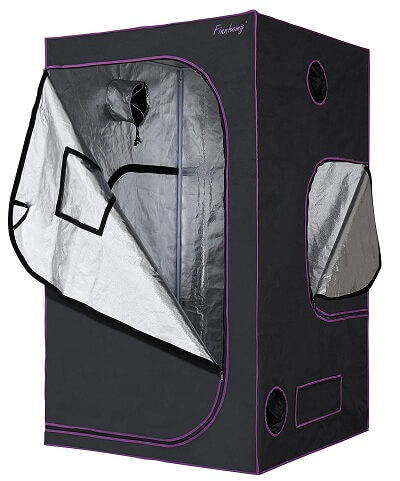 Even though this is still one of the better models out there, there is a bit of dip in quality here. Just be wary as the floor lining may accidentally tear if you are not cautious.
Read more
Materials
To provide a second layer of protection, this has been made with a separate floor pan and five-inch tall lip. Oh yeah, speaking of the floor, the Mylar floor tray is 100 percent reflective. Looking past the multiple mesh-covered windows, there are also several ducted ports that feature drawstrings. All in all, proper ventilation will be easy to achieve here.
Without the use of any tools, this tent can be assembled in a matter of minutes. Clearly, this will fluctuate depending on your assembly experience.
Durability
The metal poles reinforce this tent and allow it to optimally hold up to 110 pounds. In addition, the 600D high-quality fabric is double stitched and tear-proof.
Size and Space
As with other models, there are multiple sizing options available. The largest model measures 96 inches by 48 inches by 80 inches and the smallest measures 48 inches by 48 inches by 80 inches.
Overall
No, this is not made with cheap fabrics and materials. However, the floor liner is not top-notch and can be susceptible to tearing if you are not careful. Other than that, the goods are delivered.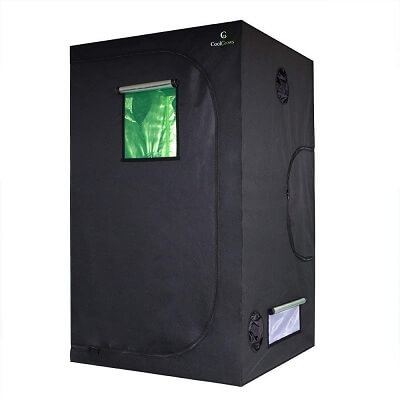 At this point in the list, nothing is going to take you back with this next model. It is designed in the same manner as several of the others but all things considered, that is far from a detriment.
Read more
Materials
Overall, the Mylar lining is able to retain a lot of the light that is shining inside. However, there are a few seams in this tent that will let some of the light through. You do not need to worry about ventilation with this unit as there are vents integrated. Plus, there is a see-through window plastered on the door.
Great attention to detail was given to this unit when it was designed as even if you have little to no experience assembling products, it should still be easy to do so.
Durability
As with most other units in the world, 600D fabric has been utilized throughout. It is also reinforced by metal poles which add structural stability.
Size and Space
While smaller variations are available, the one that offers the most space is the model that stands 80 inches tall with a 40-inch width.
Overall
In this day and age, it can sometimes be very challenging to find an affordable product that is also high-quality. Well, CoolGrows proves that, while challenging, it is not impossible.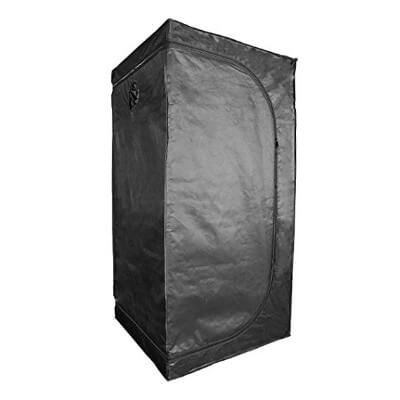 Whether you are on a budget or simply can't imagine spending so much money on a grow tent, Growtent's model may not be a bad choice. The biggest complaint we have seen with this one is the cheap zipper quality. Looking past that, we bring you another great choice.
Read more
Materials
Indeed, this is not as efficient as top-end models. Because of the canvas fabric, leaking pinholes of light will be all-but-inevitable; despite the claims that are delivered. As mentioned above, the zipper also leaves more to be desired.
As for assembling the tent, it is fairly simple but you must use caution. The Mylar fabric is typically fairly tough, but it is a tight fit over the metal frame. A few reviewers had issues with the fabric ripping near the zipper while assembling.
Durability
The metal frame is secured with sturdy metal connectors and the thick Mylar material fabric covers it. The poles of this tent are made from metal and can handle up to 110-pounds.
Ventilation
To increase the airflow, there are high-density meshes and vents integrated. Also, they will not allow any flying insects to intrude. Depending on the size of the tent that you chose, there will be anywhere from 1-3 ventilation windows. Some users have complained about the placement of the windows but may not have realized that these are strictly for ventilation, not for looking at the plants.
Size and Space
One of the best features of this tent is the number of sizes that it is offered in. You can choose from 9 different sizes, ranging from 32x32x63 up to 96x48x78 (inches).
Overall
While this tent has its advantages and disadvantages, we still believe it's a strong contender. The number of sizes to choose from combined with the airflow and stability makes this a great choice.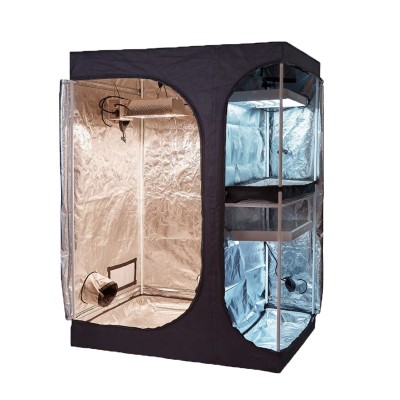 If you are looking to start your own indoor growing expedition than this is a grow tent to check out. Not only does it have three different spaces for three different growing cycles but it also comes with everything you need to start. Great price for a great grow tent!
Read more
Materials
This grow tent comes with two different types of lighting. First, it has a CMH 315W grow light which acts as close as you can to natural sunlight. Second, this grow tent comes with fluorescent lights as well. Designed into this unit is a circular double-sleeved vent hole. Basically, this can be used to handle cables and also for air circulation with a reflector, exhaust fan, or ducting hose. All ventilation accessories come with this grow tent.
The product description raves on how easy this grow tent is to assemble and disassemble (for an easier cleanup or relocation). Of course, one user shared their experience and claimed the frame gave them serious hassles.
Durability
This grow tent is built with 600D oxford cloth for the outside and mylar inside to make sure it is reflective and your plants get the most light they can. Highly durable and waterproof.
Size and Space
This grows tent measures 48x36x72 and growth space is 36x36x72.
Overall
This model is proof that you do not need to spend half-a-grand to invest in a high-quality growing tent. Then again, its shortcomings in some areas do also play a role in the price.

Subscribe to our Newsletter