Best Portable Air Conditioners
In a
Hurry? Editors choice: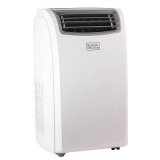 Test Winner: Black + Decker

Sweating outside of the sauna is just not ideal. Modern technology has blessed us with the invention of portable air conditioning. There are several types of air conditioners and ways to cool your homes and various other facilities. The simplest of which is a fan. But as we all know, that doesn't always cut it. Of course, you also have central air which is convenient for larger
homes
during hot, summer days. But, if you are lucky enough to live in a moderate climate, a central unit might be more than you need. Another
option
is a window unit. However, these are often noisy and are absolutely not portable. If you are looking for an alternative, or are intrigued by an air conditioner that you can actually transfer around from location to location, a portable air conditioning unit will do the trick. Check out our top picks below.
Standout Picks
Criteria Used for Evaluation
Effectiveness
No matter the specific type of air conditioning unit that you are pursuing, each variation is designed to cool down an area. As such, an incompetence at doing so is going to render it practically useless. Clearly, you do not want that and to avoid it, you need to assess three main areas of the design. Firstly, is whether you want a single or dual-hose exhaust. A dual-hose exhaust is pretty much the recommended choice nine times out of ten because it uses a second hose to transfer the warm air outside of your home. The result is an efficient exchange of air which leads to quicker cooling times and the elimination of negative air pressure. But, single-hose units can be easier to move around and will be suitable for smaller rooms.
Next, is the amount of square footage that the air conditioner is rated to cover. Each unit will have a BTU-rating, which stands for British Thermal Unit and is used to measure thermal heat energy. Basically, the higher the number the more area it the unit will cover. As a point of reference, 5000 to 9000 BTUs will cover around 150 to 400 square feet. Once you get past that, you can start cooling areas of 500, 600, 700 square feet, etc.
Features
Do not be confused, you do not need to be knowledgeable of software programming to operate this type of machine. With that being said, most of them will provide various features that can be altered and programmed. All in the meanwhile, typically, allowing you to do so with an external remote or on more rare occasions, via wi-fi. As an example, most portable air conditioning units will come programmed with the capabilities of multiple fan speeds, multiple temperatures, and sometimes a 24-hour timer. The fan speeds and temperature are fairly self-explanatory, but the 24-hour timer may be a little unfamiliar to you. This neat and convenient design feature allows you to control how long you want the unit to run.
All these features are nice and dandy, and most of the time a remote control will be included that allows you to alter them from a distance, but what happens if you want to control the unit when you are not home? Not all will have the capability, but this is where wi-fi technology comes into play. If it is a priority for you, some models will work in conjunction with a smart device (such as your smartphone). Thus, allowing you to program it away from home.
Versatility
One of the biggest benefits of most portable air conditioners has nothing to do with their ability to cool a specific area. As you noticed throughout this list, several comes equipped with multiple uses. Think of them as an all-in-one machine and most of them, can also be utilized as both a stand-alone fan and dehumidifier. In rarer instances, you may also see them capable of heating your room in the winter. Why is this important to you? Well, in times where the weather outside is rather mild and not dreadfully hot, circulating the air without the use of refrigerant could be a feasible option. If the unit can work solely as a fan, this can be achieved.
But, other days the humidity will be at an all-time high and that is where a dehumidifier comes in handy. Each unit will have different capabilities (in terms of the power) but no matter, a dehumidifier is designed to remove excess moisture from the air. Lastly, to top off the all-in-one package, you can aim for a model that provides heating as well as cooling. If so, the BTU-rating (while possibly different) will also apply.
Ease of Use
Many may believe that because these units are portable, they can be taken and used anywhere. Well, there is some truth in that but that is not the whole story. Because it is an air conditioner, you still need to vent the unit to a window (or in some cases a drop ceiling or through a wall). Thankfully, most manufacturers will include a window kit for you to use. Usually, not always, they will also provide you with the necessary hose/hoses you need. The included manual should direct you on how to install and most of the time, it is very easy. But, because you need to adjust the window kit to the length of your window, it is important to keep in mind if it will properly fit in your windows.
Also, when maintenance needs to be handled, such as cleaning the filter and removing the water extracted from the dehumidifier, you want it to be as user-friendly as possible. An easy draining solution (plus self-evaporative technology which lessens the need for drainage) and easy-to-access filters will make your life much easier.
Top Ten Portable Air Conditioners
Subscribe to our Newsletter