Best Portable Air Conditioners
In a Hurry? Editors choice: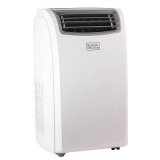 Test Winner: Black + Decker

Sweating outside of the sauna is just not ideal. Modern technology has blessed us with the invention of portable air conditioning. There are several types of air conditioners and ways to cool your homes and various other facilities. The simplest of which is a fan. But as we all know, that doesn't always cut it. Of course, you also have central air which is convenient for larger
homes
during hot, summer days. But, if you are lucky enough to live in a moderate climate, a central unit might be more than you need. Another
option
is a window unit. However, these are often noisy and are absolutely not portable. If you are looking for an alternative, or are intrigued by an air conditioner that you can actually transfer around from location to location, a portable air conditioning unit will do the trick. Check out our top picks below.
Standout Picks
Criteria Used for Evaluation
Effectiveness
No matter the specific type of air conditioning unit that you are pursuing, each variation is designed to cool down an area. As such, an incompetence at doing so is going to render it practically useless. Clearly, you do not want that and to avoid it, you need to assess three main areas of the design. Firstly, is whether you want a single or dual-hose exhaust. A dual-hose exhaust is pretty much the recommended choice nine times out of ten because it uses a second hose to transfer the warm air outside of your home. The result is an efficient exchange of air which leads to quicker cooling times and the elimination of negative air pressure. But, single-hose units can be easier to move around and will be suitable for smaller rooms.
Next, is the amount of square footage that the air conditioner is rated to cover. Each unit will have a BTU-rating, which stands for British Thermal Unit and is used to measure thermal heat energy. Basically, the higher the number the more area it the unit will cover. As a point of reference, 5000 to 9000 BTUs will cover around 150 to 400 square feet. Once you get past that, you can start cooling areas of 500, 600, 700 square feet, etc.
Features
Do not be confused, you do not need to be knowledgeable of software programming to operate this type of machine. With that being said, most of them will provide various features that can be altered and programmed. All in the meanwhile, typically, allowing you to do so with an external remote or on more rare occasions, via wi-fi. As an example, most portable air conditioning units will come programmed with the capabilities of multiple fan speeds, multiple temperatures, and sometimes a 24-hour timer. The fan speeds and temperature are fairly self-explanatory, but the 24-hour timer may be a little unfamiliar to you. This neat and convenient design feature allows you to control how long you want the unit to run.
All these features are nice and dandy, and most of the time a remote control will be included that allows you to alter them from a distance, but what happens if you want to control the unit when you are not home? Not all will have the capability, but this is where wi-fi technology comes into play. If it is a priority for you, some models will work in conjunction with a smart device (such as your smartphone). Thus, allowing you to program it away from home.
Versatility
One of the biggest benefits of most portable air conditioners has nothing to do with their ability to cool a specific area. As you noticed throughout this list, several comes equipped with multiple uses. Think of them as an all-in-one machine and most of them, can also be utilized as both a stand-alone fan and dehumidifier. In rarer instances, you may also see them capable of heating your room in the winter. Why is this important to you? Well, in times where the weather outside is rather mild and not dreadfully hot, circulating the air without the use of refrigerant could be a feasible option. If the unit can work solely as a fan, this can be achieved.
But, other days the humidity will be at an all-time high and that is where a dehumidifier comes in handy. Each unit will have different capabilities (in terms of the power) but no matter, a dehumidifier is designed to remove excess moisture from the air. Lastly, to top off the all-in-one package, you can aim for a model that provides heating as well as cooling. If so, the BTU-rating (while possibly different) will also apply.
Ease of Use
Many may believe that because these units are portable, they can be taken and used anywhere. Well, there is some truth in that but that is not the whole story. Because it is an air conditioner, you still need to vent the unit to a window (or in some cases a drop ceiling or through a wall). Thankfully, most manufacturers will include a window kit for you to use. Usually, not always, they will also provide you with the necessary hose/hoses you need. The included manual should direct you on how to install and most of the time, it is very easy. But, because you need to adjust the window kit to the length of your window, it is important to keep in mind if it will properly fit in your windows.
Also, when maintenance needs to be handled, such as cleaning the filter and removing the water extracted from the dehumidifier, you want it to be as user-friendly as possible. An easy draining solution (plus self-evaporative technology which lessens the need for drainage) and easy-to-access filters will make your life much easier.
Top Ten Portable Air Conditioners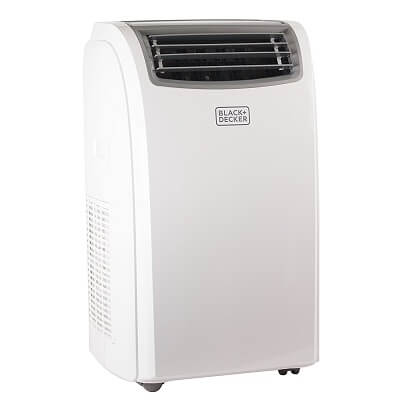 BLACK+DECKER certainly was not shy when they were designing their version of a portable air conditioner. With several different power options, in terms of BTUs, everyone should be accommodated for.
Read more
Cooling Capabilities
Provided for you are options for 8,000, 10,000, 12,000 and 14,000 BTUs. Past this, the vertical motion of this unit manages to create a constant and powerful temperature throughout the area it is cooling.
Programming
When you want your room to be chilled before you walk in the door, the 24-hour timer allows you to program the unit accordingly. Overall, programming it is fairly simple.
Multiple Uses
Among the seller options that are provided for you, some variants also come with the functionality of a heater. But, all versions can be used as a dehumidifier.
Installation and Maintenance
Included with this product is a window installation kit for simple and quick set-up. For maintenance, when you need to clean the filter, it slides out easily and can be rinsed under a faucet.
Portability
Both rolling caster wheels and side carrying handles are built into this air conditioning unit. The result is an ultra-portable machine that can be taken virtually anywhere.
Overall
The naysayers out there will probably take issue with the noise and lack of adjustable lovers. But, if you are a glass-half-full individual, you will look at the several seller options and above-average functionality.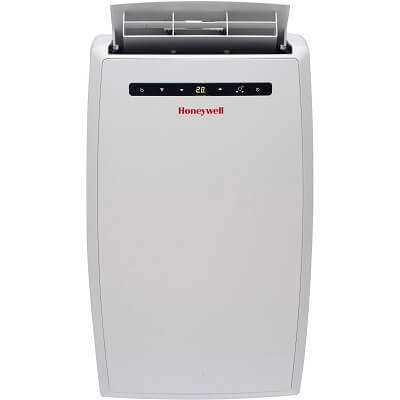 Notwithstanding its slight design flaws, such as the short and questionably insulated hose, Honeywell still managed to design a very impressive portable air conditioner. What is nice is right in the box, everything you need is included.
Read more
Cooling Capabilities
Despite the aforementioned short hose, this is a solid unit for cooling a decently-sized area. Because it has 10,000 BTU's of power it is rated to cool areas up to 350 square feet.
Programming
There are three speeds you can switch from and also a 24-hour automatic shutoff timer that can be programmed to your liking. All this can be achieved through the fully-functional remote control.
Multiple Uses
In a 24-hour period, this is capable of removing 66 pints of moisture when used as a dehumidifier. Additionally, it does sport a fan-only mode.
Installation and Maintenance
Both a flexible exhaust hose and a window venting kit are included; both of which are fairly simple to install. Even more so, this unit's auto-evaporation system means you do not need to continuously empty buckets of water.
Portability
Four caster wheels integrated on the bottom of the unit allow you to easily move this unit anywhere that you see fit (as long as it is close enough to a window).
Overall
The short hose does hold this back a bit and will limit where you can place the machine. But, notwithstanding this, it is a suitable choice if you are seeking a unit for small to mid-sized areas.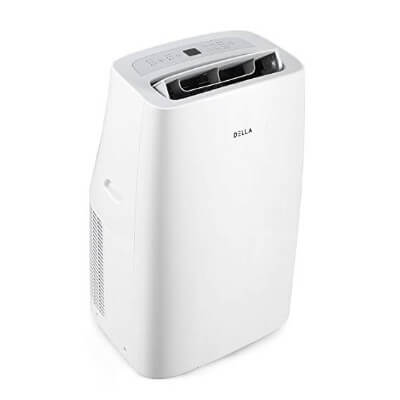 Della is a newer brand that has been putting out exceptional products for the last three years. They offer everything from appliances, cookware, bar supplies, and air conditioning units. Della is a youthful company and backs every product with a twelve-month guarantee.
Read more
Cooling Capabilities
This unit features a 12,000 BTU output and can cool a room up to 400 square feet. The opening of the vent automatically opens when the machine is turned on and closes when you're finished using it. There is also an oscillating feature to help distribute the air more evenly.
Programming
The basic programmable features, such as temperature control, fan speed, and 24-hour on/off timer, are present here. In addition, so is a remote control.
Multiple Uses
Unlike some of the other products on our list, this unit does not double as a humidifier or dehumidifier. However, it is capable of supplying hot or cold air, making it perfect for year-round use. The temperature settings range from sixty-two degrees up to eighty-two degrees.
Installation and Maintenance
This unit is great because all you need is an outlet and a place to vent the hot air. An instructional manual is included with the unit and it is simple to set up. Users have not reported any maintenance issues but all of Della's products come with a 12-month warranty.
Portability
Portability is definitely one of the key advantages of not only these types of air conditioners in general, but this model in particular. Of course, like any others, it still has a substantial weight but the casters and integrated carrying handles aid in movability.
Overall
This is a small and strong machine. A few users have complained that it isn't as quiet as they hoped, but this could be a set-up issue. This is the perfect portable AC unit for a bedroom, office, or RV.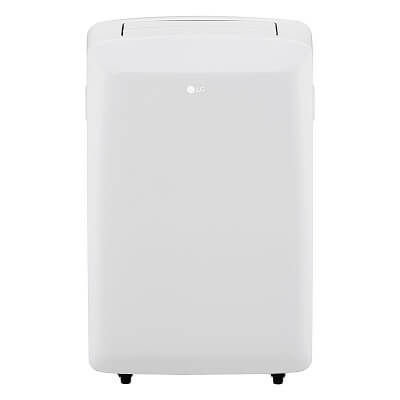 This is LG's second appearance on this list and this unit is a little different and smaller than the previous documented model. Thus, due-to the 8,000 BTU's of power, this is ideal for small rooms with an area of up to 200 square feet.
Read more
Cooling Capabilities
Indeed, this is not going to work for larger rooms. Instead, its 8,000 BTUs of power make it ideal for rooms that are less than 200 square feet. However, it does implement two-way up/down air deflection to circulate the air evenly.
Programming
The basic programmable features, such as temperature control, fan speed, and 24-hour on/off timer, are present here. In addition, so is a remote control.
Multiple Uses
As have the entries that have preceded it, this unit can also function solely as a dehumidifier. When doing so, it can remove up to 1.8 pints of moisture from the air in an hour.
Installation and Maintenance
A couple of users commented on the installation and pointed out that the included directions are on point and that it is fairly easy to set-up.
Portability
Portability is definitely one of the key advantages of not only these types of air conditioners in general, but this model in particular. Of course, like any others, it still has a substantial weight but the casters aid in movability.
Overall
Is this a limited machine? Sure, but for its design, it will prove to be sufficient enough for the right people. Granted you understand what you are investing in, you should be happy with this product.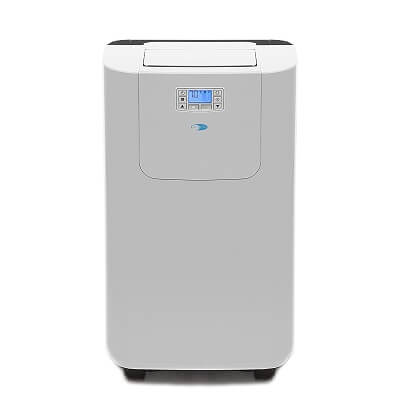 Whynter is a very esteemed manufacturer and when it comes to portable air conditioners, they have stamped their mark on the product. Due to the dual-hose exhaust system, integrated dehumidifier, and relatively hassle-free operation, this version is their finest.
Read more
Cooling Capabilities
Thanks to the dual-hose exhaust design, this system is able to intake more air, sustain constant air pressure, and cool the area faster than a single-hosed exhaust could achieve. In addition, it has 12,000 BTU's of power.
Programming
Equipped with this unit is a remote control that allows you to remotely adjust the speed, temperature and various other settings. Plus, due to the 24-hour programmable timer, you program this machine to cool an area prior to arrival.
Multiple Uses
Past its use as an air conditioner, it is also capable of extracting 76 pints of moisture during a 24-hour period. More so, it also can be utilized as a heater capable of outputting 10,000 BTU.
Installation and Maintenance
Overall, the set-up and installation are fairly simple and hassle-free. For precaution, when the water tank fills up from moisture, the compressor will shut down and will not run again until the tank is emptied.
Portability
Whynter designed their portable air conditioner with rolling caster wheels and this allows the unit to move with ease from room to room.
Overall
This is truly an all-in-one unit that holds the obvious distinction of being an air conditioner, but it also can be used as a dehumidifier and a heater. With its immense power and dual-hose exhaust to boot, this is an all-around success.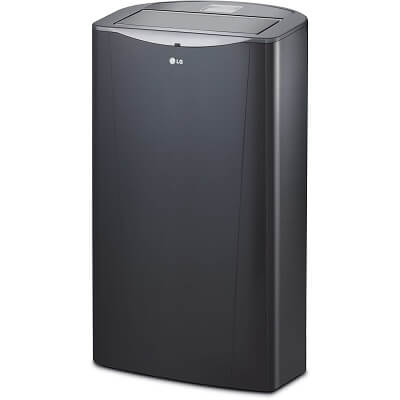 Indeed, LG can design more than just HD televisions. Their portable air conditioner is not only competent, it is one of the best in the world. This is thanks, in large part, to its 14,000 BTU's of power that manages to cool spaces up to 500 square feet.
Read more
Cooling Capabilities
To better eliminate hot spots, this machine boasts two-way up/down air circulation. Plus, with 14,000 BTUs that will cover up to 500 square feet of area, it packs a punch.
Programming
All the goodies that are accustomed to portable air conditioners are present here including temperature control, a 24-hour programmable on/off timer and the fan speed. Plus, they can be controlled with the included remote.
Multiple Uses
On cooler days, you can ditch the main design and use this as a fan. Even more so, in one hour, the dehumidifier-mode will extract around 3.4 pints of moisture.
Installation and Maintenance
While draining water from the bottom can be a chore, a windows installation kit is included with assembly instructions provided in the owner's manual.
Portability
Included on the bottom of this air conditioner are casters that allow the unit to be seamlessly moved from one location to another.
Overall
In short, this is just a high-quality machine that will make your life easier (and cooler). Not everything is perfect here, such as the noise being an issue for some, but there is enough quality to warrant an investment.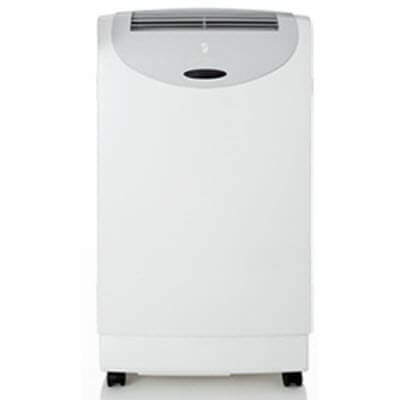 The P12B Air Conditioner from Friedrich is a beast, there is no denying that. With the option for either 12,000 BTU or 13,500 BTU, which will cool areas up to 400 square feet (12,000 BTU), and the ability to remove up to six pints of moisture in an hour, this is hard to beat.
Read more
Cooling Capabilities
The choice is yours from either a unit with 12,000 BTU or 13,500 BTU. Both cover a wide area and while the 12,000 BTU model will cover up to 400 square feet, the 13,500 BTU will go beyond it. Also, this is a dual-hose system.
Programming
Coming with a remote control with the capability of altering functions such as the timer, temperature, and mode, you can operate this unit without ever getting up off your feet.
Multiple Uses
Even on milder days where air conditioning may not be necessary, you can use this as a stand-alone fan. Also, it has the ability to work as a dehumidifier.
Installation and Maintenance
Thanks to the bucket-less system that has a self-evaporative condensate system, you will rarely have to deal with excess condensation building up. When the time comes, though, it is easy to drain the moisture out with an outlet house out the back.
Portability
A terrific combination of handles on the side and durable wheels for mobility make transporting this machine easier. Although, several users have reported the weight is a bit excessive.
Overall
If you are looking to cool a small room or location, this may not be the ticket. This unit is primarily designed for larger areas and although it is a bit heavier than other models, its power and functionality are admirable.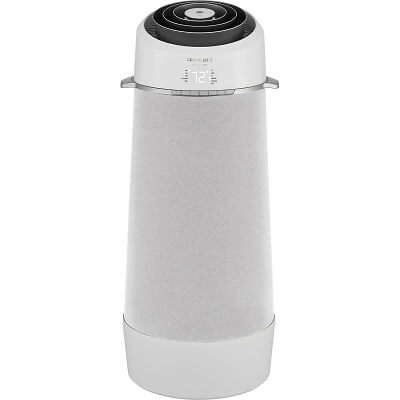 There is no doubt about it, this is the smartest portable air conditioner on this list. Clearly, the design is inspired by modern technology as you can not only manually control it via Wi-Fi, but also alter settings by simply asking Amazon Alexa.
Read more
Cooling Capabilities
The intuitive design of this smart air conditioner circulates the airflow in a continuous, spiral motion to ensure that every part of the room is covered. With 12,000 BTU's of power, it is claimed to cool areas of up to 550 square feet but some users have questioned this estimate.
Programming
This is where this unit shines. Besides the remote control for functionality, you can connect this to your smart device and control it wherever you are in the world. Plus, it works in coordination with Amazon's Echo.
Multiple Uses
Past its use as a cooling system, much like the others, it can also be utilized as a dehumidifier to remove excess moisture from the air.
Installation and Maintenance
No tools are required to install this unit and it comes with a modern window kit. Also, the mesh filter can easily be removed and cleaned when need be.
Portability
Although this is designed to be as portable as they come, the caster wheels are a bit small. On hardwood this is fine, but carpet is a different story as it may prove to be a small hassle to maneuver.
Overall
In terms of cooling capabilities, there are other superior models. But, in terms of smart technology, it does not get better than this. There are so many different ways to operate this air conditioner that you could do it differently each day for the fun of it.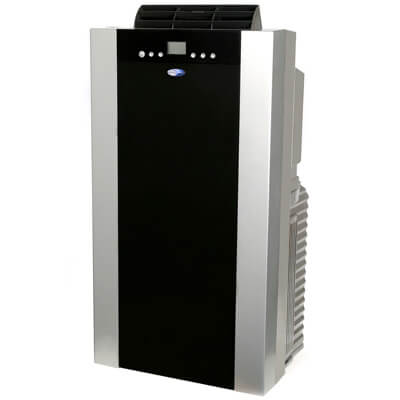 When you glance over what this unit has to offer, it will come off as highly-impressive. In fact, you may believe it needs to be higher when glancing through the specifications. However, slight design caveats prevent it from climbing higher.
Read more
Cooling Capabilities
With a combination of a dual-hose exhaust system for quicker cooling times and 14,000 BTU's of power, this can cool areas of up to 500 square feet in a decent amount of time.
Programming
You have the ability to set the thermostat (from 61-degrees Fahrenheit to 89-degrees Fahrenheit) and also control the fan speed (low, medium and high). However, the layout of the remote is flawed and highly questionable.
Multiple Uses
If need be, you can use this is a stand-alone fan, an air conditioner, or a dehumidifier. But, this particular model does not function as a heater.
Installation and Maintenance
Because the drain is too close to the floor, it is mightily difficult to get a container underneath to remove the water. But, a product manual does come alongside the unit for detailed instructions.
Portability
Being a portable unit, it is designed with wheels on the bottom for easier movability and transport.
Overall
Looking past the flawed remote and the drain design, this is as good as it gets. Thankfully, these flaws can be overlooked due to the sheer amount of greatness that is on display.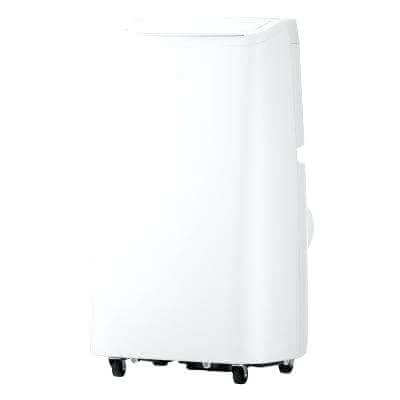 If Frigidaire could make one alteration with this unit it would surely be the design of their hoses and connections. Beyond this issue, which is a big one, everything else is great to amazing.
Read more
Cooling Capabilities
This is rated, thanks to 14,000 BTU, to cool spaces of up to 700 square feet. Thanks to the swinging louver, the air is evenly distributed throughout any room you use it. But, it is a single-hose configuration.
Programming
At the touch of a button, from the remote control, you can alter the temperature and fan speed to better suit your needs. Also, a 24-hour timer can be programmed.
Multiple Uses
Everything you can imagine, this unit can pull off. It acts as an air conditioner, a heater capable of the same 14,000 BTU rating and also as a dehumidifier.
Installation and Maintenance
Unfortunately, this is the biggest caveat present. Because the hoses and connections are on the flimsy side, installing them can be a major hassle. Of all the components of an air conditioner, this is a questionable area to skimp out on.
Portability
This certainly excels when it comes to portability and movability and it is all thanks to its caster wheels.
Overall
Some may question why this unit even made an appearance on this list given the terrible design flaw. Granted, it is a concern, but its functionality and portability are enough to keep you coming back.

Subscribe to our Newsletter