Best Alarm Clocks
In a Hurry? Editors choice: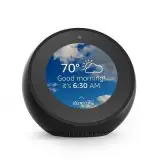 Test Winner: Echo Spot

What is the worst sound to hear in the entire world? Of course, it is your morning alarm clock buzzing; reminding you that you have another
full day of work
to partake in. No one likes to be woken up with an alarm, but the reality is, we all have jobs, and our responsibilities cause us to wake up earlier than we would like. So to make sure you are on time, a quality alarm clock is an excellent investment. If you are on the hunt for a stylish, multi-functional, high-quality alarm clock for your bedroom, you can stop your hunt here, as we have done the research and reviewed the top ten alarm clocks on the market today. Read on to find yours!
Standout Picks
Criteria Used for Evaluation
Durability
As was mentioned at the beginning of this guide, few people enjoy getting woken up by an annoying and obnoxious beeping noise. Not only that but as you will find out, that may not be the healthiest way to go about it. Either way, it seems apropos to begin with the manner in which you want the alarm to wake you up. Not all models are merely limited to a buzzing noise and depending on the model you invest in, can differ quite a bit. For example, instead of a honking beep, how about a system that allows you to be woken by the radio or your connected media device?
Or, what about the soothing sound of nature waking you up from your stupor? Then again, maybe you want a sunlight alarm clock which uses the simulation of sunlight to wake you up. Of course, if you do want to stick with a traditional buzzer as you feel it will be the only feasible solution to wake you, look for a system with an ascending volume. The longer the buzzer goes off, the louder it will get.
Style
At their core, alarm clocks are designed to play a set sound or music clip when they reach the desired time. However, though simple in nature, there are several design features that you can look at that completely change the game. Arguably the most popular amongst consumers is the convenience of having dual alarms. Chances are you and your partner both need an alarm to wake you in the morning. But, if your spouse needs to get up 30 minutes before you, why should you be forced to get up when they do? A clock with dual alarms allows you to set an alarm for you and your spouse (or anybody else).
Power Source
On the outside looking in, it is easy to overlook the importance of a clock's power source. But, understand that it is importance and something you need to consider. Question is how are these devices typically powered? It is kept fairly simple, for the most part, but not all of them are powered by batteries and not all of them via AC. Yet, depending on which power source your alarm clock has, there are pros and cons to each method. For instance, batteries are nice as you never need to worry about power outages. Then again, they will need to be replaced or recharged and that will never be a concern with AC. The best of both worlds would then be a model that is run via a power cable with a battery backup system.
However, the importance does not end there as some models will come equipped with USB ports or AC outlets. What this allows you to do is charge your external devices that are compatible.
Size
This section is wrapped up with another factor that can easily be overlooked. The reason for this is most alarm clocks will not be bulky enough to be an issue. But, it does not mean you should merely overlook it altogether. As such, perhaps you want your clock to be a companion with you everywhere you go (granted you are staying the night).
In addition, though, human beings are always wary of their surroundings and that includes aesthetics. In other words, no one wants to add a piece that looks out of place. Even if it is something like this, the simple mind of a human prefers it to fit in.
Top 10 Picks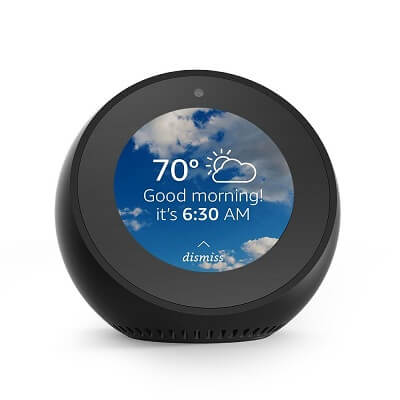 Look, the model you invest in does not have to be bloated with countless features. Then again, the top model on this list is exactly that as the Echo Spot utilizes Amazon's artificial intelligence program, Alexa.
Read more
Alarm System
Among the wide amount of uses, the Echo Spot has, functionality as an alarm clock is one of them. Even when the internet is not available, the alarm can be set and functional.
Extra Features
What can't this device do? It can work with your smart home devices (such as your televisions and fans) and works as a voice recognition system capable of detailing you with practically anything you would want to know.
Visual Display
The display on the Echo Spot can be automatically dimmed with the power of adaptive brightness. In addition, simply telling Alexa to turn the display off will leave you with a dark screen.
Power Source
Even though you could easily assume this device runs off of an integrated lithium battery, it is, in fact, powered via an AC cable.
Size and Bulkiness
No matter where you intend to place the Echo Spot, its compact and sleek design will probably adapt to it. In combination with the viewing angle of the screen, your placement options are endless.
Overall
Consider the Echo Spot as the mother of all alarm clocks. While it can function as a very basic model, it offers a plethora of advanced features that make it immortal in history.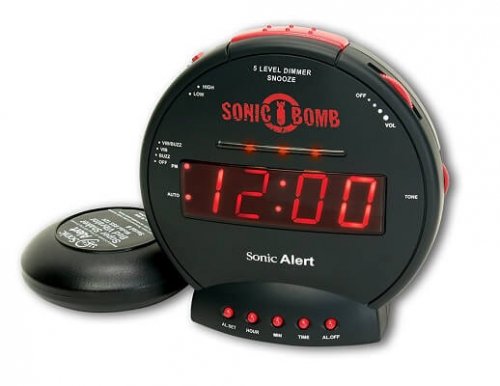 Instead of integrating countless convenient features, Sonic Alert aimed low with their Sonic Bomb and the end result is something to behold. Quite honestly, it is one of the more consistent models out there.
Read more
Alarm System
In addition to the 113-decibel alarm (which features adjustable tone and volume), this also comes with a powerful 12-volt bed shaker. The combination should wake even the heaviest of sleepers.
Extra Features
Past the aforementioned 12-volt bed shaker, the Sonic Bomb also comes equipped with dual-time modes (both 12 and 24-hour time formats).
Visual Display
Sonic Alert has designed this system with built-in red flashing alert lights. Additionally, the five-level dimmer system is a nice touch.
Power Source
While this is a dual-power alarm, it actually requires the use of a travel adapter for 220-volt power. This same adapter only converts prong configuration.
Size and Bulkiness
At seven inches by seven inches by six inches, this is a model that should fit well on anyone's nightstand or bedside.
Overall
As Sonic Alert proves, an excellent alarm system does not have to include every design feature in the book. Instead, it just needs to be an adjustable system that can efficiently wake you up in the morning.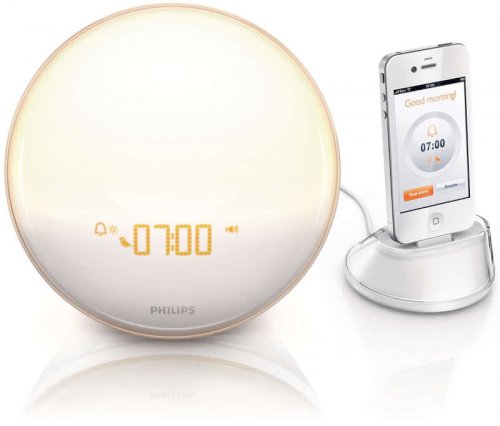 Instead of a traditional alarm system that sounds off an annoying beeping sound, this model actually uses a combination of natural colors and five different wake-up sounds.
Read more
Alarm System
Philips is extremely confident in their design as it is scientifically proven to work. Again, instead of a traditional beeping noise, this uses the power of illumination to wake the mind.
Extra Features
While this is not overflowing with features, one nice addition is the dimming system. Basically, this ensures you receive a more natural and restful sleep.
Visual Display
First off, it is nice that the LED display is easy to read. But, the display itself is equipped with 10 brightness settings and a colored sunrise simulation.
Power Source
What is nice is even in the event of a power outage, the PowerBackUp features will maintain your internal clock settings for up to eight hours.
Size and Bulkiness
This is advertised as a sleek and modern design but know this, at 19.9 inches by 14.6 inches by 19.2 inches (with a weight of nearly five pounds), it is not small.
Overall
If nothing else, you have to tip your cap to Philips for engineering such a compelling and unique design. Of course, the use of illuminated lighting will not be for everyone.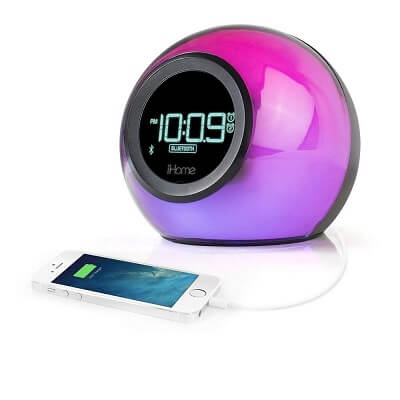 This is a lot like Amazon's Echo Spot but instead of Alexa, the main extra feature of this model is its built-in Bluetooth connectivity. As such, you can have the alarm play a plethora of different tunes and tones.
Read more
Alarm System
With the use of the integrated Bluetooth technology, you can wake up to your favorite song, the FM radio, or even a built-in tone. The choice is really up to you.
Extra Features
As this implements Bluetooth technology, it can perform a wide range of tasks. For example, it can stream music from your other devices and also pair with your smartphone.
Visual Display
Thanks to the high number of color options, you can really customize this alarm to suit your mood. The color changes are quite striking, to be honest.
Power Source
This clock itself utilizes the power of a CR2 battery. Yet, a huge bonus is the integrated USB charging port as it can charge your USB-enabled devices.
Size and Bulkiness
As this is a circular design, with a diameter of roughly six inches, it is not very bulky. All in all, it is a practical device that can fit in seemingly anywhere.
Overall
Not everyone enjoys waking up to an obnoxiously annoying alarm. Conveniently, this awesome device allows you to wake up to your favorite music tunes. The power of Bluetooth is amazing, is it not?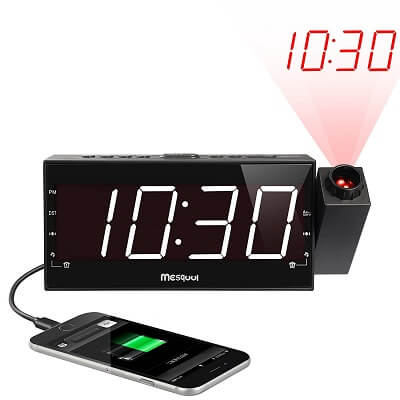 What is astounding about this next entry is it possesses the capability of projecting. While some users have claimed the quality is blurry when doing such, it is still quite an amazing feature to utilize.
Read more
Alarm System
This is built with dual alarms and because of this, you can choose to have the radio wake you up or a predefined alarm buzzer. Also, the alarm buzzer increments in volume.
Extra Features
In addition to being able to preset 10AM and 10FM stations for quick access, you also have access to 20 preset radio stations and AM/FM coverage.
Visual Display
The seven-inch sleek display would be incredible enough but what tops it off is the adjustable screen brightness. Depending on your preference, you can select high, medium, or low.
Power Source
First things first, AC power is required for the functions to work. But, it does sport a backup power system with its AAA batteries. Plus, its integrated USB port allows you to charge external devices.
Size and Bulkiness
To put it simply, this is tall and skinny. At 6.7 inches, though, it is not too tall to be obnoxious and out of place.
Overall
Despite the fact that some buyers have criticized the somewhat awkward operation, this projection clock is one of the "coolest" models in town; count on that.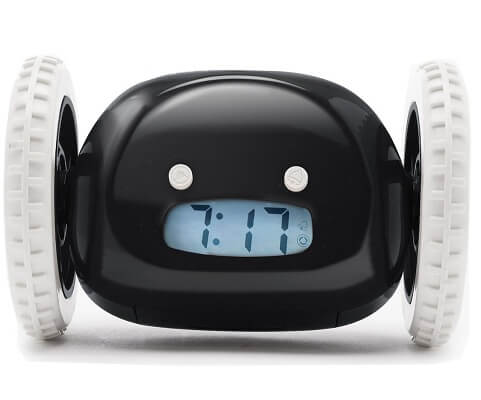 If you are an avid watcher of the hit television show Shark Tank, you have probably seen this runaway clock. To say this is a unique alarm clock is a vast understatement that much is for sure.
Read more
Alarm System
Clocky is advertised as being very loud and even for the heaviest of snoozers, this is promised to wake. In addition to this, you can completely customize your snooze times and durations.
Extra Features
When sleeping past the intended time, this device is going to literally run away. It will begin to run around on its integrated wheels and run sporadically in different directions while buzzing.
Visual Display
While the digital display on Clocky is not going to win any awards, it gets the job done and illuminates to be viewable in the darkness.
Power Source
For this to be operable, you need to supply four AAA batteries. As this is the lone power source, you have no other choice but to comply here.
Size and Bulkiness
All in all, Clocky weighs in at less than one pound and sports dimensions of around five inches by 3.5 inches by 3.5 inches.
Overall
Without a doubt, Clocky wins for the most innovative model on this entire list. As can be seen, though, innovation is only part of it. Some minor downsides aside, however, this quite the impressive design.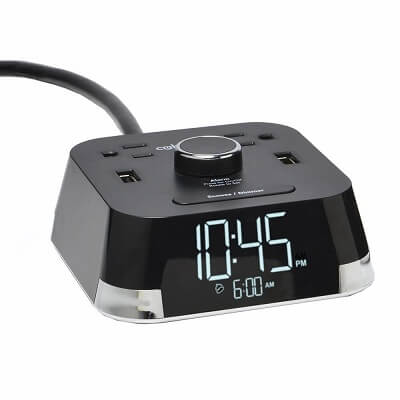 The CubieTime is a complete beast, let's just say that. In terms of durability, few can even think about competing with it. Of course, some basic features were omitted, which is a bit frustrating.
Read more
Alarm System
Many users will be disappointed at the lack of a dual alarm or a weekend alarm feature. However, the snooze button on the top panel is ready for your abuse.
Extra Features
Another omitted feature that certainly should have been integrated is the ability of the CubieTime to adjust to daylight saving time. As such, you will need to remember yourself.
Visual Display
Not only does the snooze button allow you to sleep longer, it also functions as a dimmer switch. If you so wanted to, you could completely turn off the display.
Power Source
The device itself is powered via the attached thick power cord. However, what makes this design so versatile is the integrated USB ports and AC outlets. At one time, you can charge up to four devices.
Size and Bulkiness
Even though the CubieTime itself is quite compact, the thick power cable can become a nuisance when you are traveling.
Overall
Truth be told, there is a lot that the CubieTime gets right. However, the lack of key features do bring the total value down a bit and for the price point, they should be integrated.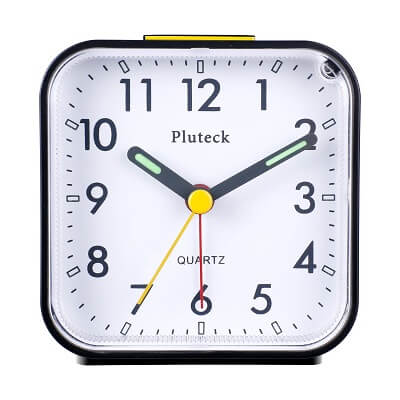 Do you remember when electronic devices were not solely predicated on the digital design? Sometimes, a simple analog clock gets the job done and the best part is this specific model sports silent hands.
Read more
Alarm System
Thanks to the design of this clock, the alarm will ascend in volume until it is shut off. It goes through four stages of volume and eventually, it will drive you mad.
Extra Features
With some analog clocks, the hands create a ticking noise that can be quite annoying. However, Pluteck ensured that this would not be a potential issue with their design.
Visual Display
There is one light bulb integrated into the clock and with the press of a button, this clock becomes ideal for nighttime viewing. In addition, if left in strong sunlight, the luminous hands will glow in the dark.
Power Source
All you need to power this device is one AA battery. All things considered, that is not much to ask from the consumer.
Size and Bulkiness
It really does not matter where you want to take this, it is compact enough to be used on a nightstand, near your bedside, or even in your hotel room.
Overall
For those who do not like letting go or those who simply prefer classical appeal, this is an ideal alarm clock. The analog design is sometimes preferred for its aesthetics and for good reason.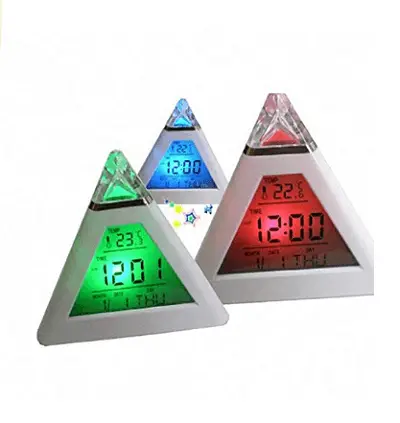 You know, there are some unique and innovative alarm clocks in the world. Anywa provides another one and their model is actually a pyramid that is designed with seven LED colors and also a temperature mode.
Read more
Alarm System
What is nice is there are different alarms to choose from so if you are not too big of a fan of one version, you can opt for another one.
Extra Features
Clearly, the most noteworthy extra feature of this clock is its temperature mode. Basically, it senses the environment's temperature and also can convert from Celsius to Fahrenheit.
Visual Display
In total, there are seven built-in LED lights. Among them, the main backlights are red, green, blue, and purple.
Power Source
Anywa designed their alarm clock to be powered off of the juice of AAA batteries. All in all, you need to supply three of them.
Size and Bulkiness
This is actually an equilateral pyramid and it measures 10.3 inches on each side.
Overall
Is this a flawless clock? You probably already know the answer to that but the positives do outweigh the negatives. At the end of the day, that is all you can really ask for.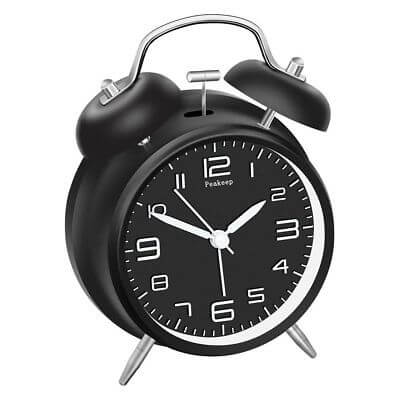 This alarm clock is for the retro lover in your life. It is very basic and will bring its owner back to a time before digital clocks. The great thing about this clock is that when the alarm goes off, you physically need to stop it which will ensure you are up and ready for the day. No snoozing here!
Read more
Alarm System
This alarm is old-fashioned in the sense that its alarm is comprised of two bells. It is perfect for deep sleepers or hearing-impaired people.
Extra Features
This clock is very basic and simply tells you the time and wakes you up with a loud alarm. If you're looking for simplicity, style and reliability, this is the clock for you.
Visual Display
This clock has a simple clock display, no digital aspect.
Power Source
This clock is powered by an AA battery which ensures that, if the power goes out you, will still be able to get up on time. Also, is portable if you need to bring it overnight with you.
Size and Bulkiness
The compact design makes this clock ideal for your bedside.
Overall
It is easy to see why so many consumers have valued this classic design. It is a simple yet effective design. Definitely a clock to look into if you love the simple retro feel.

Subscribe to our Newsletter