Best Climbing Carabiners
In a
Hurry? Editors choice: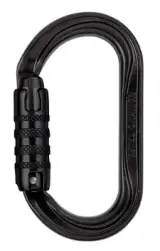 Test Winner: Petzl Oxan Carabiner

How could something as simple as a carabiner be so complex to shop for? It is pretty amazing when you think about it, but there is a vast array of climbing carabiners (in specific) available on the market. But, they all have the same purpose of acting like coupling links for your climbing adventures.

With that said, climbing carabiners come in all different shapes, sizes, and styles. Wrapping your head around all there is to choose from can be a little overwhelming. It is worth educating yourself about them, though, as high-quality carabiners can make all the difference.

That is where this buying guide comes into play. Not only have we taken the liberty of compiling 10 of the best models on the market, but we will also break down exactly what you need to look out for when shopping for them yourself.
Standout Picks
Criteria Used for Evaluation
Effectiveness
As simple as carabiners are, they can differ in performance quite a bit.
Truth be told, as you will soon find out, different carabiner styles will perform in different ways. But, regardless, there are still some considerations that you need to keep in mind when you are looking at how well a certain climbing carabiner is going to perform.
For starters, it all starts with the design of the gate. Again, while the different gate styles will be documented here shortly, there is some general information you need to know. Most importantly, realize that the tension on a gate is going to dictate its clipping action. Some barriers will be lighting fast and incredibly snappy, while others will be stiffer and slower.
While, no matter what, you will want a carabiner that has enough spring tension to return the gate to its fully closed positioned, it is more so personal preference as to how you want the gate to perform. Fast and snappy gates, though, will be preferred if you are into speed climbing of any kind.
Additionally, you can also assess the rope bearing surface on carabiners. In specific, those with more extensive baskets will place less torque on the climbing ropes when they catch your fall. So, if you will be falling a lot, look for models with more extensive baskets.
Style
Yeah, let's just say that this section is ultra-important. There are many different styles out there.
This is where everything can start to feel overwhelming. When it comes to climbing carabiners, there are many different styles to choose from. The key is to remember that there is no right answer as multiple methods can work for what you will be doing. Anyway, let's break down some of the most common.
Let's start with the different gate designs you will see. The three most common are straight, bent, and wire gates. Starting with consecutive gates, they are incredibly common and can be used for a variety of purposes (such as racking gear). These types of gates will hold exceptionally well over time.
As for bent gates, these are nice as they tend to be easier to clip onto ropes. As their name implies, the gates are slightly bent and sport concave shapes. And, then you have wire gates. Carabiners with wire gates will use stainless steel wire. Overall, this cuts down on weight while not sacrificing durability.
Of course, you also need to take the shape of carabiners into play. Asymmetric D shape models are the ones you will see most of the time. Clipping with these types of carabiners is generally pretty easy as they tend to have wide gate openings. But, there are also some with pear shapes.
These are often utilized for belaying and rappelling and will also typically sport large gate openings. And, then, you have oval carabiners. You can call these the granddaddy's as they are the original style. While they limit load shifting very well, they are also not as strong as others.
And, to wrap this section up, you also have locking and non-locking carabiners. In general, locking models are more secure than the non-locking variety. But, non-locking biners can be useful for carrying quickdraws (check our guide on the best quickdraws) and other such climbing gear.
Use
This section all comes down to two certain specifications and why they will be important to you.
There are two primary specifications if you want to call them that, to take note of here. The first, and this has been alluded to a few times, is what is known as the gate opening. This is precisely what it sounds.
The gate opening of a climbing carabiner merely refers to the width that the gate can open. It will typically be measured in millimeters. Now, while the overall size of the biner will sometimes affect how wide it opens, some will be rigged to open more extensive than others.
Regarding what you should look for, it does depend on a few outside factors (such as the size of your own hands). It is probably better to give yourself room for error, however.
As for the other specification, all carabiners will come with strength ratings. And, there are three individual ratings. Overall, though, most carabiners will be CE certified, and this means they will need to abide by specific safety standards. Manufacturers understand that you can't cut corners with something as vital as carabiners.
Weight
With a ton of gear to account for, it makes sense for you to pay attention to the weight of your carabiners.
Any type of climber is typically very cautious when it comes to the weight of their gear. And you are probably the same way. Well, why should that be any different when you are buying climbing carabiners? The answer, it should not.
When you also take into account that you will need several carabiners for your cams, quickdraws, etc., it becomes apparent how important weight becomes. That must mean that the lightest biners are always better then. While they can certainly be better, you also want to ensure they can perform in the manner you need them to.
The reality is carabiners can range from 20 to 65 grams in weight. The fluctuation is real, and while a few grams may not seem like a lot, you will not just be taking one or two carabiners with you on your climb. Thankfully, most manufacturers will try to save as much weight as they can (without sacrificing performance or strength). If you need a backpack while mountaineering, click here!
Ease of Use
Do you really want to fiddle around with your carabiners while you are climbing?
No one wants to struggle to operate their carabiners while they are climbing, and that is simply a fact. But, as you probably have figured out by now, not all brands will be as smooth and as easy to function as others. There are some factors to keep in mind here.
Firstly, and this goes back to style, in general, bent gates are more accessible to clip than straight gates. This all comes down to ergonomics and speed, really, as bent gates allow for faster clipping and unclipping. Then again, straight gateways can also be a bit more secure in the case of a fall.
Along the same line, the size will also play a role here. Generally speaking, larger biners will be easier to handle and subsequently clip than smaller models. Of course, this also depends on the size of your own hands. Where larger biners come in handy is in the wintertime when you need to operate them with climbing gloves on.
Our Top Picks for the Best Climbing Carabiners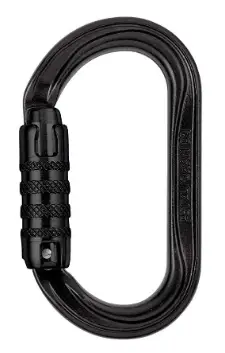 When it comes to manufacturing climbing carabiners, Petzl is just ahead of the game. They are one of the most reliable manufacturers out there and their Oxan Carabiner is simply elite.
Read more
Performance
In addition to the fact that this is smooth and strong, it also is equipped with Petzl's Keylock system. In short, this is going to prevent the carabiner from accidentally snagging your gear.
Style
Now, there are actually two different locking systems that you can choose from. The screw-lock system is manual but comes with a visual lock indicator. Meanwhile, the tri-act-lock system sports a triple-action gate opening and is quite lovely.
Specifications
Depending on the style you choose, this will either have a gate opening of 20 or 22 millimeters. As for the strength, it is one of the more powerful models out there with a major axis strength of 38 kilonewtons.
Weight
What is amazing is this manages to be one of the strongest models out there while also not adding a ton of weight. That is the brilliance of Petzl, after all.
Ease of Use
The oval, symmetrical shape of the Oxan allows it to be super easy to operate. It allows for easy rotation, optimal positioning and little to no risk of a catch point.
Overall
Seriously, what more could you ask for in a locking carabiner? In a market filled with several elite climbing carabiners, the Petzl Oxan takes the reign as the very best.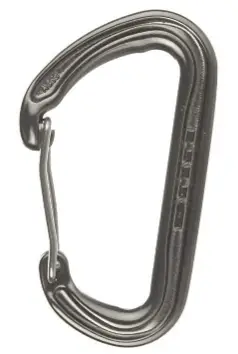 Along with Petzl, DMM is another brand that so many climbers have placed their trust in over the years. Their Spectre 2 climbing carabiner is their premium workhorse and is incredibly strong and "snappy".
Read more
Performance
Good luck finding a model that has a snappier gate than the Spectre 2. As noted, it is DMM's workhorse model and it is even designed with a deeper and safer rope basket.
Style
Overall, this is a classic all-round wire gate carabiner. Additionally, it implements a modified nose profile and this helps to better protect the gate.
Specifications
While the strength is admirable, the most impressive specification here is the gate opening. The Spectre 2 is rated with a 27-millimeter gate opening which is one of the largest out there.
Weight
At 32 grams in weight, not too many of you will be complaining. With that being said, there are lighter models available on the market.
Ease of Use
Past the fact that the shrouded nose helps to make unclipping this easier, it is also large enough to be used easily with gloves. This can come in handy for winter climbing.
Overall
To say that the Spectre 2 is elite is an understatement. Literally, every single climber in the world today would be happy to add this rock climbing clip to their repertoire.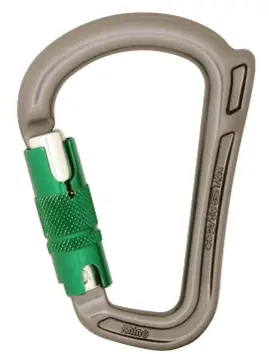 While the gate opening of the Rhino will be an issue for some of you, it is optimized for easy and smooth operation. It is simply one of the best from one of the best.
Read more
Performance
From top to bottom, the Rhino is masterful when it comes to its performance. Its round stock on the top allows the rope to run smoothly, it sports a full cross-section of the top bar for enhanced smoothness, and it is designed with a horn that prevents locking assisted devices from rotating off the top bar.
Style
In addition to the fact that this is built with an auto-locking mechanism (which works incredibly well), there also different styles available (quick-lock, lock safe, and screw gate).
Specifications
Indeed, the gate opening for the Rhino is a bit narrower than some of you will prefer (19 millimeters). However, its strength is remarkable and is rated at 27 kilonewtons.
Weight
The total weight of 72 grams makes this one of the heavier carabiners on this list, quite frankly. But, the I-Beam construction does help to cut down the weight a tad.
Ease of Use
Past the fact that the horn makes identifying this by feeling much more accessible, the clean nose design allows for snag-free performance when unloading and loading ropes.
Overall
Regarding performance, few do it better than the DMM Rhino. However, it is a bit heavier than other biners and does not open as wide, either.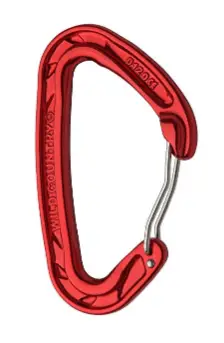 As many users have noted, the Helium 2 from Wild Country is one of the best non-locking carabiners on the face of this earth. It comes at a premium price, though.
Read more
Performance
Because this biner is not going to interfere with the rope, this is going to be a joy to use. Also, the spring itself is incredibly strong.
Style
As noted, this is a non-locking carabiner, and it is of the clean-lock nose wire gate variety. It is merely one of the best in its class.
Specifications
In addition to the exceptional strength, the Helium 2 also sports an incredible gate opening of 27 millimeters. So, it will receive rope with virtual ease.
Weight
The I-Beam construction that is engineered here allows the Helium 2 to weigh just 33 grams in total. This makes it one of the lightest options on this ultra-impressive list.
Ease of Use
Thanks to its size, this biner is very easy to handle. The slimmer wire gate profile improves clipping efficiency and makes it a lot easier, overall.
Overall
If the price is not an issue for you and you need some high-quality non-locking carabiners, then look no further. But, let's face it; you will need to be willing to shell out some cash here.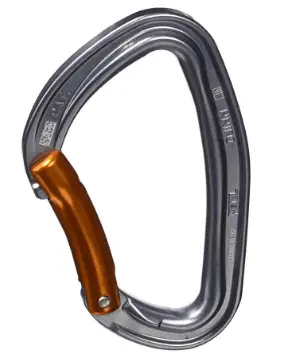 Now, the Djinn is actually available in both straight and bent gate versions. Either way, you go, it is far from a small carabiner which some of you will definitely appreciate.
Read more
Performance
Thanks to Petzl's Keylock system (which is a staple of theirs), the Djinn Carabiner is going to be less likely to snag on any of your gear.
Style
Indeed, this can be purchased with either a straight or bent gate. The straight gate version facilitates enhanced grip while the bent gate version allows for easier rope clipping.
Specifications
For the record, the bent gate has a gate opening of 27 millimeters while the straight gate sports an opening of 24 millimeters. Oh, and either way, the major axis strength is 23 kilonewtons.
Weight
To cut down on weight (talking about the straight gate version) the Djinn was engineered with an H cross-section. All in all, it weighs 45 grams (which is around the middle of the pack).
Ease of Use
The combination of the wider gate opening and H-shaped profile make it a lot easier to manipulate this biner. Overall, you should love operating it.
Overall
It is difficult to come up with any reason to why you would not want to add this to your collection. The Djinn's performance, ease of use and specifications are just top-notch.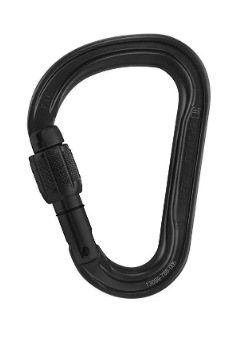 Thanks to its simple and clean design, this carabiner will be one that you will be happy to grab on your climbing adventures. It also sports the popular I-beam construction to shed some extra grams.
Read more
Performance
While it is easy to weld the screw gate closed, the Attache is one of the most reliable and well-performing biners on the face of the earth. Its clean and straightforward design certainly helps with this.
Style
Yes, this is equipped with a screw gate locking mechanism. Speaking of the gate, it also has a safety feature which allows you to see if the gate is closed or not visually.
Specifications
With a gate opening of 24 millimeters, not too many of you are going to complain here. Also, the major axis strength of 22 kilonewtons is admirable.
Weight
Once again, this is a model that sports an I-Beam construction. This construction method manages to shed some extra grams off for your convenience.
Ease of Use
This is arguably the Attache's greatest selling point. Its ease of use is through the roof thanks to its pear-shaped basket, clean and simple design, and ability to be used with gloves.
Overall
Are you starting to understand why Petzl climbing carabiners are so popular and beloved? Their Attache is just another incredible locking carabiner that will be great for anyone.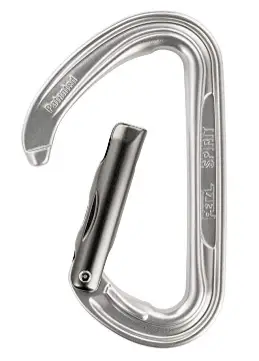 Petzl is plastered all over this list so it is no surprise to see them with another entry here. Their Spirit is another one of their long list of climbing carabiners that performs incredibly well.
Read more
Performance
First off, the wide rope bearing surface of the Spirit allows it to create smooth pulling actions. Additionally, the gate action is incredibly quick and snappy for optimal performance.
Style
Now, overall, this is a straight gate carabiner, and it is better suited for sport climbing. The primary reason is due to the Keylock design that facilitates snag-free unclipping.
Specifications
Compared to its size, the 21-millimeter gate opening of the Spirit is somewhat narrow. A wider opening would have been preferred, but it is not too drastic.
Weight
The newer version of the Petzl Spirit integrates an I-Beam construction. This allowed it to shed a few grams and, now, it clocks in at 39 grams in total.
Ease of Use
Because of how easy the carabiner clip is to operate, this remains an excellent option for when you need quick and easy clips and unclips.
Overall
Again, if you are into sport climbing, then you will admire how quickly you can clip and unclip this sucker. Its performance is its best selling point, let's say that.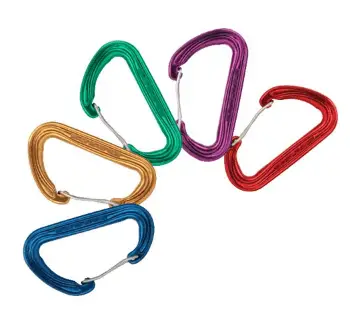 Alright, so the DMM Phantom has somewhat of a stiff gate action and is not as "snappy" as others. But, it is also incredibly strong while maintaining an ultralight core.
Read more
Performance
Indeed, this is not the snappiest of carabiners as the gate action is somewhat stiff. But, for enhanced performance, the Phantom features a slight rope groove to keep it loaded along the spine.
Style
The Phantom is a non-locking biner, and it is designed with I-Beam technology. Also, it sports a bent wire gate that pulls itself into the nose. It is a good system all around.
Specifications
Though the specifications may not blow many of you away, the Phantom is just stellar overall. It has a major axis strength of 23 kilonewtons and a gate opening of 21 millimeters.
Weight
By itself, the Phantom only weighs 26 grams. As you can see from the other options on this list, it is one of the most lightweight carabiners that you can go with.
Ease of Use
You can expect little to no issues when it comes to using this carabiner on your climbs. Clipping is going to be made pretty darn simple.
Overall
It is easy to see why the Phantom is a fan-favorite. It is ultralight, performs well, and is incredibly strong. However, its gate action is not the best, so take note of that.

9

. Edelrid HMS Stike Carabiner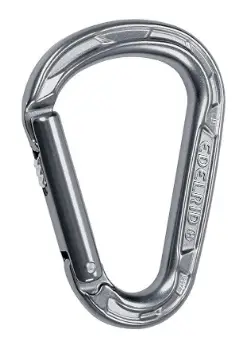 As this is an automatic locking gate, you will never have to worry about it coming unlocked when you are belaying. It is a bit heavier than other climbing carabiners, though, so do be aware of that.
Read more
Performance
Even with gloved hands, this is a climbing carabiner that you can trust to perform flawlessly. With that said, the locking mechanism is a bit too easy to release (though this is only a potential downside).
Style
Being equipped with an automatic locking gate, this is going to lock when you are building anchors, belaying, etc.
Specifications
With a gate opening of 21 millimeters, it is safe to say that other carabiners will open wider. Still, 21 millimeters of clearance is far from useless.
Weight
This is one of the heavier biners on this list as it clocks in at 62 grams. Those looking to save as many grams as possible may not want a ton of these on hand.
Ease of Use
Not too many of you will encounter situations where you will struggle to operate this biner. Its sleek and simple profile allows for easy unlocking of the gate.
Overall
Without question, the HMS Stike is an incredibly well-designed piece of climbing equipment. It just so happens that it comes at a steep price with a few extra grams of weight.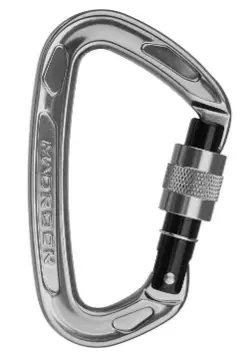 When it comes to excelling at one particular thing, the Ultra Tech Carabiner is not really going to do the trick. Instead, it is best described as a jack-of-all-trades and master-of-none carabiner.
Read more
Performance
Overall, this works very well in several different applications. It features a secure spring tension and is just insanely reliable as a whole.
Style
The screw gate closure system provides you with peace of mind to not need to worry about this biner opening due to vibrations and such.
Specifications
Now, even though the gate opening is only 18 millimeters, it is somewhat impressive given the small stature of the Ultra Tech. So is its major axis strength of 26 kilonewtons, as well.
Weight
At 56 grams in weight, this is not the lightest, nor is it the most robust option on the market. It falls somewhere in the middle of the pack.
Ease of Use
Though this is easy to operate, as a whole, its Keylock nose is thick. This makes it tricky to clip into tighter spots, which is something to keep in mind.
Overall
For the average climber who wants a versatile and reliable carabiner, this is an excellent option. If you need your biner to excel at one particular thing, though, there are better options out there.

Subscribe to our Newsletter