Best Climbing Carabiners
In a
Hurry? Editors choice: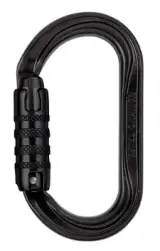 Test Winner: Petzl Oxan Carabiner

How could something as simple as a carabiner be so complex to shop for? It is pretty amazing when you think about it, but there is a vast array of climbing carabiners (in specific) available on the market. But, they all have the same purpose of acting like coupling links for your climbing adventures.

With that said, climbing carabiners come in all different shapes, sizes, and styles. Wrapping your head around all there is to choose from can be a little overwhelming. It is worth educating yourself about them, though, as high-quality carabiners can make all the difference.

That is where this buying guide comes into play. Not only have we taken the liberty of compiling 10 of the best models on the market, but we will also break down exactly what you need to look out for when shopping for them yourself.
Standout Picks
Criteria Used for Evaluation
Effectiveness
As simple as carabiners are, they can differ in performance quite a bit.
Truth be told, as you will soon find out, different carabiner styles will perform in different ways. But, regardless, there are still some considerations that you need to keep in mind when you are looking at how well a certain climbing carabiner is going to perform.
For starters, it all starts with the design of the gate. Again, while the different gate styles will be documented here shortly, there is some general information you need to know. Most importantly, realize that the tension on a gate is going to dictate its clipping action. Some barriers will be lighting fast and incredibly snappy, while others will be stiffer and slower.
While, no matter what, you will want a carabiner that has enough spring tension to return the gate to its fully closed positioned, it is more so personal preference as to how you want the gate to perform. Fast and snappy gates, though, will be preferred if you are into speed climbing of any kind.
Additionally, you can also assess the rope bearing surface on carabiners. In specific, those with more extensive baskets will place less torque on the climbing ropes when they catch your fall. So, if you will be falling a lot, look for models with more extensive baskets.
Style
Yeah, let's just say that this section is ultra-important. There are many different styles out there.
This is where everything can start to feel overwhelming. When it comes to climbing carabiners, there are many different styles to choose from. The key is to remember that there is no right answer as multiple methods can work for what you will be doing. Anyway, let's break down some of the most common.
Let's start with the different gate designs you will see. The three most common are straight, bent, and wire gates. Starting with consecutive gates, they are incredibly common and can be used for a variety of purposes (such as racking gear). These types of gates will hold exceptionally well over time.
As for bent gates, these are nice as they tend to be easier to clip onto ropes. As their name implies, the gates are slightly bent and sport concave shapes. And, then you have wire gates. Carabiners with wire gates will use stainless steel wire. Overall, this cuts down on weight while not sacrificing durability.
Of course, you also need to take the shape of carabiners into play. Asymmetric D shape models are the ones you will see most of the time. Clipping with these types of carabiners is generally pretty easy as they tend to have wide gate openings. But, there are also some with pear shapes.
These are often utilized for belaying and rappelling and will also typically sport large gate openings. And, then, you have oval carabiners. You can call these the granddaddy's as they are the original style. While they limit load shifting very well, they are also not as strong as others.
And, to wrap this section up, you also have locking and non-locking carabiners. In general, locking models are more secure than the non-locking variety. But, non-locking biners can be useful for carrying quickdraws (check our guide on the best quickdraws) and other such climbing gear.
Use
This section all comes down to two certain specifications and why they will be important to you.
There are two primary specifications if you want to call them that, to take note of here. The first, and this has been alluded to a few times, is what is known as the gate opening. This is precisely what it sounds.
The gate opening of a climbing carabiner merely refers to the width that the gate can open. It will typically be measured in millimeters. Now, while the overall size of the biner will sometimes affect how wide it opens, some will be rigged to open more extensive than others.
Regarding what you should look for, it does depend on a few outside factors (such as the size of your own hands). It is probably better to give yourself room for error, however.
As for the other specification, all carabiners will come with strength ratings. And, there are three individual ratings. Overall, though, most carabiners will be CE certified, and this means they will need to abide by specific safety standards. Manufacturers understand that you can't cut corners with something as vital as carabiners.
Weight
With a ton of gear to account for, it makes sense for you to pay attention to the weight of your carabiners.
Any type of climber is typically very cautious when it comes to the weight of their gear. And you are probably the same way. Well, why should that be any different when you are buying climbing carabiners? The answer, it should not.
When you also take into account that you will need several carabiners for your cams, quickdraws, etc., it becomes apparent how important weight becomes. That must mean that the lightest biners are always better then. While they can certainly be better, you also want to ensure they can perform in the manner you need them to.
The reality is carabiners can range from 20 to 65 grams in weight. The fluctuation is real, and while a few grams may not seem like a lot, you will not just be taking one or two carabiners with you on your climb. Thankfully, most manufacturers will try to save as much weight as they can (without sacrificing performance or strength). If you need a backpack while mountaineering, click here!
Ease of Use
Do you really want to fiddle around with your carabiners while you are climbing?
No one wants to struggle to operate their carabiners while they are climbing, and that is simply a fact. But, as you probably have figured out by now, not all brands will be as smooth and as easy to function as others. There are some factors to keep in mind here.
Firstly, and this goes back to style, in general, bent gates are more accessible to clip than straight gates. This all comes down to ergonomics and speed, really, as bent gates allow for faster clipping and unclipping. Then again, straight gateways can also be a bit more secure in the case of a fall.
Along the same line, the size will also play a role here. Generally speaking, larger biners will be easier to handle and subsequently clip than smaller models. Of course, this also depends on the size of your own hands. Where larger biners come in handy is in the wintertime when you need to operate them with climbing gloves on.
Our Top Picks for the Best Climbing Carabiners
Subscribe to our Newsletter