Best Backpacks for Mountaineering
In a
Hurry? Editors choice: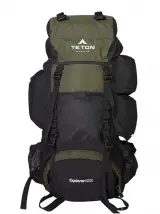 Test Winner: Teton Sports Explorer 4000

Mountaineering can be a great escape from your hectic, everyday life, and provide you with a fun, relaxing uphill adventure that can be both intrinsically rewarding and challenging. Once you reach the top of any climb, you feel a feeling of accomplishment only mountaineering can provide.
In order to get to that height and accomplish your climb, you'll need to make sure you have some appropriate gear to take along with you. One of the most important pieces of
gear you can purchase for your mountaineering adventures
is a solid backpack for mountaineering since you'll want to make sure you have everything you need with you when you climb. High up in the mountains, your gear will be all you have.
Standout Picks
Criteria Used for Evaluation
Comfort
This seems like a no-brainer. If something isn't comfortable, you are not going to want to use it.
Comfort is a very important factor when you are investing in anything, and in this case, specifically, a backpack. If it doesn't feel comfortable, you won't want to use it, and you will probably wind up wasting your money. It is important to take note of the padding in the straps, the possibility of a waist or chest strap, how breathable the back panel is, etc. The material that the bag is made from can make a difference in comfort as well.
Durability
Durability is also important because it makes your pack a more worthwhile investment.
The longer something lasts, the better the investment. Most durable packs are made out of nylon and feature reinforced materials. Some come with weather protection. For example, a DWR finish adds an extra layer of durability to any item.
Along with durability, you should take a look at the warranty that is offered. We like to assume that the product is near perfect and you won't have any issues, but we all know how life works. Every option on this list comes from a popular, well-known, trusted brand. Each brand featured here has a reputation for great products and customer service.
Versatility
Versatility is important if you plan on doing many different types of climbs with your gear.
Some packs are designed to handle a lot of all-around climbing activities, while others are made for one specific type of climb. So, make sure you know exactly what you plan on doing, and pick one out that meets your specific goals. A couple of the packs on this list feature a detachable daypack. These are great for packing perishable items, such as food. When you have finished the food, you can fold up the bag and stuff it inside the large bag, or just leave it clipped on.
Aside from using it for outdoor activities, it is good to know if the backpack will function for other activities as well. Maybe you could pack a picnic or use it for travel. These packs are specifically great for mountaineering but can be used for other activities as well.
Features
You'll want to make sure you have everything you need when investing in a good mountaineering backpack.
Some of the features that we personally look for are organizational tools, a designated spot for a water bottle, and hooks or D-rings on the outside of the bag. The hooks are great for attaching any extra things you may want to bring with you but don't have enough room inside for. You may need to invest in a few strong carabiners if you plan to use the hooks to hold important items.
Another useful feature is a rain cover. These typically fold down and won't take up much room in your pack, but will be a lifesaver on those unpredictable weather days. On the other hand, if you have one with excessive features, you may wind up with a heavier pack that also costs more. So, make sure you know what you really need, and focus on those features when you make your decision.
9 Top Rated Mountaineering Backpacks
Subscribe to our Newsletter