Best Climbing Cams
In a Hurry? Editors choice: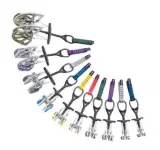 Test Winner: Black Diamond Camalot C4

Climbing cams are some of the most important pieces of protection equipment that you need to buy if you have any
interest in rock climbing
. As such, it is vital that you educate yourself about them and what makes them useful and worthwhile. Well, guess what, we have made that job much easier for you.
Though climbing cams are technically known as spring-loaded camming devices, very few people will refer to them as such and will stick to "cams" instead. Either way, it all refers to the
same vital protection equipment.
But, what are some of the things that you need to know?
While we will get into the beef later, you will learn about cams various ranges, sizes, weights, materials, and all that fun stuff. First, though, check out some of the best available models on the market right now.
Standout Picks
Criteria Used for Evaluation
Effectiveness
Camming devices truly do live and die by their performance.
There are many different features you need to keep an eye on when you are assessing the performance level of climbing cams. Firstly, let's talk about the cam angle. Now, the funny thing about this is it seems that every manufacturer selects a different cam angle and thinks that theirs is superior.
The reality is, however, it is tough to say that one certain cam angle is superior to the rest. It all comes down to how well the cams themselves hold. And, additionally, how easily they can be placed. The design of the axles, the head width, and the flexibility of the stem will all play a role with this kind of stuff.
Of course, you also need to be aware of what cam walking is. This is something that occurs when the cam's movement is transferred from the lead rope itself. What happens is the cam will then "walk" or move around. This can become problematic for you.
However, there are ways to combat. Much like before, you need to assess the head width and the flexibility of the stem. Wider head widths and more flexible stems will allow the cams to stay in place a little better.
Compatibility
In addition to their performance, camming devices will also heavily be judged on their ability to fit a wide range of cracks.
One of the most critical specifications for climbing cams is their range. For many of you, this will be the most crucial consideration to make. But, what exactly does the field indicate? In the simplest of explanations, cam range dictates the size of the cracks that you can utilize on your climb.
If you require cams that excel when it comes to versatility, then you may want to opt for double axle designs. While innovations have found ways to create other methods to increase range, double axle designs will still, generally, have superior ranges when compared to single-axle cams. The reason for this is double axle cams will allow for larger lobes to be retracted in narrower positions.
But, where you intend to climb can also play a role in the cam range you need to look for. For walls with perfectly parallel cracks, you will not have too much trouble finding optimal camming devices. Then again, when it comes to pinning scars, you will probably want narrower heads and more flexible stems.
And, what you also need to know is having more versatile cams does not mean you need to take less of them with you. After all, cams with more extensive ranges allow for broader compatibility of cracks. However, you will still need to carry several of them with you, regardless.
Durability
Most units will hold up quite nicely but if you are rough with your gear then you may want to pay closer attention to this section.
The good news for you is most climbing cams will be durable enough to survive what you throw at them. With that being said, it is no secret that some models will be superior in this department than others. And, when it comes to cams, certain areas will be the most prone to breaking.
These main areas are the stem, trigger wires and the cams themselves. Then again, the type of climbing you will be performing will also be significant. For example, if you buy cams with exposed trigger wires and like to aid climb, then you are going to go through them quicker than you probably want to.
At the same time, free climbing is not going to present as much of an issue. This is specifically true if you tend to actually take care of your gear. But, what about the slings? Indeed, these will also wear down eventually.
The most popular type of slings seems to be made with Dyneema. This is thanks to the material's abrasion-resistant properties and incredible strength-to-weight ratio.
Size
Having a well-rounded number of sizes is going to prove beneficial.
If you nothing about climbing or climbing cams then you may be in for a shock when you are told that you will need to bring several camming devices with you. And, you should bring different sizes to account for differently-sized cracks and such.
This is why most manufacturers will present you with a plethora of different size options. If you need to utilize micro-sized cracks, also, keep in mind that only a few brands will make their cams small enough. Either way, all the sizes will be color-coded. This is to ensure that you know the size of the cam you grab at all times (it is a convenience feature).
You also need to assess the length of the sling. It is worth noting that longer slings can require you to bring fewer quickdraws on your climb. But, at the same time, longer slings can often get in your way and become nuisances.
Oh, and some slings will be extendable. This can be a great way to reduce cam walking. However, some of you will not want to mess around with these types of slings, and that is fair.
Weight
Most modern cams will be lightweight but there are some that will be superior in this regard.
There are two ways to look at this section, quite frankly. On the one hand, you should probably prioritize the performance of climbing cams over their weight. But, on the other hand, when weight means everything to you, you need to account for it.
Do you want the good and bad news in all of this? Most all camming devices are going to be engineered to be as light as possible (without sacrificing performance or anything like that). The bad news is that when you carry a rack of them, they will all begin to feel heavy.
But, if you want to know, specific models will be lighter than others. Some camming devices will have the word "ultralight" directly in their titles. As you can garner from that, these models will be extremely lightweight when compared to various other models.
Our Top Picks for the Best Climbing Cams
1

. Black Diamond Camalot C4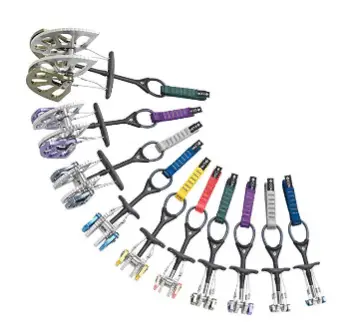 If you have done any prior research about camming devices then you have probably heard of the Camalot C4 Cams from Black Diamond. Many users will agree that they are the best climbing cams you can get your hands on.
Read more
Performance
The Trigger Keeper that is equipped on the C4s is what makes them so good. When you take the cams off of your harness, the triggers are never going to get caught or impede your progress in any way.
Range
In this size range, you will be covered when it comes to parallel cracks. However, for flaring cracks, these will need to be supplemented with smaller camming devices.
Durability
Let's say that the Camalot C4s are not going to break or wear down very quickly. The C-Loop continuous cable stem design on each size is both robust and built to last.
Sizes
In addition to the fact that the patented slings are large enough to be used with gloves, these cams are available in a wide range of sizes. And, all these sizes are color-coded.
Weight
While all these cams have noticeable weight savings, you can tell with some of the larger cams. Overall, most of you will come to appreciate the weight savings of these suckers.
Overall
Are you starting to see why these are the unwritten standard-bearer of all climbing cams out there? In addition to everything else, there is virtually nothing wrong with these.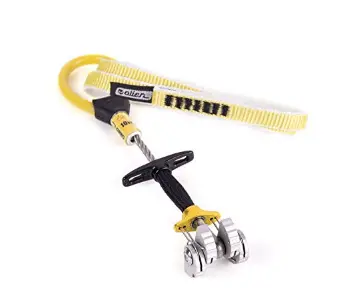 The original Alien cams were really, really good. However, the Alien Revo cams can be considered even better. In fact, they are a very close second when compared to the Camalot C4s.
Read more
Performance
Because these are more flexible than other cams, they are going to hold better in pods. Most people would agree, in fact, that these sport the most flexible stems of any camming devices on the market.
Range
Each of the cams is designed with a narrow head to fit into trickier cracks. Overall, these cams are known for offering an impressive range.
Durability
While the original Aliens were impressive in their build, these are perhaps even better. The high-quality trigger components and strong aluminum swages ensure these will last you years to come.
Sizes
First off, these cams are available in both single and double slings. Additionally, there are six sizes available and each of them represents a different color.
Weight
What is amazing is these camming devices come with thumb loops but are also much lighter than other models out there.
Overall
Much like with the Camalot C4 camming devices, these are virtually flawless in their design. These easily could have landed on the top of this list which really does say it all.

3

. Black Diamond Camalot Ultralight Cams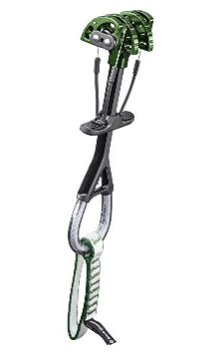 If you learn nothing else from this list then learn that Black Diamond makes some of the best camming devices that you can get your hands on. Their Camalot Ultralights are some of their most popular.
Read more
Performance
Not only does the thumb loop ensure smoother trigger action, but these cams, in general, allow for excellent placement in both vertical and horizontal cracks.
Range
Much like with other Camalot climbing cams, the Camalot Ultralight cams are made with double axles. What this means is they will sport an increased range of placements regarding the cracks you can utilize.
Durability
Even though these should not be considered cheaply-made, some of you may wear them down quicker if you tend to beat up your climbing gear. And, of course, the slings will need to be replaced eventually.
Sizes
There are many size options that you can select from (between 0.4 and 4). And, as always, each of the sizes is a specific color to make things easier for you during your climbs.
Weight
When compared to standard Camalot camming devices, these are around 25 percent lighter. Hey, they are not called Camalot Ultralight cams for nothing after all.
Overall
Sure, these can wear down quicker than some other climbing cams but they are also some of the best ones you can get your hands on. This is thanks to their weight and performance advantages.

4

. Metolius Ultralight Master Cams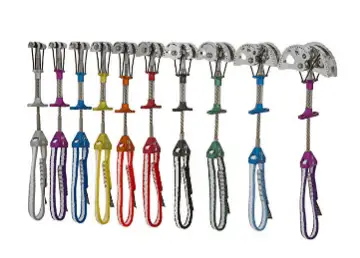 In addition to the fact that these cams are known for their lightweight nature, they also sport optimized lobe angles which allows them to achieve enhanced holding power.
Read more
Performance
First off, this has been redesigned with a shark fin tooth pattern. With this implementation, it makes these cams optimized for soft rock. Oh yeah, the cam angle on each size has also been designed for increased holding power.
Range
One of the reasons the Master cams are so special is because of their low profiles. Basically, this ensures that they can fit in pockets, creases, and pin scars much smaller than you would think.
Durability
To avoid wear and tear on the sling, it can be rotated through the thumbpiece. Of course, it will still need to be replaced every five years or so; much like any other sling out there.
Sizes
For sizes 2 through 8, a Range Finder system is available for you to choose the correct cam size while you are climbing. Speaking of which, each size is color-coded for ultimate convenience.
Weight
The weight savings on these newer cams deserve recognition. When compared to the originals, these are at least 20 percent lighter.
Overall
The lightweight nature, coupled with the durability and practicality of these camming devices make them an absolute hit. You can see why so many previous users have raved about them.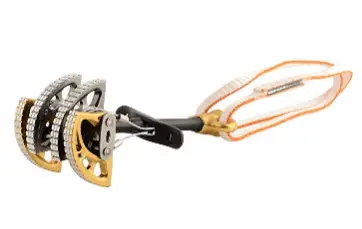 The DMM Dragon cams are another set of the most well-known and esteemed climbing cams on the market. For the most part, they live up to the hype.
Read more
Performance
The cam angle is optimized for both superb range and increased holding power (the TripleGrip cam lobes also help with this). Of course, some of you will not be too fond of the lack of a thumb loop.
Range
To allow for a greater range, each of the cams has been equipped with single stems and two axles. The single stem designs also allow for 360-degree flexibility.
Durability
Arguably the best feature of these cams is the cam lobes (in sizes one to six). These specific lobes have been hot-forged for both weight savings and enhanced durability. Of course, the Dyneema slings are not the most long-lasting out there.
Sizes
When compared to the Camalot C4s, these provide about the same range of sizes. Oh, and they also utilize the exact same color scheme as the C4s.
Weight
Even though you may not notice the difference, these cams are lightweight when compared to some other units. This is thanks, in large part, to the hot-forging of the cam lobes.
Overall
The Dragon cams can be considered a slightly inferior version of the Camalot C4s. Considering the C4s are the standard-bearer of climbing cams that can only be seen as a compliment.

6

. Black Diamond Camalot X4 Cams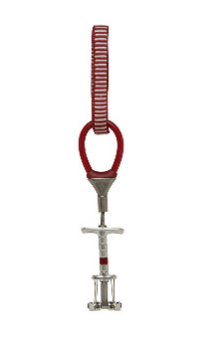 If you could not tell already, Black Diamond has engineered many different versions of their Camalot series of camming devices. These are known as the X4 cams and, as you would expect, they are tremendous.
Read more
Performance
Due to the narrower heads and the more flexible stems, many of you will prefer the Camalot X4s over other Camalot iterations. Additionally, the hot-forged trigger bars provide enhanced ergonomic handling.
Range
The Camalot X4 cams are quite unique in the fact that both the large and small sizes are optimized for sufficient range. The larger cams sport dual axle designs and the smaller ones sport innovative stacked axles.
Durability
Even though the design and finish on each of these cams are phenomenal, these cams are a bit weaker than other Camalot versions. Again, if you tend to beat up your climbing gear then you may want to be cautious here.
Sizes
While these are not equipped with multi-length slings, which is not too big of a deal, there are several different sizes that you can select from.
Weight
As with most Camalot camming devices, you will not need to worry about the weight of these suckers.
Overall
At the end of the day, you really can't go wrong with Black Diamond Camalot cams. While the X4s are somewhat weaker than others, they are lightweight, perform extremely well, and sport incredible range.

7

. Wild Country Friend Cams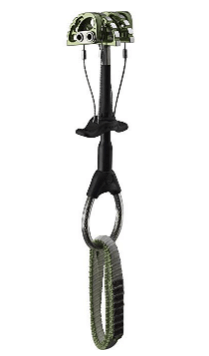 When you start to assess these cams, they begin to resemble Black Diamond C4s quite a bit. Given those camming devices landed on the top of this list that can only be seen as a good thing.
Read more
Performance
One of the benefits of the Friend cams is that they will better disperse energy over wider areas. As such, it makes them better for softer rock.
Range
These are equipped with twin axles which are optimal for efficient range. With the six sizes that are available, you can utilize cracks from 20.6 to 112.1 millimeters.
Durability
While the Dyneema sling does not seem as durable as other top-end cams, the steel cable and durable plastic-encased thumb loop are as good as it gets.
Sizes
Sizes are available from 0.4 to 4, for the record. Also, as for the slings, the Friend cams come with extendable slings, which is a feature that can come in handy for you.
Weight
Sure, there are other units out there that weigh less than the Friend cams. However, a rack of all six sizes clocks in at 31.9 ounces. And, the extendable slings also mean you can carry fewer quickdraws with you.
Overall
The long-list of fantastic and reliable climbing cams continues with the Wild Country Friends. Even though it seems cheesy to say, they more than certainly will become your friends during your climbs.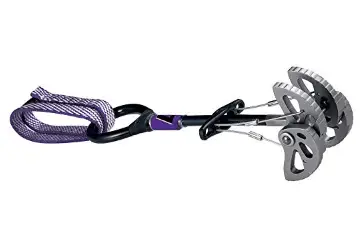 In spite of the fact that the trigger action of these cams is a bit loose, these are equipped with multi-length slings. Additionally, the stem sports a nylon sheath for added protection.
Read more
Performance
Many users will notice the looser trigger action of these devices. The thumb loops do allow for one-handed operation, though, and the grooved lobes and cam stops achieve better holding power.
Range
The flexible wire stem is what allows each and every one of these cams to protect both horizontal and angled cracks.
Durability
There is a nylon sheath that has been equipped on the stem and not only does it allow for extended reach but also improved durability as a whole.
Sizes
In addition to the bi-color sizing, these cams are also designed with double-length extendable slings. These can allow you to clip at three different lengths, which is really handy.
Weight
Being one of the lightest camming sets on the market, you will not need to worry about this too much.
Overall
In spite of the looser trigger action, these are well-designed cams. They offer extendable slings and are suited for a wide range of cracks.

9

. Omega Pacific Link Cams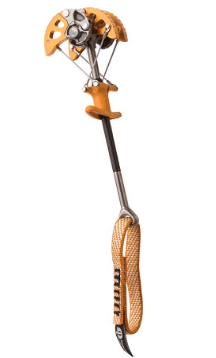 When compared to other climbing cams, you will tell that there is a noticeable increase in weight with these suckers. But, they will also fit an incredibly wide range of cracks.
Read more
Performance
Thanks to the enhanced surface contact between the rock and the cams themselves, these will not walk as much. Of course, one buyer did note that the recall from the nut coming off did not sit with them too well.
Range
The range of cracks that these can fit makes them worth the investment alone, quite frankly. This can be attributed to the linked and trisected cam lobes.
Durability
Being created with Omega Pacific's Metal-Injection-Molding process, it is safe to say that these are not going to break very easily. They should hold up to the abuse that you put them through.
Sizes
Due to the lack of sizes, you may need to supplement these with other camming devices. All in all, there are four sizes to choose from (and they are color-coded).
Weight
If you glance through user feedback then you will notice that some people have commented that these are heavier than other units. With that said, they are not quite as heavy as some people make them out to be.
Overall
Considering how well-designed these are, it says a lot that these still are lower on this list. It just goes to show that the selection of climbing cams is incredibly elite.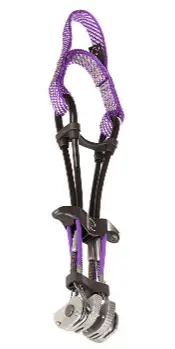 The holding power of this camming device is one of the best features of it and is one of the many reasons why fans are a fan of it. However, it is not a flawless design.
Read more
Performance
Because these only engage two lobes at a time, they are excellent for aid climbing. They also sport longer lobes for incredibly strong camming action and are also stiffer than other units.
Range
The range that is covered by these seven cams is merely remarkable. While some units are superior in horizontal placements, they often are with the sacrifice of more sizes.
Durability
Now, this is actually where the Totems are inferior. Not only are the plastic stems prone to bending, but the cables can eventually wear due to their placement on the cams.
Sizes
If you have become accustomed to Black Diamond's color scheme, then you will be right at home here. Totem utilized a color scheme that many of you will be familiar with.
Weight
A full set of these cams clocks in at 24.9 ounces. Though this is still not too shabby, other top-end camming devices are much lighter when you carry them as full sets.
Overall
Without question, the most significant cause of concern here is the fact that these cams will not hold up as well as others. Then again, they do protect as well as any other set on the market.

Subscribe to our Newsletter