Best Climbing Skins
In a
Hurry? Editors choice: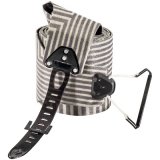 Test Winner: Black Diamond Ultra Lite STS

While many of us would prefer a cold day of winter spent indoors with some hot cocoa in hand, there are the true adventurous spirits out there who not only thrive in winter sports but find ways to flawlessly adapt to the harsher conditions.
If this venturesome description sounds like you, you may embrace the frigid temperatures with perfect grace while combing through the backcountry on skis. So how can you properly adapt your skis to demanding terrain? Along with investing in
quality boots
,
bindings
, and
skis
, you will want to equip your setup with some climbing skins. Originally, these skins were made with seal hides, and they provided those on skis with the ability to glide uphill, without sliding backward. Modern skins are now made of materials such as mohair or nylon. Join us today and check our list of top ten products!
Standout Picks
Criteria Used for Evaluation
Materials
At one time, skins were made out of the skin of a seal to provide extra traction and grip, and that's where they get their names. Today, however, most skins are made out of either nylon, mohair, or a combination of the two materials. Each has its advantages and disadvantages.
For example, a skin made out of mohair will often glide much more smoothly than nylon or mixed skins, but they also wear out much quicker. These skins are often only used for competition, where speed is of the essence.
Skins fabricated from nylon material are often much more affordable and durable. They also offer superior grip, but don't provide the ability to glide as well as mohair. Mixed, or hybrid skins give the combination of synthetic and natural materials and offer a fairly good compromise between grip, glide, and affordability.
However, if you're looking for something that highlights explicitly the ability to grip the snow or glide through it, the hybrid model may not be suitable for your needs.
Overall Fit
Of course, the best skins are only as good as the ability for them to stay on your skis when you need them and to be easily removed when you don't. This is where the method of attachment plays a significant role. There are two different ways to attach a skin to a pair of skis in most cases.
The first one is to use some adhesive. The second is to use hardware of some type to anchor the skin to the ski itself. Glue is messy and can be temperamental when it comes to weather or temperature. Also, the stickiness of the glue will wear out over time, leading to skins that don't always stay where they should. And finally, keeping the glue side clean can be a bit of a hassle.
All that being said, there are some advantages to using glue or an adhesive for your skins. First, if you find a glue recipe that works well, there is little chance of the skin coming off until you want it to. Also, it is relatively inexpensive. Another standard method of attachment used is referred to as tip and tail hardware. As the name implies, this method uses a set of grips or hooks that attach the skin to the ski at the tip, or front of the ski, and also at the back, or tail of the ski.
With proper measurement and fit, using hardware to attach the skins does have several advantages. First, you don't have to worry about the temperamental nature of glue. If the hardware is functioning correctly and the skins are well-fitted, attaching them and removing them are extremely easy. Also, tip and tail kits are remarkably more consistent in their performance, regardless of the size, or weight of the skins themselves.
When it comes to tip and tail kits, there are primarily two different types. The first is often called the European system and features a riveted metal tail hook with an elastic tail loop. This system is best suited for those who have difficulty twisting their leg around while wearing skis to remove the skins once the summit is reached.
The second type often referred to as the American style features a non-elastic tip and a tensioning tailpiece are the name of the game. This style requires that you kick your heels back behind you and grab the tail of your skis to remove the climbing skins, which can be somewhat awkward for those who aren't that flexible.
Size
For these skins to work correctly, they need to fit the skis that you use. As such, the overall size is significant. One option is to use skins that are specifically precut to fit the skis that you are using.
Some manufacturers, such as Dynafit have even developed skins specific to their brand of skis. The other option is to cut the skins to fit your skis on an individual basis. While pre-cut skins may be more convenient for most, many veterans choose to cut their skins for a truly customized feel.
Traction
Grip
The grip of the skin refers to the ability of the skins to have traction or dig in against the snow and ice as you move up the inclined surface. In most cases, a better grip is achieved by a tighter or denser material weave. Skins with a good grip are best suited for areas where there is a lot of ski traffic, steeper inclines, and for those who like to build steps as they move upwards on the hill.
Glide
The skin's "glide" as you may expect, reflects the skins ability to glide or slide on the snowy surface. While grip might be thought of as more important, especially as you're climbing a hill, glide also plays a significant role in the control of your skis during an uphill journey. While the grip allows you to hold onto a point in the snow and ice and rest for a few seconds, the glide of the skin allows you to move between those points with relative ease.
While many skins have an inherent "glide factor" based on the materials used and the quality of them, many people chose to help the glide along, since the fibers can wear down after a while. Most of the time, this is done through the process of waxing both your skis and the skins, both for protection and added smoothness when needed.
Subscribe to our Newsletter