Best Ice Skates
In a Hurry? Editors choice: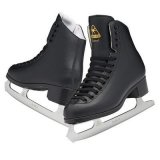 Test Winner: Jackson Ultima Excel Series

Getting into the sport of ice skating is really exciting and at the same time challenging. It involves
a lot of training
and grueling practice in order to perfect the skill. You need to consider a lot of things in order to be truly prepared. You need to decide why you want to get into this sport and whether you are in it for the long run. Having a comfortable, well-fitting pair of skates can make all the difference in both your progress and enjoyment of skating. Without doing some research and trying a bunch on for size, it can be a daunting task trying to figure out which skate would suit you best. The guide below fully reviews some of the best ice skates available on the market today and will hopefully take some of the guesswork out of your search.
Standout Picks
Criteria Used for Evaluation
Insulation
The winter season can be really tough and if you have to practice outdoors for several hours it can be even worse.
And then again even if you are not skating outdoors, if you are training, the temperature inside an ice skating rink can be very cold too! This is why we think insulation should be important in choosing the best skates. You have to make sure that your feet are warm and the insulation is effective in doing so.
Materials
One of the things we looked into is, of course, the materials that go into making the shoes and the blades.
This is very important because the materials will ensure not just the performance but also the safety of the skater. Sometimes because of budget constraints, some people often sacrifice safety and comfort; which should not be the case. Getting yourself reliable skating shoes will ultimately cost you more, but it goes without saying your safety and comfort are given attention.
Comfort
In order to be good at something, you need to constantly do it over and over again.
The practice is the key to perfecting a skill, and because of this, you will need ice skates that are not just sturdy also very comfortable to keep you on your feet for hours on end while practicing. Of course, you can't trade support for comfort when you are ice skating, but this is also something that is just as important.
Features
You will have a tough task in choosing the right skating shoes and it may seem that they all serve the same purpose so it is quite important to look closely; they have features that distinguish each product. Since we know that not everyone will not have the liberty of time to check each item in such depth, this guide might help you narrow your choices to ten products.
Best Ice Skates
1

. Glacier by Jackson Ultima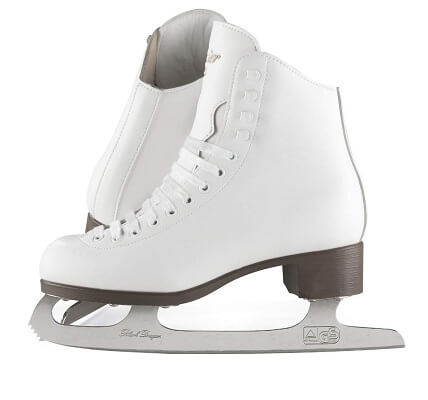 This pair is very ideal for beginners. If you are in the pre-preliminary or preliminary level or even juvenile level, this item is will help you improve your skills and enjoy practice sessions.
Read more
Durability
They used high-grade materials to ensure that your pair will be able to endure the long and tedious practices you will be doing to perfect your skills.
Ease of Use
They used PVC outsole for you to care for it easily. After using it you can easily wipe it clean and no need to worry about rusts and tarnishes. It is easy to slip into as well so you can make a headstart.
Comfort
It is designed to keep your feet comfortable with suede lining to keep your feet warm and at the same time give support to your ankle to lessen the strain during practice.
Features
The outer cover is not just for show but to make sure your feet are warm and comfortable at all times. The insoles are padded for warmth and support and the blades are chosen for performance and endurance.
Insulation
This item is well insulated to make sure your feet stay warm even after hours of practice.
Materials
This item used vinyl for the outer cover and placed suede linings inside the shoes with a felt on the back of the tongue for added comfort. The blades are made of nickel and the outsole is made of PVC for easy cleaning.
Most Expert Criteria: Support
This item passed all the tests and is highly recommended for those who are just beginners because it is safe and designed to meet the needs of new learners.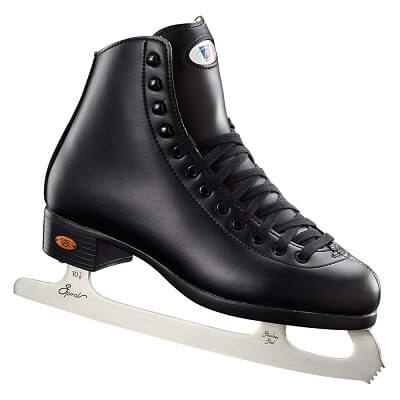 These are recreational skates and basically designed for women. This is also very ideal for beginners because the design is made to support your ankle during long hours of practice.
Read more
Durability
It is made of materials that are made to last. It designed for beginners so long hours of practice is not an issue, this item can withstand the wear and bruises without injuring your feet.
Ease of Use
This item has a very basic design that will not put pressure on newbies. You just slip it on and not have to worry about other things. The design itself already knows how to address your worries when skating.
Comfort
Your feet will not feel the brunt of the activity other than sores on your muscles. Your feet and ankles are well taken cared of with the materials used.
Features
They made sure it is padded for comfort, so you can practice as long as you want. It has a very attractive design although a bit basic compared to others but it is also very affordable so you can easily buy your first pair and start on your new hobby or career. The design also goes well with any kind of outfit.
Insulation
It is well insulated so you won't feel any discomfort even after long hours of practice in the cold ice rink. Long hours of practice can become very cold even if you are indoors.
Materials
They used only quality materials so you can practice all you want with foam quarter padding, a hand-made quilted lining to cushion your feet, Level 20-light boot support.
Support
The 110 Opal model is not just attractive looking but also has features that are designed to ensure comfort and support, for instance, the split-tongue provides stability, the foam quarter padding cushions your feet and ankle so that even with the snug fit your feet is less strained even after long hours of practice.

3

. Jackson Ultima Excel Series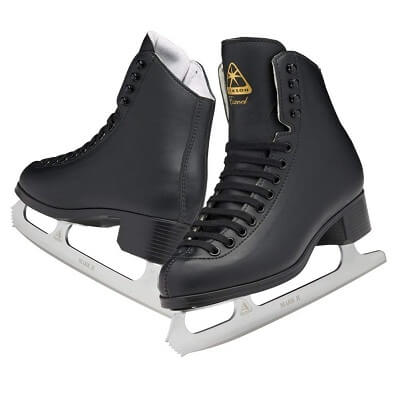 These are designed for beginners and those who are starting over in skating. It is reasonably priced but with uncompromised performance.
Read more
Durability
It is made of materials that will be able to keep up with the grueling hours of practice. It is definitely a good investment to start with.
Ease of Use
It is easy to slip on and the design goes well with any outfit. You don't have to worry about matching outfits because this one has a very basic look. The soles have screws so that you can change blades when you are training for specific skills.
Comfort
It is specially designed to give comfort while you are practicing. Especially for beginners, the practice can take hours and your feet will definitely not be happy about this. However, with padded insoles and lining, you can be sure it will be easy on your feet.
Features
It has a level 5-beginner support with linings in the insoles plus a foam backed tongue to added support. It even has attached screws on the blades so you can switchblades.
Insulation
It is designed with vinyl synthetic lining to keep your feet warm.
Materials. This skating shoe is made from with vinyl to keep the moisture out. It has stylized PVC outsole and Ultima Mark II blades that you can unscrew if you wish to change it.
Support
Due to the reason that this is made for beginners, they made sure it can withstand long hours of practice without causing injury to your feet. The materials used are made to ensure your feet are well supported as you develop your skills on the ice.

4

. American Cougar Soft Boot Hockey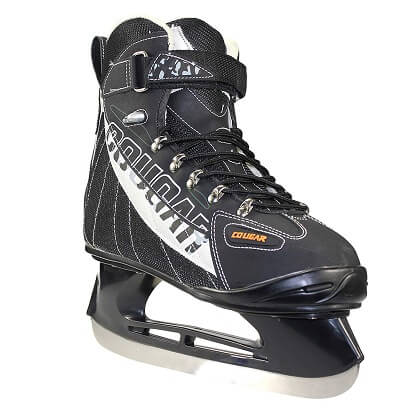 This is best for men who are looking for a fresh start in hockey or just wanting to get into shape on ice. This soft boot is designed to keep up with your speed while providing ultimate support and comfort for your feet.
Read more
Durability
It is designed for tough sports like hockey. The boot is made with multi-layers for support and to make it endure countless hours of practice.
Ease of Use
It has a lace loop design for quick lacing plus added velcro strap so you can easily snap it in place for added protection and support to your ankle.
Comfort
Its soft boot hockey skates designed to keep your feet warm and comfortable on the ice.
Features
These hockey skates have pulled on the heel tab, multi-layered boot construction, laced loop for fast and easy lacing. They also added velcro for easy snap on and added support to the ankle.
Insulation
It has a multi-layered boot construction to make sure you stay warm even after long hours of practice.
Materials
It is made with comfortable cushy foams for padding with white steel runner blades that are made for speed.
Support
Hockey can be a very challenging sport and hockey players spend a lot of time practicing. Doing so for long hours can take its toll on one's feet so the type of support for each hockey skates is very important. The velcro strap is the added feature that is mainly to add support to the ankle, making your stand sturdier and stronger.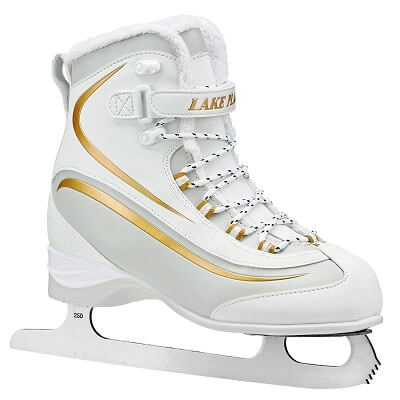 These are amazing looking and you can get for a really good price without sacrificing comfort and performance. As you can see the sleek design alone will make you look good on ice.
Read more
Durability
The soft boot is not just for comfort it is also to keep you warm and make you last long hours of practice. It has nickel-plated carbon steel blade and water-proof soles.
Ease of Use
It has an easy lace-up design and velcro for easy snap-on fit.
Comfort
The boots are multi-layered and lined with foam for warmth and comfort. You can practice for long hours and not feel the cold creeping to your feet.
Features
It has NuBuck soft boot design; it has Thinsulate insulation with a memory foam lining.
Insulation. It has Thinsulate insulation technology to ensure that your feet stay warm all throughout the practice.
Materials
This Hockey skates did not scrimp on materials to offer you good quality hockey skates even at a lesser price than most competitors. It has memory foam lining for support and use
Thinsulate for the latest insulation technology.
Support
This hockey skates passed the requirements for support because the design itself was made for intense practice and activity on ice. The materials and design were done and used as such for the main purpose of making sure the ice skater gets to practice without worrying about their feet their safety.

6

. Rollerblade Aurora Bladerunner Ice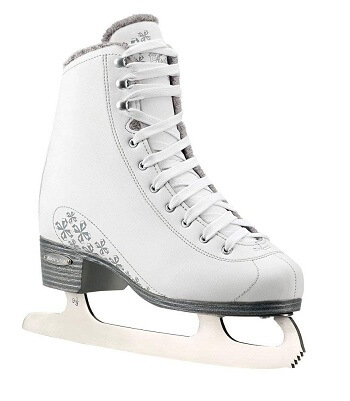 This is the ultimate recreational item for those looking for a budget-friendly yet fashionable and functional skates. This will definitely be a good choice for beginners.
Read more
Durability
This is made for beginners and is durable enough to last long hours of practice. The blades can be replaced once you have advanced to a higher level.
Ease of Use
It has lace closures and PVC outsoles for easily tighten it to fit. It also has PVC outsoles in order for you to easily care for it.
Comfort
It is lined with synthetic fur and dual-density foam to provide premium comfort and support.
Features
It features not just functionality with its stainless blades with toe picks, reinforced ankle support, and flex notch. It also features a very stylish and fashionable design that women will surely love.
Insulation
It is lined with dual-density foam that keeps the feet warm. The synthetic fur liner to adds insulation to your feet.
Materials
This item used very good materials to deliver function and fashion. With vinyl flex notch, synthetic fur lining, dual-density foam, laces on lace hooks, molded and textured outsoles and stainless-steel blades.
Support
The most important detail of this item is the support where they reinforced the ankle support with V-notch that helps with making forward flex. The lace and lace hook and enclosure also add support to the ankle when skating, so you know you are while doing hours of practice.

7

. Bauer Flow Recreational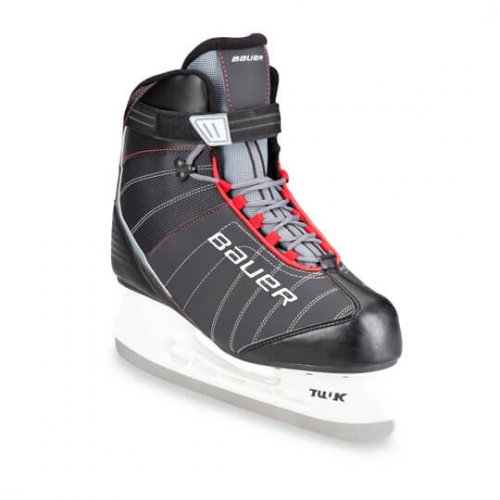 This is not a typical hockey skate but it gives you that hockey feels. It is designed for comfort and performance at a very affordable price.
Read more
Durability
This item is made of materials that have functionality and durability in mind.
Ease of Use
It is laced up for easy lacing and the hockey skate look and finish makes it easy to handle and clean.
Comfort
The materials that were used for the booths are all designed to give comfort to your feet while practicing on ice for long periods of time.
Features
It has a nylon liner, it has TUUK Lightspeed Pro Holder, it has an ankle strap for added support and stability.
Insulation
The nylon materials give the item the insulation necessary to keep your feet warm while practicing on the snow.
Materials
It is made of TUUK Lightspeed Pro Holder and runner, with nylon liner for comfort and warmth.
Support
The best feature of this item is supported; it has added ankle support to make sure that you're not just comfortable but that you won't strain your ankle while on practice or just enjoying your glides.

8

. Xino Sports Premium Adjustable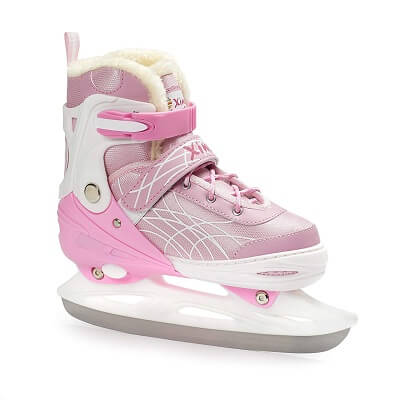 This item is ideal for your young skaters and is suitable for both boys and girls. It looks really cool and comfortable that your kids will surely have a great time on the ice.
Read more
Durability
This item is designed to last even when you have outgrown your size because it is adjustable. No need for you to buy new pairs of skates. It has high-quality blades to last long periods of practice.
Ease of Use
It has an easy push button to quickly adjust your shoe size. It is very convenient to use especially for young skaters.
Comfort
It offers great ankle support with comfortable pads to add make practicing less of a strain.
Features
It has a fun and exciting design, with 2 colors to choose from. It offers comfort and support. It is easy to adjust when your child has outgrown her size and it has a safety cover over the already sharpened blades.
Insulation
It is comfortably padded to add insulation and keeps your feet warm.
Materials
It comes with stainless steel blades that are pre-sharpened. It has great ankle support with paddings for comfort. The quality is assured with a 60 -day money-back guarantee.
Support
This item has very good support for young skaters. The ankle support is designed to make sure that kids will not strain their feet when skating. It is also unique because you can adjust the size when the skater has outgrown it without sacrificing comfort.

9

. American Athletic Tricot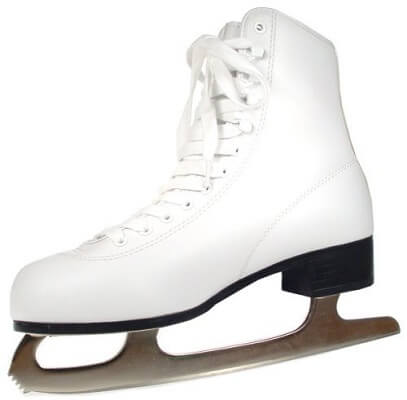 This is another noteworthy product by American Athletics. Not only does it look really sleek and classy, but it is also very intricately designed for performance.
Read more
Durability
This item made use of materials that are made to last. It has a design that is built for long and tedious hours of practice.
Ease of Use
It offers matching sizes so you won't have a hard time ordering your size and at the same time, it is very easy to clean and maintain because of the materials used.
Comfort
It is lined with Tricot material which is perfect for skates because it offers maximum comfort.
Features
This product uses new technology to deliver premium performance. It has Tricot lines that offer comfort and the blades are already pre-sharpened upon purchase.
Insulation
It is also the Tricot lining is what offers the insulation that is very effective.
Materials
This product offers Tricot lining and stainless steel blades that are pre-sharpened for your convenience. The Tricot lining is also the reason why cleaning it is a breeze.
Support
We looked into the support that this product offers and what makes is distinct is the Tricot lining. This makes the material on the outside look and feels shiny while the inside is well insulated and supported.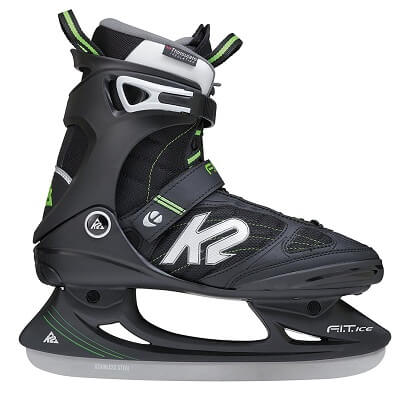 These skates are for men who love to glide in style. The K2 skates have one of the most comfortable designs in the market.
Read more
Durability
It is designed for skating around in circles for long hours thanks to its brushed lining design and the water-repellent materials to keep the water and moist away from your feet.
Ease of Use
It is very easy to clean with water, and it dries just as easily.
Comfort
The materials used for the skates such as the brushed lining and the repellent material make it easy to go through the practice.
Features
It has Softboot design that delivers comfort. It has a brushed lining cover, and it is water-resistant. It also has Enhanced Stability Cuffs and an injection-locked stainless steel blade.
Insulation
This item is well insulated with the help of water-resistant materials; it is kept warm and dry at all times.
Materials
The materials used are of the latest technology to ensure that the skates can deliver what it has promised. It made use of water-resistant materials for the shoes and the blades are all stainless steel to keep from rusting.
Support
The most outstanding feature for this product is the Enhanced Stability Cuff that provides support to the ankle as no product has ever done. It also has a locked stainless steel blade that is easy to sharpen so you can enjoy smooth, fast speed.

Subscribe to our Newsletter