Best Ultralight Backpacking Gear
In a Hurry? Editors choice: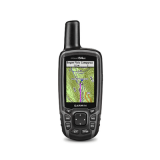 Test Winner: GARMIN GPSMAP 64ST

Backpacking is truly a wonderful activity to partake in. But, as everyone knows,
a lot of prep work
goes into it as you need to know exactly what you need to bring. At the same time, you will be forced to carry all your items so it is essential to prioritize smaller and more compact items. In specific, focusing on ultralight backpacking gear because, as mentioned, it really is all about the weight.
Today, we want to dive into this a little bit but instead of providing you with a list of every single essential item you will need, we
want to provide you with a detailed guide
that will lay the groundwork for some of the gear that you can buy.
Standout Picks
Criteria Used for Evaluation
OUR TOP PICKS FOR THE BEST ULTRALIGHT BACKPACKING GEAR
1

. BIG AGNES COPPER SPUR TENT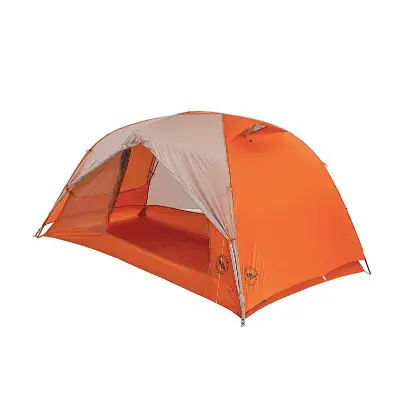 Unless you are not planning on a backpacking overnight, you will need to account for sleep. And, unless you want to sleep under the stars, you may want to consider buying this lightweight tent.
Read more
Design
For the record, this is defined as a three-season, free-standing tent. However, it is really optimized for two larger adults or three smaller ones. Additionally, the high-volume hub enhances its overall strength and stability.
Craftsmanship
Both the canopy and floor are made out of proprietary ripstop nylon. In addition to the fully taped seams which provide waterproof protection, very few of you will be complaining about the craftsmanship here.
Portability
As durable as this is, it is even more amazing how lightweight it is. Oh, and the setup process is simple, thanks to the clip system. But, you do need to buy the footprint separately, for the record.
Effectiveness
It was mentioned earlier, but it deserves re-mentioning, this is a three-person tent that works slightly better as a two-person tent. This is because, with average to large adults, space will be a little cramped.
Features
There are interior storage pockets in this nice tent. Besides, this is also designed with two vestibules, two entry doors, and a quick-stash system on one of the doors.
Overall
It is just going to be tough to top this one, ladies and gentlemen. For a tent, this durable, lightweight, and well-designed, how could you possibly go wrong?

2

. ALTRA LONE PEAK 4 TRAIL SHOES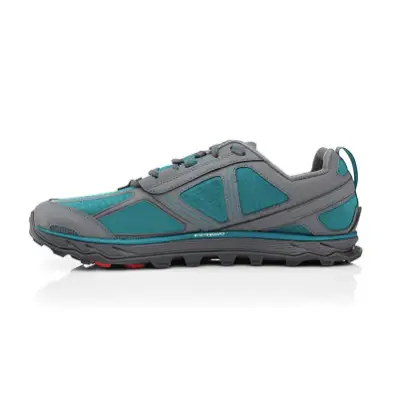 When you think of ultralight backpacking gear, you probably do not think of running shoes. But, the Lone Peak 4s are not your average pair of running shoes as they are optimized for trails.
Read more
Design
Being trail running shoes, these are not only designed to provide you with cushioning and shock absorption but also protection against the terrain you will be backpacking on.
Craftsmanship
In addition to the fact that the breathability has been improved from the previous version of this footwear, the Lone Peak 4s also offers an exceptional combination of durability, traction, and grip.
Portability
Even if you do not plan to wear these for the entire duration of your adventure, they can easily be stowed away in your backpack (though they can't be folded down or anything, clearly).
Effectiveness
Not only do these encourage more power due to their design but they also offer protection against rocks and other debris that you will encounter. Oh yeah, and the canted lugs also provide superior traction.
Features
Given these are running shoes, there are not too many extra features to speak of. But, a feature that has not been documented yet is the hook-and-loop tab which offers another layer of protection against debris.
Overall
Not too many of you will think of your footwear when you think of ultralight backpacking gear. But, after you have been witnessed to this, you are probably thinking about it now.

3

. MARMOT PRECIP RAIN JACKET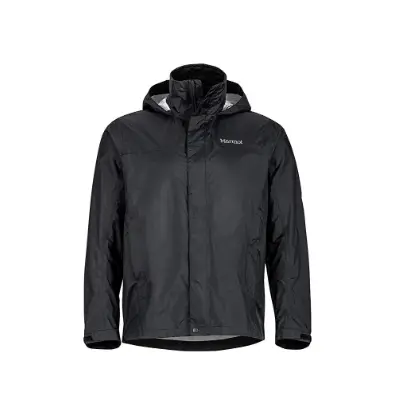 Look, no one wants it to rain (typically) on their backpacking adventure but the reality is you need to account for it and be ready for it. Investing in a high-quality rain jacket might be a good start.
Read more
Design
Yep, this is a rain jacket; however, it is a rain jacket that may provide a looser fit than you desire. Still, it does its job of shielding your clothing from the rain.
Craftsmanship
In addition to the fact that this is designed with NanoPro waterproofing technology, it also sports fully taped seams for enhanced waterproofness.
Portability
Even if you do not wear this (which you presumably will not unless it is raining or windy), it can stuff into its pocket, which makes it exceptional for backpacking.
Effectiveness
Overall, like a rain jacket, this excels at protecting you from the rain. However, it is not as breathable as the description makes it out to be.
Features
First off, this is equipped with two side pockets. Additionally, this features an attached hood, Velcro cuffs, and PitZips for enhanced breathability.
Overall
Even if you plan your adventure around the weather, rain can still creep up on you from nowhere. So, to better be prepared for it, why not include a rain jacket on your gear checklist?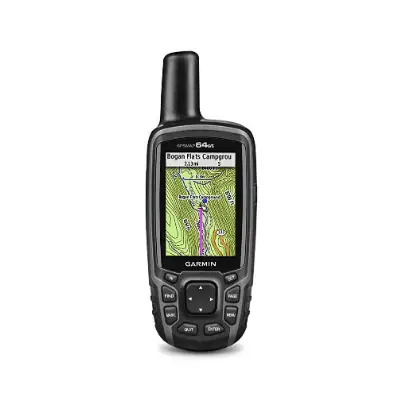 Gone are the days where you would need to rely on a generic compass and map to find your way back to a specific spot. With the Garmin 64st, that issue becomes non-existent.
Read more
Design
This is a GPS device that is built with Bluetooth technology (and also ANT+), and it can assist you in getting back on the tracks. However, speaking for its software, its menu system is rather clunky and non-intuitive.
Craftsmanship
Overall, the build quality here is reliable. What is nice, though, is it is rated to IPX7 standards of waterproofness. It will handle inclement weather for sure.
Portability
This is bulkier than a typical smartphone, but it will also fit in the palm of your hands. Oh, it also only weighs 8.1 ounces, so that is a huge plus.
Effectiveness
Thanks to the built-in high-sensitivity GPS and GLONASS receiver (in addition to the quad helix antenna), this device can provide directional guidance even if you are under heavy cover.
Features
Keep in mind that this can be powered by two different means (traditional AA batteries and the NiMH battery pack). But, the battery life has been criticized by former users. As for the display, it is not flashy but gets the job done. Oh, and this also sports eight gigabytes of internal memory and supports paperless geocaching.
Overall
No, the GPSMAP 64st is not flawless, but it is a GPS device designed by Garmin (so you know you can't go wrong). But, it performs what it was set out to do very, very well.

5

. REEHUT BACKPACKING STOVE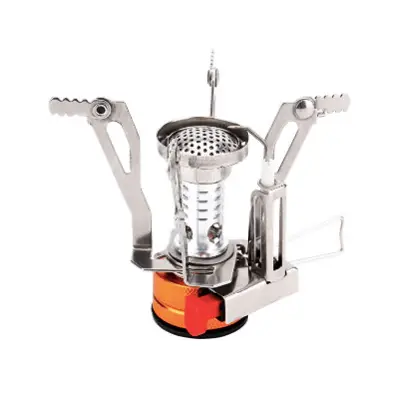 This stove is not without its flaws but it literally excels with its lightweight nature. Do you sacrifice the build quality a little bit? Sure, but this stove will still deliver the goods for you.
Read more
Design
Though this is a stove and a nice buy, it is actually not going to work by itself. However, it is compatible with fuel canisters that sport 7/16 threads (both single butane and butane-propane mixed).
Craftsmanship
Overall, this is crafted with fairly thin metal and it is delicate. With that said, this will withstand corrosion and rust thanks to its aluminum alloy and stainless steel build.
Portability
In addition to the fact that this is lightweight and compact by itself, your purchase also comes with a carrying case for enhanced portability.
Effectiveness
Thanks to the windproof screen that has been implemented (and also the honeycomb shape), this will cook with enhanced oxygen circulation. Also, the flame will not blow out quite as often.
Features
What is quite nice about this gadget is the fact that the flame can be controlled. If you want a light simmer or a blazing heat you can. And, you can mess around with it a little bit.
Overall
For backpacking, this is about as optimized as it is ever going to get. Yet, admittedly, the build quality is sacrificed a bit for the portability (though this is still built with quality metal).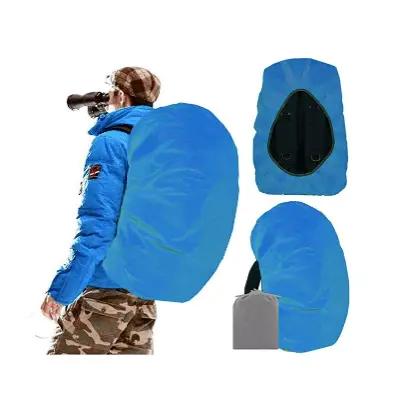 This is another piece of gear that is going to combat the rain. If you do not either have or intend to buy a fully waterproof backpack then you may want a rain cover as a security blanket, so to speak.
Read more
Design
Do note that this is not an actual backpack but just a rain cover for backpacks (it fits 15 to 90-liter packs). With many sizes available, you can buy based on your needs.
Craftsmanship
Being made of three different kinds of fabrics (one of them being 300-denier nylon), this is a special blend and is also extremely well-crafted.
Portability
To carry this around, a velvet pouch is included with your purchase. This is made even easier given the fact that this cover collapses and only weighs 0.17 pounds.
Effectiveness
It is noted that the 5000-millimeter waterproof grade this is rated with is one of the best. However, various users have reported that this cover struggles to perform sufficiently during torrential rainfall.
Features
This is a pretty simple design overall. But, it does come with an upgraded buckle strap system so that is nice.
Overall
Much like with a rain jacket, this is a piece of gear that you hope to never use. But, it is also one that could prove beneficial if you do not own a fully waterproof backpack.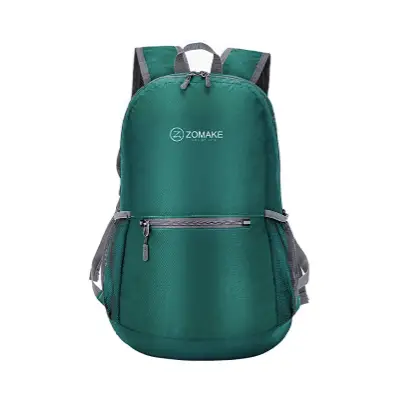 It all depends on how much storage space you need but this convenient little daypack can do wonders for the right users. It comes packed with several storage compartments.
Read more
Design
Look, this may not be large enough for some of you. But, granted you are not going on a weekend or week-long trek, this compact daypack could do wonders for you.
Craftsmanship
Overall, the quality could be better here. With that said, it is made primarily of water-resistant nylon (which will also resist tearing). Then again, a few buyers have noted that this does not repel water well at all.
Portability
This daypack is not bulky, heavy, or cumbersome to wear, let's just say that. On the contrary, it is ideal for backpacking due to its light stature.
Effectiveness
For the record, this has a capacity of 20 liters. Additionally, equipped are breathable straps that can be adjusted to your liking for enhanced comfort.
Features
Past the main compartment, also designed into this daypack are two side pockets, a front zippered pocket, and an internal zippered pocket.
Overall
Yes, the quality could use improved here. But, for day trips and short backpacking adventures, this could be just what the doctor ordered.

8

. THETENTLAB POTTY TROWEL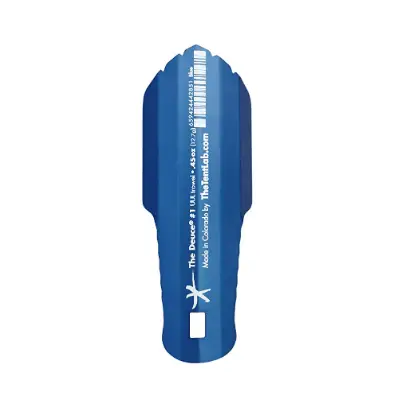 When you are in the wilderness, there are not going to be public restrooms that you can access. So, you need to account for your "business" in some way and this device can help with that.
Read more
Design
In short, this is a device that can be used to bury your waste. Look, this is just one of the things that you need to contend with when you decide to go backpacking.
Craftsmanship
Even though this is designed of aerospace-grade aluminum, it is pretty flimsy overall. It is not cheap, but it can also struggle to dig into the harder ground.
Portability
This does come in multiple sizes but no matter which one you end up going with, quite frankly, all of them are optimized for transport and portability.
Effectiveness
Sure, this is probably a bit too flexible, but it is also innovative in its design. You see, it can be used upside down when you need a little more digging power.
Features
In addition to the newly designed handle (which improves your grip), the teeth on this trowel can also be sharpened with the use of rock (and this is extremely convenient and useful).
Overall
No one is going to put this on their Christmas list. But, this is a tool that will make it a lot easier to dispose of your waste when nature does happen to call.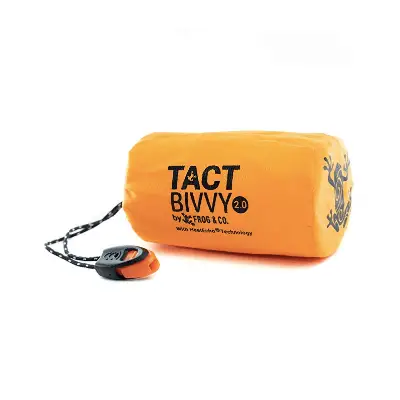 Yes, this is somewhat of a sleeping bag but it is formerly known as a bivvy. This is an ideal piece of gear for emergency situations. However, it is not quite optimized for normal usage.
Read more
Design
No, this is not a normal sleeping bag and is actually a bivvy. Basically, it is an ultralight polyester film that reflects your body heat back to you. But, it is nearly impossible to get it back inside its sack once you take it out.
Craftsmanship
Few people will question the quality of this bivvy. It is designed to be windproof, waterproof and also resistant to tearing. Not bad, huh?
Portability
As you can see from the photos, the sack this comes in is about the size of your hand. It clocks in at 4.8 ounces in weight and is about as portable as it gets.
Effectiveness
The good news is the HeatEcho material utilized reflects up to 90 percent of the heat generated from your body back to you. The bad news, though, is condensation buildup tends to be an issue.
Features
This is pretty simple in its design and is almost devoid of any extra features, quite honestly.
Overall
For one-off emergency situations, this is going to be great. To offer a bit of variety to you, we thought we would include this one.

10

. GRAND TRUNK STARTER HAMMOCK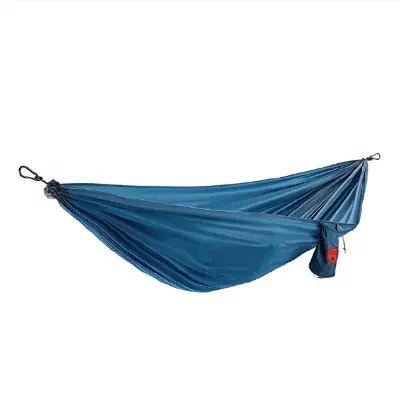 Right from the get-go, understand that this hammock is not optimized for larger users. It is well-designed for the right people, however, so do be aware of that.
Read more
Design
The different colors do happen to come with different hardware components so do be aware of that. All in all, though, this is nothing more than a portable hammock.
Craftsmanship
The green, blue and red versions of this hammock are made of ripstop polyester. Meanwhile, the royal blue and forest green variations are made of 100 percent polyester taffeta.
Portability
Due to the fact that this can pack down into its own stuff sack (that is attached to it), it is as portable as it gets. Oh yeah, it also only weighs 12 ounces so there is that.
Effectiveness
Let's just say that this can be comfortable and effective for the right users. These "right users" are anyone who is not too heavy or too tall. In other words, this hammock is optimized for smaller people.
Features
Depending on the color you go with, you will either be provided with S hooks or nautical-grade carabiners. Other than that, this hammock is fairly simplistic in its design.
Overall
This could be seen as a controversial selection for this list as it is not going to be ideal for everyone. But, that is just the nature of the game, is it not?

Subscribe to our Newsletter