Best Laptop Power Banks for 2021
last updated:
Dec 17, 2020
If you're planning on being away from home, a laptop power bank is a great accessory to keep on hand when far away from a power source. These little devices are small and compact, and they can charge multiple devices over and over again. We love them because they are incredibly versatile and work for a myriad of devices. Whether you need to charge up your laptop or your cellphone on your next outdoor adventure, or you just want to stash a pack in your car for emergency laptop juice, these devices are small, powerful, and surprisingly affordable.
In this guide, we have provided a list of some of the best laptop power banks so you can stay on top of things when far away from home.
In a Hurry? The test winner after 17 hrs of research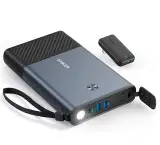 Anker Powerhouse 100
Why is it better?
100W AC outlet
USB-C port
Built-in flashlight
Can charge multiple devices at the same time
In a
Hurry? Editors choice: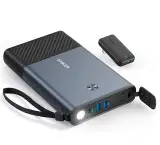 Test Winner: Anker Powerhouse 100

12
Researched Sources
2.1k
Reviews Considered
17
Hours Researching
15
Products Evaluated
Battery Life
Connectivity
Protection
Portability
By Default
Criteria Used for Evaluation


Battery Life
At the end of the day, which is actually the most important aspect and the first you should assess ironically, any type of battery pack needs to have the juice that your devices require.
If you were unaware in the beginning, then you probably began to pick up the fact that the number you are looking for is the mAh capacity. For the record, this is an acronym for milliampere-hour. You may also see this as Ah, which is merely ampere hour, but that is usually used to assess higher battery capacities as 1000 mAh is in a single Ah.
For the most part, typical models will range from 1000 to 20,000 mAh. But, as you have seen on this list, some units can go beyond 25,000 and others will even eclipse 50,000. The higher the capacity, the more juice it has to deliver charges to your devices. You can also take into consideration the battery size of your devices, which will be measured in mAh or Ah as well, to see how much capacity you need.


Connectivity
Now, what would a power bank be with a high capacity if it did not have a means to actually charge your devices?
Of course, this means you have to assess what ports you will need. The purpose of this list was to list the best laptop power banks which means all the battery units on this list will charge that device. However, you also need to make sure the right port is integrated. For example, if your current laptop requires an AC connection then you need a model with an AC outlet. But, other types such as notebooks may not require that type of connection. It all depends on your needs.
Also, these are multi-functional chargers so you can also look for USB ports. While the amperage will be addressed in a minute, you can also look for Type-C USB ports as these connectors support faster data transfer speeds of 10 gigabits per second. If you have multiple devices that may need to be charged simultaneously, look for two to three (or maybe even four) USB ports.


Protection
If everything went right in regard to charging, that would be great. Designers simply can't account for that because when voltages come into play, so can danger and accidents.
Due to this, you always need to look for specific safety features to be integrated. First off, and this is not necessarily a feature, look for the unit to comply with UL standards or be UL listed. This means that the unit has been tested and meets the strict safety standards of the UL. Past this, look for overload protection, overcharge protection, surge protection, short circuit protection, among others.
To briefly describe those aforementioned protection technologies, overload protection will protect the system from a running overcurrent which could lead to overheating. Overcharge protection will prevent your devices from overcharging (which can ruin the battery). Surge protection will prevent any surges from damaging your connected devices. And, short circuit protection will prevent excessive currents from damaging any devices. Also, one last thing, some systems will implement intelligent charging where the device recognizes and adjusts to how each of your connected devices needs to be charged.


Portability
Now that all the potentially overwhelming information is out of the way, you can assess this relatively easy consideration. One of the benefits of power banks is the fact that you can charge your devices, including laptops in this case, on the go. While they can be used at home, it seems a bit counterintuitive considering you have access to other outlets of power. So, they are most convenient on the go which would then mean, portability comes into play.
If you are planning on backpacking or hiking with a power bank, you may not want it to be bulky and heavy. Even the heaviest of models still may not eclipse three pounds but when you are backpacking, the pounds begin to add up quickly. Although, even for normal transport, a more compact and light unit may be what you need.
Expert Interviews & Opinions
Most Important Criteria
(According to our experts opinion)
Experts Opinion
Editors Opinion
Users Opinion
By Default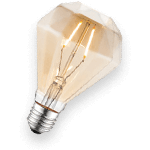 Lifespan
Even though this investment may seem steep at first, these bad boys really will pay for themselves. If they are properly maintained, they can retain around 85 percent of their original capacity at around a 450 charge and discharge cycle. Now, what this is referring to is how many times it charges and then discharges (with one being one cycle). If you do the math, you begin to realize that these devices can last for several years.
However, what you need to understand is that with any type of battery, their performance is going to degrade over time. This is no different in this case so eventually, they will need to be replaced.
Automatic Shut-Off
Many of the power banks out there on the market are equipped with a handy automatic shut off feature. When your device is fully charged, it will stop sending power to your device.
This feature not only protects the battery of your device but also extends the battery life of your power block as well!
Other Factors to Consider

Power Source
So, you got the capacity you want and the number of ports you desire. Yet, now you need to ensure the actual charging is efficient. The easiest way to determine that is to assess the specifications of the ports and the unit as a whole. For example, talking about USB ports, you will want at least one of them to have at least 2.1 or 2.4 amps. A one-amp port is not going to be very efficient at charging your USB device; although, it does depend on what the device demands itself. If more than one support 2.1 or 2.4 amps at the same time, then this is even better.
As for the AC outlet, if you need it, United States national standards specify that nominal voltages should be 120 volts. So, ensure that the AC outlet on the power bank is close to that voltage. But, you also need to remember that the battery charger itself will need to be recharged. To do this, you will need to use the input port but they can range from one amp to 2.4 amps themselves. Shoot for a 2.4-amp input so the charger will not take too outrageously long to charge.
Frequently Asked Questions
q:

Can a laptop power bank really recharge my laptop to full?

a:

It's hard to imagine that these small little bricks can recharge your laptop to full, but it's true! These little bricks are so powerful, in fact, that they can charge them up to 2-3 times in a single charge. Plus, many are able to change up multiple devices, such as your cellphone. Smaller devices can be charged up to 6 times for most brands, making them a must-have on your next outdoor adventure.
q:

What do I do if it won't turn on?

a:

Some troubleshooting may be necessary from time to time and one such instance is if your unit will not turn on. There could be a few reasons why this is happening.

For one, and understand that this can happen and sometimes you really do let the simple aspects slip your mind, it may simply be fully drained. Go ahead and recharge the bank and if it still does not turn on, then it could be a cable issue. It is possible that the system is simply going into sleep mode, which it may do if it detects any possibility of a short circuit or an overcharge (if it has protection technologies).

Use a cable that is in good condition to then recharge the unit itself. If this still does not work, then you may need to get in contact with the manufacturer or any sellers of the product.
q:

How can I extend the battery life?

a:

First, you should always use original cables to charge any of your devices including smartphones, tablets, and laptops. Never use third-party knockoffs as they are not as efficient.

Second, if you do not use the battery charger very often, you should at least fully charge it once every three months or so.

In addition, do not store it in a humid place with rapid temperature changes. Oh yeah, and this goes back to the previous point, and it is not wise to leave it fully drained for extended periods.
q:

Why is my device charging so slowly?

a:

First off, let's once again get the obvious out of the way. If you are charging a device that, for example, is plugged into a port that only supports one amp, the charge is going to be slow naturally. Yet, what happens when you know the port you are using is able to charge your devices quickly and it is not? To be honest, it may be a simple matter of the cable that you are using. Remember, always use first-party cables as third-party cables may not be as efficient. But, much like everything else, cables do not last forever so you simply may need a replacement.
q:

What do I do if it overheats?

a:

This really goes back to what was discussed earlier about safety features. One of the primary safety features you need to look for is overheating protection, which will be accounted for if it has overload protection. Without this, however, the issue of overheating can come into play.

So, what do you do if this occurs? First off, unplug all the cables and turn off the system. Now, try charging one device and if the heating still occurs (taking into mind that slight heating is normal during charging) then it may be time to contact a service center or the manufacturer.
q:

What do I do if it fails to recharge?

a:

This is yet another question that is referring to potential issues that you could encounter. How about this one? What happens if your unit fails to recharge itself? If you know that the AC adapter is securely connected and it is not working, you may need a new one. Also, you may simply need a new cable as it could be defective.

If neither one of these is the problem, then there could be a further issue. Once again, contact the manufacturer in this instance as there may be internal issues.
Subscribe to our Newsletter