Best Laptop Power Banks for 2023
In a Hurry? Editors choice: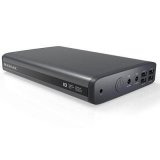 Test Winner: Maxoak

If you're planning on being away from home, a laptop power bank is a great accessory to keep on hand when far away from a power source. These little devices are small and compact, and they can charge multiple devices over and over again. We love them because they are incredibly versatile and work for a myriad of devices. Whether you need to charge up your laptop or your cellphone on your next outdoor adventure, or you just want to stash a pack in your car for emergency laptop juice, these devices are small, powerful, and surprisingly affordable.

In this guide, we have provided a list of some of the best laptop power banks so you can stay on top of things when far away from home.
Standout Picks
Criteria Used for Evaluation
Battery Life
At the end of the day, which is actually the most important aspect and the first you should assess ironically, any type of battery pack needs to have the juice that your devices require.
If you were unaware in the beginning, then you probably began to pick up the fact that the number you are looking for is the mAh capacity. For the record, this is an acronym for milliampere-hour. You may also see this as Ah, which is merely ampere hour, but that is usually used to assess higher battery capacities as 1000 mAh is in a single Ah.
For the most part, typical models will range from 1000 to 20,000 mAh. But, as you have seen on this list, some units can go beyond 25,000 and others will even eclipse 50,000. The higher the capacity, the more juice it has to deliver charges to your devices. You can also take into consideration the battery size of your devices, which will be measured in mAh or Ah as well, to see how much capacity you need.
Connectivity
Now, what would a power bank be with a high capacity if it did not have a means to actually charge your devices?
Of course, this means you have to assess what ports you will need. The purpose of this list was to list the best laptop power banks which means all the battery units on this list will charge that device. However, you also need to make sure the right port is integrated. For example, if your current laptop requires an AC connection then you need a model with an AC outlet. But, other types such as notebooks may not require that type of connection. It all depends on your needs.
Also, these are multi-functional chargers so you can also look for USB ports. While the amperage will be addressed in a minute, you can also look for Type-C USB ports as these connectors support faster data transfer speeds of 10 gigabits per second. If you have multiple devices that may need to be charged simultaneously, look for two to three (or maybe even four) USB ports.
Protection
If everything went right in regard to charging, that would be great. Designers simply can't account for that because when voltages come into play, so can danger and accidents.
Due to this, you always need to look for specific safety features to be integrated. First off, and this is not necessarily a feature, look for the unit to comply with UL standards or be UL listed. This means that the unit has been tested and meets the strict safety standards of the UL. Past this, look for overload protection, overcharge protection, surge protection, short circuit protection, among others.
To briefly describe those aforementioned protection technologies, overload protection will protect the system from a running overcurrent which could lead to overheating. Overcharge protection will prevent your devices from overcharging (which can ruin the battery). Surge protection will prevent any surges from damaging your connected devices. And, short circuit protection will prevent excessive currents from damaging any devices. Also, one last thing, some systems will implement intelligent charging where the device recognizes and adjusts to how each of your connected devices needs to be charged.
Portability
Now that all the potentially overwhelming information is out of the way, you can assess this relatively easy consideration. One of the benefits of power banks is the fact that you can charge your devices, including laptops in this case, on the go. While they can be used at home, it seems a bit counterintuitive considering you have access to other outlets of power. So, they are most convenient on the go which would then mean, portability comes into play.
If you are planning on backpacking or hiking with a power bank, you may not want it to be bulky and heavy. Even the heaviest of models still may not eclipse three pounds but when you are backpacking, the pounds begin to add up quickly. Although, even for normal transport, a more compact and light unit may be what you need.
Top 10 Picks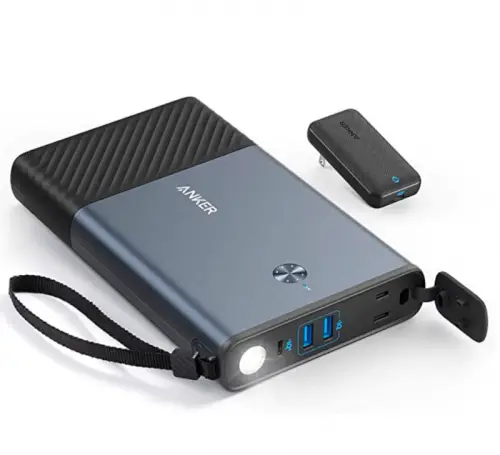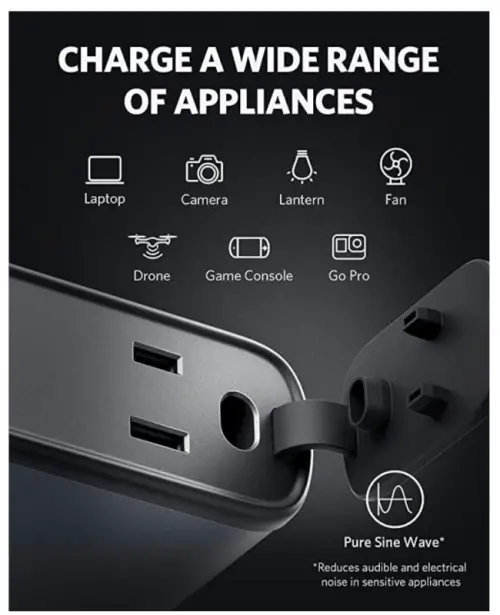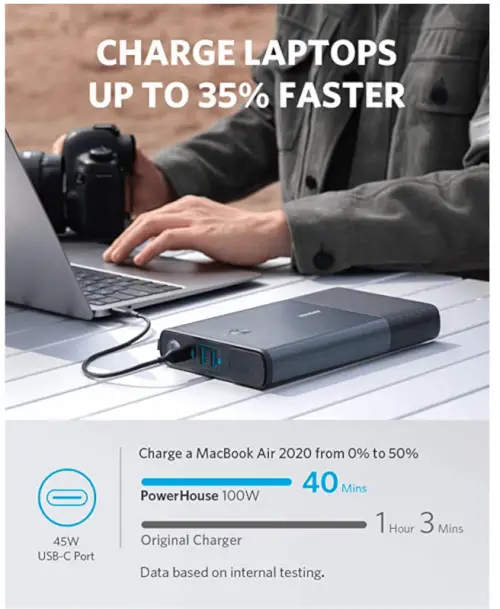 Anker is one of the leading brands in the portable-power world. What we love most about this design from Anker is that it is super small and compact, and can charge your devices over and over again. It comes with a few different charge cables to accommodate various devices and boasts a few extra features to lend a hand when far from home.
Read more
The very first thing that we noticed about this design is that it boasts a myriad of charging outlets. The face of this design offers a traditional power outlet that can not only charge your laptop but also provide power for a host of other devices as well. It also has a USB-C port, and two separate USB ports as well.
What we love most about this powerful design is that it is powerful enough to charge more than one device at the same time. If your laptop and cellphone are out of juice, you can plug them both into this compact charging station for a quick charge. Users love that it is small and compact, and even provides users with an extra light when you are in a pinch.
If you are in the market for something that is super powerful and comes from a trusted brand, this design from Anker is a great choice. It can power multiple devices at the same time and hosts multiple styles of ports to accommodate all of your gadgets. Plus, it has a 100W AC outlet that works for just about anything.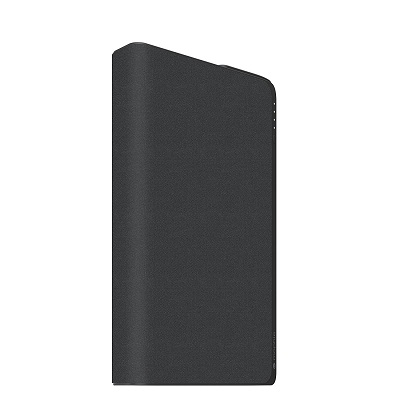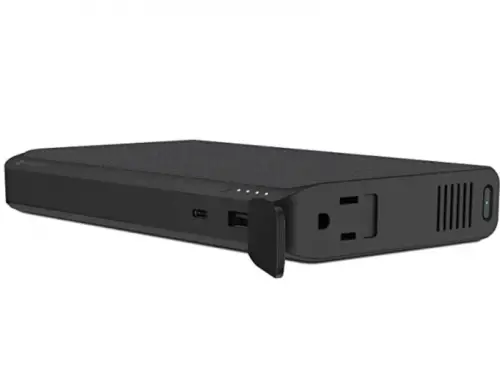 Even though the battery capacity of the Powerstation is not the highest on this list, it still claims the number two spot for its overall design. But, the capacity is far from small.
Read more
The Powerstation is a 22,000 mAh battery and when compared to the rest of the competition, sports a middle of the pack sized battery. This is designed with an AC outlet and also a USB-C input/output. In regard to a vast amount of ports, the Powerstation only sports a few.
All in all, this unit can deliver up to 100 watts of power to charge your devices. The USB-C port will charge devices with up to 30 watts of power and will also recharge the Powerstation quickly. In addition to the built-in safety features, this is also designed with a digital power management system. With this, the circuitry will smartly and efficiently charge each specific device.
This is nowhere near the heaviest unit on this list but it may not necessarily be the most portable either. Still, it should fit most transporting situations. It would almost seem that this entry belongs in the middle of this list. However, it really comes down to the fact that the Powerstation is the most consistent design out there.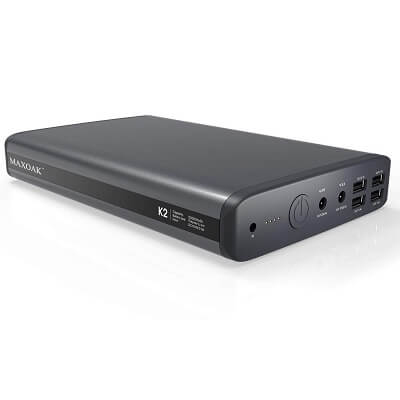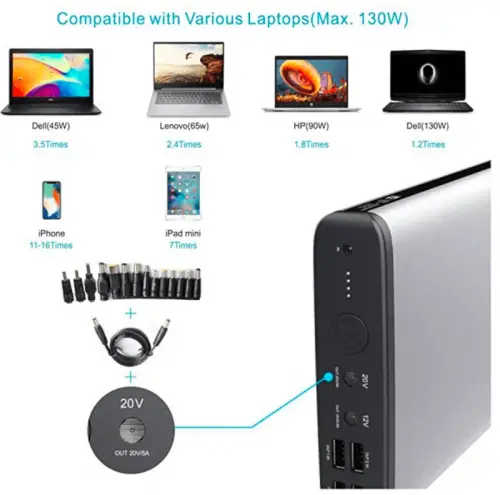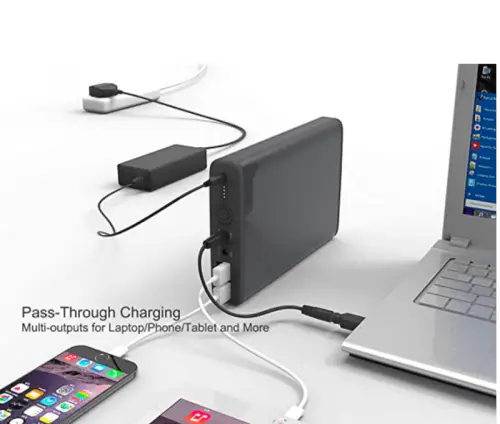 Now, if you merely want to invest in the most powerful unit on this list, then this model is your best option. But, do keep in mind that this is not exactly the lightest model, which is to be expected given its power.
Read more
Good luck finding a battery charger that sports the capacity that this bad boy does. With a 50,000 mAh capacity, to give you an example, this could charge an iPhone 17 times. In total, there are six output ports that you can use. There are two 2.1-amp and two one-amp USB ports. In addition, there is a five-amp jack for current laptops and notebooks and a 2.5-amp jack for digital cameras.
On top of the fact that this does support pass-through charging, it is also equipped with two 2.1-amp USB ports for optimal charging. Plus, the DC input is 2.5 amps. It is also built with a lithium-ion polymer battery and six security protections.
Given the sheer power and capacity here, it really is not surprising to see the excess weight. In fact, at nearly three pounds, it is one of the heavier models on the market. There is so much to love about this unit. Not the least of which is its massive battery capacity but do not forget its advanced security protection and charging efficiency.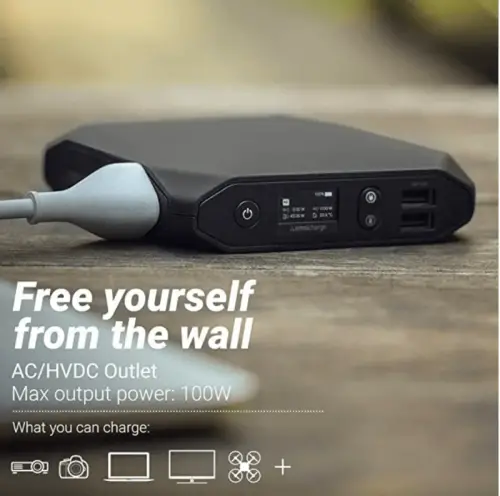 For the price of the Omni 20, it may surprise some users that it lacks the capacity to compete with other models. Yet, with pass-through charging and fast-charging USB ports, the price is somewhat warranted.
Read more
Going from 50,000 mAh to 20,400 mAh is a bit of a shock. But, this offers a 100 percent charge. Omnicharge designed their Omni 20 with AC/DC outlets to account for a wide range of laptops. Also, they included two fast charging USB ports for other devices.
In addition to the fast-charging USB ports and the 100-watt AC outlet, this is equipped with pass-through charging. This means the unit can charge your devices and charge itself at the same time. It is also equipped with intelligent charging which ensures each of your devices is charged in compliance with the manufacturer's recommendations. Also, this option meets FAA safety guidelines for air travel.
At a weight of just under 1.4 pounds and dimensions of five inches by 1.1 inches by 4.8 inches, this is one of the more portable units out there.
The Omni 20 is certainly not the cheapest model on this list. Some users may not feel the somewhat lower capacity warrants the price but hey, just look at the other features.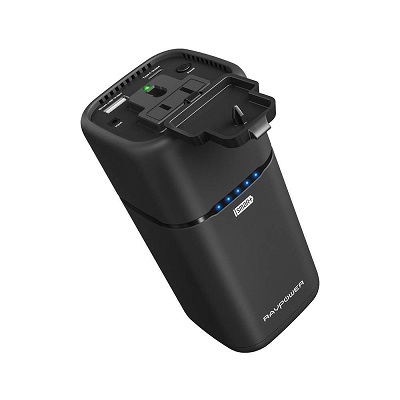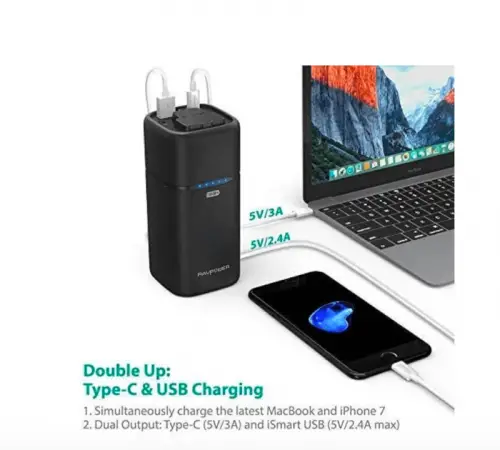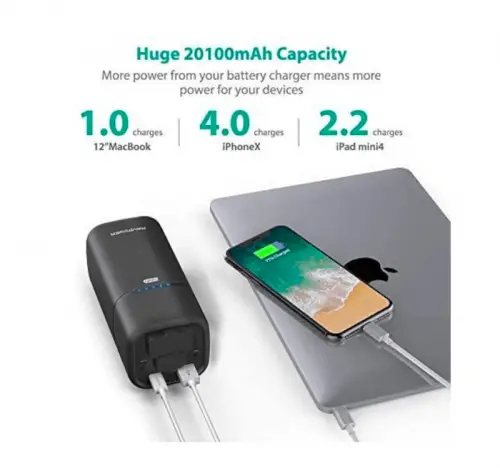 As with some of the other entries on this list, this actually does not have an integrated AC outlet. So, if you have a laptop that requires one, this is not going to work for you.
Read more
With a capacity of 26,800 mAh, this is going to have little issues delivering the charges that you require for your devices. While not overloading with ports, this does have two iSmart ports and also both two-amp and one-amp input recharging ports.
First off, there is an integrated Type-C outlet that is designed with 30 watts of power. This matches the original AC MacBook charger by the way. Also, there are two iSmart ports with a combined 3.4 amperage. What is really nice about this model, outside of its short circuit, overcharge, and surge protection technology is it is equipped with advanced iSmart 2.0 technology. This is beneficial for smart and efficient charging.
Some units struggle to combine adequate capacity with a portable design but RavPower did not seem to have this issue. At less than one pound, this is an exceptional surprise. With an integrated AC outlet, perhaps this would have ascended a bit higher on this list. Still, its ideal combination of portability, power, and efficiency is fantastic.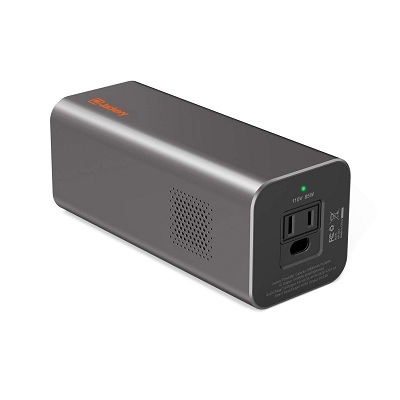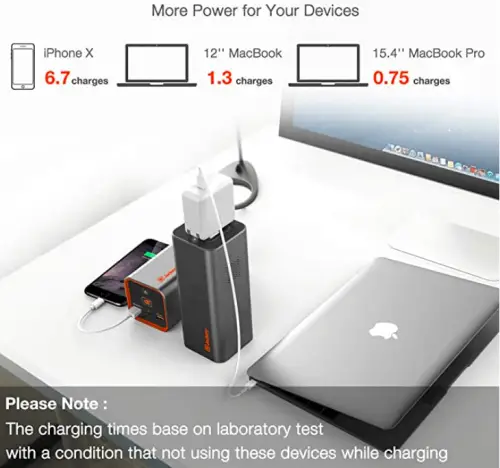 Just from viewing the photos of the PowerBar, you can tell that it is bit chunky. While this certainly can't be denied, the overall design and performance more than salvage the PowerBar.
Read more
The 20,800 mAh capacity that the PowerBar brings to the table is enough to charge a 12-inch MacBook or an iPhone up to 10 times. The 85-watt, with a 100-watt maximum, AC outlet allows users to charge a vast majority of laptops. In addition, there are also three total USB ports.
This is one of the efficient designs on this list, to be honest. It comes with a quick charging port and also a three-amp Type-C port and a 2.4-amp USB port. Jackery claims that their PowerBar is designed with the highest safety and quality standards and their design does conform to the UL 2743 standard. Now, based on some user feedback, though, it may not have overcharge protection.
To be honest, the PowerBar looks like a brick. While it is not quite as heavy as a normal brick, at around 1.5 pounds, it can still be a load when factoring in other items.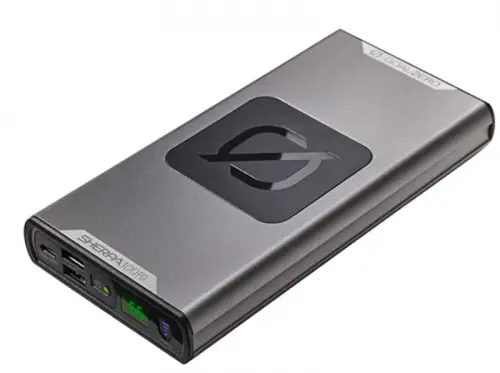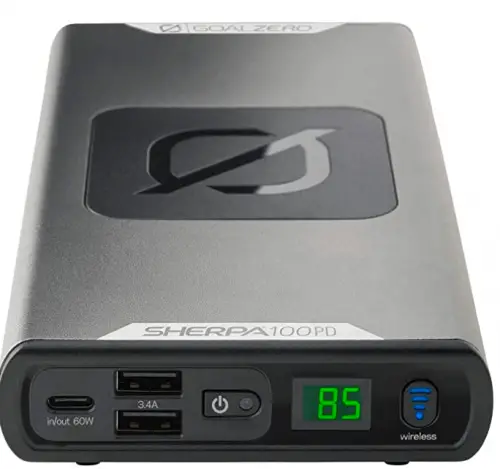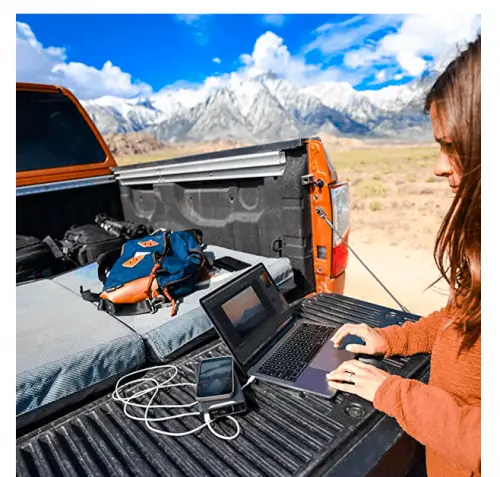 Tired of wires? QI-compatible devices are quickly gaining in popularity, and this design from Goal Zero works to make your life just a bit easier. While it still offers many of the traditional USB ports as many of the other designs out there on the market. It is able to wirelessly charge your compatible devices by simply placing them on the top of the unit for a quick and easy charge.
Read more
What makes this design stand out from the pack is that it works to ditch awkward wires. It hosts a QI charging station on the base of the unit that can charge your newer and compatible devices without the need for annoying and often-misplaced wires. It also hosts two traditional USB ports for your other devices as well.
One feature that users really appreciate is the small screen on the face that lets you know how much juice is left in the tank. When fully charged, it reads 100 percent. This screen gives you a better indication of how much power is left before it needs to be recharged at home.
For those in the market for something that is more advanced than some of the other designs out there on the market, this design from Goal Zero is a great choice. It works to rid your life of charging cables with its QI-compatibility and provides users with an easy to read screen that lets you know exactly how much juice is left in the. Plus, it is powerful enough to charge multiple gadgets at one time.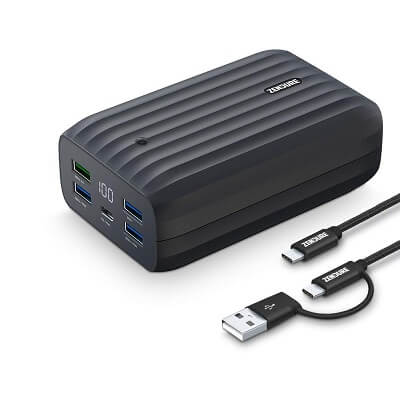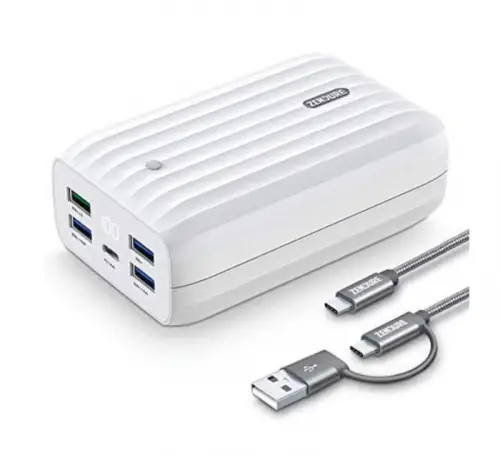 For what it is, the X6 from Zendure is one of the better designs out there. However, for laptops, it can be a bit limited as it lacks an AC outlet for some models.
Read more
The X6 has a 20,000 mAh capacity which, when compared to the others on this list, can be considered a smaller battery. In total, there are five ports. Four of them are USB ports, with one of them being a 2.0 smart quick charge port.
The total output, in regard to power, is 45 watts. All in all, it is equipped with the latest fast charging technology and can quickly charge the best devices around the world. One of the best features equipped is the auto-on smart charging technology. With this, each port will automatically detect your device and efficiently charge it based on its requirements.
For sure, this is where the X6 shines. Though it lacks the capacity of other units, it weighs less than one pound, is less than five inches in length, and comes with a travel pouch.
If you need nothing but power then this is probably not the design for you. Though, for those that need a battery pack to not weigh their backpack down too much, this is almost perfect.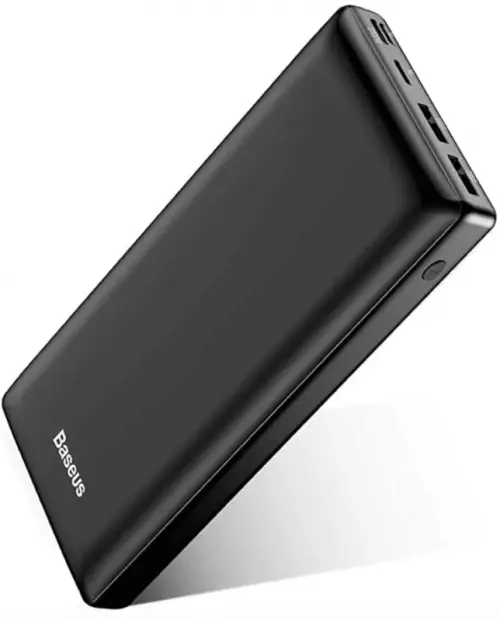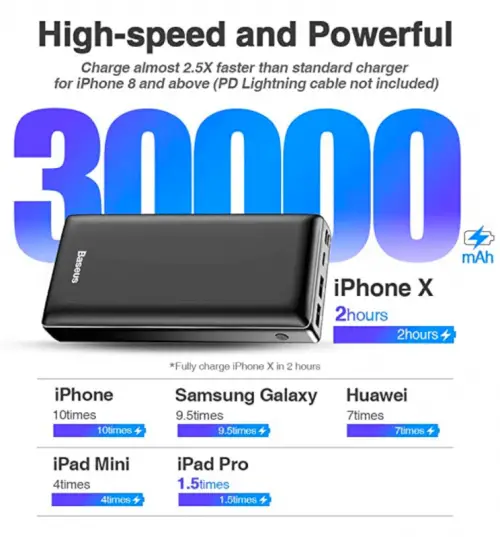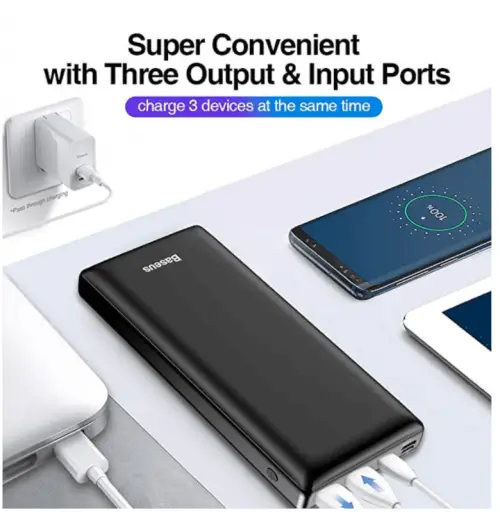 If you are in the market for something that is a little more affordable, this design from Baseus is a great choice. What users like most about this design is that it is small and compact, and it is super easy to give it a quick charge before heading out. It charges a myriad of different devices, and it comes in at a price point that won't break the bank.
Read more
The very first thing that we noticed about this option is that it has a power supply built right into the back of the unit so you don't have to worry about losing the main charging cable. You can leave it plugged into an outlet at home to grab as you are packing up your gear to head out for the day. Plus, it is incredibly small and compact.
It is important to note that this design isn't quite as powerful as many of the larger and more expensive designs out there on the market. A single charge is able to power up your cell phone just over two times, and it can only charge up your laptop one time before it needs to be recharged.
If you simply need something that is able to give your computer a quick charge throughout the course of the day, this design from Baseus is a great choice. It comes in at one of the most affordable price points out there on the market, and it is super easy to charge up while at home.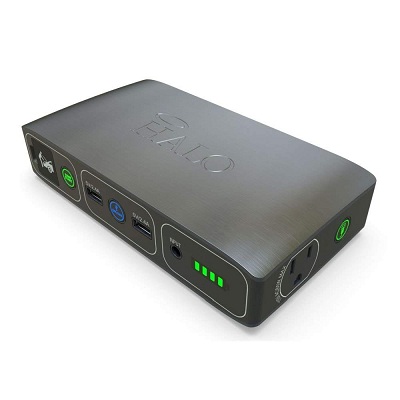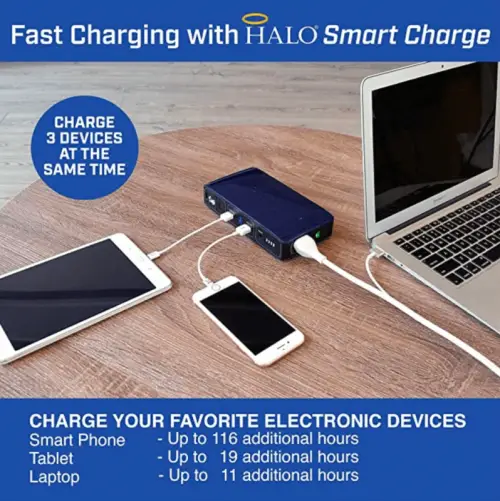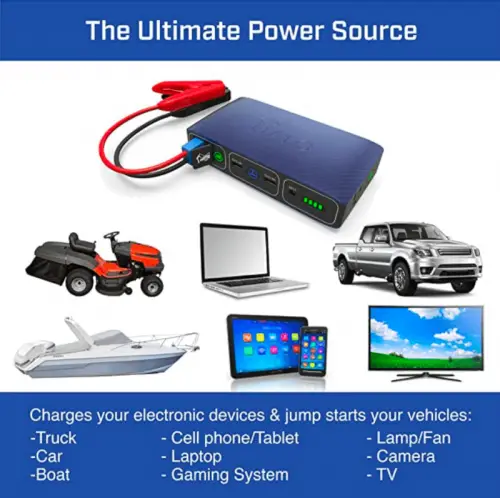 The Halo Bolt is one of those designs that often gets swept under the radar when people discuss the best power banks. While not flawless, it certainly is worthy of recognition.
Read more
Do not be deceived, the Bolt does not have a 58830 mAh capacity (that is its Mhw rating). Instead, it is comprised of three 5,300 mAh batteries. It is equipped with a 120-volt AC outlet and also two USB ports. Additionally, this also comes with a car charger to keep this powered on while driving.
The maximum output that this can handle is 65 watts at 115 volts. Ensure that your laptop complies with this range and power. Halo describes their Bolt as being both stylish and safe. It can act as an LED flood light and also as a jump starter for a dead battery.
Though this is dubbed as being light and compact, there are lighter and more compact units out there. Still, it is far from horrendously heavy or bulky.

Subscribe to our Newsletter