Best Laptop Power Banks for 2021
In a
Hurry? Editors choice: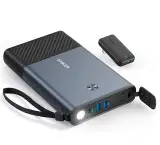 Test Winner: Anker Powerhouse 100

If you're planning on being away from home, a laptop power bank is a great accessory to keep on hand when far away from a power source. These little devices are small and compact, and they can charge multiple devices over and over again. We love them because they are incredibly versatile and work for a myriad of devices. Whether you need to charge up your laptop or your cellphone on your next outdoor adventure, or you just want to stash a pack in your car for emergency laptop juice, these devices are small, powerful, and surprisingly affordable.

In this guide, we have provided a list of some of the best laptop power banks so you can stay on top of things when far away from home.
Standout Picks
Criteria Used for Evaluation
Battery Life
At the end of the day, which is actually the most important aspect and the first you should assess ironically, any type of battery pack needs to have the juice that your devices require.
If you were unaware in the beginning, then you probably began to pick up the fact that the number you are looking for is the mAh capacity. For the record, this is an acronym for milliampere-hour. You may also see this as Ah, which is merely ampere hour, but that is usually used to assess higher battery capacities as 1000 mAh is in a single Ah.
For the most part, typical models will range from 1000 to 20,000 mAh. But, as you have seen on this list, some units can go beyond 25,000 and others will even eclipse 50,000. The higher the capacity, the more juice it has to deliver charges to your devices. You can also take into consideration the battery size of your devices, which will be measured in mAh or Ah as well, to see how much capacity you need.
Connectivity
Now, what would a power bank be with a high capacity if it did not have a means to actually charge your devices?
Of course, this means you have to assess what ports you will need. The purpose of this list was to list the best laptop power banks which means all the battery units on this list will charge that device. However, you also need to make sure the right port is integrated. For example, if your current laptop requires an AC connection then you need a model with an AC outlet. But, other types such as notebooks may not require that type of connection. It all depends on your needs.
Also, these are multi-functional chargers so you can also look for USB ports. While the amperage will be addressed in a minute, you can also look for Type-C USB ports as these connectors support faster data transfer speeds of 10 gigabits per second. If you have multiple devices that may need to be charged simultaneously, look for two to three (or maybe even four) USB ports.
Protection
If everything went right in regard to charging, that would be great. Designers simply can't account for that because when voltages come into play, so can danger and accidents.
Due to this, you always need to look for specific safety features to be integrated. First off, and this is not necessarily a feature, look for the unit to comply with UL standards or be UL listed. This means that the unit has been tested and meets the strict safety standards of the UL. Past this, look for overload protection, overcharge protection, surge protection, short circuit protection, among others.
To briefly describe those aforementioned protection technologies, overload protection will protect the system from a running overcurrent which could lead to overheating. Overcharge protection will prevent your devices from overcharging (which can ruin the battery). Surge protection will prevent any surges from damaging your connected devices. And, short circuit protection will prevent excessive currents from damaging any devices. Also, one last thing, some systems will implement intelligent charging where the device recognizes and adjusts to how each of your connected devices needs to be charged.
Portability
Now that all the potentially overwhelming information is out of the way, you can assess this relatively easy consideration. One of the benefits of power banks is the fact that you can charge your devices, including laptops in this case, on the go. While they can be used at home, it seems a bit counterintuitive considering you have access to other outlets of power. So, they are most convenient on the go which would then mean, portability comes into play.
If you are planning on backpacking or hiking with a power bank, you may not want it to be bulky and heavy. Even the heaviest of models still may not eclipse three pounds but when you are backpacking, the pounds begin to add up quickly. Although, even for normal transport, a more compact and light unit may be what you need.
Subscribe to our Newsletter