Best Smart Locks
In a Hurry? Editors choice: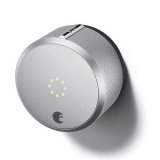 Test Winner: August 2nd Generation

In the modern world, we all live in, you can never be too safe. This reigns even truer if you live in or near a rough and tough neighborhood. With standard door locks, they can be picked and broken into. If you are looking for enhanced peace of mind when you lock your home, then you might want to look into a smart lock. In short, this is a technology device that is designed to perform locking and unlocking operations without the use of a key. Now, it may not make your home bulletproof but it will provide you with more options for locking. And, with the spike in smart devices over the last decade, it may be time to upgrade your door locks, anyway (if you think about it).
Standout Picks
Criteria Used for Evaluation
Features
Features are everything here and you will see why.
Whenever you are in the market for any sort of technology device, you should know that the functionality is going to come to the forefront. In regard to smart locks, you can split most of the features up into regular and advanced. In this section, let's focus on the regular design features. Now, it is worth noting that some smart locks will come equipped with different types of access systems. The two most popular are touchscreen models that require fingerprint access and also models that require a specific code via the integrated keypad. What is really nice about the code system is that some will come with enough memory to remember well over 100 different codes. So, in theory, each member of your family could have their own personal code.
As for the fingerprint access, this is more of a convenience than anything. This can be a great way to also add extra protection as everyone fingerprint is different. Then again, sometimes the sensors can be finicky (it depends on the model). Also, you can look for other features such as the ability for the device to lock the door automatically when you shut it (to ensure you never forget to lock the door).
Advanced Features
You need to choose the wireless protocol that fits your needs the best.
Now, it is time to discuss wireless protocols. At their core, true smart locks will use wireless technologies to allow you to control them via other smart devices. But, the wireless protocol that they implement can be different. The three most popular protocols are Bluetooth, Wi-Fi and Z-Wave technology. Each of them has their advantages, so let's break them down. Starting with Bluetooth, this is arguably the most well-known out of the three. Most of you are aware of what Bluetooth technology is but did you know that its range is limited? Then again, it will not burn through the battery life of the lock, which is nice.
As for Wi-Fi, this is typically available as an optional add-on. You will need a wireless router for this to work but Wi-Fi is generally better than Bluetooth when it comes to performance. Now, for Z-Wave technology. This will not sync directly to your smartphone and, instead, will connect to a hub that is compatible with the technology. From there, the hub can translate a signal for your router to pick up. Then, you can access your lock from virtually anywhere. Also, some systems will be able to connect with artificial intelligence programs such as Alexa.
Durability
While not as important as the functionality, the durability of a product will always matter.
Look, you never want to invest in a product that is not built well. The good news is, in regard to this technology, smart locks will not go through that much abuse. They simply stay installed on your door and never look back. That said, is your door somewhat exposed to the outdoor weather? If you have a front or back porch and install a lock on a door that is under said porch, then the inclement weather will probably not be that important. If the opposite is true, look for locks that are sealed and at least weather-resistant.
Of course, the physical appeal of the model can also play a role. In fact, some designs are quite stylish and sleek. At the end of the day, though, simply look for high-quality materials and nothing cheap.
Compatibility
Most units will be compatible with your door but there is something important you need to know.
Ah, can you imagine getting all excited for your new smart lock only to realize that it is not compatible with your door? Here is the good news; most of the time you will be fine. However, with that being said, some models will come with the ability to be mounted over your preexisting deadbolts while others will require you to replace your current deadbolt. It would seem that the former would be the better option, right? Well, there is some truth to that but it is not the whole truth. For the record, this is known as a retrofit setup and the most convenient aspect of it is the fact that you do not have to mess around with new hardware. This can make the installation much easier and, in addition, you can keep your old keys and they will work.
So, why would you want one that does not go on your deadbolt, then? The main reason is that the majority of models out there will not be retrofit styles. In other words, you open up your options if you do not mind spending a bit more time installing the system (which will still take around 20 minutes).
Ease of Use
The easier a system is to operate and install, the better.
Really, not too much needs to be said for this section. It is pretty straightforward stuff. As for the installation process, it was already discussed in the previous section that this should not be too much trouble for you. As for actually operating the device, most systems will be pretty easy to wrap your head around. The included app, however, is another story. Conduct some research of your own to see if the included app (for the model you are interested in) has received criticism. You really want the app to be functional and intuitive (and not full of annoying bugs that decrease the performance).
OUR TOP PICKS FOR THE BEST SMART LOCKS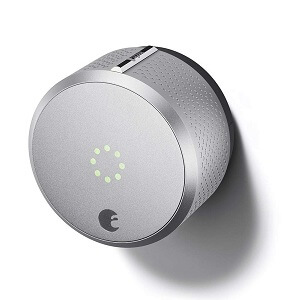 This is universally recognized as one of the leaders of this technology. And, there are a plethora of buyers and experts out there who feel that this device right here is the pinnacle of the technology.
Read more
Design Features
As you approach, this will unlock and as you leave it will lock the door behind you. This is great and all but in the process, August should have implemented a low-battery warning system. After all, if the battery dies, you can't open the lock.
Advanced Features
This utilizes Low Energy Bluetooth technology and it allows you to sync up with your smartphone. When doing so, you gain access to a 24/7 activity log (with the app) that can show you enters and exits your home.
Build Quality
Do note that the front plate that holds the batteries is not waterproof and should not be exposed to water. Other than that, the build here is very solid.
Compatibility
All this system is going to do is replace the interior side of your deadbolt. As for the exterior hardware on your door that is going to stay the same.
Ease of Use
Overall, most users concur that this is easy to pair to your smartphone. As for the installation, the same applies as there is no wiring or connections required.
Overall
It is not hard to see why so many buyers have raved about August's design. Still, the lack of a low-battery indicator on the unit itself is frustrating and can lead to headaches down the road.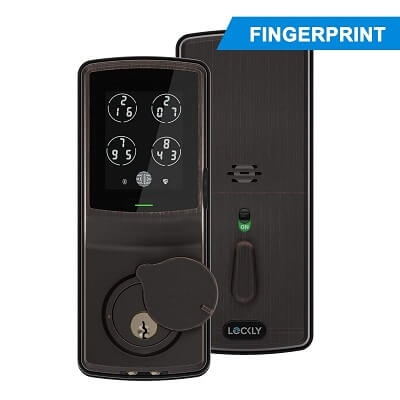 Let's just say that this bad boy has all the bells and whistles. Smart locks can be very advanced devices, at their core, and perhaps no other device exemplifies that notion better than this.
Read more
Design Features
This pretty much has it all. Included in this design is a unique algorithm that will reshuffle the numbers after each use to prevent copying. In addition, this sports an advanced 3D fingerprint sensor.
Advanced Features
Due to the Bluetooth technology that is built in, this is compatible with both Android and iOS devices. Also, this system will store all the access history and will sync it with the accompanying app.
Build Quality
Though the screw heads can be stripped if you are not careful with them, this can withstand inclement weather due to its sealed design.
Compatibility
Not only is this compatible with both left and right swing doors but it will also fit most standard doors from 1 3/8 inches to two inches in thickness.
Ease of Use
The general consensus amongst users is that both the installation and operation are quite simple. All you will need is some general knowledge about both.
Overall
As you can see with this technology, you pay for it. It does not come cheap and this lock exemplifies that notion very well. Still, the price will be worth it, ladies and gentlemen.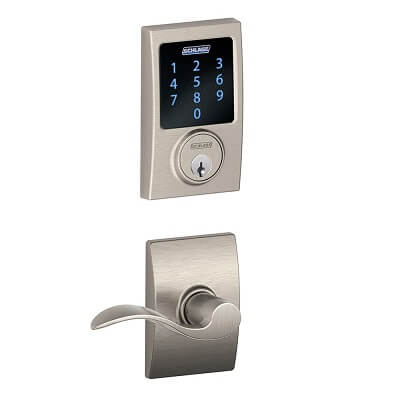 This is a model that relies heavily on the use of another smart device, so be aware of that right from the get-go. As for its design, it is fantastic and includes Z-Wave technology.
Read more
Design Features
First off, this comes equipped with a self-locking feature for all of you out there who forget to lock your doors on the way out. Also, there are three alert modes including forced entry, tamper, and activity.
Advanced Features
Perhaps more built-in functions would have been better as this really does rely on external devices. Besides your smartphone, with Z-Wave technology, this can also connect to your home automation system.
Build Quality
This sports a Grade 1 Highest Residential Security Rating and also a durable resistive touchscreen. This same touchscreen also includes a matte finish to protect against fingerprints.
Compatibility
Thanks to the standard lock design that is implemented here, this will fit most one-hole residential door preps.
Ease of Use
The illuminated touchscreen helps improve the visibility which will, in turn, ensure easier operation. As for the installation, it only requires a screwdriver to complete.
Overall
To put it bluntly, you will need a smart device to work this smart lock. Not all smart devices are designed in this manner but it is safe to say this is. Given the popularity of smartphones, though, this should not be an issue for most.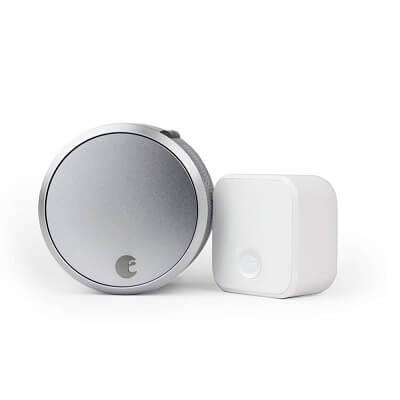 August just seems to be a step ahead of the rest of the competition when it comes to the designs of their smart locks. A partial explanation why is the DoorSense technology that they implement (as is present here).
Read more
Design Features
Thanks to the DoorSense technology, the Smart Lock Pro will inform you of when the door is securely closed and locked. Also, this will automatically lock behind so you never forget.
Advanced Features
To view the 24/7 activity log, you will need either an iOS (9.0 or higher) or an Android (5.0 or higher) device. But, this also requires a separate Wi-Fi bridge. Oh yeah, and this can also connect to Alexa.
Build Quality
August did not cut any corners with the physical design of their model, let's say that. It sports high-quality materials and is topped off with a sleek exterior.
Compatibility
Due to the Retrofit installation system that is integrated, you can keep your existing deadbolt. In fact, you can even use your existing keys any time you want to.
Ease of Use
Some buyers have complained about their experience using the accompanying app. From the looks of it, it appears to be buggy at times and needs improvement.
Overall
Although the included app needs some work, this device itself is fantastic and a truly advanced design. The sleek appeal certainly does not hurt things, also.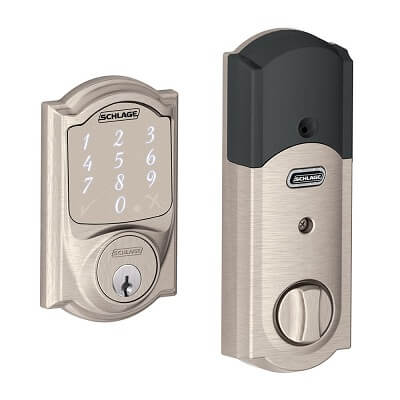 As a standalone device, this model from Schlage works very well. But, if you add the Schlage Sense Wi-Fi Adapter to your home network, then this little device becomes even better.
Read more
Design Features
As you can see, this is designed with a keypad and this is the main point of entry. Of course, there is also an integrated key lock if you do forget the code.
Advanced Features
Though a few users have been disappointed with the app, this can be synced to your smartphone via Bluetooth. Also, if you add the Schlage Sense Wi-Fi Adapter, then you can unlock your home from anywhere on other smart devices.
Build Quality
Schlage designed their model to work in inclement weather and the keypad will stay operational even when exposed to both sunlight and rainfall.
Compatibility
The installation process is pretty straightforward and you can even choose between a quick install or one that implements more secure hardware.
Ease of Use
Again, installing this is easy due to the batter operation. However, the keypad itself is not well-thought-out as the numbers can be difficult to view under most conditions.
Overall
All you need to do to be convinced that this lives up to the hype is to glance at the sheer amount of users who have raved about it. There are issues but they are not detrimental.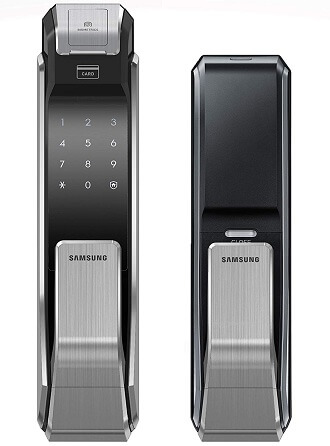 Now, some people would not consider this a smart model but it implements smart features into its design. So, it qualifies for this list and because it is designed by Samsung, you know the quality is high.
Read more
Design Features
This system can program up to 31 different user codes and also 100 fingerprints. In addition to this, this also has a random security code feature and a fire detection sensor.
Advanced Features
Now, this is compatible with certain NFC-enabled items. It is limited in its smart functionality, however, but does offer two-step verification (it requires two different types of access).
Build Quality
Utterly magnificent is the best way to describe the build quality of this device. Not only is the appeal modernized and sleek but the durability is greater than cylindrical deadbolt locks.
Compatibility
Due to the unique shape and size of this, it can be a bit tricky to install and conforms better to newer doors. However, it is designed to fit doors 40 to 80 millimeters thick.
Ease of Use
Outside of the actual installation, this is a breeze to operate. As soon as you enter your two methods of verification, you simply shut the door and the sensor will lock it automatically.
Overall
Just sit back and relish in the design of this model. Yes, it is a bit overpriced and yes it should have more smart features. However, it is an exceptional design with a stunning appeal.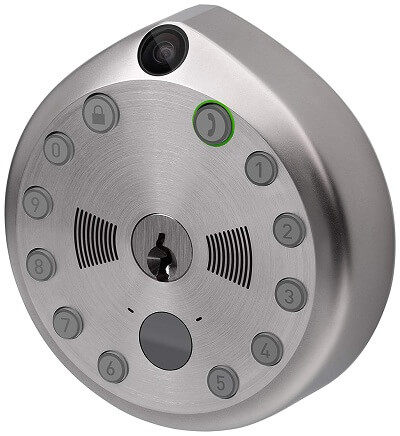 Though this is limited in its overall capabilities, there are two integrations that make it unique. Plus, it sports a weatherproof rating of IP56, making it suitable for outdoor use.
Read more
Design Features
The numbers are actually engineered on the outside in a circular pattern, which is different. As for the two other features, this has a built-in motion-activated camera and also a two-way speaker (so you can speak from your phone and it will be heard from the lock).
Advanced Features
Overall, the app is pretty limited in its design capabilities. But, this can sync to your smartphone so that is a plus.
Build Quality
It is important to note that the Gate (which is what this device is dubbed) is not fully weatherproof. That said, it does sport an IP56 rating and is weather-resistant.
Compatibility
All this is going to do is replace your existing deadbolt. Everything else remains the same.
Ease of Use
If you do not have a deadbolt installed in your door, you will need to do a bit more work for the installation process. However, others will spend maybe 15 minutes installing. As for pairing the device, the app has step-by-step instructions.
Overall
The integrated camera and two-way speaker may be seen to some as simple luxuries that are unneeded. That is fair but for others, it will make this too irresistible to pass up.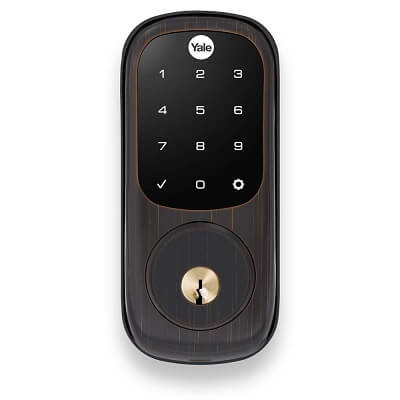 In addition to being well-made, in regard to its actual build, this also comes equipped with Z-Wave technology. Plus, each of your family members can have their own unique access code.
Read more
Design Features
One of the coolest features of this entire design is that individual people can have their own custom access codes. This can store up to 250 pin codes so you should not run out of memory.
Advanced Features
On top of being able to receive notifications straight from your smartphone, this also sports Z-Wave technology. This allows this to be integrated into your home automation system.
Build Quality
The lock itself is built very well. The real problem comes if you leave your door partially open. The deadbolt is designed to close after 30 seconds and this can create issues when the door is not fully closed. Over time, this can degrade the deadbolt mechanism.
Compatibility
As with most others, this installs right over your previous deadbolt and should be compatible for nearly all types.
Ease of Use
Both programming this device and installing it are fairly easy tasks (based on the general consensus amongst user feedback).
Overall
Outside of the potential issue with the deadbolt, this is a well-made device. With the ability to select between different types of finishes, also, it looks the part, as well.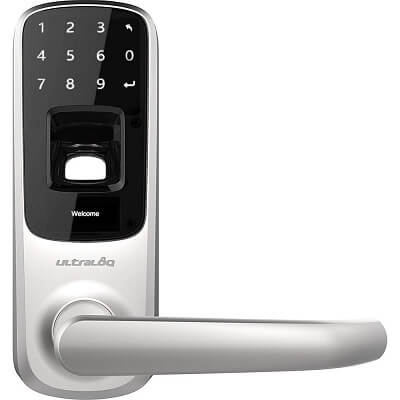 Whether you want to believe it or not, this right here is a five-in-one keyless smart lock system. Of course, one of those five functions (the fingerprint scanner) has been criticized for its performance.
Read more
Design Features
As mentioned, this is a five-in-one system. Among these five features is a fingerprint mode, the key itself and also a standard code. In addition, 95 fingerprints can be enrolled and this integrates an anti-peep password to make it less likely that someone could "see" your code.
Advanced Features
Due to the fact that this uses Bluetooth Low Energy, it can be connected to your smartphone. With your smartphone connected, you can then download the Ultraloq app for all kinds of features.
Build Quality
It is important to note that it is not clarified if this is weatherproof or not. But, the sleek and polished design of this model is stunning, to say the least.
Compatibility
To replace your existing deadbolt over, you will need to invest in an optional plate. This may be in your best interest, quite honestly.
Ease of Use
This implements a stunning OLED display and is very easy to operate once you get things up and running.
Overall
It is not a coincidence that this right here is a number one best seller on Amazon. With that said, many users have had issues with the fingerprint scanner (which is unfortunate).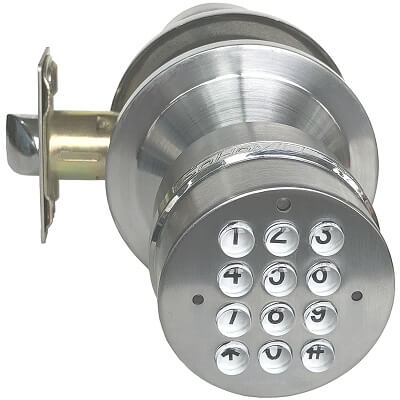 This last entry is going to be controversial because it is not technically a smart lock. Again, though, the YL 99 is not your average lock and does implement functionality that could be seen as "smart".
Read more
Design Features
Each member of your family can have their own code and this can accept up to eight, in total. All the codes are controlled by your master code (and this also is built with an auto-lock system).
Advanced Features
To be honest, this is fairly limited in its "smart" functionality. Consider this an affordable smart option, if there ever was one.
Build Quality
This right here is built to last and that is because it is made of stainless steel. In addition, it is silicon sealed on the inside to ensure its all-weather design.
Compatibility
Without question, this is a do it yourself design and will fit both left and right hinged doors. Also, it will easily replace most existing door locks.
Ease of Use
Outside of the ease of installation, the keypad on this design uses LED lighting when pressed to be able to be seen in the darkest of environments.
Overall
Look, the naysayers out there will shake their heads at this model. It may not technically be classified as a smart lock but it consider it one without the wireless technology (in that is has some smart features).

Subscribe to our Newsletter