Best Electric Bikes
In a
Hurry? Editors choice: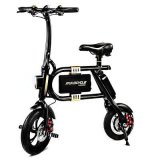 Test Winner: SwagCycle

Owning a car or any type of automobile can be quite expensive. Aside from spending on gas every few weeks (depending on how often you use your car), you would also spend on maintenance every few months or years. And periodic vehicle maintenance does not come cheap, either.

Sure, it can be convenient to ride in your own vehicle rather than commuting and mingling with random strangers. However, it seems like the latter is a more economical and practical choice to get from Point A to Point B.

On the other hand, there's another option that is getting more and more popular these days – electric bikes. They come in different designs, features, sizes, and more and can suit any type of users whether you are a first-timer or an experienced biker. An electric bike is different from traditional bikes and can cost as much as thousands of bucks.
Standout Picks
Criteria Used for Evaluation
Features
Some of the major benefits of e-bikes include more efficiency, resistance, and longer distances.
Plus, it can also make bike-riding more convenient and less painful as it won't require exerting too much effort on your knees and legs. E-bikes are also ideal for less athletic individuals and won't make you sweat as much unlike traditional bikes.
On the other hand, not all e-bikes are made equal. Different e-bikes are specially-designed to suit different types of people. Some may use it for their sports activities, while some aim to use it on their daily route to work or for leisure purposes. Some e-bikes offer features such as pedal assist and throttle that can bring your bike-riding experience to a whole new level.
In choosing your ideal e-bike, you should look beyond aesthetic appeal. For one, it should have high-quality parts including the batteries, motor, and others. In other words, all of the features included in the e-bike should be worth your money because you should be using it for a long time.
Ease of Use
No one wants to buy and use something that is too complicated to use especially by first-timers.
This also applies to electric bikes. Generally, e-bikes are easy to use due to its battery-powered functioning that provides extra boost while on the ride.
As mentioned, e-bikes won't make you exert too much effort in pedaling especially in hills and rough terrains. Likewise, you can control the speed using your feet just like traditional bikes, only that e-bikes are more powerful in terms of acceleration and speed.
Speed
E-bikes can go fast at some point. E-bikes also have boost setting that lets you adjust your speed from low to high depending on the terrain and road condition.
But remember, these are not motorcycles that can have the speed of The Flash.
At most, it can hit around 28 mph or a little higher depending on the e-bike model. On second thought, unless you're in a rush because you're going late for work, why not take your time to appreciate the view around you while riding the e-bike?
Battery Life
One major factor that sets e-bikes apart from other bikes is its power source.
As its name suggest, e-bikes are battery-operated and needs to be charged as needed. Most e-bikes would require recharging when it hits around 35 to 100 miles.
Battery life depends on the battery size and how much power the motor usually consumes. Thus, you can expect your battery to drain more quickly when you often use the "turbo" mode the entire time. Nonetheless, e-bikes continue to be developed and improved over the years, so we can expect longer battery life spans in the years to come.
Portability
Generally, e-bikes are heavier than traditional bikes simply because of its added parts like the battery, motor, and additional components.
As an estimate, you may expect an e-bike to be heavier by around 20 pounds or so depending on the bike model. Likewise, you may need to exert more effort to store or carry it around to its storage area.
On the other hand, there are some e-bikes that are foldable for easier carrying, to say the least. Nonetheless, e-bikes are getting more and more popular these days – even major car manufacturers are already joining in the e-bike game.
This is because some car manufacturers are already seeing the benefits of e-bikes especially in urban areas. With frequent traffic congestion and the fact that automobiles are really expensive, it's only logical to opt for cheaper, practical, lighter, and eco-friendly transportation alternative.
Subscribe to our Newsletter