Best Triathlon Bikes
In a Hurry? Editors choice: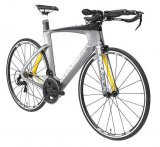 Test Winner: Diamondback Serios S

Triathlon
is about as difficult and enduring as a competition can be as it requires participants to compete in multiple events. Among those events, most commonly, is
cycling
. Now, have you ever heard the phrase you do not bring a knife to a gunfight? Well, you really, really do not want to bring an ordinary bicycle to a triathlon. If you are serious about participating in a triathlon event that requires a section of cycling, you need an optimized bike for that. Just a fair warning, though, triathlon
bikes
are not cheap and top-end models can
run
you multiple thousands of dollars. There is no doubt about it; you need to be all-in and absolutely certain that a triathlon bike is what you want.
Standout Picks
Criteria Used for Evaluation
Comfort
Outside of aforementioned features such as the fork, triathlon bikes will sport certain seat tube angles and top tube lengths to create a more comfortable experience. But, what you can do is also assess the adjustability and design of the saddle. These are two enormous design integrations that need to be focused on for specific reasons.
In terms of the adjustability, all people have different bodies and shapes and each bike may fit you differently. There typically are multiple bike sizes available so make sure you get the size that contours to your body the best. But, even so, the adjustment system needs to be present and fluid. However, it goes beyond adjusting the cockpit back and forward as you may want to also look for the front pads to be adjustable. In terms of the saddle design, triathlon bikes have versions that are specifically optimized for the sport. Their shorter nature takes the pressure of your pelvis for enhanced comfort for longer rides.
Durability
The performance side of things for a bike is important in its own right but it is amplified for a triathlon bike. After all, a triathlon is a competition and your bike should be up to the challenge of outperforming its competitors. Of course, it all starts with the aerodynamics and because these types do not feature the restrictions of time trial bikes, innovation can be key. One design feature that some manufacturers like to implement is oversized tube profiles for their bikes. Basically, this enhanced size allows the wind to pass along the bike without deviation. The result is enhanced speed and decreased drag.
But, another essential component to look at is the fork. This will assist with the speed and the comfort, in fact. As the fork is mainly designed to act as a shock absorber for your bike and deflect in on the tire, you get a faster and more comfortable experience with a high-quality fork design.
Materials
Let's just be honest; there is a lot that goes into deciding on an elite triathlon bicycle. Why else do you suppose they are so darned expensive? If you are looking for a starting point, though, you might as well start off with the construction as a whole. More specifically, the frame and other components such as the brakes and the cables. In terms of the frame, there are several different types that you can look into. For starters, you have carbon fiber frames and these are ideal if comfort is your priority.
Of course, there are also aluminum frames and these are quite common for triathlon bikes. One of the main benefits of aluminum is its excellent combination of sturdiness and weight. Then, though, there are also titanium frames and this is where things can get really expensive. Titanium is much like steel except it is much lighter and is ideal for durability and versatility. It is not just the frame that you need to assess, though. You can also look at how the bike increases the aerodynamics. For instance, you may see brakes hidden behind the forks or internal cables to protect them from damage.
Speed
How terrible would riding bikes be if they were all made with a single speed drivetrain? Look, single-speed bikes are not awful but painfully limited as you are stuck with one pedal speed no matter what you do. What is interesting about triathlon bikes, though, is the focus is a little different for the gear system. Sure, you could focus in on the ranges and ratios of the system but in reality, you may want to simply assess whether the drivetrain is electric or mechanical. The difference is fairly huge and here is why.
As you can imagine, the more convenient and popular option would be an electric gear system over a mechanical. First of all, it completely removes the tedious cable routing process present in mechanical gear systems. But, it also means you never need to move your hands to the bar end when you want to shift. There are several trademark companies that offer these types of drivetrains, but Shimano is a name that comes up time and time again due to their reliability. Then again, it is not all sunshine and rainbows as you need to ensure the electrical gear system is charged up before the big event.
Top 10 Picks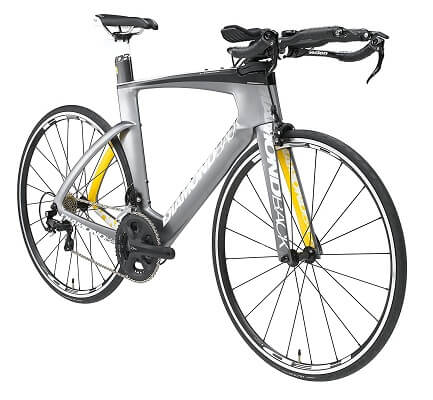 In all technicalities, the Serios S is an entry-level bike model. However, you would never believe that when you hop on the Serios S. Admittedly, the components are not the best in the world but the frame is where the money is at.
Read more
Construction Method
Thanks to the mix of carbon fiber weaves, this frame is able to deliver epic response while not being too heavy. Oh yeah, the carbon frame and fork are also the same advanced models from other Diamondback bicycles.
Performance
While the carbon frame by itself will equate to a superior performance, the straight line speed of this bike is almost hard to believe. Do not worry, though, it can also cut corners with ease and fluidity.
Comfortability
Both the integrated seating and the Aero fork should allow you to find a riding position that suits you comfortably. In fact, the seat can adapt to heights from 5-foot 6-inches to 6-foot 4-inches.
Gear System
Equipped with the Serios S is a Shimano Dura Ace Bar End 11-speed drivetrain. Even novices will be able to control their speed with this integrated shifting system.
Wheel Design
Diamondback likes to go with HED wheels and that is exactly what they have incorporated with their Serios S Bike. This wheelset will also help you obtain unreal speeds while you are racing.
Overall
It is up for debate as to whether or not this is actually an entry-level triathlon bike. On one hand, other top-end models sport superior components. Yet, on the other hand, it sports the same carbon frame of its superbike brethren.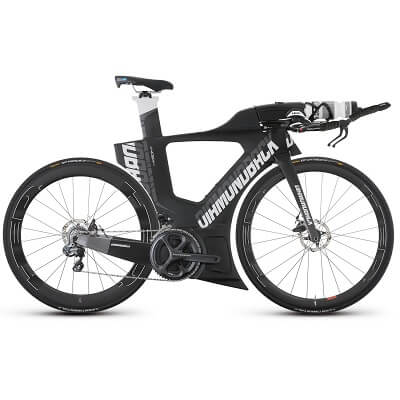 Might as well kick this list off with a super expensive bike, right? The Andean 2 is quite the impressive triathlon bike and Diamondback worked extensively with experts from esteemed universities to develop a model all their fans would love.
Read more
Construction Method
The Andean 2 was designed from the center of the wheels in towards the middle of the frame. Of which, the Aero Core is the result and the heart of this bike. Overall, the carbon frame resembles a superbike more than an actual bike.
Performance
Diamondback spent extensive time with researchers at the University of Toronto for Aerospace Studies to develop a superior wind tunnel. The end result of this collaboration is the Andean 2 and its ridiculously fast speed.
Comfortability
While it will take you some time to get comfortable on this bike, when you do, you will find out how easily it can shred corners and handle as a whole.
Gear System
Powered by the Shimano Ultegra 11-speed drivetrain, this bike is able to produce flawless shifts every single time. In addition, the wheelset features a great balance of aerodynamics and handling.
Wheel Design
Equipped on the Andean 2 are HED Jet 6 Plus and Jet Plus wheels and they are matched with 23-millimeter Continental GP 4000 II tires. Also, as previously mentioned, the aerodynamics start in the center of the wheels.
Overall
While Diamondback does require a lot in return for their Andean 2 Bike, one can only marvel at the amount of time and dedication that was put into its design. If you have the money and it is within your budget, this is a no-brainer.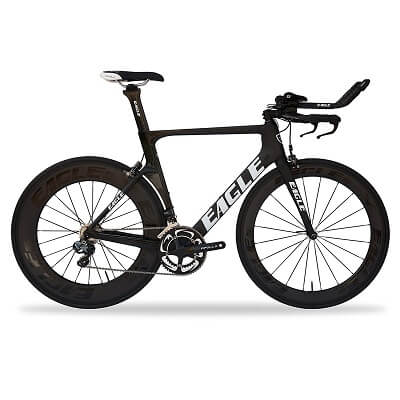 Eagle Bicycles basically took their T1 model and amplified it with advanced components. One of the primary advancements would have to be the electronic Shimano gear system that is now utilized in the T3.
Read more
Construction Method
The T3 was designed to pierce through the wind while also delivering stability to the rider. The contour of the frame is actually beneficial when you are tackling a triathlon solo, in addition.
Performance
Eagle transferred both the performance and the precision of their T1 model into the T3. Basically, to even further enhance performance, the T3 was designed with upgraded components.
Comfortability
Outside of the modulus carbon fiber construction that creates a comfortable ride, there are multiple sizes available to deliver the ride that is right for you. If you are looking for maximum comfort, you may want to go with a larger stack height.
Gear System
Upgraded from the Eagle T1 is the electronic Shimano gear system implemented. Those who prefer electronic shifting will certainly appreciate this upgrade.
Wheel Design
You can actually choose the wheel depth of both of your wheels. Eagle offers their 38/38 and 65/65 carbon clincher wheelsets. The former is best for quick acceleration while the latter delivers aerodynamic benefits.
Overall
It is tough to put this bike into words as it truly is an impeccable design. What is amazing, also, is as good as the Eagle T1 is the T3 is just that much better.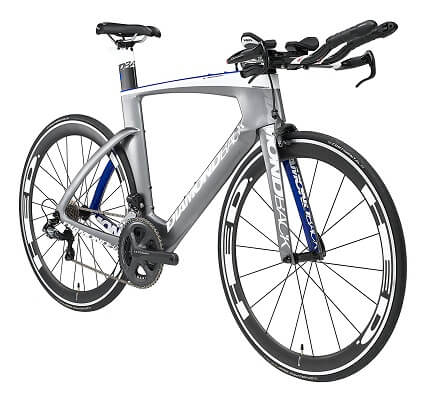 As opposed to the competition, Diamondback claims that their Serios F Triathlon Bikes generate around half the drag. What this means for you is advanced and enhanced speed and when you are going for the win, this is huge.
Read more
Construction Method
As the Serios F's frame is constructed with a unidirectional carbon, it is unmatched when it comes to comfort and power transfer. Also, its geometry is optimized to handle all the speed bumps you will encounter in a triathlon.
Performance
Do not get it twisted; Diamondback engineered their Serios F Bike for speed and speed alone. In fact, this model actually generates around half the drag of other models in the world.
Comfortability
The aforementioned unidirectional carbon frame is not the only feature that enhances the comfort. Due to the unique headset spacers, this model can fit virtually any body shape comfortably.
Gear System
Featured on this bike are both a Shimano Ultrega Di2 electronic drivetrain and a Shimano Ultrega 6800 race crankset to produce smooth shifting with ease.
Wheel Design
Diamondback once again outfits one of their triathlon bikes with HED Jet 6 Plus wheels. While impressive in their own right, it is only enhanced by the Continental Grandprix 4000 S II tires and their BlackChili compound.
Overall
Once again, it is okay to sit back and marvel at what Diamondback has spearheaded. Granted their Serios F Bike is not without a slight hiccup or two, it is sure to have you competing for triathlon championships.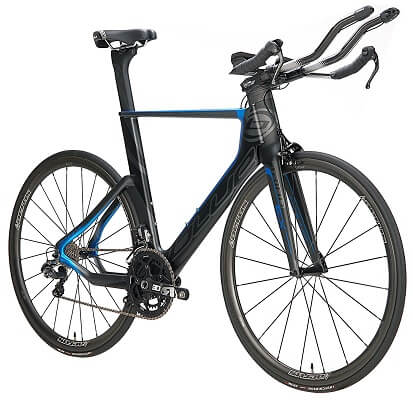 If there is one aspect you may notice right away, the Bike Triad fits a bit differently than other bikes. Once you are able to acclimate yourself to this, you will be able to enjoy the performance that is delivered from this triathlon bike.
Read more
Construction Method
Integrated into this design is a drop down tube design and it manages to improve the aerodynamics of the Bike Triad. Also, the frame is comprised of proprietary super-light performance carbon fiber.
Performance
Both the frame and the fork are molded using the aforementioned high-performance carbon and this refined design is engineered with a great weight-to-stiffness ratio.
Comfortability
While the integrated aero bars are extremely easy to adjust and the seat post provides you with multiple different positions, most riders will tell you that this fits differently than others.
Gear System
Equipped on this bike are both front and rear derailleurs that sport Shimano's Di2 11-speed shifters.
Wheel Design
The Bike Triad is designed with Aerus Quantum SL-35 700c x 23c wheels and Hutchinson Atom X-Light 35-millimeter tires.
Overall
If you are a rider who is anal about having their gear and liquids for quick access, this may not be the bike for you. However, if those kinds of features are irrelevant to you, the sheer performance of this model is worth it alone.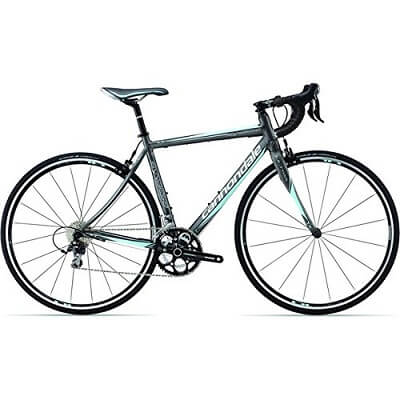 While there are several reasons to why the Synapse is an incredible bicycle, arguably the most noteworthy feature is the integrated SAVE technology. Essentially, this drastically enhances the comfort by dampening the road vibration you feel throughout your ride.
Read more
Construction Method
The Power Pyramid bottom bracket that was integrated into the previous version of the Synapse makes a return and this reduces weight where it is unneeded. Also, the frame itself is made of carbon and features tube shaping for increased efficiency.
Performance
Besides reducing weight in key areas, the bottom bracket also allows you to produce a better power transfer and also enhances the stiffness.
Comfortability
Outside of the 25.4-millimeter seat post that is integrated onto this bike, Cannondale has built their Synapse with Synapse Active Vibration Elimination technology. Otherwise known as SAVE, this is implemented to dampen the amount of road vibration you feel during your ride.
Gear System
Paired with the crankset is an 11-32 tooth cassette. But, the gear system itself sports Shimano 105 levers and derailleurs and has over 20 speeds to choose from.
Wheel Design
Here is the deal; the Schwalbe Lugano Folding 700c x 25-millimeter tires do offer excellent handling and speed. However, they could use an upgrade as they are far from elite.
Overall
Believe it or not, this may just be one of the cheapest triathlon bikes on the market. At least, a "cheap" model that does not cut corners and lack in quality and greatness. Plus, your rear end will be loving the integration of the SAVE technology.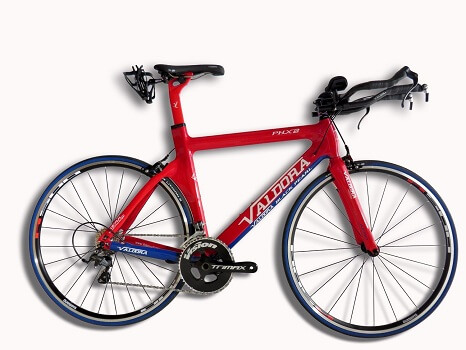 Thanks to the extraordinary geometry that has been implemented in the PHX-2 Black Pearl, this bike is able to produce a high-performance and comfortable ride. As a bonus, the rear wheel can be quickly adjusted due to the spring loaded drop out.
Read more
Construction Method
Featured on the frame and the fork are slippery aerodynamic profiles. Due to the wind tunnel testing and advanced computational fluid dynamics worked in, this composite blend of carbon is a perfect combination of stiffness, strength and weight.
Performance
There are two key components that minimize the drag of this bike. One is the internal cable routing and the other is the drop outs that reduce the gap between the tire and the seat tube. Also, the overbuilt bottom enhances the stiffness.
Comfortability
Seat angles from 73 degrees to 79 degrees can be achieved thanks to the aero post. In addition to this is the sensational geometry of this bike as it manages to increase the comfort on longer rides.
Gear System
One of the perks of the way this bike was designed is the front and rear derailleur hangers are replaceable. Because of this, if one of them bends or breaks, you do not have to replace the entire frame.
Wheel Design
If you want to, you can go the extra mile and invest in carbon racing wheels for this bike. Of course, you do so at the expense of your wallet so keep that in mind. Also, due to the spring loaded drop out, you can adjust the rear wheel for different aerodynamic advantages.
Overall
From beginning to end, the PHX-2 is just a good-looking triathlon bike. It seemingly does everything right and while there are other models out there with more advanced technology, this is not too shabby.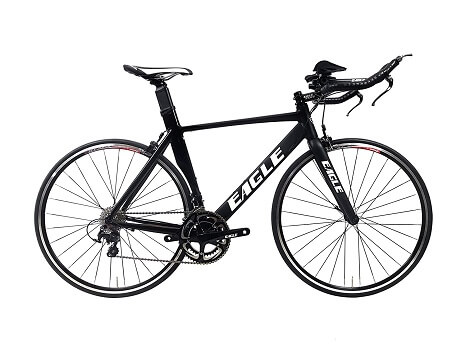 For whatever reason, Eagle triathlon bikes do not get much feedback from their riders and users. Their AT1 features tremendous specifications and it is advertised as an elite triathlon bike. The good news is just by looking, you can really tell that this is quality personified.
Read more
Construction Method
Eagles did not want to cut corners with their AT1 and that is exactly why they built it with an alloy construction and premium parts. Because of such, this bike can take a beating and come back for more.
Performance
The Eagle AT1 shares a major feature in common with the Eagle T1 in that it has the same aerodynamic profile. In addition, it can be upgraded to the AT1 Pro which is fantastic for both competition and recreational riding.
Comfortability
Much like with their other bikes, Eagle provides you with a plethora of sizing options to choose from. For more aggressive riders, you may want to go down a frame size to enhance your aerodynamic riding position.
Gear System
An 11-speed drivetrain, which is a Shimano 105, powers this bike and it produces enough speeds and gears to satisfy most riders. Of course, Shimano is a highly dependable brand so you can count on that.
Wheel Design
Remember when it was claimed that this can be upgraded to the AT1 Pro? Well, you can actually choose the wheels that come with it. You can choose between 65/65 or 65/90 carbon fiber wheels.
Overall
Whether you choose to go with the AT1 or the AT1 Pro is your prerogative. But, know this, no matter which one you decide to go with they are both high-quality models that should deliver years of thrills.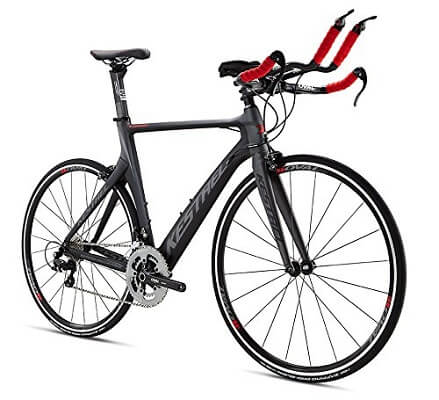 Not everyone can afford most of the top-end triathlon bikes on the market. Thankfully, there are models like the Talon that combine affordability with high-quality. Of course, you may want to have a professional assemble this for you as it is not easy in the slightest.
Read more
Construction Method
Kestrel designed their Talon with a combination of 800K and 700K carbon fibers and the result is a light but stiff frame. Known as EMH carbon, this does comprise an entry-level bike.
Performance
A lot of credit needs to be pointed in the direction of the proprietary Kestrel H-Stays. These asymmetrically shaped seat stays manage to improve the amount of lateral stiffness and power transfer. All in the meanwhile, they dampen the vibration you feel.
Comfortability
Built on this bike is Kestrel's EMS Pro Aero seat post and it is quite the specimen. As it can be adjusted in a wide range of positions, you can adapt the way you ride for different types of riding.
Gear System
Even though this is an entry-level bicycle, it does sport Shimano gears. Both the front and the rear derailleurs sport 11-speed shifters which allow you to perform precise shifting in a blink of an eye.
Wheel Design
Here is where you really notice the fact that this is not a higher-end model. The Oval 327 wheels are fairly standard and are not going to blow you away. Then again, for this price range, it could have been a heck of a lot worse.
Overall
A better option may not be available for those on a tight budget. After all, you still want to invest your money into a bike that is worth it. Guess what? That "bike" is the Talon from Kestrel; count on it.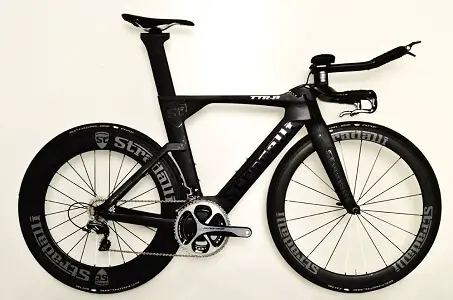 Stradalli clearly spent extensive time in designing the frame of their TTR-8 Triathlon Bike. While other components may not be as advanced as the frame geometry is, the TTR-8 remains a worthwhile investment because of it.
Read more
Construction Method
Known as a cockpit construction, the TTR-8 sports carbon masks which manage to protect a lot of the key elements from corrosion. For example, the fork is protected by a carbon mask as well as the brakes.
Performance
Instead of making the rider mesh to the bike, the bike meshes to the rider and this eliminates the need to find the optimum position for power. Also, each tube on the frame was engineered with efficiency in mind.
Comfortability
Both the aero bars and the armrests are designed to both durable and flexible for the rider. Past this, the carbon seat can be adjusted to tailor to your preferences.
Gear System
The internal cable routing system is ready for mechanical shifting groups, Campagnolo EPS or Shimano Di2 gear systems.
Wheel Design
Equipped on the TTR-8 is a 85-millimeter by 50-millimeter carbon clincher wheelset.
Overall
This list wraps up with another great triathlon bike and you officially have more options than your brain can process at this very moment, huh?

Subscribe to our Newsletter