Best Triathlon Watches
In a Hurry? Editors choice: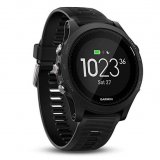 Test Winner: Garmin Forerunner 935

If you are planning on participating in an upcoming triathlon and are rather serious about your performance, then there is a critical device that you should be wearing on your
wrist
. Of course, this is alluding to a
triathlon
watch and for the most part, this would be considered a
fitness
watch (most likely with GPS) that can be submerged in water. After all, swimming is often an event in a triathlon so wearing a watch that is not even splash-proof will be insufficient. But, as you will soon find out, there are several other factors that will come into play when deciding upon the best model for you. The device should be water-resistant, designed with key metrics found in most fitness trackers, and should last the entire event before needing to be recharged. From there, the decision process should be fairly basic.
Standout Picks
Criteria Used for Evaluation
Features
For the most part, you might as well consider triathlon watches smartwatches with GPS technology. While not all of them are, most of the best models available will be. So, this does start with the integration of GPS technology. With this, you can track the number of metrics such as distance to adjust your pace accordingly. But, to improve the reception, also look for GLONASS functionality. In addition to this, though, you may want to look for an integrated heart rate monitor. To ensure everything is A-Okay during your triathlon, a heart rate monitor will inform you if your heart readings are what they should be.
Past this, though, most triathlons will require swimming, running, and cycling session so owning a watch that covers all three is ideal. For running, most fitness trackers will have the standard metrics but also look for cadence, vertical oscillation, and ground contact time. In terms of swimming, they should feature both waterproofness and a dedicated mode to track metrics for swimming. In terms of cycling, with a GPS and cadence feature, this should be covered.
Water Resistance
No matter what type of accessory you invest in, they should all be built to last. The same applies to this type of watch. One area to assess is the screen as it should be made with a durable bezel and also a rugged display. In addition to this, the strap itself should be well-made. If it feels like it is going to snap off at a moment's notice, it may not be worth the price of admission. However, now it is time to discuss an incredibly vital feature for triathlon watches.
The importance of water-resistance can't be overstated enough in regard to this device. You see, with most watches it is simply a luxury for them to be waterproof but this is not the case when you want to utilize them for triathlons. Again, swimming is most likely going to be an event and if your watch can't get wet, how is that going to work? So, look for the water-resistance rating, which may be measured in ATM (with one ATM equating to around 10 meters of depth).
Battery Life
On average, it takes around three hours to finish an International Distance Triathlon, according to various statistics. Most GPS watches in the world will be able to last this long but what you need to remember is that GPS technology is a complete battery hog. Hence, this is why you will see models sport multiple battery life ratings. All the time, in GPS mode, it will be significantly lower than when you operate the watch in its normal mode. Sometimes, it can be as drastic as the GPS mode lasting around 10 to 20 hours and the normal mode lasting upward of one to three months.
No matter how you slice it, the less you need to recharge the watch the better. You figure, it just becomes an inconvenience if you have to constantly charge the watch before and after each use.
Watch Face
On this long journey, it is time to assess one of the last important design features that you the buyer need to pay close attention to. It was referenced a bit earlier that you should look for a durable and rugged bezel and physical screen but what about the display itself? This section is not exactly rocket science, so do not treat it as such. What you are primarily looking for is a screen that you can easily see in most viewing conditions and perhaps one that is scratch-resistant.
One way to determine if it is easy to see is to assess its resolution size and interface. Now, as they are watches, it is not as if they will sport 1080p resolutions as they are simply not large enough to warrant that. Instead, you may see 240 pixels and all things considered, that is pretty good. In terms of the interface, look for large fonts and preferably color. Remember, you should be able to see important metrics at a glance of your wrist as your mind should be focused on the event.
Top 10 Picks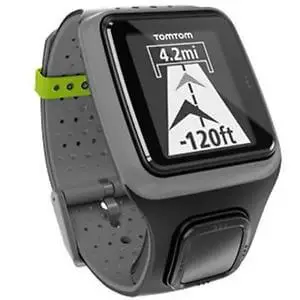 Well, would you look at that? This is not a Garmin watch and yes, other companies can develop superb triathlon watches. In fact, TomTom's Multi-Sport GPS Watch is one of the best.
Read more
Triathlon Features
To find your location quicker and with enhanced efficiency, this sports GPS and GLONASS reception (on top of QuickGPSFix technology). Also, there is a built-in barometric altimeter.
Overall Construction
No matter what type of weather is existent outdoors or if you are swimming, the 50-meter waterproof rating has you covered from any water damage.
Battery Life
While you run in GPS mode, you can expect to get around 10 hours of battery life. But, this will significantly increase when you are not utilizing the GPS functionality.
Smart Features
With the use of Bluetooth Smart technology, this TomTom watch is able to sync to your smartphone. Plus, it can connect to other Bluetooth Smart accessories.
The Display
Not only is the display scratch-resistant, but it is also impact-resistant. In addition to this, the extra-large display is easy to view at a glance while you are running.
Overall
TomTom is not quite as consistent as Garmin but their GPS watch is still incredibly impressive. You just may have to deal with inconsistencies when you are swimming.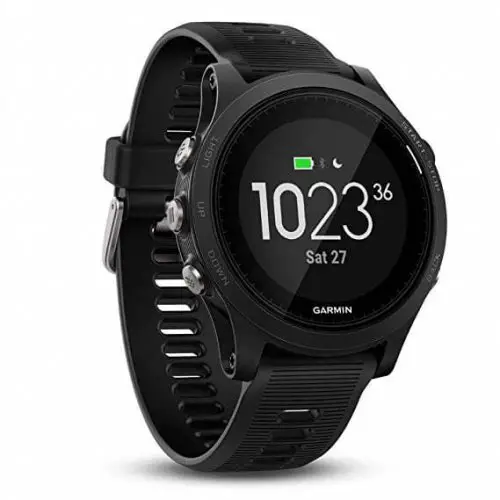 As you will soon be witnessed to, Garmin is going to make a huge stamp on this list. It all starts with their Forerunner 935 and with its state-of-the-art GPS technology and Wi-Fi and ANT+ connectivity, it is the best in the business.
Read more
Triathlon Features
On top of the GPS technology, this delivers advanced dynamics for cycling, swimming, running, and even ground contact time. Plus, it can measure your heart rate.
Overall Construction
Past the 50-meter water-resistance rating of the Forerunner 935, the fiber-reinforced polymer bezel and chemically strengthened glass display add enhanced durability.
Battery Life
Let's just say the battery life for this watch is beyond impressive. In GPS mode, it is a staggering 24 hours and then it increases to two weeks in regular watch mode.
Smart Features
With Wi-Fi and ANT+ connectivity, this can sync to a wide range of devices. For example, when paired with your smartphone, you can gain access to audio prompts and music controls.
The Display
Even in bright sunlight conditions, the crystal clear screen makes this device easy to see. Plus, the 240 pixels is a noticeable increase from the 735XT.
Overall
Can you see why the Forerunner 935 is nearly the perfect triathlon watch? In almost every way, it personifies why Garmin is the leader in this field.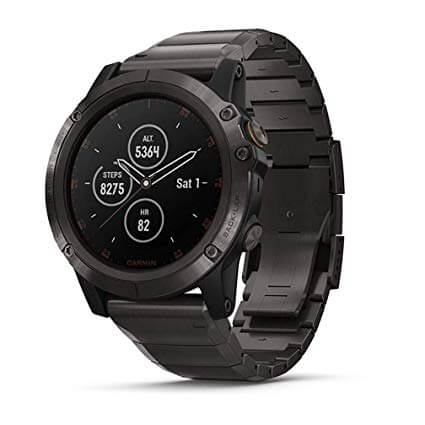 It did not take long for Garmin to make another appearance on this list and their Fenix 5 is as good as it gets. In fact, with both GLONASS and GPS technology, the reception is enhanced.
Read more
Triathlon Features
Not only does the Fenix 5 sport a premium GPS but it also comes equipped with heart rate technology. In addition to this, it also has GLONASS satellite reception and a triple-axis compass.
Overall Construction
With its stainless steel bezel, rear case, and buttons, this rugged design is fit for all types of adventures. Plus, the fiber-reinforced polymer adds another layer of durability.
Battery Life
If there is one factor all users can agree on it is that the Fenix 5 has unbelievable battery life. For up to two weeks, this will last when used in regular watch mode.
Smart Features
When connected, the Fenix 5 can receive smart notifications and can send automatic uploads to Garmin Connect. Plus, you can personalize the watch through free watch faces from the Connect IQ store.
The Display
Despite the sunlight-visible and 240-pixel screen size, the display is a bit washed down when compared to other top-of-the-line GPS watches on the market.
Overall
In spite of the so-so display, the Fenix 5 is practically flawless in all other areas. Its advanced GPS technology and impeccable battery life make it an ideal triathlon watch.

4

. Garmin Forerunner 735XT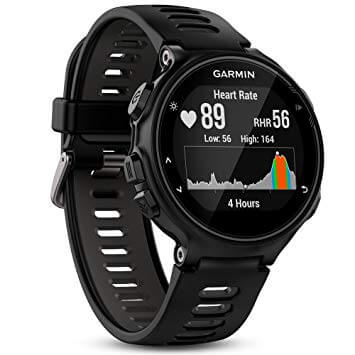 Garmin just seems to be head and shoulders above the rest of the competition at this point. Even their third best triathlon watch happens to be better than anyone else's best.
Read more
Triathlon Features
This is another GPS watch that integrates heart rate monitoring. As such, it features data support for running, swimming, hiking, and cycling.
Overall Construction
To save weight for their Forerunner 735XT, Garmin decided to design it primarily out of plastic and not glass and metals. Though this may be appalling at first, it is still not likely to break.
Battery Life
As with other Garmin GPS watches, this is another model that sports terrific battery life. Even while working as a fitness tracker, this can last up to five days.
Smart Features
The Forerunner 735XT is a full-fledged smartwatch with the capability of syncing to your smartphone. With this, you can receive smart notifications straight from it.
The Display
As compared to other smartwatches in the world, the resolution of this model is quite low. Still, though, the transflective screen adds clarity to your runs.
Overall
Do not be fooled by the plastic construction of the Forerunner 735XT, it is actually a durable and high-end smartwatch. In fact, it is one of Garmin's best.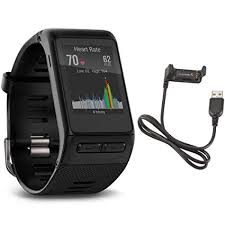 After a quick break, Garmin is back. At this point, should this really surprise anyone? Their Vivoactive HR is just another reason why Garmin rules when it comes to GPS watches.
Read more
Triathlon Features
On top of the GPS functionality of this watch, it is also equipped with heart rate technology so you can assess your heart during the long and grueling triathlon event.
Overall Construction
When the swimming event is up or the rain begins to fall, the Vivoactive HR will be protected against damage with its 50-meter waterproof rating.
Battery Life
In just watch or activity mode, this can last up to eight days on one charge. However, with the GPS, expect around 13 hours of battery life.
Smart Features
When you pair this with a compatible smartphone, you can receive notifications straight from this watch. But, some testers noted that occasional syncing issues can persist.
The Display
In terms of GPS watches manufactured from Garmin, this sports one of the more impressive displays. It sports a high-resolution and is sunlight-readable (on top of being a color touchscreen).
Overall
If you can live with syncing issues from time to time, which only comes into play when connecting this to another device, you can utilize one of the best-rounded watches on this list.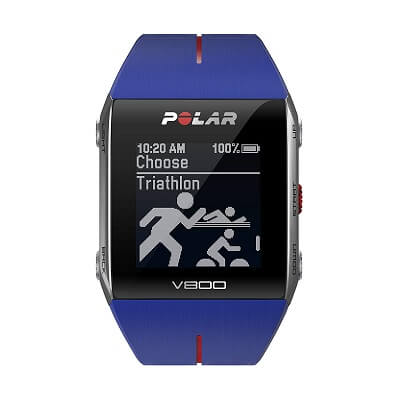 One of the key advantages of the Polar V800 is its crazily impressive battery life. Of course, its waterproof protection is also a nice feature and makes the V800 a logical choice.
Read more
Triathlon Features
Even though the built-in GPS can be off at times, it will measure your speed, distance, and various other metrics. Oh yeah, and it is also compatible with the H7 heart rate sensor.
Overall Construction
As with all suitable triathlon watches, the V800 is completely waterproof. For down to 30 meters, this will be protected against any potential water damage.
Battery Life
When utilizing the GPS in low power mode, it can last up to 50 hours. This balloons to 30 days in normal time mode, however.
Smart Features
Yes, this is a smartwatch but as others have alluded to, it may lose connectivity to your smartphone every now and then. Overall, it is compatible with Bluetooth Smart devices.
The Display
For the most part, the display on the Polar V800 is solid. It sports a fairly impressive screen size and is illuminated with a backlight to be seen at night.
Overall
There have been a plethora of positive reviews for the V800 and it is a highly acclaimed watch. Yet, there are slight issues present that could deter the overall experience.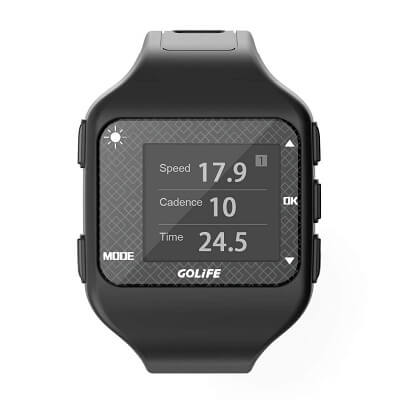 Chances are, you may have never heard of this triathlon watch. That is fair as there is very little feedback to back this up but one thing is for sure, the features and specifications sure back it up.
Read more
Triathlon Features
Thanks to the different modes that are available within this watch, including running, GPS, metronome, and interval, you can track all sorts of critical metrics for a triathlon.
Overall Construction
This is advertised with an ATM rating of five. What this equates to is a water-resistance depth of around 50 meters.
Battery Life
In normal watch mode, this can actually run on one charge for an amazing three months. When utilizing the GPS or heart rate monitor, though, it drops to around 11 hours.
Smart Features
A very important factor of this watch is it is compatible with ANT+ devices. Also, you can get weekly and monthly training summaries when connecting to GoLife Connect.
The Display
Due to the combination of the strong backlight and the crisp monochrome display, you can quickly and easily see all you need at a simple glance at the wrist.
Overall
To be honest, there is little to gripe about in regard to this GPS watch. However, as claimed earlier, there is very little feedback to go on so this could be considered a risk.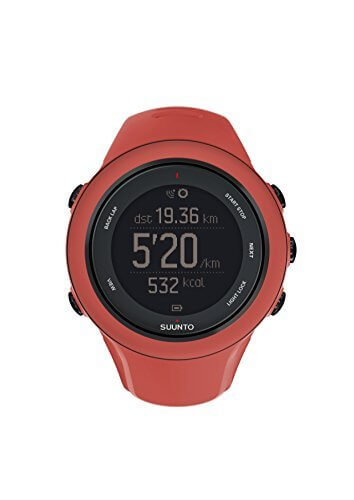 Suunto also knows a thing or two about making incredible GPS watches and guess what, their Ambit3 may stand at the top of the heap. Given its durability and triathlon features, it is easy to see why.
Read more
Triathlon Features
This GPS watch is able to provide you with important running triathlon metrics such as speed, distance, and heart rate. In addition, you can record your heart rate when you swim.
Overall Construction
In addition to the steel bezel and mineral crystal lens, the Ambit3 is water-resistant to 50 meters and will be safe for swimming and running in the rain.
Battery Life
There is no doubt; the Ambit3 sports one of the most competitive battery lives on the market. With 14 days in time mode and 25 hours in GPS mode, you can see why.
Smart Features
In addition to being able to sync the Ambit3 to your smartphone to utilize it is a full-fledged smartwatch, you can also use the Movescount app for voice guidance.
The Display
In spite of the fact that the LED backlighting is ideal, many buyers have claimed that the display is quite bulky and top heavy.
Overall
It is easy to fall for the Ambit3 as it is one of the more advanced designs on this list. But, its lack of ANT+ connectivity and bulkiness could be considered red flags in the eyes of some.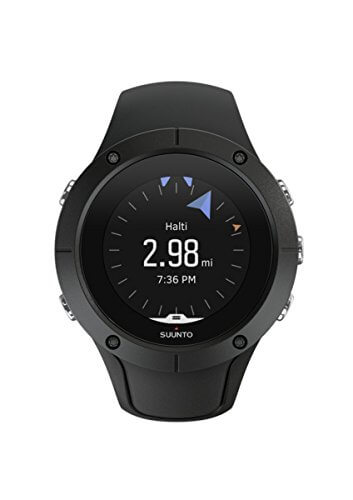 Following up the Ambit3 from Suunto is the Spartan Trainer from Suunto. Now, even though its display is a little less to be desired, the pre-installed sports modes and smart notifications are fantastic.
Read more
Triathlon Features
Pre-installed on this system are 80 sports modes. In addition, this can track your activity, calories, steps, swimming, running, and cycling with its integrated GPS.
Overall Construction
The Spartan Trainer is both compact and highly durable. Plus, when it is time for the swimming event, it is water-resistant to 50 meters and will not be damaged in any way.
Battery Life
With constant use, granted you do not use the training mode at all times, you should be able to string out three to four days of use without needing to recharge the Spartan Trainer.
Smart Features
Due to its smart connectivity, this can rival the smartwatches that are produced by Garmin and TomTom in regard to its use as a smartwatch.
The Display
At 218 x 218, the resolution of this watch is okay but nothing extravagant. However, it is a bit annoying that you can't customize the screens without the use of the app.
Overall
What the Spartan Trainer excels at is its software and functionality as a triathlon watch. But, some users will be put off by the somewhat lackluster visual display.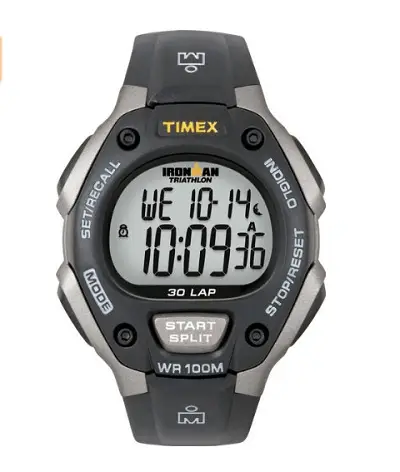 As opposed to all the other watches on this list, the Ironman Classic 30 does not sport GPS technology. Due to its much cheaper price tag, this is quite evident.
Read more
Triathlon Features
While this does not have a GPS, it does come equipped with the capability of counting up to 99 laps and also has a 24-hour countdown timer.
Overall Construction
With its durable and lightweight resin, this is constructed well. But, the plastic band is not the best and can easily be broken if you are not careful.
Battery Life
Because this model does not sport GPS technology, battery life is exquisite. For the lifespan of the watch, the battery life is advertised to last up to six years.
Smart Features
You will have to live with the lack of connectivity with this watch. But, it is equipped with an alarm mode and an occasion mode, which allows you to set up to 15 reminders for specific events.
The Display
To provide easy readability in dark conditions, it is designed with an Indiglo night-light (which is low-powered electroluminescence).
Overall
Does the Ironman Classic 30 sport all the bells and whistles of top GPS watches? No, but for a nice affordable option that can still be used for triathlons, this is an ideal option.

Subscribe to our Newsletter