Best Electric Scooters Reviewed & Rated in 2023
In a Hurry? Editors choice: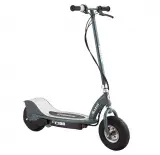 Test Winner: Razor E300

What better way to get around town, save the environment, and have fun while doing it than to ride an electric scooter? These cool inventions allow you to cruise around at speeds of usually around 15 miles per hour, but sometimes up to 40 miles per hour. They make getting around in traffic a breeze. These products are designed to have no emissions. They don't run on any kind of fuel. Instead, they use a battery that can be recharged after each use. This cuts down on pollution and in turn, allows you to do your part in saving the environment. Although these products are inherently cool, many of them have even more extra
bells and whistles
. They all have some similar features and some unique features. We are going to look at the ten best on the market so you can find the right one for you.
Standout Picks
Criteria Used for Evaluation
Ride
A comfortable ride is a high priority.
When evaluating these products, we placed the smoothness of the ride high on the list of important criteria. We defined ride as meaning not only the smoothness and comfort of the ride, but also other important features that affect the ride such as how fast the product can go, what kind of inclines it can handle, how much weight it can carry, whether it has a seat or if one can be attached, and any other factor we thought would be related to the product's performance as a whole.
When examining the smoothness of the ride, a big thing we paid attention to was the tires. We found out what size the tires were, both the width and the diameter, what materials they were made of, whether they were airless or solid, how they were designed (such as with layering, honeycomb technology, or other methods), and how they were driven (with a chain like a bicycle, or without). We looked at the brakes to make sure they were well designed and had safety features such as anti-lock braking system, and whether there were brakes for both tires or just one. One of the other most important factors we looked at was the suspension system. Some products had none at all, while others had elaborate systems. With models that don't go very fast, a suspension system was not as important as with the models that went at high speeds. Finally, we tried to find at least some models that either had a seat or had the option to add one.
Durability
For your personal vehicle, durability is a necessity.
Scooters can be notorious for having breakdowns. We tried to find products that went against that unfortunate trend and instead were known for their long-lasting abilities. We looked for products that not only were well built out of strong materials but had also been tested in a lab and/or on road conditions. We also examined users' reports to see if the product has a track record of strong performance. We realize that many people will want to use these products for commuting and will need a reliable machine that won't leave you stranded right when you need to leave for work.
Battery Life
With these products, the battery is everything.
The battery is to a scooter as an engine is to a car. It is the life and the heart of the machine and has to be reliable and long-lasting. We gave priority to lithium-ion batteries since they generally charge faster, but you will also find some products that use lead-acid batteries in case that is the kind that you prefer. When examining the batteries, we looked to see how many cycles they last, if they are guaranteed, if they can be replaced when they eventually wear out, and most importantly, how long they take to be charged, how often they have to be charged, and how long a single charge lasts.
Advanced Features
Depending on the extra features, these products can be a lot of fun.
We love to see extra features that make these products that much more special. We tried to find a variety of products that offered all kinds of cool advanced features like flashing colored lights, music speakers, apps for keeping track of statistics and interesting information, pedestrian bells, and extra storage. We were excited whenever we found a product that went above and beyond the ordinary capabilities and was something extra special.
Value
Quality plus price makes value.
Most of these products fall into a mid-range price category. A few were much more expensive (because of some advanced features) and a few were much less expensive. We tried to offer a list of products from a range of prices and features while making sure that every product at least met our quality standards.
Top 10 Picks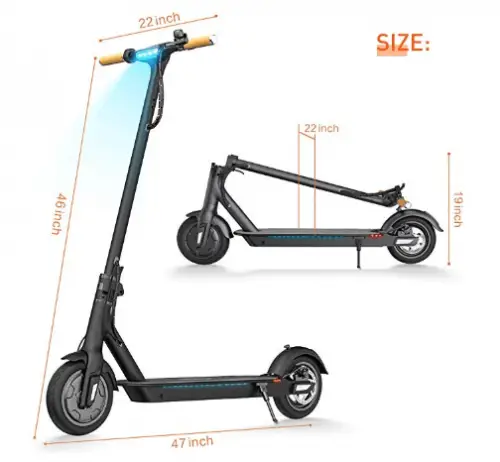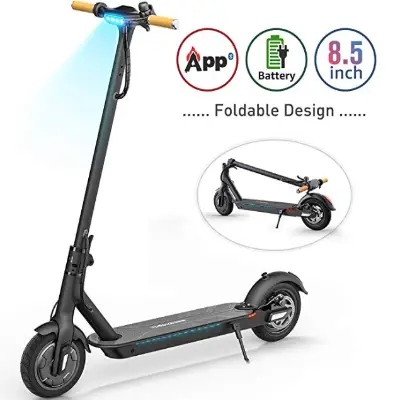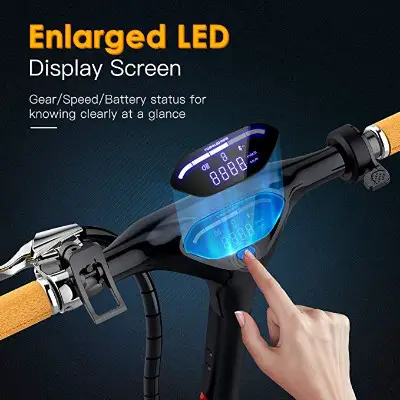 One of the great features of the Tomoloo is the digital display that shows your speed, gear, power level, and headlight status. We love how this model is built for both practicality and style, and it has some fun features like flashing colored lights and a speaker that can pair with your phone. The Tomoloo is foldable for easy storage or transport.
Read more
Ride
The 8.5-inch size tires are filled with air and have excellent shock absorption for a smooth ride. The tires are designed to provide a safe and comfortable ride. The Tomoloo can support weight up to 220 pounds. The double braking system features disc brakes and an anti-lock braking system that is also regenerative. The braking system allows you to stop safely in 13.1 feet or less. The Tomoloo can handle inclines up to 20 degrees steep. There are three gears for low, middle, and high speed, and the maximum speed is 15.5 miles per hour. Users report that the product is compatible with attaching a seat for a more comfortable ride.
Durability
This product has been tested in a laboratory for vibration and wear. It has stood up to testing and has excellent durability. The tires are explosion-proof and resistant to wear. The frame of the Tomoloo is made out of aluminum that is aerospace-grade. The motor is resistant to high temperatures. It is a magnetic steel brushless motor and it is resistant to corrosion.
Battery Life
The battery is long-lasting and can handle a maximum travel range of 18.6 miles per charge. The battery is a lithium-ion that is pure ternary and can be charged fully in 3.5 hours. The digital display clearly shows the battery level with five bars at the top of the screen. Five fully lit bars means the battery is at 100% power. One lit bar means the battery is down to 20% power. One really nice thing about the Tomoloo is that it has an energy recovery system that converts energy from the braking system into battery power. This means that when you press the brake, the product converts the kinetic energy of sliding and deceleration into electric energy which increases battery life and lets you go farther.
Advanced Features
The Tomoloo has some really cool extra features. The headlights and bottom lights are multi-color LED and change colors simultaneously. The Tomoloo includes a music speaker that can be paired through Bluetooth to your phone so you can listen to music or radio from your phone or the internet. Now the really cool thing is that the lights flash in rhythm to the music for some serious style when riding around town. The lights stay on all the time, regardless of whether there is music playing. Some users did not like the lights flashing all the time, but on the other hand, this could be considered a great safety feature so that other cars can clearly see you. It's like having colorful hazard lights.
Value
With so many unique features and a durable build, the Tomoloo is a great value. It is in the middle of the typical price range for these kinds of products, and it has more features than many models.
Overall
Easy to use controls and comfortable plus durable leather handles are just a few of the reasons that make the Tomoloo a great product.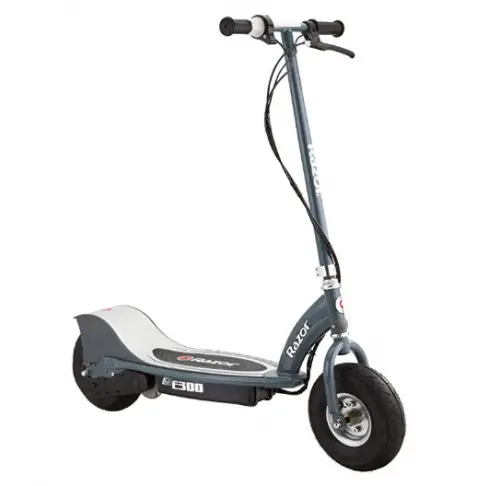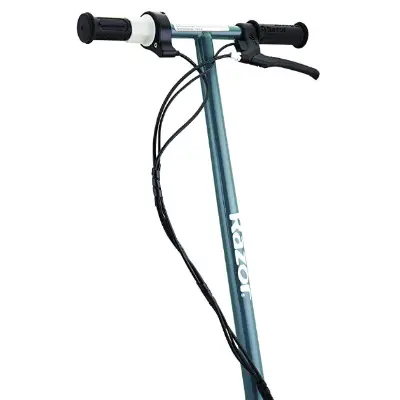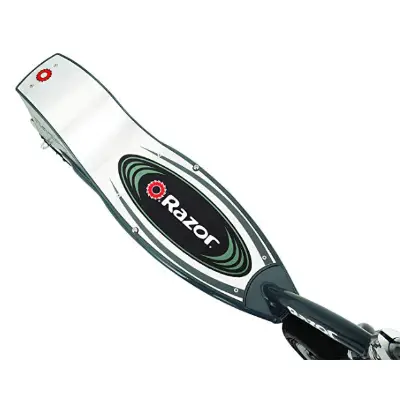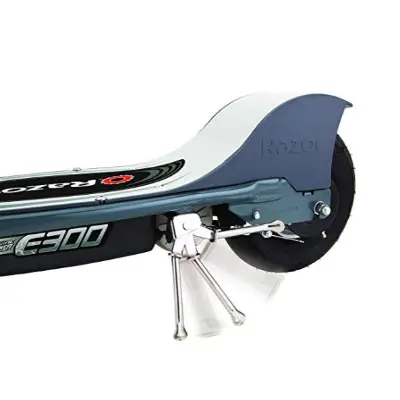 If you are looking for a product that simply does its job, and does it very well, without including a lot of complicated features and extra bells and whistles, then the Razor E300 is something to consider.
Read more
Ride
The Razor E300 has a wide, super-sized deck for plenty of room. The tires are extra wide for a smoother ride and the motor is very quiet. This model can reach speeds of 15 miles per hour.
Durability
Users report that the Razor E300 is very heavy and made to be quite strong. Many say that this product lasts for many years of use.
Battery Life
The battery lasts up to 45 minutes of ride time, which is nice, but one detractor is that the battery is not a lithium-ion and is instead a lead acid battery and takes much longer to charge. It takes up to 12 hours to fully charge the Razor E300, and it has to be charged a full 12 hours before being used for the first time, but it should not be charged more than 24 hours at a time.
Advanced Features
The Razor E300 is a pretty basic product that is well designed but doesn't really have any extra features.
Value
Because the Razor E300 is a simple model, the cost reflects that. This one is on the lower end of what you will find as far as price goes.
Overall
The Razor E300 is a basic, no fuss product that is durable and long-lasting.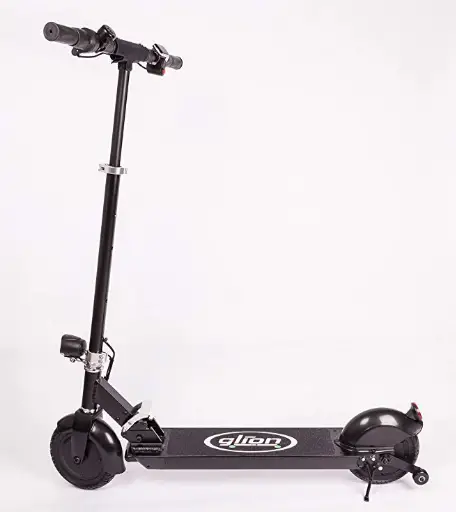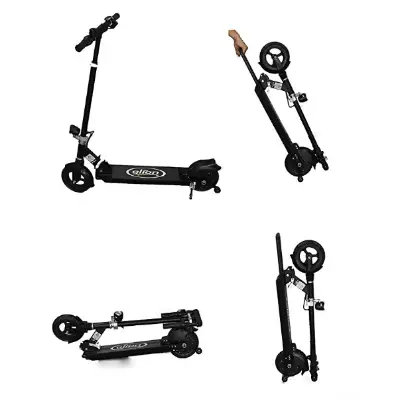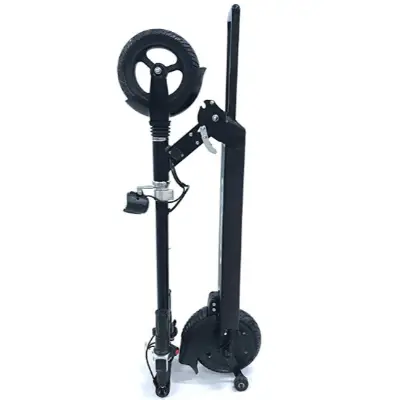 The Glion has some great features such as the ability to be folded and transported. We also love how it comes with its own pedestrian bell.
Read more
Ride
Some users have reported that the Glion is not very smooth when riding and instead made them feel every bump in the road. While the Glion may not be the smoothest of rides, it is lightweight at 28 pounds which does provide convenience for moving it or lifting it. It's maximum carrying capacity is 255 pounds. A common thing reported by users is that the brakes are very aggressive and take a little getting used to. They can be easily used once you get some experience with them, but at first, they need to be handled carefully.
Durability
The great thing about the tires on the Glion is that they will never go flat since they are designed to be airless and are designed with military technology style honeycomb rubber. The frame is made from an aluminum alloy that is aircraft grade and powder coated.
Battery Life
The battery in the Glion is a lithium-ion that takes 3.5 hours to charge and lasts for 15 miles of distance per charge. The battery is energy efficient and is estimated to cost $1 per 500 miles. The battery life cycle is approximately 1000 cycles which should last 3 to 5 years before the battery must be replaced.
Advanced Features
One of the good aspects of the Glion is that it is foldable and can be pulled behind you like a rolling suitcase, so it is easy and convenient to keep with you wherever you go. When folded, the Glion has the capability to stand upright by itself. The Glion comes with a headlight and a rear reflector. A cover for the product is sold separately, but a pedestrian bell is included with the product.
Value
The Glion is in the middle range of the price spectrum, but you do get a lot for your money. The product itself is a nice design, and it also comes with some special features and an added pedestrian bell.
Overall
The unique folding capabilities of the Glion are a great feature and won it a spot in the top three of this list. Despite some complaints about the brakes and the smoothness of the ride, the Glion is overall a great product.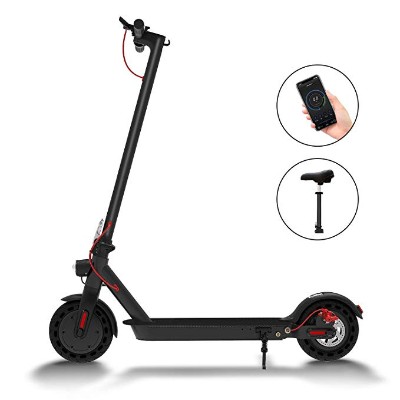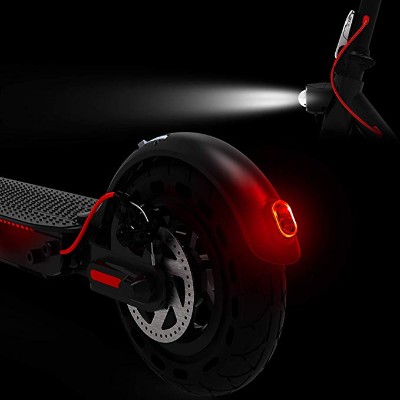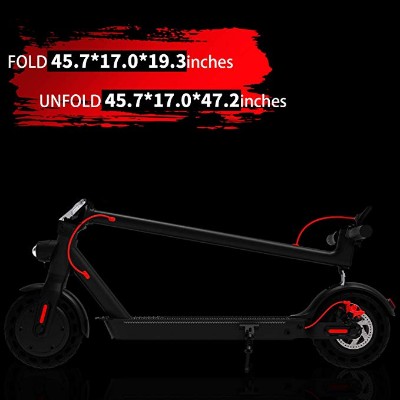 The Hiboy provides a comfortable and user-friendly ride. It isn't quite as fast as some of our other options but it will get you where you need to go. One of the most praised features of this company is their outstanding customer service.
Read more
Ride
Depending on the terrain, this ride could be incredibly smooth or with some bumps. The tires measure 8.5" and the Hiboy also features dual rear suspension. These two features absorb many of the bumps, but not all. The top speed of this ride tops out at 18.6 mph and it can ride up to seventeen-miles before needing a recharge. The weight limit is about average, handling up to 260-pounds. To make your journey easier, there are also optional features of cruise and speed control. Braking is smooth thanks to the two integrated systems, disc-braking, and ABS anti-lock braking.
Durability
The solid 8.5" tires and aluminum frame provides impressive durability. The overall weight of the Hiboy is 28.9-pounds. It does fold down, but can still be quite heavy if you need to lift it. Some reviewers have had issues with the rear fender breaking, but have all reported back that the manufacturers provided great customer service and quick replacement parts.
Battery Life
To keep you on the move, the Hiboy pairs a 350W electric motor with a 270w MXH battery. This results in up to seventeen miles of travel. The reviewers seem torn over the power of the battery. Some say it's great and others say that theirs only lasted for about five miles.
Advanced Features
The built-in lights are a great feature for anyone who commutes at night. There are front, middle, and rear lights. On the small dashboard in between the handlebars, you can see statistics such as your speed and battery power. Another way to see these same statistics and more is to download the HI Boy App. This app (for iPhones and Androids) pairs with your scooter using Bluetooth. It also provides insight into the length of your ride, light controls, and you can also use it to lock your scooter.
Value
The price of the Hiboy is quite affordable, especially considering the great customer service and features of this product.
Overall
This is a great choice for commuting to work, a friend's house, or around the neighborhood. If you are feeling lazy, there is also a compatible seat that you can choose to purchase separately.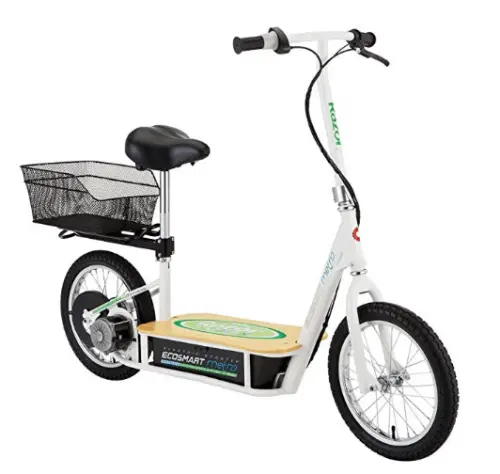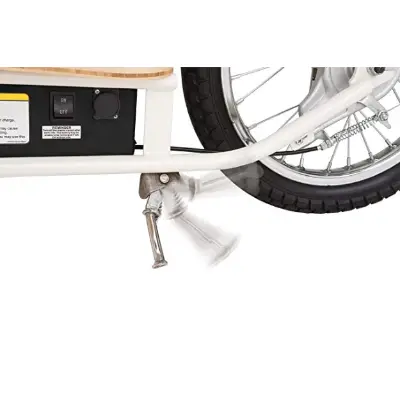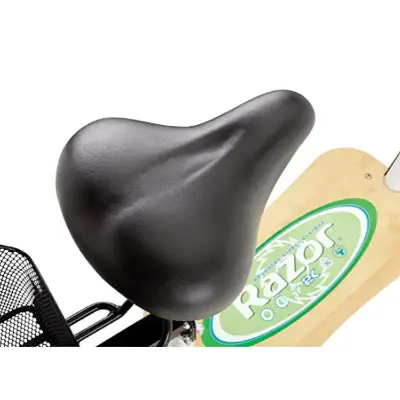 Here is a great option for those who would prefer to have a seat and be able to travel around both efficiently and comfortably.
Read more
Ride
Finally, a product that comes with a seat! The seat is a really nice feature of the Razor EcoSmart and makes up for the fact that the product does not have a suspension system. The seat is extra padded and very comfortable. The throttle allows you to precisely adjust the speed, and the Razor EcoSmart can reach speeds of up to 18 miles per hour. The braking system is for the rear tire only.
Durability
The metal frame is powder-coated, and the deck is made out of strong bamboo. The motor is 500 watts and is high torque. The tires are 16 inches in diameter and are bicycle-style with spokes. This product includes a warranty that is good for 90 days.
Battery Life
The battery lasts for 40 minutes of use per charge, although one thing to be aware of, is that the batteries are lead-acid type and so will take longer to charge than lithium-ion.
Advanced Features
Not only does the Razor EcoSmart have a seat, but it also has a basket on the back for storing things. The basket is detachable, too, in case you don't want the added weight.
Value
The Razor EcoSmart is similar in price to the majority of models, which is somewhat surprising considering that it comes with a seat and a basket for storage.
Overall
For ultimate comfort, the Razor EcoSmart provides a nice padded seat and place to store things. Some might see this model as one of their favorite options available due to the convenience and safety of being able to sit down.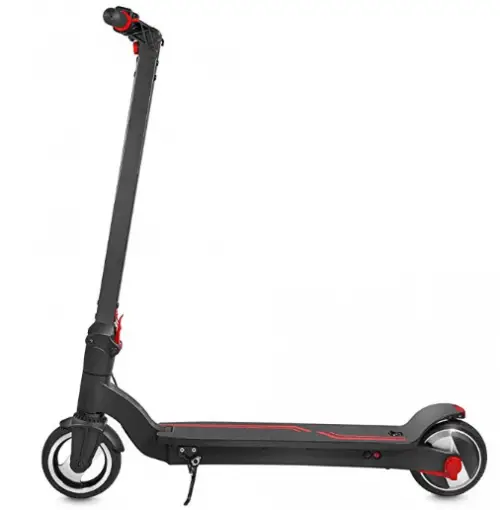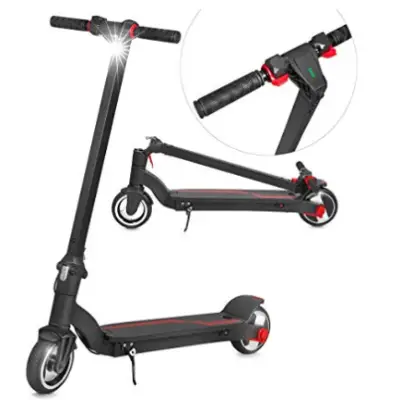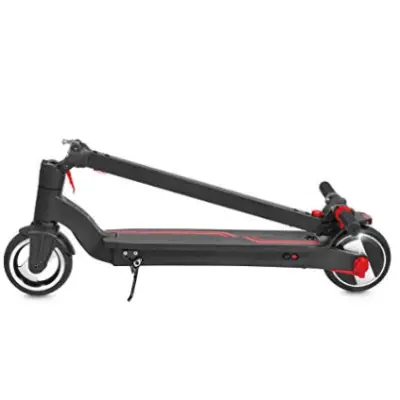 One of the best things about the Xprit is that the tires will never go flat which gives you peace of mind and cuts down on potential maintenance and cost.
Read more
Ride
Since the tires of the Xprit are solid rubber, that means the ride isn't going to be as smooth as models with air-filled tires, but many users thought that the product was still fairly smooth despite the tires. The Xprit can go about 12.4 miles per hour, although some users report that it can actually go a lot faster than that. Rubber grips are included to make the handlebars more comfortable.
Durability
The Xprit is well made and users report that it is sturdy and heavy. It can handle about 200 pounds of weight. One detractor is that the product is not waterproof and so cannot be driven in the rain. This also means that the Xprit needs to be stored indoors when not in use.
Battery Life
The lithium-ion battery lasts for about 8 to 13 miles and can be charged over 5000 times.
Advanced Features
The headlight is nice and bright, but unfortunately, a tail light is not included but can be purchased separately. The Xprit has a nice, simple LCD indicator for keeping track of power. The screen shows a series of parallel bars that indicate battery level.
Value
One great thing about the Xprit is that it is much less expensive than most models. It is still a good all-around product and because of the low price is an excellent value.
Overall
We like how the Xprit is an affordable, simple design with some practical features.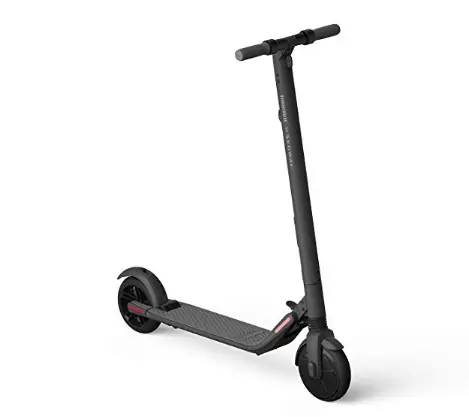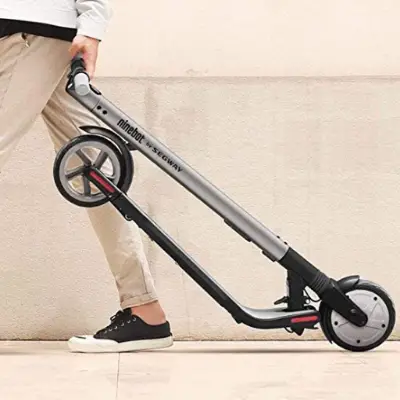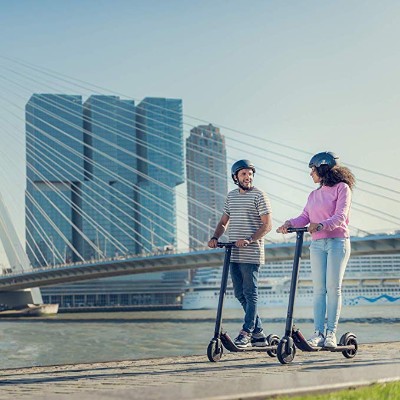 The Segway Ninebot is an excellent model that features both solid tires and shock absorbers so you can have the best of both worlds: no flat tires plus a smooth ride.
Read more
Ride
The great thing about the Segway is that it has shock absorbers which will allow for a nice smooth ride. The braking system is both mechanical and electrical which could be a great feature for safety.
Durability
Users report that the Segway is not all that easy to carry since it is extra heavy, weighing 37.4 pounds. But on the flip side, that means that this product is well built and sturdy, and it can carry 220 pounds of weight at a time. Another plus is that the tires are solid and will never go flat.
Battery Life
The Segway has a range of about 15.5 miles before needing to be charged.
Advanced Features
An app for your phone is included with the Segway and it offers an anti-theft system as well as allows you to change the light settings and the cruise control options. It keeps you up to date on vehicle health and gives you interesting statistics.
Value
The Segway is another middle price product that is in the typical range.
Overall
Coming from a well known and trusted brand name is one of the strengths of this particular model. We especially love that it includes a good anti-theft system.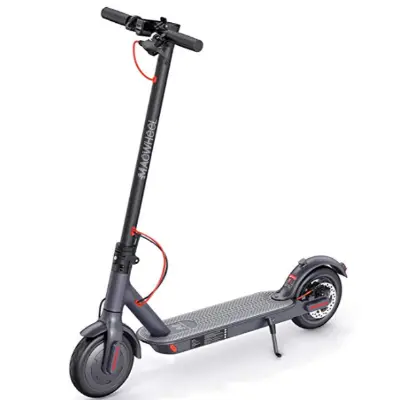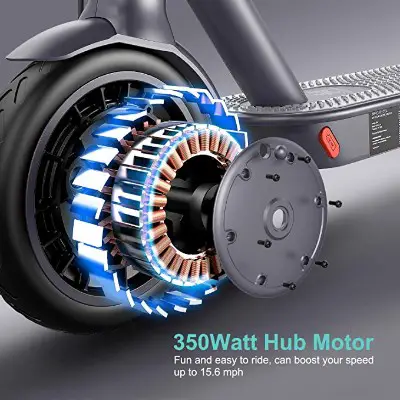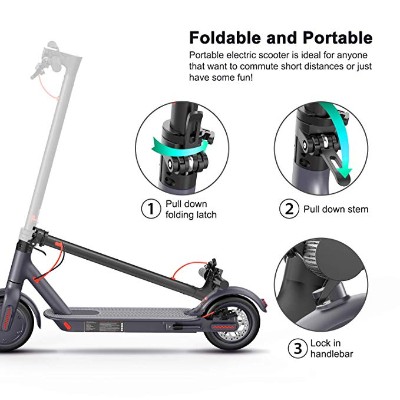 The Macwheel MX1 is a simple option that maxes out at a speed of 15.6mph. A couple of its best features are that it fully charges in four hours and its unique wheels. The wheels are airless and can not be punctured. They also help to provide and smoother ride and absorb shock.
Read more
Ride
The ride of the Macwheel is quite smooth, thanks to a few different features. The airless tires provide shock absorption and prevent from slipping. There are front and rear brakes that work well, and there are three top-speed settings to choose from. When you set this limit of five, ten, or fifteen (15.6), you can go any speed under the amount. This is especially useful if you are lending the ride to a child. The motor allows for speeds up to 15.6 mph, however, this depends on the settings, road conditions, and the weight of the rider. The Macwheel can accommodate riders up to 256-pounds. Something that has bewildered many reviewers (who did not read the instruction manual) is that the motor will not engage until you are moving at 3mph or more.
Durability
According to some, small bits arrived cracked, which is most likely due to rough handling throughout the shipping process. One of the most admired and durable parts of this machine are the tires. They are airless and therefore can not be punctured. This 28.4-pound machine can be easily folded down in just three seconds.
Battery Life
Depending on who you ask, you'll get a different number of hours, miles, and minutes. According to the manufacturer, the 350-watt motor and 270wH battery will give you 18.6-miles. A full charge takes only four hours, making this a great option for commuting.
Advanced Features
This machine is easy to use and features great speed controls. For scooting at night or in the early morning, there are lights on the front and rear. A great battery-saving feature is that the Macwheel will automatically turn itself off if it sits unused for more than fifteen minutes.
Value
For a product of this quality and durability, the chances of finding it cheaper are slim. However, something that many reviewers found odd is that you need to register the device to activate the warranty, but the manufacturer does not have a website. It has been noted that they do have a Facebook page.
Overall
This is an affordable and reliable option. It doesn't have as many bells and whistles as some other choices, but it will get you to where you need to be.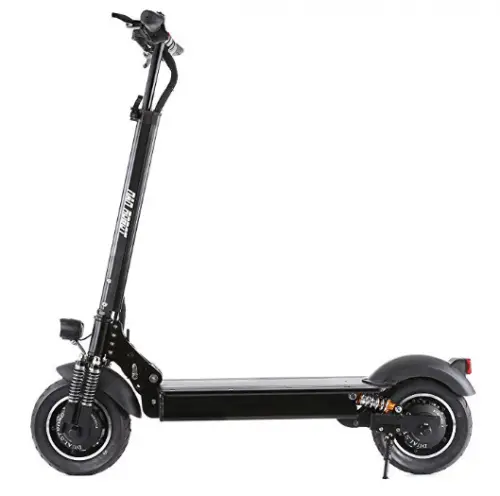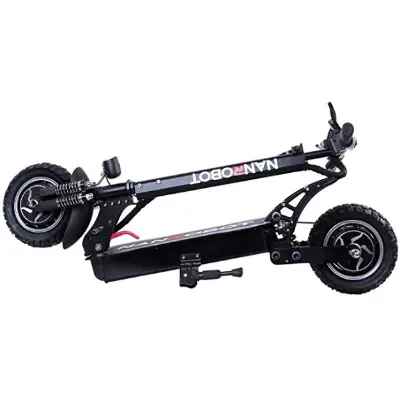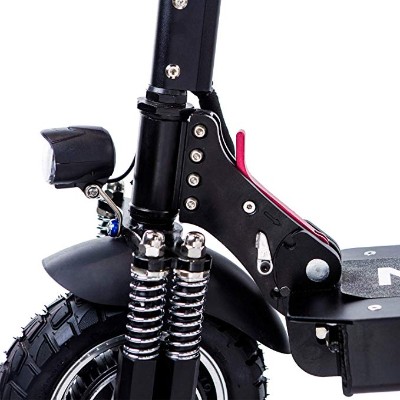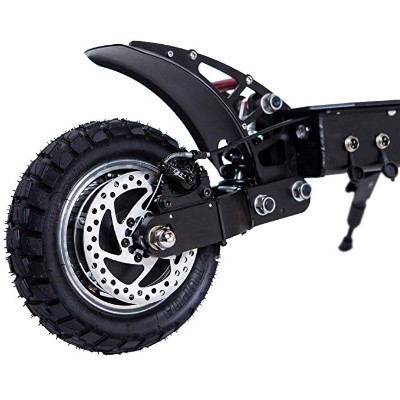 High-speed capabilities, two large motors, and impressive shock absorbers are some of the highlights of the Nanrobot.
Read more
Ride
The suspension system features 6 shock absorbers, and an optional seat can be added giving the Nanrobot a high degree of comfort. The product can reach speeds of 40 miles per hour which is by far the fastest on this list but might be somewhat dangerous to actually do.
Durability
The two motors on the Nanrobot are powerful at 1000 watts. The Nanrobot can handle 330 pounds of weight, making it one of the strongest on the market.
Battery Life
The battery life lasts for 45 miles per charge.
Advanced Features
The digital display on the Nanrobot is pretty impressive. It has a lot of features including speed, gear, voltage, and riding time.
Value
The Nanrobot is very pricey, but it can go as fast as a car and so is likely worth that cost.
Overall
We are blown away by the extreme speed that the Nanrobot is capable of. It is an amazing machine that definitely deserves a place on the list.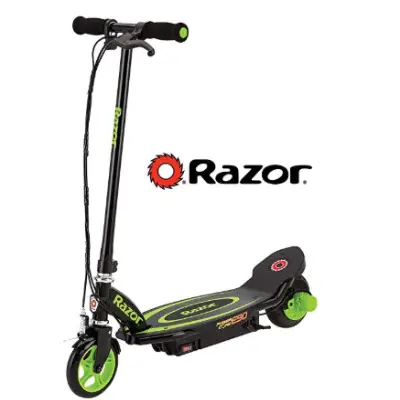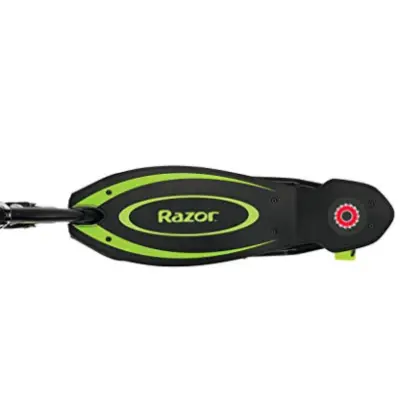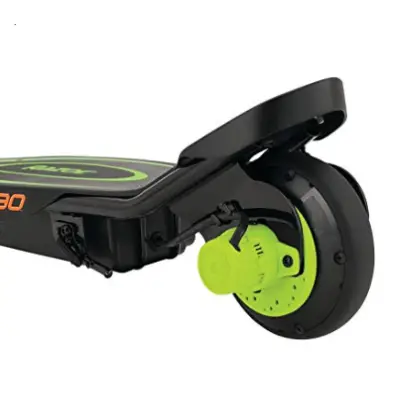 The weight limit and maximum speed close the door on some potential buyers. However, if you are a lightweight adult or shopping for a child, this is a great option. The E90 reaches speeds up to 10mph and is incredibly simple to use.
Read more
Ride
Considering the fact that this is marketed more towards children, most of the feedback comes from lightweight adults or children. The weight limit for the E90 is 120-pounds. It can reach speeds up to 10mph and is intended for ages eight and up. 10mph may not sound like much, but it is enough to whip around the neighborhood! The kick-start motor is accompanied by a throttle button and a front hand brake. The rear-wheel-drive provides impressive control and traction.
Durability
Lucky for you, there is no maintenance needed! This small street cruiser has no chains and requires no alignments. The steel frame, urethane front wheel, and TPU back wheel have proven to be quite durable. The E90 weighs 22-pounds overall.
Battery Life
Users will enjoy a full 80-minutes of ride time on a fully charged battery. The newly introduced 90W hub motor and Powercore Technology doubles the previous ride time and provides 50% more power than the original E90. The machine is powered by a 12V sealed acid battery and the charger is included. Be sure to read the manual upon arrival to ensure a proper first charge.
Advanced Features
This is a fairly simple machine. It arrives almost completely intact and requires minimal assembly. There is a convenient retractable kickstand to deter users from tossing it into the grass.
Value
Whether you are looking into this product for you or your children, it is priced affordably. It is a great way to zip down the street and is easy to maneuver.
Overall
With two color options available, green or pink, you are sure to bring a smile to the receiver's face. The weight limit and maximum of 10mph do prevent this from being an option for commuters, but it is a great option for children.

Subscribe to our Newsletter