Best Electric Scooters Reviewed & Rated in 2021
In a
Hurry? Editors choice: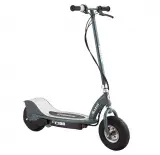 Test Winner: Razor E300

What better way to get around town, save the environment, and have fun while doing it than to ride an electric scooter? These cool inventions allow you to cruise around at speeds of usually around 15 miles per hour, but sometimes up to 40 miles per hour. They make getting around in traffic a breeze. These products are designed to have no emissions. They don't run on any kind of fuel. Instead, they use a battery that can be recharged after each use. This cuts down on pollution and in turn, allows you to do your part in saving the environment. Although these products are inherently cool, many of them have even more extra
bells and whistles
. They all have some similar features and some unique features. We are going to look at the ten best on the market so you can find the right one for you.
Standout Picks
Criteria Used for Evaluation
Ride
A comfortable ride is a high priority.
When evaluating these products, we placed the smoothness of the ride high on the list of important criteria. We defined ride as meaning not only the smoothness and comfort of the ride, but also other important features that affect the ride such as how fast the product can go, what kind of inclines it can handle, how much weight it can carry, whether it has a seat or if one can be attached, and any other factor we thought would be related to the product's performance as a whole.
When examining the smoothness of the ride, a big thing we paid attention to was the tires. We found out what size the tires were, both the width and the diameter, what materials they were made of, whether they were airless or solid, how they were designed (such as with layering, honeycomb technology, or other methods), and how they were driven (with a chain like a bicycle, or without). We looked at the brakes to make sure they were well designed and had safety features such as anti-lock braking system, and whether there were brakes for both tires or just one. One of the other most important factors we looked at was the suspension system. Some products had none at all, while others had elaborate systems. With models that don't go very fast, a suspension system was not as important as with the models that went at high speeds. Finally, we tried to find at least some models that either had a seat or had the option to add one.
Durability
For your personal vehicle, durability is a necessity.
Scooters can be notorious for having breakdowns. We tried to find products that went against that unfortunate trend and instead were known for their long-lasting abilities. We looked for products that not only were well built out of strong materials but had also been tested in a lab and/or on road conditions. We also examined users' reports to see if the product has a track record of strong performance. We realize that many people will want to use these products for commuting and will need a reliable machine that won't leave you stranded right when you need to leave for work.
Battery Life
With these products, the battery is everything.
The battery is to a scooter as an engine is to a car. It is the life and the heart of the machine and has to be reliable and long-lasting. We gave priority to lithium-ion batteries since they generally charge faster, but you will also find some products that use lead-acid batteries in case that is the kind that you prefer. When examining the batteries, we looked to see how many cycles they last, if they are guaranteed, if they can be replaced when they eventually wear out, and most importantly, how long they take to be charged, how often they have to be charged, and how long a single charge lasts.
Advanced Features
Depending on the extra features, these products can be a lot of fun.
We love to see extra features that make these products that much more special. We tried to find a variety of products that offered all kinds of cool advanced features like flashing colored lights, music speakers, apps for keeping track of statistics and interesting information, pedestrian bells, and extra storage. We were excited whenever we found a product that went above and beyond the ordinary capabilities and was something extra special.
Value
Quality plus price makes value.
Most of these products fall into a mid-range price category. A few were much more expensive (because of some advanced features) and a few were much less expensive. We tried to offer a list of products from a range of prices and features while making sure that every product at least met our quality standards.
Subscribe to our Newsletter