Best Bike Bell
last updated:
Feb 07, 2020
There's no scientific evidence to back up these claims, but we feel that people are just far happier to move out of your way when they hear the pleasant jingle of a bike bell. These devices are designed to make everyone safer when out on the roads and the trails- and that includes yourself! Cars are equipped with a lot of devices that allow you to somewhat communicate with other drivers out on the roadway, and these devices work much in the same way. Sure, you could announce that you are coming up on someone's left, but if you are in a crowded city or roadway, your voice may be lost. These devices have a much higher decibel level than the human voice, so everyone will hear you coming! In this guide, we have compiled a list of some of the best.
In a hurry? The test winner after 5 hours of research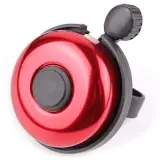 REKATA
Why is it better?
Offered in many colors
Very easy to install
Fits onto most handlebars
In a
Hurry? Editors choice: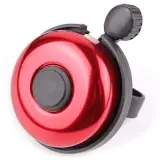 Test Winner: REKATA

28
Researched Sources
28k
Reviews Considered
11
Hours Researching
14
Products Evaluated
Style
Ease of Use
Materials
Sound Quality
Value
By Default
Criteria Used for Evaluation
Expert Interviews & Opinions
Most Important Criteria
(According to our experts opinion)
Experts Opinion
Editors Opinion
Users Opinion
By Default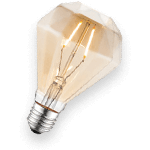 Materials
For that perfect crisp ring, brass is the way to go. Brass is a great conductor of sound, and it will give you a pleasant ring without it sounding muddy. However, if your favorite style isn't offered in a brass dome, many alloys such as metal and copper, are going to be great options as well. Just be sure that the dome isn't made from plastic- because that is going to offer a very muted ring. ABS plastic is fine for the mount and the base, but just make sure that the dome is composed of some type of alloy.
Mountain Biking
Most people use bells for riding through the city, but a bell on the trails is equally as important. A bell on a trail is a great way to warn other riders that you're coming around the bend. A bell is louder and rings longer than a voice. Additionally, and perhaps more importantly, a bell can also warn a bear that you are in the area and avoid any surprise encounters on both ends.
Mounting
The good news here is that almost all of these devices are incredibly easy to mount to your handlebars. One piece of advice that we can give is to find a place on your bicycle that is going to be easy to access. One thing that we noticed is that some of the designs out there are made to fit only on the left side of your handlebars, which many right-handed users find to be a little awkward. If you don't like the idea of ringing with your left hand, be sure to check to see which side of the handlebars your preferred device affixes to.
The Law
Each state has its own set of laws that regard to bicyclists. In some states, New Jersey, for example, it is illegal to ride your bike without a bell or other audible device. While being pulled over or arrested for not complying is rare, it has happened. Before hitting the road it is always advisable to check the laws of your current state.
Other Factors to Consider


Color
Some of us like to stand out in a crowd and others prefer to blend in, right? Many manufacturers offer their bike bells in a wide array of colors to suit everyone's personality. While I am typically a black on black kind of person, that may be another's worst nightmare.
The color of your bell can be used as self-expression and can also be used to help you identify your bike. If you park it outside the mall or a busy bar, you may realize that a lot of the bikes there look the same. Having a uniquely colored bike bell will make it much easier for you to spot your ride.


Weather Resistance
The good news here is that most devices are made to be able to withstand a little bad weather. The best conductor of sound is brass (that's why most musical instruments are made from brass), and brass is resistant to rusting.
Metal mounts are going to be a little more prone to rusting, but because they are not exposed directly to rain, they are going to be able to last quite a bit longer before they start to show their age. Plastic mounts are going to be one of your better options because plastic doesn't rust, and it is a material that will not scratch up the paint on your handlebars.
Frequently Asked Questions
q:

Why do I need one?

a:

Strapping one of these devices onto your bicycle is not only going to keep those traveling on the same path with you safer, but it is going to keep you safer as well. The reason why these devices are so important is that you will often need to pass a fellow traveler that is not zipping down the pathway as quickly as you are.

With a simple ring, you can alert them that you are coming up behind them so that they can move to the right a little bit. Without alerting them that you are coming up behind them, they could swerve over into your lane as you pass and you both are going to take a nasty fall. Making sure that you as well as your fellow travelers are highly tuned in to your surroundings is going to be the key to keeping everyone safe and happy.
q:

Is it going to be something that is difficult to install?

a:

No, these are typically pretty easy to install- even for those that don't really know their way around a toolbox. The designs that are a little more difficult to install simply require that you use a Phillips head screwdriver to tighten a few bolts around the handlebars.

The easier options out there on the market that we have seen don't even require that you use slip it around the handlebars and then tighten it up by hand. It is important to note that if you are worried about scratching the paint on your bicycle, opt for a design that has a mount that is made from ABS plastic rather than metal.
q:

Are louder options better?

a:

When you are shopping around for devices that will alert others of your presence, you might just automatically assume that the louder it is, the better it is. However, this isn't always going to be the case. If you are riding in a highly congested and very loud area, then you are going to want to find something that is loud.

If you are riding around a senior citizen home or a Metallica concert, you also will want to find something that is pretty loud. However, sometimes incredibly loud devices are going to startle your fellow trail travelers that are just trying to enjoy a nice and peaceful afternoon around nature. In those cases, you may not need to select a design that is going to be so loud it will knock their helmet clear off of their head. For those instances, you might just want to try a half-ring to quietly nudge them to move over to the side, or simply select a device that doesn't have a very loud ringer.
q:

Will it fit on my handlebars?

a:

The truth of the matter here is that there are some designs out there on the market that just aren't made for all types of handlebars. From what we have learned, if you have handlebars that measure to be just over 1 inch thick, you aren't going to have much of a problem getting these devices to fit the way that they should. Users that have handlebars that measure over 1 inch thick, on the other hand, often run into problems. If you fall in the category of over 1 inch thick, be sure that you really dig into the product details to ensure that it is going to be large enough to fit.
q:

Exactly how loud is it going to ring?

a:

The average decibel level of these devices ranges anywhere from about 80 decibels to around 105 decibels. To put that into perspective, the average car horn clocks in at around 110 decibels. Of course, car horns typically have a longer honk, whereas the ring from these products are very short and abbreviated. One of the loudest designs that we found out there on the market comes in at 120 decibels- which is far more than enough to alert people that you are coming. When using these products, be sure to show a little common courtesy to your fellow trail travelers.

These devices may not be as loud as your standard car horn, but when you are walking a peaceful trail with only the sounds of the birds and the breeze through the trees, a spontaneous ring that is just a little quieter than a car horn can be quite alarming- especially within close proximity. That's why we suggest that you don't wait until the last possible second to alert fellow travelers. Create a good deal of space between you and the others before your ring your bell. By doing so, you give them plenty of time to get over for you, and you are also going to spare them the embarrassment of nearly jumping out of their skin!
q:

What is the typical bike bell etiquette?

a:

This varies country by country, state by state, and city by city. However, one of the beautiful features of a bike bell is that it is universally understood. Whether the person you are passing is a foreigner who speaks a different language, young, or elderly, everyone understands that the "ding!" of a bike bell means "I'm comin' through!" or "excuse me!"

While there isn't a specific or mandatory way to ring the bell or a certain amount of times to do it, most people agree that once is enough. If it is a particularly busy area, two rings may be a better warning. Any more than this, you and the bell may be seen as more of a nuisance.
Subscribe to our Newsletter