Best Wireless Headphones
In a
Hurry? Editors choice: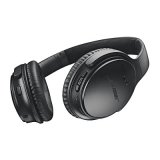 Test Winner: Bose QuietComfort 35

Whether you are going for a run or working out
wireless
headphones help in various activities to be able to not have to move around your headphone wires. With all this in mind, we provide you with the top ten best wireless headphones in the market today. We also listed detailed criteria on each product to help you get a better idea for which one suits your needs.
Standout Picks
Criteria Used for Evaluation
Durability
Although most will focus on the internal makeup of headphones and the speakers themselves, it all starts with the overall craftsmanship. You want the headphones to be fairly durable, although it is not as if they will go through much abuse, and also comfortable. If you intend to wear headphones for hours on end, you clearly want a model that excels in comfort. But, when it comes to the overall design, it really comes down to whether you want an over-ear, on-ear, or earphone model.
On-ear and over-ear headphones are fairly similar and both feature headbands that sit over your head. The difference is on-ear headphones feature speaker pads that rest on the outer ear, while over-ear models encircle the entire ear. While over-ear models are generally superior in terms of encapsulated sound quality (the drivers are farther apart in the speaker) and comfort for extended periods of time, their biggest flaw is their size. Some may prefer a less bulky headphone and you would be looking for an on-ear model. Then, there are earphones which are more suitable for workouts (as they will not shake on your head) and people who prefer to not have their hair ruined on important days.
Sound Quality
For some, this is the single most vital aspect when looking for headphones. To be honest, it is not a bad design feature to prioritize because it truly is vitally important. Sound quality is everything for headphones and speakers for that matter. If the sound is distorted and very scratchy, you are clearly not going to want to listen to it. Plus, some people have different preferences. You may prefer a deeper or softer bass or wish to adjust the treble. This is where it is convenient when you can switch between different playback modes and alter the music settings.
Of course, you can't mention sound quality without addressing noise cancellation and isolation. For those new to this, when a manufacturer states that their headphones have noise cancellation it means that when you are listening to music with them on, noises and sounds are eliminated from the outside. Thus, not requiring you to turn up the volume when you are near places with excess noise. But, in certain instances, you may actually want to hear what is happening outside making it suitable when you can adjust the noise cancellation.
Battery Life
This one is pretty self-explanatory but that does not make it irrelevant or non-important. When it comes to technology devices that are self-powered (not requiring electricity from an outlet), they are only going to last for a certain amount of time before they need power again. This number can mean everything for you; it just depends on your preference and how you intend to use your headphones. For those who are aiming to use them on a regular basis for extended periods of time, you will be looking for headphones with a substantial battery life.
For the models that were documented on this list, anything that falls between 20 to 30 hours is an excellent time. But, if it falls beneath that, it does not indicate that the headphones are incapable. If you listen to music a few times a week for only a few hours, 15 hours could get you three to four weeks of use before needing to charge them up again. In terms of wireless vs wired headphones, this is one of the few drawbacks to wireless.
Color
You may not find this design element suitable for a guide of this magnitude. However, if you had the choice and both headphones where extravagant, would you pick the version that had a better aesthetic and visual appeal? Of course, you would and you know it. The simple option of picking from a few color options could end up being the deicing factor for you. Looking at it the other way, though, it is not as if you should prioritize a certain model only for its color. But, you will be wearing the headphones so you might as well look good doing it, right?
Subscribe to our Newsletter