Best Stair Climbers
In a Hurry? Editors choice: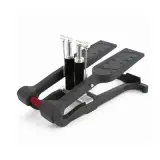 Test Winner: Xiser Mini Stairmaster

Going up! Well, not really, but it feels like it. With one of these
great machines
, you can tackle infinitive flights of stairs without ever leaving your house. For some, they seem too simple, and while that may be true, they are incredibly effective. You'll notice that there's an array of different design styles and a vast variety of these machines on the mass market. Choosing between them can prove to be a tricky endeavor without guidance, but that's where this guide comes into play. In addition to giving you a rundown of some of the best options currently available, you will also learn the tricks of the trade, so to speak, to know precisely how to buy the model that's right for you. Let's get this bad boy rolling. Read our guide on the best stair climbers to find out which one is perfect for you.
Standout Picks
Criteria Used for Evaluation
OUR TOP PICKS FOR THE BEST STAIR CLIMBERS
1

. Stairmaster 7000 PT Stepmill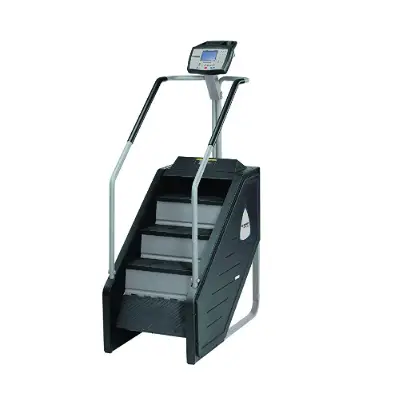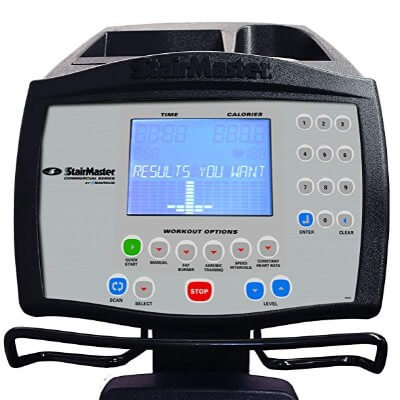 To put it bluntly, this is going to make a dent into your bank account. It is arguably the most traditional design on this list with an onboard computer that can rival any other.
Read more
Design Features
Due to the patented revolving staircase (with eight-inch high steps), this does a superb job of mimicking stair climbing. Additionally, there are 20 resistance levels, a water bottle holder, and also an accessory tray.
Durability
For sure, this is built to last but the 7000 PT is only rated to hold 300 pounds. Keep that in mind.
Advanced Features
The LCD console is easy-to-read thanks to its backlight and is equipped with several motivating programs and also heart-rate monitoring. Oh, and the electronically controlled alternator will account for a wide range of users.
Comfort
While the steps may not be very comfortable for bare feet, they are texturized and there is enough spacing between them to give you plenty of room.
Portability
At 409 pounds, this is nowhere near portable. It is an absolute beast and you will need help whenever you want to move it even a little bit.
Overall
Due to the price and the girth, this option is actually going to appall some of you. Then again, it really is brilliantly designed and will be worth it if you are really into this type of machine.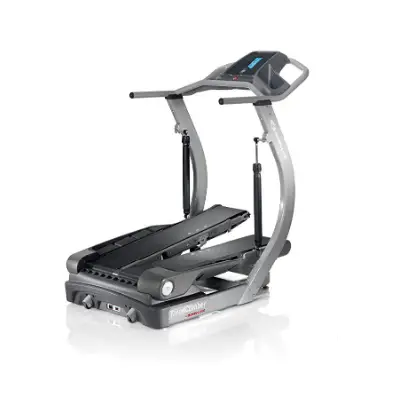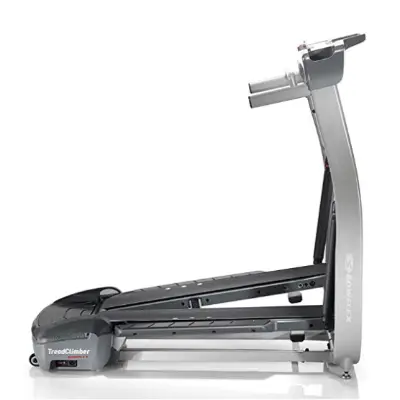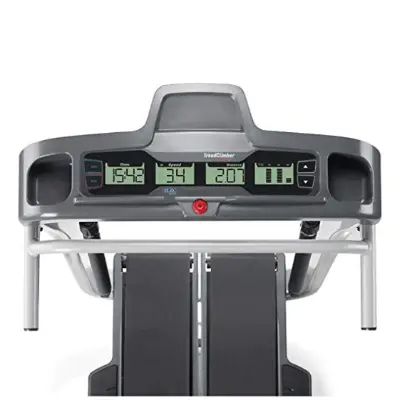 If you know anything about exercise machines then you should be familiar with the brand Bowflex. Now, their TC10 is extremely versatile as it offers the benefits of three different machines in one, which makes it one of the best stair climbers out there.
Read more
Design Features
Past the fact that the speed can be adjusted from 0.5 to 4 miles per hour, this is designed with a unique dual treadle system. As such, the TC10 offers the benefits of a treadmill, stair climber, and elliptical trainer.
Durability
Overall, this is built well and can withstand up to 300 pounds. However, it could be a bit sturdier and the machine can overheat a bit too quickly.
Advanced Features
The integrated LCD console allows you to monitor your speed, calories burned, time and distance. Oh, and this unit also offers the ability to track your weekly progress toward a 90-minute goal.
Comfort
The platforms you stand on are not exactly uncomfortable but due to the small gap in the middle, it can be easy to forget where you step and slip under them.
Portability
What is really nice is there are transportation wheels built-into the TC10 and they allow for much easier transport (considering this weighs nearly 200 pounds).
Overall
If a regulation stair climber is simply not enough for you then you may fall in love with the TC10. It is one of the most versatile and well-designed models on the market, period.

3

. Bowflex Max Trainer M7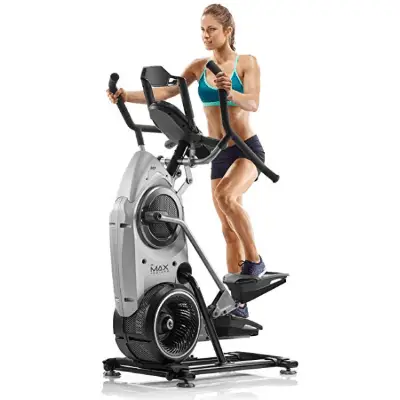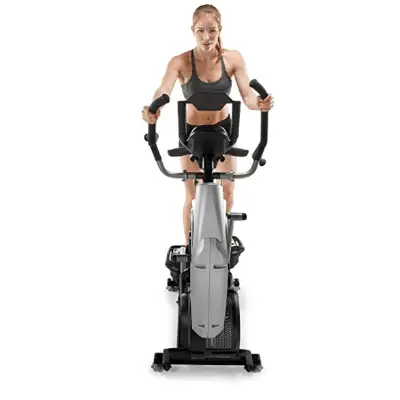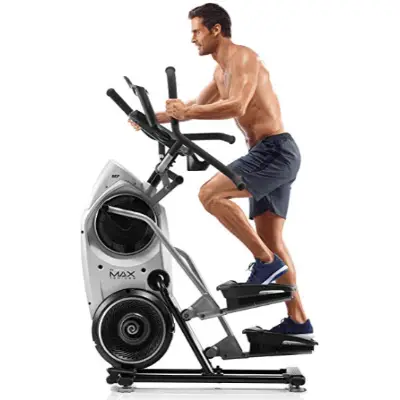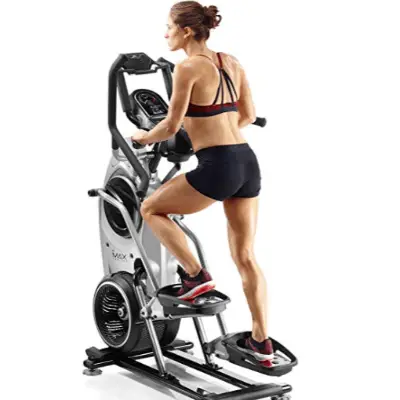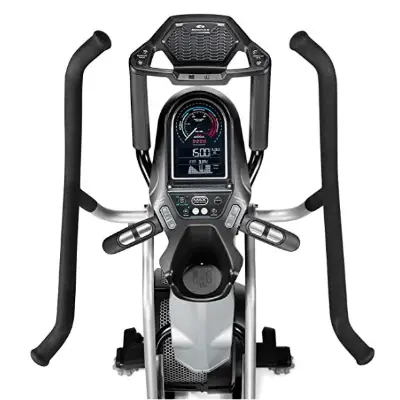 Another addition from Bowflex, this machine brings you twenty levels of resistance and the ability to create user profiles for up to four people. If you are looking for a machine that can cater to the whole family, this would be a great option. It has an easy to read LED/LCD screen and handlebars that keep track of your heart rate.
Read more
Design Features
With twenty different levels of resistance, this machine is great for beginners or advanced fitness lovers. The overall design and handles allow you to grip the machine and incorporate an arm workout as well if you so desire. At the front and center, there is a nook to rest your phone or a book. Below the LCD screen, there is an accessories tray to hold various items including a remote, water, or keys.
Durability
Besides a few squeaks here and there, this machine looks to be a piece that will last you for quite a while. The pedals are made from stainless steel and the parts all come with separate warranties. The frame, mechanical parts, and electronics come with a three-year warranty and the labor comes with a ninety-day warranty.
Advanced Features
The easy to read and backlit LCD screen is stocked with eleven different workout programs. These programs are quite intense but with varying durations, some as short as eleven minutes. If you have an iPhone or an Android, you can download the free Max Trainer app to keep track of your progress and access more programs led by professionals. There is also a built-in heart rate monitor and the machine is Bluetooth 4.0 compatible. One other feature that we appreciate about this machine is that you can create up to four different user profiles. It's a great motivational machine for the whole family to enjoy.
Comfort
Many reviewers agree that the gentle motions of the machine make it comfortable, yet intense. Each pedal is 8.5" wide, leaving you with plenty of room to position your feet comfortably.
Portability
Whether you see this as a downside of not, this machine does not fold up. However, it isn't very large, measuring only 49" long, 30.5" wide, and 65.5" high. It weighs 148-pounds and features transport wheels to easily move it out of the way if needed.
Overall
Besides a few minor noise complaints, this machine is well built. We love the fact that you can create up to four user-profiles and that there are twenty levels of resistance. We should warn you, reviewers agree that you will get a very intense workout in a short period of time on this beast.

4

. Sunny Health & Fitness SF-1115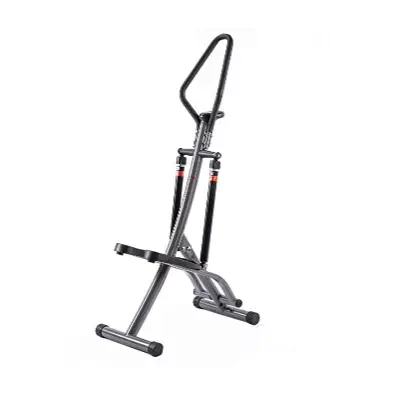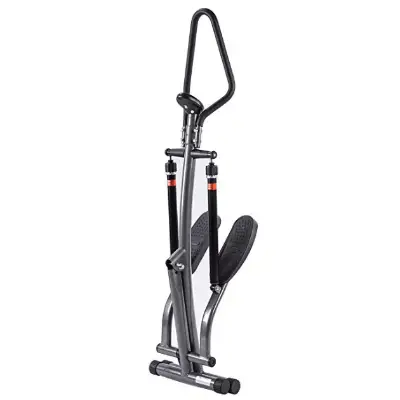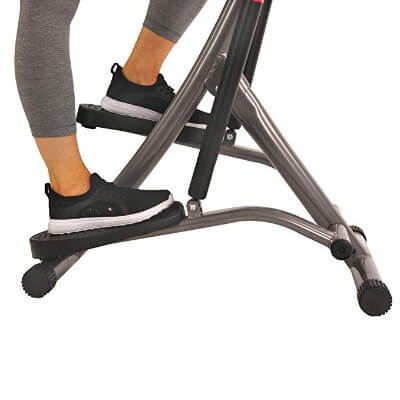 For most of you, a design like this will be appealing to you. Not only is this incredibly simple in its design but it can also be folded and stored away easily when it is not in use.
Read more
Design Features
The dual hydraulic system is designed with piston cylinders that can easily be adjusted. To increase the tempo, you can change the incline settings in 12 different ways.
Durability
Being made with tubular steel, this is well-made. At the same time, however, it can only hold up to 220 pounds, which is not that much all things considered.
Advanced Features
Admittedly, the onboard computer is not the best. It can still monitor and track your calories burned, time, and count.
Comfort
To prevent slipping, the footpads are designed with patterned plates. Therefore, it will be best to use this with shoes and not barefooted.
Portability
Looking past the fact that this can be folded for storage (which is great), it has a small footprint and is not going to take up too much space regardless.
Overall
If you require a unit with an advanced computer then you may want to pass on this one. In pretty much every other area, though, the SF-1115 is a gem.

5

. Xiser Mini Stairmaster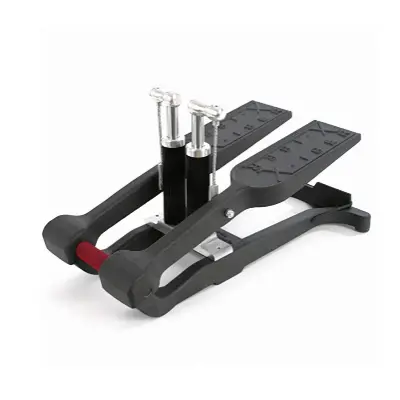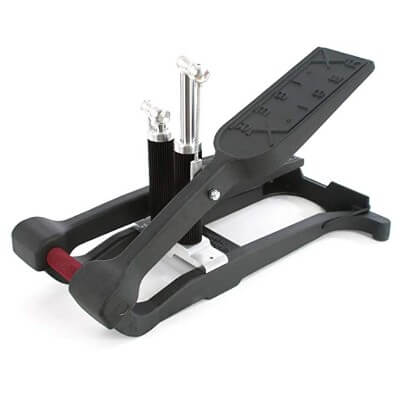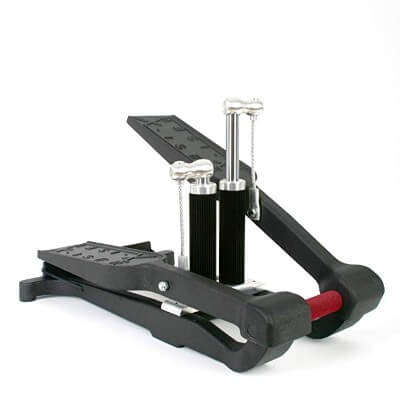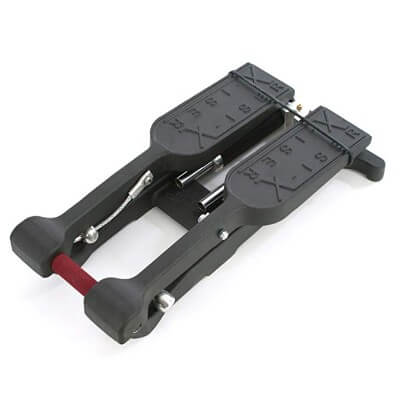 Now, this one is a bit different. Instead of coming equipped with an onboard CPU or even any handles, this is a compact design that utilizes a reciprocating hydraulic unit to mimic stair climbing.
Read more
Design Features
Indeed, this does use a reciprocating hydraulic unit to function and better yet, it can easily be adjusted if you want more or less resistance.
Durability
The cast aluminum alloy construction is quite impressive here and all in all, this can hold an impressive 400 pounds.
Advanced Features
There is no handle or top section designed into this model and it is devoid of an onboard computer of any kind. For some of you, this will not be too big of a deal as you may already have an appropriate app on your smartphone.
Comfort
It is noted that this is ergonomically designed but one of the potential issues you can have is with the spacing of the pedals (as they are very close together).
Portability
At only 13.5 pounds, it is fair to call this the most portable unit on the market. Oh, it can also easily be disassembled for storage or travel purposes.
Overall
The real question you need to answer is if this is worth the price of admission. Though it is a little steep, most of you will look at the quality and say it is.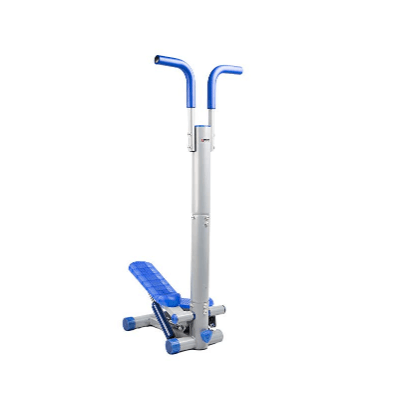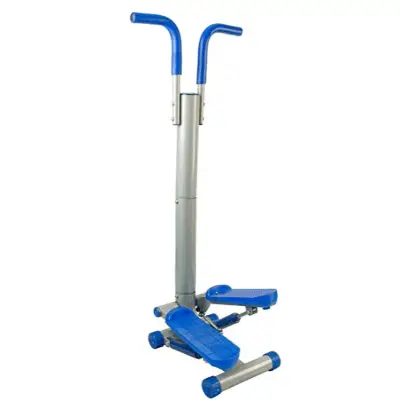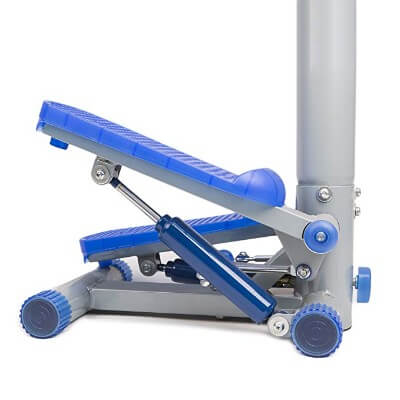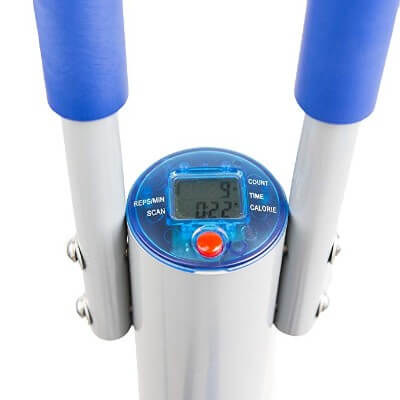 Do not be fooled by the photos that almost make the EL2273 look like a toy; it is a well-designed stair climber. Like many others, it is not without its flaws.
Read more
Design Features
In spite of the fact that the steps themselves are a bit short, they can be adjusted (in regard to their height) so that is a bonus.
Durability
With the steel rods, steel frame, and gas shocks, the EL2273 is indeed built to be used. However, previous users have noted it can squeak after several minutes of use.
Advanced Features
Using an AAA battery, you can power the LCD console. This same console will display to you your time, repetitions per minute, calories, and steps.
Comfort
The handlebars on this unit are well-designed with soft and resilient foam. They are also ergonomically placed to enhance comfort even further.
Portability
With its incredibly small footprint and lightweight nature (it is less than 30 pounds), this is about as portable as it gets.
Overall
The EL2273 is not exactly a flashy design, but it certainly gets the job done. Sometimes, the simple yet effective products are the most appealing ones.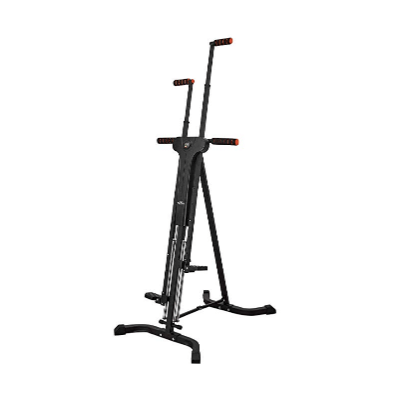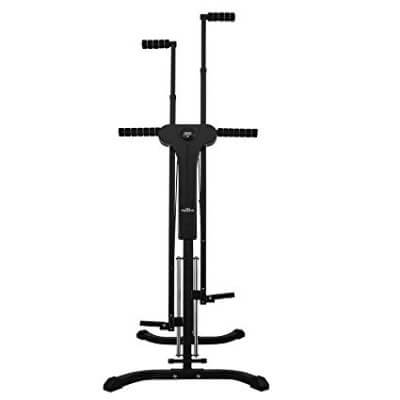 Even though it would have been nice if this machine was equipped with some sort of resistance system, it is a solid unit that is really going to deliver on the exercise end of things.
Read more
Design Features
Again, a resistance system would be a welcome sight to this design but at least you can adjust the height in five different positions. On another note, this machine can also be a little rough on the up and down strokes.
Durability
In addition to the square steel tube design, this is equipped with wear-resistant nylon bearings. All in all, it can safely support up to 260 pounds.
Advanced Features
Okay, so while the integrated LCD console is nothing special (and is pretty minute in size) it is nice to have as it displays for you some metrics such as speed, time, and calories.
Comfort
The handlebars that are equipped here have been designed with high-density anti-slip foam that will absorb your sweat.
Portability
Due to the fact that the bottom bar has been built with a hinge in the middle, it allows this unit to be folded for storage. As is, however, this does not take up that much space anyway.
Overall
You know, this is almost like buying a bike without a gear system. It provides a great workout but without the gears (and in this case, a resistance system) it limits the design as a whole, admittedly.

8

. Sunny Health & Fitness Twist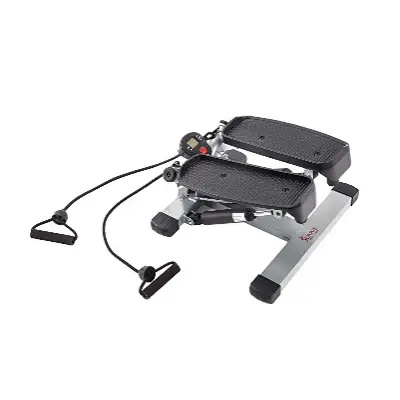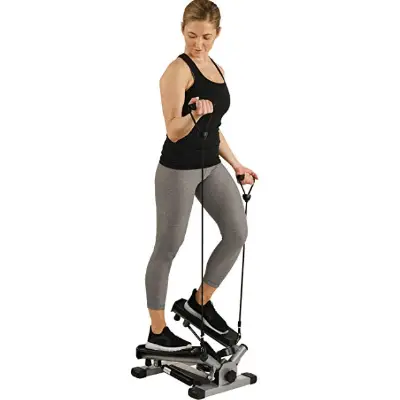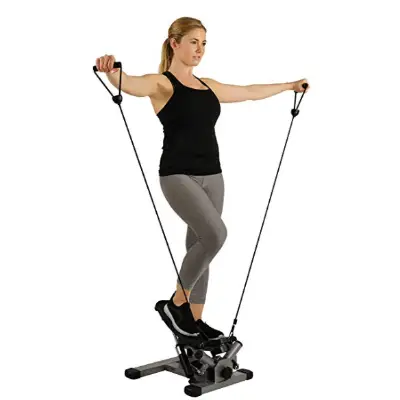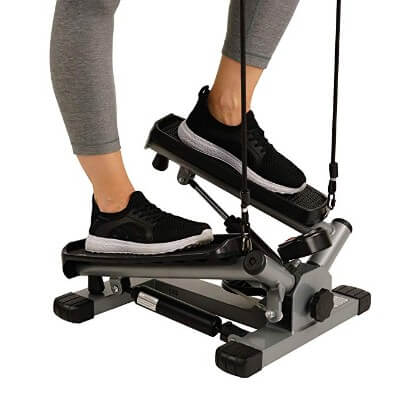 As the title of this product indicates, this is designed with a twist-action making it very unique. Additionally, it also comes equipped with resistance bands for additional exercises.
Read more
Design Features
In addition to the twist-action mechanism and the resistance bands that are included, you can also adjust the height of the pedals with the integrated lever.
Durability
Though this is designed with heavy-duty steel, the instructions state that this is not to be used for longer than 10 to 15 minutes at a time. If ignored, overheating can persist. Oh, and the rated weight capacity is 250 pounds.
Advanced Features
At the base of this unit, there actually is an implemented LCD console. As with most basic consoles, this will provide you with metrics such as calories burned, total count, time, and rep count.
Comfort
The foot pedals are not optimized to be used without footwear. But, the surfaces on the pedals have been textured to make them slip-resistant.
Portability
Due to the nature of this design, it is easy to store, move, and travel with. It is both compact and only weighs around 20 pounds.
Overall
The little things need to be appreciated with this design such as the resistance bands and LCD console. However, the 10 to 15-minute timeframe may not be ideal enough for you.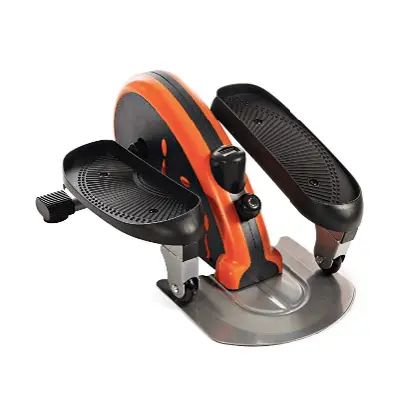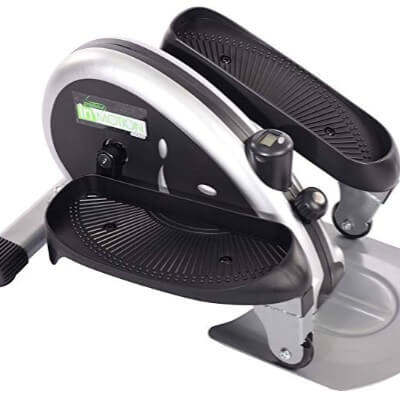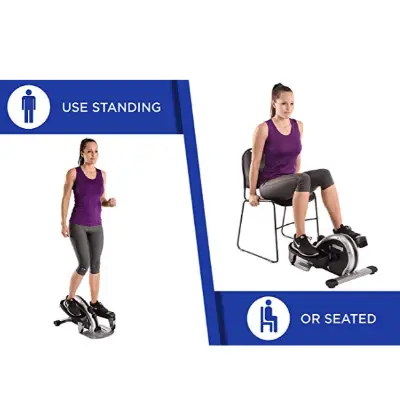 At the end of the day, this is a well-built unit that offers different tensions. While some flaws are present, they do not ruin the overall design.
Read more
Design Features
There are many great features here such as the ability to use this while sitting or standing, the adjustable dial, and the ability to pedal either forward or reverse. But, the pedals are fixed and this can lead to an awkward placement of your ankles.
Durability
In the manual, users have noted it claims that users over 250 pounds in weight should not use this. As for the main material, this utilizes steel.
Advanced Features
From a distance (and the display is located at the bottom) the LCD display can be hard to view. With that said, it does provide you with some basic exercising metrics.
Comfort
There is no need to worry about slipping on the pedals so that is good news. Once again, you will want to use some sort of footwear when standing on them, though.
Portability
Yes, this is a compact design but it is clumsy to move around because there is no good way to grab it. Some sort of handle should have been implemented to combat this.
Overall
This model has received tons of positive feedback from previous buyers and you can see why. Some of the limitations can really start to get to you, though.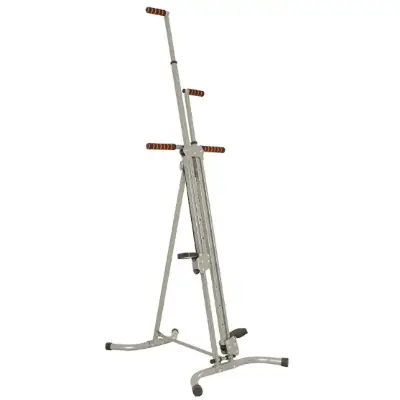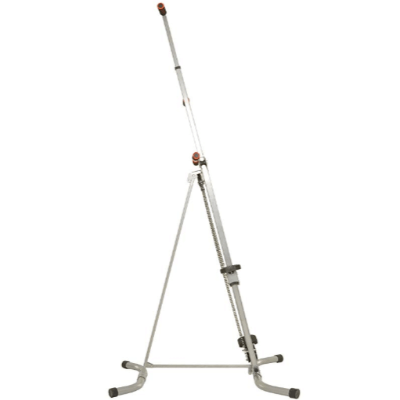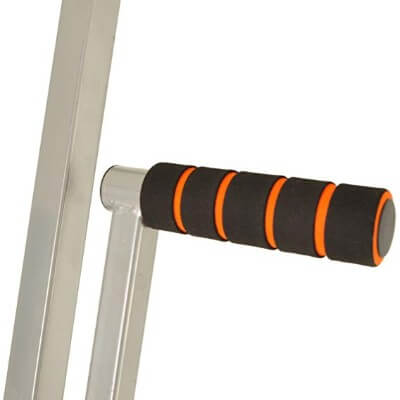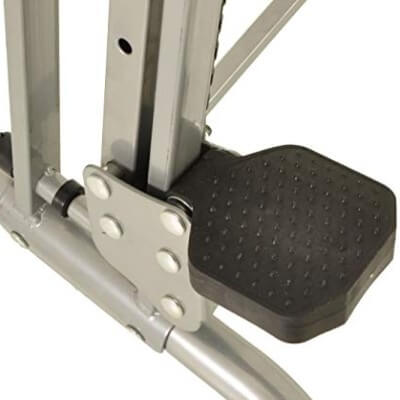 The Conquer is a simple machine that provides a butt-kicking workout. Just by looking at it, you may not expect such an intense experience, but you will be surprised. One of the best features of this machine is that it folds up to be almost flat and can be easily rolled (or carried) out of the way.
Read more
Design Features
This machine is tall and lean, exactly how many of us wish to look after using it. The versatility of the machine allows for an intense cardio routine while adding in low-impact but effective muscle toning. Most reviewers agree that the machine is nearly silent, however, some reviewers have experienced a few squeaks.
Durability
The Conquer is made from steel. There is a chain inside that keeps all of the parts moving. If you experience any pull back from the chain, you can use a bicycle lubricant to get it running smoothly again. The weight limit for this machine is quite low, at only 220-pounds.
Advanced Features
This is a simple yet effective product. It doesn't feature any LCD screens or motivational videos to keep you going. However, it is quite portable, so if you prefer to exercise in front of a screen, you can arrange that. To put more focus on your lower body, you can rest your hands on the stationary handles. For a full-body workout, you can use the moving handles. To target different muscles in your arms, you can simply reverse your grip on the handles.
Comfort
The pedals of this machine mimic bike pedals, but they are wider, making them easier to stand on. The handgrips are comfortable and the height of the handles is adjustable. When using the moving handles, you can set the handle at the lowest height to 53.5" from the ground, and the highest at 53.5" from the ground. The pedals have a range of 18".
Portability
Perhaps the best feature of this model is its portability. It folds up almost flat and can be rolled away to its hiding place. If you need to lift it, it is possible. The machine weighs 35.3-pounds.
Overall
This is a simple machine. It is very easy to set-up, even the assembly tools are included. It has a few faults, a few stand out features, and is an overall great machine.

Subscribe to our Newsletter