Best Electric Car Charging Stations
In a Hurry? Editors choice: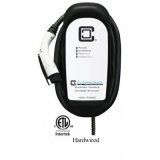 Test Winner: ClipperCreek

As time moves on, you can expect more and more
electric
car models to be manufactured and also more charging stations to be implemented in North America. However, why should you have to rely on a public station when you can install your own personal model in your home for yourself to have and charge your car whenever you like. If you have made the switch to an electric vehicle,
installing
one of these electric car charging stations into your
home
will add so much convenience to your life. But, there is a lot that goes into deciding upon the right one for you. Different models will require different installations and some will charge quicker than others. Check out our buying guide below and we are confident you will find the perfect model for you and your automobile.
Standout Picks
Criteria Used for Evaluation
Effectiveness
Quick question for everyone, would you rather have a faster charge or a slower one? No, this is not a trick question but could be considered rhetorical. You see, you should make it a priority to invest in a model that is classified as level two. In terms of what this classification means, it signifies the voltage that the charger uses and in this case, it is 240 volts. As opposed to level one models, which use 120 volts, level two units charge your car significantly quicker.
Compatibility
For the record, an EV is another term for an electric vehicle, so be aware of that. Anyway, now that that is out of the way, let's dive into the issue of compatibility. Perhaps "issue" was not a proper word choice as, to be honest, most charging stations you invest in will be compatible with your current car model (granted it is electric). The reason for this is most home chargers utilize the same connector (SAE J1772) as popular EV models. For most level two models, in fact, this connector is the preferred version.
Some of the more popular models that integrate this connector are the Nissan Leaf, Ford Focus EV, and Chevy Volt. But, that is just scratching the surface on the main types of cars that will be accounted for with most electric chargers on the market.
Ease of Use
Before one of the most important considerations is documented in-depth, let's get a few other minor details out of the way in regard to the installation. First off, not all models will be designed to be installed outdoors and if this is what you prefer, look for an appropriate version. In addition to this, take the cable length into consideration as it needs to be of adequate length to reach your vehicle. But, now, let's dive into the most important consideration you need to make in regard to the installation.
There are two ways that these devices can be installed. They can either be hardwired into your home or simply be a plug that you merely connect to. If you decide upon the former, the installation can be a bit cleaner as you do not need to worry about a junction box or the plug getting in the way. Of course, this will also likely require the assistance of an electrician. As far as the plug-in method goes, this is ideal for portability. As you can quickly dismount the unit, you can easily take it to another location. One method does not necessarily trump the other one so it is a matter of personal preference.
Features
Let's just be out in the open for a second; electric cars are far from cheap and can cost you a pretty penny. As such, you want to protect your investment as much as possible and one of the primary ways to do that is to invest in a charging station that prioritizes safety and reliability. The main question then becomes, though, how is this accomplished? Well, first off, it is important that the station be UL listed. What this means is that UL (Underwriters Laboratories) has tested the product themselves and confirmed that they comply with their standards of safety.
Some modern stations are beginning to integrate wireless technology. While this could be seen as an unnecessary complexity, it allows you functionality with your smartphone. But, other features that could be seen as more important are an on/off switch to mitigate standby power and an auto-restart feature that will continue to charge your car after a power outage or fault has been resolved. Now, though, let's address the last primary feature that consumers will look for. Have you ever heard of delayed charging? Basically, with this function enabled, you can set your car to charge for the desired time.
Top Ten Electric Car Charging Stations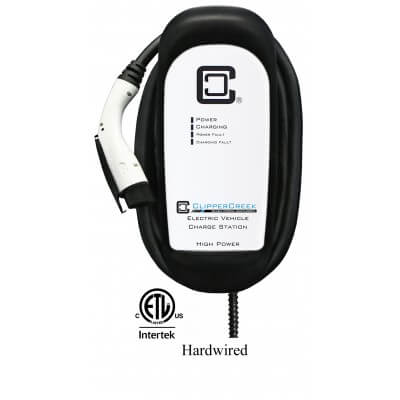 The HCS-40P model from ClipperCreek utterly excels at its main design purpose (to deliver a charge to your vehicle). Yet, just know that it is not overflowing with extra conveniences.
Read more
Charging Efficiency
With 32 amps of power, this level two charging station is capable of delivering charging speeds up to 5.5 times faster than the standard cord set that came with your vehicle.
Car Compatibility
It is made clear in the product description that this is intended for all EVs. This would include popular models such as the Chevy Bolt, BMW i3 and Nissan Leaf.
Installation
No assembly, past the installation of a NEMA 14-50 receptacle if you do not already have one, will be necessary on your part. Plus, the NEMA 4 enclosure ensures reliability indoors and outdoors.
Safety Standards
First off, this is designed with a charge circuit interruption device which will protect this unit from ground faults. Also, it is safety certified and ETL listed.
Convenience
The most convenient aspect of the HCS-40P is that it is backed by a three-year warranty.
Overall
In terms of performance, it is impossible to argue with the results here. Yet, some may feel, because of its price tag, that some more features should have been integrated and that is fair.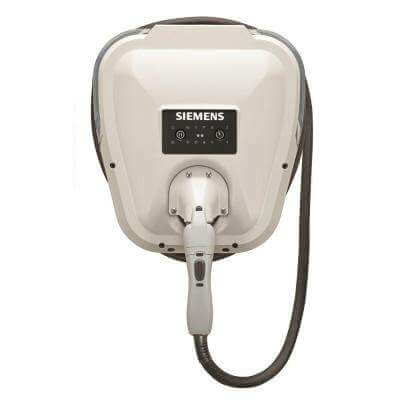 This is one of the more well-known models on this list and it has topped several top 10 lists around the world. Rightfully so as the safety and flexibility offered from this model are unmatched.
Read more
Charging Efficiency
As opposed to level one 120-volt chargers, the VersiCharge is a level two 240-volt charger. All in all, with 30 amps of power, it can deliver up to four times the speed.
Car Compatibility
All J1772 complying cars will be compatible with this unit. Also, if you own a Tesla, you can use the Tesla charging adapter.
Installation
This is a classic plug-and-play installation and everything is included in the box (which includes the NEMA 6-50 plug). Also, even in shivering temperatures of -30 degrees Celsius, this can operate.
Safety Standards
Past the fact that this is another model that is UL listed for quality, this is also built with a 40-amp circuit breaker to prevent any electrical damage in the case of an overflow.
Convenience
Built into this charger are delay functions for two, four, six, and eight hours. However, as some buyers have noted, this does not work with all EVs.
Overall
Are you starting to understand why this is such an acclaimed charger? While not completely flawless, the nail is hit on the head with an abundance of the features here.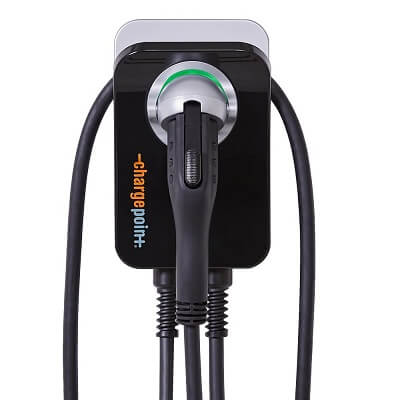 Speaking of Wi-Fi connectivity, this next model is actually predicated off of it. Because of this, you can utilize the accompanying app to set reminders and even use Alexa for voice control.
Read more
Charging Efficiency
For most models, this charger will accomplish its task in under four hours. This is thanks to its 32-amp rating that can deliver charges up to six times faster than that of a traditional wall outlet.
Car Compatibility
There is no doubt that your car will be accounted for as ChargePoint has tested their model with popular models such as the Tesla Model X, Toyota Prius Prime, Nissan Leaf, and Chevy Volt (among many others).
Installation
You can either decide to go with a plug-in station or a hardwired station, the choice is entirely up to you. For the former, it will need to be installed indoors with a NEMA 6-50 outlet, though.
Safety Standards
Adding on to the electrical safety and the UL listing, this will also save your energy as it is Energy Star certified. As compared to other chargers, this can use up to 40 percent less energy.
Convenience
Without Wi-Fi connectivity, this system is basically of no use to you. But, with it, you can utilize the ChargePoint app and Alexa (if you have a device with it).
Overall
For the right people, this could be the best unit on this entire list. We say "the right people" as a stable internet connection is all-but mandatory.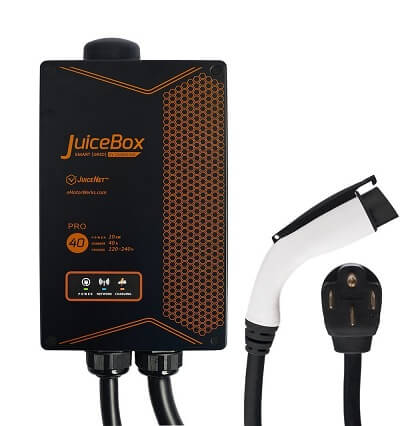 What is astounding about the Pro 40 Lite from JuiceBox is it is packed with 40 amps of power but it can be configured either indoors or outdoors. Plus, it can easily be removed and used on the go.
Read more
Charging Efficiency
In addition to the 40 amps, this is also rated with 10 kilowatts. Plus, to ensure the appropriate amount of power is received to your vehicle, this will automatically adjust to how much power your EV can handle.
Car Compatibility
Because this is rated to be compatible with all EV models, the Pro 40 Lite is suitable for everyone. On top of the previously mentioned adjustment system, it is as compatible as it gets.
Installation
The hardest part of your job is installing a 14-50R outlet. But, you can also use a standard power source. Yet, to achieve the full rating, opt for the 14-50R outlet. Oh yeah, this can also be installed indoors or outdoors.
Safety Standards
Rest assured that this is a safe unit to charge your EV with as it utilizes the industry standard J1772 charging protocol. Adding on to this, it also has been field tested.
Convenience
In a matter of mere seconds, this can be removed from its mounting bracket and taken with you on the go. Additionally, there are LED indicators for the charging status and connectivity.
Overall
To say the Pro 40 Lite is impressive is an understatement. Truthfully, it speaks for itself and is an epic combination of power, compatibility, convenience, and safety.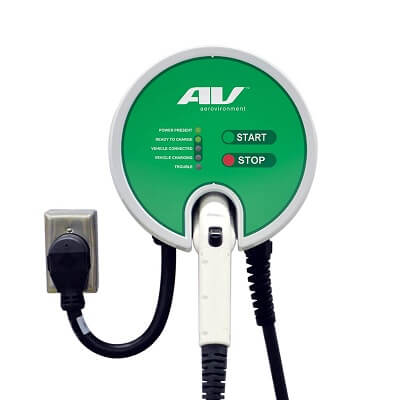 What is really nice about Webasto is that they are approved by world-renowned automakers. If nothing else, you can take comfort in knowing that they will not release an unsafe or unreliable device.
Read more
Charging Efficiency
As opposed to the standard cord set of your EV, this 32-amp charger can provide juice to your ride around five times faster.
Car Compatibility
Webasto is actually the official charging provider of a plethora of juggernauts such as Volvo, Chevrolet, BMW, Ford, Nissan, and Hyundai.
Installation
The only way this plug-in charger should be installed outdoors is if you have a weatherproof outlet cover. Without it, install the NEMA 6-50 outlet inside. Speaking of which, it can be difficult to do so as you need to mount it sideways.
Safety Standards
No need to worry about the quality of this unit as it is UL listed, meets the strictest of safety standards and has also been tested by several automakers.
Convenience
Even though it is not uncommon, note that the power cable is only 10 inches. As such, you do not have much room to work with in terms of installation.
Overall
If nothing else, knowing the stroke that Webasto has with several of the top automakers in the world is reassuring. Of course, their EV charger would be great in its own right, anyway.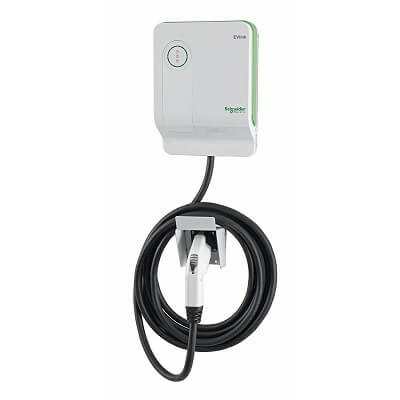 Seven chargers down and the high-quality models are still rolling out. This next entry is designed with 30 amps of power and is compatible with several electric car models in the world today.
Read more
Charging Efficiency
As compared to a normal 110-volt power source, this flexible voltage range of 208 or 240 will charge your car two to four times quicker. Overall, it sports 30 amps.
Car Compatibility
To ensure maximum compatibility, Schneider ensured that their charger is compatible with SAE 1772 electric vehicles. This includes popular models such as the Ford Focus and Nissan Leaf.
Installation
The design of this model is very sleek and more than suitable for home installation. Also, it is easily mountable with a convenient cable holder to boot.
Safety Standards
No need to worry about safety here as this system is compliant with a plethora of UL listings. There is no doubt about it; Schneider made the reliability of their model a top priority.
Convenience
All sorts of convenient features are integrated here including an automatic shut-off at 100 percent, an LED display that gives you full control and an auto restart feature in the instance of a power fault.
Overall
Perhaps the sleek design of this model is what draws you in but no matter, it sports the goods. While there is room for improvement here and there, it is an optimal charging source.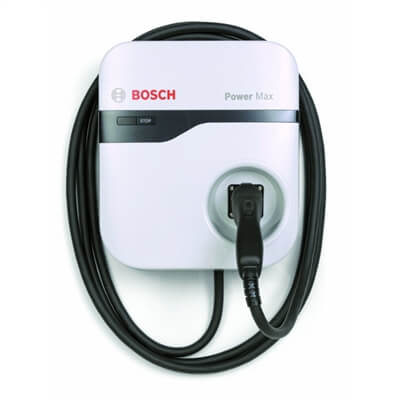 From top to bottom, there is not a better unit on this list than what Bosch provides. Even better is they manufacturer both 30-amp and 40-amp configurations of their EV charger.
Read more
Charging Efficiency
This is a level two EV charger and as stated before, it comes in both 30-amp and 40-amp models. Either way, the amount of power provided is ideal for faster charging.
Car Compatibility
Granted your electric vehicle meets the SAE J1772 standard, it will be compatible with this unit. This standard will be nearly all electric models sold in North America.
Installation
Whether indoors or outdoors or hardwired or not, the versatility of installing this unit is simply astounding. Plus, if mounted outdoors, it is weather-resistant.
Safety Standards
This station is cUL and UL listed for safety certification. In addition to this, the NEMA 5-60 plug includes a thermal sensor to protect it against overheating.
Convenience
The multi-function LEDs on this unit will indicate you of the current charging and power status. Furthermore, the entire charger is backed by a three-year limited warranty.
Overall
Though nothing is perfect in this flawed world we live in, this is as close as you can get to perfection. Still, someone will probably find an imperfection somewhere.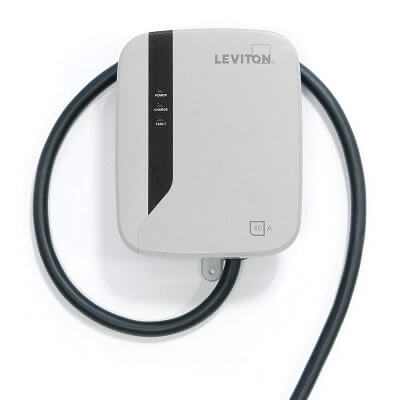 This next model sports an impressive amount of amperage but one thing to note is that you must hardwire this unit into your home. But, the plethora of safety features ensure you have nothing to worry about.
Read more
Charging Efficiency
Let's just say that the power specifications speak for themselves. With 9.6 kilowatts of power and a total of 40 amps, what do you think?
Car Compatibility
The Evr-Green Charging Station will be able to charge any electric vehicles that comply with the SAE 1772 standard.
Installation
As this unit needs to be hardwired, you may need to hire an electrician to install it for you. Yet, what is a bit unfortunate, not all the hardware components (according to one user) are present.
Safety Standards
All sorts of safety features have been integrated into the Evr-Green Station to ensure maximum protection. This includes under-voltage, over-voltage, over-current and short-circuit protection.
Convenience
While the integrated on and off switch allows you to minimize standby power, the auto-reclosure feature allows the charging to restart following a fault of any kind.
Overall
Chalk it up on the board as this is yet another highly impressive electric car charging station. At this point, it is becoming mind-numbing to decide on just one.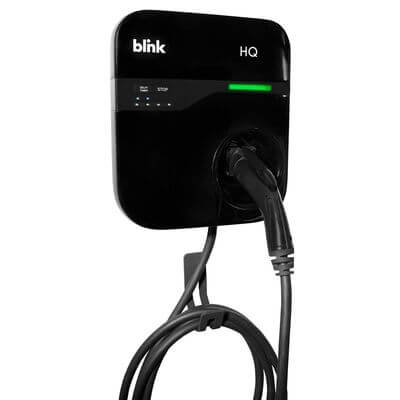 This charger from Blink HQ is a sleek and stylish design that once installed will charge your vehicle quick and efficiently. If you are on the hunt for a new charger for your new ride, this is definitely a charger to check out.
Read more
Charging Efficiency
For maximum charging efficiency, you are provided with a 240-volt charger that can charge your car three times quicker than normal. The amp rating on this charger is 30 amps.
Car Compatibility
This charger from Blink is compatible with quite a few of the popular models on the market but is not compatible with all electric car models, so be sure to check and see if your car is compatible.
Installation & Ease of Use
This car charger is not as easy to install as some of the others on our list but to make sure you get this installed correctly, contact your electrician and have them come over and install it properly.
Convenience & Features
The sleek design and plug and go feature is great with this model. Once the installation is complete, this unit is quite easy to use and will charge your car efficiently and quickly.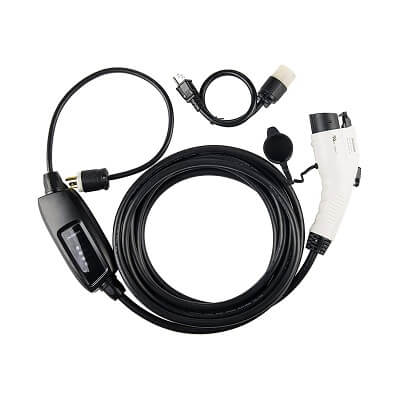 While the price point should never be the main focus, it is understandable if some of you can't afford a top-end model. Thankfully, there are still some high-quality affordable options out there and this is one of them.
Read more
Charging Efficiency
With an output power of 3.8 kilowatts, which is not massive, all things considered, this classified level two charger can charge your vehicle three times faster than a standard level one charger.
Car Compatibility
Again, compatibility is far from an issue here as it is promised that this unit will work with all plug-in EVs.
Installation
With the use of adapters, this can be used with a multitude of power sources including a regular wall outlet, your dryer, and also an RV-type source.
Safety Standards
In addition to its UL listing, this is also equipped with over-current protection and also over-voltage protection. Rest assured, this is as safe as it gets.
Convenience
If you are not 100 percent satisfied with your investment, you can receive a replacement or a refund.
Overall
All in all, this does lack the power and the features to keep up with the high-end models. Still, for an affordable option, it is very impressive.

Subscribe to our Newsletter