Best Dog Basket For Bike
In a Hurry? Editors choice: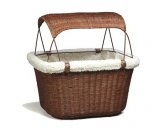 Test Winner: Solvit Tagalong

The joy of cycling; the fast, environmentally friendly
healthy
way to travel. But what's missing? A cyclist's best friend, perhaps? You're not the only one that likes to feel the wind in your hair, so wouldn't it be fun to bring your prized
pet
along too? Bike transportation has come a long way from a plastic basket stuck on the front. Pets really can travel in style,
comfort, and safety.
They're also great for old or injured dogs who can't walk very far, or for providing some
cooling
air in hot weather. And the best bit is, like all the most useful gear, they can be versatile and used off the bike and without the dog as well. So don't let the dog days be over. Take a look at our picks of the best canine carriers on the road.
Standout Picks
Criteria Used for Evaluation
Top 10 Picks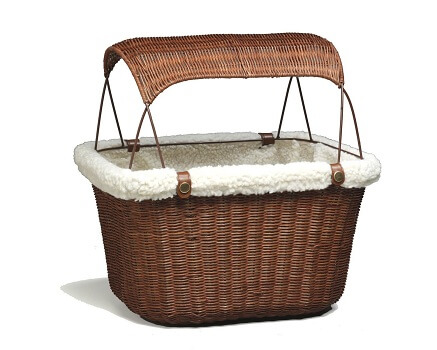 A classic look never goes out of style, and this basket remains one of the most popular products. But don't be fooled, the Tagalong has got the credentials to back it up.
Read more
Size and Capacity
16.5 x 10 x 13 (length, depth, and height) inches, and can take a pet up to 13 lbs. It's a heavier model at 5.8 lbs, but it certainly feels solid and safe. However, be prepared for that weight plus your pet.
Ease of Use
Front handlebars, and will be difficult to fit on anything wider than 1 inch in diameter. Otherwise, installation is easy and there is no further bracket needed to fit it, which is a bonus.
Materials
The basket is wicker, with an optional inner wire cage in case you need more protection. Despite being made of wicker, it's treated and the sheepskin is fake, so neither will get damaged in wet weather.
Such a classic look, it's a good-looking addition to your bike or for your home. You'll be happy to leave your pet to relax in here even when it's not on your bike. There's also a silver, fabric version in the same style if you don't like the wicker.
Protection
The removable sunshade is a nice touch - a way to cover up without that boxy look. The faux-sheepskin is also breathable. There are two adjustable straps and a built-in leash for security.
Summary
The Tagalong is what a dog basket should be - well, the one you imagine from the old movies, anyway. It hides security and function and the sun shade is a great feature too. It's rare that something that looks good also works so well.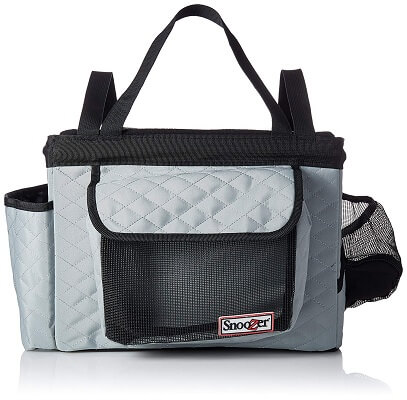 The basic Snoozer is a functional design which looks discreet like a bag. It's plain yet useful, perfect for on-the-go and when you've got to carry more than your dog. Snoozer is a big brand in pet products and they're popular on our list.
Read more
Size and Capacity
It's 13 x 10 x 10 (length x width x depth) inches, almost a square design. It looks as though it's for small dogs, but can actually take up to 14 lbs. It's also collapsible when not in use for storage.
Ease of Use
Sits on the front of the bike and is easy to install. A note on the buckles: they're an inch thick and 10 inches apart, so you may want to ensure that this will be compatible with your bike. There's also an adjustable brace for added security.
Materials
The quilted material is soft and comfortable inside. It's easy to clean, just using microfiber wipes. There's a removable inner pad and chin rest for comfort.
The Snoozer comes in two neutral tones in a quilted design. It has several pockets, some of them mesh, so you can take all the other essentials along with you as well. Just beware of the weight when filling the basket - remember it's going on the front of your bike.
Protection
While there's no overhead shelter, there is a rain cover with an opening like a turtleneck for wet weather! Additionally, there is a clip inside to attach to a leash or harness.
Summary
The classic Snoozer is deceptively big and ticks almost all the boxes. A nifty bag with some cool features - you might find yourself using it without your dog!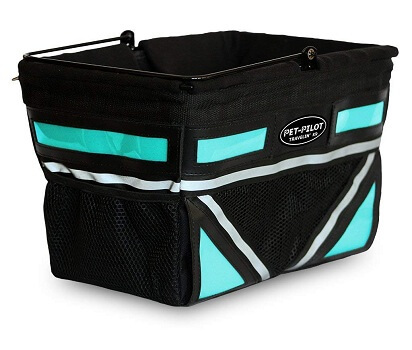 The Pet-Pilot isn't a dog basket you'll forget in a hurry! With a unique look and a great name behind it, it's got a price to match but might be just what you're looking for.
Read more
Size and Capacity
The top opening measures 14 x 9 inches, and the walls are 8.5 deep, so it's a nice size. With the padded floor inserted, the inside space is 12 x 7 inches, so be sure your pet will fit. It can take pets up to 10 lbs, so is on the small to medium side. Some users have fit larger dogs but beware of overloading. It's also available in a 'MAX' version for a bigger size.
Ease of Use
Sits on the front of the bike on its own bracket, and Pet-Pilot is sure of the security and lack of sway. It will need a minimum of 11 inches of space above the front wheel.
Materials
This basket features a steel frame, padded floor, and a mesh air vent at the front for cooling. It's a fairly simple box shape, and mostly black with fun neon inserts, which are interchangeable if you purchase spares! The Pet-Pilot has added pockets. Otherwise, it's got a wire handle so carries like a shopping basket. There are also reflective strips, which are a great safety feature.
Protection
There are no shelter or overhead elements. There is a 2-point, chrome clasp with an inner leash to attach to your dog's harness.
Summary
It's a fun, yet simple design, and it's nice that it does come in a bigger size as the standard size is small to medium so gives owners some options.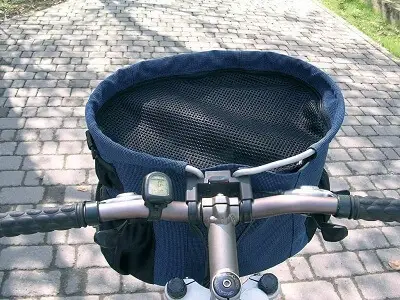 The Walkybasket is an impressive achievement in functionality. It's practical and easy, with some great features.
Read more
Size and Capacity
The Walkybasket is 15.5 inches wide and 10 inches deep, so it's a nice medium size. And with a capacity range of 8 to 15 pounds, it will take a variety of dogs.
Ease of Use
The basket attaches to the front of the bike and has a quick-release button mechanism. However, you might also need to buy the handlebar adaptors, so check your bike model carefully.
Materials
It is made from a durable PVC fabric, which will work great in all types of weather.
It's a very simple look, with one front and two side mesh pockets. There is a long shoulder strap and a handle for when not attached to the bike. A reflective band runs around the outside for safety and visibility.
Protection
There's a padded bottom for comfort and a detachable mesh top for rain protection. The buckles, strap, and leash are nylon and attach to your pet's harness for security.
Summary
The Walkybasket is an understated design from a smaller brand. While it hasn't got the style of some, it offers pretty much all you could need in a pet carrier. It is priced in the medium to high range, however.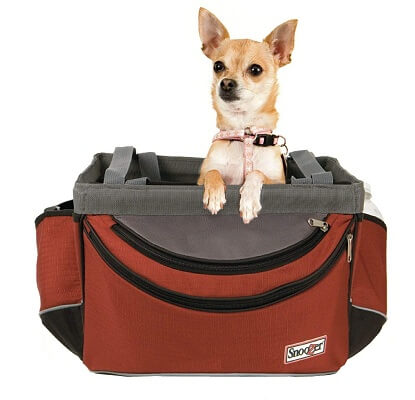 Another model from Snoozer and the Sporty is a sleeker, smaller version of its classic sister. However, it can still take a sizeable dog.
Read more
Size and Capacity
13 x 10 x 10 (length x depth x height) inches and weighs 5 lbs. It's billed as being able to take up to a 14 lb dog, but in reality, this probably comes out at a bit less for ease of cycling.
Ease of Use
Mounts on the front of your bike with a metal brace for the base. There are no tools or hardware needed for an easy install. However, it does sit quite low, so be careful of your brake cables. Packs flat for ease of storage.
Materials
The polyester material is easy to wipe clean with a microfiber cloth.
The Sporty comes in red or orange and has two zipped front pockets and two open side ones. With its handles on top, it really could pass for a regular bag.
Protection
There's a detachable rain cover which is stored in the side pocket. There's also a removable inner pad and chin rest for comfort. Additionally, there is a clip inside for a leash or harness.
Summary
The Snoozer Sporty is just that, a sporty version of Snoozer's classic model, yet loses none of the awesome features.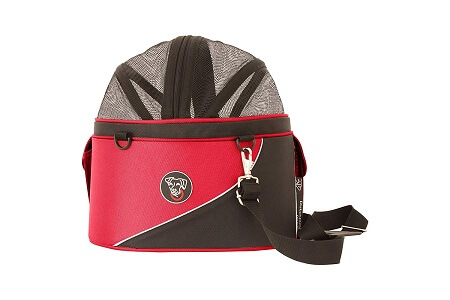 The Cocoon is an innovative design and certainly doesn't look like any of our other picks. While it's pricier, the cool features might clinch it for you.
Read more
Size and Capacity
14 x 13 x 10 (length by depth by height) inches and takes a dog up to 15 lbs. So it takes a larger dog but still in a medium size. It actually meets cabin size requirements if you travel with an applicable airline.
Ease of Use
Can be positioned on the front or the rear, which is unique among our picks. However, you'll need a separate attachment for this. However, there's a five-way carrying strap and a seat belt connection point for car travel.
Materials
Made from water-resistant nylon and polyester, this basket is made for great protection against the elements. The Cocoon comes in three colors and is a bucket style.
Protection
As its name suggests, the cocoon boasts a special detachable dome. This gives your pet all-over cover whilst still allowing them their own space. There is an in-built leash for attaching to a collar or harness.
Summary
With its versatility and adaptability, your dog might have to fight to get in there! You can use it as a bed, basket, car seat or for groceries, air travel and more. We really like the mesh dome, too.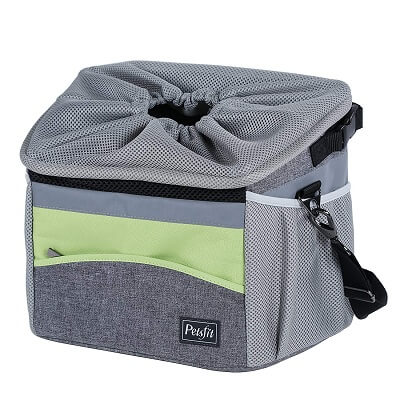 A fun, simple design with some really great features, from a quality, trusted brand. Looks like a small carrier, but can take a sizeable dog.
Read more
Size and Capacity
Measures 15.8 x 12.8 x 9 (length x depth x height) inches, which is nice and long. However, it only weighs 3.6 lbs and can take a dog up to 10 lbs.
Ease of Use
Sits on the front of your bike an is easy to install. Packs down completely flat.
Materials
Oxford polyester. The inner pad is machine washable, which is great when it will spend all its time outside beneath a dog!
There are a few colors going on, which won't be for everyone, however, it's mostly gray. There are two mesh side pockets and a long, padded shoulder strap for easy conversion into a bag.
Protection
There isn't overhead cover as such, but the mesh top is drawstring which can be used to carefully cover your pet. Ensure you leave enough of an opening to keep your dog comfortable. There is an inside clip for a leash or attaching to a harness.
Summary
A fun, handy and affordable option, it's more compact than you might think, yet still has enough room.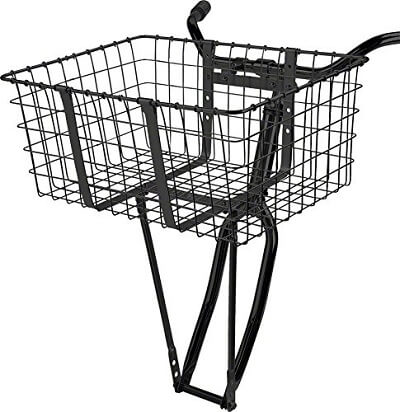 The Wald is a slightly different option. While it's not a dedicated dog basket, it is a top rated bike basket and many users rate it highly having tested it with their dogs.
Read more
Size and Capacity
Our largest pick at 21 x 15 inches at the top and 18 x 12 inches at the base. It's also 9 inches deep so feels a nice size. However, it is 7.8 lbs, also our heaviest basket, so do keep in mind how much it will weigh including your dog.
Ease of Use
Attaches to the front of the bike by legs, cargo bands, and handlebar clamps. Probably our most secure choice.
Materials
The metal is strong and won't rust and is obviously easy to clean. Can be used to transport much more than just your dog. It's very minimal, coming in black or silver metal. If you want a sleek, modern look with no frills and something you could definitely keep on your bike without your dog, the Wald is for you.
Protection
There is no attached or in-built cover as it is designed to be purely a basket. We'd recommend fixing a blanket or pad in place for your pet for their comfort. Again, there are no in-built fastenings so you'll need to be really careful about attaching your dog's leash or harness to the metal securely.
Summary
So, if you want a durable basket you can use for everything that comes with you on your bike, go for this. If you want something dedicated to your pooch, this might not be for you.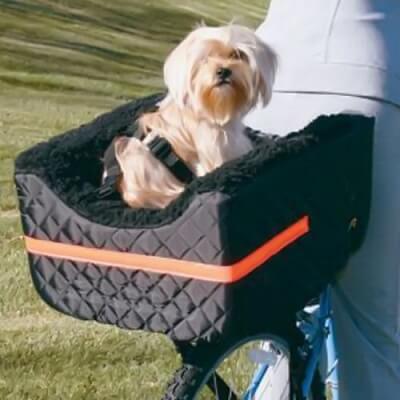 Our final pick from Snoozer is a dedicated rear basket. It is large and comfortable and comes with a reflective strip, which is particularly important to alert drivers and riders to beware of the back of your bike.
Read more
Size and Capacity
It's large, at 19 x 16 x 10 (length x width x height) inches, but won't overbalance you. It weighs 6.6 lbs but can take up to whopping 24 lbs! This could be the answer for you if you do have a heavier dog and are comfortable with having this weight on the back of your bike.
Ease of Use
Fixes to the rear only, so you will need to make sure that your bike is set up for this with a flat rack. It works well with existing racks but you might need to seek some further instructions than those provided.
Materials
This basket is made from black quilt and fleece. It is machine washable, which is a massive bonus. The lining is soft and furry.
Very discreet style Just black quilting and lining. The reflective strip is red/orange to contrast with this and runs around the middle. Its shape is more like a traditional stationary dog box or basket. In fact, it could easily have a dual function as a dog bed as well.
Protection
There is no shelter or overhead cover due to its size and box-bed style. The inner strap is tight but only works with harnessed dogs. As a relatively large and shallow carrier, a leash wouldn't be safe, and you must ensure your pet is secured sideways across the width of the basket.
Summary
Overall a large yet practical rear mounted design. It's essential if you've got a larger dog and don't want to go with a trailer instead of a basket. It's also reasonably priced for its size and functionality.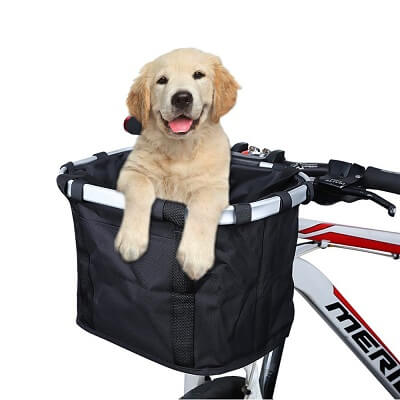 The ANZOME is a really simple, plain carrier which clips on and blends in, and can be taken off the bike as a good sized, easy to carry shopping basket.
Read more
Size and Capacity
Fully extended it's 11 x 13.75 x 10 (length x width x height) inches, folds down to 3 inches deep when flat. It can carry up to 11 lbs. You must have at least 12 inches between the handlebars and front wheel.
Ease of Use
Attaches to the top front of your bike, almost in line with your handlebars for a smooth look. It's also got a patented quick-release button mounting system.
Materials
Durable Oxford polyester with waterproof coating and an aluminum frame. The style is simple, just black with a metal handle, bucket or basket-style. There is a built-in zip pocket and a drawstring tightened section.
Protection
There is no in-built shelter. We'd also recommend adding some padding for your pet's comfort. There's also no dedicated leash or harness fastening so you'll need to make sure that your pet's leash is securely attached to the frame.
Summary
If you like a simple look and something durable that you can use for more than just your pet, consider the ANZOME.

Subscribe to our Newsletter