Best Pet Carriers
last updated:
Sep 30, 2019
The love we have for our fuzzy friends is indescribable. The way they cuddle up at our feet, their loyalty, and not to mention, they're just plain adorable. For safety and convenience, everyone should own a pet carrier. Whether it's for those dreaded trips to the vet, a road trip, or for a flight, a pet carrier always comes in handy! A pet carrier keeps your animal-safe, comfortable, and at your side. There are so many different shapes and sizes available, it can be difficult to know where to start. We have a variety of pet carriers listed below, and we are confident after you check out this list you will know which pet carrier is best for your pet.
In a Hurry? The test winner after 8 hrs of research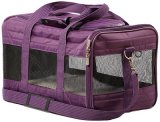 Sherpa Deluxe
Why is it better?
The locking zippers prevent accidental escapes
Entry points at both the top and the side
It is approved for on most airlines
In a
Hurry? Editors choice: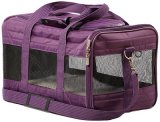 Test Winner: Sherpa Deluxe

18
Researched Sources
1,434
Reviews Considered
8
Hours Researching
10
Products Evaluated
Materials
Size
Comfort
Portability
By Default
Criteria Used for Evaluation


Materials
When it comes to pet carriers, there is a lot that goes into the construction. At its core, though, the first aspect you need to determine is whether you want a plastic/steel version or a fabric version. Fabric versions may be a little easier to transport, but plastic/steel versions are generally more durable as you do not have to concern yourself with ripping. Past this, though, the number of entry points is a notable feature to look out for. Depending on your type of pet, it may be easier to simply set them in from the top. Others may be more adept to simply walk in, but having both options available is rather convenient.
Also, take note of the zippers (in specific for fabric carriers) as you may want them to have locks on them. This will prevent your pet from accidentally escaping, which can be detrimental especially on an airplane. For plastic/steel carriers, be sure that the doors have secure latches to prevent the same occurrence. A nice bonus design feature you may see in some fabric carriers is waterproof capabilities. While this is not necessary for it to perform its designed purpose, being waterproof is certainly never a bad thing.


Size
This is arguably the single most important section of this entire guide, as the carrier needs to be large enough to accommodate your pet. If you are planning on hauling around a Chihuahua or a small cat, however, you will probably never need to concern yourself with this. The issue comes into play when you have a larger cat or a relatively large dog and you want them to fit inside the carrier. When talking about dimensions for these objects, they typically measure length by width by height.
Height will not be too much of an issue, as your animal will be sitting for a majority of the time spent inside, but pay specific attention to length and width. Be sure to measure your pet to determine if they will properly fit inside. Obviously, you do not want them to be squished and miserable inside so leave a few extra inches for breathing room. For example, if a carrier is 19" in length and your animal is 18" in length you may want to pass as that leaves your animal with one inch of breathing room.


Comfort
For some pets, it is going to be difficult enough to get them inside the carrier without them having a panic attack. So, when you send them on a ride you might as well send them off in comfort. While it is not guaranteed that this alone will calm them down, as some pets will be petrified even with their favorite treat alongside with them. But, the least you can do is ensure that, if nothing else, they are comfortable.
There are two key areas of comfort with pet carriers and they are proper ventilation and coziness. However, ventilation can be a little tricky. You want your pet to be able to breathe while inside but, for cats specifically, too much exposure can give them anxiety. Plus, in colder conditions, too much ventilation can be a hindrance. Besides this, some sort of removable fleece pad or comfortable liner can provide your pet with a cozy resting place. Of course, you can also modify a carrier that does not have one. Simply purchase a soft fleece pad and place it inside the base of the carrier, ensuring it fits.


Portability
This is truly where fabric pet carriers have an advantage, in the area of portability. First off, you will often see these types implement both an adjustable shoulder strap and padded handle for carrying. Thus, if your hand gets tired you can simply transfer the workload on your shoulder. With a plastic/steel carrier, they typically do not feature an adjustable shoulder strap and you must use the handle the entire time. Also, when traveling on an airplane, some will be designed with the ability to conform to fit underneath the seats. This is ideal for situations where you would like your pet to be alongside you on a long flight.
Of course, they also come in handy when your pet is not inside. When you need to transport it, some fabric versions will be able to fold down into a small package. Then, when you go back to use it, you can simply reverse the process and it is ready to go.
Expert Interviews & Opinions
Most Important Criteria
(According to our experts opinion)
Experts Opinion
Editors Opinion
Users Opinion
By Default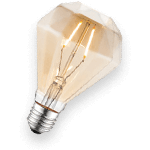 Help your animal get comfortable
When you buy a new pet carrier, you will want to make sure your animal is happy and comfortable. It is a good idea to put a comfortable blanket or a towel at the bottom and possibly even use a pheromone spray. If they are still weary, putting a little bit of food in the carrier is a good idea as well.
Pet crate or carrier?
Depending on where and how you plan to use the carrier, one or the other will be better for you. If you are traveling with your pet and plan to have them below the cabin, a crate is more secure. If your animal will be a carry-on and with you the entire time, a carrier will be more comfortable and easier to carry.
Other Factors to Consider


Features
To be honest, this is not an essential component of a successful pet carrier. That does not mean, though, that it is useless otherwise it would not be present here. If a carrier has storage compartments, it just gives you a convenient place to store your pet's accessories and snacks. Sure, you could just simply store them in a different location but it is nice to have everything in one spot. With this in mind, designers will add a pocket or two to accommodate for small and simple pet accessories.
This is also where a large size can come into effect, as you could throw your pet's favorite toys inside the cage for them to play with. For example, with plastic/steel carriers as they generally will not have storage compartments integrated into the design.
Frequently Asked Questions
q:

What are the airline requirements for carry-on with pet carriers?

a:

It will vary on the specific airline, but some will accept small pets in the cabin of the plane. The only way, however, is if the carrier is approved or if it is a carry-on kennel. Airlines have specific regulations and there is a lot that comes into play when bringing your pet as carry-on luggage. To do this, the trip generally needs to be under six hours to prevent the animal from feeling confined for too long and negatively reacting. Also, the pet will need to remain in the carrier for the duration of the trip.

However, also take into consideration odor and noise disturbances as both of these can get you and your pet kicked off the flight before take-off. Size also comes into play and as an example, American Airlines allows a maximum size for cabin pet carriers to be 19" long, 13" wide, and 9" high.
q:

How do you measure your pet?

a:

The only surefire way to ensure that your animal will have an adequate amount of space inside a carrier is to measure your animal to see if they conform to the dimensions of the carrier. To do so, you need to obtain the length, height, and width of your animal. Unfortunately, unless your pet is properly trained, they may not cooperate the greatest and it could be a struggle to obtain these measurements. No matter how you can get them, get them.

For the length, measure the animal from the tip of their nose to their butt. Depending on the size of your pet, add an appropriate amount of length for the tail (for example two to four inches). Now, it is time to obtain the height and for this simply measure from the top of the head (the tallest spot) to the ground. Finally, for the width, measure the underside of your pet. Now, take all these measurements and compare them to the dimensions of each carrier.
q:

How can you secure a carrier in a vehicle?

a:

Alright, so you may be looking to invest in a pet carrier for simple vehicle transports. Just because you are not flying on a plane does not mean your pet still does not need a carrier. For a several hours' trip, a carrier is the most sufficient means of transporting your pet. But, how do you secure it to prevent them from flying around in the car? One excellent way of doing so is to buckle the carrier in. Whether in the front or back seat, simply wrap the seatbelt through the top handle of the carrier and secure it in place.

Of course, in cases where you have an enormous load and have boxes and packages directly next to the carrier securing it in place, you will not have to worry about this. Either way, this will ensure a safe and secure trip for your beloved animal.
q:

How long should you keep a dog in a crate or carrier?

a:

Dogs are special and as such, you need to know that there is only a limited amount of time that they should be stowed in a crate or carrier. At night time, you do not have to concern yourself with this as their body systems will slow down. However, in the middle of the day the younger the dog the less time they should be stored away in a carrier. No matter the age, though, no dog should be stowed away for longer than four to five hours at a time. If you do not abide by this, your dog may begin to act abnormally and experience behavior problems.

In general, you should keep 8 to 10-week-old dogs in a crate no longer than an hour, 11 to 14- week-old dogs no longer than three hours, 15 to 16 week no longer than four, and everything older no longer than five hours.
q:

Can you simply hold your pet in the airport as opposed to a carrier?

a:

This is actually a question that popped up on Southwest Airlines web page and you, honestly, probably already know the answer to it. Southwest Airlines states that at no time while in the gate area or during boarding, can a pet be outside of its cage. As they are strict about this regulation, failure to adhere to the guidelines could result in you losing the privilege to bring your pet alongside you.

Each airline will have a different set of guidelines, but you should not expect very many to have a rule that states otherwise. An exposed pet onboard can so easily become a nuisance to the surrounding passengers.
q:

Can you place two pets in the same carrier for air travel?

a:

With some of the carriers on this list, they are large enough to adapt to two small animals. This is purely your preference but when you bring them to the airport, you must abide by their stipulations. In fact, the United States Department of Agriculture (USDA) is very strict when it comes to multiple pets being transported in a single carrier. They stipulate that as long as the two animals are the same species, each weigh less than 20 pounds and are under six months of age, they can travel together in the same crate.

However, this does not apply if you are traveling to countries outside of the United States. Even in the case where your pets do not meet the guidelines provides, they will typically be stowed away next to each other in the aircraft. This may prove sufficient anyway as this gives each of your pets an ample amount of breathing room.