Best Pet Carriers
In a Hurry? Editors choice: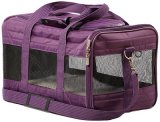 Test Winner: Sherpa Deluxe

The love we have for our
fuzzy
friends is indescribable. The way they cuddle up at our feet, their loyalty, and not to mention, they're just plain adorable. For safety and convenience, everyone should own a pet carrier. Whether it's for those dreaded trips to the vet, a road trip, or for a
flight
, a pet carrier always comes in handy! A pet carrier keeps your animal-safe, comfortable, and at your side. There are so many different shapes and sizes available, it can be difficult to know where to start. We have a variety of pet carriers listed below, and we are confident after you check out this list you will know which pet carrier is best for your pet.
Standout Picks
Criteria Used for Evaluation
Materials
When it comes to pet carriers, there is a lot that goes into the construction. At its core, though, the first aspect you need to determine is whether you want a plastic/steel version or a fabric version. Fabric versions may be a little easier to transport, but plastic/steel versions are generally more durable as you do not have to concern yourself with ripping. Past this, though, the number of entry points is a notable feature to look out for. Depending on your type of pet, it may be easier to simply set them in from the top. Others may be more adept to simply walk in, but having both options available is rather convenient.
Also, take note of the zippers (in specific for fabric carriers) as you may want them to have locks on them. This will prevent your pet from accidentally escaping, which can be detrimental especially on an airplane. For plastic/steel carriers, be sure that the doors have secure latches to prevent the same occurrence. A nice bonus design feature you may see in some fabric carriers is waterproof capabilities. While this is not necessary for it to perform its designed purpose, being waterproof is certainly never a bad thing.
Size
This is arguably the single most important section of this entire guide, as the carrier needs to be large enough to accommodate your pet. If you are planning on hauling around a Chihuahua or a small cat, however, you will probably never need to concern yourself with this. The issue comes into play when you have a larger cat or a relatively large dog and you want them to fit inside the carrier. When talking about dimensions for these objects, they typically measure length by width by height.
Height will not be too much of an issue, as your animal will be sitting for a majority of the time spent inside, but pay specific attention to length and width. Be sure to measure your pet to determine if they will properly fit inside. Obviously, you do not want them to be squished and miserable inside so leave a few extra inches for breathing room. For example, if a carrier is 19" in length and your animal is 18" in length you may want to pass as that leaves your animal with one inch of breathing room.
Comfort
For some pets, it is going to be difficult enough to get them inside the carrier without them having a panic attack. So, when you send them on a ride you might as well send them off in comfort. While it is not guaranteed that this alone will calm them down, as some pets will be petrified even with their favorite treat alongside with them. But, the least you can do is ensure that, if nothing else, they are comfortable.
There are two key areas of comfort with pet carriers and they are proper ventilation and coziness. However, ventilation can be a little tricky. You want your pet to be able to breathe while inside but, for cats specifically, too much exposure can give them anxiety. Plus, in colder conditions, too much ventilation can be a hindrance. Besides this, some sort of removable fleece pad or comfortable liner can provide your pet with a cozy resting place. Of course, you can also modify a carrier that does not have one. Simply purchase a soft fleece pad and place it inside the base of the carrier, ensuring it fits.
Portability
This is truly where fabric pet carriers have an advantage, in the area of portability. First off, you will often see these types implement both an adjustable shoulder strap and padded handle for carrying. Thus, if your hand gets tired you can simply transfer the workload on your shoulder. With a plastic/steel carrier, they typically do not feature an adjustable shoulder strap and you must use the handle the entire time. Also, when traveling on an airplane, some will be designed with the ability to conform to fit underneath the seats. This is ideal for situations where you would like your pet to be alongside you on a long flight.
Of course, they also come in handy when your pet is not inside. When you need to transport it, some fabric versions will be able to fold down into a small package. Then, when you go back to use it, you can simply reverse the process and it is ready to go.
Top 10 Picks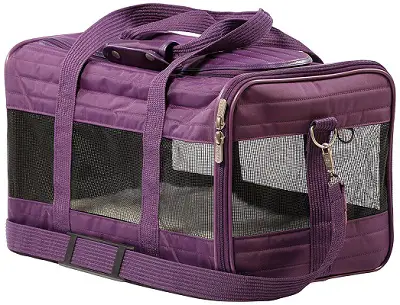 The tough question with the Deluxe Pet Carrier from Sherpa is who will like it more, you or your pet? With spectacular features to adapt to your needs and your pet's needs, this is the total package.
Read more
Materials
For multiple options of loading your pet inside, there are top and side entry options. The spring wire frame allows the south side of the carrier to be pushed down several inches. The carrier itself is made from nylon and features mesh windows and a removable faux lambskin liner. Also, locking zippers will prevent your animal from accidentally escaping.
Size and Dimensions
There are a few sizes you can choose from but the largest measures 19" x 11.75" x 11.5" (L x W x H). When needed to fit under a seat, the wireframe will push down several inches.
Comfort
Your pet is sure to stay comfortable while inside with mesh panels for ventilation and a soft and comfortable lambskin liner. To add a little convenience, there is a rear pocket where you can store all sorts of accessories such as leashes, bags, snacks. If you think your pet might need it, stuff it in the compartment.
Portability
For carrying purposes, there is a non-slip shoulder strap which features padded support and adjustability.
Overall
This is an ideal pet carrier for dogs and cats alike, although another opening on the end would have been a nice addition for dogs. There are even extra coloring options if you want to travel with your pet in style.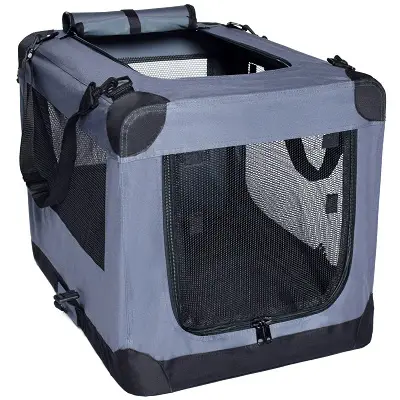 Quite a few of the options on this list are meant for smaller animals, but that is not the case with this pet carrier. Arf Pets provides you with a large and extra-large option, ensuring that your pet will fit securely inside.
Read more
Materials
The entry choice is yours with a top, front and side opening available. As far as the overall construction, this is as good as it gets. Tightly woven materials provide a great amount of durability, strong steel bars easily lock into place, resilient mesh casing will not fray, and the zippers are heavy-duty.
Size and Dimensions
For the extra-large option, the carrier will measure 36" x 27" x 24". If this is too large, there is a smaller option available.
Comfort
This crate is designed with your pet's needs in mind. It is specifically designed to provide an optimal amount of breathability throughout all seasons, in addition to a soft liner.
With as large as this crate is, some storage compartments would have been nice. Although, there probably will be excess room in the carrier.
Portability
When your pet is not inside, this crate easily folds down for convenient storage. While carrying them, though, you can do so with the dual straps.
Overall
For larger pets, or pets who love to have their space, this may be one of the best options available for you. Past the size, it helps that the construction and design are top-notch with only a few flaws present.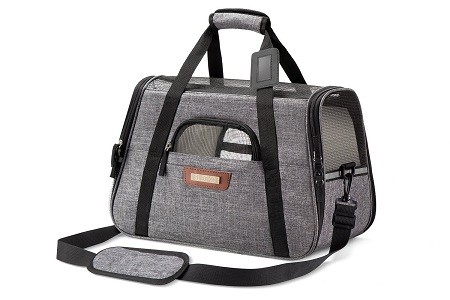 If you have a smaller cat or dog, this may adapt to your needs better. With only one size option available, it may not be for everyone. But, if your pet is small enough then you can enjoy the luxuries of the SLEEKO Premium Pet Carrier.
Read more
Materials
This is built with an extra-tough design featuring tear-resistant mesh and polyester fabric. To prevent the carrier from sagging, there is a sturdy insert inside. All in the meanwhile, it is fitted with two seat belt buckles for the safest trip possible.
Size and Dimensions
The lone size option measures 17.5" x 10" x 11.9" and note that it is a little smaller than our other entries.
Comfort
There is a clear emphasis on comfort with mesh ventilation on the sides as well as two ultra-soft fleece pads. Even though your pet may be freaking out, they will be cozy.
To carry your pet's accessories or any snacks, there are two pockets integrated into the carrier.
Portability
When taking your pet on an airplane, this carrier will easily fit underneath major airlines' seats. In addition, a clip-on shoulder strap and padded hand strap provide you with multiple carrying options.
Overall
A special design flaw to note is that if your pet rolls over to the side of this carrier, it may tip over due to its nature. This may or may not be a concern for you but even if it is, do not let it overshadow the greatness here.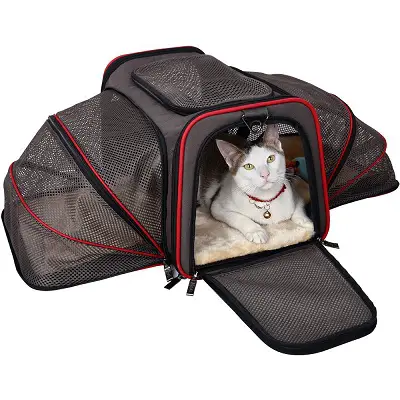 As the name so eloquently points out, the most noteworthy feature of this particular pet carrier is that it is expandable. The sides are constructed with mesh and this allows them to fold over to allow your pet more room than normal.
Read more
Materials
Besides its expandable nature, the wide frame on both sides adds terrific support to the carrier. In addition, both the doors have self-locking zippers for easy and safe access. This carrier features a cloth fabric, polyester lining, and mesh windows and a fleece bed for your animal.
Size and Dimensions
When not expanded, the largest version measures 19" x 12" x 12". However, the width can expand to 33" providing excess room for your pets. Of course, there are also smaller options if you choose.
Comfort
Coming equipped with a soft fleece mat for comfort and a mesh-design for proper ventilation, in addition to the excess room when expanded, your pet will not have an uncomfortable ride.
There are pockets on the side that can store any small goods you have. Also, the excess room can be used to store any toys or items for your pet.
Portability
The nylon woven tape hand and shoulder strap deliver reliable and easy transport.
Overall
Clearly, the expandable nature of this carrier makes it stand out. While it could have been higher, no thanks to a few flaws, beggars cannot be choosers when it comes to consumer products.

5

. Amazon Basics Soft Sided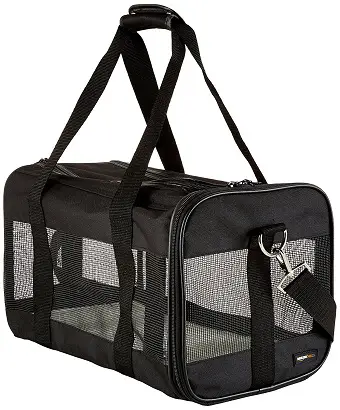 The Soft-Sided Pet Travel Carrier from AmazonBasics provides an excellent amount of ventilation, maybe too much. For cats, it may spook them seeing everything move around them. But, they will never get hot!
Read more
Materials
Dual-entry points, at both the front and the top, allow for easy access and stress-free loading. In addition, the zippers on both the front and the top keep the entries secure.
Size and Dimensions
There are three different size options for you to select from including small, medium and large. For the large, it measures 19.7" x 10.2" x 11.2".
Comfort
Both a fleece pet bed and base insert are included and both can be removed for cleaning. All four sides feature mesh ventilation to prevent overheating. Although, for cats, this can actually be a hindrance as they may get spooked with the lack of closure.
Just a standard pet carrier and no additional compartments are integrated for storage purposes.
Portability
If you plan on taking your pet with you to the airport, this is a great choice as the spring wire frame can be conformed to meet under-seat dimensions on most airlines. Plus, you can carry it with an adjustable shoulder strap for hands-free carrying.
Overall
Truthfully, there is not too much to gripe about here. However, looking at it with a different eye, nothing particularly stands out either. Due to the mass amount of exposure, though, this may be best suited for small dogs.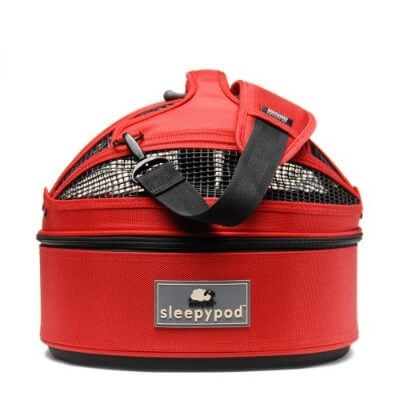 If you are looking for a product that can be used every single day, and even take the place of your animal's current bed, this is it. This carrier, bed, car seat trio is a deluxe product that provides comfort and ventilation to your animal.
Read more
Materials
You can think of this pet carrier as another great piece of luggage in your collection. In fact, it's actually made from luggage-grade nylon! Its durable design allows it to be used as a pet bed, a carrier, and a car seat, all at the same time.
The round zipper goes all the way around and the top of the Sleepypod dome can actually be taken off, making this a great animal bed for travel. There is also a vertical zipper on the dome, allowing you to easily access your pet.
Size and Dimensions
The Sleepypod is available in two different sizes. The mini is suitable for animals up to 7-pounds. The dimensions of the mini are 13" in diameter and 5" tall. The medium is suitable for animals up to 15-pounds. The dimensions are 17" in diameter and 6.5" tall.
Comfort
The inside of this carrier is quite luxurious for an animal. Seeing as how it doubles as a bed, it is understandable! The bed inside is made from plush polyester and can be removed and put in the washing machine. The mesh dome top allows your animal to receive great airflow and gives them a full view of the outside world.
Portability
The mini-version of this carrier fits under the seat of most airlines. The medium, however, is too big. When walking about with the carrier, there is a padded shoulder strap that can be attached to the dome for easy transport. There is also a top carrying handle if you prefer to carry the bed in your hands.
Overall
If you're looking for a versatile piece that can be used every day, this is it. This carrier is available in ten different colors and has a unique style. It does come with a higher price, but for the three different products you receive in one, and the quality, we think it's a great investment.

7

. Petmate Top Load Kennel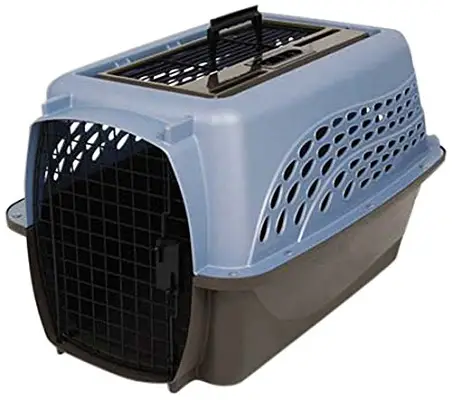 As opposed to fabric construction, the Petmate Top Load Kennel succeeds with a classic plastic and steel makeup. For those that prefer this type of design, this is the best one of its kind.
Read more
Materials
Petmate utilizes a plastic and steel construction for enhanced strength, safety, and visibility. With a two-door integration, it is also easy to get your pet in and out. The opening of the steel front door also has a secure latch to prevent escapes.
Size and Dimensions
The largest option measures 24.05" x 16.75" x 14.5"; although, there is a smaller option available if you do not need this much excess space.
Comfort
Rest assured, there are enough ventilation and visibility for your pet to be able to breathe and not feel claustrophobic. But, it accomplishes this in a way where your pet is not fearful of seeing too much. This carrier doesn't feature a cushioned bottom, but there is room to add a towel or favorite blanket.
This carrier is designed in a way that there are no storage compartments. If you wanted to, you could simply store the pet's accessories inside the kennel.
Portability
While there may not be a shoulder strap, there is a durable carry handle located on top of the kennel. It is padded enough to not provide discomfort.
Overall
What is excellent about the design is the steel and plastic are as durable as it gets, but the amount of ventilation allows your pet to stay comfortable. The front door could have been a little easier to open and close, but it is not too big of a deal.

8

. Pet Magasin Hard Cover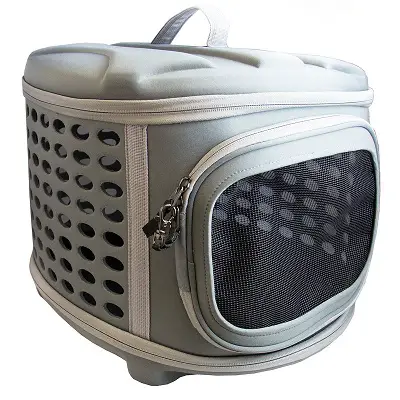 This is another special and unique pet carrier, but this is a different design, thanks to its hard-top cover and bottom. Providing a great sense of protection and a firm plateau to stand on, your pet should adapt very well.
Read more
Materials
Not only are the top and the base firm for protection but they are also waterproof, as well. To prevent the cleverest of felines and canines from escaping, there is a security lock on the door zipper.
Size and Dimensions
This is suitable for small dogs and cats, but nothing overly-large. The dimensions read 17" x 13" x 14".
Comfort
The two key features for your pet, breathability, and comfortability are present here with a padded mat on the floor and a see-through mesh door.
Unfortunately, nothing of note to speak of hearing. Honestly, it is probably not big enough to store anything inside with your pet.
Portability
While it is not in use, the soft sides can be folded down in a neat little package. When you need to carry your pet from one place to another, you can use the firm handle located on the top cover.
Overall
A clever design makes this pet carrier worth it alone, but the small flaws bring down the overall quality. Still, this is a great addition for anyone's next trip with their beloved animal.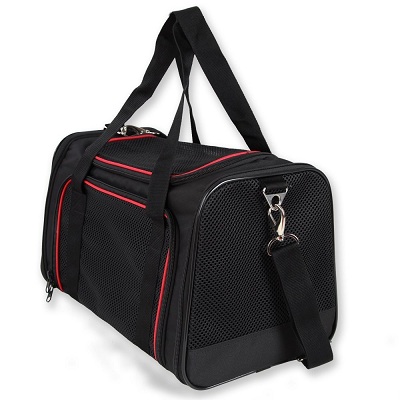 At first glance, you probably would mistake this pet carrier for a luggage bag. However, it is indeed a carrier and while it is not the best in the world it has enough quality and brilliance to warrant a look.
Read more
Materials
It is easy to get your pet inside with a top loading and side opening design. The carrier itself is made from Oxford fabric and mesh. A rigid panel is included to prevent an accidental collapse and auto-lock zipper sliders for security.
Size and Dimensions
With a medium size, this measures out 17" x 11" x 11". Thus, making it ideal for puppies and medium-sized cats.
Comfort
To create a firm and sturdy bottom for your pet, a rigid cushion has been integrated. There is an insulated EPE insert that will provide your pet with extra-warmth in colder conditions. However, the designers kept it fairly simple in terms of extra storage, there is nothing of note to speak of.
Portability
The carrier can be firmly attached to your luggage and the strap makes it easy to carry. Plus, it can be secured in your car seat on long car rides. Other than that, it can be carried by its handles or shoulder strap.
Overall
This may not be everyone's first choice as the lack of visibility could be a concern for both the animal and yourself. If you do not foresee any issues with this, then you should be all clear.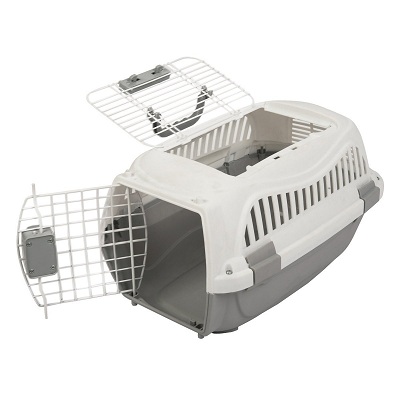 Fabric pet carriers have been common on this list, but we end with a more traditional pet carrier. The overall design of the Favorite Pet Carrier is not perfect, but it still manages to be efficient and provide owners with a sense of relief knowing their pet is safe and secure.
Read more
Materials
It is constructed from durable plastic that offers strength and security. The front door has a steel-wire and there is an additional opening at the top for double the entry options.
Also, the spring-loaded latch allows for smooth opening. But, the door mesh is a little flimsy and it may be beneficial to wire it to the poles.
Size and Dimensions
The larger size measures 22" x 14" x 13", but there is an additional option for a slightly smaller variation.
Comfort
Sure, there are more comfortable bases out there but pet owners will take comfort in the amount of ventilation and visibility present for their animal. On the sides, top, and back of the crate, there are openings for air.
With this type of construction choice, do not expect too many options for storing pet accessories or snacks.
Portability
Being made from plastic and not fabric, it can't fold up but the carry handle on the top does allow for easy transport.
Overall
It is not perfect, but it is hard to complain about the results. When you need to take your pet with you on a trip, this will make a great accomplice.

Subscribe to our Newsletter