Best Hedge Trimmers
In a Hurry? Editors choice: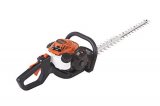 Test Winner: Tanaka TCH22ECP2

If you have ever owned or used a
chainsaw
, then you should be very familiar with the concept of a hedge trimmer. While this is used primarily to cut back
bushes
, hedges, and shrubs, they do resemble a chainsaw in a lot of ways. Yet, even if you have never physically used a chainsaw and have no idea to relate to this, do not worry as there is hope for you yet. Hedge trimmers are not convoluted and complex
machines
and you can easily learn the basics. But, our goal is not to teach you how to become skilled in using one but to ensure you know how to purchase one. That can be accomplished by simply reading on.
Standout Picks
Criteria Used for Evaluation
Top 10 Picks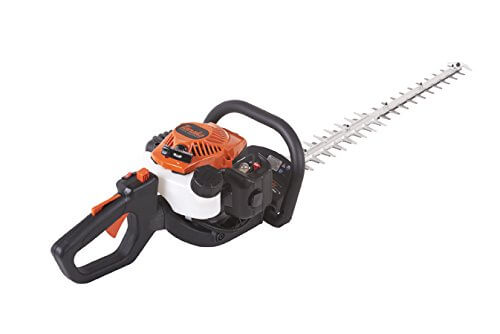 When the first power tool was ever conceived, the idea must have been to make life easier with more power. Well, if that is what you are looking for then by golly that is what you are going to get with our first pick.
Read more
Effectiveness
With its 21cc two-cycle engine, this is easily one of the most powerful motors that have ever been implemented into this type of a landscaping tool. On top of this, the blade is extra-long at 30 inches and can tackle thick branches with virtual ease.
Power Source
Unfortunately, for some, this is powered by gasoline and as such, you will have to deal with the fumes that are created by the fuel consumption.
Ease of Use
While this is a bit on the heavy side, which is not exactly uncommon for gas-operated models, it is built with a five-position rear handle. This helps to enhance the versatility and ergonomics of the handle. Also, this is designed with a vibration dampening system.
Features
Even though the fumes are inevitable for a gas-powered model, the forward facing exhaust system does help matters. Because of this integration, the fumes will be directed away from you.
One of the simplest, yet beloved features of this trimmer is that it operates at a low decibel level. Most versions of its kind can be unbearably annoying but that is not the case here.
Overall
If you are a professional landscaper or simply need to trim heavy bushes and shrubs, this could be the answer to the problems you have been enduring. Then again, environmentalists may shy away due to the gas operation.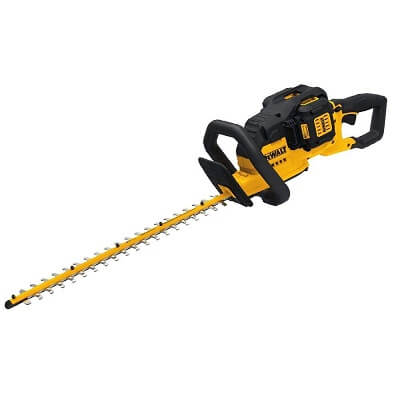 Dewalt is one of those manufacturers that consistently produce top-of-the-line power equipment and their 40-volt trimmer is certainly no exception. Instead of being powered by gas, this unit is run by Dewalt's 40-volt battery pack eliminating the need for it.
Read more
Effectiveness
The notion that electric trimmers can't perform is ludicrous and Dewalt shows you why. Their model sports a 22-inch blade that can handle branches up to ¾-inch thick.
Power Source
A four amp hour, 40-volt battery pack powers this machine and because of this, you never need to worry about buying gasoline. Just ensure the battery is charged and ready to go.
Ease of Use
There is both good and bad here. To start on a positive note, foam padding on the front grip has been ditched and this makes trimming at any angle easier. However, this is quite a heavy machine and could use more rubberized over-molding for enhanced comfort.
Features
Despite the rather short blade at 22 inches, this will actually aid in flexibility and so will the less intrusive blade guard.
Overall, the battery life for this is quite impressive. As one tester noted, they were able to utilize the battery for two hours shredding both large and small areas and still had plenty of juice leftover.
Overall
If you are in the market for an electric hedge trimmer that is not hampered with an awkward cord hook-up, you need to look further into this machine. Heck, even the power generated is up-to-par with what most of you will desire.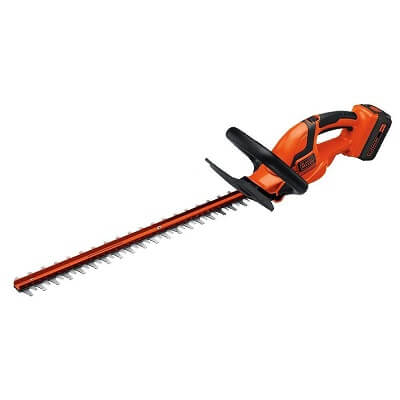 Speaking of manufacturers who develop fantastic pieces of equipment, how about BLACK+DECKER? While electric trimmers typically are not as powerful as gas-operated models, this can still cut through branches up to ¾-inch thick.
Read more
Effectiveness
The combination of the 40-volt battery and the steel blades that are both pre-hardened and rust-resistant, ensure that this bad boy can handle branches up to ¾-inch thick and trim up to 6000 square feet per each charge.
Power Source
As compared to normal NiCd batteries, the lithium-ion batteries that are integrated into this machine will hold a charge up to five times as long. Plus, the charger is also energy star qualified.
Ease of Use
First off, both the lightweight design and the compact design of this unit make it easier to operate. Secondly, it is designed with a full wrap-around front handle for enhanced grip and comfort.
Features
Due to the implementation of the dual-action blade, the vibration percentage is lowered by approximately 40 percent compared to single action blades. Plus, there is an indicator panel that displays how much battery life you that will illuminate with the push of a button.
As this is a cordless system, you never have to worry about accidental unplugging and the overall nuisance of using a power cord. In addition, once it is charged once, the battery should only take around an hour to reach full capacity.
Overall
One of the few omissions that would have made this even better is a handle that could rotate. While the rotation can then be a struggle, the sheer convenience of a powerful, electric motor and the dual-action blade make up for it.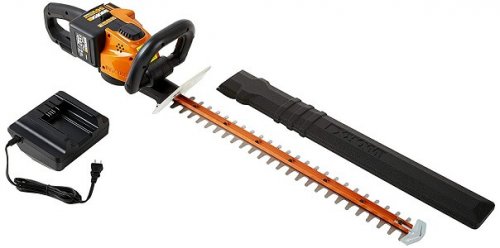 What is impressive about this next model is it sports even more straight-up power than the previous two electric models with its 56-volt battery. Yet, this does come at the expense of the weight and thus, some buyers will find this too hard to handle for longer timeframes.
Read more
Effectiveness
Due to the 56-volt battery that powers this beast, it can deliver power only seen from a gas-operated model. In addition to this, the cutting diameter of the dual-action blades is ¾-inch. Oh yeah, and the blades are fully hardened and factory-sharpened.
Power Source
The lithium-ion battery that is needed to power this machine is included with your investment. Furthermore, the charger to recharge the battery is also included.
Ease of Use
On the plus side, the dual-action blades do minimize vibration and the large full wrap front handle makes side cutting much easier. Yet, at just over 10 pounds, this is a bit heavier than other electric models.
Features
To prevent accidental cutting, Worx included a blade tip protector. Also, the transparent hand guard manages to increase your visibility when cutting and there is also a battery power indicator.
This is another electric model that does not need a physical connection to operate. With the power of the integrated battery, you never have to worry about extension cords being tangled.
Overall
There seems to be a convenient feature at every turn with this model and that alone makes it one of the most compelling hedge trimmers on this entire list. While the weight holds it back a bit, this is still a masterful piece of equipment.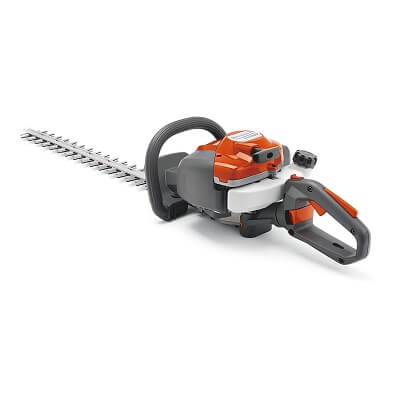 Despite the impressive specifications and performance benefits of this next tool, it is worth noting that more than a few buyers claimed they had to tweak it right out of the box. If you can live with this possibility, you can get a beast of a machine.
Read more
Effectiveness
At its core, this is special because of its 21.7cc, two-cycle engine that powers it. Of course, the 23.7-inch stainless steel dual-action blade also helps as it will cut through limbs that are ¾ inches thick.
Power Source
This is the second gas-operated model on this list and this has the same issues as the other (and all). Yet, what is nice is when the machine is off, the stop switch will automatically return to the start position and this makes starting it up easier.
Ease of Use
For a gas-operated trimmer, this is actually lightweight. Yet, at 10.8 pounds it is still not exactly light. Although, the vibration of it is significantly reduced thanks to the dampeners.
Features
As the rear handle was designed to be adjustable, cutting the sides and top of hedges has been made superiorly easier.
Despite the fact that everything has been done to make starting this a breeze, such as a smartly designed engine and starter along with a carburetor air purge system, it is somewhat inexcusable that tweaks to the carburetor may need to be made before you can use this.
Overall
From top to bottom, this is one of the best landscaping tools you will ever find. It is a bit deflating that adjustments may be necessary straight out of the box, though.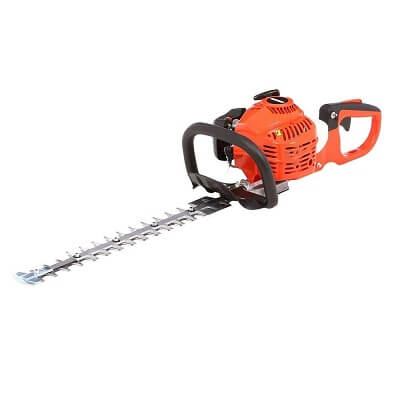 A few omissions, such as technology to dampen the vibration, keep the HC-152 from ascending any higher on this list. However, it goes without saying that its powerful and quiet engine and shorter blades that increase precision are quite compelling.
Read more
Effectiveness
Do not get it twisted, the 21.2cc engine of this trimmer makes it suitable for larger areas. However, the 20-inch reciprocating blades do make it a bit more time-consuming than it would be with longer blades.
Power Source
What is nice about this design is it sports a clear fuel tank. Due to this, you can easily and conveniently see how much gas you have left inside.
Ease of Use
This is probably the biggest issue, or issues, that are present here. First off, it weighs 11.7 pounds without including the gasoline. On top of this, there is no vibration reduction present. Of course, the ergonomic rear handle and extra-large front handle are very nice.
Features
For added safety, which is never a bad thing, there is a hand guard and a debris shield at the base of the blade. Additionally, a muffler has been integrated and this will direct gas emissions away from you and reduce the noise.
When the bulb on the top of the engine is activated, it will draw fresh fuel into the engine and force air out of the carburetor. The result is an engine that is easier to start.
Overall
Some gas-operated power equipment is just too obnoxiously loud to be considered usable. Thankfully, this is not one of those tools and instead is a quiet machine that can still dish out power.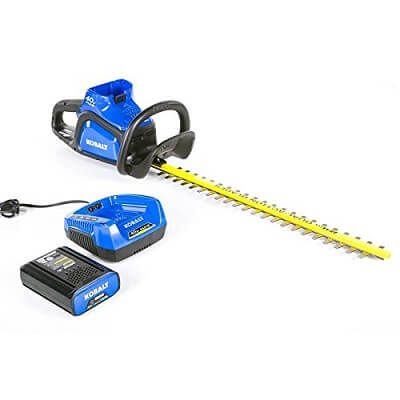 Sometimes, you do not need the most powerful or the most advanced machine to get the job done. Sometimes, you simply need a tool that is going to perform without wearing you out in mere minutes. That is exactly what you are getting from Kobalt.
Read more
Effectiveness
Even though this is best suited for small to mid-size areas, the 24-inch steel dual-action blade can still cut at 2800 strokes per one minute and handle cutting diameters of up to ¾ inches thick.
Power Source
What is nice is that you do not need to worry about gasoline or power cords with this model. Instead, simply charge up the battery and rinse and repeat as needed.
Ease of Use
With a wide loop-style auxiliary handle and a reasonable weight of 6.3 pounds, this is one of the easiest trimmers to maneuver and handle.
Features
Not only can you freely cut over your head and either horizontally or vertically, but there is also a hand shield in front of the handle that protects you from the blade and flying debris.
One nice feature of this model is the battery packs are interchangeable with all the tools in Kobalt's 40-volt line. In addition, it will stay at max capacity until it dies.
Overall
If you already own a Kobalt power tool that is a part of their 40-volt line, this is perfect for you as you do not even need to spend extra money on the battery. Of course, be wary that this specific model is basic in nature.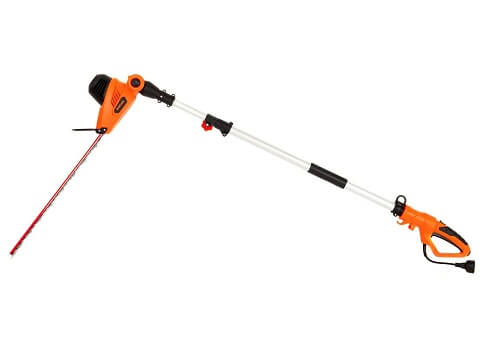 Probably the best aspect of this next entry is the versatility it provides. Even though it is a bit heavier than other electric models, it sports a six-position pivoting head that allows you to trim bushes at any and all angles imaginable.
Read more
Effectiveness
This is powered by a 4.8-amp motor and sports a cutting capacity of 3/4-inch. In conjunction with the 20-inch laser cut blade, all this adds up to a machine that is ideal for tall hedges and shrubs.
Power Source
Although this is an electric hedge trimmer, it is corded. As such, you will probably need to utilize this with an extension cord to tackle some areas.
Ease of Use
While this can be tiring to use over time, with a weight of nearly 11 pounds, the main handle does sport a soft rubber grip and the aforementioned six-position head does make cutting easier.
Features
The main extra feature of this power tool is that it can be extended from 7.1 feet to 9.2 feet with its aluminum telescopic tube. This will come in handy when you need to reach higher areas.
To ensure that the power cord does not constantly become unplugged, this has been designed with a shoulder belt and cord lock system.
Overall
If you need to reach taller areas with more precision, this may be the tool for you. Now, it can be a bit awkward to use because of its weight and length. Yet, it's pivoting head sure makes life easier.



Is it a fair assumption to believe that not everyone can afford a top-end hedge trimmer? Certain manufacturers have solved that issue and as long as you can live with a model that can't handle professional and extensive trimming, you can still be satisfied.
Read more
Effectiveness
With a 2.7-amp engine, 18-inch steel blades, and a maximum cutting capacity of 3/8 inches, this is ideal for light trimming duties and small tasks.
Power Source
Due to the fact that this is powered by electricity, it has no emissions and is rather quiet in operation.
Ease of Use
At just 5.1 pounds, this is one of the lightest models on this list. Also, the dual-action blades reduce vibration. But, a front auxiliary handle could have been improved as it is just a small bare bar.
Features
This is all about safety and that is evident with the extra layer between you and the electrical system and the fact that the internal electrical components are isolated from any exposed metal.
Thanks to the cord retention hook, the power cord will not come undone as often. But, you will most likely need an extension cord with this.
Overall
Those of you who are seeking a simple model that will not tire you out and can get your small hedges trimmed up to look improved, you will be digging this trimmer.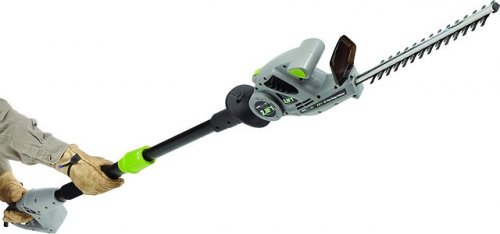 Much of what was just documented for the Greenworks model could be copy and pasted here. Yet, one obvious distinction is this model is a 2-in-1 doohickey. With a push of a button, it can be transformed from a pole trimmer to a handheld 18-inch blade.
Read more
Effectiveness
While not even close to the power of a high-end gas trimmer, this model can still cut through small branches and bushes with ease.
Power Source
Once again, this is an electric trimmer that will require a power cord. In addition, an extension cord will practically be mandatory.
Ease of Use
First off, the 150-degree rotating head that sports six different positions is fantastic. Yet, for such a basic model and power supply, it is shocking that it weighs as much as it does.
Features
This is actually a 2-in-1 model and can be used as either a handheld trimmer with an 18-inch blade or as a pole trimmer to reach tougher areas.
Essentially, what this model does is eliminate the need for ladders which can be unsafe to use with a powerful tool that can cut through human flesh.
Overall
Truth be told, this should not be seen as a replacement for a gas powered hedge trimmer. Instead, it is a unique tool that can be used in several different ways.

Subscribe to our Newsletter