Best Camping Tools
In a
Hurry? Editors choice: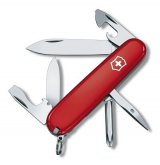 Test Winner: Victorinox Swiss Army Knife

Despite the enjoyment and fulfillment that comes from camping, there is a lot of prepping work that goes into it. As a camper, you need to make a mental checklist (or physical) to ensure you have packed all the essentials you need. Depending on your length of stay, this list can be immensely long. Of course, essentials such as clothes, personal hygiene, kitchen equipment, sleeping gear, and personal devices will need to be accounted for. Yet, you can't overlook the types of
tools that you may need
. A tool is defined as a device that is used to carry out a particular function (primarily in one's hand). As such, you will not see any tents, sleeping bags, or air mattresses on this list.
Standout Picks
Criteria Used for Evaluation
Use
When you construct any sort of list that is pertaining to a vague category, personal preference is always going to come into play. This could not be truer in regards to camping tools as from one person to the next, the desired tools may be drastically different. Of course, there are always certain tools that everyone can get use out of no matter what their preferences are. A few good examples of such would be a Swiss army knife and a flashlight. Given the functionality and convenience of a Swiss army knife, everyone will be able to find a use for it. The same goes for a flashlight but instead of featuring a plethora of functions, they are ideal for everyone for nighttime use and emergency situations.
Yet, other products such as a carabiner or a GPS unit may not be that important to you. Perhaps you own a compass and do not feel you need the advanced technology of a touchscreen GPS device. Or, maybe you see no use out of a carabiner. Both these are fair points and again, it all comes down to your preferences.
Weather Resistance
The modern world is predicated on that good old green stuff. Even though some people can go to the extreme when it comes to money, no one enjoys spending their money on a product that is not worthwhile. One of the best ways to ensure you get your money's worth is to assess the overall construction of the tool that you are looking into. Because of the nature of camping tools, though, the durability and weather-resistance are critical as you will be utilizing most of them outdoors.
You simply can't predict what Mother Nature is going to throw at you so it is ideal if your tool can withstand some moderate abuse and rainfall. For example, with an axe, stake hammer, shovel, or another tool, it should be durable enough to handle what it is set out to do. As simple as it sounds, if an axe begins to chip within a few uses it becomes a devalued tool. Of course, during rainfall, when you need to, it is nice when you can still utilize your devices such as a flashlight and GPS unit. Assessing their water-resistance and waterproofness levels per IP standards will inform you of how much water it can handle.
Portability
When it comes to camping, the bigger and more powerful the tool does not pay the dividends that it would normally. It goes without saying that a more powerful tool will outperform a less powerful tool but there is a reason that this does not come into play when camping. Because you physically need to transport everything you need (unless you buy something while camping) from your home to your camping destination, it is more viable to keep them as portable as possible. Yes, they still need to perform admirably but do not believe that just because something is portable, it is not functional.
Besides assessing the overall weight and bulkiness of a camping tool, you should also look into how you are going to transport it. Sometimes, a carrying case or a sheath (for knives, axes, and other such tools) will come included with your purchase. This is a welcome sight as you do not need to worry about how you are going to safely transport it. Of course, some tools may also be small enough to carry around in your pocket (such as a GPS, Swiss army knife or flashlight).
Effectiveness
To be honest, Whoever coined the phrase "variety is the spice of life" could not have hit the nail on the head any better. It is only natural for people to prefer a little more variety when they are investing in a product. While it can become overwhelming for some people if there are loads of options, having three or four is ideal. Most of the time, the actual appeal of a tool is not going to matter (as long as it gets the job done) but some people may feel differently. But, different sizing options or having optional design features to add on are both a nice touch. e entire point you construct a camping checklist is to ensure your experience is more convenient.
Because of this, all the tools you need for camping are convenient in one way or another. But, because portability is so important (which will be addressed later) one of the main features you will see in some camping tools is their multi-functionality and extra design features. The fewer items you need to pack, the better. Instead of individually packing common tools such as blades, screwdrivers, and pliers, why not get the total package with a Swiss army knife or multi-tool?
Subscribe to our Newsletter