Best Lawnmowers
In a Hurry? Editors choice: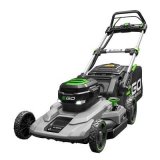 Test Winner: EGO Power+

Summertime
hits and all of your neighbors' lawns are green and cut perfectly. Would it not be terrific if your lawn magically mowed itself? Of course, the next best thing for you would be to hire a landscaping service to do it. Then again, that requires an absurd amount of money that most of us are not willing to pay. So, you are left with the reality that you need to invest in a lawnmower. There are many different features in each mower to look out for as well as the
battery
life expectancy and even overall power.
This is an important investment to make as a high-quality model can not only improve the appeal of your
yard
but it can perform quickly and efficiently. Because of this, it is important to set apart some time to really focus on the key details that make lawnmowers non-expendable machines.
Standout Picks
Criteria Used for Evaluation
Top 10 Picks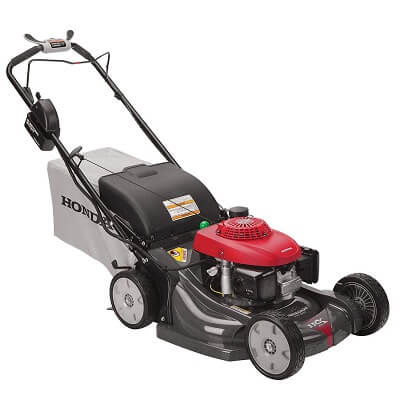 There is a reason why nearly every major review publication will have this model on the top of their lists. It is universally recognized as one of the greatest mowers in the world because of its power, handling, and straight-up performance.
Read more
Effectiveness
With a 190cc engine that powers it, the HRX is one of the most powerful machines of its kind. In addition to this, it is designed with a special MicroCut blade that has four cutting surfaces instead of just two.
Versatility
While this does not have a side discharge option, it is one of the best mulchers in the world. Plus, you can actually control the amount of grass that goes through the rear discharge. Oh yeah, and the bagger is generously sized.
Ease of Use
Everything, including the angled handle with thin foam to reduce vibration and fatigue and the rear-wheel self-propulsion system, works together to ensure that this mower is incredibly easy to operate and control.
Features
Thanks to the automatic choke system, you never need to worry about choking this engine to start it. In addition, the quick-release connection at the base of the handle allows the handle to fold down easily.
Despite the fact that you must adjust each wheel independently, there are an impressive seven cutting heights for this deck. The lowest being ¾-inch and the highest being four inches.
Overall
Few lawn mowers can stand up to the specifications and performance of the Honda HRX. But, even the best machines out there do have some slight flaws so be wary of them.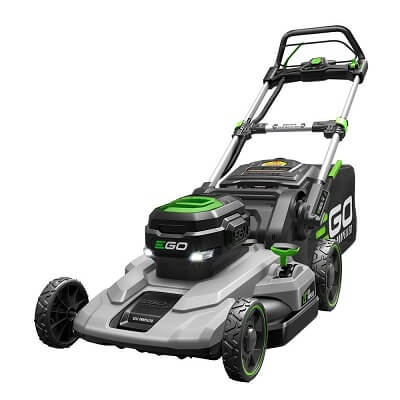 While Honda has the best gas-operated model on this list, the award-winner for the best battery-operated model has to go to Ego. Their model is expertly designed in nearly every way and manages to outperform several gas-operated models.
Read more
Effectiveness
While the 56-volt lithium battery that powers this is impressive enough, what is even more impressive is the charging time of the battery. At a lighting fast 40 minutes, the battery will be fully recharged and ready to go.
Versatility
If you desire a mulching function, this mower can satisfy you as it does so with ease. However, you can also bag your grass clippings if you so choose or simply use the side discharge chute for mowing.
Ease of Use
The combination of the large, nine-inch wheels on the base and the self-propelled nature of this model make it very easy to maneuver around tight corners and over higher lengths of grass.
Features
To ensure you know exactly when the battery is going to run out of juice, there is an integrated battery indicator. Furthermore, this machine can be started with the simple push of a button.
Due to the implementation of the single lever design, you can adjust the height of the deck from 1.5 inches to four inches (with the ability to choose five different heights) with only one hand.
Overall
Probably the only reason someone would avoid this is if they refuse to operate a lawn mower that is not run using gasoline. Yet, the convenience of a battery can't be denied and this model can still perform with the best of them.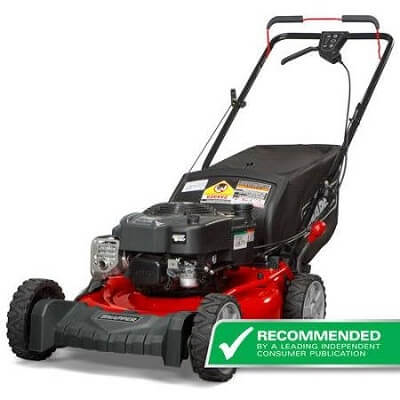 Did you ever think a piece of lawn equipment could offer so much convenient features? Well, if you did not, you need to re-assess your position by checking out this next model.
Read more
Effectiveness
Powering this machine is a Briggs and Stratton four-stroke, OHV engine with a displacement of 163cc. Plus, in conjunction with the 21-inch deck and dual-blades, it ensures a clean cut.
Versatility
Even though this can be used as a bagger, mulcher, or with the side discharge, it struggles a bit with bagging. However, what is really noteworthy is the flexible handle that can be adjusted to account for different user heights.
Ease of Use
The fact that this mower is both self-propelled and light in weight makes it easy to maneuver, to begin with. But, when you add the front wheel drive and 11-inch rear wheels, the maneuverability is enhanced especially over uneven terrains.
Features
First off, this is equipped with a deck washout port to aid in the cleaning process. Secondly, with just a few gentle pulls, this engine will start rolling. No need to worry about struggling with this process, as starting is not an issue here.
Although the dual-lever design complicates the operation of adjusting the deck, it can be adjusted to six different positions ranging from 1.25 inches to 3.75 inches.
Overall
Fans of bagging while they mow may be a bit disappointed with the results here but as for everyone else, this model delivers the goods when it comes to power and convenience.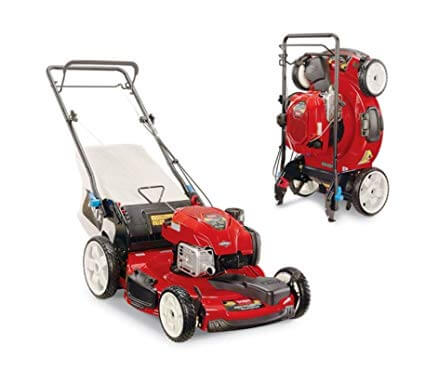 From top to bottom, you would be hard-pressed to find another lawn mower that will open as many eyes as this. While looks can be a bit deceiving, as you will see, this is easily one of the best models in the world.
Read more
Effectiveness
This has been designed with a Briggs and Stratton 7.25-pound gross torque 163cc engine. As one user did note, though, it may not prevent the 22-inch deck from bogging down a bit in thicker grass.
Versatility
All that you could ever want in a mowing system can be achieved here. That is, this can handle bagging, side discharge, and mulching for any lawn you desire.
Ease of Use
Outside of the 11-inch rear wheels, the biggest selling point (in terms of the overall handling) would have to be the variable speed front wheel self-propelled drive system.
Features
Some lawn mowers will not offer half the convenient features offered by this model. This includes a deck washout port for cleaning, an auto choke engine and the ability to be stored vertically.
From one-inch to four inches in height, there are a whopping nine different heights to which you can adjust this deck.
Overall
While there have been a few complaints from various users, this design is still mightily impressive nonetheless. To be honest, the fact that it can be stored vertically when you are finished is the icing on the cake.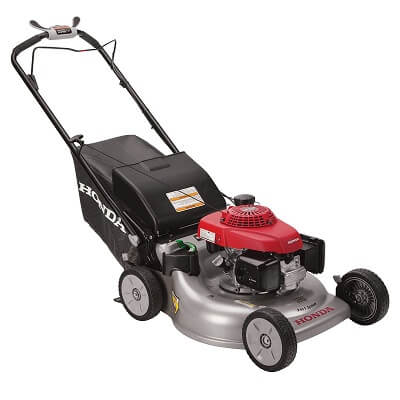 This is another Honda model on this list and this time, the HRR is going to enter the spotlight. Even though it is a discreet feature to some people, one of the features that stands out is the immense bag capacity.
Read more
Effectiveness
There is no doubt about it, this bad boy can perform and do so well. Yet, the 160cc engine is a bit smaller than other models on this list and may not be quite as powerful.
Versatility
Even though this can act as a bagger, mulcher, or side-discharge, it truly shines as a bagger. Again, this is because of its impressive bag size that is one the largest you will ever find.
Ease of Use
Two of the best features of this model are the handle cushioning and variable rear wheels. When combined, they create a mower that is both comfortable and incredibly mobile.
Features
Unfortunately, this mower will have to be tipped upside down to clean it as there is no quick-wash port. On the plus side, the zone start safety system will kill the engine as soon as you let go of the flywheel lever for added safety.
Given the fact that there are six different deck heights achievable, you should have no problems cutting your grass to the desired length.
Overall
The inclusion of a quick-wash port would have been ideal but that can be forgiven. Overall, probably the best aspect of this model is its maneuverability and it should thrill most buyers.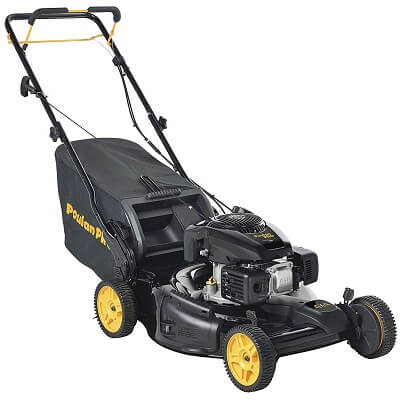 Not all of you will need a mower that can mow New York City. No, sometimes all that is necessary to get the job done is a model that can handle small to mid-size areas with ease. Well, let's take a look at that model, shall we?
Read more
Effectiveness
Even though the deck on this machine is 22 inches in width, it sports a 149cc engine which is rather small. Because of this, it is indeed ideal for small to mid-sized lawns.
Versatility
As this is a 3-in-1 model that can act as a bagger, side-discharger, and mulcher, you can use it however you wish. Of course, be aware that the bagger is quite small as compared to other models.
Ease of Use
Emphasis was placed on comfort and ease of use that much is certain. After all, how else do you explain the four-wheel-drive variable speed system and rubber handle grip?
Features
Despite the lack of a push starter, no flooding or priming is necessary for pull starting. In addition, there is an integrated water hose connector that can attach to your garden hose for cleaning.
If you can't find a height that meets your desires, the onus is on you. This is simply because there are nine different cutting heights that this deck can be adjusted to.
Overall
Granted you do not have an abundance of grass to cut, this lawn mower will be a fantastic addition to your garage. The sheer convenience and ease of use is proof enough for that.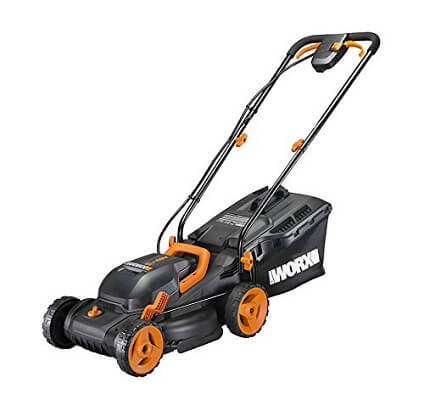 Worx brings along another electric mower to this list and while this is not as impressive as the previous model that made an appearance, it is cordless and offers several reasons to get excited.
Read more
Effectiveness
Being equipped with a 34-centimeter metal blade, which does offer performance benefits, this is another entry that will struggle with larger lawns. At its core, though, it is powered by two 20-volt batteries that will recharge in around two hours.
Versatility
Even though this can function as a mulcher, the most notable aspect of it is arguably its ability to cut close to fences and walls. While it may not eliminate the need for some edging, this machine can get darn close to edges.
Ease of Use
Overall, the freedom of its cordless nature and its overall weight make this model one of the easiest and simplest to maneuver around with on your lawn.
Features
Both batteries can be charged at the same time to save you an extensive amount of time. Also, there is an eco-mode that allows you to conserve battery power by reducing the power output.
You are provided with the ability to alter the deck's height from 20 millimeters to 70 millimeters. While you can't choose each amount, there are six heights in total.
Overall
Once again, this is an ideal model for those of you who own property without an asinine amount of square footage to mow. Plus, it is powered by its dual batteries so that is always a bonus.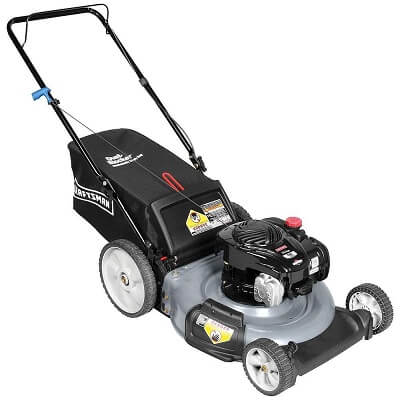 Admittedly, there are some design flaws that are present with Craftsman's push mower. Yet, what is rather surprising is that for such a small engine, the torque provided is quite remarkable.
Read more
Effectiveness
Yes, the engine of this particular model is only 140cc which is rather small. However, the five-pounds-feet torque that is generated is pretty impressive and still delivers sufficient power.
Versatility
This bad boy can operate as a mulcher, side-discharge, and a bagger. What is even better about the latter, though, is the 1.9-bushel optional dust filter helps people who suffer from allergies.
Ease of Use
While the seven-inch front wheels deliver the nimbleness needing to cut narrow spaces, the rear 11-inch wheels perform the brunt of the load and make maneuvering on uneven terrain that much easier.
Features
According to one reviewer who performed a full evaluation of this product, it can be a nuisance to start at times. They even went as far as to say the cord needs to be pulled at a specific angle to start the engine.
The good news is that there are six different height adjustments to tamper around with. Yet, the bad news is a single lever to raise and lower the wheels would have made life a little easier and that is not integrated.
Overall
Is this a perfect lawnmower that is flawless? No, it is not, unfortunately. There are some serious caveats that may prevent you from buying this model but just know that the positives do outweigh the negatives.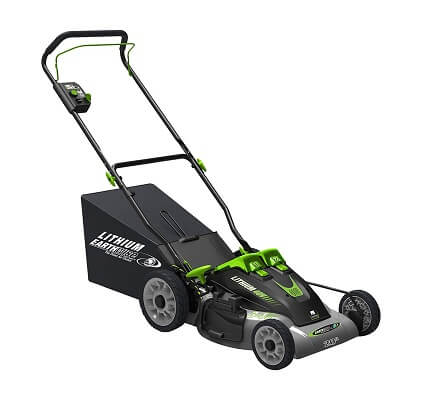 Undoubtedly, this 40-volt machine is one of the best of its kind. That said it would be remiss to not mention that this is not a self-propelled mower. Fairly enough, this could be a deal breaker for some of you.
Read more
Effectiveness
Two lithium-ion batteries deliver the power for this engine to run and it will do so for 55 minutes before it needs to be recharged again. Yeah, this is better suited for smaller lawns.
Versatility
As with most of the other entries on this list, Earthwise designed this to work as a 3-in-1 system. But, as this is not self-propelled, using the bagger can add a ton of unnecessary weight.
Ease of Use
This is where this mower falls short a bit. Because the motor is not assisting you while you push it, the 52-pound weight can be pretty tough to push around.
Features
To guarantee that you are fully aware of the current status of the batteries at all times, there is a battery indicator that is integrated into the body.
One feature that is very impressive is the deck of this model. Not only does it provide a wide cutting path because of its 20-inch width, but it can also be adjusted from 1.5 inches to four inches (in seven different positions with its single lever).
Overall
Some of you probably skipped over this one as soon as you realized it was not self-propelled. Again, this is a notable omission but due to its wide range of features, it was only fair to show it off to you.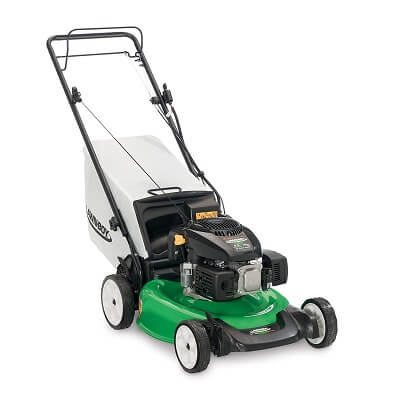 Capping off this impressive list of lawn mowers is Lawn-Boy's model. Outside of the rear wheel drive self-propelled system that enhances the handling, this is also notable for its equipped electric start.
Read more
Effectiveness
With commercial-grade features and a 21-inch steel deep dome deck, this mower than can get the job done right the first time.
Versatility
Buyers beware; there have been a number of reviews that have alluded to the issues with the side-discharge system. Thankfully, you can also mulch and bag with this model to make up for it.
Ease of Use
Again, due to the implementation of the rear wheel drive self-propelled system, your control and the overall traction of the mower are vastly improved.
Features
Lawn-Boy clearly designed their model with the intentions of making starting easier. This is clearly obvious thanks to the electric start integration and with a turn of a key, this model will fire up.
Let's just say that the deck on this model is limited. First off, it only sports two different height adjustments. Secondly, it is adjusted using a metal clip that rests against soft plastic legs and this tends to slip when excess weight is pushed to the front.
Overall
To recommend this to a wider demographic, there would need to be some improvements. Still, for the right people, the electric start and excellent handling will be enough to sell this.

Subscribe to our Newsletter