Best Misting Systems
In a Hurry? Editors choice: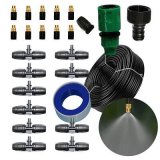 Test Winner: Bangder

Are you looking for a reasonable and affordable way to keep your outdoor
patio
or garden cool or watered regularly? Well, you may need to look into a misting system. Misting systems make sure that your outdoor
space
stays cool during those hot
summer
days. With a simple design, they emit a cool spray to cool you off and keep you enjoying the outdoors without feeling too hot. Below we have reviewed the top ten misting systems to help you cool off this summer. This guide also explains what is important to look at when choosing a misting system and how to know what will work best in your patio space.
Standout Picks
Criteria Used for Evaluation
Use
For the most part, misting systems are of great use when they are cooling off the ambient temperature when you are outdoors. On miserably hot afternoons or nights, they cool off the surrounding area enough for it to be tolerable. It then would only seem fitting that one of the first design features you should assess is how much they are going to drop the temperature. While other factors, such as the humidity, are certainly going to come into play, you can glance at the temperature decrease that is promised by the manufacturer. Sometimes it will be 20, sometimes 30, or maybe even higher than that but no matter, it could be of importance.
Another aspect that is vital is the water pressure that the system is able to handle. With systems that are able to handle higher water pressures, the result is actually a drier experience. Even though it seems backward, lower pressures can actually lead to more standing water than you may be looking for.
Materials
One of the primary components of a misting system is the tubing. Some other types of misting stands or systems may not have tubing but for the most part, the primary amount of misting systems will have a tubing system. The question becomes, though, what makes good tubing? Well, there are a few types of materials that they can be made out of. For example, they could be comprised of stainless steel, flexible nylon, PVC, brass, or even copper. Materials like copper and brass on tubing are not necessarily ideal as they can rust easily. However, other materials such as stainless steel and nylon will not be as prone to that issue.
Also, ensure that the tubing is UV treated. Because misting systems are designed for outdoor use, when you route the tubing it may be prone to the UV rays of the sunlight. UV lighting can damage the tubing but if it is treated to be immune to it, it will not. In addition, a UV treated tubing system should also be resistant to yellowing and hydrolysis.
Ease of Use
When you assess the installation of a misting system, it really comes down to one question. Do you want to order a system that is already assembled or one that you assemble yourself? While doing the latter is an option that allows for more versatility as you can decide the length and structure of the system, the former is much more convenient for consumers who have no interest in assembling an entire system. With a pre-assembled system, all you will need to do is worry about routing the system to where you need it to go. Everything else will be taken care of.
Then again, even a non-assembled system is not too difficult to assemble. Dealing with the tubing, couplers, tees, nozzles, fittings and other components is not as difficult as it may seem. But, it is a point worth your interest so keep that in mind before you decide to invest in a certain misting system.
Accessories
Next up, it is time to assess two other key components of a misting system. Of course, this is alluding to the nozzles and the fittings. If you know anything about your garden hose or faucets and spigots, you know exactly what these terms represent and what they do. First off, the nozzle is the spout at the end of the tube or pipe that is used to control gas or liquid. For a misting system, it is used to control the water flow and there are several outfitted on one system. In terms of assessing their quality, you need to look at what they are made of, if they are going to leak, and if they are going to supply the spray of water that you need.
First up, it is never a bad thing when you see nozzles made of high-quality brass as this can enhance their durability. Of course, though, they should also have leak-proof O-rings to ensure they never start leaking. Lastly, you may not want nozzles that seemingly spray light rain instead of mist. However, the fittings on the connector are also important. For the most part, you want to stick with brass fittings as they are often used in residential and industrial applications because of their strength and durability. Plus, they offer good resistance to corrosion.
Top Ten Misting Systems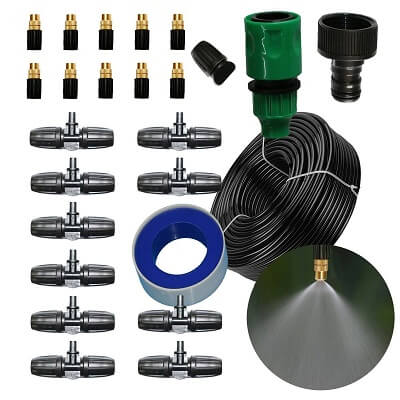 Right away, you should know that this entire system becomes easier and superior if you replace the connector with a standard thread. For whatever reason, it comes with a thread that does not connect on a hose very well. But, this easy fix completes this system.
Read more
Main Design
Much like several that have preceded it on this list, this cooling system can reduce the surrounding temperature around it up to 20 degrees.
Tubing Material
Included with this system is 30 feet worth of tubing. This tubing is made of a UV treated material that happens to be resistant to yellowing and microbial degradation.
Ease of Installation
Once again, no special tools are required on your part and the connector will attach to nearly all standard outdoor spigots.
Nozzles and Fittings
In total, there are 10 nozzles that come with this misting system. All of them are made of brass for superior durability and pressure power.
Versatility
About the only way you are going to adjust the rate of the mist with this system is by regulating the water that is coming out of your outdoor spigot. However, the connector itself will connect to anything with a standard thread.
Overall
A lot of what this system presents is features that you have already seen from previous entries on this list. While this does not necessarily reinvent the wheel, it keeps the wheel spinning on.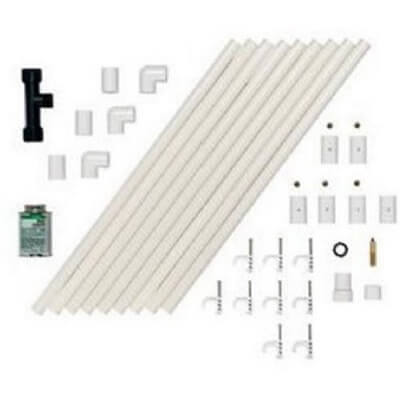 The Orbit 16055 Misting System utilizes PVC piping for the tubing and in total, comes equipped with nine PVC pipes measuring 22 inches in length. With the addition of optional fittings, also, the total length of this system can be expanded to 250 feet.
Read more
Main Design
If for no other reason, this system is a great way to cool down the party that is going on outside. It can reduce the ambient temperature by up to 20 degrees.
Tubing Material
As was just mentioned, this tubing is actually comprised of PVC. What is included for you are nine PVC pipes that measure 22 inches in length and ½ inches in diameter.
Ease of Installation
Even though some assembly will be required on your part, all the components are included (such as the couplings, elbows, end caps, and hanging clamps) to make it as smooth as possible. Also, no extraordinary tools will be required.
Nozzles and Fittings
There are six ½-inch PVC fittings and five mist nozzles that come with your purchase. Pretty much everything on this system is constructed of PVC piping.
Versatility
It is recommended by the manufacturer that this system not be connected to a booster pump. In addition, this is only for outdoor use and with cold water only.
Overall
The fact that this particular misting system is mostly comprised of PVC piping makes it noteworthy right away. Because this type of piping offers several performance advantages over other materials, it makes it worth it alone.



If you thought the previous entry was unique, what until you see this misting stand. It can still be used as a misting system but instead of a traditional design, brass nozzles are integrated into the stand and provide a small but thorough mist.
Read more
Main Design
Indeed, this is actually a misting stand. Basically, there are three nozzles integrated on it and a bottom connector that is used to connect a water hose to. It stands 43 inches in height.
Tubing Material
The stand itself, which can be considered the tubing of this system, will complement your garden as it is built with a minimalist style and coated with a premium finish.
Ease of Installation
This is about as easy as it gets, folks. Literally, all you need to do is spike this into the ground and connect a water hose to the bottom connector. It is worth noting, though, that you can't spike it into concrete and this will only work on soft surfaces that can be penetrated.
Nozzles and Fittings
On the pole itself, there is three brass misting nozzles and they produce the mist that you see from the stand. While the square coverage will be a bit limited, it is still a neat design.
Versatility
What is really nice about this stand is it can function as a standalone unit, by connecting it to a garden hose, or it can be connected to an existing misting system.
Overall
One could consider this an add-on to an already existing misting system. If that is the way you want to think of it that is fine as this stand could be the solution to your dead garden.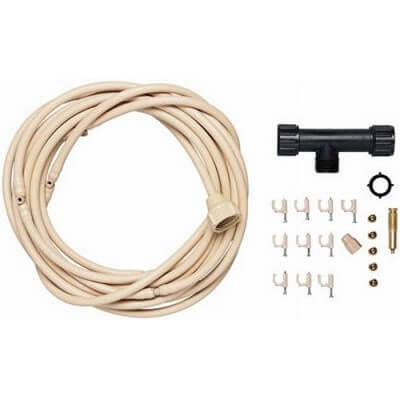 This is the first of two Orbit Misting Systems on this list but the 30060 is just a little better. Of course, even though it is advertised with a tubing length of 20 feet, it is worth noting that this is split up into two sections of 10 feet.
Read more
Main Design
Right off the bat, there are more than a few users who have explained that this sprays more like a pressure hose. In other words, it is more like a light rain than a mist.
Tubing Material
Orbit advertises that the 30060 Misting System comes with 20 feet of 3/8-inch flexible UV-resistant tubing. However, this is split up into two different tube lengths of 10 feet.
Ease of Installation
No special tools are required for the assembly process and it will attach to virtually any garden hose on the planet. In actuality, it should only take you minutes to install.
Nozzles and Fittings
All the fittings are pre-assembled as well and this further decreases the hassle of installation. However, the fittings are also made of brass.
Versatility
This is another model that should not be used with a booster pump as the pressure of the water would be too great. But, on another note, the tubing can be expanded to 50 feet with the addition of a 3/8-inch extension system.
Overall
If you are looking for a mister that is not going to get you drenched while underneath it, this may not be for you. Several buyers have pointed this out but if one thing is for sure, this system can dish it out.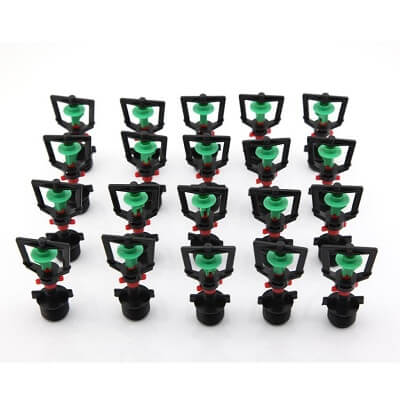 When you talk about unique and interesting misting system setups, the number one spot may be reserved for this system. You are provided with a set of 20 spray nozzles and they sport an adjustable spraying angle of 360 degrees to cover everything that surrounds them.
Read more
Main Design
Each individual mister will actually spray in a 360-degree angle. What these little suckers are great at is watering a garden or for agricultural uses.
Tubing Material
There really is no tubing to speak of with this system as it is comprised of individual nozzles that get hooked up to your water system.
Ease of Installation
All you need to do is connect these with female fittings as they will connect straight to a standard garden hose or spigot.
Nozzles and Fittings
What is really noteworthy is the rubber gasket as this is going to prevent water from keeling through.
Versatility
As the screw base is detachable on each of the misters, they are very easy to clean. In addition to this, they feature adjustable screws and an adjustable spray angle of 360 degrees.
Overall
It really goes without saying that not everyone is going to be too fond of this misting system. But, for the select few of you who have had their interest piqued, give these bad boys a shot as they are great at performing what they were designed to do.

6

. Portable Outdoor System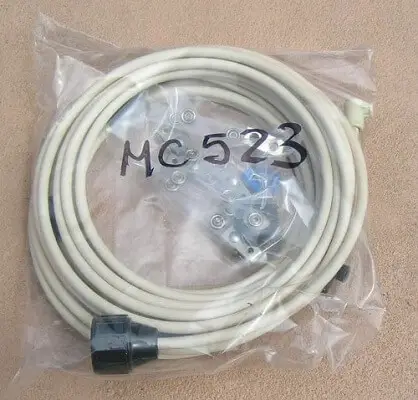 This next misting system is not the cream of the crop but it is an affordable system that offers enough quality to warrant an investment. Sure, other systems are more durable as they are made with higher quality components but it is still fantastic for the price.
Read more
Main Design
The evaporating mist that is emitted from the nozzles of this system can cool the ambient temperature up to 30 degrees.
Tubing Material
With a ¼-inch poly tubing that is UV-resistant and heavy walled, it will not be damaged by the sun and will remain flexible in cooler conditions. It can also handle waters pressures up to 75 PSI.
Ease of Installation
As the support clamps are spring-loaded, the installation is made that much easier and the connector will hook up directly to your outdoor spigot or garden hose.
Nozzles and Fittings
This system sports ¼-inch compression fittings that are actually made of plastic. Now, this does eliminate the chance of corrosion and reduces the chances of clogging. However, it does make the system feel cheaper as a whole.
Versatility
One nice aspect about this design is you can actually adjust the direction of the mist with by rotating the couplings attached to the nozzles.
Overall
Even though it would appear on the outside that this is a cheap system that is not worth your time or money, it has actually been well-received despite some shortcomings in the quality department.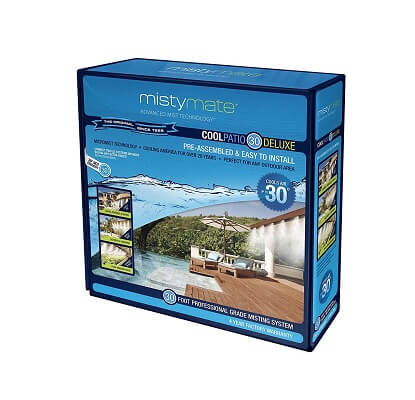 Out of all the misting systems available on Amazon and other top-end online retailers, perhaps none are better than what Mistymate presents to homeowners. This is evident with the brass fittings, UV-resistant tubing and cooling properties of their misting kit.
Read more
Main Design
This system has the capability of cooling off the ambient temperature up to 30 degrees. Outside of this, this high-pressure ready system produces industrial-strength mist.
Tubing Material
While there are options for 10, 20, or 30 feet for the mist line, the tubing is made of nylon. In fact, it is nylon-braided and also UV-resistant so it is safe from damage from the big ball of fire in the sky.
Ease of Installation
All the hardware and brass nozzles come with this system and it comes pre-assembled. Also, 10 feet of supply line is included and it is pre-assembled to the mist line.
Nozzles and Fittings
Because this system is outfitted with brass fittings, it is able to withstand higher pressures of water. Plus, this will also create a finer mist that will evaporate at a quicker rate. All in all, 16 brass and stainless steel misting nozzles and 16 brass nozzle fittings are included.
Versatility
Not all misting systems are rated to work in conjunction with a booster pump but this model is. If you do not have a booster pump, though, you can simply opt for an outdoor spigot or garden hose.
Overall
Truth be told, this is far and away the best misting system available on the market. About the only addition that would have been greatly appreciated is a valve to adjust the amount of water flow that comes out of the nozzles.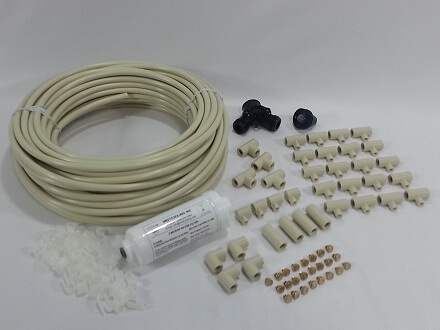 Unlike other misting systems that come pre-assembled and ready to go, this system is completely customizable. With all the components that are included with this package, you can tailor the system to your desired liking.
Read more
Main Design
This is actually dubbed as a do it yourself system and that should give you an idea of what is in store. As a side note, five micron in-line water filters are included and they prevent the nozzles from clogging.
Tubing Material
Included with this outdoor cooling system is 100 feet of 3/8-inch flexible tubing that is UV coated. You can use as much of the tubing as you need to cover your desired backyard area.
Ease of Installation
Even though this is not a pre-assembled model, it is still very easy to assemble and install. Once again, all the components are included and all you need to do is cut the tubing at appropriate locations.
Nozzles and Fittings
The compression fittings on the nozzles are leak-proof and 25 misting nozzles are included. All of these nozzles have been made of brass and stainless steel.
Versatility
While it is only designed to be used with a regular spigot and not a booster pump, this is one of the most versatile systems on the market. This is simply because you are in charge of assembling it and can do so however you please.
Overall
What this system comes down to is your willingness to assemble it yourself. If you have no interest in doing so and could care less about adding your own spin on it, go with a pre-assembled model.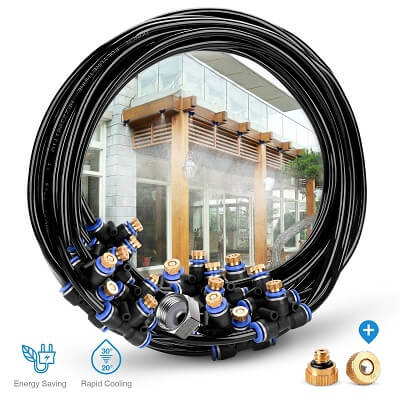 There is little to gripe about when you discuss the HomeNote Misting System. In fact, notable features such as the brass misting nozzle and built-in stainless steel wafer are a few reasons why.
Read more
Main Design
As this system uses tap water, it requires no additional cost on your part. At its core, it is capable of cooling down temperatures around it up to 20 degrees.
Tubing Material
High-quality flexible tubing has been included with this system and it is UV treated for enhanced protection. Additionally, it is resistant to microbial degradation, yellowing, and hydrolysis.
Ease of Installation
In less than 10 minutes of real-time, you should have this up and ready to go. The process is made significantly easier as it comes pre-assembled. All you need to do is route the tubing where you need it to go.
Nozzles and Fittings
The misting nozzles have been made of a high precision brass and this enhances their durability and also makes them resistant to rust. On top of this, each nozzle sports a self-sealing and leak-proof O-ring.
Versatility
As this is a low-pressure system, it is not advised that you install it to a booster pump. But, you can shorten or lengthen the distance between the heads if you desire.
Overall
It is always reassuring when you invest in a product that features its construction and durability as its best-selling points. Indeed, the UV treated tubing and brass misting nozzles with self-sealing O-rings are the talking points here.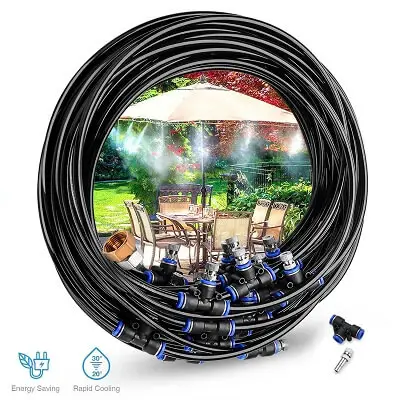 This next misting system resembles the previous system in a lot of ways. For example, it is made with high-quality flexible tubing that has been UV treated and also sports a built-in stainless steel wafer for superior durability.
Read more
Main Design
Around the swimming pool, this is a great trick to keep mosquitos from attacking you. Of course, it is also capable of cooling off the air temperature around you up to 20 degrees.
Tubing Material
Much like the last misting system, the tubing on this system is also UV treated and this creates a core that is resistant to yellowing, microbial degradation, hydrolysis, and UV lighting.
Ease of Installation
Installation is a breeze because there is practically nothing required on your end. The system comes pre-assembled and no special tools are required. Again, routing is the only aspect you need to worry about.
Nozzles and Fittings
Despite the fact that brass nozzles are used throughout this system, a few buyers have reported issues with the nozzles popping out. It may be in your best interest to replace them with versions that screw in.
Versatility
An added adapter comes with your purchase and this can be used in place of the other adapter. Of course, you still need to ensure that one of the adapters will fit your garden hose or outdoor spigot.
Overall
Some readers may feel it is utterly ridiculous that they may have to make alterations to a product straight from the box. If you want to look at it another way, doing so fixes one of the only main issues with this entire misting system.

Subscribe to our Newsletter