Best Mosquito Nets
In a
Hurry? Editors choice: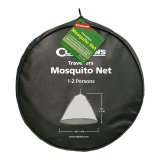 Test Winner: Coghlan's Net

Nobody wants to come
face to face with a mosquito
. Not only are they one of the most annoying insects on the planet, with their incessant high-pitched buzzing, but they can also be dangerous.
Mosquitoes can carry many viruses
that can cause illness and even be fatal. If you're planning an outdoor event, you should create a defense mechanism that will keep you and your family safe. You can
prepare yourself with insect repellent
, but that might not be safe for every member of your family, or you could consider a mosquito net.
Standout Picks
Criteria Used for Evaluation
Durability
With all the time you spend preparing a place to sleep at night, the last thing you want is for your tent to fall on you while you sleep. The same goes for your mosquito head protection, you don't want to be in the middle of mosquito alley when your hat suddenly falls off. For these reasons, durability plays an important part in our evaluations. You need to be sure your equipment can stand up to the test; your tent will need to be secure and your hat will need to provide a snug fit.
Features
When choosing a mosquito tent, you will want to choose one that is large enough to hold the bedding you plan to use. You might want to keep your gear and hiking boots in the tent with you to keep them away from the bugs, so make sure it will accommodate. One with versatility is a plus, and of course, it would be ideal to have one with the right amount of visibility. Something lightweight that packs into a bag is handy if you plan to carry it in your pack and make sure the door is compatible to your size and if it has more than one opening, that's even better. Be sure the entire net is closed off keeping out the bugs, and if you can find one that offers ground cover that would be an added bonus.
When choosing mosquito head protection, you will want to know if the net comes with a hat, and if not, find out what size or style of hat you should use with the net. Make sure the net offers a way to close the neck, so the bugs can't get through the bottom. You will also want to know if you can wash it because it will probably get sweaty within time.
Ease of Use
The easier it is for your mosquito net to work, the better your experience will be when keeping out those annoying pests. If you don't set up your tent properly, or if you fail to secure your hat, the bugs might be able to find a way in and your attempt at protection will fail. Of course, the easier it is to set up a tent, the easier it will be for you too. If you get frustrated while trying to set it up, you might easily give up and find yourself sleeping under the tiny emergency blanket you have stashed in your pack. If the zippers stick or the poles fall, you won't get the results you were hoping for.
Think about that strap on your hat, if it doesn't work properly, or it's hard to tighten, then you won't be fully protected. These are all reasons why it's important to consider the ease of use in making your decision.
Value
When you spend your hard-earned money, you want to make sure you're paying for the quality item you're expecting. For this reason, it's important to consider the versatility, the durability, and ease of use all into this category, because these are all factors that are tied to the value of the product.
Subscribe to our Newsletter