Best Patio Umbrellas
In a Hurry? Editors choice: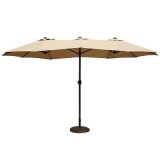 Test Winner: Le Papillon

If you look forward to
entertaining outdoors
during the summer months, you probably take into consideration many things; bugs, heat, and sun might be your top priorities when you're planning an event. You have probably gathered screens and protection for covering the food and you might even consider setting up candles to
deter the bugs.
Consider setting up some patio umbrellas at the tables and covering the sitting areas. There are so many uses for an umbrella that they don't have to be used only at a table. The uses are endless, and so are the styles. We've narrowed down your options to some of the best patio umbrellas on the market so read on to find the best one for you.
Standout Picks
Criteria Used for Evaluation
Top 10 Picks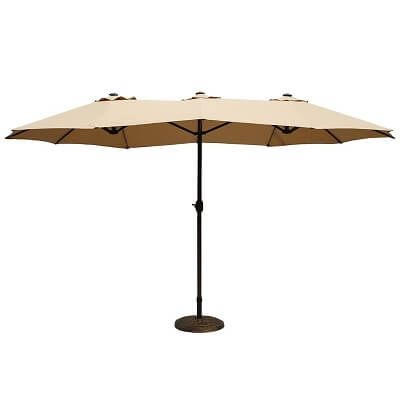 If you have an oblong table, it might not be easy to find an umbrella that will keep the whole table in the shade, but with this one, you will no longer have that problem.
Read more
Features
This 14-foot umbrella doesn't tilt, but it still provides plenty of shade for poolside and will cover an oblong table and chairs with no problem. It is designed with tightly woven canopy fabric and there are vent openings on the top for airflow. You will have to purchase a sturdy stand for this umbrella as the stand is not included. Keep in mind when choosing the stand that the umbrella won't fit into a standard base, so be sure you know the measurements ahead of time. There are three color choices in this design making it easy for you to match it with all your furniture and accessories. When you want to close it up for the night, there is a band that comes with it for securing it tightly closed.
Durability
It is a lightweight umbrella but that doesn't make it less sturdy than others because it's held with a heavy-duty aluminum pole that won't bend or snap with the wind, and since it's aluminum, it won't rust either. The 12-ribs will strongly hold the umbrella open, and when you're not using it you can keep it down and closed for longer-lasting results.
Ease of Use
You can open and close this umbrella with the easy crank located in the middle of the pole. It's simple to set up and take down, and it isn't too heavy for one person to handle alone.
Value
With quality, the perfect size, and an affordable price, this one is full of value and should be considered as one of your choices.
Summary
Setting your food out on the patio table will no longer be a worry with this umbrella shading the sun. Lay by the pool and read or spread out on a blanket in the grass under this umbrella and enjoy a picnic with your family. This one is great for any long, narrow space that you're looking to add shade.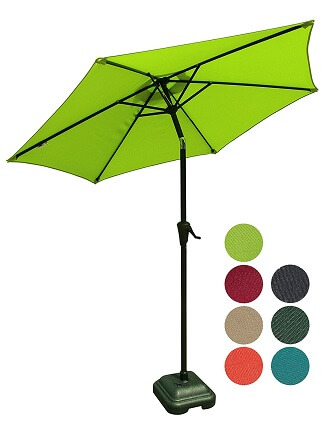 This is the perfect size for a smaller table or area you need to shade. The colors are vibrant and are sure to appeal to everyone.
Read more
Features
This 7.5-foot octagon-shaped umbrella is just tall enough to avoid hitting your head. You can easily cover a table with four chairs and when the sun comes from the side, avoid the blindness by tilting the umbrella to block the sun. It cranks to open and close and provides airflow ventilation through the top. Although it doesn't come with a base, it won't be hard to find one to fit and the four bright colors will blend in with any décor assuring to please everyone's taste.
Durability
The steel pole is sturdy enough to last through the wind and the umbrella material is durable and fully opens with six ribs. It is waterproof, so you and everything under the umbrella will stay dry if a rain shower passes through.
Ease of Use
Using the handy crank, it's simple to open and close the umbrella. The tilt can easily be maneuvered by using the push-button mechanism.
Value
This is a simple patio umbrella with a simple price, add in all the features and you can't ask for better value than this.
Summary
This umbrella provides everything you need for smaller spaces. It's just the perfect one for a smaller table and chairs, or just put a couple of chairs near the pool and shade them with this one. It's even perfect for you and baby to play on a warm afternoon in the yard without interference from the sun.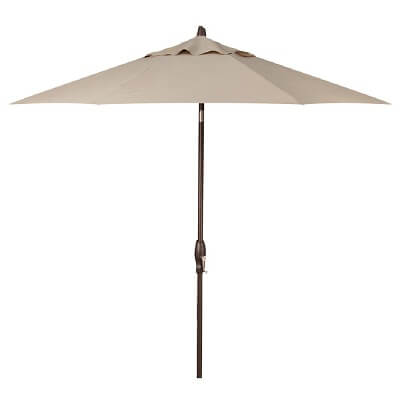 Perfect for the lawn picnic with your family is this remarkable patio umbrella with all the features you could possibly want from an umbrella-like this.
Read more
Features
This 9-foot octagon-shaped patio umbrella will provide the perfect amount of shade you will need while dining by the pool this summer. It will continue to perform well when the wind kicks up and it does have a vented top for ventilation. It works perfectly when the sun shines brightly above you, but when it moves to the side, just tilt the umbrella to block the sun from your eyes. It is available in a wide array of colors, and although this one is the 9-foot umbrella, there is also an 11-foot available if you need more shade. Just like most, the base is not included, but it should be easy to find one that fits with no problem.
Durability
The umbrella is very well constructed and rests well on a sturdy aluminum pole. With the durability offered by this one, it should hold up for many years when treated properly.
Ease of Use
It's simple to install and the operation runs quite smoothly. Just thread the two pieces together and place it in the base. When you're ready to open it, the crank is placed low enough for anyone to reach and it opens and closes without a hassle. The automatic-tilting system makes it even easier to position it in the exact place you need it.
Value
With the quality fabric, extravagant colors and design, this one will last for many years. You won't have the need to replace it after one season, so you can see how this one will pay for itself in no time.
Summary
The next time you plan an event, you can count on this quality umbrella to come through in keeping everyone protected from the sun. The price might seem a bit higher than the others, but for the longevity of its use, the money will be well spent.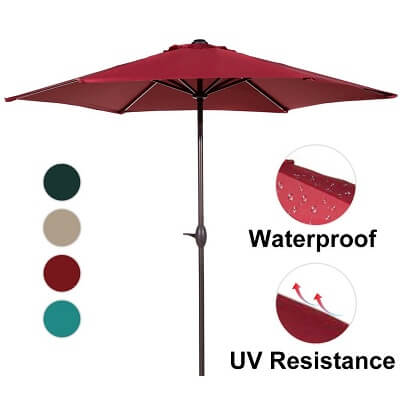 This is the perfect patio umbrella for either your home or business. The attractive colors will blend in with any atmosphere and the size is perfect.
Read more
Features
This 9-foot umbrella cranks open and close and will tilt in any direction the sun wants to shine. It will fit perfectly with any shape table with up to four chairs, or you could easily cover your lounge chairs by the pool. It is somewhat lighter than some, so it might not fight the wind as easily as you would hope, but it does provide a vented top for even airflow. Choose any of the six stylish colors and set it up anyplace you need plenty of shade. The base is not included, but you should be sure to choose one that can be weighted extremely well.
Durability
It is well constructed, and although it is sturdy, the pole might be a little more flexible with the wind. The crank is well-made, and the aluminum pole won't rust.
Ease of Use
This umbrella opens and closes smoothly with the crank and the tilt operates with easy push-button control. The aluminum is lightweight, so it's easy to move around and put together.
Value
The umbrella comes at an affordable price making it easier to swallow knowing you must buy a base as well. It holds terrific value and is worth every dime you spend.
Summary
With the value of this umbrella, you can afford to own more than one for your pool area or public dining area. The colors are desirable, and the umbrella is the perfect size for many purposes. You can't go wrong with this choice.

5

. Abba Offset Cantilever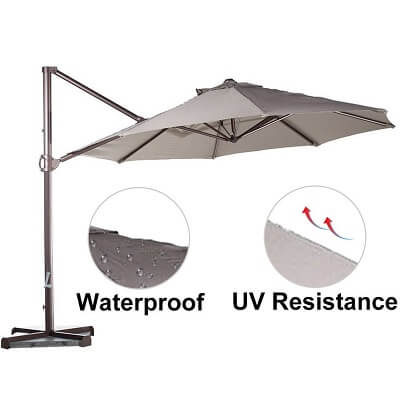 This large umbrella is different from the rest because it doesn't fit through a hole on the table, instead it sits off to the side.
Read more
Features
This large umbrella features an 11-foot canopy that is designed to stand off to the side of your table and chairs. It offers plenty of additional space with the interference of the pole if you want to cover patio chairs and a side table next to the pool. Imagine how much space it would offer for a food table at your picnic. It will tilt in five different vertical positions allowing you all the shade you will need in any spot. Just like the others, it provides a crank to open and close it, but this one also comes with a cover for storage and protection. Unlike the others, this one comes with a base, but you will have to weigh it down with sandbags, cement blocks, or other heavy materials to assure that it will hold up through a gust of wind. It's available in multiple color choices, so you can enjoy matching it up with all your outdoor décor.
Durability
The aluminum pole won't rust, and the umbrella won't weather from the beating of the sun or the batter of the rain. It's built with quality construction and when properly weighted, it will hold up well against the wind.
Ease of Use
It's simple to open and close with the conveniently located crank. It tilts with ease and is easy to assemble and takedown. Placing it into the storage cover will be completed within a matter of minutes.
Value
This umbrella offers five tilt positions, it cranks open and close, it comes with a storage cover and a base. With all this one offers; the price is right, and the value is excellent.
Summary
With so much more to offer than any of the others, this elegant umbrella will make an attractive addition to any patio. It's large enough to cover any table and will fit perfectly with your patio sectional.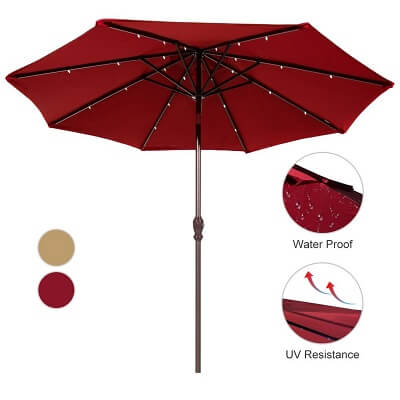 If you enjoy playing cards or having a snack on the patio after dark, this umbrella offers just what you need; a large canopy and lights.
Read more
Features
This 9-foot round umbrella will cover a square table with four chairs without a problem and it's equipped with lights powered by solar, so you never have to worry about batteries or electricity. There is even a switch with it that allows you to turn the lights off and on. You will find the solar panel to be a bit larger than most and it is located at the top outside of the umbrella, so that it will soak up all the sun during the day, allowing you all the light you will need after dark.
Durability
It is made of high-quality material that won't tear or puncture and a sturdy aluminum pole that won't rust. The crank appears to be of higher quality than the rest and with a durable, weighted base, you can assure this umbrella won't be going anyplace.
Ease of Use
It's easy to set-up; the two sections screw together in the middle, which is a better design than most. The crank is simple to turn, and it tilts easily with the push-button mechanism. The lights are built onto the ribs, so you won't have to fuss with putting them together. The crank and the light switch have been placed in convenient spots, so no strain or hassle when you need to use them.
Value
There is a lot of value in this package, with the solar panel, lights, crank, and tilt, along with the reasonable price, you won't be disappointed with this patio umbrella.
Summary
With this umbrella, you can spend more time outside doing the things you enjoy. Read, craft, play games, or eat, your time will no longer be cut short just because the sun went down. It offers so much, for so little, how could you go wrong with this one?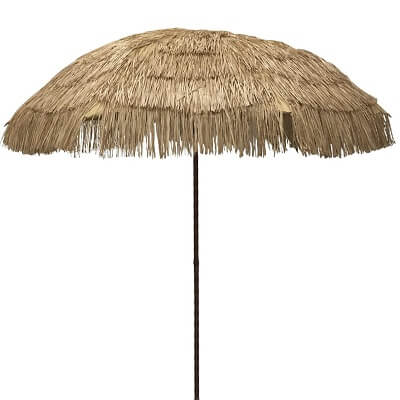 You will find many uses and much enjoyment with this unique, Hawaiian-themed patio umbrella, offered in two different sizes.
Read more
Features
This tiki-hut umbrella adds a festive flair to the pool or the patio bar. It provides 8-feet of shade and the thatch is made of canvas material. Although the pole is made of steel, it replicates the look of wood for the natural tiki image. It will open and close as you would expect from an umbrella, and it tilts to avoid the sun. It's available in 6.5-feet and 8-feet, so you can choose the size that fits perfectly with your furniture. It does not come with the base, but it's easily designed to fit with most.
Durability
The strong canopy won't fade from the sun and it will withstand the hail and rain without complaint. The steel pole is sturdy, and providing the base is weighted, the pole will be secure.
Ease of Use
This umbrella is easy to assemble just by snapping the poles together. It opens and closes much like a rain umbrella and it tilts with ease. Simple to use and lightweight, you can't go wrong here.
Value
It has been constructed of high-quality materials and will hold up through the moody weather. It's certainly a great buy for the money.
Summary
Add ambiance to the party with this tiki umbrella. Throw a Hawaiian party and surround the food table with a few of these umbrellas. Make your guests believe they are in the tropics when you set these up around the bar area next to the pool. This umbrella is easy to use and affordable, that's the reason to consider this as one of the best patio umbrellas on the list.

8

. Patio Watcher LED Solar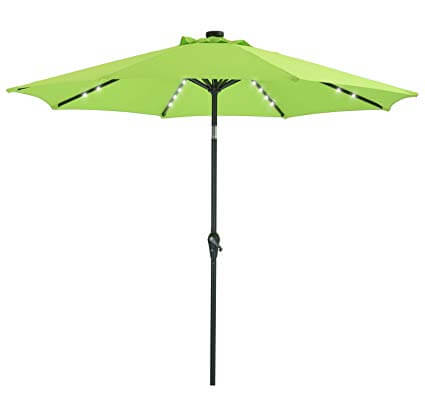 If you like colors that pop and your patio décor proves that, then you should consider topping off the look with one of these cool looking umbrellas with LED lights options.
Read more
Features
This 9-foot umbrella provides you with plenty of headroom, so anyone can sit comfortably beneath it. It offers either 6-ribs or 8, depending on the color you choose, so be sure and notice the difference before you make your choice. There is a crank on the aluminum pole for opening and closes the umbrella and it tilts in the direction you desire for additional shade. It does not come with a base, but you shouldn't have a problem finding one that's compatible, and when you're finished with the umbrella you can secure it shut with the Velcro strap that is included.
Durability
This umbrella provides excellent quality with the durable fabric and thick, sturdy pole. When it's secure in the base, it won't topple or fly away. It should last a long time when it's properly cared for.
Ease of Use
You won't sweat trying to put this umbrella together; simply snap the poles together and insert it into a base, it's that easy. It has a smooth crank for opening and closing and it tilts with ease. The strap is easy to secure on the closed piece, and the Velcro works like a charm. It doesn't get any easier than this.
Value
For the quality and price of this attractive umbrella, it's well worth the money and you won't be disappointed in its performance.
Summary
Overall, you couldn't get a better-looking umbrella with this kind of performance for such a low price. With the seven color choices, there is bound to be one of your favorites in the bunch and you can even choose how high the canopy will spread according to the rib count. Secure it to the proper base, close it when not in use, and you should have an umbrella that will last a long time.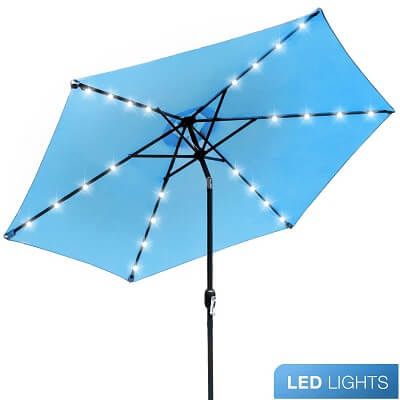 This is another attractive umbrella that offers plenty of solar lighting for your late-night entertainment. It's big enough to cover a large area and the colors are popular.
Read more
Features
Enjoy this patio umbrella during the day while the sun shines bright, and at night let the solar lighting brighten up the area instead. It provides an easy crank to open and close the umbrella and when you need to block the shade from the sides, you can tilt it for added protection. It provides 10-feet of shade and offers five color choices that will match up with your table and chairs. The lights will last for hours, giving you a full night of entertainment, but if you prefer candlelight instead, you can turn off the lights with the switch that allows you to be in full control of the lighting. If it rains, no worries, the rain bounces off the umbrella-like magic, assuring the water won't get underneath. Just like most of the others, you will have to purchase a base, but the price is right, so you won't gasp when you have the additional expense.
Durability
The fact that the water pours off the umbrella-like the back of a duck speaks highly of its durability. The pole is thick and solid, and when it's placed properly into a base, it will be secure enough to hold up as you would expect.
Ease of Use
Put the poles together, secure it to a weighted base, and you will be ready to use your umbrella. No sweat, tears, or blood with this one it's that easy to use. It comes with the lights already intact and securely attached to the 6-ribs under the canopy. The crank will easily open it and close it and the tilt is as equally smooth.
Value
Shade and free patio lighting all in the same package without having to make two separate purchases is a true bargain. It's like buying both for the price of one and you can't ask for a better value than that.
Summary
This is the perfect umbrella when it comes to serious entertaining. You can stay outside even after the sun goes down and never have to worry about having enough light. Imagine how much this will save you on electricity having an umbrella-like this one. Keep the tables lit and the food fresh; you will be the best host in the neighborhood.

10

. Trademark Innovations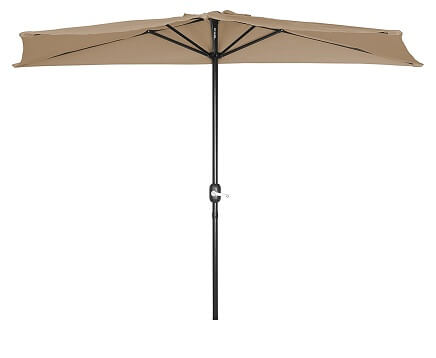 When you have a small or awkward place that needs some shade, but the standard umbrella won't fit, let this umbrella be the solution for your problem. This half umbrella will fit flat against any building to cover furniture, lawn equipment, grills, or people; use it to block the sun or rain anyplace your other umbrellas won't fit.
Read more
Features
This 9-foot umbrella provides a large amount of shade where other umbrellas won't fir and will conveniently sit flat against the wall. You can use this one to shade your small camper or put it against the sliding glass door in the place of a pricey awning. Just like a standard umbrella, this half umbrella will also crank open and close for the perfect amount of shade and easy storage. It comes in a fantastic selection of popping colors that will blend in any place you want to set it up. When you crank it open you will see the 5-ribs that securely spread it open, and you can even choose a half-base to firmly keep it in place.
Durability
The thick canopy is durable enough to hold up with the wind and the sturdy metal pole won't bend, twist, or break. The crank is sturdy and won't snap off in your hand during use, and the ribs are durable enough to keep the umbrella from flipping inside out.
Ease of Use
This umbrella provides an easy and simple operation that anyone can handle. It offers a crank to smoothly open and close the umbrella, and although it is extremely sturdy, it is lightweight for easy maneuverability and storage.
Value
This brilliant space saver offers excellent quality and performance for half the price of an awning. It's the perfect solution to a common problem at an extremely affordable price, you can ask for more than that.
Summary
With this unique umbrella, you can create your own awning against your patio or camper. Cover your grill and your furniture and never again will you have the worry of the umbrella hanging over the edge or poking against the house. It is offered in an array of pleasing colors and is durable enough to handle the wind, rain, and sun. If you have limited space, you need to consider this as one of your choices.

Subscribe to our Newsletter