Best Outdoor Wooden Benches
In a Hurry? Editors choice: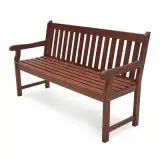 Test Winner: Coral Coast

There is nothing quite like sitting on a wooden bench and viewing nature unfold before your very eyes. Now most of us are familiar with a wooden bench when we visit our local park but many are now adding benches to their front patio or backyard
garden
so they can experience the comfort and view nature from their own home. Many may think when it comes to investing in a wooden bench that they are all the same but that could not be further from the truth. Below we have listed the top ten wooden benches to add to your home this summer
season
and relax viewing the beauties of nature from the comfort of your
patio
or backyard.
Standout Picks
Criteria Used for Evaluation
Materials
Given that this guide is centered upon the bets outdoor wooden benches, the most important consideration for you would be the type of wood that the bench is constructed out of. Even though there are hundreds of different types of woods, it really comes down to softwoods versus hardwoods and which one is better. Ideally, you want to aim for benches that are made of hardwood as they offer key advantages over their softer rival. No matter whether you go with hardwood or softwood, to get this out of the way, they both must be varnished and protected if they are going to stay outside. If the manufacturer does not do this themselves, you will.
Even though hardwoods are not flawless, they offer superior durability and it is very difficult to scratch or damage them. In addition, they are more resilient to the elements outdoors and also to gusts of wind. But, they do tend to be more expensive so be wary of that. A great example of an excellent hardwood is eucalyptus and it offers all the benefits previously claimed about hardwoods.
Style
Wait, does this really matter in the grand scheme of things? Only you can answer this question but given the fact that the first aspect people will notice about your house is your yard, is it such a bad thing to want a stylish décor? It certainly is not and one of the reasons wood is such a popular material for outdoor construction is its natural appeal. No matter which type of wood a bench is constructed out of, it is most likely going to fit in perfectly with your already existing décor. That being said, there are still some features to look out for.
For example, are there different styles available? You may see a manufacturer design their bench with a few different coatings and stains. If you prefer dark brown over light brown, for example, this could come into play. Of course, this could also be as simple as how the entire bench blends together. A cast iron frame coupled with a hardwood seat with a rose-themed backrest to boot can be an excellent piece to add to your backyard.
Comfort
Who wants to sit on a bench that is unbearably uncomfortable? Few of you will answer "me" to this question and it is quite clear that the comfort of a bench is one of its most rewarding features. For starters, you need to figure out if you want a backless bench or one with a backrest. If you plan to use the bench for long sessions at a time, a backrest is probably preferred as it provides support for your back and neck area. Along the same line, you may also prefer armrests for even more comfort.
But, in the end, it really comes down to the manner in which the seat is designed. Instead of simply being a slab of wood randomly assembled on the bench, the seat should be contoured to the natural shape of your body. This is also known as an ergonomic design and it is more than essential for optimal comfort. In addition, how wide do you prefer slat openings? If they are too wide, you may need to invest in a seat cushion to sit on (which may not be a bad idea anyway).
Capacity
Besides enhances the longevity and durability of the bench, the type of wood construction also has serious implications on the seating capacity. This may not be a shock to you but not all benches will be rated to hold the same weight. It comes down to their construction and structural strength (which includes the frame on top of the wood). If you can't find a weight capacity from the seller, glance through user feedback. If users claim they can fit two to three adults on the bench with no issues, the weight capacity is probably high (perhaps above 700 pounds).
But, the length of the bench is also important to determine how many people can comfortably sit down on the bench. If you need a bench to comfortably sit and hold three grown adults, do not get one that is optimal for only two people. In this case, the bigger the better as you would much rather have excess space than not enough space. Sometimes, manufacturers will even sell their benches with multiple lengths so that is a plus.
Top Ten Outdoor Wooden Benches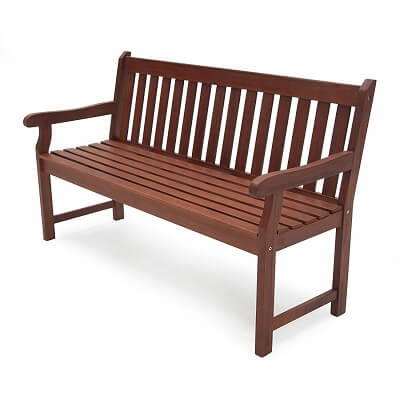 In terms of the visual appeal of this bench, it is what you would expect from natural wood. But, the construction is what sets it apart as it is made of eucalyptus wood which is a hardwood that has earned high remarks for its strength and excellent weathering.
Read more
Construction
Indeed, the eucalyptus wood that is utilized throughout this bench is durable, strong, and resistant to the inclement weather outdoors. But, it is also resistant to insects, decay, and rot.
Visual Appeal
Over time, this type of wood will actually weather to a reddish-brown color. How it is from the box, though, it offers a classic look with the natural appeal of wood that is sure to match most outdoor décors.
Comfortability
Being equipped with a backrest and a contoured seat, it is easy to find comfort when you pop a squat on this bench. Plus, the curved arms act as nice armrests when sitting near the ends.
Seating Capabilities
This bench is sold in one of two lengths. While the one before you is the five-foot version, you can opt for a four-foot model if you so choose. Either way, both should fit multiple adults.
Ease of Assembly
While one buyer did report that their bench came with a defective screw which derailed the assembly, another noted how easy the assembly was. Granted you receive high-quality hardware, you should be able to assemble this yourself.
Overall
When it comes down to it, this is almost the prototypical outdoor bench. After all, it has the appeal of natural wood, it is designed with armrests and a backrest, and it offers superior strength.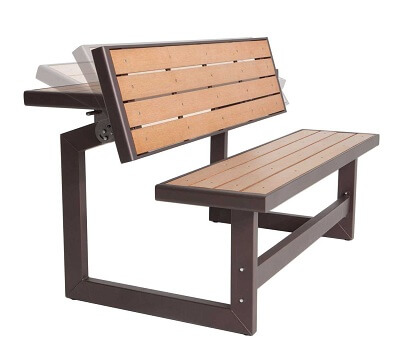 While Lifetime's bench could be seen as controversial for this list, it does feature simulated wood. However, be aware that this bench is constructed of faux wood. But, it can convert from a bench to a table in mere seconds.
Read more
Construction
Basically, this bench offers the beauty of wood without the issues of potential fading, cracking, chipping, or peeling. Having said all of that, it is made of fake wood.
Visual Appeal
Again, wood has an appeal all of its own and this bench replicates that. From purely a visual perspective, this bench is utterly beautiful and one of the best.
Comfortability
The general consensus from those who have used this bench is it excels in comfort. Part of the reason why is it can be transformed from a bench into a picnic table.
Seating Capabilities
Over time, this is not going to hold up as well as genuine wood will. That said, one user did comment that they saw this bench with a claimed weight capacity of 700 pounds.
Ease of Assembly
A specific consumer went in-depth about their experience assembling this bench. They claimed it took them roughly an hour and that all the hardware was included and the holes lined up perfectly.
Overall
Is this technically a wooden bench? No, but it is engineered to look exactly like one. The real reason to buy this bench, though, is it can convert into a picnic table with ease.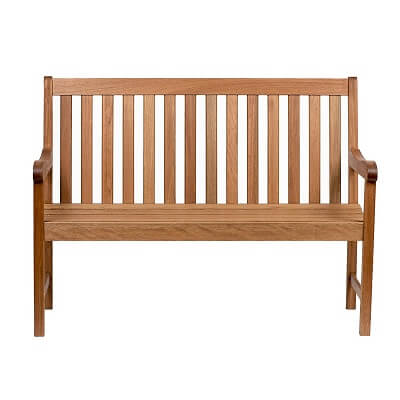 The Milano Bench is very similar to the last bench given its natural appeal and eucalyptus wood construction. However, the backrest is a little taller on this model and as such, the seating may not be as deep as some buyers will prefer.
Read more
Construction
In addition to the use of eucalyptus wood for the main core of this bench, it is also coated with a Polistan finish. What this does is protect the wood from fungus and insects, extending its lifespan in the process.
Visual Appeal
If you liked the appeal of the previous bench on this list, you are sure to enjoy this one as well. It sports a very similar appeal with the look of all-natural wood and will fit in nicely.
Comfortability
For enhanced comfort, some users have noted they placed throw pillows on this bench. But, even without them, buyers have commented on how comfortable it is.
Seating Capabilities
Again, the width may not be as deep as some users desire. Still, this bench can easily fit three grown adults with its 57 inches of width and structural strength. In fact, one buyer noted how they were able to fit three adults totaling around 550 pounds without the bench sagging at all.
Ease of Assembly
Even though some assembly is required on your part, the general consensus is it is easy to assemble and should only take you around 10 minutes or so.
Overall
For the sheer quality of this bench alone, this is worth the dough. That is evident because of the eucalyptus wood construction and Polistan finish. Then again, the size and comfort certainly help, as well.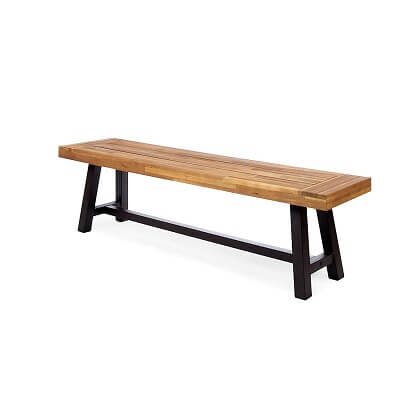 Good luck finding a customer that has any poor words to say about GDF Studio's outdoor bench. Now, note that this bench does not sport a backrest of any kind. However, for a backless bench, this is as good as it gets and the quality speaks for itself.
Read more
Construction
Accenting the sandblasted finish acacia wood is the iron frame that supports it. Even though the metal base is not powder-coated, it is painted well and can support heavier weights.
Visual Appeal
The iron frame and the acacia wood make this one of the most visually stunning benches on this entire list. No matter your outdoor décor, this will take it to brand-new heights.
Comfortability
Due to the fact that this bench does not come outfitted with a backrest, it may be uncomfortable for long periods of sitting. However, that is to be expected with a backless bench.
Seating Capabilities
First off, this bench measures 63 inches in length which makes it slightly longer than five feet. In addition, it has the structural strength to hold more weight than you will probably ever need.
Ease of Assembly
Clear and easy-to-follow instructions are provided with your purchase. They estimate an accurate timeframe of 30 minutes for assembly. Still, it does not require the intelligence of a carpenter to put together.
Overall
The only question you need to ask yourself is if you desire a backless bench. If the clear answer is yes, then you can stop reading right now, to be honest. It just will not get better than this for outdoor backless wooden benches.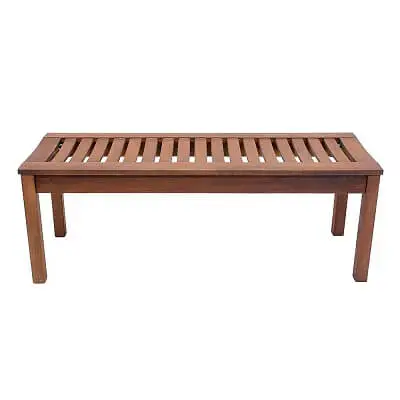 If you are in the market for the most comfortable outdoor wooden bench possible, you may be disappointed here. The true beauty of this backless bench lies with construction (outside of sanding) and multifunctional nature.
Read more
Construction
It is recommended that you reapply oil to this bench to ensure its lifespan as the eucalyptus wood that is used will need it. But, as one user noted, the wood is not sanded the best.
Visual Appeal
The natural oil finish that is used for coating this wood adds a touch of elegance that is for sure. Then again, the extent of the appeal is how much you like the look of natural wood.
Comfortability
Two things are worth mentioning here. First off, there is no backrest to this seat and secondly, the slats on the seat itself are fairly wide and may be uncomfortable. In fact, a cushion may be in order here.
Seating Capabilities
At four feet in length, this is going to comfortably seat two adults. One consumer pointed out that they and their spouse, who combined for nearly 400 pounds, sat on this bench with ease.
Ease of Assembly
Given the fact that all that is really required for the assembly of this bench is two bolts and a few washers on each leg, it makes sense why so many buyers have raved about the simplicity.
Overall
Even if you have no intentions of sitting on this bench, it also makes a great side table or even a footrest. A suggestion to improve the comfortability is to invest in a bench cushion, however.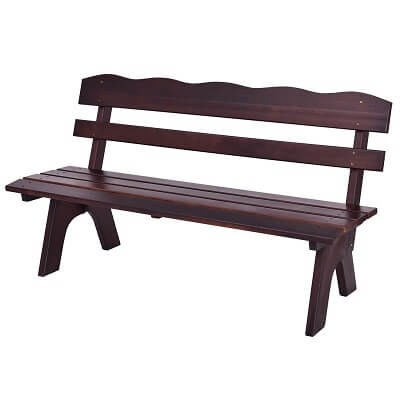 This is actually one of the few wooden benches on this list that does not sport armrests. Do not worry; for those who are concerned, the engineering of the backrest makes up for the lack of armrests.
Read more
Construction
The main component of this bench is poplar wood and it provides you with the strength and durability that you are looking for. In addition, the four legs are wide enough to provide tremendous stability.
Visual Appeal
This bench comes in two different variations and both offer a simple and modern design. One choice is for a dark brown and the other is a light brown (nature) and both will match any outdoor décor.
Comfortability
Giantex designed their bench with comfortability in mind. This is quite evident when you take into consideration the backrest that conforms to your body.
Seating Capabilities
Measuring 16.5 inches in width and five feet in length, this bench is long and wide enough to comfortably seat three adults. Also, with a massive weight capacity of 770 pounds, you can take comfort in knowing it will hold you.
Ease of Assembly
Be mindful of the pre-drilled holes as the instructions are not clearly labeled, nor are the bench parts. For the most part, the assembly process is not too difficult.
Overall
When a bench is able to combine durability, comfortability, and elegance so perfectly, it becomes difficult to ignore. That pretty much sums up this bench to a tie, to be perfectly honest.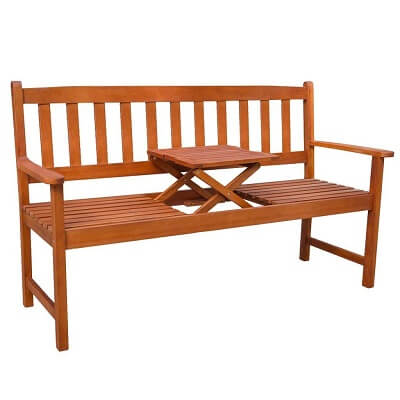 The natural beauty and construction of this bench deserve praise by themselves but note that this last bench is optimal for adults as well as for children. As it can hold up to 300 pounds, it will fit 3 adults at max, and more than 3 children.
Read more
Construction
Despite the wooden frame, this is a quite durable bench and well worth your money.
Visual Appeal
The visual design should appeal to you almost as much as its quality. With the combination of the natural wooden frame, the neutral oil coating, and the pattern on the backrest, it is a beautiful bench.
Comfortability
For your kids, this should be quite comfortable for them as it does integrate a backrest. Adults also find it super comfortable.
Seating Capabilities
Look, no matter how you slice it, with a 300-pound weight limit this is just more than suitable for adults. So if you are looking for a bench for kids, perhaps you should find another choice.
Ease of Assembly
More than one individual commented on the instructions that leave a lot to be desired. Thankfully, nothing required is too difficult, though.
Overall
For your family, this could be one of the best benches on this list. However, that said, those in the market for themselves or older people should probably consider this bench the perfect choice.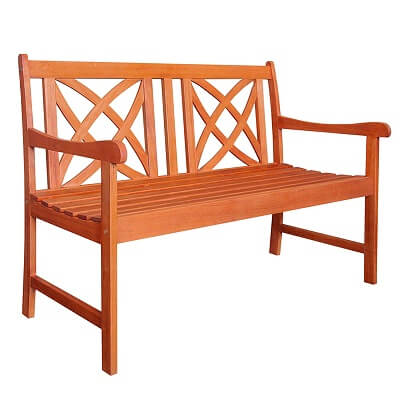 Be warned about this next bench, the appeal is that of natural wood with a subtle red tint. Not all of you will prefer this type of an aesthetic but if you do, the eucalyptus hardwood will complement the color very well.
Read more
Construction
Due to the use of, once again, premium grade eucalyptus hardwood, this bench is not affected by inclement weather and is also protected against mildew, fungi, mold, rot, decay, and even termites.
Visual Appeal
There were a few consumers who complained as they were expecting a red-orange variation. But, as it turns out, this sports a natural wood aesthetic with a subtle red tint.
Comfortability
Because of the well-thought-out engineering of this bench, it manages to conform to your body. This is thanks to the armrests and contoured seat, along with the backrest.
Seating Capabilities
If you were to try and squeeze three adults on this bench, the fit would be a little tight. Instead, it is ideal for two adults and a child or three children by themselves.
Ease of Assembly
While there are some buyers who commented on how easy the assembly was, one buyer thought otherwise. Their major complaint was with the screws and how they were not long enough.
Overall
Despite the fact that not everyone will enjoy the appeal of this bench, most will come to appreciate its heavy-duty construction and comfortability. Plus, if you prefer a subtle red tint it could be a match made in heaven.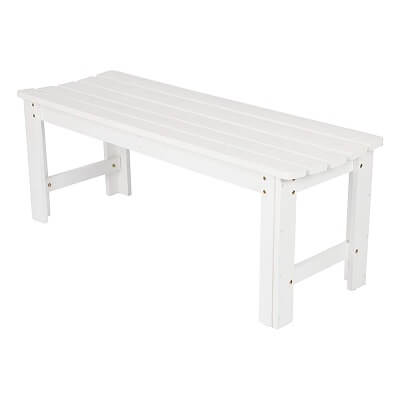 What is nice about this backless bench is it is available in several different coatings. Also, it is made of high-quality yellow cedar and is painted with polyurethane to protect the wood against sunlight and inclement weather.
Read more
Construction
The high-quality yellow cedar wood that is used is known for its resistance to decay, moisture and insect damage. Additionally, the polyurethane paint protects the wood from sunlight and inclement weather.
Visual Appeal
There are multiple finishes to choose from and all are quite appealing. But, arguably the most stunning is the burnt brown coating but there are also choices for white, natural, and taupe gray.
Comfortability
Yet again, this is another backless bench so be wary of that. Still, the bench has been engineered with a rounded seat and this does enhance the comfortability.
Seating Capabilities
If four feet is not a long enough bench for you and your family, you can enhance it by selecting the five-foot model that will account for more bodies.
Ease of Assembly
This is where things get a little messy. For whatever reason, the pre-drilled holes do not align with the screws very well. This has been a common complaint amongst users.
Overall
Despite some engineering flaws, this bench combines a great appeal with a solid construction. Once you are able to finally get it assembled, you will see why it is so popular.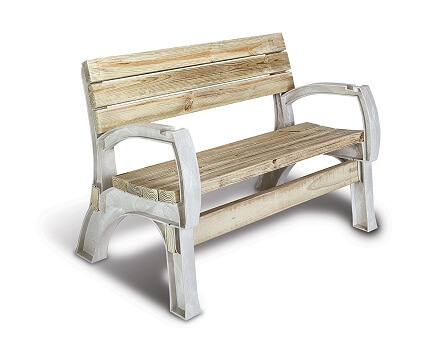 If you are into do it yourself projects, then you will be eating this next bench up. All the hardware is supplied for you outside of the lumber. Once you invest in the wood of your choice, you can begin to build your own personalized bench.
Read more
Construction
The frame that comes with this bench is made of a maintenance-free all-weather resin. However, you are in charge of the wood and can pick any kind that your heart desires.
Visual Appeal
As you get to choose the wood, you have some input on the appeal of the bench as a whole. However, the included resin components are quite stunning in their own rights.
Comfortability
Thanks to the ergonomic design, when you finish assembling your bench you should notice how comfortable it is. In fact, the comfort may even surprise you a little.
Seating Capabilities
When assembled, this unit will stand 32 inches tall. Yet, you get to choose the length of the board. At its maximum, you could provide up to six feet of seating space for you and your friends.
Ease of Assembly
The onus is on you to assemble this bad boy as you need to cut the wood. As such, you need to provide the lumber and any necessary power tools. However, all the other hardware is included.
Overall
If you lack the ambition or will to literally build a bench yourself, you should probably pass on this do it yourself bench. But, think of the possibilities when you are in control of creating it.

Subscribe to our Newsletter