Best Garden Sheds
In a Hurry? Editors choice: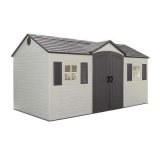 Test Winner: Lifetime 6446

If you are thinking about investing in a
garden
shed, then most likely spring and summer are around the corner, and you just got through winter! Now maybe you are looking into investing in a new
garden
shed because winter was not too kind on your previous and it is time to upgrade or maybe you are a new homeowner looking to create a storage area for all your outdoor gear. Whatever the reason, you have come to the right place as we have done the research and brought you the top ten
garden
shed on the market. We have also explained what features, materials, and styles to consider when looking for a perfect addition to your backyard and by the end of this guide you will know exactly which shed will be best fitted to your needs and backyard style.
Standout Picks
Criteria Used for Evaluation
Size
A few of the metrics what's important to you as a consumer is more important than what anyone else says or thinks. So ask yourself, what are you looking to store? Are you done buying your big outdoor equipment or do you still have future investments coming up that will also need storage space eventually? Will it be free-standing, or do you have a place where you can tuck the shed away? Are you limited on space in your backyard because of your neighbors in a subdivision or inner city? Do you have restrictions on Home Owners Association guidelines? These are all a few aspects you should ask yourself about before you continue with the metrics and what will be important for you. It's always good to think ahead a little bit when planning on buying storage for other things. It's probably a good rule of thumb to buy a little bigger than you need, rather than a little smaller.
Overall size is one of the biggest things people consider when adding a shed to their backyard. The reason is usually due to space or what they are looking to store. On our list above we have a variety of sized sheds ranging from smaller sizes that you would use on your apartment balcony and larger sizes that would be used in a backyard for a detached or townhome.
Features
Now that you know what size it is that you are looking for (or all that guidelines will allow) you can continue on with what you are in the market for today. Back to the question of what you want to store; are you looking for a full service shed that comes fully stocked with shelving units and ready-to-go places to store towels, gardening hand tools, and other items that are best lifted off the ground. Most of the sheds on this list have shelves that can be added easily, but a good number have shelves that come with your purchase.
Features may be overlooked when looking for a shed for your garden due to the fact that many focus primarily on the size of the shed and not what's inside. Make sure you see what add-ons and features come with the shed you have your eye on as down the road it will make your life easier and allow you to store more and keep it organized.
When it came to security- locking up your valuables and being assured they would be there when you get back- all of the sheds, except for two, were all relatively the same; if someone wanted to get into the shed, it wouldn't even take heavy-duty bolt cutters to do so. Merax with its wooden shelf structure has no way, and maybe no need, to be able to lock the storage unit up at night. The Yardstash was a little more secure with velcro openings outback so that a bike lock could be looped through and attached to a pole or fence. Bikes would be safe at that point, but maybe nothing else.
With all of the products about the same as all the other products, it seemed pointless to point out the security on every shed. Instead, notes were made with the above two products, and for the rest of them you would know- yes, you can lock up the doors (locks are sold separately on all models)- but again, if an intruder wants in, they'll be able to find a way.
Materials
The next metric on the list is Material, what kind of material are you looking for? Heavy-duty polypropylene resin resists peeling, cracking, rot, mold, doesn't mind the heat and cold exposure, and will still be good by the time you go to write your will. But that doesn't mean that steel can't stand up to the challenge just as well. Especially when the steel is electro-galvanized for extra corrosion protection. The thing with steel though is that in rain or wind, and sometimes not even that much, it makes a lot of noise. It's a soothing sound to some, and a terrible irritant to others. Do you have neighbors close by? How do they feel about that sound?
Weather Resistance
This is one of the biggest one for a lot of people. Where you live determines what life is going to be like for your wonderful new shed. Do you go through extreme winters of heavy snowfall and lots of risk of ice? Or do you go through scorching heat that you could fry an egg on the pavement in seconds? Maybe, bless your hearts, you go through both extremes of hot heat and frigid cold? This is a metric that matters a lot to you again. What is your climate like, and what will your demands be for this storage unit?
What kind of reinforcements does the shed have? You go hard, so why should you expect any less on your purchases. If you push your limits, then so should your gear. How well does the shed stand the test of time and your children? Is the shed just a pretty accent piece to look at, or is it something that you can depend on throughout whatever life throws at it?
Top Ten Garden Sheds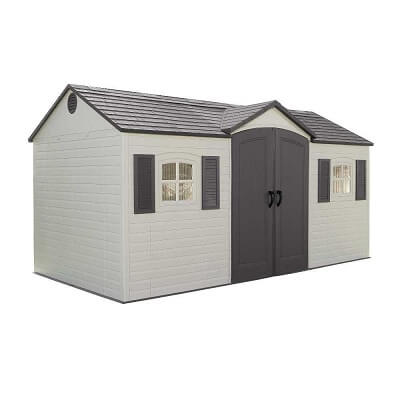 This shed is everything! Complete with six small skylights, two shatterproof windows, two peg boards, two decent sized shelves and four more corner shelves your going to find you want to move all your lawn equipment out so you can move in! If you can resist the urge, then you will find plenty of space for all your needs with this purchase.
Read more
Lifetime was a company founded in 1986, after an idea in a garage took life. They started with basketball goal hoops- making them durable and reliable- and then moving on to other products worth your money. This shed is a doozy- it has everything you can want. You'll be questioning if you can move your troublesome teen into it for the summer. Comes with a decent amount of shelves, with room to spare for more shelves to be added later. The shatterproof windows put your fears to rest with youngsters accidentally breaking the glass.
Size:
The interior measures in at 90" W x 174" D x a pitched roof of 70" - 94" in. H Plenty of head room throughout the inside, allowing taller ladders and poles to finally find a home away from the elements.
Functionality:
It comes with six small skylights, two shatterproof windows, two peg boards, two decent sized shelves and four more corner shelves with a large floor plan its capable of containing all your lawn equipment and summer toys. Think about children's outside playhouses- only for adults. Don't get carried away, this shed won't solve every problem you have- but it will put your security of mind at ease.
Material:
Dual wall UV protected, High Density Polyethylene with steel wall and door supports- lock up your shed and rest assured everything is safe. The floor is also made to be slip-resistant and stain-resistant so undoubtedly when something spills you won't have to worry about slipping or damaging your brand new shed!
Strength:
Heavy duty steel trusses help to increase the weight the roof can hold. If properly assembled this shed is sturdy and comes with a 10 Year Limited Manufacturer's Warranty. It may take some time reading and rereading the directions to properly install, they can be hard to understand at times. Do yourself a favor and look up other customers reviews as this can be a really beneficial forum of advice.
Weather Resistance:
With a high pitched roof, this shed is self draining from rain and snow. With the added heavy duty steel trusses bracing the inside, it will hold back snow all season. This is one shed that you can leave freestanding all year round, year after year, with no worries short of a tornado.
Installation:
This will take 2 people anywhere between 3 hours to 12 hours, depending how well you follow instructions. But don't forget, others have been there before you, look up what all those smart and now enlightened individuals have to report.
Value:
It's pricier, but it's sturdy and long lasting. It comes with a 10 Year Limited Manufacturer's Warranty. Year round, year after year your shed will keep your valuables safe. This is one solid purchase!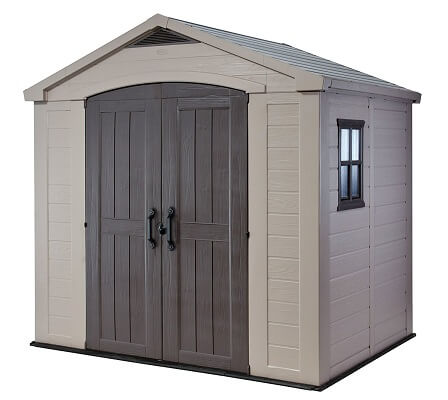 The perfect mid-sized shed for those that have different seasonal equipment all year around. Seamlessly store your snowblower next to your tractor and still have space to move around! Made from heavy-duty polypropylene resin and reinforced with steel for extra security, you'll quickly see why this product made Amazon's Choice list. Able to resist water absorption, rot, peeling, and durable enough to withstand your children growing up playing around it, you'll be coming back to Keter again and again.
Read more
Keter, known as one of the world's leading manufacturers and marketers of resin-based household and garden products around the world today, it has been around for over 60 years. Age isn't everything, but sometimes the older the better- they know what they're about… (cheese and wine- right?!). This shed is just the right size for so many of your outdoor needs. There is room for a grill, your lawn mower, kayak equipment and still some to spare. Put this up in your backyard- any backyard, it looks great freestanding off the side of the house, or it looks great as an extension to your back patio. With great neutral colors you can landscape around this anyway you want and still make it look great.
Size:
The EXTERIOR measures out to 101" in. W x 71.5" in. D x 95.5" in. H which allows you plenty of storage room without that much of a footprint. The INTERIOR measures 93.11" in. W x 63.78" D x 93.9" in. H with great headcover you won't have a hard time storing all your tall and long tools.
Functionality:
Comes included with two shelves, but there is plenty of space to build yourself another and still have room for your mower. Like we just mentioned, it's also tall inside so you can find your ladders and roof snow rake a place to live. Wide double doors allow you to enter and exit with bulky loads. It's also worth noting that this has great natural lighting from above!
Material:
As with everything Keter, this shed is built with heavy-duty polypropylene resin and reinforced with steel. Best part is- it comes backed with a 10 Year Limited Warranty to help you sleep easier at night.
Strength:
Strong enough to see your children graduate. It's highly durable material with a name that's been working with resin for over 60 years- that's got to count for something. This has a better locking system than others on this list, although the lock itself is not included.
Weather Resistance:
Sun or snow- it won't fade, chip, peel, or rot, practically nothing to be worried about. When it comes to yard work around the house, there are already so many worries, it's always nice to have a few knocked off the list.
Installation:
This is fairly easy and understandable instructions. Just pay attention to the details, maybe read through it once and identify all the pieces and parts first and then begin building. It will take 2 people a few hours to fully complete (longer if you don't already have a flat foundation on which it will soon live).
Value:
For a mid-sized shed it runs a little bit into the steeper price bracket range. Keter is a name you can trust with 60 years of experience, although their customer service has been noted to be lacking. If you need room for your basic lawn equipment, but want to have a space you can grow into, Keter has you covered!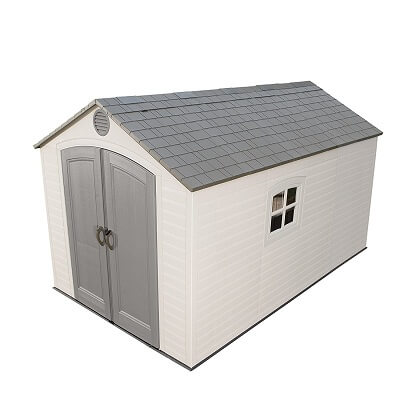 For those that have a lot of outdoor gear and toys, this spacious shed is just for you! Built from HDPE Plastic, it is strong and durable all on its own, but Lifetime has gone a step further and reinforced both the doors and the walls for extra protection and more security on your valuables. Earning a spot on Amazon's Choice list, you'll feel at home in this great investment to protect your possessions in all four seasons.
Read more
What started as one thing quickly lead to others. That's what can be said with the Company Lifetime. A father and dedicated basketball fan just wanted to make a more reliable basketball hop for his son. Now they design and build tables, chairs, picnic tables, and sheds in addition to their basketball products. Remember growing up as a kid playing in your name-brand playhouse in the summer? That's what this shed feels like, only you're an adult now (or that's what they keep telling you at least)!
Size:
The EXTERIOR measures in at 92.73" in. W x 145.5" in. L x 96" in. H. A little bit bigger than the playhouse you remember, but you can still find room! The INTERIOR measures in at 90" in. W x 144" in. L x 70-94" in. H.
Functionality:
Five small skylights, two shatterproof polycarbonate windows, two screened vents, one 90" in. x 9" in. shelf and two 30" in. x 10" shelves and two corner shelves are all included. Good light, good shelving units, endless possibilities. You can store a lot more than just some towels and pool chemicals in this puppy!
Material:
Dual-wall high density polyethylene panels. The flooring is also slip resistant HDPE, which means it will resist stains and rot too. The floor is the same material designed to be slip resistant, so no matter your shoes and no matter the weather you won't fall over in here. Backing up the shed is a 10 Year Limited Warranty which is a great peace of mind.
Strength:
HDPE with steel wall supports, this shed isn't going to blow over in the wind! Consumers reported using it in all kinds of natural elements- don't forget to let others know how well yours does!
Weather Resistance:
This shed comes designed with a high pitched roof that allows for optimal drainage of both rain and snow. That's perfect in so many different environments. With its durable walls, you won't have to worry with heat or humidity, this shed protects from the sun and won't allow rot to find a home.
Installation:
This will take 2 people an afternoon to set up. The assembly is pretty straight forward. However, as easy as the directions can be at times, the foundation on which you build this shed must be perfectly level. If it isn't perfectly flat, the shed will twist and that will make assembly very, very difficult.
Value:
This shed runs on the large side of the shed range, and so does it's price tag. But You are getting what you paid for. Quality parts, a quality name, quality you can trust to be there for you come rain or snow. Designed with 4-seasons in mind this shed will handle what nature throws at it. This is the biggest top three winner, no matter what size you are looking for, there is a shed for you on the top of this list!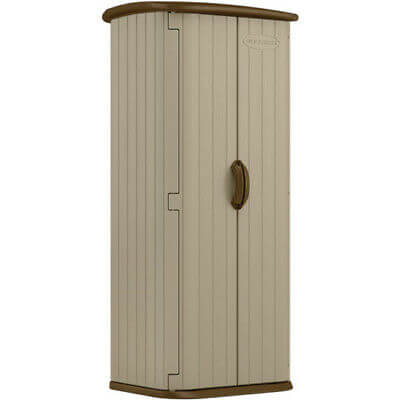 This indoor/outdoor garden shed is the perfect fit for the minimalist, or those that are looking for a seperate shed for their pool towels and accessories. Winning a place on Amazon's Choice list, this product really delivers. As with all Suncasts sheds, this one includes the 10 year limited warranty backing their product. Reinforced walls allow for shelves to be added if vertical height isn't necessary.
Read more
Isn't it relieving to know from the get-go that your potential future purchase is backed by a 10 Year Limited Warranty? We think so! Suncast stands behind their products so much that all of them come with this warranty. This shed is perfect for bundling and securing all lawn care hand tools- or you can easily cut-to-size four shelves and have plenty of space for all your gardening gear.
Size:
EXTERIOR measures in at 32" in. ¼ W x 26 ½" in. D x 70 ½" in. H with an INTERIOR space of 26 ½" in. W x 20" in. D x 67" in. H. This is the perfect size for next to your house on the patio, or tucked to the side in your garage to help reduce on clutter.
Functionality:
Store long handled equipment with no problems. Customize and add anywhere between 1-4 shelves. The shelves are not included, but can easily be cut to size to place into the existing mounts designed on the inside for just this reason.
Material:
This shed is made from durable double-walled resin with wood grain texture. It goes well with many environments, and can be accented well with, or can be the accent piece itself.
Strength:
Tall but stable, with a good reinforced floor for heavier objects. It may be tall, but it isn't bulky, so unless you have heavy winds for long periods of time, this shed will stand on its own- through it all.
Weather Resistance:
It comes designed with UV protection- It's water resistant which means no rotting and no peeling- It's all weather ready baby! While it may be water-resistant, that doesn't mean it was water-tight. Make sure to follow the instructions properly or you may not get a seal like you want.
Installation:
This installation couldn't be easier! 1 person is all it will take, but have a friend come over and make sure the beer gets kept cold while you work, not that it will take you long- less than an hour should be your workload.
Value:
It's on the smallest side of the size range when it comes to sheds, but maybe that's all you need. Well the price isn't bad for the product you'll get. A 10 Year Limited Warranty may not cover all your fears, but it isn't anything to laugh at either. With all the possibilities for personal customization and material you can count on, this shed delivers!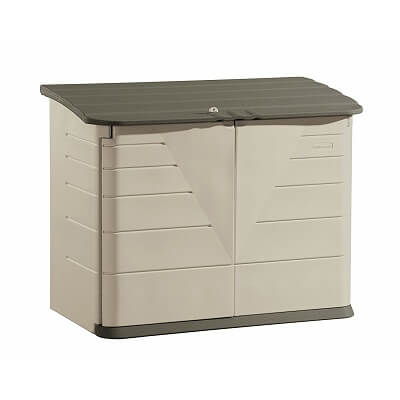 The perfect storage shed for those with lots of outdoor toys and sports equipment looking to assemble all their belongings and be confident that they'll be there in the morning! Top swings upwards and double doors out front allows for easy access to your stuff and as well as for cleaning. This shed is easy to assemble, which makes all the difference! Looks great in many different terrains and house styles- it's sure to find a place in your yard flawlessly.
Read more
You already have a place for your mower- or you pay the kid from down the street to bring his and mow your yard- but you're looking for a convenient and reliable place to gather all your families belongings. This storage shed is what you've been waiting for. With a name like Rubbermaid, its quality you can trust. Having been around for nearly 80 years, they have been continuously fulfilling their mission to simplify peoples lives with innovative and high-quality products.
Size:
The EXTERIOR measures in at 60" in W x 32" in D x 47" in. H. That leaves the INTERIOR to measure in at 52" in W x 25" D x 40-43" in H The difference in slope is the pitch in the ceiling. That's important to know if you plan to put trash and recycling bins past a certain height. Measure your trash receptacles, compare that to the specs laid out here and plan accordingly.
Functionality:
Perfect for all your pool needs. Add in shelves to raise your towels off the floor and have a place beneath for the pool chemicals. The shelf is sold separately, but you can also cut out one yourself and place it in the spot already designated for that reason.
Material:
Constructed from double-walled resin this little beaut is made to see your children from diapers to dorms- and it won't forget to come home on holidays.
Strength:
Low to the ground is a key factor here. This allows for ease of snow shoveling come winter (not that it couldn't handle the weight, but it's better to be safe than sorry with your valuables and any potential water damage inside come spring). Also, because its low to the ground it avoids major wind hassle and if you are low on space, it might even fit under your deck!
Weather Resistance:
It's leak proof; It's dent proof; It's weather resistant! Whether you leave it freestanding off by itself or you have it tucked away under your patio; set it up and leave it! No need to move it again- all year long.
Installation:
This is one of the easiest sheds to assemble as it consists of only 7 pieces! When going to build your shed from the delivery package, all you need are some basic household tools. What could be easier?
Value:
Cheaper than most of the alternatives- this shed is great for minimalists or those that need a simple extension to their main shed. The price is good, its weather resistant, it fits anywhere and goes with nearly every home. This is a great choice for families looking to have a safe and secure place for their pool equipment and chemicals.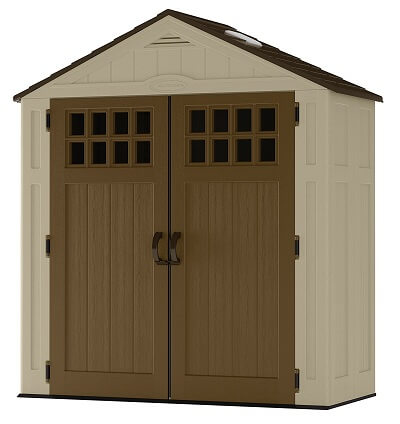 This Amazon Choice listing is worth further investigation. 6 by 3 you'll be able to fit your basic lawn care equipment in this tasteful and quaint garden shed without worry of clutter and unnecessary space for things to inevitably build up. Safely lock up your equipment and sleep easy knowing its secure. Comes with Suncasts 10 year limited warranty! All that- and it's reasonably priced. Like we said, it's worth learning more about!
Read more
This company knows what it is about, showing up on this list several times, it becomes obvious why customers return to Suncast time and again. What size are you looking for? How much are you looking to store? What's your plan for future tools and equipment? Whatever your needs are, Suncast is a brand that is there for you, in any size and shape you need. Backed by a 10 Year Limited Warranty, what more could you ask for?
Size:
EXTERIOR Dimensions: 74 ¾" in. W x 33" in. D x 92 ¾" in. H with the INTERIOR Dimensions running: 69 ½" in. W x 28 ¾" in. D x 90 ¼" in. H and a Door opening at: 57" in. W x 72" in. H
Functionality:
Tall and bulky items no longer have to fit to belong for a place in your garage, finally they can have a place to call their own! Padlock ready, these tools can be stored securely overnight or while you are gone on vacation. There are no shelves in this unit, but a small (yet deep) shelf could be constructed to stand on its own inside the shed.
Material:
Made from double wall resin with a wood grain finish, you'll find it matches most homes, and maintains practicality while being stylish.
Strength:
Metal reinforced shingle style roof and a reinforced floor means that this compact shed can handle you as well as it handles the load you put inside of it.
Weather Resistance:
Sturdy, durable, and weather resistant. You will be able to find a place for all your yard equipment summer into winter.
Installation:
Easy! Follow the instruction, it's even easier than the big box stores where you buy your furniture and piece it together yourself. 1 Person 2 hours or so.
Value:
Of course, being a Suncast product, it comes with a 10 Year Limited Warranty which helps when investing in a new product of any sort. This shed is reasonably priced for the amount of space that you have available to you. This shed won the top place on our list, for the size and price it is the best buy!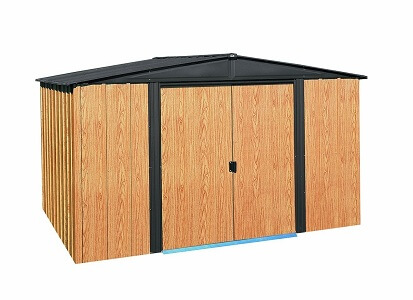 This large shed will hold all of your patio furniture, lawn mower, and pool equipment no problem- and look sleek while doing it! The double doors slide open for optimal accessibility and with as little hassle possible. Made from galvanized steel it has a high tolerance to corrosion- this will eventually become your trusty old shed. It looks like wood, so it's very appealing, yet you can rely on it because its steel.
Read more
ShelterLogic, Corp. is a name that's been around for over 50 years manufacturing top notch products. Arrow Sheds is now a part of the world leading company- names you can rely on. This sleek shed goes well with a variety of backyards- and with the light tan you can contrast it well with numerous shrubs and flower beds. The doors slide open, rather than swing open, which is a unique design. Be wary of windy days when assembling this shed. Not only does it make putting up the sides difficult, there is a chance of warping which will have you spending sometime un-warping it before you're able to proceed. Using lots of sealant during assembly will help to prevent leaking. For advice on where and when to use sealant, look up what other consumers are saying online- they're advice can be invaluable.
Size:
This shed can hold it all! 413 cu. Ft. floor space with a door opening of 55" in. W x 60" in. H the interior measures out to 118.2" in. W x 90" in. D x 71.6" in. H
Functionality:
This has a basic open floor plan, what you do with the space is up to you! Wheel in some shelves, or construct a freestanding wooden one and now the possibilities are ten-fold. There is no floor with this shed, so the foundation that you build it on is important. As with all the sheds, you want to have a level base on which to construct the shed. Whatever material you go with, that is your floor for this shed. That can be a really good thing!
Material:
Made from sturdy electro galvanized steel treated with zinc for strong corrosion resistance- this shed is meant to last!
Strength:
This is steel we're talking about- it's strong. Once it is fully assembled and fastened to your flat base- you know it's going to be there still years from now. It does make a lot of noise in heavy winds or rains- some people fall asleep to that kind of sound though.
Weather Resistance:
Make sure to use sealant when assembling this shed, that comes it handy later when you want to make sure your belongings stay dry throughout the year. This is hardy enough for New England winters- or rather New England weather in general- its known to be tempermental at times.
Installation:
Easy to assemble. Pre-cut and pre-drilled parts make the job much easier. Just follow the instructions- pretty explicitly. It's going to take two people several hours to do. The amount of time varies on how well you can follow instructions (and read between the lines).
Value:
For everything you are getting, as long as it is on a secure and level base, this shed will last for years to come- it may even enter into your will. It falls about mid-range in the price bracket, which is pretty great considering its steel and how big it is. Put in the energy and effort at first, and the shed will reward you with security of mind.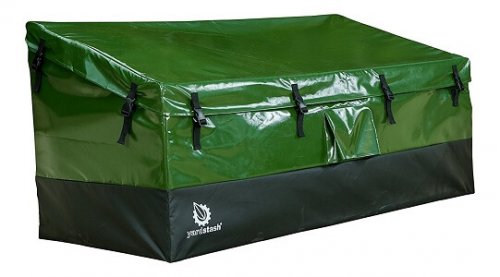 Goes up in 15 minutes, no extra tools required, this "shed" is convenient and portable. Take it with you to the cabin, or on a long camping trip with your friends. This product won't warp, crack, or leak. That's reassurance at it's finest! Welded seams and internal pole frame structure, this shed is made from heavy duty weather-proof tarpaulin. Keep your basic backyard gear safe even throughout the winter!
Read more
Yardstash is committed to helping people reduce on clutter, secure your belongings, and do it inexpensively! In a world with increasing prices we can all appreciate that a little. Yardstash delivers! This shed goes up from the protection of the delivery box (actually in the box the tent comes in a convenient carrying case) - to a protector of other boxes (or whatever you actually decide to put inside of your new investment). No need to worry about taking this down in the winter, it's a year round shed! On that note though, should you "worry" about moving the Yardstash around, it folds up and repacks with ease!
Size:
The Yardstash measures in at 74" in W x 32" in. D x 68" H. It can hold a surprising amount. Consumers report putting multiple bikes inside with relatively little hassle- not to mention the decent sized list of other things that were able to fit inside as well.
Functionality:
This shed is perfect to winterize your bikes and other miscellaneous summer tools throughout even the harshest winter; yet allowing ease of access with dual zipper action during the rest of the year while its one again needed.
Material:
Made from thick, heavy duty, weather-proof, tear proof, and UV fade proof vinyl tarpaulin this shed will still be around when you send your first born off to college!
Strength:
Dust, pests, mold. Nothing gets in, and- well actually condensation leaves. Designed with a mesh vented flap in the front helps to reduce on condensation build up. The zippers have storm tabs too help with a better grip, even in inclement weather.
Weather Resistance:
Wind, sleet, sun, rain, all the extremes are covered. Built with sealed seams and a new patented snow shedding roof design, this rugged beast will weather any storm. Consumers even reported that properly staked down, the Yardstash lasted through some hurricanes as if nothing happened!
Installation:
This wins the fastest set up time. Who knows, it may even take you longer to open the box than it does to set it up in your backyard!
Value:
This is one of only two sheds on the list that doesn't lock up your equipment very well. That being said there is a back flap of velcro that enables the consumer to lock bikes (and other valuables) to poles or other secure locations. With its durability, ease of mobility, and reassurance that your gear is safe in weather all year- not to mention its low price tag and comes with a 2 year warranty- this shed lands in the top 3 of our list of Best Garden Sheds.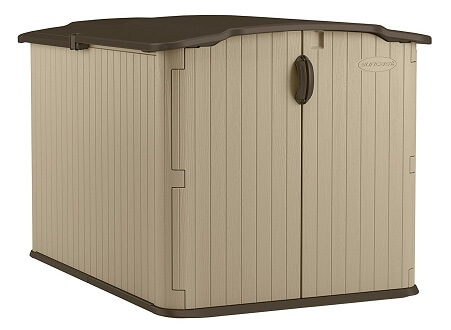 Assemble this shed yourself with minimal tools required. With a secure lockable lid you can leave the house knowing your possessions are safe. Designed for walk in accessibility, but without need to always open the top. Maintenance and upkeep is an easy chore- have your kids clean it out for you, they can handle it! Comes with Suncasts 10 limited warranty.
Read more
Consolidate all of your lawn equipment into one convenient location. Slide back the roof for top only access, or swing open the front doors and retrieve only what you need. If you like reassurance when you buy things, this should lay your heart to rest, as with all Suncast products it is backed by a 10 Year Limited Warranty, now you have nothing to worry about.
Size:
EXTERIOR Dimensions: 57 ½" in. W x 79 ¾" in. D x 52" in. H with the INTERIOR Dimensions being: 50 ¼" in. W x 71 ¾" in. D x 49" in. H and the Door opening at: 46 ¼" in. W x 46 ¼" in. H
Functionality:
Reinforced and sturdy floors means that you can put lots of weight on this and not worry about a thing. Store all of your sports equipment and yard toys, or find a home for your pool chemicals. Whatever you decide to do with it, it's sure to go great!
Material:
Durable multi-wall resin construction means that this is built to last! The inside has been reinforced with metal, so you know that it is going to hold together.
Strength:
Short, squat, reinforced, this shed can handle its own year after year.
Weather Resistance:
This little shed won't blow over, and it can be left out freestanding on its lonesome- or tucked away underneath a patio. A really awesome feature is that this shed fits in a lot of Home Owners Association guidelines. Finally a shed with strength, adherence to your neighborhood rules, and the ability to weather the storms with your families possessions kept safe.
Installation:
It will take 1 person about 1 hour or so from start to finish. All it requires are some basic tools and the assembly is easy. The directions are clear and simply laid out.
Value:
Easy installation; as hardy as your families demands; maintenance and cleaning so smooth you can have your children do it! It runs a little bit on the pricier side, but you will get what you pay for!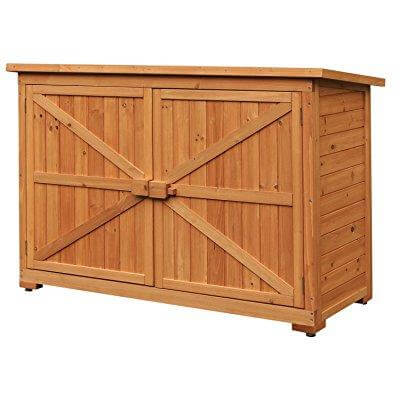 Perfect for any gardener with the basic gardening equipment. Then again, maybe you are looking to spruce up your patio with a new pool towel and accessory shed. Either way this stylish and functional storage unit is sure to have the neighbors asking where you got this perfect product.
Read more
Merax has been making products with innovation, enhancing and simplifying its consumers lives since its founding back in 1995. Based out of Los Angeles, California, you'll find it's wide range of products to be forefront of fashion and practicality.
Size:
Approximately 33" W x 18.3" D x 63" H its footprint isn't that big so it doesn't take up much- while holding a decent amount.
Functionality:
Two shelves make up the interior of the shelf, with a wooden base for a floor. Hoses, short shovels, hand tools- or your families pool towel needs, this shed will house up to 30 pounds of weight per shelf. The best part is that its made from fir wood, giving it a very appealing look- the fresh wood smell is free.
Material:
Solid fir wood construction, it is a beautiful cut of wood- but also soft.
Strength: As was stated above, it can hold up to 30 pounds of weight per shelf, which is a decent amount, but don't push the fir wood too much, it'll warp before it snaps.
Weather Resistance:
The roof is made out of black linoleum blending it in with many roofs. Coated in waterproof finish already- yet many stained it with a second coat or painted it a new color altogether and it took to it well. Works well in mild weather, or indoor use, but harsh snowy winters might be too much for this shed.
Installation:
This shelf is super easy to instal for two people, or even just yourself if you have to. It takes about an hour from start to finish.
Value:
Not a bad price for the size and amount of stuff it can hold, but it is not as sturdy as some of the competitors. It's a great accent piece winning the most stylish shed award, but don't expect it to stand up to harsh weather.

Subscribe to our Newsletter