Best Garden Tools
In a Hurry? Editors choice: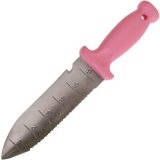 Test Winner: A.M. Leonard Stainless Steel

When it comes to
gardening
, there are so many opportunities for you to enjoy it rather than to dread it. No matter what your needs and wants, you can't accomplish any of these things without the proper garden tools. There are some
basic
tools that every gardener should have, but there are some fun little extras that you might enjoy too. You will need to store your tools in a dry place and keep them maintained when necessary; read all your manuals before getting started so you will always get the best performance out of your tools. You might want to consider gifting some garden tools to your favorite gardener and don't forget the professional landscaper in your family. Garden tools can be used by hobbyist, homeowners, and professionals. Some garden tools serve multi-purposes and can be used for camping, boating, and other hobbies too. When you make your list of must-have gardening tools, don't forget to include things such as gloves, a bucket, maybe an apron, definitely some
bug repellent
, and sunscreen too.
Standout Picks
Criteria Used for Evaluation
10 Best Garden Tools
1

. A.M. Leonard Stainless Steel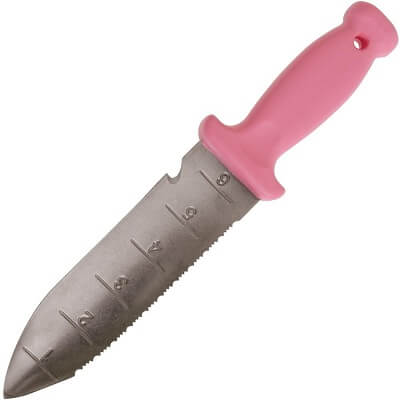 This is a must-have garden tool in everyone's kit. The multi-purpose tool can be used for almost anything you can think of.
Read more
Features
This durable, multi-task knife is the sharpest of all the soil knives out there. It provides you with a serrated blade on the edge of one side and the other side is sharp enough to slice through anything that gets in your way. It's such a superior knife that it is recommended for use by master gardeners everywhere. Use it to divide your perennials, dig the dirt to plant your flowers, slice through the roots, or cut some twine. The uses for this handy tool are endless. You can even use the blade as a ruler for measuring the depth of your holes. The pretty pink handle makes it easy to see so you don't accidentally get cut, and the hole in the handle will conveniently fit string for hanging the knife from your wrist or toolkit.
Durability
The durability of this knife will assure you can cut through the thickest soil and it won't bend or break away from the handle. It won't rust, and the handle won't peel or flake like some.
Ease of Use
It's lightweight and designed to fit perfectly in your hand. The blades glide through the soil with ease and you will never have the worry of it slipping from your hand during a tedious project.
Value
Just like your kitchen tools, you don't want to use cheap gardening tools either. The quality of this handy gem makes it an invaluable tool that will last for years.
Summary
Of all the knives we researched, this one came out on top for its versatility and durability to cut through anything that gets in the way. You could find uses for this knife beyond the garden too. Take it with you on the boat or through it in your pack when you go camping. You never know when you might find a need for this wonderful tool.

2

. Felco F-2 Classic Manual Hand Pruner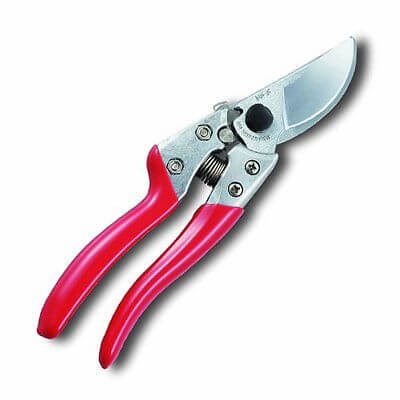 Once you get your hands on these pruners, you will wonder why you waited so long to start using them.
Read more
Features
These are a simple little pair of hand pruners with a whole lot of cutting power. This pair is designed to fit easily in larger hands, but there are other designs available for small and average sized hands. They are professionally recommended for trimming everything; trees, shrubs, and roses bushes. They are perfect for cutting flowers and weeds. There isn't any challenge these pruners can't handle.
Durability
Made of quality steel, these blades won't get stiff or rust. You can abuse them, and yet, they will still continue to make clean cuts for many years to come.
Ease of Use
They are lightweight with handles that are soft and easy to hold. Finger grooves were molded into the rubber handle to form a firm grip assuring you won't drop them mid-cut. They offer great cutting power and you will never have to twist the pruners or shred what you are cutting. You can easily take them apart for sharpening the blades and putting them back together are as easy as pie.
Value
These are not an ordinary cheap pair of hand pruners. With their quality and performance, they are built to last for many years.
Summary
No more sweating and swearing when you're trying to get those limbs cut off the tree. With this ingenious tool, you can cut through anything with the same smooth performance every time. They might not be cheap, but they are worth every hard earned-dollar spent.

3

. Corona Razor Tooth Folding Pruning Saw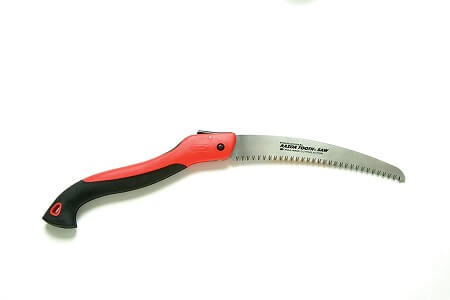 This handy little folding saw is so convenient it will fit in your hand with ease. It's versatile and can be used for almost any project.
Read more
Features
Designed to cut through the most stubborn brush, you will find it easy to tackle those thick trees and shrubs behind your house. The blades are sharp enough to quickly and easily cut through logs that only a chainsaw can cut, and it will easily get in places that a larger saw won't fit. It conveniently opens like a pocket knife and closes securely when it's not in use.
Durability
The durable blade provides enough teeth to get through the tough stuff without bending or breaking and won't dull after the first time you use it. The handle is sturdy, however, the nut tends to loosen, so will you need to tighten it occasionally, so it doesn't fall out.
Ease of Use
It is comfortable to hold with the brilliant ambidextrous grip. It's simple to open and it securely closes; you will discover that cutting through surfaces has never been easier. When the time comes, and it will eventually, to change the blade, you will find yourself doing that with ease.
Value
This pruning saw is so simple and convenient that it adds so much value to any work project it will pay for itself in no time.
Summary
You can't go wrong when you choose to add this tool to your collection. It's easy to use, it cuts through everything, and it provides an excellent locking mechanism. There isn't much more we can say about the quality of this pruning saw.

4

. Wilcox Stainless Steel Trowel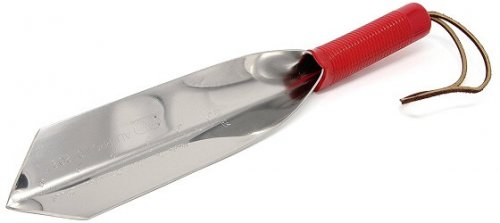 If you spend every day in your garden and you need a basic tool that will assist you with almost every project, you will want to check out what this garden trowel can offer you.
Read more
Features
Featuring a sharp point at the tip of this trowel, you can dig up all your weeds or transplant last years growth. It's perfect for your potted plants and its shape will allow you to scoop anything and keep it on the trowel. The lanyard on the tip of the handle will keep it safe and secure, so you won't waste too much time trying to remember which part of the dirt you left it in last.
Durability
This is a solid tool with a stainless-steel blade that won't rust if you forget to dry it, and the handle is secure enough that it won't break when you dig into the hard ground, it will even cut through cement.
Ease of Use
The easy-grip handle makes it easy to hold this trowel and the sharp edge and shape make it possible to conquer any task.
Value
For a tool of this quality and performance, it's well worth the price.
Summary
You will be able to get the job done easier and faster with this garden trowel at your side. Do your weeding, planting, and smoothing all with the same tool and enjoy the positive results you will get.

5

. Nisaku Hori-Hori Tommita Weeding Knife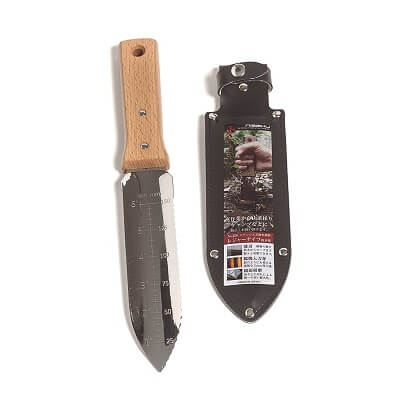 For a knife that will last forever even with regular daily use, you might want to add this one to your collection. You will be surprised how well this one performs.
Read more
Features
At first glance, you might think you're looking at a fishing knife, but it is this awesome weeding knife instead. It will cut through tough, half-inch roots, and digging down to remove the small tree won't be a problem either with this handy knife in tow. It provides two sides of sharpness, one that is smooth, and the other is serrated. It provides inch markings much like a ruler for planting depth, the handle is soft and splinter-free, and when you're not using the knife, it will store safely in the leather sheath that comes with it.
Durability
This is a top-quality durable life that will outlive all the others. It's sharper than most pocket knives and it won't break or bend no matter what job it tackles.
Ease of Use
It's extremely easy to slide in and out of the sheath, it's lightweight making it easy to hold, and when you're finished, it's easy to clean.
Value
Knowing it will last forever with daily use means that you won't have the need to buy any other knives, that's not only a bargain but a bundle of value too.

6

. Felco F-600 Classic Folding Saw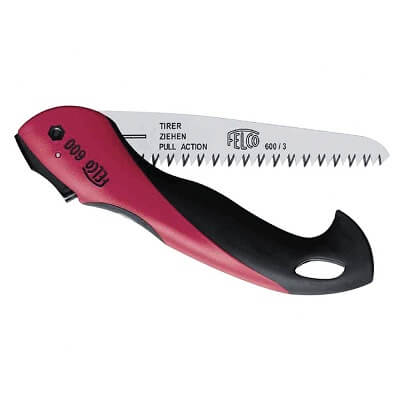 Replicating the look of a pocket knife, this folding saw will come in handy for many of the chores on your list.
Read more
Features
This one offers a unique design with thin blades toward the top and the thicker ones are toward the bottom. It cuts clean every time and won't stick or clog. The teeth stay sharp, the blades won't rust, and the handle offers a soft, secure grip. You can use this saw for fine pruning or cutting through heavy tree trunks, it doesn't matter what you use it for, it proves the same positive results every time.
Durability
Rugged construction and stability are what this little saw delivers. It's lightweight, yet sturdy with the capabilities of cutting through thick messes, although there have been some cases of the blade breaking on impact with extremely heavy use. Both, the closing system and handle, is durable and will not break or crack.
Ease of Use
With the locking mechanism designed into this saw, it easily opens all the way and locks in place. When you're finished, simply push the button to unlock it and it will smoothly close again. It's easy to hold without the fear of it falling and cutting you in the process.
Value
The quality construction, along with the affordable price easily show off the value this little saw holds.
Summary
This is one you should consider for all your needs. Not only can you use it in the garden but consider adding it to your camping accessories or your backpack. You never know when you will need this handy little tool.

7

. Fiskars Big Grip Trowel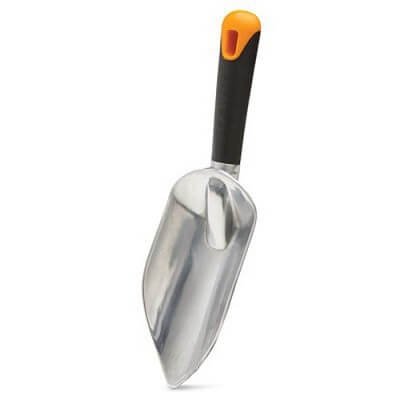 This trowel is bigger than the average making it easier and faster to complete the job at hand successfully.
Read more
Features
Although some find the larger design on this one to be overkill, most find it to be the most convenient and best garden tool they own. The lightweight handle and scoop are larger than average, but that means you can move a lot more dirt in half the time with little to no effort. It doesn't provide the sharp edges and nose like the others, but it is just as easy to dig through the dirt. Think about transferring your soil and digging your flower beds using this trowel. You can sit on your patio and play in the dirt along the edge of the concrete or fill your flower pots with your summer blooms.
Durability
Durable, strong, and larger than most, this trowel will stand the test of any project it encounters. It's well designed with an aluminum scoop that won't rust, and the long handle won't crack or break away from the base.
Ease of Use
The longer handle and base might be awkward for those with smaller hands, but despite that factor, it is designed with comfort in mind. The handle provides a soft secure grip and offers easy leverage. It's lightweight and easy to maneuver.
Value
The larger design allows you to get the work done in half the time and with the low price, you can easily comprehend the value here.
Summary
Moving dirt can't get any easier than this. With the larger design of this trowel, you will get more versatility from the tool. It might not cut like the rest, but it's the best when it comes to transferring dirt.

8

. Cobra Head Long Handle Weeder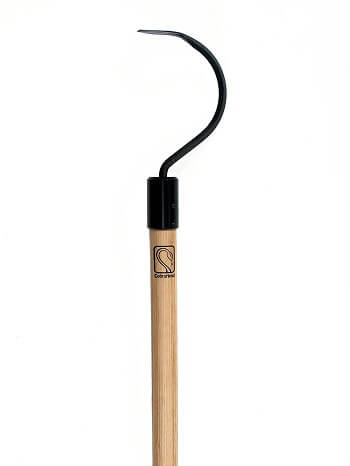 When you suffer from back and knee pain, what was once an enjoyable hobby might become more of a chore. With this long handle weeder, your gardening can be enjoyable again.
Read more
Features
With the flat wide hook on the end of this long handle, you can rip through the hard clay and soil without having to bend over or kneel on your knees. You can use it for edging or pull out that stubborn crabgrass. It will easily slide under shrubs and other tight places that your ordinary tools can't reach. The wooden handle is smooth and won't splinter, so you won't have the fear of hurting your hands.
Durability
The hook is durable and strong; it won't bend in tough situations, but in time it might get dull and not perform to your expectations, no need to worry because you can purchase replaceable hooks for this tool. The handle is sturdy, so there is no need to worry about it snapping in the middle of the job.
Ease of Use
This long handle weeder makes it simple for anyone to use and there is no bending, so your sore back and knees won't slow you down. It's simple to use and turning over dirt will now be a breeze. The only downside to this tool is that you will need to assemble it before you can use it, but the assembly process is simple, and it won't take much time.
Value
The affordable price and money you will save from muscle repair treatments is value in itself where this tool is concerned.
Summary
Turn your gardening into a hobby once again with this brilliant long handle weeder. Never again will your pain get in the way of your enjoyment. Get out there and cultivate some soil, do some edging, or pull those weeds away from your rose bush. No matter what you choose to use this tool for, you will feel accomplishes at the end of the day.

9

. Black and Decker Steel Fan Rake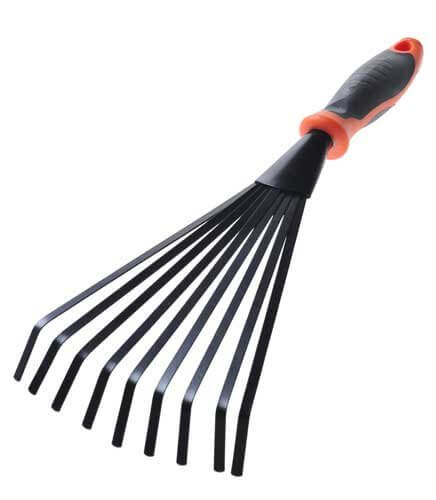 This seemingly simple tool is a great size for cleaning up tight spaces like flower beds or under thick bushes where a standard-size rake may not fit. At just 5 inches wide this tool could be a could addition to your garden tool kit.
Read more
Features
At just 5 inches wide, this seemingly tiny tool is a great addition to your kit. If you find yourself in a tight spot, this small rake can help reach those tight corners or under dense bushes.
Durability
The flexible fan-shaped tines are covered with a powder-coat finish that makes it rust-resistant. You shouldn't have any problem making this rake long-lasting but if you do find an issue, Black and Decker has a three-year warranty.
Ease of Use
Like all rakes, this is very straight-forward. Rake your flower bed to get rid of debris like you would with a larger rake.
Value
This comes with quality, durability, and an affordable price. It's worth every penny spent, and it will hold its value for a long time.
Summary
If you're looking for a small garden tool that will make a big impact on the presentation of your flower beds this is it. Not only will it be long-lasting, but the price tag is small enough that you shouldn't have any hesitation.

10

. Fiskars D-Handle Digging Shovel



No matter what chores you're doing on the lawn or garden, a must-have is a good shovel, but this one isn't exactly like an ordinary shovel.
Read more
Features
Unlike the average garden shovel, this one is longer and larger, and it isn't constructed of wood and fiberglass. The all steel design assures the handle won't break and the shovel won't bend. It has an oversized plastic handle that's easy for two-handed maneuverability. The platform where your foot pushes the shovel into the ground is also larger than the average and the sharp blade on the bottom will assure easier digging into the ground.
Durability
This shovel is sturdy and solid. It won't bend, and the shaft won't snap assuring a longer lifespan than most. Although the handle is made of plastic, it is durable and strong and won't break off in your hand.
Ease of Use
With a decent weight and balance, this shovel is a cinch to use. The extraordinary grip and larger foot platform make it easier to maneuver and control than most. You will never find another shovel designed like this one.
Value
This shovel is exceptionally priced right for the quality. It's made to outlast the average shovel, so you will be able to use this one for many years to come.
Summary
No matter the chore, large or small, this is another must-have gardening tool that you should consider adding to your collection. It's built with durability and quality and will live longer than all your other ordinary shovels.

Subscribe to our Newsletter