Best Garden Planters
In a Hurry? Editors choice: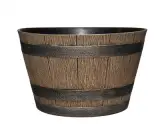 Test Winner: Garden Goodz

There are many reasons to invest in a
garden
planter, but one of the best reasons is that they look really sharp, and can often be painted to match the outside of your house of the theme of your patio. Surprisingly, you might find that your vegetables actually do a little better inside of a box, because you are really able to control what type of soil and fertilizer that you use. In fact, some people even prefer to use raised beds even if they have a lot of room and good soil because they like not only how well their
vegetables
thrive, but they also love how organized it looks, and makes it easy to mow around. Below we have listed the top ten garden planters to add a sense of style to your patio or
backyard
and explained what to keep in mind when looking.
Standout Picks
Criteria Used for Evaluation
Value
You are going to want to spend more of your money on top-notch potting soil and seeds, and less money on where to put them- and we understand that. Some of the beds we found on the market have a price tag that appeared to be incredibly unreasonable for a simple box. From those products, we didn't really find anything that justified such a high price tag. They were typically made from the same types of materials as the more reasonably priced designs. The only thing that made them stand out from the others what they typically sported a very modern design. While style is something that is important- it isn't that important in the face of raising some delicious crops.
Overall when looking to invest in some new garden planters you want to look closely at the price tag as most of these planters are made to do the same thing so you should not spend extra money.
Ease of Use
No one likes something that takes forever to put together, or that doesn't come with clear instructions. When we were on our search for the best products, one of the things that we liked to see is products that didn't require any tools. Many of the raised beds required the use of simple tools such as an Allen wrench or a hex key- but most of them simply included them with the purchase of their product. Luckily, almost all of the products found on this list are simple to put together and will not take you more than 10 minutes from start to finish.
Most of these planters will be quite easy to put together and you will have your plants in them in no time, others may take you some time to construct. Depending on your schedule and the size of the planter that you want in your patio or garden will depend on how much assembling you will have to do.
Capacity
This was another big point that we looked at. We wanted to make sure that we selected designs that allowed you to grow all of your favorite vegetables without being limited. Since most crops need about 10 to 12 inches of soil to be able to thrive (and that includes root vegetables such as onion, carrots, and potatoes), we made sure to select beds that came up to be at least 10 inches high. The majority of selections that are found on our list allow you to grow just about anything without being held back.
Durability
This is another important point that we looked at- durability. These beds often come with a pretty hefty price tag, so you will want to only have to buy them one time. We made sure to select designs that were made from really strong materials that will hold up in the harsh winter months, and still be ready to go once the snow melts. Materials such as steel and aluminum might be easily dented, but they are the materials that are pretty indestructible. We leaned toward raised beds that used these types of materials because they were just so durable- plus they are easy to spray paint if you wanted to change the color to match your house.
Top Ten Garden Planters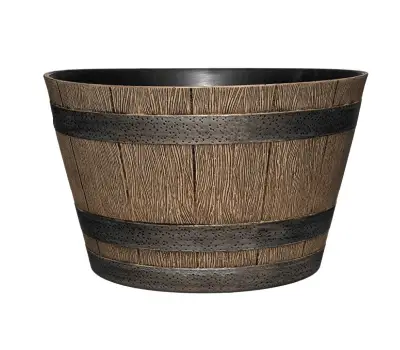 No outdoor patio area would be complete without the addition of a whiskey barrel used for flowers, herbs, or vegetables. This is something that just never seems to go out of style, and you will find many outdoor spaces all over the country. GAREDENGOODZ offers a design that is sharp, but it also comes in at a very affordable price point.
Read more
Design:
This is one of the most stylish items to make this list. What it lacks in utility it makes up for with style. It is made to look like an old whiskey barrel that has distressed wood and comes in a thick brown with black accents. Users can select from different sizes that start with 9 inches and runs all the way up to 20.5 inches.
What to plant:
If you opt for anything under 20.5 inches, you will only be able to plant small types of crops, herbs, and flowers, because it won't be deep enough for adequate root growth. The 20.5-inch design is perfect for most crops because it stands to be 12.5 inches tall. What this barrel would be really great for potatoes. Once they are ready to harvest, simply tip the barrel on its side and collect your bounty.
Ease of use:
Due to the fact that is it just a simple container- there is absolutely no need to put anything together. It is ready to use right out of the box. Simply fill it up with your favorite mixture of dirt and planting soil, and you are good to go. When it comes times to water, there are drilled drainage holes on the bottom that will release all of the extra water.
Summary:
If you are in the market for something that will look fantastic on your patio, demands no installation, and comes in at a really affordable price point- this is going to be a great place to grow your summer vegetables or herbs.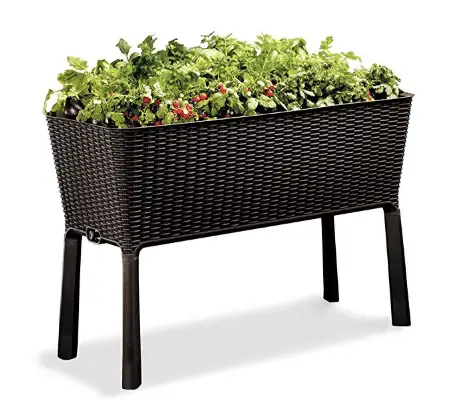 Keter makes a product that is perfect for those that are working with a very limited amount of room. This design is made to be placed on a patio, or even on the balcony of an apartment building. It has a stylish exterior that will bring a little life to any type of outdoor space.
Read more
Design:
The exterior appeal of this product is what made it really stand out from the rest for us. It has a wicker shell that is offered in two different colors- espresso brown or grey. Its narrow design makes it easy to place against a wall or a ledge without taking up that much room, but it still has a lot of space inside to plant your favorite fruits or vegetables.
What to plant:
There really isn't a whole lot of limitations when it comes to what you can plant with this product. Sometimes with raised patio beds, they often aren't deep enough to plant a lot of root vegetables. The Keter is deep enough to plant all of your favorite root vegetables such as carrots, potatoes, and onions (the basic building blocks for any soup), with plenty of room in the bottom to spare. It is also perfect for any other type of vegetables, such as tomatoes and peppers, and you can even plant herbs and flowers.
Ease of use:
There is one thing that makes this unit special, and that's the watering system. Often, when it comes to these types of units, there are holes in the bottom to allow for the water to drain out of the bottom. This can be a problem if you want to keep your patio clean. With this unit, however, there is a water release valve at the bottom that allows you to drain excess water into a container to keep mud and water off of your clean patio. Putting it together will not require any tools, and the instructions that are included are clear and concise.
Summary:
While this product is perfect to plant all of your favorites while cutting down on the mess- it does come at a pretty high price point. However, if you long for fresh vegetables but don't have the room to plant them- this will be well worth the padded price tag.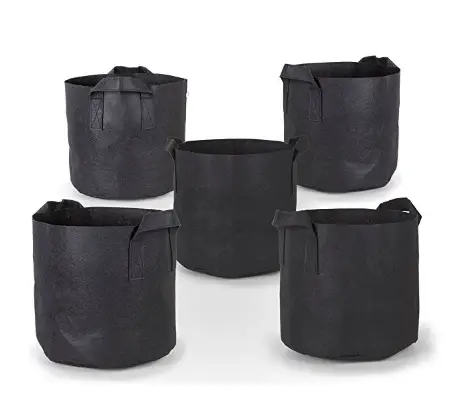 These bags are perfect for those that are dealing with backyards that have less than ideal soil. Not only are they great for those that have limited room to work with, but they are incredibly affordable. They don't have the same aesthetic appeal of some of the others out there on the market- but they make up for their looks with their low price tag.
Read more
Design:
There is much to be desired when it comes to the exterior look of these bags. They are just that- mesh bags that resemble your reusable grocery bags. They are offered in only one color- black. However, what they lack in design they make up for in utility and price. They can be used just about anywhere, and the best part about them is that if you find that they are in need of just a little bit more sun, you can easily pick them up and move them.
What to plant:
One of the best features about this product is that you can select that right size bag for your specific growing needs. If you are want something that doesn't require a lot of room for roots, you can opt for the simple 1-gallon bag. If you want something a little bit more heavy duty for your root plants such as carrots or potatoes, the 30-gallon bag might suit your needs better.
Ease of Use:
Another great feature of these bags is that they are ready to go right out of the box. Simply fill them up with good dirt and potting soil, place them in a place where they can get enough sunlight, and add your fruits and vegetables. As we stated earlier, if you find that they are not thriving in the place that you put them, the handles that are placed along the sides makes it easy to pick them up and move them to a better location. Plus, the mesh material makes watering easy because excess water escapes through the sides naturally, instead of through drilled holes.
Summary:
A set of 5 of these bags will cost you about the same price that you spent on lunch this afternoon. They are really easy to set up right out of the box and are perfect for indecisive users that cannot even seem to find the right spot for their crops. They might not look the greatest sitting on your patio- but they are effective and inexpensive.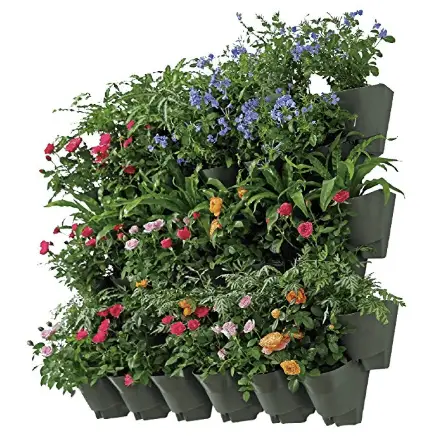 Are you living in a space that can be compared to a postage stamp? If space is a valuable commodity where you live, and you feel like there is just no room to grow anything- this product by Worth may just be your solution. It hangs on the side of a wall and has many individual spaces for many different types of plants.
Read more
Design:
Where this product really shines in is its innovative design. One order comes with a set of 36 pockets for individual plants. You can opt to hook all of the pockets together to make one big wall of flowers and herbs, or you can separate each pocket and hang them is various spaces as you see fit. The pockets come in a neutral tan color so they will blend right into your outdoor space.
What to plant:
Due to the fact that each pocket is just a little bit shallow, you are going to be a little bit limited on the things that you will be able to plant. While you won't be able to plant things like root vegetables such as carrots or potatoes, you will be able to plant various types of herbs. You can even plant different types of leaf lettuce to have all of the makings for a great salad right outside your door. Plus, it is perfect for planting flowers to create a beautiful wall of color.
Ease of use:
Each pocket snaps securely into place if you want to hook them together, and they also can be easily removed when you wish to separate them. Where you might run into a little bit of trouble is setting up the water source. To make watering easy, there is a hose that runs along the top that will self-water the top pockets, and the water will trickle down to the bottom. However, few users have complained to have had difficulty setting up the irrigation system.
Summary:
The price of this unit is just a little bit more expensive than some of the other units out there on the market. However, if you were planning on cutting costs a little bit, you can always buy a pack that is sold in lesser pocket quantities. If you are someone that just doesn't have the room outside to grow anything- this is going to be your solution.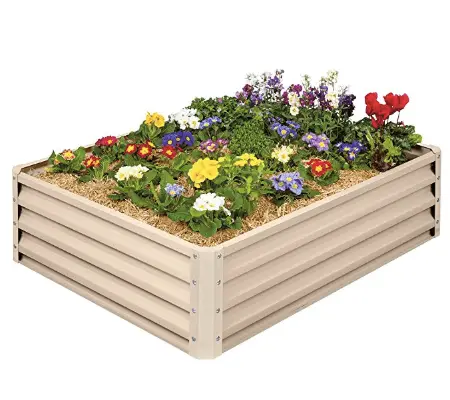 Mr. Stacky wants things to be simple and easy. These beds are really easy to put together, are made to last a really long time, and are perfect for any type of fruits or vegetables that you want to dine on this summer. If you have soil that is less than ideal for growing anything, this is going to be a great solution to that problem.
Read more
Design:
The outside shell of this design is made to really compliment any outdoor space. It comes in a light tan color that can be easily spray painted to match your house or your patio. It is 46 inches long and 35 inches wide and stands up to be an impressive 12 inches tall. It is constructed of a really durable metal that won't rust or crack. Even if you live in a part of the country that has really harsh weather- this bed will stand up to all of it season after season.
What to Plant:
The sky's the limit with Mr. Stacky. Due to the fact that it sits an impressive 12 inches deep- it is able to accommodate almost any type of fruit or vegetable. The deep design makes it perfect for root vegetables such as potatoes, carrots, onions, or celery, as well as taller plants like tomatoes and peppers. It can even be used for planting flowers as well as an extensive herb garden.
Ease of use:
Users have reported that putting together this unit is really simple and easy. All you need to do is to fasten the four corners together using the hardware that is provided with purchase. You might, however, have to dig into your toolbox for a Phillips head screwdriver to ensure that the screws along the side are tight enough- because you certainly don't want any leaks. Once it is assembled, simply place it in your yard and fill it with good dirt and topsoil.
Summary:
One of the best features of this product is the price. It is priced considerably lower than many of the similar designs out there on the market. If you wanted to plant just about anything and wanted to save a little bit of money, Mr. Stacky is worth checking out.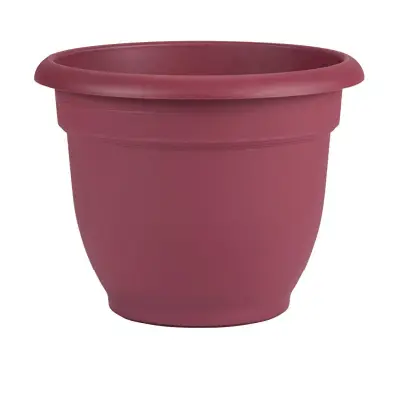 Simplicity is the name of the game when it comes to this design. It might not have a lot of features that make it help the growing process, or even make things easier on you, but they are affordable. They are so affordable, in fact, that you can buy multiple packs of various sizes and still have a lot of money to spare.
Read more
Design:
The exterior design of this model is pretty simple, but what is special about it comes from the inside. The Bloem Ariana is a self-watering pot. How it makes this possible is that instead of draining all of the excess water from the bottom, it traps excess water with a plastic insert that is positioned at the bottom so that the roots will have access to this spare water when they need it. This means that you won't have to water it as much.
What to plant:
These pots are only 12 inches across- so they really aren't all that big for a lot of crops. However- they do measure to be about 10 inches deep- which is a perfect depth for most vegetables, and even root vegetables. You just won't be able to fit as many inside as you would some of the other options.
Ease of use:
When this product comes shipped, there isn't any need to put anything together. All you will need to do is place the watering disk at the bottom of the pot, add all of the potting soil and fertilizer, and then add your plants. If you wanted something simple- this is the ticket.
Summary:
The cost of this product is so low that you can afford to buy more than one. Plus, they come in various different colors so that you can fill your outdoor space with a lot more color and fun. If you a are looking to save a lot of money so that you can spend more on fertilizer and seeds, Bloem Ariana is gonna be your best bet.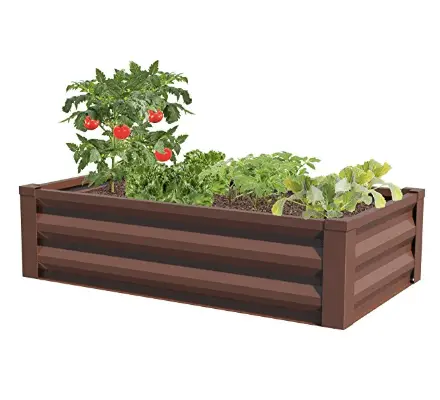 If you are someone that has a limited amount of room in your backyard to work with, or you are dealing with soil that is less than ideal- this is a perfect solution that won't set you back all that much money. It is fairly easy to set up, and big enough so that you can plant all of your favorite summer fruits and vegetables this summer.
Read more
Design:
The exterior of this box is composed of pre-galvanized powder-coated steel, which is perfect for parts of the country that see a lot of harsh weather. It will hold up very well season after season without the need to paint it. It is offered in three natural colors that are sure to match your patio- green, tan, or brown.
What to plant:
There really is not limited to the types of plants that you can grow in this product. It holds about 8 cubic feet of soil and is perfect for vegetable plants such as tomatoes or pepper, fruit plants such as strawberries or blueberries, or you can even just plant flowers inside. There really is no limit to the things you can plant.
Ease of use:
To get it set up, there is no need to dig out the toolbox. Each of the four corner lock into place with a clicking locking mechanism. Once all four corners feel sturdy and secure, place the box in the part of your yard that will get the recommended level of sun, and then fill it with healthy dirt and potting soil. Once everything is in place- you are ready to plant!
Summary:
The cost of this unit is pretty reasonable considering that it is made from a really sturdy material that will last you many harvesting seasons. Its ability to be able to be placed anywhere and plant anything as well as its durability and affordable price point land it on the top of our list.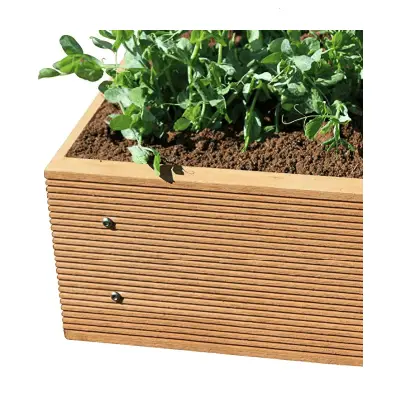 ECOgardener makes an environmentally friendly bed that you can use pretty much anywhere in your backyard. It is composed of recyclable materials that are easy on the environment but are also incredibly strong and will last you for multiple seasons without cracking or splitting. If you are living in a climate with less than ideal soil conditions- this is going to be an excellent fit in your backyard this summer.
Read more
Design:
The exterior of this box is offered in a rich tan color, but users can always spray paint the outside to match the color of their house or outdoor space. It is made from 95 percent recycled materials. It is made to look like natural wood so that it blends right into your yard.
What to plant:
This 4x4 box stands up to be an impressive 10 inches tall, so there really is no limit to the types of vegetables and fruits you will be able to grow this summer. The deep design is perfect for planting root vegetables such as potatoes, celery, and carrots, and it is also great for tomatoes, peppers and green beans. ECOgarderner has no limit to the types of plants that you will be able to harvest this year. Feel like you need something that is even deeper than 10 inches? If you buy a second product, they are made to be easily stacked upon one another.
Ease of use:
There is no need to go unbury your toolbox from the garage- everything that you will need to put this together is found right inside the box that it comes in. A hex key that is included with purchase is used to fasten the bolts of the corners together. Once all 4 corners fit tightly together, simply add some good quality dirt, as well as potting soil, and you are ready to get farming.
Summary:
The cost of this model runs pretty par for the course in terms of price. It's not the most expensive out there on the market, but it isn't the least expensive either. If you want something that is good for the environment and made to last- this is well worth the price tag.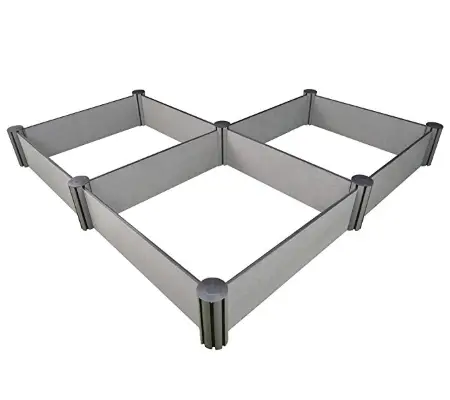 This is a raised bed that is just a little bit different than some of the others you might have seen on the market. Instead of coming in a solid rectangular design, this is built to be used as a corner unit. Its unique design makes it perfect for those that are working with limited space, as well as less than ideal soil conditions.
Read more
Design:
The grey exterior of this design looks very sharp and very modern. It comes in a package with three separate beds that are able to be hooked together in the best way that you see fit for your farming needs. Each bed is 24 inches long and 24 inches wide and stands up to be 6 inches tall. 6 inches might not seem like a lot, but each unit can easily be stacked on top of each other.
What to plant:
There are no limits when it comes to the things that you can plant in these boxes, but there are a few things you will have to do first. If you want to plant root vegetables, the 6 inches that come from the base model simply will not be deep enough. In order to grow root vegetables, you will need to stack 2 boxes on top of one another to create enough growing room. However, you should be able to grow things like tomatoes, pepper, beans, and most fruits without any problems with just one box.
Ease of use:
Put away that toolbox- you won't be needing it. Everything that you need to put these together is included right in the box. Users find that assembly is very easy, and did not take them very much time at all. Everything snaps into place at the corners, and they are equally as easy to stack on top of each other without the need for tools.
Summary:
3 beds cost about the same amount as many of the other raised beds to make this list. The good news, however, is if you want to cut down on cost a little bit, you can purchase just one box at a time, and build your space up each season.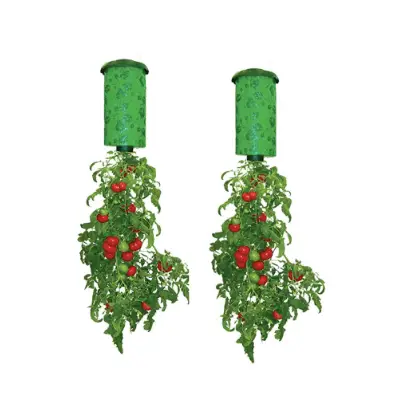 If you love tomatoes and you don't really have any place to put them- this is a really fun and unique product. It hangs the tomatoes upside down so that you don't need to use big heavy containers, and you also won't need any stakes to hold them upright.
Read more
Design:
This product can be hung on your front or back porch the same way that you would hang a flower basket. It has a decorative green mesh based that is filled with potting soil, and the tomato plants grow out from the bottom.
What to plant:
If you aren't a fan of tomatoes- you aren't going to be a big fan of this product. This was designed specifically for tomatoes.
Ease of use:
There couldn't be anything easier than setting up this product. Simply place it upside down and fill it with your desired type of potting soil. Hang it from a hook that is a good deal off of the ground (so that your tomatoes are free to grow as long as they wish), and be sure to give it enough water.
Summary:
If you love tomatoes and you are living somewhere that doesn't have a lot of space to grow things- this is going to be an excellent way to dine on fresh vegetables throughout the summer. Plus, it comes in at a reasonable price point and can support up to 30 pounds of tomatoes.

Subscribe to our Newsletter