Best Lawn Ornaments
In a Hurry? Editors choice: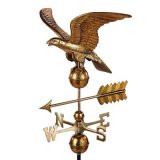 Test Winner: Good Directions Smithsonian Eagle

When you take into consideration what the literal definition is for a
lawn
ornament, it becomes abundantly clear that it would be nearly impossible to construct a top 10 list that satisfied everyone. This is because lawn ornaments are defined as decorative objects that can be placed in the grassy area of a property. In other words, that means garden statues,
lights
, structures, and various other artifacts can be considered. But, no one can tell you if you think a certain ornament is attractive and appealing. While other factors will come into
play
, the beauty of the craftsmanship will probably end up being the be-all and end-all for you.
Standout Picks
Criteria Used for Evaluation
Weather Resistance
Anything that belongs outside should be designed to handle the abuse of the outdoor world. In specific, if you plan on placing them in your yard, you need a lawn ornament that is weatherproof or at least weather-resistant. Determining this attribute is really as simple as assessing the materials that are utilized. Also, you can gauge the weather-resistance by reviewing previous buyer experiences. But, going back to the materials, let's address some of the most common ones.
To start, copper, bronze, and brass are three common metals that are oftentimes used to design outdoor ornaments like this. There are actually sources in the world that claim copper and its alloys can survive for over a thousand years. Plus, once these metals have been oxidized they are all-but immune to the elements of the outdoor world. However, you will also see ornaments cast in resin and besides its natural beauty, this also aids in withstanding the elements.
Durability
This section ties directly into the last section but you need to look for more than just weather-resistance. In general, you need to assess the overall durability of the lawn ornament that will be resting outside. To do so, much like with the weather protection, it is advisable to be knowledgeable about the materials that are utilized. In terms of durability, a lot of the previously mentioned materials excel. For instance, resin casting is a common method and is actually a method of plastic casing in which a mold is filled with a liquid synthetic resin.
Then, you have previously alluded to metals such as copper and brass. Both of these are very strong metals that feature high strengths and depending on the amount of zinc that brass has, it can be even stronger. Of course, then you have concrete statues and ornaments and these really excel when it comes to durability.
Size
The real question you need to ask yourself is do you want a lawn ornament that will become the centerpiece of your lawn, or do you just want another small piece to add to the collection? One would think this is not that big of a deal but if you want a large item to become the centerpiece of your garden, for example, an ornament that stands under one foot with a girth of fewer than six inches may not do it for you and vice versa.
In terms of the weight, smaller items that weigh less may need to be staked into the ground to prevent them from blowing away during intense windstorms. Thankfully, you can just invest in your own anchor if there isn't one included or if the one included is lackluster.
Style
Would you place a decorative object in your lawn that you personally found tacky or unappealing? Unless you are doing it for a loved one, your answer is most likely no. So, it goes without saying that the craftsmanship and materials of a lawn ornament are two of the most important elements to consider in assessing visual appeal. Yet, there are several different variables that come into play in determining the best material. For starters, the materials and the finish can transform an ashen ornament into a luscious one. Metals such as bronze, copper, and brass will all look fantastic, but you may prefer a gold finish as the icing on the cake. Make sure you look at the matierals to make sure they are built strong and can have a long lifespan.
Top 10 Picks
1

. Good Directions Smithsonian Eagle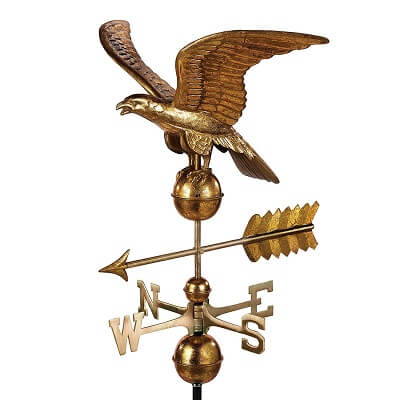 The absolutely exquisite gold finish of the number one entry is what stands out the most. What is even better is if you did not want to use this ornament in your lawn, you could mount it on your roof.
Read more
The Craftsmanship
This is designed by American Artisans and is handcrafted. The visually striking gold finish complements the Smithsonian Eagle extremely well and the result is an utterly magnificent design.
Weather Protection
Because this is crafted with 22-gauge copper, it is designed to withstand the elements of the outside world and last you years on end.
Overall Durability
Outside of the aforementioned 22-gauge copper, this is also made up of copper. The combination of copper and brass is ideal for not only beauty but also longevity.
Size and Weight
When assembled, this bad boy measures 23 inches by 38 inches by 23 inches. Now, you can actually invest in additional mounting systems and this will increase the overall size of the eagle.
Ease of Installation
What is included for you is an assembly rod and solid brass directionals. But, as the manufacturer recommends, they sell an exclusive roof mount for this piece.
Overall
While you will have to shell out some extra money for this design, it will be worth it for the right people. Plus, with the plethora of mounting options available, you can really use your imagination.

2

. SPI Home Cat and Butterfly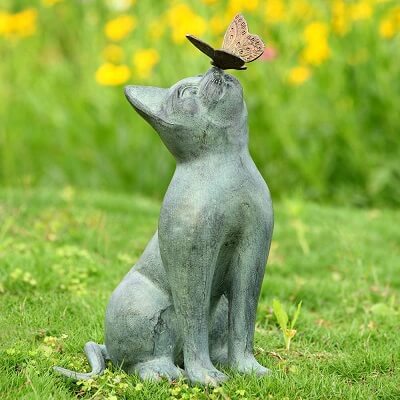 For all you cat lovers and admirers out there, you are going to love this next piece. But, take note of the butterfly on the kitty's nose as it is removable and can be misplaced very easily.
Read more
The Craftsmanship
Thanks to the impeccable detail of this garden statue, it will make a terrific addition into anyone's outdoor décor. Then again, if you are not fond of cats you will probably give this one a pass.
Weather Protection
SPI Home coated their cat with a weathered bronze finish and this allows it to rest comfortably and safely while exposed to the elements. One buyer even confirmed this with their experience.
Overall Durability
From the photos, you would assume this is crafted of a heavy material such as concrete. Yet, it is actually constructed of aluminum and cracking and peeling should not become issues.
Size and Weight
Outside of the materials, the hollow inside is the reason for the light weight. In combination with this, the cat stands 15 inches tall and nine inches wide making it a fairly decent size.
Ease of Installation
This is a garden statue and because of such, it can be placed anywhere your little heart desires. There is no hardware and it merely just rests in your yard.
Overall
Truth be told, the only issue that could present itself with this model is if you despise cats. Due to the quality of the craftsmanship and the durability, it is worth it alone.

3

. Regal Art & Gift Heron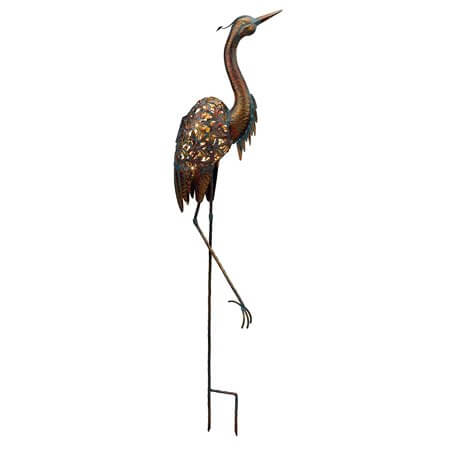 We transition from cat lovers to bird lovers. More specifically, those who have a fondness for herons and, to be honest, this next sculpture is as creepy as it is compelling.
Read more
The Craftsmanship
Just by glancing at the photos, you can appreciate the pure attention to detail given to this bronze heron. In fact, it would make a great Halloween ornament due to its eerie nature.
Weather Protection
As this is made out of metal, it may end up tarnishing over a period of time depending on the extent of the elements. Of course, when staked well, it will stand up to high winds.
Overall Durability
This is crafted of bronze and because of this, rust will never be an issue. Yet, this material may corrode and tarnish over time as previously indicated. Still, durability is not much of an issue.
Size and Weight
Given the fact that this stands at a staggering 45 inches in height, it is not a small statue. If you want it to stand out, your wish is granted here.
Ease of Installation
While an anchor is included with your purchase, you may want to anchor it with additional stakes for enhanced stability. The option is there, though, to merely have it rest on a hard surface.
Overall
This bronze heron is masterfully designed as not only is the attention to detail on point, it is also decently tall for an ornament. No doubt, this will complement your yard extremely well.

4

. Design Toscano Dog Angel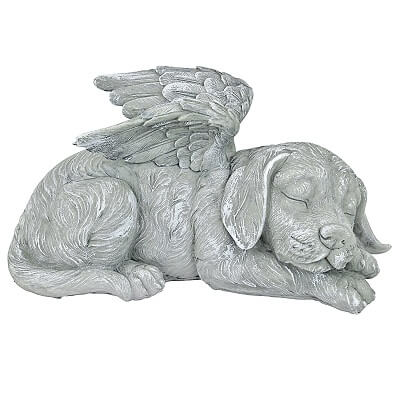 No one enjoys burying their longtime companion but the reality is dogs have a short lifespan. To commemorate their memory, what could be better than the symbol that they are resting in peace?
Read more
The Craftsmanship
There are several different designs to choose from but no matter, they are each individually hand-painted with a faux stone finish. Possibly the most touching model is the dog that is resting in God's hands.
Weather Protection
As this is cast in quality resin, it is able to withstand the outdoor elements tremendously. This is further evident by various user experiences indicating no issues with the weather.
Overall Durability
If you were to drop this statue from a decent height or smacked it with a hammer, it would probably break. Yet, the high-quality resin and crushed stone construction hold up well.
Size and Weight
Several buyers have expressed their disappointment with the size of this ornament claiming it should be a little larger and heavier.
Ease of Installation
Whether you want to place this indoors or outdoors, it really is irrelevant as it can handle both. Plus, there is no installation required for this product.
Overall
Due to the symbolism that is at work here, only a specific demographic of buyers will be interested in this piece. Still, one can't think of a better way to honor the life of your sidekick.

5

. Mischievous Cat Figurine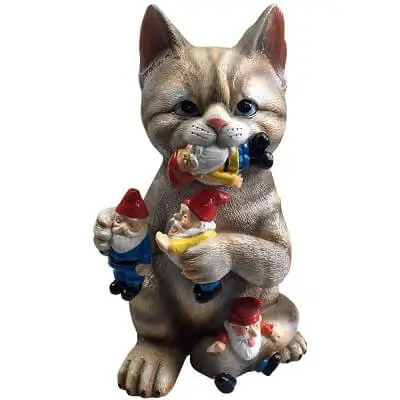 Let's just be honest for a second; if you do not believe that this figurine is adorable than you either have a serious vendetta against cats or you have a high-tolerance to excessively cute things.
Read more
The Craftsmanship
To say this is cuteness overload is an understatement. In all seriousness, though, this sculpture has been hand painted in resin and is flowing with crisp detail.
Weather Protection
Once again, the resin makeup aids in weather protection and as one user noted, the cat holds up well during hot summer days and significant spring rainfall.
Overall Durability
Even though this is on the lighter side of the weight scale, the resin material it is crafted with is very durable and will withstand the test of time adequately.
Size and Weight
In the yard, it can be tough for this to stand out. As many users have alluded to, the five by 5.5 by 9.5-inch is quite small and may not be large enough for some of you.
Ease of Installation
Again, as this is merely a statue that is designed to stand upright all you need to do is place it in the area that your heart desires.
Overall
Even though this is not the largest lawn ornament in the world, it will be irresistible to the right crowd. Guys, admit it, even you think this darn thing is adorable.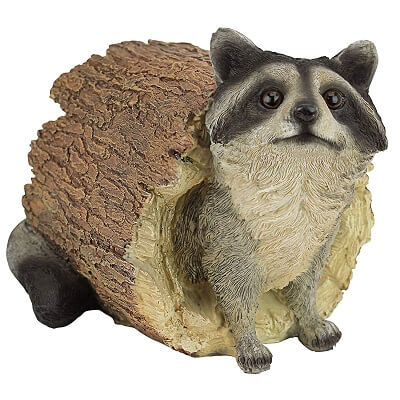 Speaking of adorable, even though raccoons can be as vicious as any stray animal in the world, how about this next lawn ornament? Being made by Design Toscano, you know that quality is at the forefront.
Read more
The Craftsmanship
As with normal Design Toscano statues, this bandit raccoon is hand painted by professional artisans and cast in a high-quality resin. Clearly, it is easy to appreciate it the attention to detail that is so prominent with Design Toscano.
Weather Protection
With the resin makeup, this is more than suitable for outdoor use. As more than one buyer has shared, this can be left outside for years in the rain, snow, cold, and intense sun.
Overall Durability
Because this is hand cast using real crushed stone and then bonded with high-quality resin, durability is not going to be much of a concern.
Size and Weight
This is another example of a piece that may just be too small for some people's preferences. At only two pounds and 7.5 inches in height, it is not difficult to see why.
Ease of Installation
This bandit raccoon can be placed anywhere in your yard where it fits right. By "fits" this is referring to the décor and not the physical size.
Overall
Design Toscano is a top-of-the-line manufacturer that simply understands how to make stunning and remarkable pieces of art. This bandit raccoon is just another prime example of such.

7

. Solar Glass Garden Stakes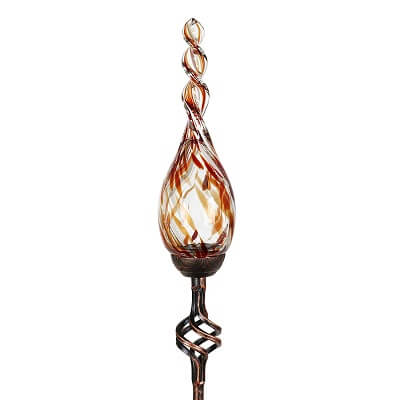 Indeed, even solar garden stakes can make excellent lawn ornaments. What sets this model apart, though, is its exquisite attention to detail as it creates an eye-popping décor.
Read more
The Craftsmanship
Among the available color options, all of them possess eye-catching decorative colors that will add pristine and class to your home décor.
Weather Protection
Due to the fact that this is constructed from materials, it is going to withstand the elements tremendously. No matter if it snows, rains, or sleets, this is designed for it.
Overall Durability
This is made of a combination of glass and metal. To be honest, granted the light is not dropped, durability should not become an issue for you.
Size and Weight
The light fixture on the entire design stands nine inches by itself. When you combine this with the height of the base, you get a light that is pretty tall, all things considered.
Ease of Installation
As these are run via solar energy, all you need to do is securely stake them into the ground. Granted they are provided exposure to sunlight, the sun will do the remaining work for you.
Overall
Most of the lawn ornaments on this list will appeal to certain demographics and this is certainly no different. Due to the illumination and construction, though, this is worth it.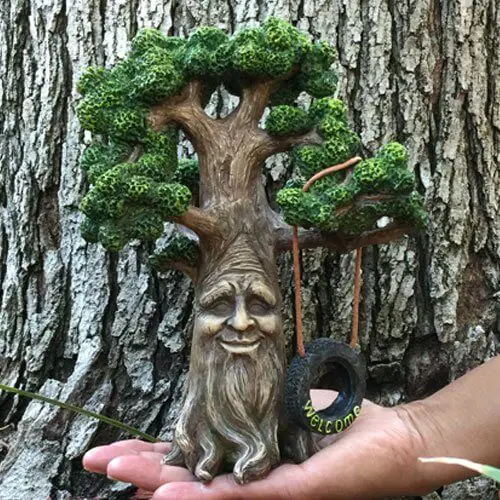 If you are a fan of the mystical land of fairies and magical gnomes, you will probably adore this next ornament. As with most of the other models on this list, it is made of top-quality resin.
Read more
The Craftsmanship
This is another artifact that is hand painted by professional artisans. Of course, because it is a magical grandpa fairy tree with a glow-in-the-dark welcome sign its appeal is subjective.
Weather Protection
Being advertised with a construction that is both nontoxic and weatherproof, you can rest easy knowing this will not wear down during poor weather.
Overall Durability
While some users have brought the durability of the swing and tree into question, it is crafted of top-quality resin. But, take note of these potential issues that some buyers have experienced.
Size and Weight
At nine inches by 7.5 inches, understand what you are getting here. It is less than a foot tall and a foot wide and is not going to be the centerpiece of your yard.
Ease of Installation
While installing this product is as easy as setting it down, there is a solid bottom present. Because of this, you could apply an adhesive to it to enhance the stability during high winds.
Overall
If you are into the magical land of fairies and wonders, you will probably be eating this design up. Of course, some may be disappointed by the miniature size so understand that.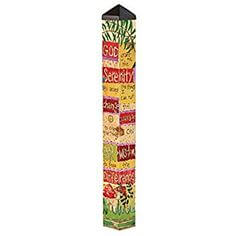 Compared to the other decorative pieces on this list, this next one is quite unique. Due to the plethora of different artworks available, there is a little something for everyone to enjoy.
Read more
The Craftsmanship
Again, there are enough artwork choices that everyone is sure to find a design that appeals to them. No matter which one is chosen, though, all are made with vibrant and fade-resistant inks.
Weather Protection
Unlike the other models on this list, this is actually comprised of PVC. Even during harsh weather, this is going to hold up well. Then again, a few users claimed they brought it inside for the winter.
Overall Durability
Not only is the PVC constructions ultra-durable but it is also maintenance-free. In addition to this, PVC is not capable of rusting so that is never going to be a concern.
Size and Weight
Measuring in at 20 inches tall and four inches wide, it is clear that these bad boys are long and thin. Given it is nearly two feet off the ground, though, the size is solid.
Ease of Installation
All the hardware is included for installation and no digging will be required on your part. But, be wary during high winds as it is not overly-secure while in the ground.
Overall
Stephanie Burgess, the artist responsible for the various designs, deserves a lot of credit for making each art pole unique in its own way. Seriously, there is something for everyone.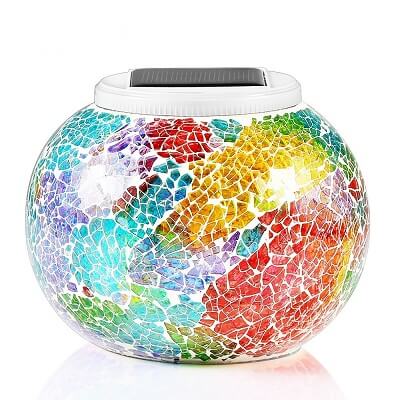 In the middle of the night, typically, your lawn ornaments will not be able to be noticed. Well, why not add a specific piece into your collection that illuminates at night?
Read more
The Craftsmanship
There are two lighting modes designed into this garden ball and each emits a lovely and illuminated atmosphere. Plus, the lights will gradually change colors.
Weather Protection
While it is unadvised to submerge this in water, it is rated to be waterproof and can handle inclement weather outdoors.
Overall Durability
Given that this is a glass ball, some care must be taken. As with any type of glass, even though some is much more durable than others, it can shatter if you are not careful.
Size and Weight
Because this is an illuminated light, the size is not indicative of the coverage. In other words, even though it is only around 5.24 inches the light will make it appear larger.
Ease of Installation
This bad boy gathers its energy straight from the sun and stores it into its built-in Ni-MH battery. What this means is you do not need to worry about the hassle of wiring.
Overall
Sometimes, the best lawn ornaments are the models that illuminate in some way. If that is the way you feel, perhaps this model will appeal to you more than any other.

Subscribe to our Newsletter