Best USB Lighters
In a Hurry? Editors choice: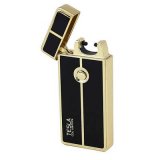 Test Winner: TESLA COIL

For those of you out there wondering, there is an alternative to gas lighters and any of those that require fuel for use. In fact, whether you know it or not, that has brought you here today. For the record, USB lighters are also called plasma or electric arc lighters as they use the power of plasma to deliver heating elements. And, per their name, they can be recharged via USB. However, they have a reputation for being cool devices but not very practical. Yes, you are limited a bit in what you can light with them given their design (as you are not working with an open flame). But, as you will soon learn, you can really achieve the best of both worlds with some of the top-end models on the market. To get there, though, you need to know a few things so let's get started.
Standout Picks
Criteria Used for Evaluation
Effectiveness
Various factors will affect the performance of any given model so you need to know what to look for.
If you have been paying attention thus far then you probably are starting to get the idea that these types of lighters may not be as effective as gas models. While this section is not intended to debate between the two, it is worth noting. However, that does not indicate that plasma lighters are insufficient in what they are designed to do. But, a few factors will come into play. Firstly, they will either sport one arc or two arcs. This just references how many electrodes there are as with dual arc designs, there will literally be two of them running across each other (while there will only be one with a single arc). Clearly, dual arc models are a little better at lighting larger items.
Yet, this can mean very little if the shape of the device is not optimal for your needs. For the most part, the most common shape is that of classic flip-top lighters. The main issue with this design is when you want to light candles and other such items, it can be downright impossible to get the plasma rays to touch what you need. In this case, models that sport longer necks will be preferred. Oh, and one other thing, all plasma lighters out there will be windproof due to the nature of plasma (as it is not affected by mild or even heavy gusts of wind).
Durability
It is simple; look for models that are made of high-quality materials.
There is a good chance that you will be intending to use your brand-new USB lighter outdoors. And, quite frankly, even if you this is not your intention, you should still prioritize this section right here. Because it is so easy to drop any type of handheld device, you will want to ensure the housing is durable and here it is no different. Look to avoid cheap housings that are made of plastic and, instead, look for superior durability like you would find in metal housings. And, while you may expect aluminum or steel to be the dominant metal here, it is actually zinc. This is actually a silvery-white metal and it is a constituent of brass. It is most generally used for protecting other metals against corrosion so you can see why it is popular.
Of course, oftentimes, engineers will use zinc alloy and this merely means that they combine the elements of multiple metals to make one. What this does is create a housing that can not only withstand abuse but also resist corrosion.
Battery Life
Not only is the battery life important but how long it takes to charge the battery is as well.
This section right here actually comes down to two factors. The first is the actual time the battery is going to last and the second is the time it takes for the battery to charge. To start, let's address the former first. Okay, so, every single model on this list and every single USB lighter on the market will need to be recharged (as that is the point of their designs). Even though this is the case, not all engineers will equip the same exact batteries (clearly). This becomes important because how long a battery will last is dictated by its capacity (and other variables but those are dependent on usage). And, this is measured in milliamp hours (mAh) and the higher this number is, the more capacity a battery will have. So, higher-end batteries may be able to deliver upward of 1000 ignitions a charge, while others may only reach 100 to 300.
Now, this is just part number one as the second part is analyzing how long it takes the battery to reach full capacity. Most models will fall right between the one-to-two-hour range but it is always a good idea to double check.
Features
There are actually quite a few features present here so pay attention to this section.
As opposed to other technology devices or tools, these really will not be outfitted with several groundbreaking features. In spite of this, however, there will be a number of minor features that you can look for that can actually separate good models from great ones. For instance, what about some safety features? Look, plasma can burn you much like fire so it can still be considered a safety hazard. Common features that you may see to enhance the safety are the prevention of ignition when the lid is closed and also a time-out feature that prevents the electrodes from staying on for longer than a certain time (which can be anywhere from 1 to 10 seconds most generally).
Of course, past the safety, some other subtle important features are a low-battery indicator and an LED indicator that will go off when the battery has reached full capacity. Both of these are more for convenience to ensure that you know when the battery is running low and so you can avoid overcharging it.
Style
Do the "visuals" really matter that much? Only you can answer this.
Why not end this section with a little bit of fun, right? Even though traditional lighters have never really been fashions statements, some USB models on the market can really sport fantastic visual designs. Of course, it also helps that plasma rays simply look "cool". But, back to the topic at hand, this is all about you and how important you deem it. It is perfectly fine if you find no attachment to this section in the slightest and if you do not, then you can move on.
Yet, these really can be stylish. There are even certain models on the market that will engrave certain symbols and art to really put the design over the top. You know that you are going to care about this section, though, so you might as well be real with yourself.
OUR TOP PICKS FOR THE BEST USB LIGHTERS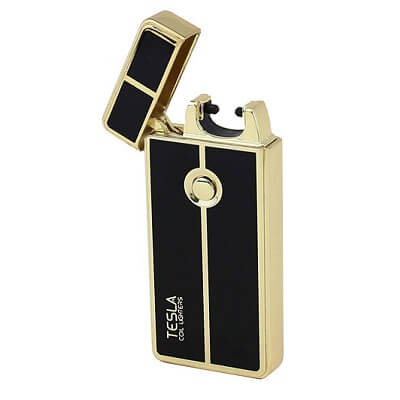 Okay, so even though this is a single arc model it does top this list. One of the many reasons why is the impressive battery life it sports. But, as it is a single arc model, it will not be effective for everyone.
Read more
Effectiveness
As mentioned, this is indeed a single arc model. While this is slightly inferior to dual arc designs, this is fully windproof and will be effective for smaller uses.
Build Quality
You can clearly tell that this was not engineered using cheap materials. The designers did not skimp any corners let's just say that.
Battery Life
Various users have raved about the battery life of this model and while it may seem mundane, this is one its greatest selling points. Granted you are not playing with it, it should last quite a while on one charge.
Features
Admittedly, some plasma lighters can be straight up loud. Thankfully, that is not the case here and, additionally, this is equipped with a safety feature that prevents it from being lit with the lid closed.
Visual Style
The style can be summarized in one word here; stunning. There are even additional color options available but most would agree that the gunmetal and black and gold options stand out the most.
Overall
Is it unfair to not give this top spot to a dual arc USB lighter? Well, it could be but when you look at everything else, it becomes clear that this model is remarkable for what it is.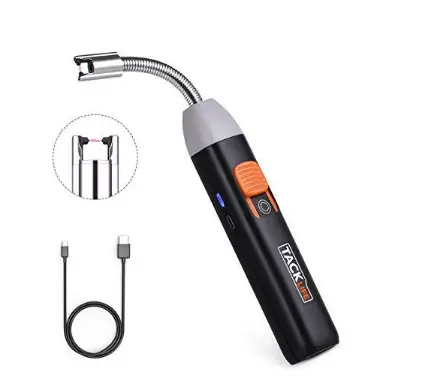 When compared to other models in the world, this bad boy really sticks out (literally). It is shaped much in the same manner as a traditional long-reach BIC lighter. Due to this, it can be much more effective for various uses.
Read more
Effectiveness
What is really nice about this design is it does not limit the manner in which you use it (as the plasma beam is free). Of course, it is also windproof and splashproof so that helps.
Build Quality
With the combination of the zinc alloy cover and the ceramics, the build quality will not be brought into question by very many users.
Battery Life
It does not get much better than this. The massive 2600mAh battery is much stronger than other batteries out there and can provide over 1000 ignitions on one charge (which is astounding).
Features
So many features are worth mentioning here including the longer handle, power indicator when the battery is running low and the 360-degree rotational capabilities of the handle. In spite of all these, a light should have been added to the tip to improve visibility when using this at night.
Visual Style
Simply put, this was not made to be stylish. It sacrifices it for a superior design which very few of you will gripe about.
Overall
There is so much to love about this that it is almost scary. It very easily could have landed number one on this list and is perhaps the most practical design out there.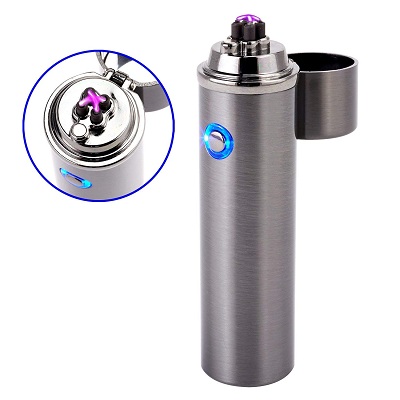 From one unique model to the next, let's take a look at the highly regarded Sparq. In addition to sporting a dual arc plasma ray, this is also not limited by a narrow opening thanks to the superb engineering.
Read more
Effectiveness
Much like the last option, this is not limited by a narrow tesla coil and this enhances the practicality. As such, the plasma energy is free and is also not affected by the wind or by splashes.
Build Quality
Now, this appears to be made of brushed stainless steel. Either way, this will not easily be damaged.
Battery Life
While one user did claim they did not receive the advertised battery life of three hours on a single charge, three hours of real-time use is pretty good.
Features
Now, the magnetic top for closing on this model is ingenious. But, a low-battery indicator was omitted so you will not know when it is close to dying.
Visual Style
Though there are no additional styles available, the brushed stainless steel appeal is utterly superb.
Overall
At the end of the day, this prioritizes function over features and if this is something that is okay with you, then you will probably fall in love with this bad boy.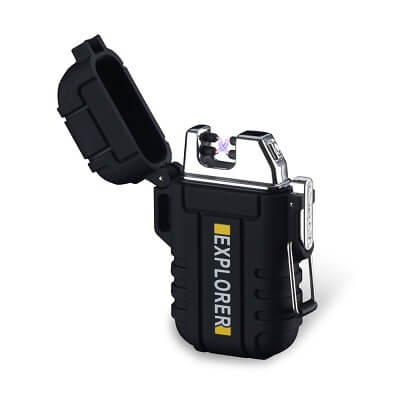 One of the standout features of the Explorer has got to be its external housing. In addition to being made of impact-resistant ABS zinc alloy, it is also textured which enhances the handling.
Read more
Effectiveness
The Explorer is equipped with dual arc plasma rays and in addition to this, the design as a whole is windproof and can withstand winds up to 80 miles per hour. Some users have complained, though, of its inability to light cigars.
Build Quality
Indeed, this is where the Explorer shines. In conjunction with the aforementioned ABS zinc alloy housing, this sports an O-ring sealed cover that will prevent water from entering inside.
Battery Life
According to previous users, the reception for the battery life has been mixed. It is a little peculiar but some reviewers say it lasts a long time for them while others disagree.
Features
No, this is not loaded with features but two prominent ones are its blue indicator light that shows it is in operation and its 10-second time-out safety feature.
Visual Style
The appeal to this design is there but even if you are not a fan of the black-coated housing, you can choose from other color options.
Overall
As a "traditional" design, this is without a doubt one of the best. Its dual arc design and brilliant and impact-resistant housing are proof enough of that.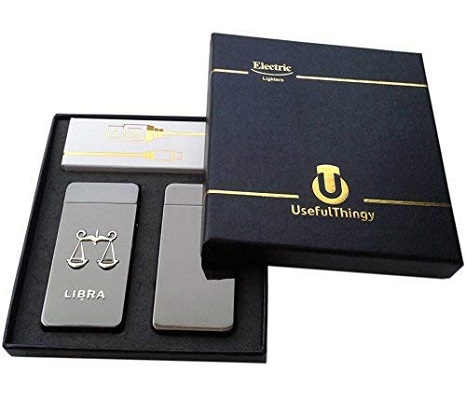 A feature that often gets overlooked with plasma lighters is their style. Sure, it is not the most important but when a model combines impressive features with a stylish design, you can't help but be enamored by it. Indeed, that is what is present here.
Read more
Effectiveness
Once again, this is a top-end model (or two because that is how many you receive here) that sports dual arcing plasma. And, it works pretty well for lighting cigars and cigarettes because of it.
Build Quality
It is worth noting that a specific reviewer reported that the finish of one of their lighters was starting to peel off within a couple of days of them carrying it. Other than that, this is built well.
Battery Life
In just two short hours, this will be fully recharged and ready to go. By the time you get around 150 uses out of it, though, it will need to be recharged again.
Features
The protective lid is a nice touch as this will remain safe around children. In another direction, a low-battery indicator was glossed over which is a little frustrating.
Visual Style
First off, both of the lighters you receive come packaged in a gift box. As for the style, there are a few different engravings that you can select from.
Overall
As with every other USB lighter in the world, this does possess its flaws. For most of you, they will not be enough to warrant a pass on this model, however.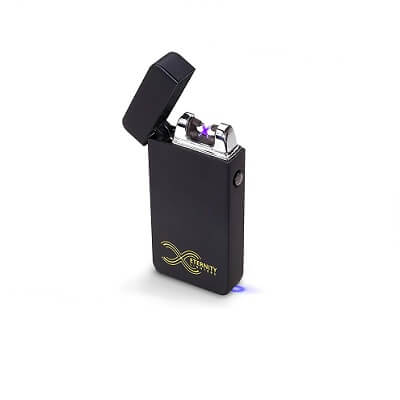 You know, this model probably exemplifies why this technology is so enamored and also why it is questioned. Even though it is a fancy device that can pack a punch, it can be awkward to use on occasion.
Read more
Effectiveness
The dual arc design is nice but here is the thing, this can be awkward to use due to the cap not flipping completely out of the way and the narrow spacing within the plasma rays.
Build Quality
If you are tired of the plastic lighters that you buy at the gas station then you will more than appreciate the quality build that is present here.
Battery Life
The 100 to 300 usage range is incredibly vague but that is the advertised battery life. As for the time it takes to charge, it should be done within two hours.
Features
Some really handy features have been integrated such as the closed lid preventing ignition and the blue LED indicator that will turn off when the battery is fully charged.
Visual Style
This is not the most awe-inspiring visual design on the market but there are a few color options to choose from which is nice.
Overall
If you are afraid that this will not place your everyday BIC lighter then you are probably right. Instead, this is a situational device that may not end up being your go-to option.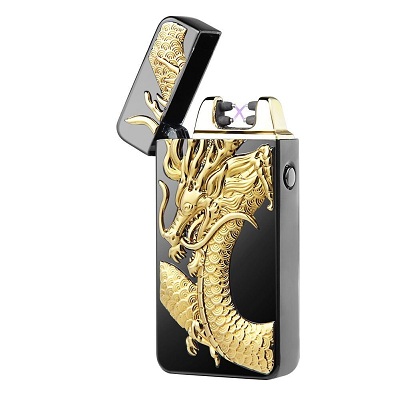 Wow; that is arguably the first word that came to your mind when you saw the photos of this next model. Indeed, the dragon engravings (as there are additional style options available) make this an eye-popping design.
Read more
Effectiveness
Okay, so the main issue with this design is the fact that the spacing in between the arcs is not very wide. With that said, this is yet another dual arc model.
Build Quality
Being made with zinc alloy, which is a metal, this is not going to break very easily and will hold up to mild abuse.
Battery Life
As with a previous entry on this list, the advertised battery life of 100 to 300 ignites is very vague. Also, the two-hour charge time is about what you would expect.
Features
The main feature integrated is the lid as it prevents the plasma from lighting with it closed. The engineers either forgot or did not care enough to implement a low-battery indicator, though.
Visual Style
Oh yeah, this design just rules quite frankly. What is even better is the fact that there are several different types of styles that all implement different dragon engravings and colors.
Overall
The "cool" factor of this option is literally off the charts. Of course, the zinc alloy housing and dual arc plasma rays also help to enhance the quality overall.

8

. SPARKR MINI PLASMA 2.0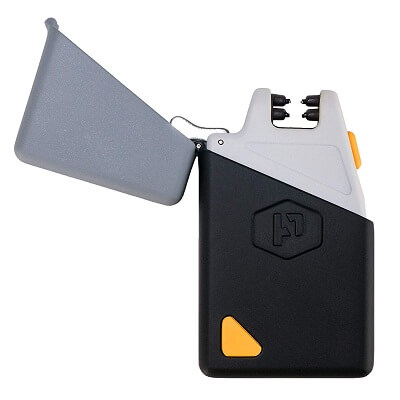 Now, this one is a bit different. If it sounds familiar to you, it was a crowdfunded device that landed on Kickstarter way back in 2016. This is actually an upgraded model that has made noticeable improvements.
Read more
Effectiveness
It seems a bit redundant at this point but the Mini Plasma Lighter 2.0 is powerful with its dual arc design but also limited due to the narrow spacing.
Build Quality
Unlike various other lighters, this is actually made out of impact-resistant polycarbonate. While this is nice, the hinge is made of flimsy plastic and can easily break.
Battery Life
It is touted that this sports a top-rate lithium-ion battery cell and given the fact that it is rated to handle over 500 charge cycles, you can see why.
Features
This has been upgraded with a three-button click system to prevent accidental activation. Also, this is equipped with a handy 15-lumen flashlight that is located in the bottom.
Visual Style
Truth be told, this is not designed for style. Most of the focus went into the functionality and features which is certainly not a negative.
Overall
This upgraded Sparkr Mini 2.0 certainly sports an improved design over the original and is quite effective overall. Yet, still, version 3.0 could fix some flaws that went unchecked.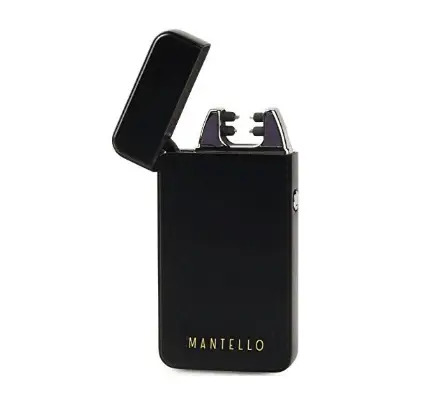 This really is a great design but due to the structure of it, it is not the most practical option when it comes to lighting certain candles and anything you can't physically place inside it.
Read more
Effectiveness
If the lid would come back farther this would probably be a bit easier to use. Of course, many of you will appreciate the double arc plasma rays.
Build Quality
First off, the housing is made of zinc alloy and this adds impact resistance. Additionally, the actual head of the lighter is made of ceramic.
Battery Life
In around one to two hours, this will be fully recharged which is pretty fast. When at a full charge, you can expect this to last for right around 200 to 300 ignites.
Features
As with virtually every other model on the market that sports a lid, when it is closed, this is not going to ignite accidentally.
Visual Style
Really, you can't go wrong with the all-black appeal of this lighter. Then again, there is a lack of variety as there are no other colors to choose from.
Overall
It can be said for many others as well but this would be a lot better if you had more area to work with in regard to actually lighting items. As is, in spite of this, it is just another solid, yet slightly-flawed, option.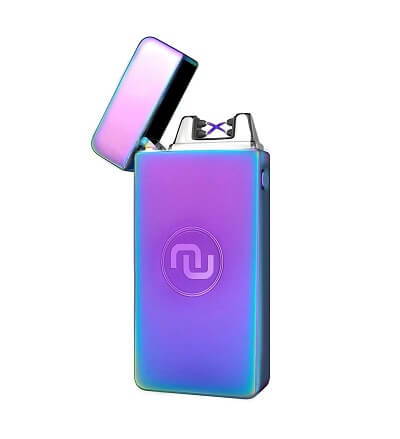 It is really ironic that this model is presented by Novelty Wares as many users have felt that this is merely nothing more than a novelty item. Then again, its sleek design can still be effective.
Read more
Effectiveness
Not only will this work in all weather conditions but the dual arc design enhances its power. Then again, do not expect to light thick items with this.
Build Quality
Despite your thoughts about this design, you really can't criticize the build quality too much. Thanks to the corrosion-resistant metal housing, this will be ideal in all weather conditions.
Battery Life
Expect anywhere from 100 to 150 uses out of this. When compared to others, this is not the best, admittedly.
Features
With the integrated indicator light at the bottom, you will know when this is functioning and when it is charging the battery.
Visual Style
If nothing else, most of you will appreciate the thought that went into the visuals here. Oh yeah, and your model also comes packaged in an elegant gift box.
Overall
Let's just be honest; if you are seriously looking for replacements to your gas lighter then there are superior options. This is nice as a novelty item that can still be useful.

Subscribe to our Newsletter