Best Electric Grass Trimmers
In a Hurry? Editors choice: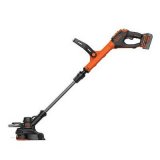 Test Winner: Black+Decker LSTE523

Summertime brings all of the
flowers
and green grass back to each neighborhood. When it comes to maintaining your
lawn
and ensuring its health, there are several critical tools that you will need. One of those tools is a grass trimmer (also known as a weed eater, weed-whacker, and weed-whipper, among other names) as you can only get so close to certain objects when using your lawnmower. Without the use of this tool, there is virtually no way to make your
lawn
look as terrific as it can be. Below we have reviewed our top picks for electric grass trimmers this year to help you make your decision.
Standout Picks
Criteria Used for Evaluation
Power Source
So, the million dollar question is, should you invest in a corded or cordless electric model? Well, even though one may not technically be superior in every way, most consumers will lean toward a cordless model thanks to the convenience. With this design type, you never need to worry about an extension cord and having it accidentally unplug during operation. Then again, there are two sides to every coin. While this is nice and all, the issue with battery-operated models is that they are limited with their power. Plus, once they run out of juice, they will need to be recharged. This is never an issue with corded units as it is drawing electricity from another source (such as an outdoor receptacle).
Use
One of the reasons why consumers typically steer away from electric grass trimmers is due to their performance. Now, it is not as if they can't perform well but the reality of the situation is this. Gas models are simply going to have more power than electrical models, for the most part. We say for the most part as there are always exceptions to the rule. But, consumers should be able to accept this tradeoff for the benefits of electric (which will actually be detailed later in this guide). Anyway, now that that is out of the way, let's talk about what to look for in regard to the performance of electric weed eaters.
First off, you can assess the amperage of the motor. An amp is merely the base unit of electric current in the International System of Units. The more amps the engine has, the more powerful it will be. In addition to this, you can also look for revolutions per minute (RPM). This refers to how fast the machine can operate at any given time and, again, the higher the better for more power.
Features
Alright, so now it is time to talk about some critically important design features. For starters, you may want to look for systems that run via variable speeds. With variable speed control, you can adapt to different cutting conditions. Plus, with battery-operated units, this can allow you to extend the battery life. Additionally, keep an eye out on the design of the shaft. More specifically, look for an adjustable shaft as this can allow you to adjust the height. To adapt to different heights, this becomes ideal.
Now, it is time to talk about the feed system. Even though not all weed eaters will use string, as one model on this list does not, a majority of them will. What you need to decide is if you want a bump head or an auto head. The former is what most consumers will probably be used to. With this, you need to literally bump the head on the ground to get more line to release. Clearly, this can lead to accidental damage if you are not careful. With an auto head, the system will release line when it becomes short. But, this is not foolproof either because as you have noticed, this system can have flaws. It really is up to you, to which one you decide.
Weight
It can be easy to focus so squarely on the power and design features that you forget about how important the overall handling is. After all, who really wants to operate a machine that is cumbersome and uncomfortable? The quick answer to this question is absolutely no one. So, let's take a look at what you should be taking a look at. For starters, you not only want the weight to be kept to a minimum but you also want the weight to be balanced ideally. In other words, especially with battery-operated models, ensure that the front is not significantly heavier than the back.
However, you also need to assess the actual design of the handle. Optimally, the handle will be equipped with a soft grip and also ergonomically designed. With this combination, your hand fatigue should be minimized. The last thing you want is for your hands to cramp up during operation.
Top Ten Electric Grass Trimmers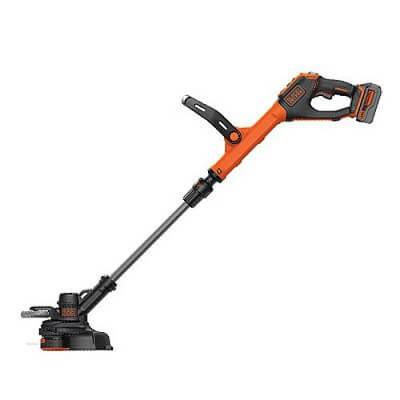 Boy, that did not take long. Even though this next model from Black+Decker sports only half the voltage of their other unit, it still features their PowerDrive transmission to increase the torque.
Read more
Design Type
As opposed to the previous model, you do actually receive a battery with this unit. Its maximum voltage output is 20 volts, which is not as high as others on this list.
Performance
Once again, Black+Decker designed their weed eater with their PowerDrive transmission. On top of this, the head measures 12 inches.
Design Features
Unfortunately, the EasyFeed system of this unit is more of a hassle than it was intended to be. As users have reported, there can be too much line that gets released.
Overall Handling
Finding the perfect grip and fit should not be much of a hassle here. This is because of the equipped micro texture grip handle and adjustable height.
Versatility
Even if you want to use this tool for edging, it can be converted very easily to do so. As such, you can then use it alongside sidewalks, borders, flower beds, etc.
Overall
In spite of the fact that the EasyFeed system could have been engineered with fewer issues, this model still remains the highest of recommendations.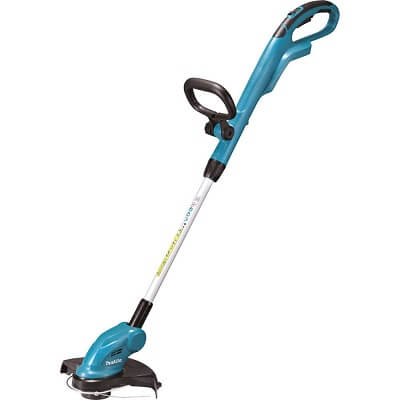 Makita may be a brand that you have never heard of but after you witness their string trimmer that is sure to change. Of course, do be aware that this model does not include the battery required for operation.
Read more
Design Type
Makita claims that their 18-volt battery, which is a bit of a drop off when compared to the previous models, can last up to 45 minutes on a single charge. However, the battery is sold separately.
Performance
Admittedly, this is not going to spin fast enough to handle anything more than lawn edging and everyday trimming. Still, the motor delivers 7800 revolutions per minute.
Design Features
Thanks to the telescoping shaft, you can adjust the length of this system from 48.5 inches to 56.5 inches. Also, the easy-loading bump head adds user convenience.
Overall Handling
Though this may not possess the power some users crave, the balance and overall handling are superb. Plus, it is ergonomically designed for even more comfort.
Versatility
Thanks to the compact size of the head and the fact that it can be adjusted in five different positions, it can be used for precise edging.
Overall
While Makita should probably simply include their battery with their trimmer, it is hard to argue with the results as a whole. Of course, it may not be ideal for larger lawns.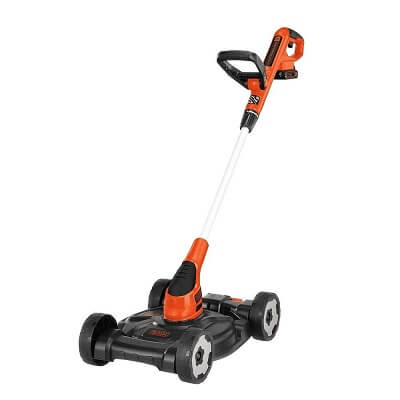 Talk about unique, Black+Decker went all out here. Instead of merely investing in individual tools, why not just get three in one? With this unit, you get a trimmer, mower, and edger.
Read more
Design Type
Black+Decker actually offers both corded and cordless versions of their 3-in-1 system. If you buy the cordless version, you will receive two 20-volt lithium-ion batteries.
Performance
For the purposes of this guide, let's assess the performance of the actual weed eater. With a 12-inch head and a gear-driven transmission, it should not bog down unless the grass is too thick.
Design Features
As with most other designs on this list, this is another weed-whacker that is designed with an auto feed system. Due to this, the need for bumping the head is gone.
Overall Handling
To improve the overall comfort, the lightweight and ergonomic design of the shaft has adjustable hand positions.
Versatility
It does not get more versatile than this. With three tools in one system, you can mow your lawn, trim around the edges, and also perform some edging.
Overall
It has not been mentioned yet but due to the size of this mower, it really is only ideal for tiny-sized lawns. As for the two-in-one edger/weed-whacker, though, it is a hit.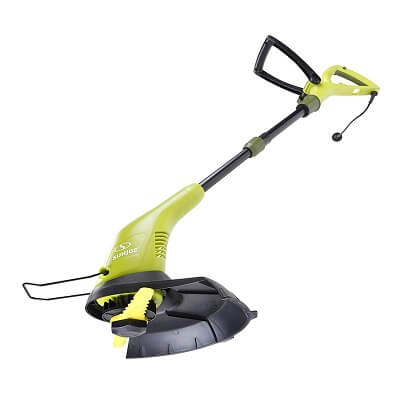 Now, this is an interesting design here. While you would assume all weed eaters would be designed with string, Sun Joe debunks this assumption with their model as it is stringless.
Read more
Design Type
Sun Joe did not manufacture their weed-whipper to be used via a battery. Instead, you will need an extension cord to power this unit.
Performance
One of the benefits of this model is the SharperBlade technology. With this integrated, hassle-free and reliable cutting is provided. Also, the motor is 4.5 amps and the head 11.5 inches.
Design Features
Many will be enamored at the thought of going stringless. Additionally, the telescoping handle allows you to either extend or shorten the shaft to adapt it to your needs.
Overall Handling
Thanks to the extremely lightweight design, clocking in at only 5.6 pounds, you should have no issues lugging this bad boy around your yard. Of course, the ergonomic handle certainly helps.
Versatility
In just seconds, the 180-degree rotating head will convert to an edger to fulfill your edging needs.
Overall
The fact that you do not need to worry about string could be enough to sell some of you alone. But, when you take into account how easy this is to handle, things get that much sweeter.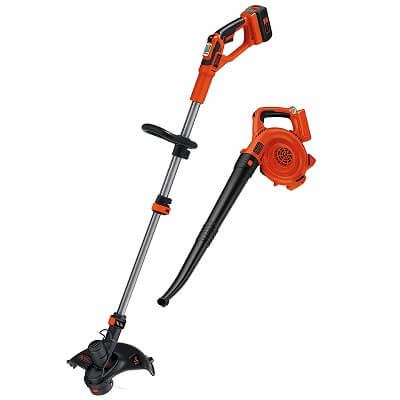 Get ready to see Black+Decker make a few appearances on this list. They have a knack for producing high-quality, affordable tools and their LCC140 weed-whipper is one of them.
Read more
Design Type
While this is not quite the 56-volt battery that was just documented, Black+Decker does include their 40-volt battery with your purchase. But, do note that some buyers have experienced issues with it.
Performance
What is nice about this unit is that the 13-inch head makes cutting faster. Meanwhile, the PowerDrive transmission delivers the cutting power that buyers crave.
Design Features
First of all, Black+Decker equipped their model with an automatic feed spool system to ensure the user does not need to bump the head. Also, the PowerCommand system allows you to choose different speeds.
Overall Handling
In addition to the fact that the weight is not too much of an issue, this is engineered with a soft grip handle which will improve the comfortability over longer uses.
Versatility
On top of the fact that this system can be converted to an edger in mere seconds, you also receive a sweeper with your purchase which can blow up to 120 miles per hour.
Overall
Despite some reported battery concerns, the LCC140 weed-whacker is one of the best in the business. Not the least of which is its superb combination of performance and handling.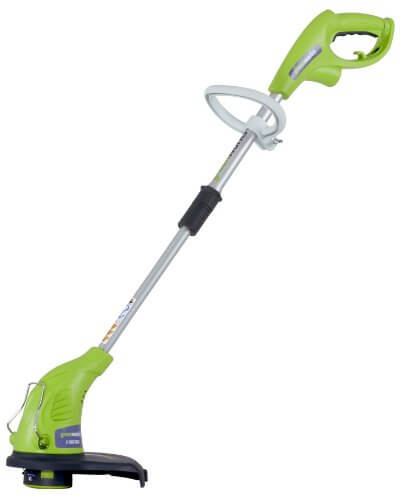 For such an inexpensive model, it is quite surprising how powerful this next unit is. Then again, it is not a flawless product so do not go in expecting perfection.
Read more
Design Type
One of the issues with corded units is that the extension cord can accidentally get unplugged. Yet, with a cord lock integrated, Greenworks has minimized this issue.
Performance
The combination of the 13-inch head and the four-amp motor powers this system. While this is not the most powerful unit out there, it will be optimal for the right tasks.
Design Features
The good news is the adjustable telescoping shaft is a fantastic feature. Yet, the bad news is the auto feed head has received criticism for its inconsistency.
Overall Handling
As one consumer pointed out, the weight distribution here could use improvements. Then again, the total weight of seven pounds is certainly not bad.
Versatility
To allow for edging, the shaft on this unit can easily be rotated. When rotated, you can easily perform precise edging.
Overall
At the end of the day, you really can't go wrong with Greenworks. In spite of the slight issues that are present, there is a reason their products sell so well.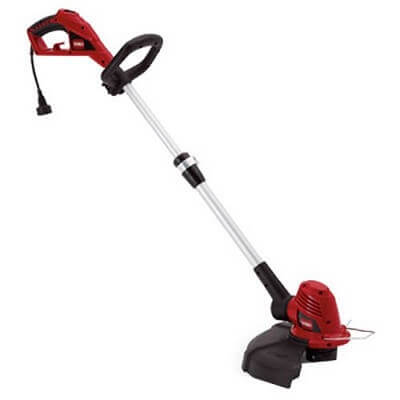 Now, it is time to show some love for the corded units out there. In specific, this weed eater from Toro which sports a very impressive 14-inch cutting head to improve efficiency on the job site.
Read more
Design Type
Again, this is a corded unit. What this means is that it does not run via a battery and, instead, needs to be connected via an extension cord to an appropriate electrical source (such as an outdoor receptacle).
Performance
The combination of the 14-inch head and the powerful five-amp motor is able to deliver an optimal performance. For weeds and thick grass, it should rip right through it.
Design Features
To accommodate a wide range of users, this is designed with a telescoping shaft and adjustable handle. Also, this system works with an auto feed trim line.
Overall Handling
This system as a whole is lightweight and well-balanced. In addition to this, the integrated assist handle adds to the balance and the comfort.
Versatility
With the simple push of a button, this bad boy can convert into an edger with its integrated wheel. Then, once you push the same button again, it can be used as a weed-whacker.
Overall
The adjustability and versatility of this unit alone make it stand out. If you can deal with the fact that you need to carry a cord around with you, you will get your money's worth.




In the world of electric power tools, Ego Power+ just seems to be one step ahead of the competition. It does not hurt that their weed eater is equipped with a monstrous 56-volt battery.
Read more
Design Type
This is a cordless model and it does not feature any old battery. Instead, Ego Power+ equips their weed eater with an industry-leading 56-volt lithium-ion battery.
Performance
In addition to the 56-volt battery, this is designed with a brushless motor for increased efficiency and longevity. Also, the head is 15 inches and cuts a wide path.
Design Features
When fully extended, the aluminum shaft measures 49 inches in length. Also, the bump feed head is integrated to make it easier for string to be drawn.
Overall Handling
Though some users have claimed this is relatively easy to handle, one buyer noted that the balance could use improvement as it can feel awkward as a result.
Versatility
Because this has no length guide, it can actually be difficult to utilize it as an edger. If you are skilled enough, though, it certainly could be.
Overall
The sheer combination of the battery, motor and head of this top model speaks wonders for the overall quality of it. Although, the balancing issues are a bit of a downer.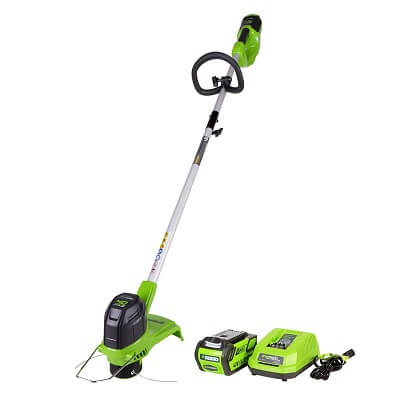 Greenworks is yet another brand that is a staple of this type of technology. While their 40-volt model is not perfect, it does offer a great combination of power and handling.
Read more
Design Type
To be honest, this is one of the better batteries on the market. On top of being 40 volts, you can either choose a 2Ah or 4Ah version and they will charge in 60 minutes and 120 minutes, respectively.
Performance
While this may not be able to outperform some gas units, it can still handle really thick grass. But, depending on the thickness, you may have to take it slowly.
Design Features
Though the variable speed trigger is quite nice, there have been consumers who have criticized the auto feed system. Some have stated that it only works occasionally.
Overall Handling
At 9.2 pounds, this is a bit heavier than some of the other units on this list. Of course, the ergonomic design is ideal for increased comfortability and handling.
Versatility
As the manufacturer notes, the head on this unit is actually fixed. So, for edging, you will simply have to adjust the angle and handling accordingly.
Overall
Some users will settle for nothing less than a trimmer and edger combo and due to the fixed head, this can be difficult to use as an edger. But, for weed-whipping, it certainly does a tremendous job.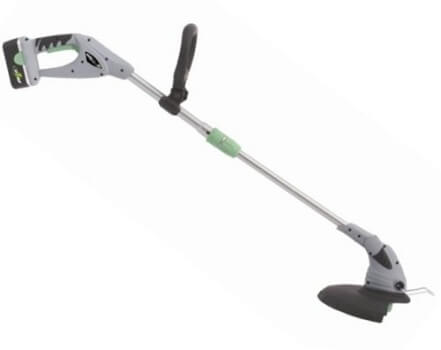 Truth be told, this had every chance to land in the top five of this list, possibility top three. Yet, it remains at the bottom of this list due to its rather disappointing battery. It is still good, though, make no question about it.
Read more
Design Type
Alright, so here is the biggest issue with this otherwise terrific weed-whipper. As users have claimed, you may get 20 minutes out of the battery so work quickly.
Performance
As you probably already concluded, this is ideal for lighter work and smaller lawns. But, the 7800 revolutions per minute motor can still deliver the goods.
Design Features
This has all the bells and whistles including a telescoping shaft, a flip-down edge guard that protects your flowers, and a semi-automatic line feed system.
Overall Handling
Earthwise went to great lengths to ensure their weed-whacker would be easily handled. With an upper handle that rotates 180 degrees and an auxiliary handle that adjusts left to right and front to back, they accomplished this.
Versatility
Thanks to the fact that this head can be adjusted into three different positions, it can be altered to handle a variety of tasks such as edging.
Overall
It really is a shame that this system did not have a better-designed battery. If it did, it would be easy to consider this model a must-have. But, as it rests, the battery does bring down the overall value a bit.

Subscribe to our Newsletter