Best Electric Grass Trimmers
In a
Hurry? Editors choice: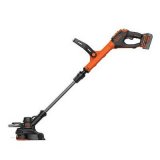 Test Winner: Black+Decker LSTE523

Summertime brings all of the
flowers
and green grass back to each neighborhood. When it comes to maintaining your
lawn
and ensuring its health, there are several critical tools that you will need. One of those tools is a grass trimmer (also known as a weed eater, weed-whacker, and weed-whipper, among other names) as you can only get so close to certain objects when using your lawnmower. Without the use of this tool, there is virtually no way to make your
lawn
look as terrific as it can be. Below we have reviewed our top picks for electric grass trimmers this year to help you make your decision.
Standout Picks
Criteria Used for Evaluation
Power Source
So, the million dollar question is, should you invest in a corded or cordless electric model? Well, even though one may not technically be superior in every way, most consumers will lean toward a cordless model thanks to the convenience. With this design type, you never need to worry about an extension cord and having it accidentally unplug during operation. Then again, there are two sides to every coin. While this is nice and all, the issue with battery-operated models is that they are limited with their power. Plus, once they run out of juice, they will need to be recharged. This is never an issue with corded units as it is drawing electricity from another source (such as an outdoor receptacle).
Use
One of the reasons why consumers typically steer away from electric grass trimmers is due to their performance. Now, it is not as if they can't perform well but the reality of the situation is this. Gas models are simply going to have more power than electrical models, for the most part. We say for the most part as there are always exceptions to the rule. But, consumers should be able to accept this tradeoff for the benefits of electric (which will actually be detailed later in this guide). Anyway, now that that is out of the way, let's talk about what to look for in regard to the performance of electric weed eaters.
First off, you can assess the amperage of the motor. An amp is merely the base unit of electric current in the International System of Units. The more amps the engine has, the more powerful it will be. In addition to this, you can also look for revolutions per minute (RPM). This refers to how fast the machine can operate at any given time and, again, the higher the better for more power.
Features
Alright, so now it is time to talk about some critically important design features. For starters, you may want to look for systems that run via variable speeds. With variable speed control, you can adapt to different cutting conditions. Plus, with battery-operated units, this can allow you to extend the battery life. Additionally, keep an eye out on the design of the shaft. More specifically, look for an adjustable shaft as this can allow you to adjust the height. To adapt to different heights, this becomes ideal.
Now, it is time to talk about the feed system. Even though not all weed eaters will use string, as one model on this list does not, a majority of them will. What you need to decide is if you want a bump head or an auto head. The former is what most consumers will probably be used to. With this, you need to literally bump the head on the ground to get more line to release. Clearly, this can lead to accidental damage if you are not careful. With an auto head, the system will release line when it becomes short. But, this is not foolproof either because as you have noticed, this system can have flaws. It really is up to you, to which one you decide.
Weight
It can be easy to focus so squarely on the power and design features that you forget about how important the overall handling is. After all, who really wants to operate a machine that is cumbersome and uncomfortable? The quick answer to this question is absolutely no one. So, let's take a look at what you should be taking a look at. For starters, you not only want the weight to be kept to a minimum but you also want the weight to be balanced ideally. In other words, especially with battery-operated models, ensure that the front is not significantly heavier than the back.
However, you also need to assess the actual design of the handle. Optimally, the handle will be equipped with a soft grip and also ergonomically designed. With this combination, your hand fatigue should be minimized. The last thing you want is for your hands to cramp up during operation.
Top Ten Electric Grass Trimmers
Subscribe to our Newsletter