Best Inversion Tables
In a Hurry? Editors choice: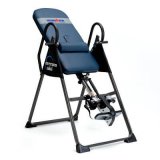 Test Winner: Ironman Gravity 4000

Do you or somebody you know struggle through back pain? For those who do, you fully understand how difficult it can be to push on and how much of a detriment it can be to daily activities. Well, one possible
remedy
, at least for short-term benefits, is inversion therapy. This is the practice of performing stretches upside down. What this will do is decompress your spine and provide
relief
(as will most type of stretching). However, in order to do safely and securely, you will need to use an inversion table. Presumably, that is why you have made your way here today and here is the good news, we are here to help.
Standout Picks
Criteria Used for Evaluation
Model
When it comes to a product such as this, do not go cheap. While it was claimed that there are affordable options, which is true, that is different than strictly going cheap. For starters, you want to look for a balancing system that keeps it easy on you. There is no reason for an overly-complicated system to be implemented. So, you may want to stick with time-tested designs that allow simple arm movements to shift your body weight for complete control over your angle and rotation. Speaking of angles, you also need to be aware that not all systems will invert a full 180 degrees. This may not be an issue for beginners but if you are a seasoned veteran, you will want a 180-degree rotation.
For the most part, these machines will be fairly easy to function. But, you can also look into machines with preset angles for you to invert to. What is nice about preset angles is you will never go further than you desire.
Comfort
Some of you may not believe that the idea of hanging upside down or at random angles sounds comfortable. While there may be some truth in that, it is vitally important that the inversion table itself is engineered with comfort in mind. You do not want to suffer on a machine like this as that is not the intent, clearly. There are two main design components that attribute to the overall comfort and support that a system provides and the first is the bed. What you are looking for are padding and support. With padding, look for enough foam to provide comfort for decently-long sessions. But, the bed should also be ergonomically designed and contoured to provide you with the most natural lying arrangement.
The second component is the ankle system. In addition to looking for a system that provides optimal comfort, which could include foam-padded rollers and ankle cups, it also needs to be easy to secure your ankles inside. Oh yeah, and do not forget about other features such as built-in assist handles that can provide even more support when decompressing and stretching.
Safety Hazards
Here is where things get extremely important. Not to say the last two sections that were just documented are not important, but this here should make or break everything. The reality with an inversion table is your safety is on the line when you are laying on one. At certain angles, if you fall, serious injuries could result. This makes it all the more important to ensure that the machine you buy has high-quality components and a high-quality build overall. It all starts with the frame and for the most part, this will usually be made of steel with a powder coating. Look for a powder coated steel frame as the finish will provide enhanced protection for the metal. Yet, the frame is only part of it.
What you also need to assess is other components such as the roller hinge, pivots and bearings. The roller hinge is actually the connector between the bed and the A-frame. This needs to be high in quality and preferably heat-treated steel for enhanced strength. As for the pivots and bearings, ensure they stabilize the unit as the last thing you want is for the frame to be wobbling while you are inverting.
Application
It is important for you to understand that not all inversion tables are going to be suitable for all users. Now, if you are an individual with an average weight and height, you will not have a difficult time at all finding a machine that suits you. This is because most machines will have a weight limit of at least 300 pounds (most of them capping out at this amount) and will typically accommodate users around four feet eight inches to six feet six inches in height.
Yet, each system is different so if you are on the border (for example a six-foot-four-inch 300-pounder) pay close attention to the user requirements of each model.
Portability
You may be pondering to yourself why on earth portability matters in this case. After all, it is not as if you will be transporting your new model everywhere and traveling with it on a daily basis. But, the portability still matters and here is why. With any type of exercising machine that you bring into your home, you may want to move it from time to time or may need it out of the way. Some units can be quite cumbersome and moving them as is may not be possible.
So, ideally, look for models that can be folded down when they are not in use. You would be surprised at how much room this can save. Also, as some of these machines can be 70 to 90 pounds, you may want to look for built-in transportation wheels. Both of these design implementations can save you many headaches in the future.
Top 10 Picks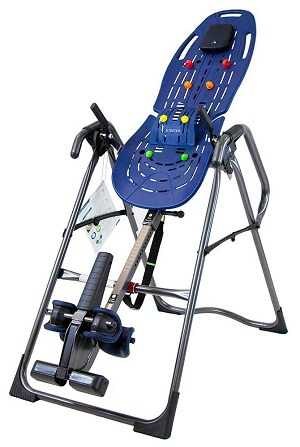 In a world filled with several fantastic machines for back relief, the EP-960 could stand above them all. Teeter outdid themselves with this design and soon, you will see why.
Read more
Positioning System
In addition to the 20, 40, and 60-degree markings of this system, traction handles and extra-long stretch max handles offer enhanced stretching options. Also, to shift your body weight, you can make simple arm movements.
Comfort and Support
First off, the contoured bed flexes for comfort and offers optimized stretches. Secondly, the patented wrap-around ankle cups ensure a comfortable and ergonomic fit.
Build Quality
Teeter designed their EP-960 with high-quality in mind that much is certain. This is proven with the heavy-gauge steel components including cam locks, auto-locking hinges and specialized pivot bearings.
User Requirements
This is rated to support up to 300 pounds. Also, it can account for users that are four-foot-eight inches in height to six-foot-six inches in height.
Ease of Transport
No disassembly will be required when you need to move this unit as it folds for storage. To conserve space, it will fold down in just a few seconds.
Overall
There really is not much of a debate here. If you want the very best inversion table in the world, you need to go with the EP-960. It is just too well-designed on all fronts.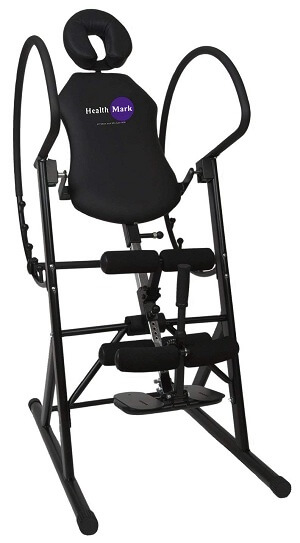 For those of you who have the leeway to spend a little extra money, you may want to consider the Pro Max from Health Mark. It is rugged, well-built and can handle up to 600 pounds of weight.
Read more
Positioning System
Health Mark designed their unit with six preset angles and they also allow their users to achieve a 180-degree inversion with ease.
Comfort and Support
Thanks to the combination of the rolled thigh and knee support, foam-padded back support, and crescent-shaped face and headrest, this offers superior comfort and relaxation.
Build Quality
Given the fact that this is able to support a massive 600 pounds, you know the build quality is excellent. The overall steel makeup and rugged construction are welcome sights for sure.
User Requirements
The 600-pound user limit, which is double that of other brands, is exceptional. But, thanks to the 25 different height settings, this system can also accommodate users up to six feet six inches in height.
Ease of Transport
At 96 pounds in total weight, this is a beast to move. There really is no need to sugarcoat it here folks.
Overall
Let's just say that this machine is more suitable for those of you who are deadly serious about inversion therapy. But, there are other options out there that are a bit cheaper.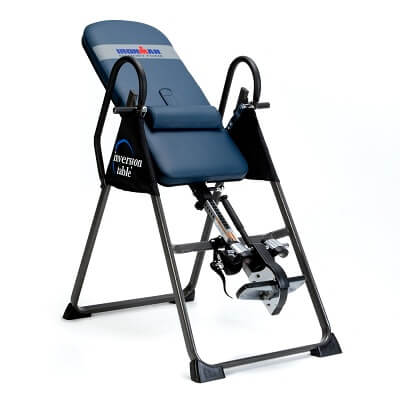 If you went through a vast array of best inversion table lists online, the Gravity 4000 would be on most if not all of them. It is one of the most popular and acclaimed machines on this list.
Read more
Positioning System
The Gravity 4000 can invert up to 180 degrees and does sport extra-long safety handles for an easy turn. However, your arms have very little impact when it comes to dictating the movement.
Comfort and Support
In addition to the ergonomically molded ankle holders which provide both comfort and security, the backrest is made with memory-foam vinyl and also delivers comfort.
Build Quality
While the tubular steel frame provides a fantastic base for this system, the non-skid foot stabilizers prevent it from sliding. Oh yeah, the frame has also been powder coated.
User Requirements
Ironman rates their Gravity 4000 with a user capacity limit of 350 pounds. Also, it can safely and securely hold users up to six feet six inches in height.
Ease of Transport
Even though this can be folded down when it is not in use, it still weighs 76 pounds. No matter how you slice it, it is a heavy beast to move around.
Overall
Can you see why so many buyers have raved about the Gravity 4000? While it is not quite as good as the two options that preceded it on this list, it is still mightily impressive.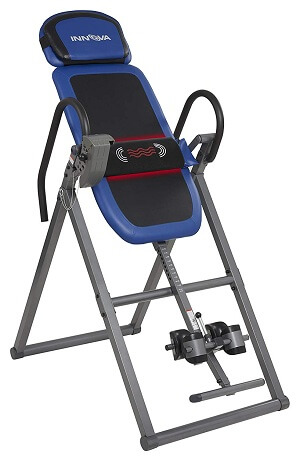 Probably the most innovative feature of the ITM4800 is the implemented true balance structure system. With this, you can adjust the foot, the height, and the headrest pad.
Read more
Positioning System
Due to the six position adjustable pin system (which allows you to switch between six angles) and the added patent-pending protective cover, you can easily and safely switch between angles.
Comfort and Support
In addition to the large energy foam comfort backrest pad, this also equips a headrest pad that is adjustable for your convenience. Also, this sports an ergonomic ankle holding system and soft touch foam handlebars.
Build Quality
Innova built their ITM4800 with a sturdy steel frame and this provides the structural support needed to hold the weight this system can.
User Requirements
Granted you are less than 300 pounds, you can safely utilize this machine. Oh yeah, it can also accommodate users from four feet 10 inches to six feet six inches.
Ease of Transport
As with most of the other designs on this list, the ITM4800 can be folded down when you are not using it.
Overall
All in all, this is a wonderful design that is headlined by its maximum comfort (though the ankle area can provide discomfort). Its positioning system is also efficient and convenient, for the most part.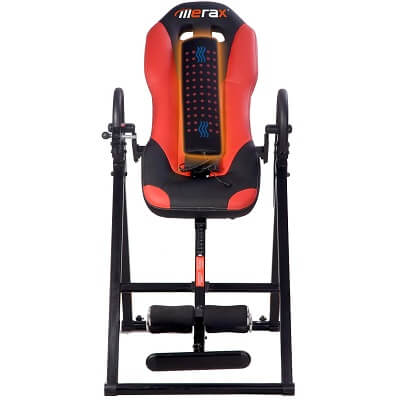 Who does not enjoy luxury products? While Merax is not the only designer to implement a vibration massage and heat system into their inversion table, it still is worth mentioning.
Read more
Positioning System
Merax ensured that their machine would be controlled by your arms. So, when you need to adjust your position, you need to use arm pivots to redistribute the weight. Also, there are preset angles at 20, 40, and 60 degrees.
Comfort and Support
Though the massage and heating functions could admittedly be improved, the double stitched backrest and oversized foam rollers do an adequate job of delivering comfort.
Build Quality
Despite the steel frame, which has been powder coated for protection and durability, one buyer noted that the bolts were poor in quality. In fact, they claimed they easily stripped.
User Requirements
Other systems on this list will accommodate a wider range of users, so be aware of that. Still, this can hold up to 300 pounds and accounts for users four feet 11 inches to six feet two inches in height.
Ease of Transport
Thanks to the fact that this machine can fold down and that it has integrated wheels, it can easily be stored and moved to a storage location.
Overall
This can't quite hold up to the juggernauts on this list but all things considered, this machine is mightily impressive. Perhaps the heat and massage functions could be improved but hey, at least they are there.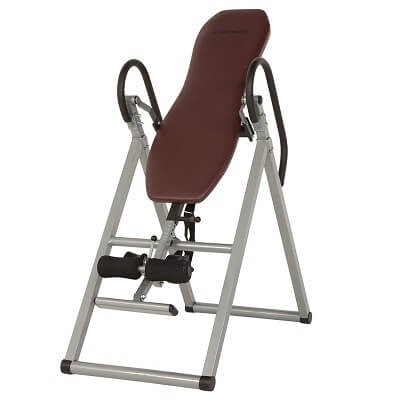 Though this next machine is not flawless in its design, most consumers will find it more than suitable for their needs. With its critical reception, it seems most buyers would attest to this.
Read more
Positioning System
For both safe and easy inversion, this system is designed with full loop safety handles and an adjustable tether strap. Yet, this table does not lockout and can't invert to a full 180 degrees.
Comfort and Support
Though the vinyl covered backrest and foam rollers and ankle cushions provide optimal comfort, there is a lack of a headrest for taller individuals. In fact, one buyer who is only five-foot-nine inches tall noted they had no headrest.
Build Quality
As you might expect at this point, this machine is designed with a heavy-duty steel frame (1.5 inches) and also a powder coated finish for protection.
User Requirements
Despite the lack of a headrest for taller folks, this can still account for users up to six feet six inches in height. As for the weight, this can hold up to 300 pounds.
Ease of Transport
Per the way this unit is advertised, you would believe it is painless to move and store. Well, it is not nearly as compact as it is made out to be and is quite difficult for one person to move.
Overall
Deciding if you have interest in this model really comes down to how you gauge the positioning system. It does utilize a tether strap and also can't go 180 degrees so keep those factors in mind.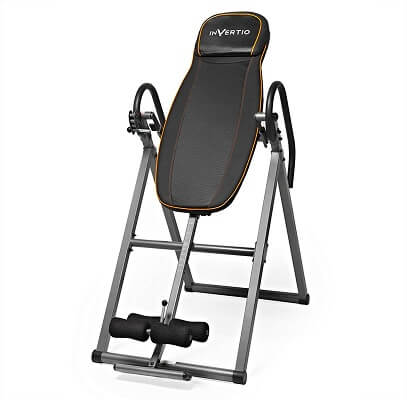 Here is the deal with this next option; if you receive an undamaged machine or one that has all its hardware and components, you will be satisfied. But, several buyers have indeed had an issue with this.
Read more
Positioning System
A new and improved bolt design is integrated here and it allows for adjustability up to a full inversion. Plus, you can preset the desired angle to your preferred level.
Comfort and Support
When this says deluxe comfort, it is not joking. This reads like a who's who of comfort including a contoured foam pad backrest and headrest, a padded foam roller ankle system, and extra-long padded handrails.
Build Quality
On top of the fact that this is fully-braced, it is also built with a heavy-duty 1.25-inch diameter tubular steel frame.
User Requirements
You can modify this design to account for your height but do note, it accepts a minimum height of five feet one inches and a maximum height of six feet six inches. The weight capacity, also, is 300 pounds.
Ease of Transport
When this bad boy is not in use, it can be folded down for easier storage or even just stood up against a wall.
Overall
As you can see, this design speaks for itself and is fantastic. However, you have to deal with the possibility that you may receive damaged parts (or not receive them at all), which is frustrating.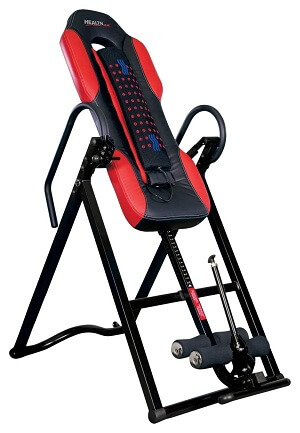 When you first begin to look at the ITM5500, it becomes apparent that it should have been higher on this list. However, for whatever reason, Health Gear skimped out a little on the bottom section of the frame.
Read more
Positioning System
Past the four position side inversion pin system, this is also equipped with an extra-long locking arm and this will minimize the amount of back bending when you either enter or exit this table.
Comfort and Support
First off, the backrest sports a contoured fit and is also ergonomically designed to increase comfort. Also, the foam leg rollers are equipped to prevent calf pinching.
Build Quality
Okay, so the frame is comprised of heavy-duty steel and there are floor caps to prevent slippage. Yet, the bottom section of the frame is cheaply made and made of low-quality metal.
User Requirements
The 300-pound user capacity is nothing you should be surprised at. In regard to the height, if you are between five-foot-one inches and six-foot-five inches then you are good.
Ease of Transport
Given the fact that this is foldable, it is already improved for space saving. However, the built-in transportation wheels allow you to move it easier from location to location.
Overall
As you have now seen, the potential was here for something truly epic. While it is still hard to be too upset with the final results, it is amazing to fathom what this could have been.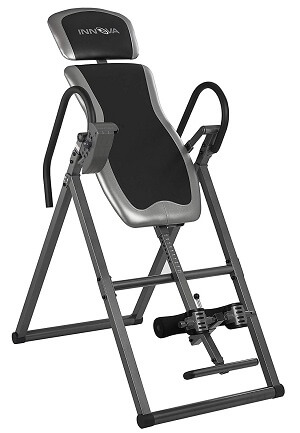 Some of you simply can't afford a top-end model but have no fear, there are superb affordable options out there. It just so happens that despite its flaws, the ITX9600 is one of those models.
Read more
Positioning System
On top of the fact that the six angle pin system allows you to trust that this will safely be adjusted, the true balance system allows you to find a unique center of gravity.
Comfort and Support
Though the ankle bracelet can provide discomfort, this machine provides sensational comfort and support as a whole. The most notable feature, though, is probably the adjustable headrest pad.
Build Quality
The heavy-duty steel frame is certainly nice but the plastic caps, that are used on the feet for stabilization, struggle to stay in place.
User Requirements
With a weight capacity of 300 pounds and user settings from four feet 10 inches to six feet six inches, this will account for a wide range of consumers.
Ease of Transport
While this will not get completely flat, when you remove the side pin, the back legs will fold to the front.
Overall
For the price point, the quality here is astounding, to be honest. Sure, it has its issues but it will be more than suitable for the average buyer.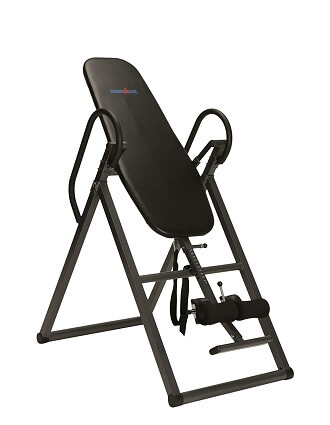 Ironman caps off this list with another offering but this time, it is their LX300. While it is not nearly as superb as their Gravity 4000, it is a highly competent model in its own right.
Read more
Positioning System
Overall, the tether strap approach of the LX300 can make it a bit hard to adjust on the fly. But, the extra-long safety handles will provide an easy return.
Comfort and Support
Both the foamed vinyl covered backrest and the foam roller and ankle cushions provide adequate comfort. That said, the ankle support is a little too high.
Build Quality
The 1.5-inch square steel frame, which has been powder coated for protection, provides the structural support for the LX300.
User Requirements
The four-foot 10 inches to six-foot-six inches user requirement is ideal. But, do note that the user weight limit for this model is down a bit at 275 pounds.
Ease of Transport
No worries on this front as the LX300 can be folded down for storage purposes.
Overall
Ironman is a quality brand so if nothing else, you know they will deliver the goods. Their LX300 is a great solution for those who are not looking for perfection.

Subscribe to our Newsletter