Best Inversion Tables
In a
Hurry? Editors choice: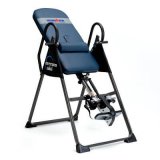 Test Winner: Ironman Gravity 4000

Do you or somebody you know struggle through back pain? For those who do, you fully understand how difficult it can be to push on and how much of a detriment it can be to daily activities. Well, one possible
remedy
, at least for short-term benefits, is inversion therapy. This is the practice of performing stretches upside down. What this will do is decompress your spine and provide
relief
(as will most type of stretching). However, in order to do safely and securely, you will need to use an inversion table. Presumably, that is why you have made your way here today and here is the good news, we are here to help.
Standout Picks
Criteria Used for Evaluation
Model
When it comes to a product such as this, do not go cheap. While it was claimed that there are affordable options, which is true, that is different than strictly going cheap. For starters, you want to look for a balancing system that keeps it easy on you. There is no reason for an overly-complicated system to be implemented. So, you may want to stick with time-tested designs that allow simple arm movements to shift your body weight for complete control over your angle and rotation. Speaking of angles, you also need to be aware that not all systems will invert a full 180 degrees. This may not be an issue for beginners but if you are a seasoned veteran, you will want a 180-degree rotation.
For the most part, these machines will be fairly easy to function. But, you can also look into machines with preset angles for you to invert to. What is nice about preset angles is you will never go further than you desire.
Comfort
Some of you may not believe that the idea of hanging upside down or at random angles sounds comfortable. While there may be some truth in that, it is vitally important that the inversion table itself is engineered with comfort in mind. You do not want to suffer on a machine like this as that is not the intent, clearly. There are two main design components that attribute to the overall comfort and support that a system provides and the first is the bed. What you are looking for are padding and support. With padding, look for enough foam to provide comfort for decently-long sessions. But, the bed should also be ergonomically designed and contoured to provide you with the most natural lying arrangement.
The second component is the ankle system. In addition to looking for a system that provides optimal comfort, which could include foam-padded rollers and ankle cups, it also needs to be easy to secure your ankles inside. Oh yeah, and do not forget about other features such as built-in assist handles that can provide even more support when decompressing and stretching.
Safety Hazards
Here is where things get extremely important. Not to say the last two sections that were just documented are not important, but this here should make or break everything. The reality with an inversion table is your safety is on the line when you are laying on one. At certain angles, if you fall, serious injuries could result. This makes it all the more important to ensure that the machine you buy has high-quality components and a high-quality build overall. It all starts with the frame and for the most part, this will usually be made of steel with a powder coating. Look for a powder coated steel frame as the finish will provide enhanced protection for the metal. Yet, the frame is only part of it.
What you also need to assess is other components such as the roller hinge, pivots and bearings. The roller hinge is actually the connector between the bed and the A-frame. This needs to be high in quality and preferably heat-treated steel for enhanced strength. As for the pivots and bearings, ensure they stabilize the unit as the last thing you want is for the frame to be wobbling while you are inverting.
Application
It is important for you to understand that not all inversion tables are going to be suitable for all users. Now, if you are an individual with an average weight and height, you will not have a difficult time at all finding a machine that suits you. This is because most machines will have a weight limit of at least 300 pounds (most of them capping out at this amount) and will typically accommodate users around four feet eight inches to six feet six inches in height.
Yet, each system is different so if you are on the border (for example a six-foot-four-inch 300-pounder) pay close attention to the user requirements of each model.
Portability
You may be pondering to yourself why on earth portability matters in this case. After all, it is not as if you will be transporting your new model everywhere and traveling with it on a daily basis. But, the portability still matters and here is why. With any type of exercising machine that you bring into your home, you may want to move it from time to time or may need it out of the way. Some units can be quite cumbersome and moving them as is may not be possible.
So, ideally, look for models that can be folded down when they are not in use. You would be surprised at how much room this can save. Also, as some of these machines can be 70 to 90 pounds, you may want to look for built-in transportation wheels. Both of these design implementations can save you many headaches in the future.
Subscribe to our Newsletter