Best Foam Rollers
In a
Hurry? Editors choice: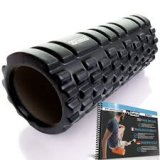 Test Winner: Fit-Nation Foam Roller for Muscle Massage

There's no way to avoid a bit of pain after a
good workout
. In some cases, dealing with chronic back pain can be discouraging and lead you to consider taking a break from your
exercise routine
.
It may feel like the end of the world (or just your exercise stint) but it doesn't have to! Foam rollers are here to save your muscles, your back, and your healthy intentions. Foam rollers, aka self-myofascial release, can be used by everyone at any fitness level. Foam rollers work by providing some comfortable pressure on sore, tight back muscles, and releasing that tension and
increasing blood circulation
to the affected area. You can think of a foam roller as a tool that gives you a
back massage
without the need for an appointment. Check out the best of 2018 below.
Standout Picks
Criteria Used for Evaluation
Style
We analyzed all of the products on our list for their design features, discussing sizes, and the types of foam used. The design is essential if you want a lightweight, portable roller or something else, so make sure you factor that into your decision.
The design must also include the use of durable materials which are long lasting, can take weight pressure and are resistant to damage from body sweat.
The plan will also include features which indicate for which areas of the body the roller will explicitly give benefits, more robust design means the roller can take on heavier weights, pressure from the weight or limbs such as arms and legs or even under the foot.
Features
Some foam rollers come with bonus features that include warranties and extra items like carrying cases. Depending on what you need in your roller, take a look at the elements so that you know what you are getting.
Other features to look for including the type of material surface area designed onto the roller, if the surface is dappled/dimpled or slightly uneven, this can stimulate blood supply more effectively and deeper into the muscle area and the lower subcutaneous skin tissues.
To achieve a deeper penetrative and balanced massage penetration will give more beneficial effects to the blood supply for muscle tissue.
Durability
Durability is essential when you purchase a roller because you want something long-lasting. On our list above, we discussed the quality and durability of all the products we reviewed.
For durability we looked at the entire material content used in the construction, the foam is a key construction material but is it dense enough, will it return to shape, does the foam have durability and can resist damage from sweat?
If the foam is encased in a protective cover is the material used going to be comfortable when coming into constant contact with the skin. If the cloth absorbs sweat, there is a risk of nasty microbiological growth which not only creates lousy odor but can be harmful to people. If the seams are not heat sealed but stitched is the stitching done innovatively to avoid creating friction on the skin surface or other types of skin damage?
Value
With value, we analyzed the overall price of the product, what the product offered, and its durability.
Lesser known imported brands attempt to give value by using substandard construction products, these models are often designed to be eye-catching, and they look like they will provide performance and durability and the makers are not shy to make claims about performance that will not meet user expectations.
To invest in a product that looks the part and has a low price tag does mean that you need to consider that it may well have a very short durable lifespan and perhaps not provide the level of benefits that you need.
Value for money can often mean paying a little more for a brand name which has carried out extensive research into which are the best durable materials and a product which will give the needed benefits.
Subscribe to our Newsletter