Best Medicine Ball
In a Hurry? Editors choice: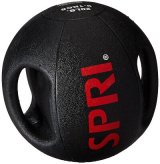 Test Winner: SPRI Dual Grip Xerball

Medicine balls are important to any avid person who works out regularly, as they are simple to use and provide a great overall stretch and workout in one. Medicine balls come in a variety of sizes and weights so it is quite difficult to find a set or single medicine ball that will be best suited to your workout routine. The best way to figure out which medicine ball will be suitable for you is to visit your local gym, where they will have a variety of medicine balls and
weights
, and try them out. Once you find one you are comfortable with, you then can start looking for that weight in the style you want. This way you will have a medicine ball at home and can get in a quick stretch or workout at any time of the day.
Standout Picks
Criteria Used for Evaluation
Features
The features play an important part mainly for the type of exercises you intend to use the ball for. If you plan to do slamming exercises, then, of course, you will want a ball designed for that use. Keep in mind that a slam ball usually offers no bounce, so if you want to do wall exercises that slam ball won't be of assistance to you. With the same thought in mind, a ball that is designed to use for wall exercises will not be an ideal ball for slamming. The construction of the ball is another important feature when you're thinking about its use. A slam ball is usually made of durable leather whereas a bouncing ball will be vinyl or lighter rubber. A bouncing ball might be filled with air and a slam ball might be filled with sand. These are all things to consider when deciding what you want to use the ball for.
Durability
Durability is another factor when it comes to using a medicine ball. If you want to slam the ball you will want to be sure the ball is durable to handle the abuse. If the ball has stitched seams you will want to be sure they are secure, and if it isn't intended for slamming, the ball will probably split, so keep that all in mind when making your choice. If it's a bouncing ball, be sure the shell is tough and won't puncture if it bounces over something sharp.
Weight
The weight is determined by your experience and the intended use of the ball. If you are a beginner, you will want to start with a lighter ball and gradually work your way up. Before you begin your exercise know which weight would be best for the routine. Think of a gallon of milk when you think weight; a gallon of milk is approximately ten-pounds, so if you can comfortably carry the milk, then a ten-pound ball should be no problem for you.
Texture
After you learn about the construction of the ball you will want to know the texture. The texture is important because you want to be able to catch the ball or hold it firmly when you are doing specific exercises. A tacky, rough, or rigid texture works best. Remember that the heavier the workout, the more you will sweat, therefore you want to be sure you can hold the ball even when your hands are wet. If the ball is too smooth, it will probably not offer the appropriate amount of texture you will need to keep it in your hands.
Top Ten Medicine Balls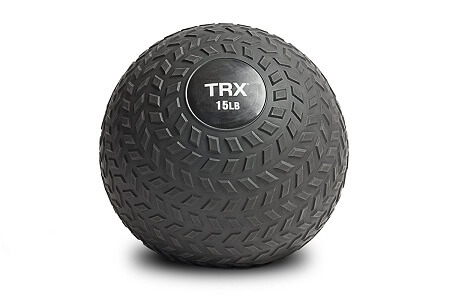 If you need a slam ball with absolutely no bounce, this one would be perfect for you. It's durable and will withstand a beating no matter how severe it is.
Read more
Features
This rubber medicine ball is designed to be nothing more than a slam ball. It won't work as a wall ball because it doesn't offer a bounce like some. Its rubber skin is stuffed with sand and comes in multiple weight increments. Unlike most, this one only comes in black and doesn't offer a different color with each weight difference.
Durability
It is constructed of heavy-duty rubber and designed as a slam ball to take all the abuse you care to give it. It is solid rubber, so you won't have to worry about the stitching coming apart halfway through your workout.
Weight
Available in increments from six to twenty-five pounds; you can do gradual weight workouts if that's your desire, or dive right in and start with the heaviest ball.
Texture/Grip
This medicine ball offers an awesome grip on a texture that is much like a tire tread. The treads flow throughout the entire ball and will help you to maintain that grip even when your hands are covered with sweat.
Best Uses
Best used as a slam ball, this one will also provide excellent results from strength training exercises. It does cause some imbalance when used in regular exercise routines but that comes from the moving sand inside the ball. If you want to move throughout the work day, this ball will offer a good way to exercise from your chair. Overall, it's a good ball for slamming and other general fitness routines.
Value
This medicine ball offers an extremely competitive low price of this caliber. Its heavy-duty rubber made for slamming that will last longer than you would expect.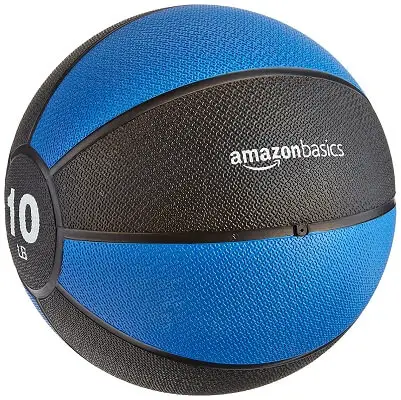 One of the best for beginners is this Amazon Basics medicine ball. It comes in lighter weights, so you can gradually advance to the higher levels.
Read more
Features
Don't mistake this one for a basketball, because although it might look like one, it isn't meant to be used like one. It is filled with air and the outside is hard enough that it can bounce, but it is not intended to be slammed against the concrete. The ball comes in two-tone colors and each color represents a different weight, so you can spot it clearly from a distance. It does not include an air pump, but it does come with an exercise chart to help you get started.
Durability
This medicine ball is made of commercial quality products; the outside of the ball is covered with rubber and it will bounce, but it can split when used improperly. It's solid, compact, and evenly weighted to give you the performance and results you would expect from a medicine ball of this quality.
Weight
It's offered in ten different weights with the lightest being four-pounds to the heaviest weighing in at twenty-pounds, so it can be used equally from the beginning phase to the most advanced. Each weight is stamped on the outside of the ball and they each feature a different color.
Texture/Grip
Featuring a sandpaper-like rubber grip, this ball will stay securely in your hands even when you sweat.
Best Uses
As mentioned before, this ball is perfect for beginners who want to gradually work their way up. It provides the best performance for a weighted cardio workout, and it can be used for the traditional medicine ball workouts. After using this ball, you will notice an improvement in your balance, core strength, and coordination skills.
Value
This is one of the best for the money. You get a large variety of weights, and it's constructed with commercial quality materials, so it will last a long time when treated properly. You will get a lot of use and a satisfying performance with this ball, making it worth every dime spent.

3

. SPRI Dual Grip Xerball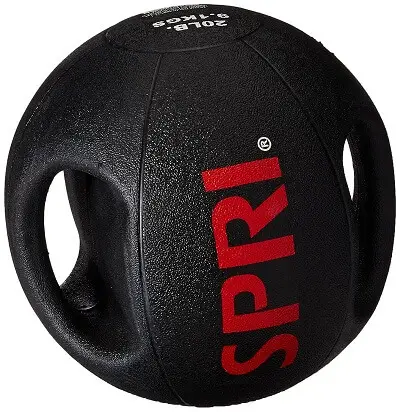 This unique medicine ball offers two ways to grip it, and with all the weight choices, you will find it easy to use for the beginner or the most advanced.
Read more
Features
Constructed of high-quality synthetic rubber and PVS materials, this ball offers little bounce, so if you're looking for an exercise regimen that requires that, this ball won't work for you. It does, however, offer a unique performance in the way that it is used and it's easy to handle. Unlike most, this one is only available in one color, but the weights are marked on the outer shell of the ball, so it is still easy to find the correct one that you want to use. It comes with a workout DVD and an instruction sheet.
Durability
It is made of high-quality solid materials with no flex room, so you don't have to worry that it will lose its firmness. The grip handles are solid and affirm a confident grip.
Weight
Available from six-pounds to twenty-pounds, there is one here to suit everyone's needs. This ball doesn't come in different colors, but the weights are clearly marked on each ball.
Texture/Grip
With a texture of semi-roughness, this medicine ball won't slip out of your hands, even when they are wet. It provides a firm response and offers handles that will confidently allow for a firm grasp. With the easy to grip handles, you can perform a variety of exercises, and you have the option of holding it without the handles too if that is your preference.
Best Uses
This is one of the best medicine balls for ab workouts and rotational exercises. You can perform lower body and single-handed movements that are controlled by the weights, and for something new, try one of the workouts on the included DVD.
Value
Although the price tag might seem a bit high, consider all the options you have with this high-quality ball. You can use it with or without the handles and the grip will be great either way, it's offered in several weight increments, and it includes a DVD and instruction sheet. The best part is that it's made to last, so how can you go wrong with this choice?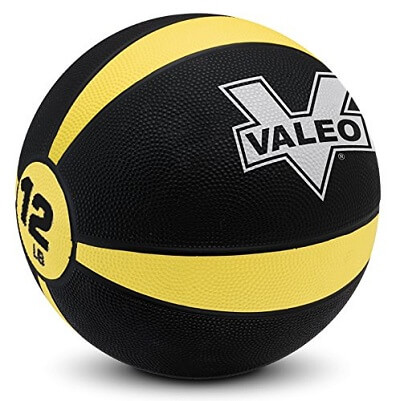 If you enjoy a satisfying P90X2 routine, this medicine ball will add to the excitement. It's designed to bounce off a hard surface and it's durable enough to sustain the stress it endures.
Read more
Features
Approximately the size of a basketball, this one can be used with a variety of exercises. If you have ever witnessed the bounce of the Amazon Basics medicine ball, you will find this one to have a bit more spunk in its bounce than that one does. It's constructed of a durable rubber cover and inflates with air. There are different colors to match the different weights, so you can sort out the ball you want without having to look for the stamp on the outside. This medicine ball is complete with a needle valve for inflation and a workout guide that you can hang on the wall.
Durability
The thick rubber covering is tough enough to continuously bounce off of hard surfaces without breaking or wearing down. The texture and ridges hold up to their end of the bargain as well when it comes to performance.
Weight
Available in six, eight, ten, and twelve increments, this medicine ball not only states the weight on the outer covering, but they are each marked by a different color as well. With the smallest weight set at six-pounds, you should have no problem if you are a beginner, or if you want to enjoy a lighter workout.
Texture/Grip
The bumpy texture, much like a basketball, will provide a safe and secure grip on the ball even when the sweat is pouring from the palm of your hands.
Best Uses
You can use this ball for many targeted fitness routines, but you will also find it useful for improving your balance and coordination. Your strength will greatly improve too after routinely using this ball.
Value
It might seem a bit pricey, but when compared to others, this medicine ball is right in the middle of the price range. Not only are you getting a high-quality durable ball, but you are also developing a good workout routine that will encourage positive health in your future.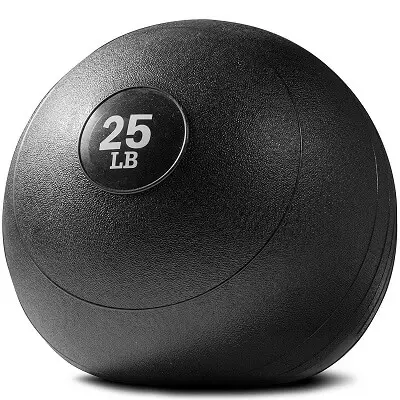 If you are an avid enthusiast who likes the challenge of a heavier medicine ball, and you like the thought of slamming the ball for a successful workout, this one might be just the perfect match for you.
Read more
Features
This ball might look boring, but with its quality and performance, you will find it far from boring. The solid rubber housing makes it tough enough to withstand all the abuse you care to put it through. It only comes in black, but the weights are stamped on the outside and think about how much dirt this one will hide compared to some of the other lighter colored balls.
Durability
You can slam it, throw it, or catch it, the thick rubber walls are designed to take heavy blows without splitting. Release all your energy with this ball each time you use it, and it will be just like new every time.
Weight
The texture of this ball will provide the grip you need even when your hands are wringing with sweat. It doesn't provide fancy handles and flashy colors, but it will assure you can throw it and catch it with ease.
Best Uses
This one is great for a full-body workout at any level. It's ideal and can be used for toning your abs and arms, and if you're looking to burn some calories, this one will become your best friend. Any type of intermediate to advanced workout will be a success when using this medicine ball.
Value
Knowing you can slam this ball and it won't break adds a lot of value, and you won't need to take out a loan to afford this great piece of workout equipment either! It proves to be one of the best choices when it comes to value and cost.

6

. Champion Sports Leather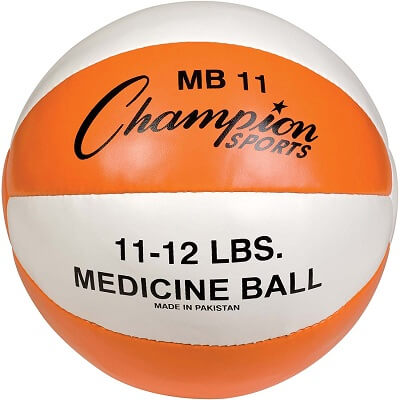 If you're looking for a ball you can slam without worry it will break, this one might be the best choice for you. It's available in a variety of weights and the colors are bright and fun.
Read more
Features
Featuring a fun blast from the past design, this old-school sports ball features tough skin on the outside that's covered with quality synthetic leather. The best feature of this design is the perfect balance it provides between firm and soft, so it makes it one of the best for all your balance exercises. This ball offers a different bright color surrounded by white trim that corresponds to each weight.
Durability
Constructed of a specialized tough leather, this ball is made to withstand a lot of abuse for a very long time without failing to perform. It's sturdy, durable, and well made; it can even be slammed without the worry of it splitting.
Weight
Offered in nine different weight options, this one starts at four-pounds for beginners and goes all the way up to twenty-two- pounds for the more advanced exercise enthusiasts. Every ball labels the weight on the outer skin and they each have their own dedicated color.
Texture/Grip
This one offers a smoother finish that might be a bit more slippery than others. That isn't to say though that it won't stay in your hands, you just might need to grip a little tighter, and it only makes it better for easy release when you need it.
Best Uses
This ball offers so much in the way of functionality that it can be used for so many different exercises. It's perfect for strength training and your intense cardio sessions will only get better with this medicine ball. It's perfect for balance training, to elaborate your flexibility, and you will be blown away by your dynamic muscle training sessions. This ball can be slammed, so if that's your thing, this one would be great!
Value
When it comes to cost, this one is affordable, and the value from this high-quality Champion ball can't be beat! You will get long-time use from this one, and the exercises you can do with it are endless.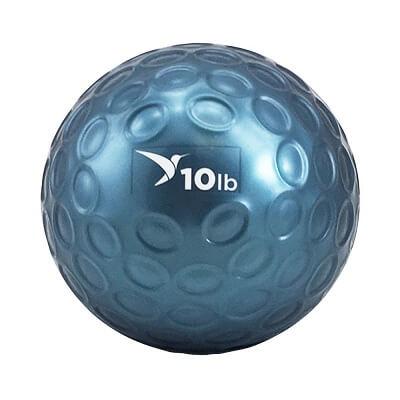 If you are a woman with small hands you know that it can be difficult to find the perfect exercise ball that fits comfortably in your hands. With this medicine ball, you can stop looking and begin exercising because it's designed to fit directly into your petite hands.
Read more
Features
This ball looks much like a plastic ball that a child would play with, but with the weight and durability that you would never find in that same toy ball. It is designed to fit into the dainty hands of a female and the soft durable plastic makes it easy to squeeze, toss, and grip. It comes in three different weight increments with three different colors to represent each weight. It's filled with sand that creates an even balance in the ball.
Durability
It's constructed of a durable plastic that creates a soft, yet tough shell. It can be tossed or slammed without worry of splitting and breaking.
Weight
Unlike some, this medicine ball only offers three weights; six, eight, and ten- pounds. This creates a progressive workout and is the perfect set for women. The weight is printed on each ball with the purple, teal, and green colors each representing one of those weights.
Texture/Grip
The plastic shell does make this one a bit more slippery than the others when your hands are wet, but with the dents that are molded into it, you will get a more positive finger grip than most.
Best Uses
This ball doesn't bounce and is great for slamming. It's perfect for swinging and tossing, and it includes the power abs DVD for the best positive workouts.
Value
The price of this medicine ball is on the lower end of the scale, but it does vary according to the weight. Think about all you will achieve with this ball from the progressive weight routines to the positive impact to the abs. Don't forget that this one is designed specifically for the petite hands of a female. You can't go wrong with this one.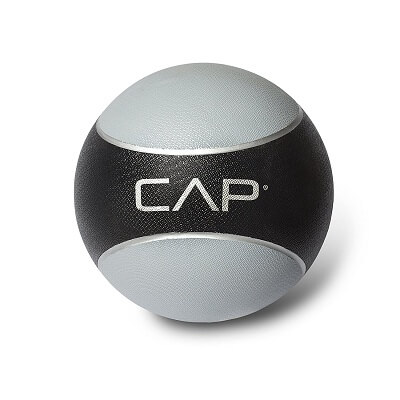 This is another best for beginners or for those who are looking to add more weight to those powerful workouts. You can partner up with a friend and share this ball in a fun cardio workout that will get your heart rate up and your blood flowing.
Read more
Features
When you first look at this medicine ball you might think it resembles a tennis ball, but in the size of a small basketball, and of course much heavier. It is available in six weight increments, and every weight resembles its own color with an attractive black and silver trim on each one.
Durability
This is a very well-made ball wrapped in thick rubber. The balls weighing four-pounds and higher will stand the test of bouncing off the walls without flying into pieces or cracking in half, but they are not designed to stay together if you try to slam them.
Weight
Available in weight increments from two to twelve- pounds, these balls are great for beginners or anyone wanting to gradually increase the weight of their workout.
Texture/Grip
The ball provides a rigid touch with a tacky grip that allows you to maintain full stability and control during your entire workout. Even with wet, slippery hands, the ball will remain secure under your fingers.
Best Uses
This is the best one on the list for wall exercises and you will be pleased with the results from your cardio workouts. You will find much improvement in your coordination and stability as well as your increased strength.
Value
This ball offers so much for the money, not to mention the impressive quality and results you will gain by adding this ball to your daily exercise routine. It's definitely worth every dime spent.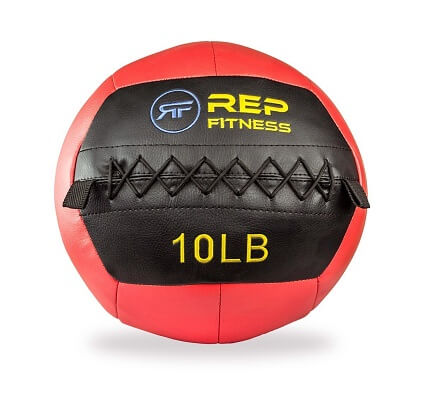 This one offers a weight for all levels of training, from beginners to highly skilled, and because of the construction of this ball over the others, it caters to cross fit athletes.
Read more
Features
Constructed of durable synthetic leather, this ball is thicker than some and hand-stitched, unlike the others. It features bungee looking laces across the front, with the weight stitched right into the ball. Each ball features a different bright color to distinguish the difference in the sizes, but they all feature the same black trim and attractive gold stitching. It is a bit bigger than some of the others and, although it is designed to be used as a wall ball, it shouldn't be used as a slam ball.
Durability
This medicine ball delivers amazing quality above the rest with a higher end synthetic leather and the hand-stitched trim, it's made to hold up to heavy use.
Weight
Offered in weights ranging from two to forty-pounds, this medicine ball offers a larger variety than most.
Texture/Grip
This one doesn't offer a sticky grip, but for the majority, the soft leather shell is easy to grip. There are loops sewn into the end of laces that can be used as finger loops to hold onto it better.
Best Uses
Cross fit athletes appreciate the durable stitching and the synthetic leather on this ball. Others find it ideal for use with core training and it's easy to do wall exercises with this ball.
Value
It's on the higher end of the price range, but it has every good reason to be. The hand-stitched seams and high-quality leather says it all. The weights are plentiful, and the ball is the perfect size for many exercises.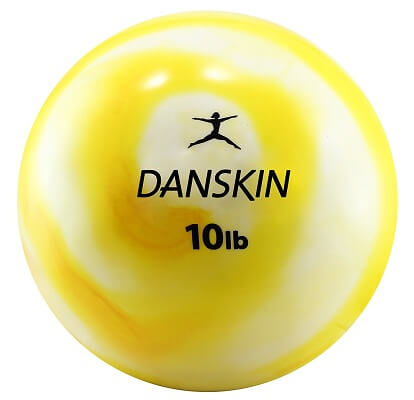 This is another medicine ball that is designed to fit the hands of a female. It comes in three perfect sizes and the attractive colors will assure a clear view from a distance.
Read more
Features
This ball is much the same size as a volleyball and features a soft, latex-free vinyl outer shell that makes exercise easy and tolerable. It's designed for women and fits in the smallest of hands with ease. It's available in three weight increments with three bright colors to match each weight. You will find the included workout wall poster to be helpful when it comes to getting the best results out of your exercise routine.
Durability
You will feel the high-quality in this one when you hold it in your hands. Built with women in mind, this ball is soft and easy to handle, yet tough and durable enough to pass the test of all the battles you will put it through.
Weight
It comes in perfect weight increments of six, eight, and ten-pounds, so that you will have the ability to handle it no matter which one you choose to work with. Each ball is clearly marked with the weight and every one of them has their own color making it easy to see across the room.
Texture/Grip
The unusual texture is a bit tacky so that it will keep a firm grip on your hands even when they are wet. It's smaller than the average which makes it that much better and comfortable for gripping.
Best Uses
If you're looking to improve your strength, tighten your muscles, and build better flexibility, then this medicine ball would be perfect for you. You can lift it, throw it, catch it, and swing it to get the results you are looking for and don't forget, it comes with a workout poster too.
Value
Finding the perfect ball to fit your tiny hands can sometimes be a chore, but this ball answers the call and that's all the value you need. It will last a long time and there isn't a weight or color that won't suit your needs. You will be happy each time you begin your workout routine with this ball in your hands.

Subscribe to our Newsletter