Best Lawn Mower Batteries
In a Hurry? Editors choice: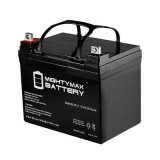 Test Winner: Mighty Max

As with any other
battery
in the world, the version in your
lawn
mower is not going to last forever. However, instead of simply rushing to the store to find the cheapest model you can find, why not take some time out of your day to ensure your replacement model ends up being of high quality. Today, that is exactly what we want to do. There are several excellent versions out there today and most of them will
run
with 12 volts. Given that most modern riding mowers will operate with 12-volt batteries, this only makes sense. However, there are other considerations that you must make; so, without further ado, let's dive right in shall we?
Standout Picks
Criteria Used for Evaluation
Battery Life
It seems easiest to break down this product like you would a computer. As such, we are going, to begin with, the technical specifications of a lawn mower battery. When looking for one, your attention will be predicated on three specific measurements, so to speak. The first of which is the voltage that it runs off of. For most models, this is going to be 12 volts but there are some mowers built before 1980 that will need six-volt batteries. However, newer models will most likely require 12 volts. The second measurement is what is known as CCA. This stands for cold-cranking amps and it is essentially a reading of how easy the model will start in colder temperatures.
This reading will determine the amount of current that the battery can deliver in 30 seconds at zero degrees Fahrenheit. Lastly, you need to assess the AH specification. What this stands for is an amp hour and it essentially indicates the capacity inside of a specific model (or how much energy can be stored inside). For this and the cold-cranking amps, the higher the number the better.
Safety Hazards
Whenever you are dealing with battery acid, you need to be careful (speaking from the manufacturer's point of view). When they develop their model, they need to be 100 percent certain that there is no chance of potential leakage as this can be deadly for both the battery and your mower. Yet, ever since the early 1980s when absorbed mat technology becomes popular, this became much, much easier. This technology, which is short for AGM, is used to prevent the acid from ever leaking and here is how it works. Basically, a very fine fiberglass mat will absorb the sulfuric acid and prevent it from escaping. While the explanation could go deeper, that is the main premise.
But, when it comes to safe operation, the temperature range can also play a role. Because extreme temperatures can degrade their performance, it is ideal when a designer engineers their model to operate efficiently in both colder and warmer climates. Oh yeah, and given that electrical currents are at play, look for batteries with technologies to protect against common issues such as short-circuits and overvoltage.
Size
That only assesses the mounting, though, and there is one other monkey in the room here. How do you know, as the buyer, if the model you choose will fit your current mower? The best way to determine this is to assess the physical dimensions of the battery as based on their size; they are classified as a group number. For example, you have U1 batteries which are right around 5.1 inches wide, 7.25 inches high, and 8.3 inches long. But, U1 and U1R models will position their positive terminals differently. If you are not careful, you may get a model that does not fit because the cables may be too short.
Effectiveness
Now that you have all the technical specs out of the way, you need to assess the actual construction of these products. One would think that it would not matter that much as when they are installed, they are typically shoved down inside the machine. However, the reality of the situation is you can't predict the terrain that you are going to be mowing. Additionally, your current lawn may be hilly, bumpy, and overall uneven. In this situation, when you are mowing, your mower is probably going to vibrate and endure shocks. Well, this can actually be bad for the battery inside and decrease its shelf life.
There is no fear as with most of the manufacturers on this list, they design their models to be rugged and one of the manners in which they do that is with the housing. With heavy-duty housing, the internal components themselves will have a much greater resistance to shock and vibrations. Even though some shock is going to be inevitable, minimizing the amount of brunt impact it endures is crucial.
Top 10 Picks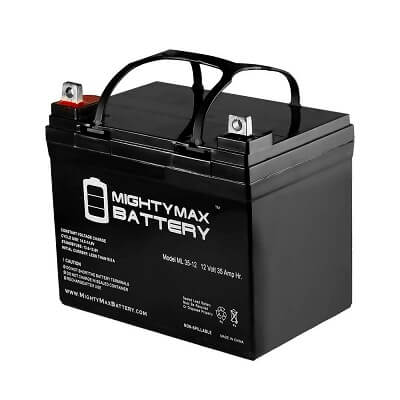 This manufacturer is going to land on this list a few times as they have all but mastered this technology. But, their 35 AH model stands above the rest and quickly, you will see why.
Read more
Battery Specifications
Thanks to the 35 AH rating and the state-of-the-art grid, the performance, and power delivered from this model is undeniable.
Ruggedness
Just simply glancing at this model for this first time will never have you questioning the housing. In fact, it will resist all sorts of vibrations and shocks.
Safety
In both low and high temperatures, this is going to perform admirably. Plus, thanks to the AGM technology, this will not leak and requires very little to no maintenance.
Installation
While there are no mounting accessories or wire harness included, this model (due to its sealing) can be mounted in any position you would like.
Included Warranty
The main warranty for this model is that you are covered within the first year. However, it is also backed by a 30-day refund policy if you have any issues or second thoughts.
Overall
Arguably the only real concern here is longevity (according to a few buyers' experiences). In regard to everything else, it is top-of-the-line material.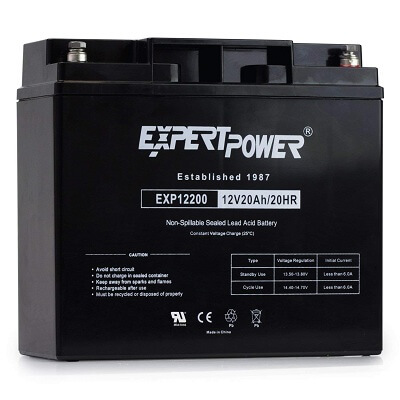 ExpertPower is one of the leading manufactures in this technology and it is not difficult to see why. Their EXP12200 is a prime example of why they are one of the go-to brands.
Read more
Battery Specifications
As with all the other models on this list, this runs on 12 volts of power. Also, it has a capacity of 20 AH, which is pretty good all things considered.
Ruggedness
ExpertPower makes all their batteries with the highest quality materials available on the market. To prove this, the housing on this model is made of a non-conductive ABS plastic and is resistant to vibrations, shock, and heat.
Safety
First off, this can be operated in a wide range of temperatures safely. In addition, the inclusion of the ever-popular absorbed glass mat technology ensures a leakproof design.
Installation
One user commented on their experience and noted how this model would not fit their garden tractor as the screw type posts were not compatible.
Included Warranty
For the first 90 days, this model is backed by the manufacturer's money-back guarantee. After that, until one year, you are covered from quality-related issues.
Overall
The EXP12200 ranked in the top three on this list for a reason. Well, how about a multitude of reasons? Not the least of which is its elite level of protection and ruggedness.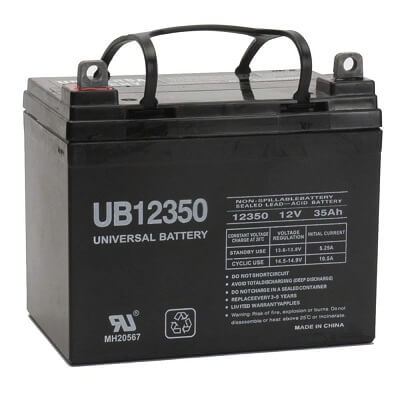 At the end of the day, it really does not get better than this. While there are plenty of other terrific options out there, none of them can quite reach the quality delivered from Universal Power Group.
Read more
Battery Specifications
This is sort of a who's who of specifications as at 35 AH and 315 CCA, it has a high capacity and will have no issues starting in the cold.
Ruggedness
Due to the housing of Universal Power Group's model, you can rest assured that it is going to resist both shocks and absorption which is key when you are mowing uneven terrain.
Safety
For superior performance and safety, this has integrated absorbing glass mat technology making it leakproof.
Installation
Be careful as even though it may be implied that this universally fits John Deere mowers, it will not fit them all. But, due to the spill-proof construction, it can be mounted in any position.
Included Warranty
This is backed by a one-year warranty and in the instance where there are manufacturer defects or quality control issues, you should be covered.
Overall
Even when compared to the factory installed batteries on John Deere mowers, this replacement model will offer a higher capacity. Really, it is the cream of the crop.



While some buyers have reported some longevity issues with this next entry, it sports the specifications to compete with any lawn mower battery on the market today.
Read more
Battery Specifications
Being another 12-volt and 35 AM model, this has the power and the capacity to deliver the goods to any lawn mower in the world (that requires 12 volts).
Ruggedness
Due to the integration of welding technology, this has been made to resist heat, vibrations, and shocks. Plus, the terminals are made of the highest quality components.
Safety
Thanks to the fact that the acid inside is constructed with Absorbed Glass Mat technology, this is dubbed as a spill-proof battery. Plus, it is UL certified and OHSAS health certified.
Installation
Right from the box, this does come fully charged and ready to use. In addition to this, it can fit into a variety of different applications such as mobility scooters and alarm systems.
Included Warranty
Take great comfort in knowing that for the first 18 months you own and use this battery, you are covered by the manufacturer's included warranty.
Overall
When this is functioning properly, few can compete with its performance. While this is another model where users have expressed longevity concerns, it is backed by an 18-month warranty.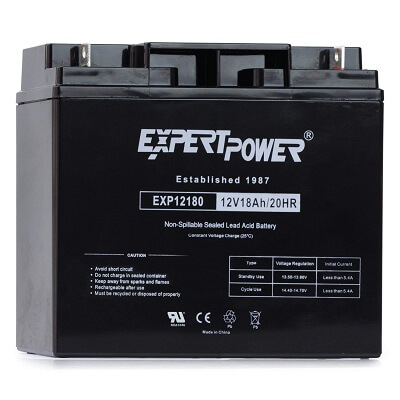 This is the second ExpertPower model on this list but as opposed to the last one, this version does not sport quite the capacity. That said, it is still made with premium materials.
Read more
Battery Specifications
The EXP12180 almost sports the exact same specs as the previous ExpertPower model on this list. However, it has a slightly smaller capacity at 18 AH.
Ruggedness
Just like the last model from ExpertPower, the EXP12180 is also made with the highest quality materials possible. As such, the housing makes this resistant to shock and vibrations.
Safety
Along with the valve regulated, the acid that is inside this battery is absorbed between the plates and is immobilized by a fiberglass mat.
Installation
Because of the leakproof construction of this design, it can safely be operated in any position. All in all, the installation should be painless.
Included Warranty
For quality-related issues, much like the other ExpertPower battery, this is backed by a one-year warranty and also a 90-day money-back guarantee.
Overall
You know that if ExpertPower manufactures a lawn mower battery, it is going to be made with the highest quality components. Then again, some users have questioned the performance.

6

. Universal Power UPG UBCD5745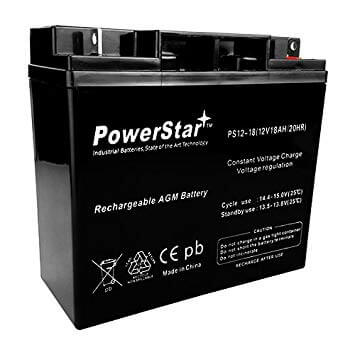 Even if you had no interest to use this for your lawnmower, it is a highly-versatile battery as it has been used by the UPS for many reasons. Of course, it's high-quality makes it irrelevant how you use it.
Read more
Battery Specifications
This is a standard 12-volt 18 AH model and it is actually commonly used in UPS backup systems, exit lighting, flashlights, spotlights, and various other equipment.
Ruggedness
Per the experience of one user, the plastic housing ended up falling off. Now, they could have been care-free when handling it but no matter, this could be a concern.
Safety
Do not worry about a thing here as this does utilize absorbed glass mat technology. Indeed, it is both leakproof and spill proof and will not become a safety hazard unless it is damaged.
Installation
As this will not leak, the mounting options are pretty much endless. But, do note that at 7.13 inches by three inches by 6.57 inches, it may not fit your current mower.
Included Warranty
Even though the materials utilized are premium, the manufacturer still backs their battery with a two-year warranty.
Overall
As a consumer, there is a lot to be fond of here. For example, the 18 AH capacity is solid, the design is leakproof, and the two-year warranty provides you with peace of mind.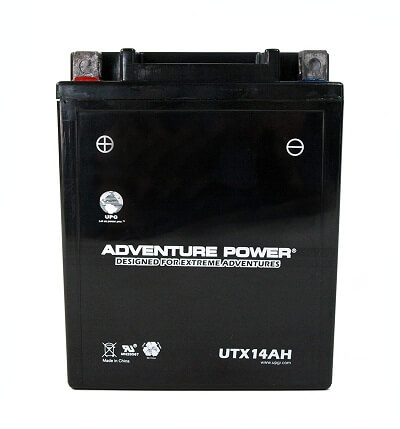 Some consumers have alluded to the fact that this would be better with a higher CCA rating. As such, starting this battery in the cold weather can be a little bit of a hassle.
Read more
Battery Specifications
While the CCA rating of this model is higher than some wet batteries (at 50), it could still be better along with the four AH capacity.
Ruggedness
As compared to conventional models, this type (which is AGM) offer superior vibration-resistance and heat-resistance.
Safety
Safety is never going to be an issue with this type of design as it is sealed and maintenance-free. Also, you will never need to check water levels.
Installation
Be aware that this model measures 3.5 inches high by 4.375 inches wide by 2.625 inches deep. But, they are sealed so mounting them should be hassle-free.
Included Warranty
It is advised that you contact the seller directly to receive information on their warranty.
Overall
Probably the one area of concern for this is the fact that it may be difficult to start in colder weather. However, if you never are going to use it in colder temperatures, you never need to worry about it.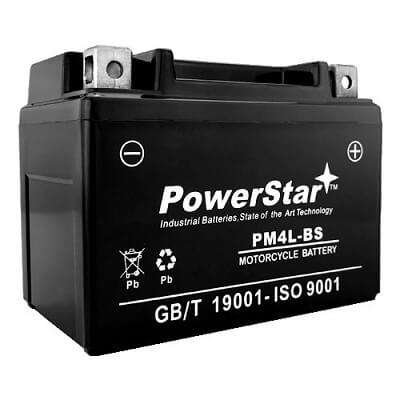 From a technical standpoint, there is very little wrong with this next entry. However, with a capacity of only three AH, it simply can't compete with the top-end models on this list.
Read more
Battery Specifications
Again, as was just mentioned, the capacity of this model will leave a lot to be desired. Still, though, this is a universal design at 12 volts.
Ruggedness
Because Powerstar engineered their battery to not leak, it is not going to corrode on the expensive finish or around the terminals. The result is a more durable system.
Safety
On top of the absorbed glass mat technology that has been discussed to death, Powerstar also designed this with overvoltage, short-circuit and battery polarity error protection.
Installation
This is ideal as a replacement battery and in its description, claims it is suitable for specific models from Exide Champion, America, Interstate, Power-Sonic, and Yuasa.
Included Warranty
For the first two years, you own this, you are backed by the company's included warranty. When comparing this to the competition, it is one of the better warranties out there.
Overall
Given the fact that Powerstar engineered this model, you know at the very least that it can be trusted to perform at a high rate. While the capacity is a little low, it is still an excellent option.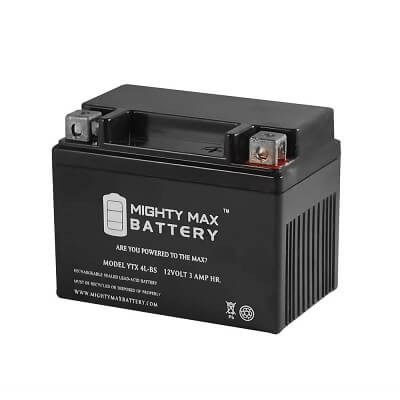 In a lot of ways, this entry is a carbon copy of the previous one. After all, this is a model from an esteemed manufacturer that lacks the specs to keep up with the best.
Read more
Battery Specifications
With 50 CCA and three AH, no one's jaw will be dropping here. But, this is, of course, another model that runs off of 12 volts and will be compatible with modern mowers.
Ruggedness
As this is a Mighty Max battery, the durability and housing were never going to be a concern. So, this will resist both vibrations and shocks that your mower endures.
Safety
Not only is this outfitted with absorbed glass mat technology, but it also comes sealed and pre-charged. Oh yeah, it can also operate in high and low temperatures safely.
Installation
While you receive the screws for installation, there are no other mounting accessories included. Plus, it can be mounted in any position due to its leakproof design.
Included Warranty
Within the first 30 days of your purchase, you are offered a refund if you want it. Past this, for the next 11 months, you are backed by the included warranty.
Overall
Okay, so this could be considered weak battery at the end of the day. However, you need to remember who designed it and when you take that into consideration, all is good in the world.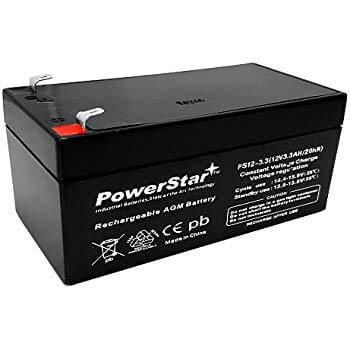 The last entry on this list is from Powerstar and it is specially designed for Toro mowers. Even though it is not flawless, the price point is simply impossible to beat.
Read more
Battery Specifications
Given the price, it is not much of a surprise that this only has 3.3 amp hours. But, as with all the others, it is a 12-volt model.
Ruggedness
This is engineered with the utmost protection and can handle vibrations, shocks, and even accidental overcharges. Overall, the performance is stable and reliable because of it.
Safety
Thanks to the unique and advanced sealing technique that is integrated here, no electrolyte leakage can take place and thus there are no safety hazards to worry about.
Installation
Again, this is intended as a replacement for Toro lawn mowers. That said, one nice feature about this model is its sealed construction which allows it to operate in any position.
Included Warranty
Powerstar backs their replacement battery with a two-year free replacement warranty.
Overall
Again, with a smaller price, it is not much of a surprise to see the lower amp hours. If you do not need a workhorse, then this could end up being a great pick for you.

Subscribe to our Newsletter