Best Camping Saws
In a
Hurry? Editors choice: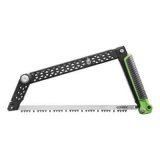 Test Winner: Gerber Freescape

People who have never
camped
before would be surprised at the sheer amount of items and equipment that can come in handy. A perfect example would be a saw because, at first thought, you may not think a saw would be necessary when you are camping. However, they can serve many purposes for you but it does depend on the type that you get. When it comes to camping saws, you will generally need to decide from pocket chainsaws, bow saws, or folding saws. Each comes with their own luxuries and with the vast majority of saws on this list, you will be provided with a clear understanding of what they are.
Standout Picks
Criteria Used for Evaluation
Top 10 Camping Saws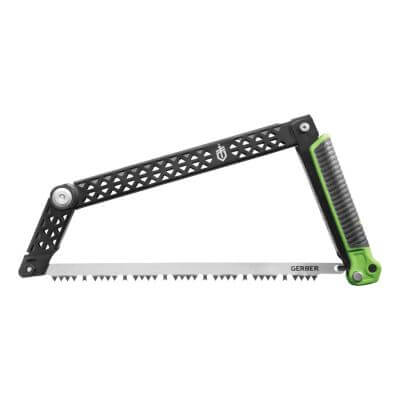 As a few users have reported, if you interchange the included blade with a superior one, this is practically a flawless design. Thankfully, due to the design of the saw, replacing the included blade is a very simple process.
Read more
Materials
While this does come with a 12-inch saw blade, it may be in your best interest to replace it with a superior blade. It is not incompetent but a higher quality blade should go with this eloquent of a design. No matter if it is snowing or raining outside, the textured handle on this saw is able to provide optimal grip under any weather condition.
Portability
Thanks to the innovative design, the Freescape Saw can conveniently fold up flat when you need to store it or transport it. Not only this but it can be completely folded while still assembled. As such, when folded, the blade is protected.
Multiple Uses
Because this saw utilizes four different pivot points, it is able to effectively cut larger woods. When you combine this with a higher-quality 12-inch blade of your choosing, it can cut virtually anything.
Features
Along the black surface of the saw, there are bright green accents. This allows you to easily spot the saw when it is cluttered next to other camping gear.
Overall
It may seem unfair for this saw to take the top spot on this list, given it is recommended to replace one of the included parts. However, it just so happens that every other aspect outside of the blade is masterful. Plus, you can easily replace the current blade.

2

. Sportsman Pocket Chainsaw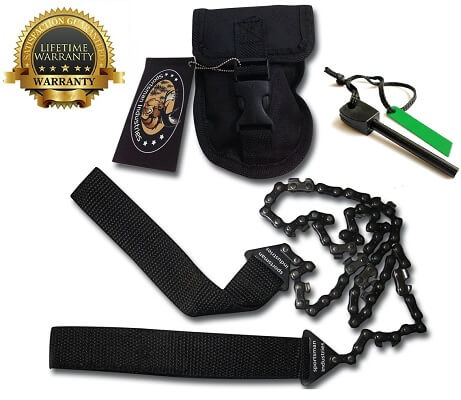 This is one of the most popular and well-received camping saws on the planet, bar none. It is infamous for how much effort is required on your part but if you are willing, this can be one of the handiest tools in your camping kit.
Read more
Materials
At 36 inches, this chain is thicker than other pocket chainsaws of its kind. Additionally, the chain is made of high carbon heat-treated steel and is capable of sawing three sides of a limb simultaneously. Due to the heavy-duty rugged handles, with the integration of metal brackets, you will be provided with an optimal amount of grip and comfort.
Portability
Sportsman Industries includes a heavy-duty nylon storage pouch with their camping saw. Not only is it small enough to fit inside of your pocket but it also includes a belt loop and a front snap clip.
Multiple Uses
This is designed to cut through everything from small branches to tree trunks. But, no matter, several users have reported that you will be enduring a full-body workout.
Features
If for whatever reason you are not happy with your purchase, this saw is backed by a 100 percent money-back guarantee. As Sportsman Industries points out, it is no questions asked.
Overall
There is a reason why this is the go-to when it comes to pocket chainsaws. The effort that is required, if you are looking for a workout, could actually end up being a positive for you, at the end of the day.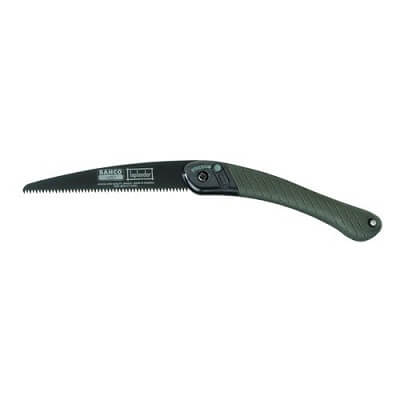 Unlike the other two saws, the Laplander from Bahco is a folding saw. The design resembles that of a pocket knife and this particular model's blade is coated for rust protection. In addition, a safety lock is integrated for safety reasons.
Read more
Material
Besides the fact that the blade is coated to prevent the blade from rusting, it is also down to lower the friction. In addition, the blade is 7.5 inches in length and there are seven teeth per inch.
The plastic handle, which has two components, allows you to handle this saw with virtual ease. However, a leather strap is also included.
Portability
Again, this works much like a pocket knife does (without a fixed blade) in that the blade tucks away into the handle. With this design, it makes it safe and secure to carry this saw around in your pocket.
Multiple Uses
It does not matter if you are using this saw for camping, hunting, or any other outdoor activity, it is designed for all. For the most part, this is ideal for cutting plastic, bone, and wood.
Features
For your safety, and potentially others, this is equipped with a safety lock. When the blade is folded inside the handle, the safety lock triggers and prevents accidents.
Overall
From an all-around perspective, it is difficult to find many camping saws that are superior to this design. If you are looking for a folding saw, look no further than the Laplander.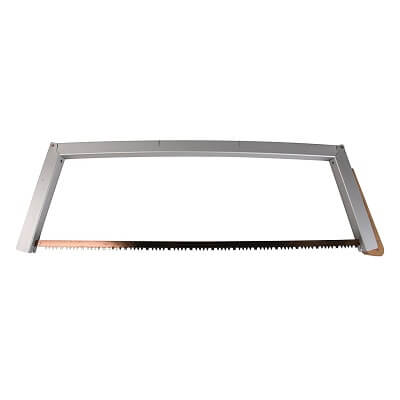 If you are in the market for a camping bow saw, then the Bob Dustrude Buck Saw is going to strongly appeal to you. Even though it is difficult to maintain sustained use because of the hot spots this creates on your hand, it is quality at its finest.
Read more
Materials
If you would prefer another blade, you can easily snap in another 24-inch version to replace the current one. Either way, this saw utilizes a leveraging-design that provides you with a perfect blade tension. As was just mentioned, if you use this saw for extended periods of time then hot spots can begin to generate on your hands. But, the handle is made from hardwood that is generally comfortable.
Portability
When the manufacturer claims that this saw folds completely flat, they are not kidding. It maintains its height but each piece of the saw conveniently packs into a straight line.
Multiple Uses
If you can think of a reason to use this bow saw, chances are, it can handle it. It is ideal to use for camping, trail maintenance, backpacking for cutting all different sizes of firewood.
Features
The assembly process of this saw is so simple that it can be achieved with only one hand. It is a two-part assembly process and it is so hassle-free that you could probably do it blindfolded.
Overall
Bob Dustrude has created one of the best bow saws in the world, no doubt. If one design flaw could be fixed, however, it would be the issue of hot spots. But, if you take moderate breaks in-between usage, you can avoid this.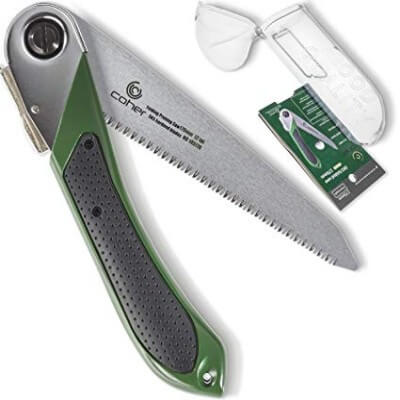 Despite the cheap price, which could cause suspicion, this is one of the best folding saws on the market. Granted, the blade is a bit thin but it still has the ability to cut through plastic, wood, and bone.
Read more
Materials
The rugged 6.7-inch blade that is featured on this folding saw is made up of triple-cut razor teeth that have been hardened to stay sharp for as long as possible. One of the best design features of this saw is its handle as it is an ergonomic design. As such, it fits comfortably in your hand and thanks to the anti-skid technology, it can also be gripped with relative ease.
Portability
As this is a folding hand saw, the blade is designed to fold into the handle. However, in addition to this, Coher also includes their plastic case that encases the saw to prevent potential rust or injuries.
Multiple Uses
This is designed to cut through wood, plastic, and bone-like they were nothing. It can be used as a survival tool in the wilderness or as a handy tool on your camping trip.
Features
Integrated into this saw is a gear lock that adds a further layer of protection. But, what is also neat is the blade can be adjusted to be locked in two different angles. This can make certain cuts easier for you.
Overall
Without a doubt, this is one of the safest and well-designed folding saws in the world. It is loaded with safety features but when it is time to get the job done, the razor-sharp blade delivers.




One of the highlights of this bow saw from Bahco is that multiple frame sizes are available for you to select from. In addition to this, an innovative tensioning mechanism is at play that creates a higher blade tension and straighter cuts.
Read more
Materials
As with other bow saws, the included blade is interchangeable. However, it does feature triangular set teeth and is hardened to provide aggressive cuts. Also, as already alluded to, the innovative tensioning mechanism enhances the cut. Users will come to appreciate the included handle on this saw as it is ergonomically designed. Not only this but it also integrates knuckle protectors for enhanced comfort and safety.
Portability
For transport, the blade can be removed. However, the included blade cover that comes with this saw is flawed. When you install it, it is a safety hazard as it is too narrow in the gap.
Multiple Uses
Even after your camping trip has ended, this bow saw will work admirably around your home. It is designed to handle demanding applications and environments such as farms.
Features
Thanks to the design that is presented from Bahco, reaching tight areas is simplified because of the pointed nose.
Overall
The bottom line, you are provided with a saw that is not only comfortable to handle but one that also performs admirably. Perhaps a more portable-friendly design would have elevated this even higher, however.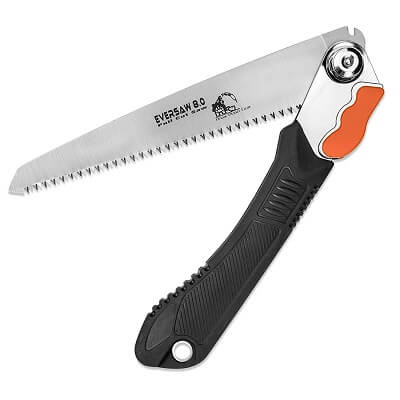 With all things considered, if you were to choose the EverSaw Folding Saw no one would blame you. Its ergonomic handle for comfort, rugged eight-inch blade (while not the greatest) and folding design ensure it is worth the price of admission.
Read more
Materials
The features eight-inch blade is made with triple-cut razor teeth that have been hardened to stay smooth. With a Japanese style, this is able to reduce friction and binding. As soon as you pick this folding saw up and hold it, it will feel natural. This is achievable because of its ergonomic, slip-resistant handle. Oh yeah, it is also quite comfortable too.
Portability
Given that this is a folding saw, it is designed to fold into a compact object. When the blade is folded into the handle, no teeth are exposed for your safety and protection.
Multiple Uses
While this can be used for a multitude of projects, including cutting wood, plastic, and bone, several users recommend only using it for light use. The blade is not quite prepared for heavy-duty performance.
Features
This product is backed by a lifetime warranty. In the case where you receive a material defect or something is broken or damaged, contact the manufacturer for their response.
Overall
Even though this folding saw may not be ideal as every day saw, it can be perfect for casual use on your camping endeavors. It also helps that the handle is expertly designed in nearly every way.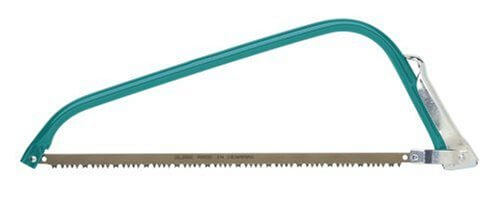 Notwithstanding the fact that some users have taken issue with the uncomfortable handle, Gilmour's bow saw is a fantastic option for you. Because of the immense open throat area, this saw performs admirably for larger projects.
Read more
Materials
Straight out-of-the-box, the steel hardened blade has been sharpened so you do not need to worry about doing it yourself. Plus, the 21-inch blade has been edged-harden for longevity.
Unfortunately, things take a turn for the worse here. To be frank, the handle is not comfortable and after an extended period of time, it will become almost unbearable.
Portability
Removing the blade before you travel will make transporting this saw a little easier and safer. With it removed, you can store it in its own compartment.
Multiple Uses
Despite the lackluster handle, the large open throat area makes this bow saw worth it alone. Because of this extra clearance, utilizing this saw for larger projects is much easier.
Features
When the time comes, the blade tension mechanism makes removing the blade and adjusting it a breeze. The blade can either be set at a 45-degree angle or 90-degree angle.
Overall
There are several features that will make you fall in love with this bow saw. Yet, it is not fair to disregard the blatant issue of the handle design. Is comfortability too much to ask for?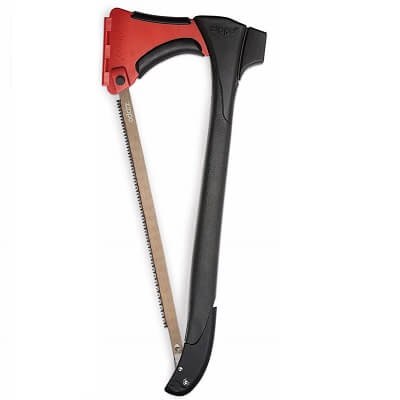 Is it a hatchet? Is it a saw? Actually, it's both! It's even a mallet! The Zippo AxeSaw is a three-in-one tool designed to work well and last long. The handle is ergonomic and well-balanced, and even has a compartment to store replacement blades. This saw/hatchet/mallet is definitely a jack of all trades.
Read more
Materials
This multitool features two blades, so we're going to talk about each one a bit individually. Switching between these two blades is relatively easy as well. The 5" hatchet blade is made with a full tang design for stability and long service life. The stainless steel material is easy to maintain and sharpen while cutting efficiently and smoothly. The 15" saw blade is made of hardened stainless steel, similar to the hatchet blade. This serrated blade is replaceable, and these replacement blades don't cost very much. While this multitool only comes with one blade, the handle can be used to store additional blades if necessary. As for the handle, the handle is made of a durable polymer material that's built to last and resists shocks well, reducing the potential strain on your hands when working with it. It's also made to be ergonomic and is well-balanced.
Portability
While this is a heavy tool, the fact that it serves multiple functions means you only have to carry one item instead of three, freeing up some space and weight in whatever you plan on carrying with you. The handle has a compartment for storing blades as well, be it for replacement blades or for keeping the blade out of the way when storing the multitool itself.
Multiple Uses
As stated above, the Zippo AxeSaw serves as a bow saw, hatchet, and mallet, all in one product. This means fewer things you have to carry around, and fewer things you have to purchase.
Features
Replacement saw blades are inexpensive, and can easily be stored in the handle. Zippo provides product guides and manuals on their website if you ever lose yours or just need to quickly reference something. Zippo also offers a warranty and repair service for their products; just email [email protected] for more information.
Overall
If you're looking for a product that can do it all and don't mind something a little heavier, the Zippo AxeSaw is the way to go. With its 3-in-1 design and comfortable handle, it will serve you well for years to come.

10

. Corona Razortooth Folding Saw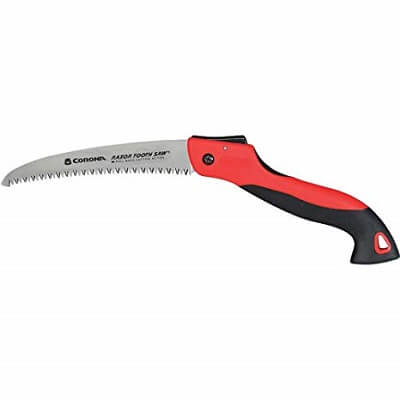 Foldable saws are great. While they aren't designed to cut down larger trunks or branches, they can make quick work of small to medium-sized ones, and being foldable they pack easily and prevent the risk of injuring yourself on it when traveling with it. The Corona Razortooth is one of our favorites, thanks to its affordable price and ergonomic design.
Read more
Materials
The 10" blade is made of three-sided razor teeth for efficient and smooth cutting, making this saw ideal for small to medium-sized branches, 5" - 6" in diameter. The teeth are hardened for durability and to ensure long service life. Curved design and up to six teeth per inch allow this saw to cut quickly and efficiently without hassle. The co-molded handle is made to be ergonomic and comfortable to hold, even for long periods of time. This along with the blade's design allow it to cut precisely and quickly, which can reduce the likelihood of pain in your hands when using it.
Portability
This 10" saw is foldable for easy storage and packing. The blade latches easily when folded to prevent the risk of injury or damage to your pack.
Multiple Uses
This saw is designed mainly to cut through small to medium-sized branches up to 5"-6" in diameter. While this saw is definitely great at what it does, it doesn't have a lot of versatility.
Features
The blade is easy to replace if necessary, and don't typically cost that much. Corona offers a limited lifetime warranty for all of its products, and you can easily contact them through their website for claims processing.
Overall
As a brand known for their quality products, Corona has outdone themselves with the Razortooth saw. The ergonomic design and strong blade ensure quick and efficient cutting without using too much energy, and it comes with the same lifetime warranty as all other products from Corona.

Subscribe to our Newsletter