Best Cots for Camping
In a
Hurry? Editors choice: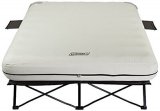 Test Winner: Coleman Queen Airbed Folding

The only thing better than
sleeping
under the stars is not having to sleep on the uneven floor in a sleeping bag but rather elevated on a comfy camping cot. Investing in a good quality camping cot can take your weekend getaway to the next level by providing a warm and comfortable night's sleep, and to boost these cots are easy to set up and pack. If you are going on a
backpacking
trip then these might not be for you, but for the thousands of campers that are
traveling
directly to their campsite, these are defiantly a piece of gear to invest in, if you value a good nights sleep. There are many different types of camping cots currently on the market, and some are so comfortable they may rival your bed at home. The more comfortable camping cots come at a higher price, and they are generally more difficult to assemble but if you
camp
frequently then these will be a great investment.
Standout Picks
Criteria Used for Evaluation
Comfort
Of course when it comes to a piece of gear that is intended to be used for sleeping, comfort was the number one thing that we looked for. Frames that are made from sturdy materials are an important factor, so that the cots won't totter or buckle in the middle of the night. The sleeping surface is important too. Cots made from thin foam mattresses with coils tend to be the most comfortable, but they also come with a number of drawbacks, such as the price and ability to tote them away. Cots that are made from thick canvas materials are generally less warm, but they also provide excellent comfort without risking a higher price tag and being overly cumbersome.
Portability
Because camping cots are meant to be carried from campsite to campsite, it was important to select cots that were easy to fold or or disassembled, and that were lightweight for those long treks back to the car. After being stuck at the office all week at work, the last thing that you want to do when you finally are able to get away for the weekend is spend precious outdoor time fiddling with setting up your campsite. The best cots were the ones that could fold up like a folding chair, and could fit in a bag small enough to fit into the back seat of your car. To pack it away, simply gather all of the legs in the center and tuck it away into the carrying bag that comes with purchase. After being packed away into a storage bag, it is small enough and light enough to toss into the trunk of your car with all of your other camping gear.
Materials
What the cot is actually made of can make a big difference when it comes to comfort and travel ability. Cots that are made from aluminum or carbon steel are generally lighter and easier to carry. Foam mattresses may be more comfortable and warm, but there is often a metal bar that runs right along the place where it is folded in half. And after a long day of fishing or hiking, the last thing anyone wants is a metal bar digging into their back. Ouch. The canvas cots may not be as warm, but they are able to wick away moisture, don't have the annoying metal bar, and the hammock-like design takes pressure off of the back.
Value
For something as important as where you will lay your head at night, camping cots are generally affordable. Sure, there are some on the market that might even rival your bed at home. But the more expensive beds not only cost more, but they typically take more time to set up, will take up a lot of storage space, and are often incredibly heavy to lug back to your car. When spending time outside, you want to be able to get out there immediately so you can fish, swim, or hike. The last thing that you want to be doing for the first portion of your trip is setting up an expensive and complicated camping cot.
Subscribe to our Newsletter