Best Tape Measures
In a Hurry? Editors choice: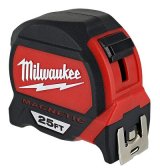 Test Winner: Milwaukee Tool

In your household, there are
certain tools
that are all but mandatory. To be ready for everyday household fixes, you should have tools such as screwdrivers, hammers, wrenches, and the like. But, without question, you can add tape measures to that list. Even though some of you may believe that only professional carpenters will have the need to own one, you would be surprised at how useful they can be around the home. Of course, if you only plan to use one occasionally (such as for moving your home around or
for basic household tasks
) you may not need the best of the best. Then again, those who plan to use one on a daily basis will need it to hold up to rigorous use. Either way, here are some of the best tape measures on the market.
Standout Picks
Criteria Used for Evaluation
Top 10 Picks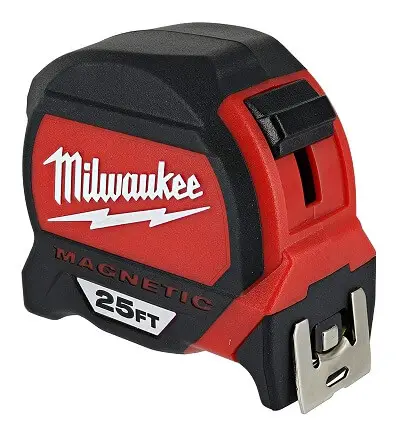 Ask any professional who has actually used this model from Milwaukee and they will, nine times out of ten, begin raving. As you will soon find out, there really is not a better option out there for those looking for the best.
Read more
Accuracy and Precision
To increase the efficiency of this model, it has been engineered with double-sided printing with a blueprint scale. In addition, this measures 25 feet and has 1/8-inch and ¼-inch scales.
Durability
Without question, this is where this shines the brightest. With the awesome combination of the nylon bond protected blade and the five-point reinforced frame, this will both resist wear and protect against drops.
Blade Design
There are two key aspects to note of the nylon protected blade. First off, when staring into the sun, there is not much of a glare. But, if you accidentally make a pencil mark on the blade, it can be hard to get off.
Convenient Features
Integrated into this model is the innovative Finger Stop feature. When the blade retracts, this is going to protect your fingers from damage. Also, this is magnetic.
Handling
Thanks to the inclusion of the rubber grip, this feels natural to hold in your hands. What is also nice is when your hands begin sweating, you can still achieve an optimal grip.
Overall
With its unparalleled level of durability, performance, and accuracy, it really does not get much better than this. Also thanks to the addition of the Finger Stop feature, it is also engineered for safety.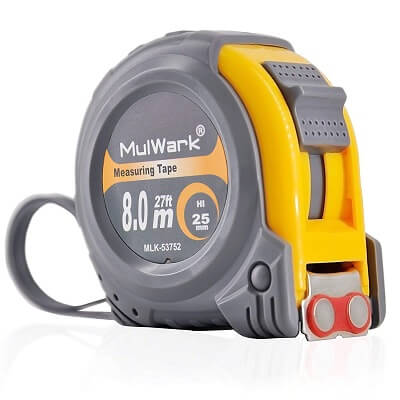 While some users may feel that Mulwark tried too hard to implement too many features into one design, it is hard to deny how compelling this specific tape measure is.
Read more
Accuracy and Precision
In addition to the fact that the magnetic claw can be moved back to deduct its own thickness, the measurements are controlled within plus or minus 0.2 millimeters. Plus, this is double-sided.
Durability
Even when you drop this tape, the rugged and shockproof ABS housing is going to hold up very well. This molded hard rubber gives you peace of mind when you are operating this.
Blade Design
This is advertised to sand out vertically until 13 feet has been reached and this is reduced to seven feet when stood out horizontally. Additionally, the thick reinforced wear-resistant coating adds protection.
Convenient Features
Thanks to the powerful magnetic tip of the blade, the stability is greatly enhanced. But, the magnetic end is also strong enough to act as a tool to pick up magnetic metals.
Handling
Mulwark outfitted their model with a soft rubberized core and on top of being durable, this also, in conjunction with the contoured shape, allows it to fit naturally into your hand.
Overall
As you can see, this is an all-in-one tape measure that is fantastic for the right people. Then again, for casual users, the blade may be too difficult to read due to its complex nature.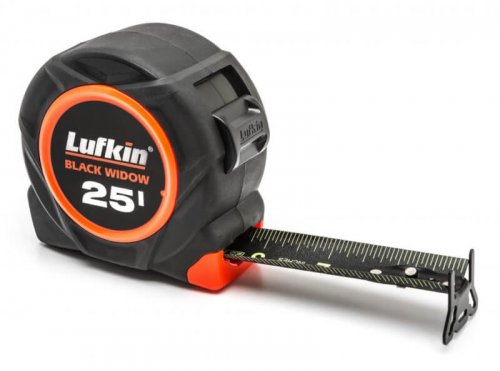 When you dub your product the Black Widow, you better have the quality to back it up. It is safe to say, for the most part, that Lufkin designed their Black Widow to live up to its audacious name.
Read more
Accuracy and Precision
One of the best features of this design is the high-contrast green markings as it improves the visibility in varied light conditions. Plus, the blade is double-sided for more precise measuring.
Durability
For longer life and superior resistance to breakage, the Black Widow has been designed with four heavy-duty rivets and 360-degree end hook grips. Also, the rugged over-mold case adds enhanced durability.
Blade Design
This 10-foot blade with a 360-degree end hook will make your life much easier. But, the one issue with the Black Widow is the thinness of the blade as it may not be ready for too much abuse.
Convenient Features
As opposed to lever-style lock mechanisms that can pop out of the locking position, this model is outfitted to lock the blade securely in place. This also has an integrated tether point for added safety.
Handling
There are two factors that make the Black Widow extremely comfortable to use. First off, it is ergonomically designed and secondly, its rubberized exterior prevents slippage in wet conditions.
Overall
Can you see why Lufkin had the gall to dub their tape measure the Black Widow? Of course, the thinner blade is not going to be suitable for users looking for daily and weekly professional use.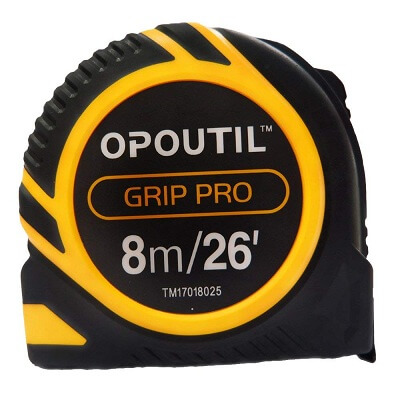 It is worth noting that as good as the Grip Pro is, there is a bit of false advertising at play. As some users have pointed out, this does not sport an auto-lock feature and instead simply a manual locking system.
Read more
Accuracy and Precision
To ensure your work is kept as precise and as accurate as possible, the Grip Pro is designed based on MID II accuracy. In addition, the two-sided inch/metric scale makes measuring much easier.
Durability
There is little doubt about it; this is going to last a long time. This is thanks to the anti-slipping, wear-proof and anti-deformation thick rubber jacket that protects the Grip Pro from drops of moderate heights.
Blade Design
Not only does this unit as a whole possess strong durability, so does the blade. Because it has been bonded with heavy-duty nylon, it too can handle abuse. Also, high-visibility black and yellow striping make viewing much easier.
Convenient Features
Although this is not an auto-lock design, despite some claims to the contrary, the thumb catch system does ensure that manual locking feels natural. Additionally, the back hook of the Grip Pro makes carrying a breeze.
Handling
While the anti-slipping rubberized grip aids in durability, it also aids in handling. Even when your hands begin to sweat, you will still be able to achieve an optimal grip no matter.
Overall
The Grip Pro lacks very few key features and makes it one of the best models in the world. Still, an auto-lock design, for those who absolutely require it, would have made this an even better design.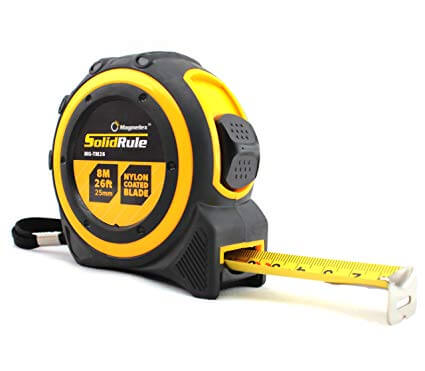 Magnelex designed one of the most impressive tape measures on the market when they released their SolidRule. With the combination of its durability, blade, and handling, it simply is superb.
Read more
Accuracy and Precision
First off, this was designed in certification with CE and also meets MID standards of precision and accuracy. Also, there are both inches and metric measurements.
Durability
Let's so you accidentally drop this from a ladder, or something, depending on the terrain it lands on, it will probably not break. This is thanks to the impact-resistant rubberized case.
Blade Design
On top of the rubberized case, the blade itself features durable nylon coating on both sides for ample protection. Plus, until you release the switch, the blade lock will stay in place.
Convenient Features
To ensure that the blade never gets stuck while you are releasing it, it was designed with a smooth recoil mechanism.
Handling
As you probably guessed, the rubberized case aids in handling as well as durability. In nearly all conditions, it is going to be easy to hold, easy to grip, and will not slip in your hands.
Overall
You would think this is absolutely flawless. Around 95 percent of the design is but due to the awkward nature of the blade itself, it can be hard to use at times. Still, it will last a lifetime.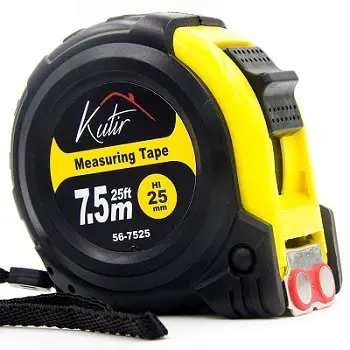 One of the better features about this next design is its magnetic hook at the end of the blade. When measuring any metal surfaces, it will lock onto it and make the overall task a breeze.
Read more
Accuracy and Precision
This has been awarded the certification from MID for accuracy. However, despite both in inch and metric scale, the measurement only comes from one side, leading to potential inaccuracies.
Durability
Let's just say that Kutir has done everything to ensure their model stands up to abuse. With the magnet plated in chrome to prevent rusting and the case designed with top-grade rubberized material, this is certainly protected.
Blade Design
Up until seven feet of the total 25 feet, this blade will stand out. In addition to this, the blade itself measures 0.15 millimeters in thickness and is sturdy and durable in its own right.
Convenient Features
Indeed, the most convenient feature of this entire design is the magnetic hook. Thanks to the powerful magnet, in the end, it can make measuring metal surfaces much easier.
Handling
As one buyer pointed out, the housing and the overall shape will fit naturally into your hand. Then again, they also mentioned that it has a bit of heft to it (though nothing too extreme).
Overall
Many consumers will be gleaming at the sight of this measuring tape. For the most part, it is one of the most consistent designs out there with accuracy, durability, and versatility.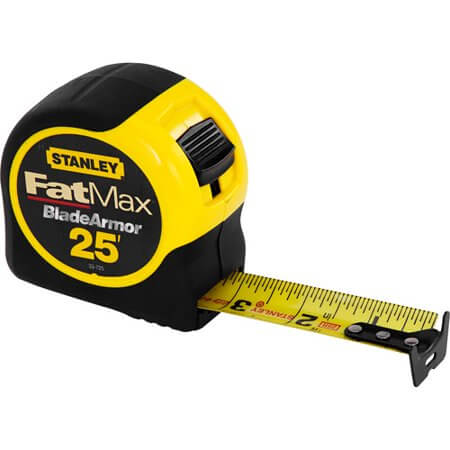 Stanley is one of the more recognizable brands in this field of technology and their FatMax is one of their best. In fact, it is one of the only designs with an auto-lock and an 11-foot standout.
Read more
Accuracy and Precision
Thanks to the 11-foot standout, making precise and accurate readings is a little easier. However, this Fatmax model features only an imperial scale and not metric.
Durability
When you measure straight, the blade is very durable and sturdy. Potential issues arise, though, when you measure at an angle. When doing so, it will "break" a little too easily.
Blade Design
To ensure the blade lasts much longer than it would otherwise, Stanley coated it with Blade Armor. Plus, as mentioned earlier, it will stand out even as far as 11 feet.
Convenient Features
For your convenience, there is both a manual mode and an auto-lock mode. On top of this, there is a detachable hook for storage and carrying (which will easily grab studs when you need).
Handling
What is extremely ironic about the FatMax is it is just that, fat. As one buyer sarcastically pointed out, the FatMax needs to lose a little weight as it definitely feels hefty in your hand.
Overall
While there are some problems with the FatMax, Stanley has a strong reputation in this field for a reason. You know, at the very least, their FatMax tape will get the job done for you and will last a lifetime.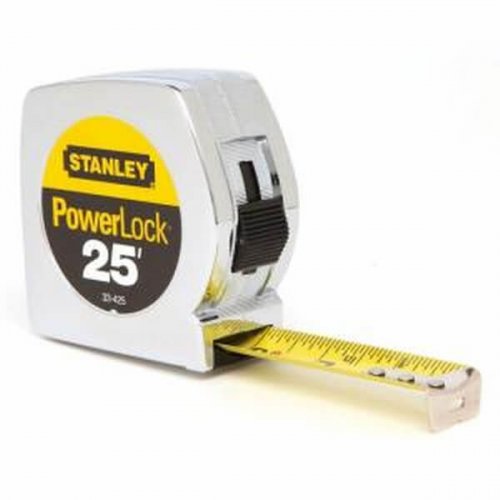 Speaking of recognizable, how about the Powerlock from Stanley? But, then again, it is worth noting that the Powerlock is probably only suitable for recreational and not commercial use.
Read more
Accuracy and Precision
As a typical measuring tape is, this is graduated in 1/16-inch. Overall, the yellow blade and black markings make achieving the right measurement fairly simple and accurate.
Durability
Here is the main reason this probably is not optimal for commercial use. The high-impact ABS housing, while not bad, is plastic and may not hold up to vigorous use.
Blade Design
The blade itself is nice and durable and is protected against abrasion thanks to the Mylar coating. But, as one consumer noted, the standout will bow at around 5.5 feet.
Convenient Features
In addition to the lockable blade, the Tru-Zero belt hook, while being nice for storage, also doubles as a pivot for drawing arcs. Plus, it will automatically adjust to handle both outside and inside measurements.
Handling
There have not been too many users who have complained about the handling and at 13.6 ounces in total weight, it does not feel massive in your hands.
Overall
Though the blade is as durable as they come, the same can't be said about the housing. But, high-impact ABS is certainly not a bad material but for hardcore use, some may want to look elsewhere.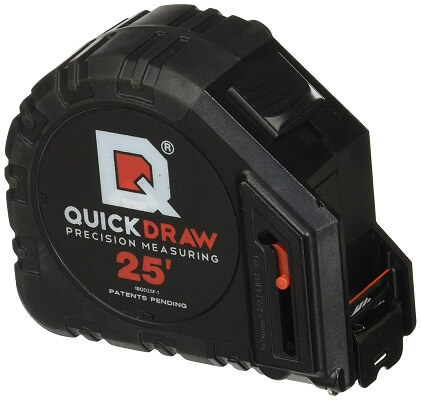 As good as this next model is, there have been a few buyers who have reported issues with longevity. That said, this is probably ideal for casual use but not so for extensive use.
Read more
Accuracy and Precision
There is a built-in pencil into this measuring tape and it makes making your mark quick and easy.
Durability
There have been a few buyers who have shared their experience with the blade of this model. As they mention, the tip of the blade tends to get loose and will break after too much stress.
Blade Design
While the tip of the blade could have been designed better, there is a rugged nylon coating that does add durability for the entirety of the blade.
Convenient Features
Thanks to the built-in graphite dispensing wheel, which was mentioned earlier, you do not have to waste any time fumbling over a pencil to make your mark.
Handling
While the housing feels good in your hand, the built-in pencil can actually be a little tricky to use. It does not help that the instructions offer very little guidance.
Overall
If you can accept the fact that the tip of the blade of this model may not last a long time, you can really enjoy this tape measure and its built-in pencil.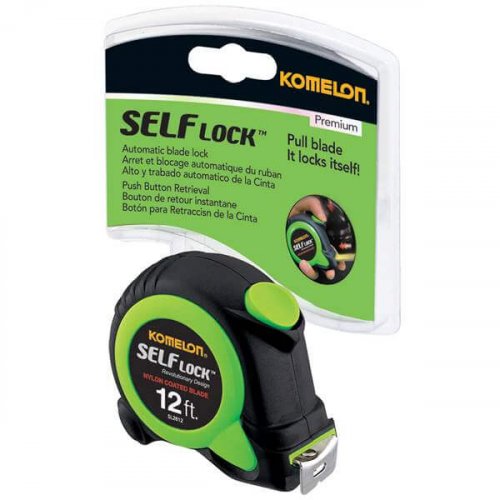 Right along the same line as the previous model, this last tape on this list is probably not going to cut it for construction use. But, the unique patented design will do wonders for the right people.
Read more
Accuracy and Precision
Depending on your needs and the scale you prefer when measuring, there are multiple sizes and scales available.
Durability
The impact rubberized case is nice and is not the portion of the design you need to worry about.
Blade Design
While the blade does extend smoothly, the nylon coating is not sufficient enough and the blade remains fairly flimsy.
Convenient Features
Both the integrated clip and auto locking system will be appreciated by anybody who operates this bad boy.
Handling
Komelon designed this with ergonomics in mind and that is apparent with the case.
Overall
There is a lot to like here for the average consumer including ergonomics, an auto-lock system, and the clip. Yet, the blade is not designed to handle extensive projects.

Subscribe to our Newsletter