Best Mudguards
In a Hurry? Editors choice:
Test Winner: Portland Design Works

I know there are still so many bikers out there who still believe the mudguards are ugly and unnecessary. Get all wet and dirty is part of the game, so they say but it is not always the case for all bikers. Some people just like to cruise around town or bike to and from work. If you are one of them you would not want to end up looking sloppy, drenched with water and mud. Getting a mudguard or what they would commonly call bike fenders is the next most logical thing to do. If you are looking for new fenders or a replacement of an old one, finding the right fender can be quite challenging. Our buyer's guide will help you decide quickly. Given that we have our own criteria for evaluating the items, you are sure to get the best option in the market today.
Standout Picks
Criteria Used for Evaluation
Adjustability
There are so many kinds of bikes out there and fenders are designed for these specific bikes.
However, it is still important that the product you choose is adjustable so you can fit it in easily. There are bikers who like to add improvements or customize their bikes. Sometimes standard parts either won't look good or just won't fit anymore given the modification. There are also bikes that are used for different purposes and so it has to be adjusted from time to time. A good fender should be able to provide the protection it is designed for even with some modifications.
Durability
When you buy stuff naturally you would want to get your money's worth.
It should not only fit your bike and look good. It should also be able to work hard as you. Once it is mounted it should be able to outlast the harsh elements and the rough terrain. It is important that the product not just serve its purpose, it should also be durable. Most times durability is determined by materials used to make the item. So, these two factors go hand in hand. Don't be fooled by appearances. There are so many attractive looking fenders out there but they would lack in functionality and durability.
Fit
You need to look closely at how the item fits your bike.
Factors that affect the fit are the clearance from the suspension, length of the fender, the mounts or clips you attach it to. You do not want to become a moving rattle while riding or end up with losing fenders.
Effectiveness
Of course, all these manufacturers promise the same thing, this is where we come in.
We will do the testing for you so you can narrow your list of choices. One product will always be a cut above the rest and this is what our testers have done. We checked how the length, the position, and the materials all go together to provide the protection it promises among other factors that make a really effective mudguard.
Protection
The main and sole function of fenders is protection for you and for other bikers and bystanders.
We tested different types and brands to see which one provides the best protection. The fender should be able to keep the water and grime away from the rider. Riding in the rain or under tougher conditions can become very challenging. Pedaling with wet feet can become doubly hard not to mention it is bad for your health. When the fender does not provide enough protection from the elements it could also be bad for your image. Wearing drenched and mud-soaked clothes is not always a welcome sight.
Compatibility
The fenders unless custom-made should be compatible with your specific type of bike.
This is why we had to check different types of guards because there are so many variations of bikes. Some manufacturers would say it is compatible with road bikes in general or with all mountain bikes. Only to find out that it is not entirely true. The compatibility also affects the effectiveness and the kind of protection it provides. Hence, we feel that this is the most important criteria to consider.
Best Mudguards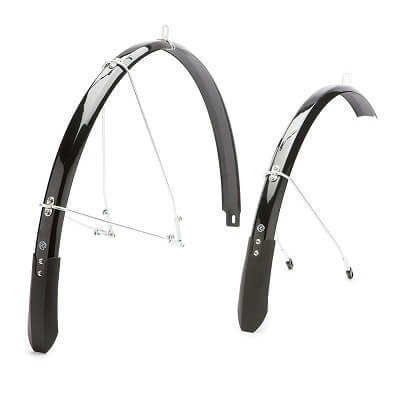 This product is made of the highest quality material used for fenders. It is made of polycarbonate and provides the best protection from spray. It keeps you protected from head to toe.
Read more
Adjustability
This item has pre-installed stays and brackets so you can easily mount it. It is made to adjust to your bike so you can quickly install it without having to make any modification.
Durability
It is made of high-quality polycarbonate and because it is made to last, the manufacturer offers a lifetime PDWarranty.
Fit
It is made to fit 700x35 tires max. The pre-installed stays and brackets ensure that the fender fits perfectly to your bike.
Effectiveness
The design provides full coverage and shield. It effectively keeps the mud and water sprays away from the rider.
Protection
It offers protection from sprays due to the wide coverage of the fender, it protects even your shoes. The riders alongside and behind you will also be protected from sprays due to its rubber mudflaps.
Compatibility
This item is compatible with any road or commuter bikes. There are 2 available sizes so you will not have to worry about getting the wrong size.

2

. Electra Essential Cruiser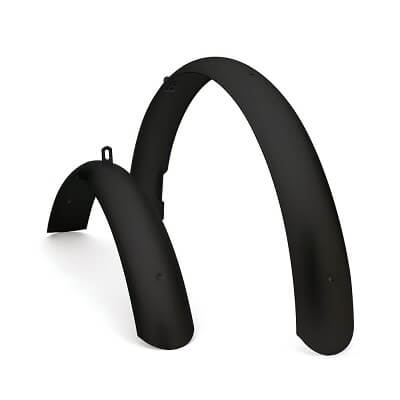 This is retro chrome fender that goes very well with Electra Cruiser bikes with tall wheels. It has a very sleek design but very functional too. It provides the best protection.
Read more
Adjustability
It is designed for cruiser bikes. It is not as adjustable as you would like them to be but as much as they are made for Ladies Electra Cruiser bike. This item can be adjusted to fit most cruiser bikes effortlessly.
Durability
It is very durable with materials made from aluminum alloy making it lightweight yet long-lasting and functional.
Fit
It fits any cruiser bike especially models with Flat Foot Technology.
Effectiveness
The full-length fender is very effective in keeping mud and water sprays away from the ride as well the other riders with him.
Protection
It offers utmost protection from mud and splash. It will protect you from those pesky stripes and keeps your gear looking clean.
Compatibility
This product is ideal for Electra cruiser bikes but it is very compatible with any cruiser bike for that matter. It is compatible with bikes with tires as wide as 2.125".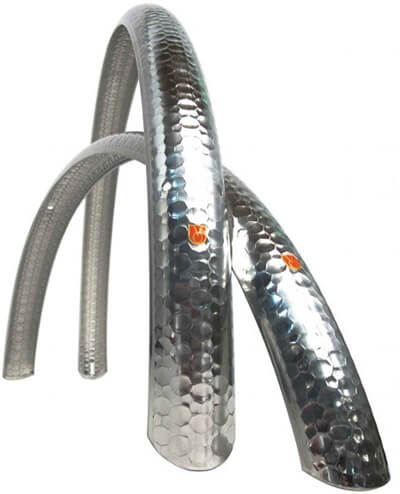 This product features the beauty and durability of classic hammered aluminum bike fenders that looks really attractive. It is, however, priced like fenders made of plastic so it is easy on your budget.
Read more
Adjustability
This product includes a hardware kit so you can work with most types of mounting job. It may not be as easy to install but very much worth the trouble.
Durability
It is made of aluminum alloy to provide strength and durability. It is lightweight so it will not affect your speed or performance.
Fit
This item comes with different sizes that riders can choose from. You can be assured of the fit.
Effectiveness
The full-length fender and the aluminum material comes together to be effectively functional.
Protection
The design perfectly provides protection from mud and water splashes that ruins your clothing and appearance.
Compatibility
This product is compatible with any bike with 700c wheel size and tire width of 35. Best suited for road and commuter bikes.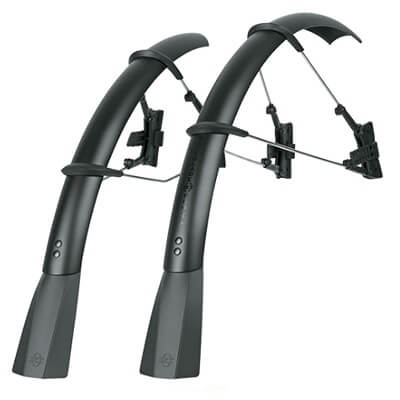 This is easy to install clip-on mudguard that is both stylish and functional. This item is sold in pairs and with a paintwork protection film.
Read more
Adjustability
It has a double-hinged quick fitting system. You can also adjust the stays to adapt to the radius of the wheel. You can use quick release straps or zip ties to keep it in place.
Durability
It is made of superlight flaps that stays in place to provide pure function and durability. It has a paintwork protection film to keep it in tip-top shape.
Fit
It fits aero forks and has a smart quick release system that is also double-hinged. It is can be fitted with quick release straps or zip ties.
Effectiveness
It is very effective in keeping away water and mud spray because of its extra-long mud flaps.
Protection
The superlight clip-on fender offers great protection for your feet and bottom. It also protects the riders behinds you from getting splattered in water and grime.
Compatibility
This product is compatible with 700c tires with a width of up to 32mm. It can adapt to the wheel's radius by adjusting the stays' length. It is compatible with bikes that have disc brakes, axles or direct mount brakes.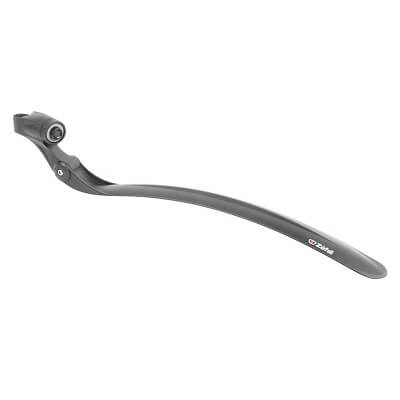 This is a very convenient fender to have. It is very flexible and you can easily remove or mount it whenever you want.
Read more
Adjustability
This item has an easy to mount and dismount bracket that you can attach to the seat post. It is a quick release so you will not have a hard time using it whenever you need it.
Durability
It is made of technopolymer that makes it durable and sturdy to protect you and your bike from mud and rain.
Fit
It fits most 700c tire and 28-inch-wide wheels. It fits any hybrid and city bikes.
Effectiveness
If you need an effective deflector of rain and mud sprays, you can get it anytime with these detachable fenders.
Protection
This clip-on fender offers great rear protection. You and your fellow riders will definitely appreciate this to provide complete protection from sprays.
Compatibility
This product is compatible with any hybrid and city bikes. It can be easily mounted on the seat post so it will not get in the way with any modifications you might have on your bike. And since it is easily detachable with its quick release mounting, it will definitely blend in with your bike set-up.

6

. Crud Cycling Urban Racepack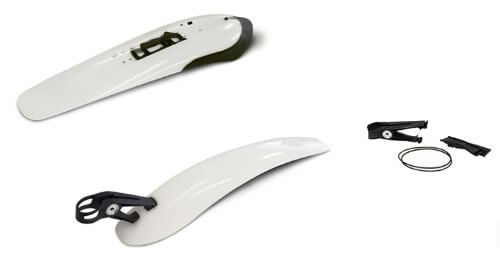 This product is lighter and slimmer but offers amazing protection for hybrid trekking bikes and also compatible for mountain bikes. This can be fitted in under one minute with only a 5mm alley without having to take the seatpost out.
Read more
Adjustability
You can mount this fender very easily and you do not even have to remove the seat post. It has a flexible tail with a soft nose so you can permanently fix it easily.
Durability
It is very durable and it stays in place once fitted. You can be assured that it stays in place. Although this will not last a lifetime, it will last you several seasons that will give you a run for your money.
Fit
It is very convenient and easy to fit into your bike. You can get the job done in a minute or two. It is slim and light so it easily fits into your tires.
Effectiveness
It is very effective in providing protection from road and trail dirt.
Protection
The light and slim fender offer ultimate road protection from dirt and mud.
Compatibility
This very light and slim fender are very compatible with hybrid/trekking and mountain bikes. You can attach it using 3 shims and 2 O-rings.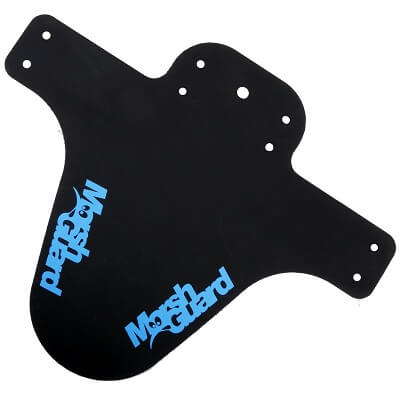 This product is a lightweight bike fender designed for mountain bikes. It offers excellent protection and comes in a variety of colors that would suit your bike. It also has a very unique design.
Read more
Adjustability
It has a very unique folding design to offer added protection from debris flying by when you are riding. It is easy to install and has a quick release function.
Durability
It is designed to offer added protection and made to handle any weather. It is durable, sturdy and very lightweight, it won't get in the way with your performance.
Fit
The size of this product is very convenient to mount and will perfectly fit any mountain bike design. It even has a variety of color options so you can fit it perfectly.
Effectiveness
This product has an improved folding design that effectively shields you from flying debris.
Protection
This product has a unique design that protects your eyes and face from mud and water spray while riding.
Compatibility
The product is compatible with any mountain bikes and rough road trails. It is made easy to mount on rigid fork crowns or arches that are lower in stance. It is easy to install with a quick release function.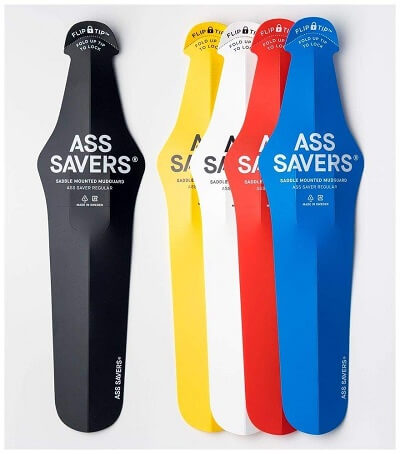 This type of fender is very ideal for people who are not a fan of using fenders but understands the need for it. You can use these fenders conveniently when the need arises and take it off again as soon as you want to.
Read more
Adjustability
The best thing about these bike rain fenders is that you can quickly mount it when needed. It is adjustability at its best. All you have to do is fold the tip of the fender and will lock itself securely around the saddle rail. Some people just don't want fenders on their bike but needs to protect themselves during a surprise rain. Adjust your bike set up easily with these rain fenders.
Durability
This item is very durable and once mounted will definitely stay in place. This 4th generation offers added stability and improved mechanism.
Fit
This item will fit any standard rail saddle as well as those with carbon rails. It fits 23 to 23 mm wide tires.
Effectiveness
These very attractive and lightweight rain fenders are very effective in keeping your bottom dry. Place this on your saddle rails and you will keep your butt dry all the way through by keeping the sprays away from your seat.
Protection
The Generation 4 is equipped with Flip-Tip technology to offer secure and utmost protection from rain. It doesn't matter whether you commute to work or participating in a race, this rain fender is the best protection for you.
Compatibility
It is compatible with most road or commuter bike. You can easily attach it to your saddle rail when it is necessary. It is compatible with any standard rail saddle.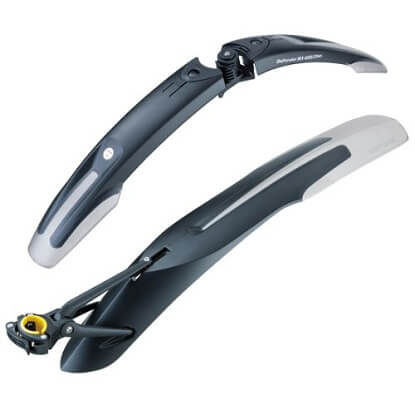 This product offers a compact fender with quick release functions to allow you to install and remove this item in seconds. This product come in pairs and it has guards against grime build up and it makes cleaning a lot easier.
Read more
Adjustability
This product can be angled to make it more useful and maximize the coverage. It has a quick release system to quickly install and remove it. The quick release system provides seamless integration with almost all forks.
Durability
This product is made of a lightweight and stiff frame that is co-molded using a flexible perimeter substance to provide better coverage. It is very durable with a polished underside for added protection from grime and mud build-up.
Fit
It easily fits a seat post that ranges from 25.4 to 34.9mm. The front fender has a QR fork attachment that fits forks with 19.6 to 26 mm and 27.7 to 35mm head tube.
Effectiveness
It is lightweight but stiff to offer better coverage. The quality fenders both have polished underside to effectively guard mud build up. This also makes cleaning so much easier.
Protection
The M1 front fender and XC11 rear fender provides the protection that you need to enjoy your ride despite the weather and the elements.
Compatibility
This product is compatible with mountain bikes but can fit road and commuter bikes as well.

10

. SKS Bluemels Stingray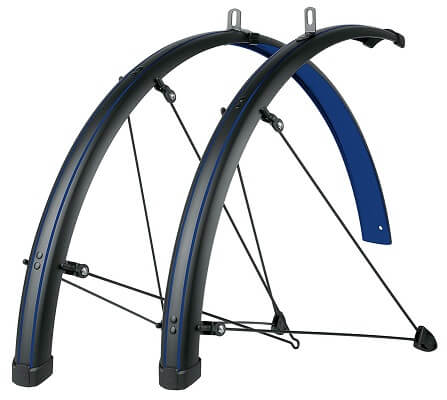 This product is a set of front and rear guards that come in cool matte black color. This item comes in other modern designs in matt finish for a more stylish look.
Read more
Adjustability
This product comes with a new mounting fixed end caps. It is easy to install and comes with different colors to easily match your bike.
Durability
This product is made of first-grade plastic and aluminum core to provide high impact resistance. It is made to last and resist the elements with its matt finish.
Fit
This item is 680 mm in length for the front fender and 1185 mm for the rear fender. It fits wheel sizes of 700 x 28-38 mm. The width of the fender itself is 45mm.
Effectiveness
The full-length fender effectively shields the rider from water and mud spray whilst riding in the city or dirt roads under different weather conditions.
Protection
This front and rear fender provide protection for the rider. This keeps them from getting wet and splashed.
Compatibility
This item is compatible with almost all types of bike used for trekking, commuting, fitness training or leisure ride. The stylish design and variety of colors available make it easy for you to match it with your bike.

Subscribe to our Newsletter