Best Multi-Tools Reviewed
In a
Hurry? Editors choice: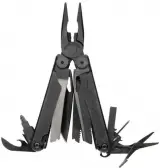 Test Winner: LEATHERMAN WAVE

Camping, hiking, climbing, fishing,
and hunting are only a few outdoor activities where you will most definitely find yourself needing a pair of pliers, a pocket knife, or other small tools. You could fill out your pockets, pouches, and packs with all of those tools which you might need, or you could just carry the necessities in one manageable package: a multi-tool. Many people put one brand in front of the rest, calling multi-tools in general by the name of that -
brand Leatherman
. But there are so many other great brands who produce really great and practical models as well. We went through all the quality brands out there and made our own list of what we found to be the best options available, which will meet the general needs of
outdoor sports
and lifestyle.
Standout Picks
Criteria Used for Evaluation
Features
Most brands offer extra accessories which go along with certain models. There are even some models which really require those little extras, which are often sold separately, to get the most use out of them. If you find that you need a lot of different bits and driver's heads, and don't mind carrying them around with you, then a product like that would probably suit you well.
On the other hand, if what you really need and most often require, is a model that is designed around simplicity and general function, the going for a product which requires all of those extra bells and whistles may not be an ideal choice for you. Before you purchase your multi-tool, make sure you focus in on the features you really need, so you don't spend too much money. Keep in mind that some multi-tools offer so many different features, you might wind up with a whole bunch of features you never use, which can cost you a lot more money. Some of these extra features are really something that is a matter of personal preference but we recommend that you make sure you stick to the things you know you are going to use.
Overall the more tools that are provided the better the tool as if you get in a situation when you need a certain tool, than you will be prepared. The best thing to do is to consider when you will need your multi-tool and what tools are most important to you, that way you get to invest in a multi-tool that will have the necessary tools your require and any extra are just bonus!
Ease of Use
This one may seem like we are being picky, until you are up high, holding on with one hand and trying to access a specific tool with the other. At that point, you will quickly realize whether you chose correctly or not. Don't wait until that time. Many shops will let you take a close look and try the products out at the counter. That is enough to get a feel of whether or not that particular tool is easy to operate one-handed if needed. Design is an important factor because it often influences what materials are placed into your multi-tool, how easy it is to use, and how comfortable it is for you. You want to make sure you purchase a multi-tool you feel comfortable using and carrying along with you, and one that's durable enough to meet your needs.
Another important factor to consider with ease of use is practicality and the environment you plan on using the tool in. By environment, I am really referring to the typical conditions your outdoor tools are normally used in. If you spend most of your time in the wet or cold climates, you may want to think about what material a particular model is constructed of. Perhaps look for something with a coating or finish that is resistant to the elements. Another point to consider, regarding the environment, would be whether the product you choose is usable when wearing gloves, during the colder periods. You need to consider, as well, how practical the multi-tool will be to bring along with you and access whenever you need to use it. Make sure, as well, that you are comfortable with the handle and how it functions before you purchase it. Some multi-tool brands make tools that are more easy to hold than others to certain people.
Durability
This is obviously a big factor. You wouldn't want to spend close to, or even well over, $100 on something that is just going to fail or even break shortly after you start using it. The picks we have listed in the review all have great track records as far as their durability is concerned. In fact, that point alone would be a show stopper for a particular product. It could have every gadget that one could think up, but without exceptional durability, the tool would be utterly useless to most of us, especially if we would need to rely on that product while out in the middle of nowhere.
Overall the best way to ensure you are getting a durable tool is to check the customer reviews. By checking, the customer reviews you are getting an inside look at how the multi-tool worked for other customers and will help you know if the tool you have your eye on is durable.
Portability
When looking to invest in a multi-tool you want to make sure that it is portable as that is the main reason you are looking to invest in a multi-tool as you do not want to carry around a variety of tools. These multi-tools are made to conveniently have all the tools you need in one compact tool. Most of these multi-tools are built to be compact and small but some can be misleading, so make sure to check the size and ensure it has all the tools you need and is compact for easy portability.
Portability is one of those factors that can depend a lot on the person buying the multi-tool and is often up to personal preference. Really, you need to decide how lightweight you want your multi-tool to be, or if you want to purchase a larger multi-tool, then you'll need to make sure it is easy to carry along with you. You'll need to be able to access your multi-tool anytime you need it, so check on some of the carrying cases and other features that the different manufacturers offer. You should be able to make your decision from there. Some of these multi-tools come with belt sheaths, others come with easy to use clips, some can be put on a keychain, and still, others come with carrying cases. Whatever is easier for you to use should be your main focus when you purchase your multi-tool.
Subscribe to our Newsletter