Best Multi-Tools Reviewed
In a Hurry? Editors choice: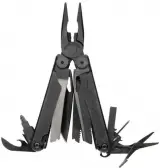 Test Winner: LEATHERMAN WAVE

Camping, hiking, climbing, fishing,
and hunting are only a few outdoor activities where you will most definitely find yourself needing a pair of pliers, a pocket knife, or other small tools. You could fill out your pockets, pouches, and packs with all of those tools which you might need, or you could just carry the necessities in one manageable package: a multi-tool. Many people put one brand in front of the rest, calling multi-tools in general by the name of that -
brand Leatherman
. But there are so many other great brands who produce really great and practical models as well. We went through all the quality brands out there and made our own list of what we found to be the best options available, which will meet the general needs of
outdoor sports
and lifestyle.
Standout Picks
Criteria Used for Evaluation
Features
Most brands offer extra accessories which go along with certain models. There are even some models which really require those little extras, which are often sold separately, to get the most use out of them. If you find that you need a lot of different bits and driver's heads, and don't mind carrying them around with you, then a product like that would probably suit you well.
On the other hand, if what you really need and most often require, is a model that is designed around simplicity and general function, the going for a product which requires all of those extra bells and whistles may not be an ideal choice for you. Before you purchase your multi-tool, make sure you focus in on the features you really need, so you don't spend too much money. Keep in mind that some multi-tools offer so many different features, you might wind up with a whole bunch of features you never use, which can cost you a lot more money. Some of these extra features are really something that is a matter of personal preference but we recommend that you make sure you stick to the things you know you are going to use.
Overall the more tools that are provided the better the tool as if you get in a situation when you need a certain tool, than you will be prepared. The best thing to do is to consider when you will need your multi-tool and what tools are most important to you, that way you get to invest in a multi-tool that will have the necessary tools your require and any extra are just bonus!
Ease of Use
This one may seem like we are being picky, until you are up high, holding on with one hand and trying to access a specific tool with the other. At that point, you will quickly realize whether you chose correctly or not. Don't wait until that time. Many shops will let you take a close look and try the products out at the counter. That is enough to get a feel of whether or not that particular tool is easy to operate one-handed if needed. Design is an important factor because it often influences what materials are placed into your multi-tool, how easy it is to use, and how comfortable it is for you. You want to make sure you purchase a multi-tool you feel comfortable using and carrying along with you, and one that's durable enough to meet your needs.
Another important factor to consider with ease of use is practicality and the environment you plan on using the tool in. By environment, I am really referring to the typical conditions your outdoor tools are normally used in. If you spend most of your time in the wet or cold climates, you may want to think about what material a particular model is constructed of. Perhaps look for something with a coating or finish that is resistant to the elements. Another point to consider, regarding the environment, would be whether the product you choose is usable when wearing gloves, during the colder periods. You need to consider, as well, how practical the multi-tool will be to bring along with you and access whenever you need to use it. Make sure, as well, that you are comfortable with the handle and how it functions before you purchase it. Some multi-tool brands make tools that are more easy to hold than others to certain people.
Durability
This is obviously a big factor. You wouldn't want to spend close to, or even well over, $100 on something that is just going to fail or even break shortly after you start using it. The picks we have listed in the review all have great track records as far as their durability is concerned. In fact, that point alone would be a show stopper for a particular product. It could have every gadget that one could think up, but without exceptional durability, the tool would be utterly useless to most of us, especially if we would need to rely on that product while out in the middle of nowhere.
Overall the best way to ensure you are getting a durable tool is to check the customer reviews. By checking, the customer reviews you are getting an inside look at how the multi-tool worked for other customers and will help you know if the tool you have your eye on is durable.
Portability
When looking to invest in a multi-tool you want to make sure that it is portable as that is the main reason you are looking to invest in a multi-tool as you do not want to carry around a variety of tools. These multi-tools are made to conveniently have all the tools you need in one compact tool. Most of these multi-tools are built to be compact and small but some can be misleading, so make sure to check the size and ensure it has all the tools you need and is compact for easy portability.
Portability is one of those factors that can depend a lot on the person buying the multi-tool and is often up to personal preference. Really, you need to decide how lightweight you want your multi-tool to be, or if you want to purchase a larger multi-tool, then you'll need to make sure it is easy to carry along with you. You'll need to be able to access your multi-tool anytime you need it, so check on some of the carrying cases and other features that the different manufacturers offer. You should be able to make your decision from there. Some of these multi-tools come with belt sheaths, others come with easy to use clips, some can be put on a keychain, and still, others come with carrying cases. Whatever is easier for you to use should be your main focus when you purchase your multi-tool.
Top Ten Multi-Tools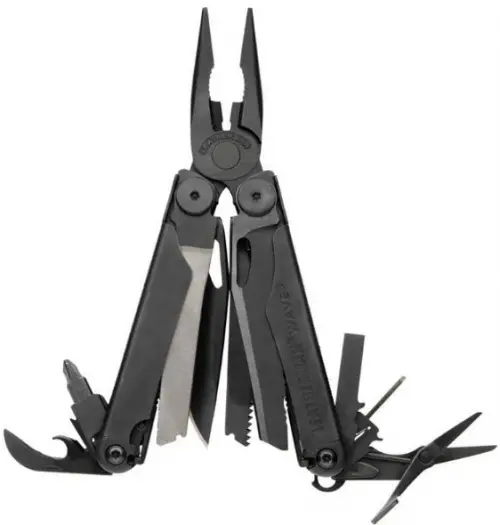 Leatherman tends to stay on top of the market when it comes to EDC tools. The wave is their most popular model. When I was a kid, the Swiss Army Knife was the coolest, most popular gadget as far as pocket knives and tools were concerned. Years later, along came Leatherman. The Wave is such a useful tool that is a popular pick by builders, campers, military, even those who want a reliable yet compact tool to keep in their vehicle for emergency use. For our purpose, we will be concentrating on the practical application of camping and other outdoor sports and activities.
Read more
Features
The Wave boasts 17 different tools. it includes three different screwdrivers, needle nose pliers, regular pliers, a saw, two different wire cutters, plain edge knife, serrated knife, scissors, ruler, can opener, bottle opener, wood/metal file, and even a diamond-coated file. I hope I didn't miss one...
Ease of Use
The design seems to be thought out pretty well, allowing easy and practical use with tools that are easy to access, yet do not get in the way. Although the Wave is a bit heavy, that is really just a downside, if at all, of being constructed of quality materials. The 420HC stainless steel construction will hold up under continuous long-term use. I personally still use an older Leatherman model that I picked up more than ten years ago, one which I have put through utter hell. Yet, despite not being as pretty as it was when I first got it, it still works perfectly.
This is a great tool for everyday use. For camping and hiking, the wave is an excellent choice. In fact, both knife blades are longer than the blades on other popular tools such as Gerber's Multi-Plier 600 as well as some options from SOG.
Durability
I think the brand itself is known by many as a solidly built tool. Although not the Wave model, I picked up a higher end Leatherman many years ago, exposed it to some serious abuse while in the military, and still I use the exact same one to this day. In my opinion, that says quite a bit about the quality.
Portability
This tool from Leatherman is a small design that fits in your hand and is easily carried around with you for quick access in case you run into an issue where you need a tool. This multi-tool also is lightweight so it will fit into your pocket and not weigh you down.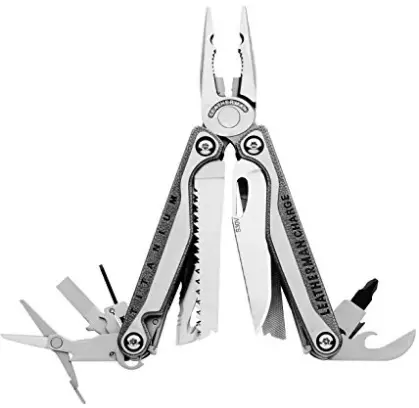 When folded up, the Charge TTI doesn't appear to have very much going on inside but don't be fooled. The overall performance really holds up to the Leatherman name.
Read more
Features
While I was not able to narrow down one specific feature which stands out with this tool, I would say the entire package is the feature. This is a lower profile model that is capable of tasks that the bulkier models tend to focus on more.
Ease of Use
This one has a really clean overall design and is simple to use. The beauty of this model, for many, is the lack of unnecessary tools that you might find in some models which boast enormous collections of attributes, some of which you will never use in basic applications. The titanium handle adds even more value to this model, as it does lighten the overall weight and adds strength to the construction materials. While the outward appearance is rather streamlined, this one is extremely capable.
Though the Charge doesn't really boast a super special attribute, you will find that the included tools are all of the high-quality design as well as totally practical in use. The typical choice of both serrated and plain edge knife blades, a fairly aggressive saw, scissors, small drive bit and a file. Additionally, The Leatherman Charge is available with a great set of bits, which greatly increase the overall practicality of this set.
Durability
Come on, it's a Leatherman! Seriously though, the simplicity of the design doesn't offer those extra gadgets that may break or get lost easier than the overall tool. The case is made of durable Cordura, and the accessory bits are carried in a rubbery plastic sort of holster. Also, the handle has some increased durability due to its titanium construction. In all the build of this one really is quite solid, and seems to hold up very well under consistent repetitive use, especially when used for outdoor activities.
Portability
Like many tools from Leatherman, this tool is compact and easily fits into your pocket to give you quick access and convenience if you run into a situation where you need a tool. It is also lightweight and folds up conveniently so that even though you have the tool on you, you will not notice you are carrying it around.

3

. GERBER SUSPENSION MULTI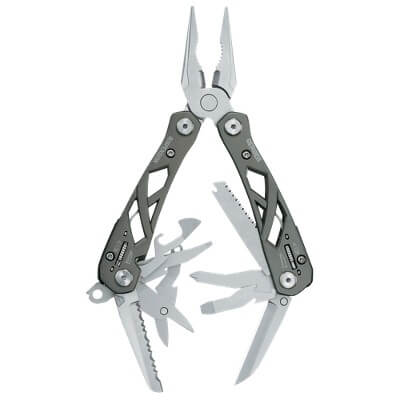 This multi-tool brought to you by Gerber is an affordable multi-tool that comes equipped with 12 different tools. Every person that has been around tools should know about the Gerber brand and the quality they bring to their tools. This multi-tool is no different and is a tool you want to have on you at all times, as it can most likely handle anything you throw at it.
Read more
Features
This multi-tool comes with 12 different tools as well as a great set of pliers. The tools included are two saws, can opener, nail file, scissors, screwdriver, and 2 knives. The tools are built with quality steel and will help you with any obstacle you find yourself facing. The biggest tool is the set of pliers and the other tools fit securely in the handle of the tool.
Ease of use
This tool like many multi-tools is quite easy to use as most tools are hidden in the handle of the main tool. Where you find that a multi-tool is easier to use than another is when you go to access the tool within the handle and how easy it is to pull out. Also, you want o to consider after you have access to the tool, how it is placed and if you can get use it efficiently. This tool from Gerber allows for the tools to be accessed easily and also is in a convenient location that you can use the tool without issue or any of the other tools getting in the way.
Durability
This tool like all tools from Gerber are made to last and can take anything you throw at it. To be honest you are most likely to lose this tool before it breaks so if you take great care of it and keep it accessible than you should have this multi-tool for many years. Even if it does break, Gerber offers you a lifetime warranty so you can tell that Gerber is convenient in their tools.
Portability
This multi-tool from Gerber is lightweight and comes in at weighing 9oz. So it is a tool that can be carried around conveniently and allows you to have access to a number of tools if needed.

4

. VICTORINOX SWISSTOOL SPIRIT X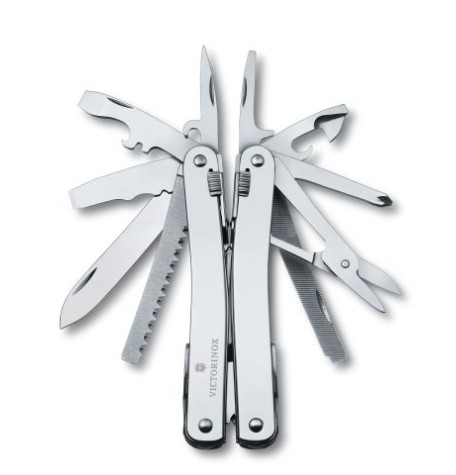 If you're looking for a great product from an excellent multi-tool manufacturer, then you'll love what the Victorinox SwissTool Spirit X has to offer. Victorinox has been making well-reputed multi-tool products since 1884, and their new version of the Swiss multi-tool is one great product.
Read more
Features
You get a great product with this multi-tool, which features the usual parts of a Swiss Army knife plus extra plier features. The manufacturer lists over twenty-six features in this one multi-tool product. The different design features built into this product include a wire bender, wire stripper, wire cutter, cable cutters, and much more. All in all, the product can do a lot and features about ten total tools in their overall design.
Ease of Use
This multi-tool comes designed with two rounded corners for additional comfort. The other two are not rounded, yet, the tool is comfortable to hold and easy-to-use. The unique design of this tool allows you to access each tool from the outside handle, making it very easy to use in a hurry. You simply press the release button when you are finished with a tool and it slides back into place.
Durability
The Swiss are famous for many things, including the Swiss Army Knife. This is similar and Swiss made, so you know it's great quality. You'll get excellent strength in this quality product, which is built to last for years. The tool is so strong, you won't have to worry about it losing its ability to function. Aside from the built-in confidence, you will also receive a lifetime warranty with this product.
Portability
This multi-tool from the Swiss Army is built with durability in mind and also is lightweight to ensure you get access to the best tools and can carry this multi-tool with you with ease.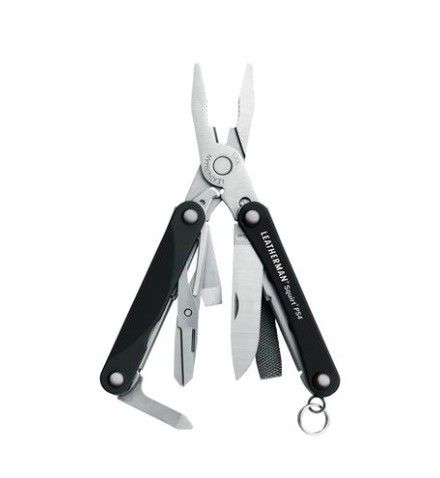 The Leatherman Squirt PS4 is one of the smallest multi-tools we've provided on our list, and it still comes with an excellent blade. It is one of the lightest multi-tools on the market, and still very strong and durable, easily cutting wires or anything else you need.
Read more
Features
The Leatherman Squirt PS4 resembles the Leatherman Wingman in features. You get the same features with this smaller model, in a much more compact and lightweight multi-tool. This tool only weighs 2-ounces and features 9 tools, such as scissors, tweezers, wire cutters, and a knife blade.
Ease of Use
This multi-tool is only 2.25 inches long. Made to be compact and lightweight, the design of the Leatherman Squirt PS4 is excellent, bringing everything you need in a simple and small multi-tool.
Although the blade designed into this multi-tool is small, it still functions well and does the job. You get a sharp, durable blade, a bottle opener, a file, and screwdrivers.
Durability
As one would expect from Leatherman, made with quality steel and aluminum, this small multi-tool is still built to be very tough. Do not let it's small size fool you, it is very durable and will give you years of use. Coming with no surprise, this tool also features a 25-year limited warranty.
Portability
This tool as many that come from Leatherman is easily transported with you as they are lightweight yet durable. This tool is no exception as it can fit in your pocket and used easily if a situation arises.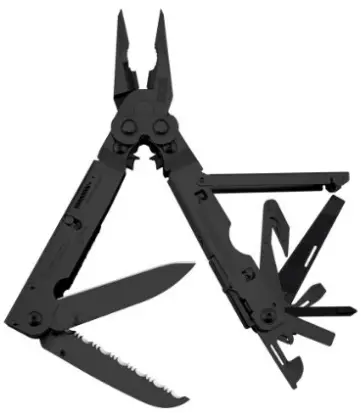 SOG tends to produce a lot of products that seem to be more geared toward military or law enforcement. However, many of those products are very useful for most activities involving the great outdoors as well.
Read more
Features
The major feature that steals the show for SOG's Power Assist is the design and function of the tool's pliers. Instead of a simple opposing hinge, the pliers operate with a linkage that allows more pressure to be applied without as much effort, thus increasing the grip-ability of the tool. The Power Assist also contains other useful tools such as a serrated blade, straight edge blade, hard wire cutter, wire crimper, v cutter, ruler, bolt grip channel, bottle opener, can opener, 3 sided file, small, medium and large flathead screwdrivers, Phillips screwdriver, needle nose pliers and a crimper for blasting caps (which most won't find very useful).
Ease of Use
The overall design is really similar to any other multi-tool. However, this one has a feature built into its design that many others aren't built with. SOG's Power Assist has pliers which utilize compound leverage. This means that the pliers operate with the function of multiple pivot points to allow the user to apply more force, while not requiring more effort to be exerted. If you've ever tried to use a pair of pliers on a frozen bolt, and just couldn't get a solid enough grip to get the job done, then you'll love these. The design among most multi-tools doesn't differ too much, but the tools and functionality of the Power Assist certainly do. SOG is known for heavier duty knives and tools, so we didn't really expect this one to be very lightweight. This tool is really practical for most applications, but especially for outdoor use. As this one was clearly designed for military use, the functionality and arrangement of the attached tools seem to be set up quite well. One thing that we are noticing, is that we're seeing more models produced with more than one option of an attached knife blade. When you have the choice of either a serrated blade or plain edge blade, the options of usability increase.
Durability
SOG has a product line that is known for being built on the heavy-duty side. From their bowie knives to their smaller utility knives, many are quite bulky and heavier weight pieces. The SOG Power Assist is no exception to that approach. It seems that this model will last through plenty of use, and possibly some abuse.
Portability
This multi-tool is lightweight and can easily fit in your pocket or backpack. It is a great tool to have on your person in case an emergency arises and you need quick access to some tools.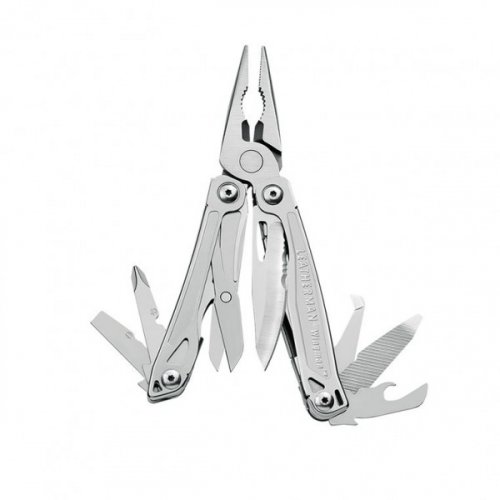 If you're looking for an affordable multi-tool that's middle-sized and provides you with a lot of functionality and durability. Also, it brings you a compact, simple design that's quite efficient for the price.
Read more
Features
The Wingman includes 14 of the basic multi-tool tools, such as a knife, ruler, file, wire cutters, screwdriver, and wire stripper. Made with some great features, the Leatherman Wingman comes with an integrated pocket clip and some external opening tools. You'll get an innovative package opener and something that is easy to carry.
Ease of Use
The Leatherman Wingman is made to fit easily into your pocket and folds down simply. You'll be able to hold it down, keep it closed, and carry it along with you easily. Even better, you can do all of this just one hand. For its price, the Leatherman Wingman brings you a very practical tool that provides you with a lot of tool options. You'll get all the tools you need in one simple to use multi-tool.
Durability
Again, considering the fact this multi-tool is inexpensive, you'll get a lot for what you invest in it. It's durable and long-lasting, and you'll be able to use it for many years. There is a 25-year limited warranty, if something breaks or isn't up to par you can send it in and Leatherman will repair it.
Portability
This multi-tool is a little bulkier and bigger than some of the others on our list but is still lightweight and easy to carry. It may be better suited to be carried in your jean pockets or a backpack, as it may be a bit big to store in the front pocket of your shirt.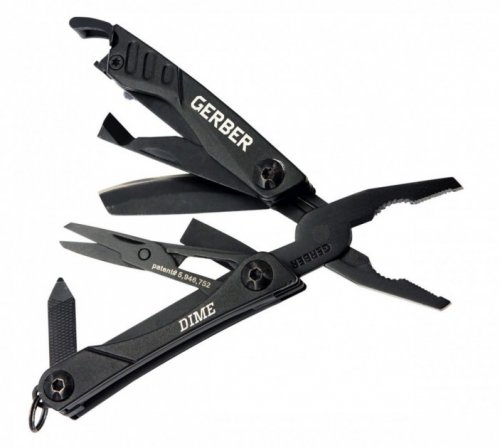 The Gerber Dime is an excellent multi-tool that's a bit smaller than some of the other products on the list. But as a lightweight multi-tool that gives you what you need, you'll love the performance you get from this product.
Read more
Features
You get several features in this lightweight and compact multi-tool, but because of its small size, it doesn't offer as much as a full multi-tool. The Gerber Dime does come with a small set of pliers, knife blade, scissors, a package opener, and a simple screwdriver. You will also get a bottle opener with this multi-tool.
Ease of Use
Made to be a small, keychain-sized multi-tool, you'll get everything you really need packed into one great product. However, if you're really looking for a multi-tool that has absolutely everything you could ever imagine, then you'll want to consider purchasing one of the full-sized multi-tools on our list. This is a practical multi-tool if you are looking for something small and compact to use. However, just know you won't get everything that you'd typically get with a heavier multi-tool.
Durability
Even for its small size, the Gerber Dime is quite durable and will last for several years. The materials built into this product are all high-quality, and you'll get a long-lasting, lightweight multi-tool.
Portability
This multi-tool folds up conveniently and all the tools fit perfectly in the handle of the tool. It is also lightweight and can be easily carried on your person. If you are looking for an affordable and lightweight multi-tool this may be the one for you.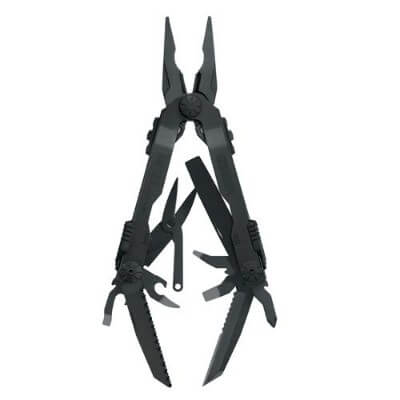 Some of the functionality operates similar to Gerber's more basic model, their Multi-Plier 600, although the Diesel is a clear winner when it comes to capability. The brand's big feature is the Saf.T.Plus system, which locks each of the tools firmly into place when open and in use. Nothing ruins your day, quite like a pocket knife blade closing on your finger while you're trying to get your camp set up.
Read more
Features
In all, the Diesel offers 14 tools plus the release button for the jaw, contained in one sturdy unit. The list includes needle nose pliers, standard pliers portion partially serrated knife blade, coarse & fine file, saw blade, small, medium and large flathead screwdrivers, scissors, wire cutter, and of course we can't forget the can and bottle openers.
Ease of Use
Even Gerber acknowledges that this is one of the biggest and bulkiest models on the market. There is something to be said for a tool that has the weight and feels to let you know it can actually be used for its intended purpose. The small complaint that I have about the design is the fact that the tip of the pliers stay partially exposed, which isn't always super great when you carry it in your pocket. The overall design style is boxy with exposed controls and no stylish curves. That statement isn't meant to be negative. The Diesel is one of those things that seems to be built to perform rather than show off, which is good if you don't care about having something flashy. The location of the Safe.T.Plus locking sliders is something that takes some getting used to, in order to avoid disengaging the safety lock during use.
Durability
If anyone has ever owned a Gerber, you will most likely know what I am referring to when I talk about the "rattle". Many of their models tend to work slightly loose after a short while of use, giving that rattle and even wider spread parts when folded. For most, that is one of those things which becomes tolerated, simply tightening everything up once in a while, since the overall function is great. With the newer versions, that issue seems to have been remedied with tighter construction. That also means you can say goodbye to the handle pinch that would happen sometimes. This one has a pretty bulky build and sturdy construction, which allows it to be used in some really undesirable conditions, without issue.
Portability
This multi-tool from Gerber is built to last and also comes with a carrying case for easy portability. The carrying case not only allows you to transport your multi-tool with ease but also allows for easy storage and protects your multi-tool when not in use.

10

. LEATHERMAN SKELETOOL CX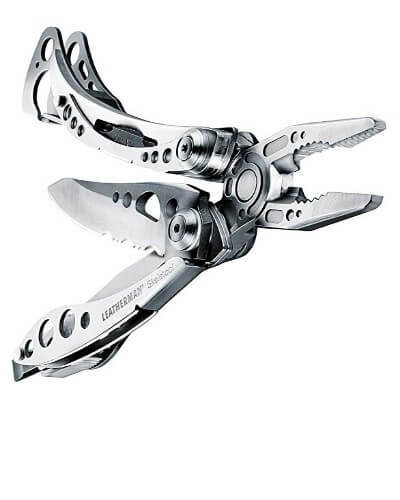 The Leatherman Skeletool CX offers you an innovative take on a multi-tool, filled with tools you'll want to have when you are in the middle of an outdoor adventure. This model is elegant and clean with probability and ergonomics in mind. The pliers, blade, and bit driver are purpose-built, easy to use, and clean.
Read more
Features
The Skeletool comes with pliers with a blade and a bit driver. The pliers have effective wire cutters which set it apart from other similar multitools. They key/lanyard clip doubles as a bottle opener. The bit driver allows almost unlimited accessorization. The but driver also comes with a 1/4 driver and comes with two double-ended bits for a total of four functions. There is an upgrade pack that has more bits.
Ease of Use
The design of the Skeletool multi-tool is made to be lightweight and ergonomic. The main bad is large, well-organized, and accessible with a one-thumb swipe. The pliers are made of rounded carbon fiber. This makes for a comfortable multi-tool. The only downfall we have seen to this product is the fact that the tools can be very stiff in their place. While this is great for safety, it can be an annoyance when trying to quickly fix something. Leatherman did make a practical tool with this design, that should offer you a lot of good use and functionality.
Durability
Made from stainless steel with a nylon sheath style, this tool won't be wimping out on you anytime soon. The tool is bound to get scratched and endure some beatings over the years but reviewers rave that this is a strong product. If that doesn't convince you, the fact that this is a Leatherman means that it comes with a 25-year limited warranty.
Portability
This multi-tool from Leatherman is not only lightweight but also comes with a carrying case to protect your multi-tool when not in use and also allows you to store your multi-tool conveniently.

Subscribe to our Newsletter