Berghaus – Freeflow 35+8 Backpack
[caption id="attachment_2737" align="aligncenter" width="500"]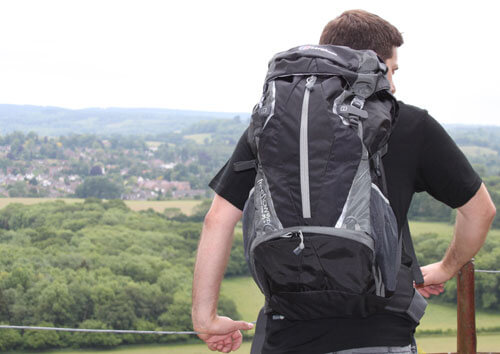 35L is a great 'large daypack' size[/caption]
The Berghaus Freeflow system has been around for well over a decade now and is established as one of the best ways to avoid those curled-up noses when you end a day's hike at the bar, emblazoned with a stripe of sweat down your back as some bizarre medal of honour. Simply put, Freeflow is a system that puts 4-5cm between your back and all but the most necessary bits of padding on the backpack.
[caption id="attachment_2739" align="alignleft" width="333"]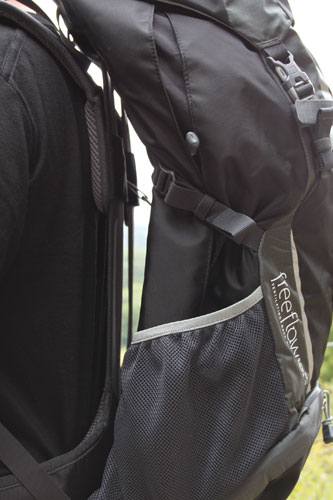 You could fit a bus through there![/caption]
It works quite well. I've been wearing the Freeflow 35+8 now for a few weeks, filled with everything from laptops to cushions to experiment with the weight and load, and with a little playing around with the adjustment straps things sit comfortably and snugly, and a cooling breeze past your back can be a wonderful thing on a hot day.
Backpacking wisdom states that you should be keeping heavier items near the top-middle of a backpack, and as near to your back as possible. But despite the fact that the Freeflow system holds heavy items 5cm away from your back, I didn't personally have any problems because of it. Perhaps if you were massively loading the pack it might force you to bend forward a little more than normal but the system is very stiff so I don't foresee any stability problems.
The pack itself has a main pocket capacity of 35 litres, which puts it in the territory of large daypack, rather than backpacking pack. The pocket is long and thin due to the Freeflow system, but plenty big enough for a day's clothing, lunch and emergency Mars Bars. There's an extra pocket at the base for waterproofs and quick-access items, and a zipper links the two so you can more easily get to that pair of socks which has buried itself in the main pocket - nice.
The hood of the Freeflow 35 is large enough to take an SLR camera, which is what I normally keep in there, and I'm able to reach up behind me to take it out en-route. There's also an internal zippered pocket in the hood for important keepsafes.
Closure on the main pocket is via a drawstring and toggle, and then a couple of sturdy webbing closures compress everything down nicely. It all feels really well built and there are some lovely finishing touches like strap retainers which are easy to use, plastic D-rings for easy-sliding drawstrings and the like. If the Devil is in the detail then this bag is very much from the dark side.
The main pocket has a section for a hydration bladder. I'm able to get a 2L Source bladder in there with room to spare. Oddly, you can only feed the tube out over your right shoulder... and even more oddly I realised that I subconsciously drape a drinking tube over my left shoulder.
[caption id="attachment_2742" align="aligncenter" width="500"]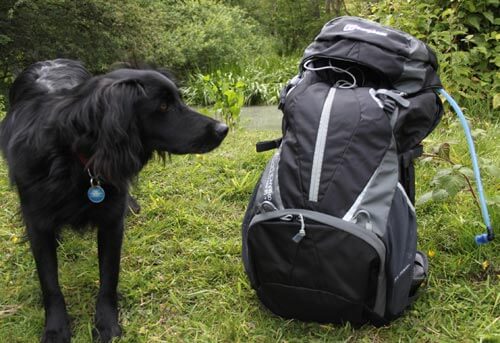 Dog, meet pack[/caption]
There's a large vertical zippered pocket on the front of the Freeflow 35+8. Inside it has a webbing retainer pocket. It's the shape of the black patch on the picture above, and I'm sorry, but I have no idea whatsoever what it's for. I wouldn't put anything in this pocket if I was travelling (it'd get nicked) and the only thing I can think that would fit would be a Ukelele.
[caption id="attachment_2741" align="alignright" width="300"]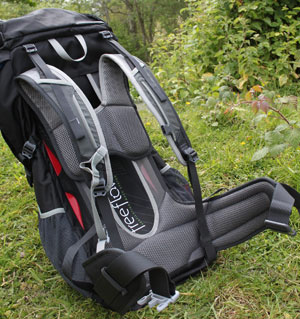 The Freeflow system[/caption]
The side pockets are infinitely more useful, with both zippered (perfect for a rain jacket) and elasticated mesh (for water bottle or small items) pockets on both sides. I found myself using these as quick access pockets on longer hikes.
The support system of the Freeflow 35 rests on a well-padded and nicely stiff waist strap. It's around 4-inches thick and stays nice and tight to take the weight of the pack. I played with the adjustable back-length system (a simple webbing and hook) to fine-tune the fit and was never uncomfortable.
In fact, that's probably the best thing about the Freeflow - it is very comfortable. There's a nice thick bit of padding where it does touch you, and massive airflow where it doesn't. For its size and weight it's amazing how easy it is to forget that you're wearing it.
Running through the rest of the features quickly, it ticks all the right boxes: chest strap works well, buckles and webbing all high-quality, trekking pole lashes, materials rainproof and rugged enough, and there's a fold-out waterproof cover in the base.
At £80 the Freeflow comes in cheaper than some of the competition from big brands like Osprey and The North Face, but it's certainly no cheap construction, so represents good value.
SUMMARY: If you're after a large daypack which is all-day comfortable in Summer then take a look. The main compartment is a bit of an odd shape due to the Freeflow system, but if you're stuffing in clothing it works OK. Supplemental pockets work well for quick-access items. Loads of padding where it's needed and the pack looks great too. I have slight concerns over waterproofing - seams aren't taped - but there's a waterproof cover supplied.  Also, I'm bemused by the large front-pocket. Otherwise, nice bit of kit and a pleasure to wear.
[easyazon_link identifier="B019WBLKZG" locale="UK" tag="gearweare-21" title="Berghaus Men's Free Flow III Rucksack" ]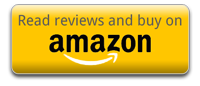 [/easyazon_link]
Note - we tested this version: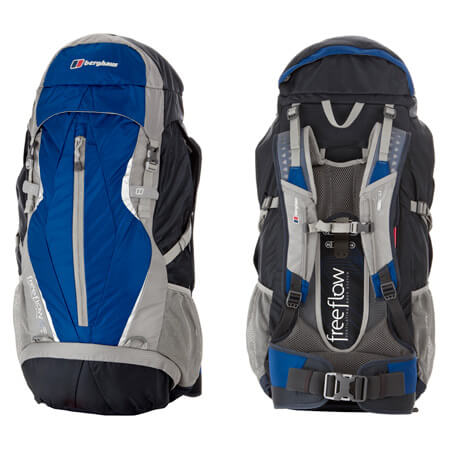 Subscribe to our Newsletter