Gelert – Strider Hydration Pack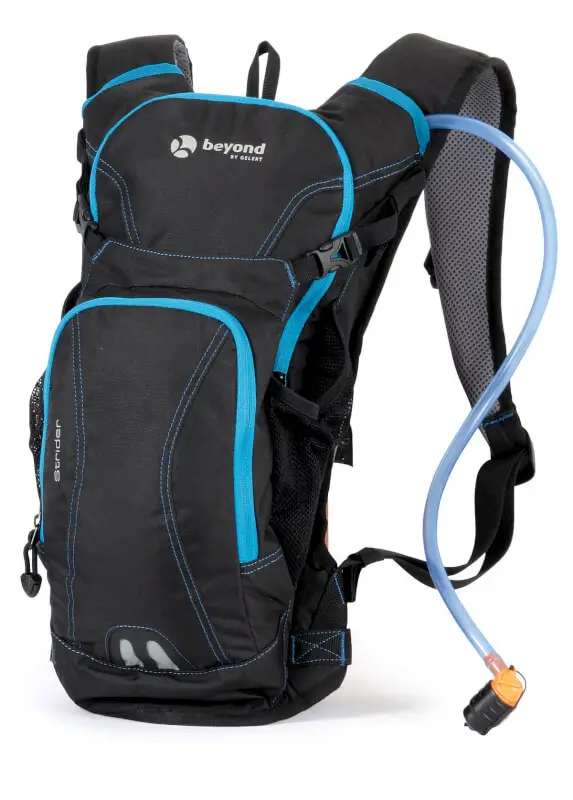 [caption id="attachment_2435" align="aligncenter" width="500"]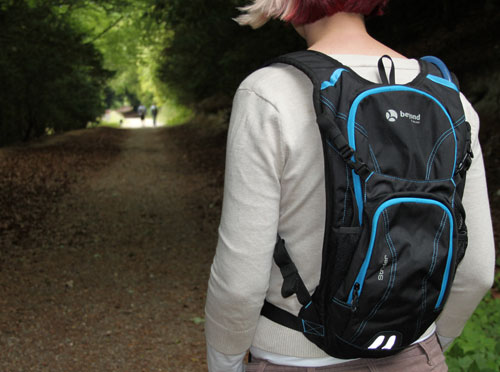 Striding with the Strider[/caption]
Gelert's Strider hydration pack (Hydro Pac, as they call it) has been with us now for a couple of months and whilst it's designed for some strenuous outdoor activities like mountain biking and trail-running it has been just as useful on dog-walks and whilst camping.
Hydration packs have been a favourite of mine for motorcycle touring the last couple of years. I love the way that I can take a drink on the move, one-handed, and without removing my helmet, and I've been living with Camelbak's Lobo quite happily. So when Gelert's Strider arrived it had a tough benchmark to match up to and I'm happy to say that it did.
[caption id="attachment_2452" align="alignleft" width="214"]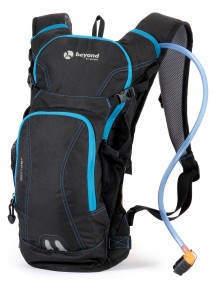 Click for much, much, much bigger[/caption]
As part of Gelert's new Beyond range - designed for more discerning outdoor active people than would necessarily purchase their cheap'n'cheerful camping goods - the Strider comes in with some serious specs.
Rather than specify their own hydration bladder, Gelert have enclosed a Source Widepac 2L bladder. Source are known for producing high-quality, taste-free bladders which have done exceptionally well in gear tests worldwide, and are used by Deuter and Kathmandu, amongst others. 2 litres is a good size of bladder for a day's activity or as a backup drinking supply for a weekend camping. Concentrating for a moment on the bladder, it is really easy to clean and has a nice chunky bite valve. I'm always slightly dubious about Source's sealing system (a C-shaped bar which slides over the folded bladder), but it's never failed. The only minor problem I had was with drying out the bladder after use, but shoving it over an old bottle seemed to help this.
Gelert have enclosed the Source bladder in a very well-made and very well-fitting pack. There is a breathable mesh and spacer material against your back which allows airflow and helps with those embarrassing sweaty patches, and this is then formed over 6 large bumps which contour over your spine and feel very comfortable. The mesh continues up and into the backpack straps which are simple and effective at keeping a pack which weighs (when full) around 3-4kg in check.
The Strider has a showerproof-zippered pocket which contains compartments for your phone (in a nice Velcro-closed sleeve), 3 credit cards, a small bunch of bicycle tools and another inner-pocket for those 'must-not-lose' items like Mars Bars. There's also a key clip. It all worked very well and didn't leak despite being on the floor in a very wet tent all night.
Between the zippered pocket and the main bladder compartment is a mesh-surrounded void which Gelert have added to take a bicycle helmet. It has very ample adjusters and works excellently for helmets, fleecey jackets and bottles of wine on the way back from the campsite shop. I actually found this really useful for low-intensity stuff and made the Strider into a viable small day-pack.
The design of the Strider is sleek and sexy. It's very urban in black with deep cyan detailing and it really looked the part on bike, motorbike and hike. There's a small area of reflective detailing at the base of the back (perfectly positioned for cyclist) which doubles up as a carabiner clip for a bike light, which is neat.
Priced at £39.99, this isn't the cheapest Hydration Pack out there, and it's near the top of Gelert's own range. But if you compare it to one of the similarly priced Camelbak range it presents a strong opposition and the Source Widepac would set you back £17 on its own so it's a decent investment.
There are a couple of minor points to note if you intent to purchase the Strider:
1) The Source Widepac supplied with my Strider doesn't have the valve for removing the hose at the bladder (as shown on Source's site).
2) The Gelert website says that the waist strap is removable. It isn't.
SUMMARY: Gelert's Beyond range continues to lift their game and redefine the Welsh brand as a proper player in the non-novice outdoor world. The quality of finish and features on the Strider is excellent and it's worked faultlessly on hikes, motorbike tours and camping weekends despite being aimed at cyclists. The Source hydration bladder works very well indeed and the Strider is insulated to help keep things cool (even though it is black and thus will get HOT in direct sun). It's very comfy and I was happy wearing it all day. Due to the useful "helmet" pocket I now favour this over my Camelbak Lobo. Be warned though that if you need more carrying capacity, you should look at a different design since the zippered pocket is quite small.

Price: £39.99 rrp (£25 online)
From: Google Shopping
More info: Gelert
Tags and search info for this review: This is a hydration pack review. GearWeAre.com tests and reviews hydration packs, bladders, outdoor gear and camping equipment.
Subscribe to our Newsletter