Best Rotary Tools
In a Hurry? Editors choice: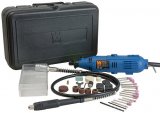 Test Winner: WEN 2305 With Flex Shaft

If you do a lot of work around the house than you probably have an arsenal of power
tools
at your disposal or are constantly adding new tools depending on the job you are looking to complete. One tool that every homeowner may find handy is a rotary tool. A rotary tool is a power tool that's purpose is to perform a variety of tasks depending on the attachment that you have equipped it with. A rotary tool can carve, polish, cut, and sand, so in turn, is a great tool to have handy as it equips multiple
tools
in one. Below we have listed the top ten rotary
tools
of 2019 and explained why for your next home project one of these will definitely come in handy and make your life a little easier.
Standout Picks
Criteria Used for Evaluation
Features
Rotary tools can be placed into two categories. The first category is traditional rotary tools. The second category is cut-out tools. The more significant motors tend to make cut-out rotary tools larger and heavier than their conventional counterparts. Remember, these tools can do a lot, and you'll wind up getting pieces that will allow them to perform a bevy of tasks when you work. So, what types of features will you need on your tool? That is going to depend on what you plan on doing with the product. Depending on your plans, make sure you investigate the tool well enough to see if includes the attachments and the abilities to do what you need it to do.
Ease of Use
Getting things done more efficiently can make working, whether professionally or at home, much more enjoyable. The products we've listed here are all time saving and very efficient, so you'll get more done in a shorter amount of time, and feel like you did far less of the work. That's certainly better than dealing with a cheaper model that can't perform the way the products we've listed can. Getting more done and adding efficiency can up your productivity, as well as your emotional well-being. Certainly, most people want that. Plus, if you are trying to use this tool to focus on home improvements, and you have several of them, you'll be surprised to see how fast you are able to complete your checklist with a tool like this. With their simplicity and their safety features, it is amazing how quickly and fast they work.
These products come with a wide variety of different parts you can utilize and swap out so that you can do a lot with them. People that like these items use them for many different functions, and really, you can do a lot with them. You won't be disappointed by the number of things you can do with your new tool once you start to use it and work with it.
Application
How will you be using your rotary tool and how many different types of tasks will you require it to be capable of doing? There are so many different things they can do that it's important to narrow down your required functionality to choose the right model. Maybe you'd like to remove a small bit of rust from some objects or do some polish work to get some things around the house looking shiny again. Not only can you clean things, you can also slice through a wide variety of objects, or even draw with your tool if you grab the right bit. So, your imagination can take hold of using this type of tool, and you can have a great time. You can even use this product to put holes in something if you can't find your other tools. So, it can help you start or finish projects with ease, and you'll get the hang of it once you get going with it.
Top Ten Rotary Tools
1

. WEN 2305 With Flex Shaft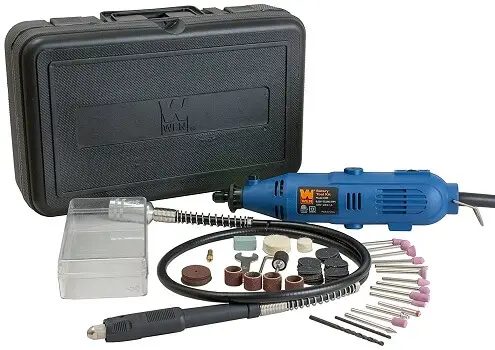 Perhaps you've thought about a modernizing task around the house. If that is true, then the Wen 2305 can help you meet your goals. It'll provide you with the versatility you need to do anything you'd imagine your drill performing, and that means you get a bevy of uses to get your work done.
Read more
Features:
The WEN 2305 contains a solidly designed system which will boost however your home project accuracy and output, making things easier for you. It additionally includes a reliable and low-noise output that doesn't fail, and will keep giving you what you need. You will be able to handle light-weight and industrial jobs while not it degrade over time.
Ease of Use:
This tool is one of the easiest to use, allowing you to do a variety of tasks without swapping out difficult attachments. Instead, using a different bit is simple, and you can do a variety of tasks quickly as a result.
Advantages:
You'll get an extra long battery life with this product, and it will keep going strong for a long period of time. Since you won't need to spend time recharging or swapping out pieces, you'll be able to get a lot more done and maximize your time with this tool.
Summary:
Having a tool that adds simplicity to your projects mean you'll be able to get much more done and save yourself some time. That is rewarding in itself, and you'll also love the ease of use factor here.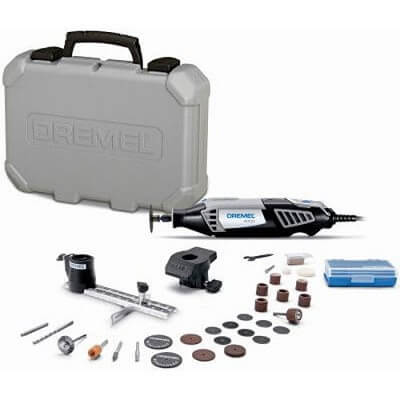 Dremel's rotating devices are amongst the most functional choices on the market and also display an excellent sense of style. Are you interested in getting a useful rotating device for expert usage? Then the Dremel 2000 just might be the answer. Each one of these devices comes with 40 Dremel devices and also two accessories.
Read more
Features:
Dremel rotating devices are amongst the most beautiful products on the market since they have well-designed layouts. Made of sturdy plastic, with this product you get, an extended lasting device. You could utilize this item for many things with exceptional outcomes.
Ease of Use:
Some of you may own a hefty or poor rotating device that annoys your performance when in use? If you purchase this Dremel, you will never have this problem again. This Dremel is excellent for simple and also sturdy usage; and this tool is better-rotating devices on Amazon.
Advantages:
This Dremel product is very lightweight, making it easy to take along with you wherever you need to bring it. It is easy to control, and it is also quite durable. You will wind up with a long-lasting, functional product. This product is trendy on Amazon, and that has to do with its excellent performance.
Summary:
This product rotates and provides you with good performance. If you need something that works well for several hours everyday. If that is your goal, you will undoubtedly delight in using this product. It gives you what you need for actual cutting, grinding, as well as deburring.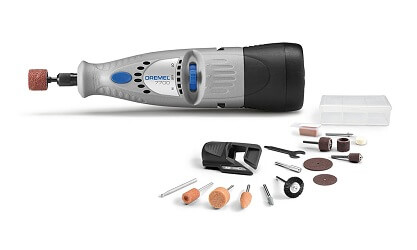 Firms like Dremel have created versatile models to be used in several different types of projects. This product from Dremel, for example, is powered by a conveyable style. You might be one of the people that needs this, and if so, then consider obtaining this Dremel to help you with your tasks. This item is also ideal for regular use, suitable for traveling, and works as a light-weight rotary tool with a powered style.
Read more
Features:
This tool provides you with a versatile model that can be used in several sectors. So, along with the tools' great functionality, you also get plenty of versatility. The Dremel's superior motor helps make this product a stand out globally. It will not overheat, ei.ther
Ease of Use:
The Dremel brings you a lot of versatility with a light-emitting diode to guide your way and help you see when you need it most. That helps to make this tool very easy to utilize. The Dremel is ideal for regular use. The fifteen original Dremel accessories included can improve the standard of your tasks.
Advantages:
Designed to be easy to utilize, you will get a tool that is quite versatile and effective. Its light system works excellent, and it also comes with fifteen accessories. So, you will get everything you need with this tool.
Summary:
This tool gives you functionality and versatility with a bright light-emitting diode light-weight for giving you the brightness you need. You can use it regularly, and the fifteen accessories that come with it also help to make it an efficient product. You'll get fifteen other items that work with this tool to provide all the versatility you need.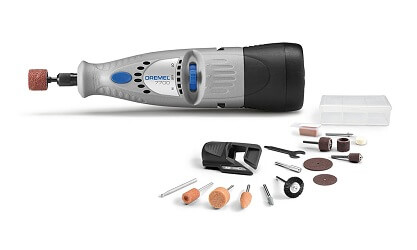 This product is manufactured to be a featherweight and functional tool that is efficient and can tackle a wide variety of tasks without a hitch. This tool brings you several features, including a product that weighs little while providing exceptional functionality. Also, this tool is made to be powerful, and it performs very well overall.
Read more
Features:
Dremmel's design is made to be a significant, strong rotary tool that is exquisite for all tasks, from easy to hard. While this product is unsuitable for managing fine endings, it still offers plenty of other productive use features. It is efficient, and you'll discover you are getting your jobs down quickly, and with ease.
Ease of Use:
You'll perform like an expert with this tool, and you'll be able to accomplish much in a short amount of time. The battery here offers long-lasting use, and it also has the ability to recharge swiftly. The entire purpose of this product is to make your life easier, and you'll certainly feel that way using this product.
Advantages:
Another benefit to this item is that it is an affordable product. Plus, it will also last a long time since it is made to be reliable, and it comes with just about everything you could need to get the job done. So if you are shopping on a budget, this product is a great idea.
Summary:
This tool feels light as a feather when you use it, and it will give you the versatility to get everything you need to do accomplished. Also, if you are shopping on a budget, you'll get a reliable, cost-effective tool that you'll get plenty of use out of.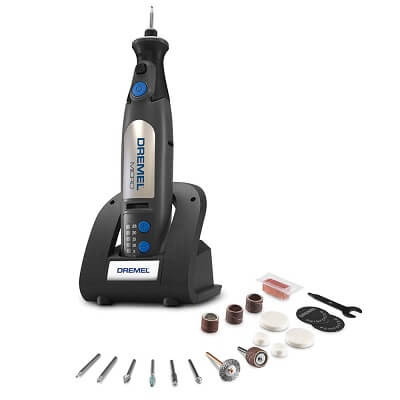 Do you want a simple rotating device that functions well? If so, then this product is an optimal selection and might be the item you need. his is a portable device. You'll get a portable product that is very lightweight and also functional. Its smooth style is also great for functioning when you are working in limited areas.
Read more
Features:
This product offers several innovative features that demonstrate how effective this item is. The bright lights on this rotating device added a unique touch to its design. This item additionally has a circulation scale as well as a rate indication for checking its efficiency.
Ease of Use:
Dremel made this tool very easy to utilize, and also very lightweight and portable. Most batteries powered rotating devices are flexible devices, and that is also true of this product. On top of this, many rotating devices that use batteries do not perform for a long time. However, This issue will not be a situation with this product. Even though portable, it offers a sufficient amount of energy because its battery has a remarkable run-time.
Advantages:
This product is also quite easy and simple to recharge. Unlike similar designs with power cables, it has a great dock that functions well. Furthermore, the dock also protects this product while in usage, helping to add to the lifespan of the product. You will get a product with long battery life, as well as a long overall lifespan.
Summary:
You'll wind up with a product that has a nice dock as well as a lot of power for long-lasting use. It is on the smaller side, but it is still very durable and also efficient when you use it. You'll love saving time accomplishing tasks whenever you use it.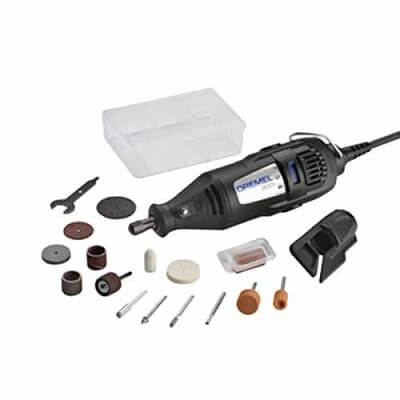 This product offers another one in the long line of Dremel's reliable power tools. Even though it is small in appearance, you get a durable product that can handle all kinds of heavy-duty tasks with ease. This is a compelling product that can handle a wide range of projects with ease. The battery is so effective, the tool can be used for a long time and you won't need to worry about recharging. And even if you do, it charges back up fast. With that kind of durability and reliability, you'll get plenty of use out of this tool.
Read more
Features:
This item is yet another fantastic, durable, and functional tool provided by this reputable manufacturer. Once again, the manufacturer here excels at providing you with a useful and durable tool. With its impressive motor, the product will do most of the work for you and make your life easier.
Ease of Use:
This product will wind up giving you the reliability and performance you need. If you purchase it, you'll wind up with an accessible tool to use that outperforms many others. It is easy to utilize and you can change speeds simply by using a button. With that simplicity and its durability, you'll love using this item.
Advantages:
Most people that use these types of products utilize them often, and that can cause a lot of damage. That means updating the item often. However, this product can take a lot without needing any additional help. That means it is very durable, and you'll get plenty of use out of it.
Summary:
Perfect for all kinds of projects, you can perform a bevy of tasks and revel at how great things look when you've completed them. The motor you'll get here is dual speed and you will wind up with a convenient tool that is both functional and durable, and it will be able to do what you need it to do. You'll get plenty of precision when you use it as well. The tool will be able to do most of the work, saving you from getting tired.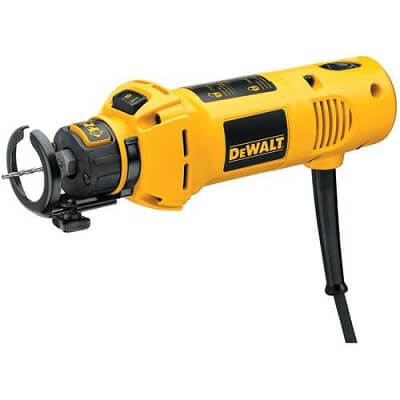 This option provides you with an innovative product to help get the job finished. This item's rise in popularity should tell you something about its performance, which is top-notch. Most people that purchase this tool find that they are impressed with it, so chances are, you'll like what you are able to accomplish with it.
Read more
Features:
Chances are you've felt the frustrating results of using other tools while working with less effective results, as you may already know. However, with the Dewalt product, you will get a robust and reliable product that brings you numerous exciting safety features. This product will let you accomplish your tasks with ease and efficiency.
Ease of Use:
One of the reasons why this product has become so popular is its ease of use. This tool is an improved option meant to add much simplicity to your life. Designed with ease of use in mind, this product offers excellent functionality mainly because of its wonderful construction, which is made to keep you from getting tired easy.
Advantages:
With this product, you obtain an excellent item with great performance that can deliver expert results. This tool offers an adaptable chuck and several other useful features that you'll enjoy. It operates with a tranquil sound, so you will not feel overwhelmed with noise as you work. Also, this product is durable and made to last with its heavy-duty design.
Summary:
A very functional item, the only reported concern is that swapping out a bit can be frustrating. Other than that, this is a very efficient and effective tool that offers a great motor. It can perform both light and heavy jobs effectively. It also comes with great safety features.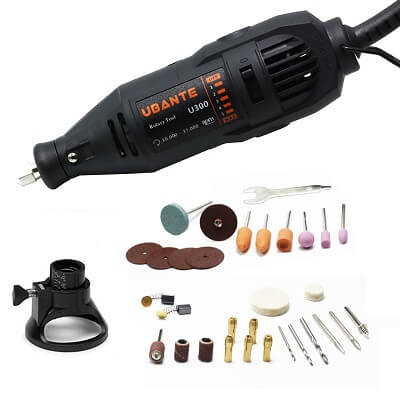 This tool is another great item that can cover a bevy of tasks in one go, and also offers a lot of durability. With its nice versatility, you'll get many tasks done with ease, and you can enjoy how efficient and effective this tool is. Many experts love this item, and a lot of people that use it at home feel like it delivers fantastic results and can accomplish many tasks. The other nice thing about this product is that it is easy to utilize, and you don't need anything fancy to get it going. It is also widely available, and pretty cost-effective to boot.
Read more
Features:
This product brings you the versatility to perform a bevy of functions, and it will also make those functions finish like an expert did the job. In fact, this product is very popular because it does such a good job of making your projects look great. Another nice thing about this item is that you won't need anything extra to get the tool going. And, if you are really worried about cost, this product is very cost-effective. That means it is a great choice if you are purchasing this item on a budget.
Ease of Use:
This product can do it all, and brings you a simple design that can perform a bevy of tasks. Plus, it is fun to utilize since it is so efficient and it makes the final product look great. It is very affordable, which is great if you are shopping on a budget, and also very durable. First of all, its design is all about simplicity, and unlike most rotary tools, you won't require special tools to set it up.
Advantages:
This product offers you an item that is very durable and you won't need to fix or replace. It is also well-built so it can do anything from heavy to light tasks. It also brings you a nice guarantee and warranty, so you get some piece of mind. With that kind of durability, you'll enjoy using it.
Summary:
Made to be easy to utilize, this tool provides you with all of the functionality you need to knock out your projects with ease. You also get a lightweight tool that offers a nice design and is very simple to use. Plus, the item is very durable so that you will get much use out of it.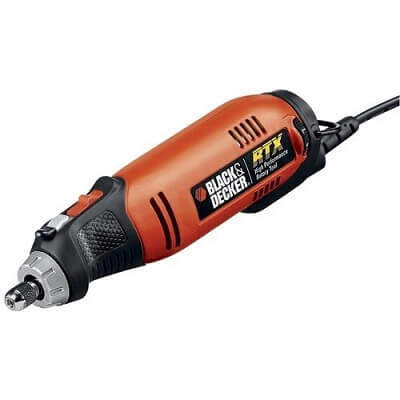 This well-known company offers you a quality tool that brings much versatility and excellent performance to the table. This product does not come cheap, but if you do decide to purchase it, you'll have it for a long period of time and that helps to make it worth the money. It is designed so well, it will be reliable for longer than you could predict, and it will give you the performance you want and need.
Read more
Features:
Are you fed up about your cumbersome rotary tools? Those of you that feel this way about your current products will love this efficient and simple tool. This tool's universal collet ups that ease of use factor, and you'll get more done. With its overall efficiency and versatility, this product will not disappoint.
Ease of Use:
This efficient and effective tool can do it all, and it can handle a bevy of tasks. Along with the tool, you get five extras to handle all of this versatility. Plus, it is not only versatile but made to be lightweight and easy to utilize. It is not cumbersome, and it is quite simple and easy to work with. Also, the extras are included with this tool, which helps to make the price seem much more worthwhile.
Advantages:
The energy output found within the product is attractive. This product will cut back on your frustration and stress level, giving you the chance to make your items look professional. With that level of energy, you will also love how easy the tool is to use, and how long-lasting its overall design is. You will get plenty of versatility as well.
Summary:
This product comes from a well-known and reputable company, which makes it an excellent product buy option. It also offers plenty of versatility and functionality and will give you the power and energy you need. Featuring five interchangeable parts, this is a great value product.

10

. Black and Decker RTX-6 2-Amp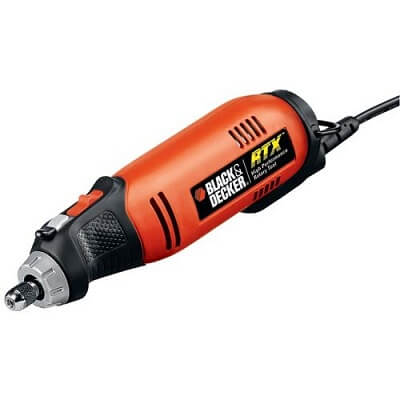 Black and Decker's next option is a trendy product and has earned the reputation of being one of the best rotating devices worldwide. Black & Decker's product is a reliable device comprised from low-depolyethylene plastic, which makes it both lightweight and durable. Plus, its design as a multi-speed rotating tool means its functionality is impressive.
Read more
Features:
Different individuals like rotating devices for their different displays of adaptability. If you prefer a device with a lot of features and functionality, then this product just might be for you. B is a flexible rotating device. This product comes with numerous functions. Its amp is adjustable and sturdy, making the use of the tool very easy and straightforward. Also, it is a multi-speed tool, which means it is advantageous.
Ease of Use:
Compared to single-speed tools, this multi-speed device is very versatile, offers much functionality, and performs exceptionally well. You will be able to utilize this tool for several different types of needs because it is convenient, and it comes with everything you need to adapt it to new projects. You will be able to tackle any project with this handy tool.
Advantages:
With this device, you get plenty of extras, and three speeds to pick from. The tool has a very quiet motor that can easily cool itself. Plus, the motor features three speeds, which helps you adjust its functionality. Also, the three motor options give the product much versatility.
Summary:
This product is impressive, built to last, and will work hard for you so you can ease up on your efforts. It comes assembled for versatility with its three-speed motor, and it also features two magnetic clips with the purchase. Plus, this tool also features a two-year warranty, which demonstrates that the manufacturer stands behind their product.

Subscribe to our Newsletter