Best Standing Desks
last updated:
May 18, 2021
Anyone who works an office job forty hours a week or even someone who works at home full-time understands that sitting for that period of time can be a detriment. It can be hard to get physical activity during the day with this type of occupation. However, what if you could combine both worlds? While this is not alluding to getting physical exercise while you are computing or performing other office tasks, what if you could at least stand up? That is exactly the design purpose of a standing desk and today, you are going to get some insight on the technology and engineering that really goes into them. For longer days, being able to stand for an extended period can make all the difference in the world.
This is the best product on our list that is currently in stock: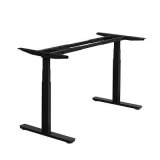 Autonomous
Why is it better?
The memory pad can remember up to four different positions
The width is adjustable
Equipped with a very quiet motor
In a
Hurry? Editors choice: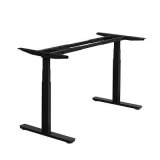 Test Winner: Autonomous

18
Researched Sources
1.6k
Reviews Considered
15
Hours Researching
18
Products Evaluated
Stability
Adjustability
Style
Size
By Default
Criteria Used for Evaluation


Stability
It is pretty much impossible to overstate the importance of stability for standing desks because truthfully, it really is everything. When you are analyzing a product such as this, it only makes sense that its structural stability would be of the utmost importance. But, things can get a little tricky with adjustable models. They may be stable at their lowest height but what about at their peak? As they rise in height, the likelihood they will be unstable is increased. Some testers out there will conduct stability tests on certain models so it is never a bad idea to check those out.
This also becomes extremely important if you plan to load up the desk with a good amount of equipment. For example, a computer monitor, peripherals, textbooks, and other items. As a consumer, though, what do you need to look for? Well, first off, ensure the load capacity is high enough for you. Some units can lift several hundred pounds while others maybe only 20 to 50 pounds. Also, assess the frame (looking for high-quality steel preferably). While a stability crossbar is not mandatory, which will be discussed later, it could be a viable option.


Adjustability
Before we dive into this section, it is important to understand that there are different types of standing desks and not all of them are adjustable. For example, there are fixed-height options out there for those who desire such. But, the best solution is probably an adjustable model as you can account for different heights and positions. However, there are two main types of adjustable models. Firstly, you have free-standing units and these will be the best for most people. With these units, you do not need an existing desk. But, these also tend to be more expensive and can run beyond $1000. The other option is an add-on.
A few of these made an appearance on this list and these are literally designed to sit atop your existing desk. They will typically adjust five to 20 inches (while free-standing units tend to range from 21 to 56 inches in height). The style you want is really your preference, to be honest. Either way, you go, just ensure that the adjustable range will work for you. You do not want to be hunched over when standing and working, so ensure this will not be an issue.
So, if you decide to go with an adjustable model, then you need to assess how easy it is to operate. If you noticed a trend with the top units on this list it was this, the best come with an electrical motor. While this will jack up the price, the convenience is worth it. You see, with an electrical standing desk, the ease of adjusting and operation could not be any easier. It is made even easier with an integrated memory controller. Speaking of memory, some systems will be designed with memory settings that will have a certain amount of programmable preset heights. This comes in handy if you have multiple people who enjoy using the desk as you can program the heights to make it incredibly simple to switch from person to person.
Of course, with a motor comes noise. Because of this, you may want to analyze the decibel level that a specific unit has. If a little noise does not bother you, though, and mind you this is when you are adjusting it, then do not worry about it. If there is not a motor and it requires manual adjusting, though, look for a design that simplifies the process.


Style
Alright, it is time to shift gears a bit and discuss the surface. While the size and surface area will be addressed here in a minute, the actual surface material needs to be documented first. Now, generally speaking, you will see the tabletops on these desks made of wood, laminate, plastic, or possibly even particleboard. There is no clear-cut winner among these materials but you certainly can't go wrong with wood and laminate. Not only is wood extremely durable but certain types, such as walnut and oak, are a joy to look at. Of course, you may want to look for a laminate top.
Lamination is basically the process of manufacturing a material in multiple layers so that the composite material achieves enhanced strength and stability. Not only that but many consumers love the style of a laminate top. Of course, you may also see a wood core with a laminate top. As for other materials such as plastic, they can suffice but probably will not have the great combination of longevity and style as wood and laminate do.


Size
This is one is pretty easy ladies and gentlemen; so, do not overcomplicate it. These types of furniture come in various different surface sizes and you need to pick the size that will suffice for your needs. If all you need one for is to hold your computer and a few peripherals (such as a keyboard and a mouse) then you may not need a large surface. But, in this instance, you may want a bi-level design with a keyboard tray integrated.
Then again, if you want to use one as an office desk, then you may need a bit more area to work with. Whatever the case, analyze the dimensions (width and depth) to achieve your desired size.
Expert Interviews & Opinions
Most Important Criteria
(According to our experts opinion)
Experts Opinion
Editors Opinion
Users Opinion
By Default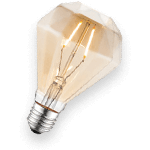 Versatility is recommended
Sitting for 40 hours a week can be a pain and anyone reading this right now with that type of job understands that. Then again, even for casual office work, it can be annoying to sit for a few hours. Without question, a standing desk is an answer if you feel the same way. However, to get a good model, be prepared to shell out some cash.
Frequently Asked Questions
q:

What to do if you Receive a Damaged Item?

a:

One of the worst things that can happen to you, as a consumer ordering online, is when you receive a product that has been damaged. It happens to everyone and whether it is the fault of the seller or the delivering services, it happens. But, this has actually been a common problem with standing desks and given their design, they need to be packaged extremely well and handled even better. If you do receive any parts that have been chipped or damaged in any way, you should immediately contact the seller.

The quicker the better in this case as the seller should be able to take care of it. Most likely, you will need to repackage the item and send it back to the seller and then they will send you a new model.
q:

Are They Easy to Set Up?

a:

Unless you have prior experience assembling products, some products can be a complete hassle to assemble. Then again, even the best in the world can struggle if the engineering is flawed and the directions are inadequate. So, to answer this question can be tough because it does depend a little on your own competency. But, some units will actually come almost fully assembled or even fully assembled so if you are worried about this, look for models like this.

Of course, if you ever hit a roadblock and the included manual and instructions are not helping, search the web as someone has probably uploaded a video tutorial somewhere.
q:

Do you need a Crossbar?

a:

It was alluded to earlier and now it is time to address the elephant in the room. Okay, before this is answered, be aware that some sellers will only include a crossbar if you request it and others may include it regardless. But, do you really need it? For the most part, the answer to this will be no. But, it does depend on the design. If it is an optional accessory, then the standing desk should already be designed to be stable without it. Sometimes, a crossbar can be a detriment as it minimizes your leg room. In this sense, some may prefer it to be removed. But, it will add enhanced stability and is recommended if you plan to have heavy loads.
q:

Will it be Difficult to Raise with Equipment on Top?

a:

Now, this is an interesting question here. Even though you may think the answer to this would be yes, it actually is not. If you are talking about an electric model, with an integrated motor, as long as your load falls within the capacity limit of the desk, it will elevate without issues. The motors in these types of units are designed to handle a certain amount of weight so that is what you need to be wary of.

The same applies to mechanical designs as well but because you are manually adjusting these, it may be wise to do so with little to no extra weight.
q:

Is There a Downside to any of This?

a:

It seems silly to ask if there are any downsides to standing while working, which is the design purpose of a standing desk, but it is a liable question. The simple answer would appear to be no as Peter Katzmarzyk (a profession of public health) studied this and saw no link between standing and health problems. Then again, this next question that is about to be addressed may contradict this assessment quite a bit.
q:

Can it Cause Back Pain?

a:

If a study conducted from the University of Waterloo is any indication, this may not be all fun and games. The study took a test of 40 adults. Now, half were women and half were men and to qualify, no participants could have had any back-related issues. Basically, the study concluded that 40 percent of the participants ended up developing lower back pain after two hours of standing.

The way the lead author (Daniel Viggiani) explains it, people have differing amounts of tolerance to standing and the real key is to shift your posture often. So, even with a standing desk, you could still develop back pain.
Subscribe to our Newsletter