Best Standing Desks
In a
Hurry? Editors choice: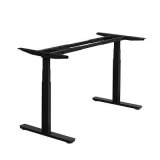 Test Winner: Autonomous

Anyone who works an office job forty hours a week or even someone who works at home full-time understands that sitting for that period of time can be a detriment. It can be hard to get physical activity during the day with this type of occupation. However, what if you could combine both worlds? While this is not alluding to getting physical
exercise
while you are computing or performing other
office
tasks, what if you could at least stand up? That is exactly the design purpose of a standing desk and today, you are going to get some insight on the technology and engineering that really goes into them. For longer days, being able to stand for an extended period can make all the difference in the world.
Standout Picks
Criteria Used for Evaluation
Stability
It is pretty much impossible to overstate the importance of stability for standing desks because truthfully, it really is everything. When you are analyzing a product such as this, it only makes sense that its structural stability would be of the utmost importance. But, things can get a little tricky with adjustable models. They may be stable at their lowest height but what about at their peak? As they rise in height, the likelihood they will be unstable is increased. Some testers out there will conduct stability tests on certain models so it is never a bad idea to check those out.
This also becomes extremely important if you plan to load up the desk with a good amount of equipment. For example, a computer monitor, peripherals, textbooks, and other items. As a consumer, though, what do you need to look for? Well, first off, ensure the load capacity is high enough for you. Some units can lift several hundred pounds while others maybe only 20 to 50 pounds. Also, assess the frame (looking for high-quality steel preferably). While a stability crossbar is not mandatory, which will be discussed later, it could be a viable option.
Adjustability
Before we dive into this section, it is important to understand that there are different types of standing desks and not all of them are adjustable. For example, there are fixed-height options out there for those who desire such. But, the best solution is probably an adjustable model as you can account for different heights and positions. However, there are two main types of adjustable models. Firstly, you have free-standing units and these will be the best for most people. With these units, you do not need an existing desk. But, these also tend to be more expensive and can run beyond $1000. The other option is an add-on.
A few of these made an appearance on this list and these are literally designed to sit atop your existing desk. They will typically adjust five to 20 inches (while free-standing units tend to range from 21 to 56 inches in height). The style you want is really your preference, to be honest. Either way, you go, just ensure that the adjustable range will work for you. You do not want to be hunched over when standing and working, so ensure this will not be an issue.
So, if you decide to go with an adjustable model, then you need to assess how easy it is to operate. If you noticed a trend with the top units on this list it was this, the best come with an electrical motor. While this will jack up the price, the convenience is worth it. You see, with an electrical standing desk, the ease of adjusting and operation could not be any easier. It is made even easier with an integrated memory controller. Speaking of memory, some systems will be designed with memory settings that will have a certain amount of programmable preset heights. This comes in handy if you have multiple people who enjoy using the desk as you can program the heights to make it incredibly simple to switch from person to person.
Of course, with a motor comes noise. Because of this, you may want to analyze the decibel level that a specific unit has. If a little noise does not bother you, though, and mind you this is when you are adjusting it, then do not worry about it. If there is not a motor and it requires manual adjusting, though, look for a design that simplifies the process.
Style
Alright, it is time to shift gears a bit and discuss the surface. While the size and surface area will be addressed here in a minute, the actual surface material needs to be documented first. Now, generally speaking, you will see the tabletops on these desks made of wood, laminate, plastic, or possibly even particleboard. There is no clear-cut winner among these materials but you certainly can't go wrong with wood and laminate. Not only is wood extremely durable but certain types, such as walnut and oak, are a joy to look at. Of course, you may want to look for a laminate top.
Lamination is basically the process of manufacturing a material in multiple layers so that the composite material achieves enhanced strength and stability. Not only that but many consumers love the style of a laminate top. Of course, you may also see a wood core with a laminate top. As for other materials such as plastic, they can suffice but probably will not have the great combination of longevity and style as wood and laminate do.
Size
This is one is pretty easy ladies and gentlemen; so, do not overcomplicate it. These types of furniture come in various different surface sizes and you need to pick the size that will suffice for your needs. If all you need one for is to hold your computer and a few peripherals (such as a keyboard and a mouse) then you may not need a large surface. But, in this instance, you may want a bi-level design with a keyboard tray integrated.
Then again, if you want to use one as an office desk, then you may need a bit more area to work with. Whatever the case, analyze the dimensions (width and depth) to achieve your desired size.
Top Ten Standing Desks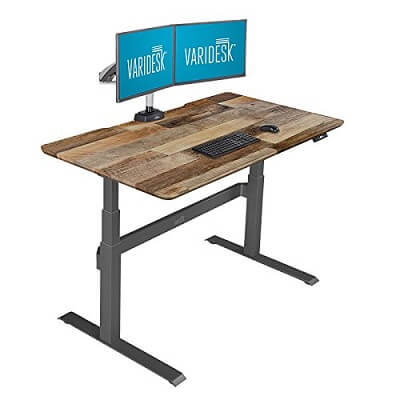 Very rarely do two products achieve a 9.9 rating on the same list but the quality can't be denied here. The Prodesk is made with commercial-quality components and is powered by its powerful and quiet motor.
Read more
Structure and Stability
The steel stability crossbar of the Prodesk adds additional support. All in all, this can support up to 250 pounds of equipment.
Adjustable Range
From 25.5 inches to 50.5 inches, this table can be adjusted. In addition to this, you can program up to three height settings for the system memory to remember.
Ease of Operation
Indeed, the Prodesk is powered via a motor. As mentioned, it remains powerful and easy to operate while also being quiet in operation.
Tabletop Design
The laminate top of this design is both stylish and durable. Plus, there are several color and style options available for you to select from. Be aware, though, the colors may vary a bit from their photos.
Size and Space
While there is another option available for 48 inches, the 60-inch option (which is referring to the width) is also 30 inches in depth.
Overall
The Prodesk literally has everything that you would look for. This includes flexibility in its height options, excellent stability, contract-grade quality, a spacious design and also smooth operation.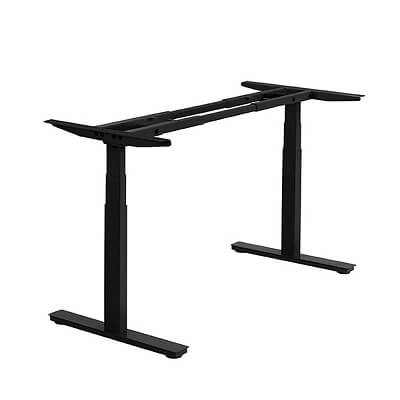 Now, what is interesting about this next design is it is perfect for DIY projects. The reason for this is you receive the adjustable frame but have to account for the tabletop. This allows for optimal customization.
Read more
Structure and Stability
Remember, this is just the frame but being that it is constructed of high-grade industrial steel with motors that can lift up to 360 pounds, it is not too shabby, to say the least.
Adjustable Range
When you do complete this kit with a tabletop, you can adjust it from 24 inches to 50 inches.
Ease of Operation
Even though this built-in motor packs the goods, it does so while being whisper quiet. It is quite astonishing how quiet it is, to be honest. Also, the memory pad will remember up to four different height positions.
Tabletop Design
This is all up to you ladies and gentlemen. While you need to find a tabletop that will safely and securely attach to the frame, you get to choose the type and style you desire.
Size and Space
Okay, even though you can pick the tabletop, you still need to abide by the size of the frame. What is nice, though, is that the width is adjustable from 48 inches to 72 inches to accommodate different tabletop sizes.
Overall
Some of you may not be too thrilled about having to invest in a tabletop separately. But, for what it is worth, this frame that you are getting is all sorts of quality and brilliance.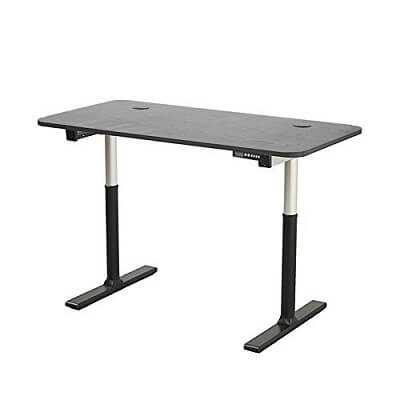 This is the other series from ApexDesk and while not quite as elite as the Elite Series, the Vortex Series takes a back seat to pretty much no model. With special engineering, it is made to be lighter with enhanced stability.
Read more
Structure and Stability
In addition to the aluminum underframe of the Vortex Series, ApexDesk also masterminded a way to enhance the stability by adding a bearing to synchronize with the desk movement.
Adjustable Range
You can adjust where you see fit with the integrated motor. All the way from 27.5 inches to 45.5 inches in height, without the top, this can be adjusted.
Ease of Operation
With your purchase, you get a memory controller with an anti-collision function. With this technology implemented, the desk will detect when its movement is obstructed and will stop moving.
Tabletop Design
This is a one-inch thick tabletop that has a scratch-resistant high-pressure laminate surface.
Size and Space
The aforementioned tabletop that this comes with measures 59 inches by 29.5 inches (along with the one-inch thickness which was already mentioned).
Overall
If the Elite Series is still too expensive for you, then the Vortex Series is a slightly cheaper option that is nearly just as brilliant. Plus, its anti-collision memory controller is a fantastic addition.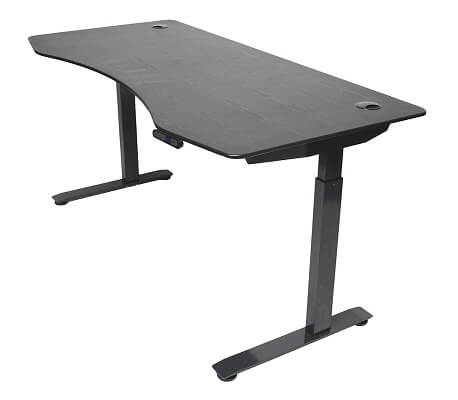 ApexDesk has two unbelievable series of standing desks, with the other one to be documented later. Their Elite Series certainly lives up to its name and deserves the moniker of elite.
Read more
Structure and Stability
While there is not a crossbar integrated into the Elite Series, it is fixed with a one-piece steel beam. To be honest, this adds enhanced stability and is more stable than some crossbar units.
Adjustable Range
The height of the Elite Series can be adjusted from 29 inches to 48 inches in only 1.3 seconds time.
Ease of Operation
This is powered via dual motors and also, for your convenience, this comes with a memory controller. Even though you can't program any preset heights, the motor operates quickly.
Tabletop Design
Arguably one of the best aspects of this model is nothing feels cheap. This includes the MDF tabletop as it sports a scratch-resistant laminate. Plus, the beveled edges give it a streamlined appeal.
Size and Space
If you are looking for a spacious surface, this is it. It measures 71 inches in width, 33 inches in depth (from the edges) and one-inch in thickness.
Overall
The price of these models keep going down but the quality is not suffering. That says a lot about the Elite Series, to be honest, and for some, this will be the consensus number one option.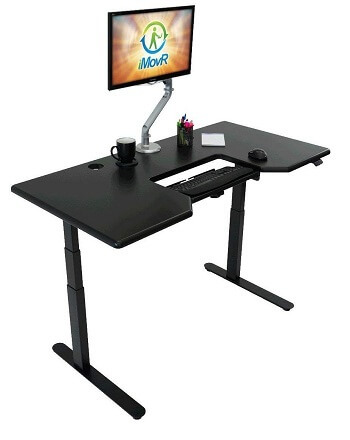 This is one of the newer models on this list and of course, it is overflowing with innovation and technology. To be honest, though, this will be well beyond the average consumers' price range but wow, is this ever impressive.
Read more
Structure and Stability
To enhance the stability of this model, you could consider the leg extenders. However, this is literally one of the most stable units in the world, without a doubt.
Adjustable Range
Lander equipped this to adjust from heights of 24.5 inches to 50.5 inches. What is nice, though, is the high-resolution display integrated into the paddle will show you the current height down to the 1/10th-inch.
Ease of Operation
Without a doubt, the innovation here is amazing. Instead of needing to look around for the right button to raise or lower this, there is an integrated paddle that you can tap to either go upward or downward.
Tabletop Design
As opposed to other Lander standing desks, this does come equipped with a tabletop. Also, the keyboard tray has been custom designed to tilt which can come in handy.
Size and Space
There are loads of different size options for you to select from. While the depth remains 30 inches for all of them, you can pick between a various amount of widths from 41 inches to 83 inches.
Overall
In this instance, you really do get what you pay for. If you possess the funds and this falls within your budget, you can enjoy the most advanced and innovative standing desk of them all.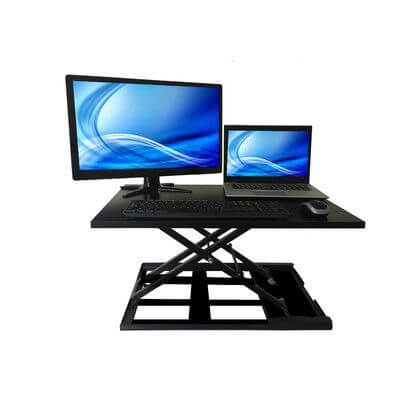 This standing desk it quite simple to use and already comes fully assembled so you can take it out of the box and use it right away. It has an ergonomic design and is simple to adjust. If you are looking for a standing desk that is simple to use and comes with a great price tag, this may be one to check out.
Read more
Stability
The stability on this desk is quite reinforced and you should have no problems thinking your computer is going to fall. It could have thicker supports but the supports that come with the desk are still quite strong.
Adjustability
This desk adjusts manually but is quite simple to do so. You simply lift the desk and it locks into place. It will adjust from 7 inches to 16 inches.
Style
This desk looks pretty standard but certainly does the trick if you are looking to change your position throughout the workday. Some of the other desks on our list have bigger worktops, but this one still gets the job done.
Size
This table top is not as big as some others on our list but is still able to fit a monitor, keyboard, and laptop. You will not have a ton of extra space but will have enough to get your work done comfortably.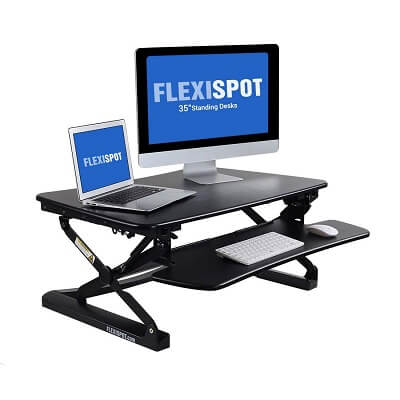 It is hard to deny a product such as this when you analyze the vast amount of acclaim it has received. While the M2B is not electrical, it is very smooth in operation and only requires one hand for easy adjustments.
Read more
Structure and Stability
It is not as if the M2B is unstable but heavier duty metal components could have been used for the frame, admittedly.
Adjustable Range
For each height you adjust this unit to, with 12 different settings altogether, it sports ergonomic benefits. It will accommodate users just over five-foot through users just over six-foot.
Ease of Operation
FlexiSpot engineered their M2B with a single-handle design. This prevents the need for you to use two hands or exert extra force to adjust the height.
Tabletop Design
Both the main surface and the keyboard surface have identical material designs and it is the same material as you would see on many foldable and portable tables.
Size and Space
Space will not be an issue for most of you as the engineering allows for laptops, computer monitors and more. That is not even accounting for the keyboard shelf.
Overall
Sure, a few integrations here and there could have helped the M2B but hey, sometimes beggars can't be choosers.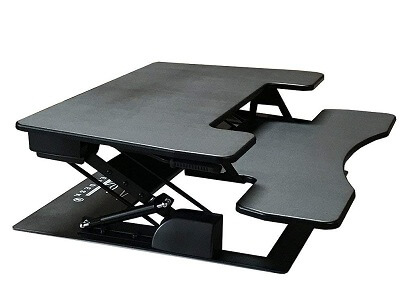 The top five on this list are really in another stratosphere of quality and while this starts a bit of a quality dip, this adjustable model from Fancierstudio is more than competent in its own right.
Read more
Structure and Stability
Even though this can support up to 30 pounds, a tipping hazard can present itself when this unit is fully extended. So, be cautious not to lean on the front of the unit.
Adjustable Range
This is designed to be placed on an existing desk. The reason for this is it only extends from five to 17.7 inches. But, you can choose from ten different height settings which is a bonus.
Ease of Operation
For the most part, this is not too difficult to adjust up and down with the hand levers. However, as some users have noted, it can struggle to lock in place at times.
Tabletop Design
It seems to be that the countertops are made with some form of hard plastic. Each of the two levels is 0.5 inches in thickness, as well.
Size and Space
The top counter can easily fit up to two monitors. As for the keyboard shelf, it measures 38 inches in width and can accommodate a mouse, as well.
Overall
If you do not 100 percent require a motor to be integrated, then you can really appreciate the design at play here. Though some problems are present, it is mostly good.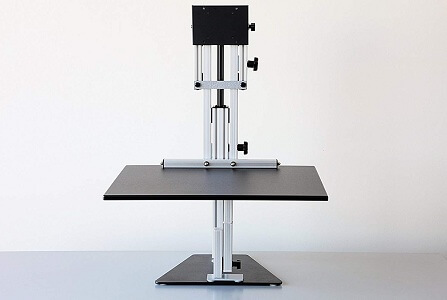 The Kangaroo Pro Junior is incredibly unique, let's just say that. It is another model which needs to be placed on an existing desk but it is perfect for laptop and desktop users (with a monitor that can be mounted).
Read more
Structure and Stability
Due to the combination of the frame, which is constructed of thick metal, and the stabilization leg that is included, this is a fairly stable unit.
Adjustable Range
What could be considered a slight bonus of this model is the fact that the monitor and the work surface can be adjusted individually. The main surface can adjust 15 inches above your existing desk.
Ease of Operation
Some users have noted that the monitor tilt adjustment of this unit is a bit flawed. The issue is all the weight of your monitor can cause the unit to want to tilt downward.
Tabletop Design
The actual main surface, which will be considered the tabletop, in this case, is well-designed. But, do not lean on it as this may cause breakage or the unit to tip.
Size and Space
As for the monitor, Ergo recommends that their unit is used for monitors up to 12 pounds. The surface area, switching gears, measures 24 inches wide by 18 inches deep.
Overall
The Kangaroo Pro Junior is different and is really ideal for computing needs. While it can work with a laptop, it is best with a desktop as you can mount a monitor.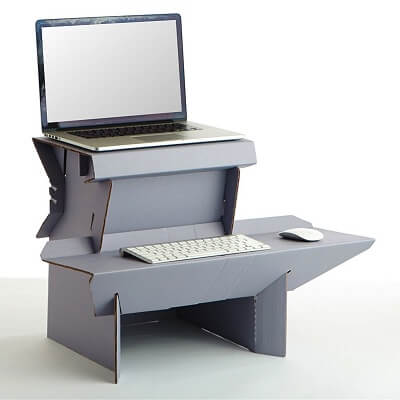 There is no way that the Spark can be considered a liable replacement for any of the above models. However, for an entry-level option for users who want simplicity, this can actually be quite competent.
Read more
Structure and Stability
This is cardboard so you can only expect so much in regard to the stability. But, it will support up to 25 pounds (at least the upper level).
Adjustable Range
The Spark is a two-level design and you pick the size that accommodates your height (as the unit is not adjustable).
Ease of Operation
For the most part, this is an entry-level design and is not adjustable so you really do not need to worry about operation.
Tabletop Design
The desk itself is quite hollow so it is probably going to wobble. Again, this is all cardboard so remember that.
Size and Space
Overall, this measures 23.7 inches by 16.6 inches by five inches and it can account for your computer and other peripherals.
Overall
Being dirt cheap and made of cardboard, this is clearly not an ideal option for everyday use. But, it is quite good for what it is.

Subscribe to our Newsletter