Best Adjustable Wrenches
In a Hurry? Editors choice: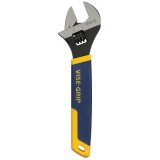 Test Winner: Irwin Vise-Grip

Every handyman needs certain tools around the
home
and in their garage and without question, an adjustable wrench (and oftentimes more than one) is one of them. Then again, this type of tool should be kept around the home even if you do not consider yourself a handyman. They can be useful as they are designed to tighten and loosen nuts and bolts and when you think about all the pieces of equipment around your home that utilize nuts and bolts, you begin to realize how useful they can be. If you are looking for an adjustable wrench or maybe want to add a couple more to your
toolbox
, this guide is for you. Below we have listed the top ten adjustable wrenches to give you the edge when doing some building around your
home
.
Standout Picks
Criteria Used for Evaluation
Materials
Whenever you are investing your money into a tool that you are planning to use, whether on a daily basis or simply causally, you want to ensure that it can take a beating. Not in the sense that you are physically abusing your tools but in the sense that if accidents happen, they will still remain useful. Well, when you start looking into adjustable wrenches you will notice a theme with the build. This theme is an alloy steel. Most models will be made of this material but the question is, is this a good thing? Well, alloy steel is merely steel that is alloyed with a variety of different elements. While this itself is quality material, the coating plays as big a role.
Some models will be coated with a chromium metal or even a black phosphate. What this does is add a layer of protection to the metal to ensure it lasts as long as possible. However, some coatings will add insulation to the steel. With heat-treated coatings, it can make them more resistant to heat and thus, a little safer.
Use
The build quality is one factor, but the design of the handle is an entirely different beast. If you think about it for a second, any hand tool can be improved if the handle is designed with quality in mind. If you operate any sort of hand tool with a handle that is not ergonomically designed and one that is straight-up painful, the experience and the result (quite frankly) will be greatly diminished. However, even though it is of the utmost importance, the design of the handle comes down to more than simply a comfortable and ergonomic grip.
Another key element is the size of the handle. If you have larger hands then you certainly will not feel comfortable operating a smaller wrench. Along the same line, if it is too wide and heavy then it will be too cumbersome for you to use. Then again, during more intensive tasks, a thicker handle can offer more torque. Also, look for slip-resistance and a superior texture to improve grip when your hands sweat.
Quick question, have you ever used a hand tool that would not perform well? Take a regular wrench, for example. When you were trying to tighten a bolt, did it constantly slip off due to poor craftsmanship? Let's just say that for handymen, this is one of the biggest nuisances that a hand tool can have. So, the key is to find a model that is designed with superior teeth and gripping power to ensure it either never slips or does not do so consistently. But, also integrations such as serrations and knurls attached with tension springs.
In addition to this, though, you need to assess the performance in confined spaces. For some projects, the nuts and bolts will not be in convenient locations and there is literally nothing you can do about it. You have to adapt to this and owning a model that is compact enough to fit into these confined spaces makes life much, much easier. Oh yeah, and do not forget about the torque. If you notice that the model exceeds ANSI standards for torque, that is a huge deal.
Size
Arguably the biggest reason why users prefer adjustable wrenches over those that are simply one size is due to the versatility of them. After all, depending on how wide the jaw can be opened, they can account for several different nut and bolt sizes. While one-size models are certainly not bad, and can even be more efficient when you find the right size, constantly needing to switch tools on the job site can become a nuisance very quickly. The length of the handle, which also comes into play here, was already documented.
So, let's take the time to focus this section on the jaw opening. If you have a large nut or bolt that eclipses one-inch in diameter, you need a jaw that will open to that dimension. But, not all models will. In fact, some may not even open up past one inch while others will sometimes go beyond two or three. Typically, as seen with most of the models on this list, around one to two inches for a maximum opening is common.
Features
Even though this type of hand tool is already convenient due to its main design, it can be made more convenient with some simple integrations. For example, a common one is the implementation of laser-etched markings. On the jaw, you can then physically see how wide the opening is. If you already know what size you need for the bolt you are trying to fasten or loosen, this makes life a bit easier. It is not necessarily a deal breaker but for everyday use, it may be. But, also look at the scale system as it could either be SAE or metric (or sometimes both). While they are both very similar, they are not exactly the same (much like yards and meters).
Of course, some models will also be designed with other tools such as a ratchet system or pliers. These are optional features but hey, why not add more to the fold, right?
Top Ten Adjustable Wrenches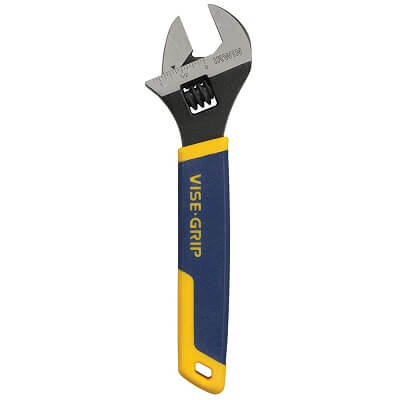 The Vise-Grip set, as this next entry is a set of four different sized tools, is also one of the more acclaimed units on the market. Not the least of which is due to the gripping strength.
Read more
Build Quality
Irwin designed their Vise-Grip wrenches with durable chrome vanadium. To protect the material, also, they have been coated with a protective finish.
Provided Grip
Irwin Tools designed their Vise-Grip with ProTouch grips which is a very firm rubber over steel. Though the grips are nice, the tools themselves are a bit wide to hold in your hand.
Performance
For the most intense and reliable strength possible, each one of these tools has been outfitted with machined jaws.
Sizes and Opening
To tackle almost any job that you will ever have around the home, this set includes four differently sized wrenches. As for the openings, from the smallest to the largest, this will range from one-inch to 1.5 inches.
Convenience
Though it has been criticized, this set does come with a plastic tray for organizing. Also, each tool has integrated laser markings for precise and accurate measurements.
Overall
Different situations will require different sized tools and given you receive a set of four, this will not be an issue. Plus, given the quality of each tool, this is a no-brainer.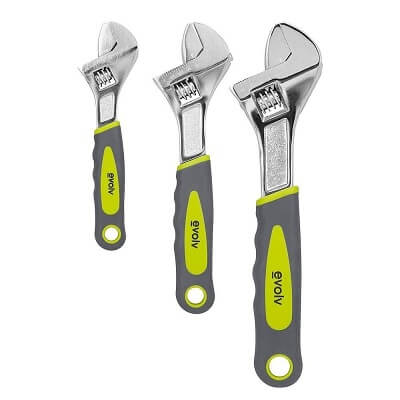 Craftsman is one of those companies where the second you see they manufacture something, you know it is at least competent. Well, it is safe to say their Evolv set is much more than competent.
Read more
Build Quality
To ensure a longer life, Craftsman engineered each one of their Evolv tools with durable and rust-resistant steel construction.
Provided Grip
One of the better features of this model is the integrated handles. Now, in spite of the fact that they can slip off easy at times (which can be annoying), their ergonomic grips make handling natural and comfortable.
Performance
Thanks to the knurled controls of this model, that will fit the jaws to precisely match the fasteners, adjusting is little to no hassle.
Sizes and Opening
For a wide variety of tasks, these three tools will come in handy. With your purchase, you receive a six-inch, eight-inch, and ten-inch wrench.
Convenience
Instead of only providing you with one specific size (in regard to the length), Craftsman decided to release their Evolv into a set of three. As such, you get six-inch, eight-inch, and 10-inch models.
Overall
If you can look past the fact that these handles can slip off while in operation, which is a bit of a nuisance, they offer a superb combination of performance and comfortability.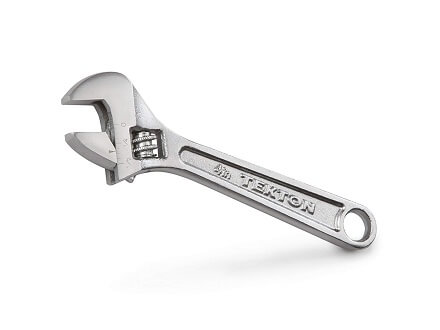 Speaking of traditional, it does not get more traditional than this model from Tekton. Even though it is not a set, you can choose the size (in regard to the length) you prefer which is nice.
Read more
Build Quality
To protect the durable carbon steel composition, this model has been coated with a corrosion-resistant satin chrome finish. This coating will mask any scratches, unlike traditional chrome finishes.
Provided Grip
On top of the fact that the handle is a bit thinner than other crescent wrenches, it is also curved on the flat side which can be awkward to handle.
Performance
Though actually adjusting this can be a hassle from time to time, the precision-machined engineering guarantees a tight fit. It also helps that both the worm gear and the sliding jaw make contact in three spots for smoother operation.
Sizes and Opening
You have a wide range of sizes that you can choose from here. From as short as four inches to as long as 15, with many in-between, (with the maximum length having a 1.75-inch maximum jaw opening), you can choose.
Convenience
In both metric and inch scales, Tekton has integrated laser etched size markings on the jaw. When measuring specific nuts and bolts, this can come in handy.
Overall
Without question, there is a lot to like here. The satin finish prevents scratches from showing, the laser-etched markings ensure more efficiency and the durable carbon steel all make for a highly competent model.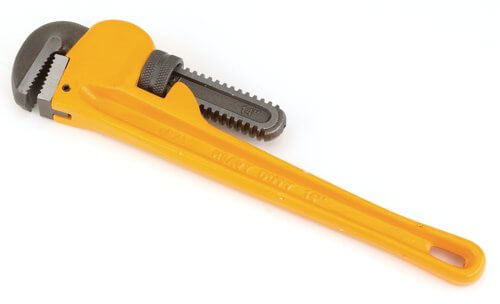 At some point during this list, a pipe wrench had to come up. When you need to fix any small plumbing issues in your home, an adjustable pipe wrench is all but irreplaceable.
Read more
Build Quality
Let's just say that this is not the 10th best model in the world because of its build quality. The durable drop-forged carbon steel with a sandblast finish almost makes this ascend even higher.
Provided Grip
For the most part, there have been little to no complaints in regard to the grip of this model. Tradespro designed it with a malleable iron handle.
Performance
The manner in which these type of wrenches work is when you operate them correctly, they will perform admirably. What you need to ensure is you tighten them to the object and then proceed to turn them so the jaws clinch into the hardware.
Sizes and Opening
Per the designer, this is designed to work for two-inch pipes. Now, this is the 14-inch model and there are other sizes available.
Convenience
For people working in more confined spaces, this can be difficult to use. But, you can invest in the smallest model to remedy this.
Overall
Everyone needs a high-quality pipe wrench in their home. Even if you think you do not and will merely hire a plumber for every plumbing task, you would be surprised how easy some fixes can be with one.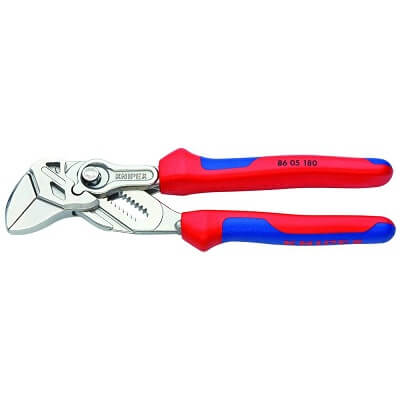 If you are willing to pay a little extra, then you can get one of the better all-purpose tools on the market. Thanks to the remarkable build quality and smooth performance, it is not hard to highly recommend this tool.
Read more
Build Quality
Knipex used precisely hardened steel with a maximum of 0.8 percent carbon. On top of this, the defined parts use a combination of both vanadium and chromium. All this adds up to exceptional build quality.
Provided Grip
Due to the 10-to-1 lever ratio, the cam action design ensures that no wrist strain will present itself. Plus, secure and strong grip aids, as well.
Performance
To save you time, there is an integrated push button adjustment system with multiple adjustment settings. Also, the parallel smooth jaws will avoid damaging any soft materials.
Sizes and Opening
There are many different size variations of this model and each will accommodate a different maximum jaw opening (from ¾-inch all the way up to 3 3/8-inch).
Convenience
On top of the fact that this will work on plated fittings without damaging the surface, its slim profile also allows it to access more confined spaces.
Overall
Just about everything is near perfection here and would be had the adjustment been a little easier. Then again, one issue can't take away from the sheer amount of greatness here.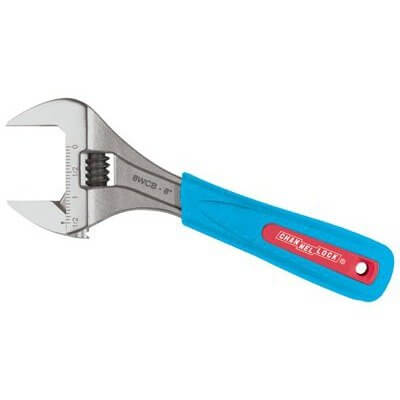 No matter how many outlets you look at, it seems everyone is constantly placing this next model near or at the top of their lists of best adjustable wrenches. You will quickly find out the reasons why.
Read more
Build Quality
There really is no need to concern yourself with the quality here. This is because of the chrome vanadium steel construction. Even with clumsy users, this is not easily dented.
Provided Grip
Channellock designed their WideAzz model with code blue grips and these are intended for durability and comfort. Yet, admittedly, they are rubber handles and will pop out at times.
Performance
To improve the performance in confined spaces, the head width has been minimized as much as possible. In addition, the precise design of the jaw ensures it will grab tight every single time.
Sizes and Opening
The model itself measures eight inches and for those who are interested, the maximum jaw opening is 1.5 inches.
Convenience
On the front of the jaw, there are measurement scales in inches and on the back, metric scales. This is beneficial when you want to take the guessing game out of play.
Overall
It is not hard to tell with the design at play and with the customer feedback that this is one of the best adjustable wrenches in the world, bar none. Is there really more that needs to be stated?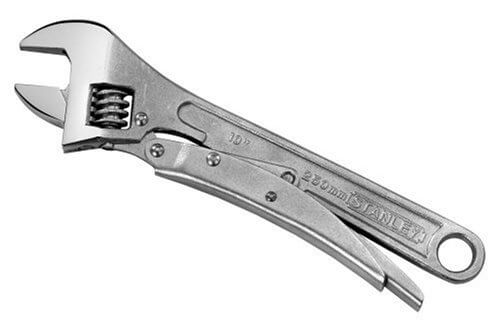 Stanley makes another appearance and this time, they represent their MaxGrip model. The MaxGrip looks like more of a traditional model and due to its forged alloy steel body, you can see why.
Read more
Build Quality
Indeed, the MaxGrip is made up of forged alloy steel. Because of this, it is able to exceed the ANSI standard for torque.
Provided Grip
Though it looks like the handle would not be very comfortable, the bi-material that is used for it actually does provide a comfortable and secure grip.
Performance
Even though this does exceed the ANSI standards for torque and will not slip off, some buyers have questioned the performance. It seems that Stanley could have designed this to bite down harder.
Sizes and Opening
The MaxGrip measures 10 inches long and sports a jaw that can open up as wide as 1.25 inches.
Convenience
As you can see from the photos, this is actually more than just a simple adjustable wrench. Instead, Stanley also integrated a pair of locking pliers on their MaxGrip.
Overall
This is a very compelling design and all things considered, there is enough here to warrant an investment. But, for pure performance purposes, there are better options out there.




For some people, it may be shocking to see this next model so low on this list. It has secured the number one spot on many of list but due to the slight issues, it can only land here on this list.
Read more
Build Quality
Here is the deal; Stanley manufactured their MaxSteel with just that, steel (forged chrome vanadium steel). But, as some users have reported, this does have a flimsier feel.
Provided Grip
For sure, the integrated handle here is much better than a simple bare-metal handle. Plus, there are ridges implemented that will help you achieve a more secure grip.
Performance
To stabilize the moving jaw, Stanley has integrated a built-in tension spring system. But, as some buyers have alluded to when in operation, the jaws tend to adjust too easily.
Sizes and Opening
While the compact design is a benefit when you are dealing with confined spaces, the jaw of this model does not even open one-inch. Instead, it maxes out at 13/14 inches, so be aware of that.
Convenience
For easier size adjustments, and to ensure you do not have to fickle around with the adjusting for too long, there are laser-etched SAE and metric scales in the jaw.
Overall
As great as this model is, you can't merely be blind to the issues at play. But, Stanley is able to overcome the slight shortcomings by overshadowing them with other amazing features.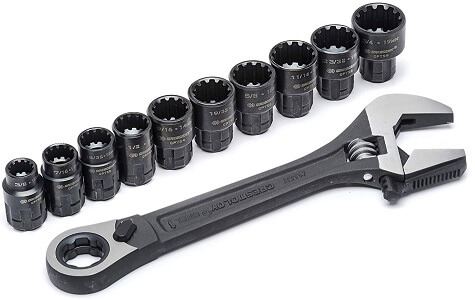 This is a bit of a different concept here and while there are certainly issues with this next entry, you still have to sit back and relish the design. That is because this set comes with 10 universal sockets to fit most standard and metric fasteners.
Read more
Build Quality
To resist corrosion for the long haul, this is finished with a black-phosphate coating. Behind this coating is the durable alloy steel composition.
Provided Grip
Possibly with a superior handle and grip, this model could have ascended even higher on this list. As it sits, though, the rough edges ensure that this can be uncomfortable during longer uses.
Performance
Like a ratchet, this works terrifically as the end works over long threaded rods where normal sockets will not fit. For the wrench itself, it sports deep teeth patterns to hold hardware tightly.
Sizes and Opening
In addition to the fact that you receive 10 universal combo sockets that will fit most metric and standard fasteners, this universal design will also fit six fastener types.
Convenience
It is quite astonishing that a single tool could be so versatile. Yet, that is the reality here as multiple fastening options can be achieved. Additionally, there are laser etching scales designed into the jaw.
Overall
This is essentially a ratcheting set and an adjustable wrench morphed into one tool. While sometimes devices are best left separated, in this instance, it works extremely well.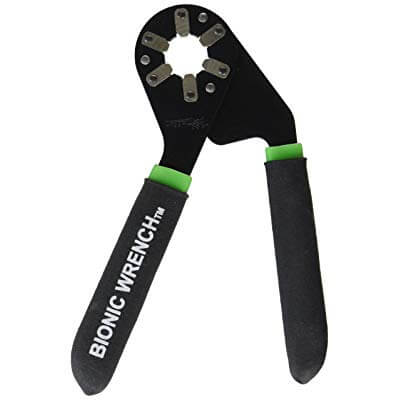 When you are able to use this next tool, it is one of the best in the world. The reason we say this is several consumers have pointed out that for some situations, the bolts do not have enough ambient space to accommodate this tool.
Read more
Build Quality
Let's just say that Loggerhead Tools did not skimp on the design of their bionic wrench. Thanks to the hardened and cold-rolled steel-laminate construction with a black-oxide coating for protection, build quality is never in doubt.
Provided Grip
On each side of the bolt, the force is distributed equally and this assists with the handling. Then again, the handle leverage is a bit small and can be hard to deal with at times.
Performance
This really is one of the best performing models on this entire list. All you need to do is squeeze the handles until the six jaws find the right size. Due to the superior gripping action, it will also not constantly slip off the hardware.
Sizes and Opening
There are essentially 14 individual wrenches (eight metric sizes and six SAE sizes) morphed into one here. As for the length, it measures six inches.
Convenience
As was mentioned earlier, this tool is wonderful when it can actually be accommodated for. The reality is in some situations, conditions will be too confined for this to be applicable.
Overall
This is unlike any other model on this list, which makes it stand out. While Loggerhead could have made the design more compact to account for more usage, the main design is excellent.

Subscribe to our Newsletter